The Best Suppressor Covers in 2023
Written By
Michael Crites
Licensed Concealed Carry Holder
Reviewed by
Editorial Team
Learn About The Editorial Team
Share:
Products are selected by our editors. We may earn a commission on purchases from a link. How we select gear.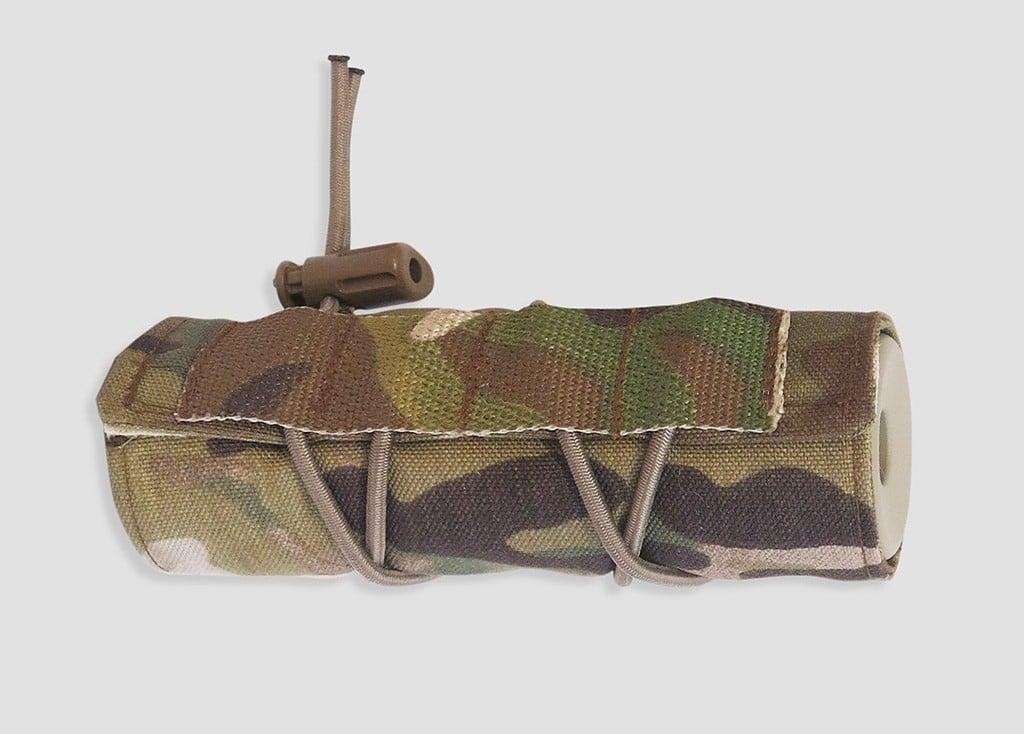 Heat mirage is the visual distortion that appears on asphalt and other dark surfaces on a hot day. This can impact your weaponry as well – especially the suppressor on your rifle. A hot suppressor can throw off this same heat distortion, obscuring your view of the target.
This is even more pronounced if you use a high magnification scope or if you're shooting in direct sunlight, which can make an already hot suppressor incredibly hot.
Thankfully, there's a ready solution to this problem – the mighty suppressor cover. These simple devices block the sun rays from hitting your dark-colored suppressor helping it stay cool, even in direct sunlight.
These handy accessories also allow you to handle or remove your suppressor after use, as they protect your hands (and other items that come into contact with a hot suppressor) like a tactical oven mitt. As you likely know, without a suppressor cover this can be an impossible task, even after spending several minutes waiting for the suppressor to cool down. This way, your rifle won't mar the surfaces you put it on – which your truck (and your local gun range owners) – will appreciate.
In this article, we're going to highlight five of the best suppressor covers on the market today. Each selection covers the key criteria for a quality suppressor cover: high heat resistance & excellent heat insulation for suppressor removal & protection.
Some have heat shields durable enough to handle a full-on mag dump, which is a surefire way to make your suppressor unbearably hot.
Suppressor Cover Comparison
| Cover | Selection | Price |
| --- | --- | --- |
| | Best Rigid Cover | $82 |
| | Best Cloth Cover | $89 |
| | Runner-Up | $59 |
| | Easiest to Attach | $96 |
| | Premium Pick | $150 |
1. Best Rigid Cover: Magpul Suppressor Cover
Magpul is well known for all for the high-quality accessories they produce – and are quite popular with us in the gun-loving community.
Their Magpul Suppressor Cover operates a lot like an exhaust heat shield. It never comes in contact with the actual barrel, so it can stay cool to the touch even after hundreds of rounds. It's available in coyote and black and uses a polymer sleeve with two stainless clamps that prevent slipping or creeping, even with sustained firing or less-than-kid-glove level handling.
This enables the Magpul to suppress mirage effect even with extreme temps and minimizes retained heat in the barrel, extending its life.
Heat signature of the Magpul vs a red-hot suppressor.
In terms of flaws – it's not a small cover, so it can add some unwanted bulk to the front of your firearm. It's also rigid, so it's not going to assist with sound reduction and it's more cumbersome to install and remove than a cloth cover that attaches with Velco. Plus, it's built for a maximum dimension of 1.5″ so it won't fit over some of the more popular cans, such as a SilencerCo Omega, nor will it work with small-caliber suppressors, like .22LR cans.
That said, when it comes to durability, stability, and effective heat reduction, the Magpul is at the front of the class.
The Good
Does an excellent job eliminating heat mirage
Has multiple color options for different purposes.
Durable stainless steel construction
The Bad:
Pricey
Bulky
Only 5.5″ long, so may not completely cover some suppressors
Maximum diameter of 1.5″ means it may not work with every suppressor
2. Best Cloth Suppressor Cover: Rifles Only
A well-known rifle accessory company – Rifles Only Gear – produces this bolt-action specific suppressor cover.
For bolt-action applications, the Rifles Only MAD Cover (or Mirage Abatement Device) is an excellent option. The high-quality inner core is rated for up to 3,000 degrees Fahrenheit heat protection. This superior heat rating will keep you and your surroundings safe all while virtually eliminating heat mirage.
You can also change the exterior of this suppressor cover to suit your hunting environment. Overall, this is an excellent suppressor cover for a bolt gun.
The Good:
3,000-degree heat protection
Interchangeable designs to match your environment
Several size and color options for all preferences
Has a great look that works great for adding some style
The Bad:
Only designed for bolt guns, but this company has options for semi-automatic rifles.
This suppressor cover is more on the expensive side.
3. Runner-Up: Sub-Tac Alpha
The sub-tac Alpha 9-Inch Suppressor Cover is actually a kit, in which you can customize the diameter of the suppressor cover.
This cover is designed to fit suppressors of various diameters up to 9 inches long, so if you have multiple firearms and want to use a single cover for all of your suppressor applications, the Sub-Tac is hard to beat.
It comes with eight feet of paracord and three cinch straps so you can fit it how you want on your suppressor. This cover will protect your hands up to 1,800 degrees, which is a fair temperature.
As mentioned above, suppressors usually only make it to 1,000 degrees during mag dumping, so 1,800 degrees is plenty.
The Good:
Adjustable to suit any nine-inch suppressor.
Very sleek and slim design, which contributes to its lightweight.
Backed by a lifetime warranty.
The Bad:
Protects up to 1,800 degrees, which is sure to offer you enough protection, but it isn't the highest heat protection on this list.
This suppressor cover is black, which can be an issue for those who hunt in the snow.
4. Easiest to Attach: HTP
If you don't want to fiddle with paracord or worry about shifting and slipping, the Cole-TAC High-Temperature Python cover offers easy-to-use Velcro straps, which enable it to cover everything from 1.375″ to 1.625 cans. It's slim, yet durable, and it offers excellent heat protection.
The internal tube is a mix of fiberglass & high-temp silicone which is flash-rated up to 3000°F.
Additionally, it's water-resistant so you don't have to worry about mildew or mold growing on the cover. This is an excellent option if you're willing to splurge a little more on this product and prioritize ease of use.
The Good:
Durable Cerakote finish that will stand up to hard use.
Solid welded core with a detachable cap and integrated flash hider if you remove the cap.
Comes with its own mizzle break and mounting device in the box.
Short design, just under seven inches in length.
For a quick detach, has an extremely tight lockup
The Bad:
Shorter design means less volume, which translates to less suppression.
Only compatible with their proprietary muzzle brake.
5. Also Great: Burn Proof Gear
Another option worth splurging on is Burn Proof Gear's Heavy Suppressor Cover.
Don't let the name fool you, this cover is incredibly lightweight and doesn't change the profile of your weapon at all.
Perhaps the most impressive thing about this suppressor cover is that it fits perfectly and it doesn't budge when you're shooting. This is a great feature and solves a problem many covers have.
Burn Proof Gear is a relatively new company, but they have an excellent reputation across all of their products. Our testers really loved this cover, although it is fairly expensive.
The Good:
Protects up to 2,000 degrees Fahrenheit, which is very giving.
Compatible with multiple calibers, so you can take it off and put it on a different weapon.
The company has tested this cover, and it's approved for fully-automatic weapons, which is hard to find in a cover.
The Bad:
What to look for in a suppressor cover
A suppressor cover is really just an essential bit of safety gear for your rifle. The high temp of your suppressor, even if it's not in direct sunlight, can be very dangerous.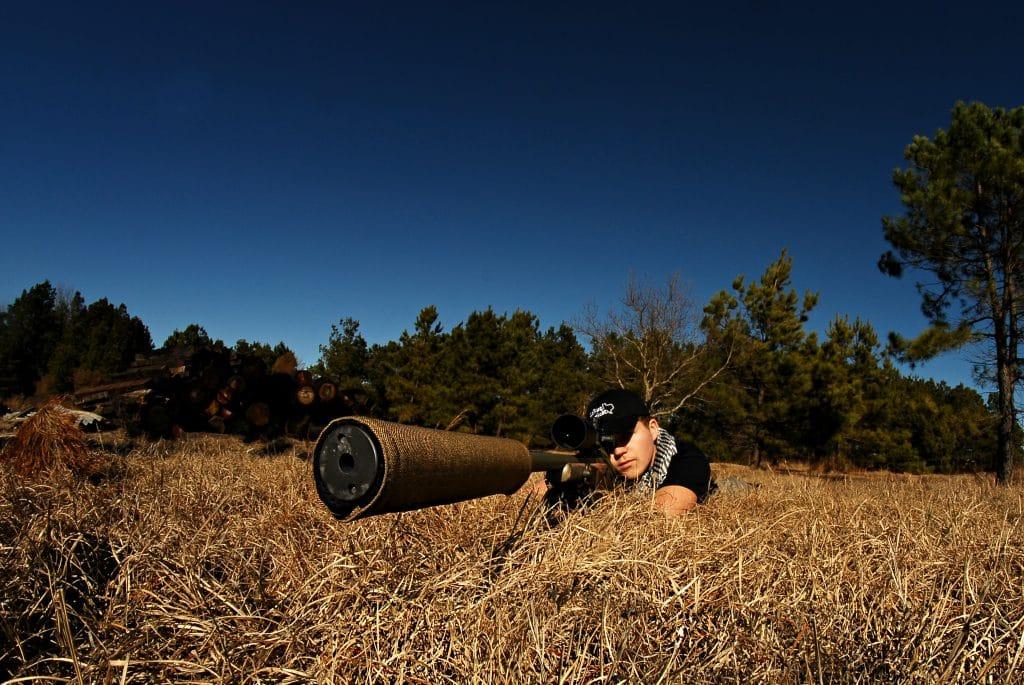 A suppressor cover being used while shooting in dry grass.
It can melt any nearby plastic – and fast strings of fire can see your suppressor temp get upwards of 1,000 degrees Fahrenheit. Not something you want within a foot or two of your face. Also, if you're building close-quarters personal defense weapon and want to use the suppressor as a hand-hold, a cover is a must-have.
These little wonders are an important rifle accessory that protects you and your surroundings from the high heat generated from suppressing rounds as they speed downrange. They also protect your weapon and the suppressors themselves from getting dinged up during normal use.
Suppressor covers aren't made from cotton t-shirts. Premium covers – made from high-quality, fire-resistant material – can resist up to 3,000 degrees of torture. However, even more, budget-friendly options are still great protective gear.
Why are suppressor covers important?
A common reason people get a suppressor cover isn't so much protection as heat mirage mitigation. The waves created from high heat can impact the clarity of your downrange target – the way the blacktop swerves and ripples on a hot day.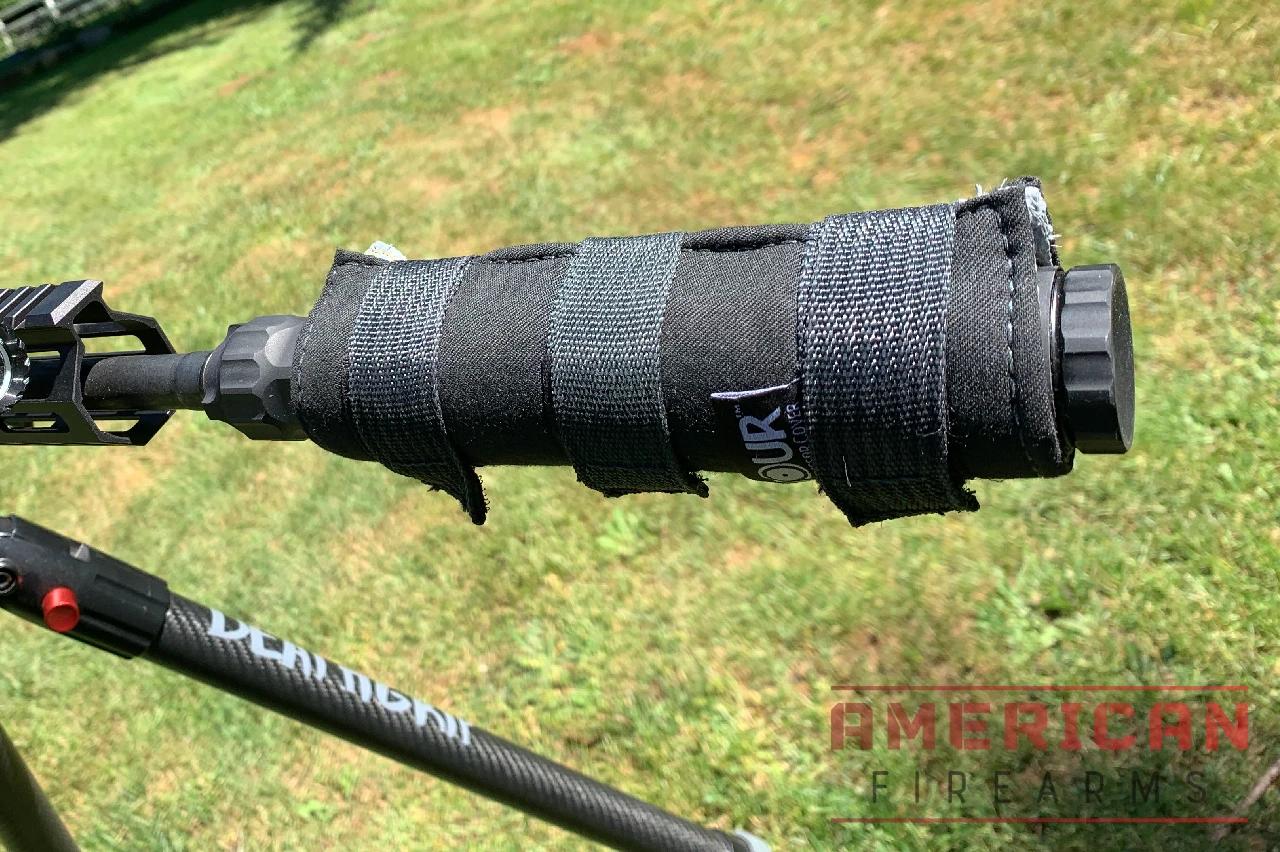 Swapping a suppressor between rifles, like this multi-caliber Silencer Central Devour, is much easier when you use a cover.
This is obviously a major concern for anyone interested in actually hitting a target – be it at the shooting range or hunting. However, safety should also be considered – as you don't want to end your range trip with a third-degree burn.
If you have multiple suppressors – or one suppressor shared between multiple rifles – and want to actively swap them while at the range, a suppressor cover makes this much easier and considerably faster by both keeping the suppressor cooler and protecting your hand from any heat generated while shooting.
Who needs a suppressor cover?
While it may seem hyperbolic, the only people who don't need a suppressor cover are probably those who are shooting in frigidly cold environments (think Antarctica, North Canada, Northern Russia, or Alaska.)
Your suppressor can and will get hot in cold weather, but near-zero temperatures can keep the internal heat of a suppressor at bay.
Still, even in temperate climates, your suppressor can get very hot. Michigan winters aren't enough to keep a suppressor from surpassing 1,000-degrees at times, so if you don't live in the most severe, freezing climates in the world, you should use a suppressor cover.
Of course, not all covers are compatible with every suppressor. Paying attention to your suppressor's dimensions when shopping for a cover will keep you from the headache of unnecessary trial and error.
There are, however, some downsides with covers — namely cloth covers that attach with Velcro can (and will) slide around especially when they get hot and expand. Rigid covers won't slide around, but they're generally designed to fit a single suppressor dimension in mind, and they're not easy to attach or remove.
The simple truth is suppressor covers are a useful addition to your firearm that can potentially save you from unintentional harm. They're not cheap, but what is when it comes to owning firearms?
That said, you don't need to splurge upwards of $200 on these accessories. Even our top recommendation is less than $100, which offers shooters the best mix of quality and price.