Browning Buck Mark Review: The Best Luger-Style .22LR Pistol?
Dive deep into our comprehensive Browning Buck Mark review. We cover the features, performance, and why this might be your next favorite .22LR pistol.
Written By
Megan Kriss
Expert Contributor
Edited By
Michael Crites
Licensed Concealed Carry Holder
Share:
Products are selected by our editors. We may earn a commission on purchases from a link. How we select gear.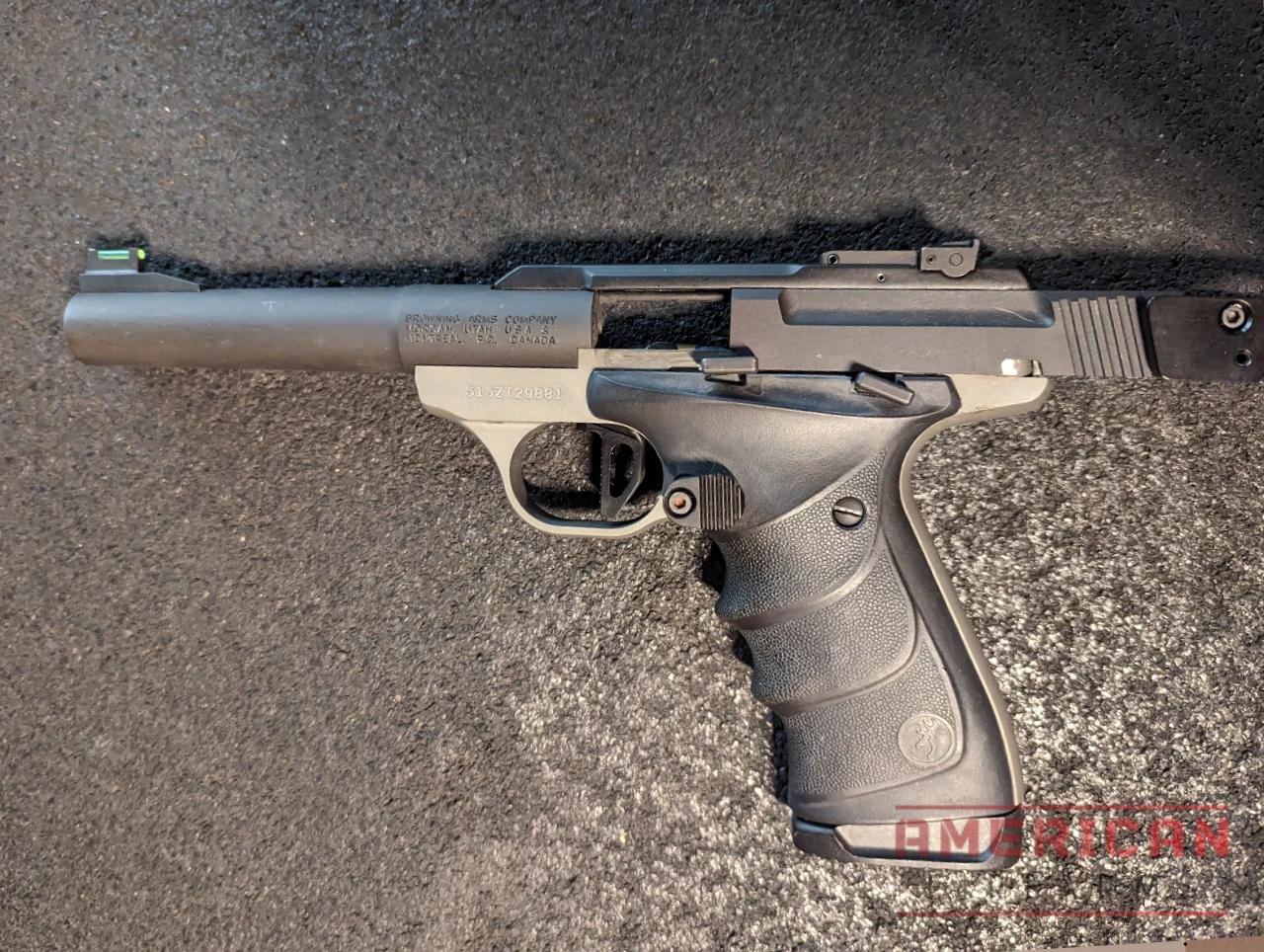 The Browning Buck Mark has remained one of the most popular rimfire pistols for decades now, but how does this classic .22 hold up against the modern market? We wanted to find out for ourselves, so we brought one out to the range to see what was what.
Overall, we wanted to find out how the Buck Mark stacks up against other similar guns in its category, particularly other Luger-style .22 pistols. Has it held up? Or has it been left in the dust by the march of innovation and progress?
Let's find out together.
In The Beginning There Was The Challenger
The 1960s were a time of serious competition between Ruger and Colt, with repeating rimfire pistol sales ramping up through the 1970s, but by the early 1980s, most classic pistol designs and their respective marketing strategies were reaching their end.
Following its relocation from Belgium to Utah, this period saw Browning conceptualizing a major redesign for the Challenger. By 1985, the company pivoted, and the Browning Buck Mark replaced the long-in-the-tooth Challenger and International pistols.
It used a straight blowback action like nearly all other rimfire handguns and featured a 10-round single-stack magazine (inclusive of an assist button for easier loading), basic thumb safety, and adjustable iron sights — and proved a hit.
As of this year, there are two-dozen models available, including many restricted-state legal models. Some models feature a target-style bull barrel, scope rails, wooden or rubber grips, and fiber-optic front sights.
There are three frame styles, UDX, URX, and UFX, and also three rifle variants, the Sporter, Target, and FLD Target, the last of which features a composite laminate stock.
Features & Specifications
Some of the key Buck Mark features
1.
Best-in-Class Grip
The Buck Mark's rubber or wooden ergonomic grips are best-in-class.
2.
Single-action target trigger
The trigger has a nice smooth pull, crisp break, and decent reset, making it easy to shoot quickly and accurately. 
3.
Target-crowned bull barrel
The target-crowned bull barrel paired with the fixed barrel design makes for fantastic accuracy.
4.
Great Sights
You get a Tru-Glo/Marble Arms fiber optic front sight and a fully adjustable white outline rear sight.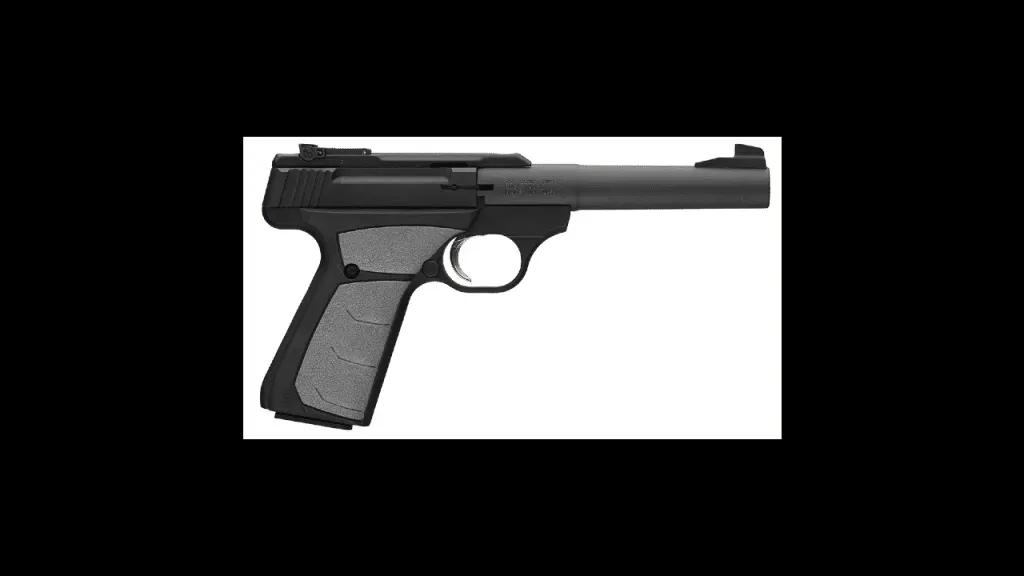 The question is… how well does the Buck Mark rate?
Accuracy: 9/10
The Buck Mark Plus Practical URX is surprisingly accurate, especially at extended ranges. The fixed barrel design and adjustable sights give you consistent shot groups, especially for a .22 LR pistol.
Ergonomics: 8/10
The Buck Mark, while slightly larger than some shooters may prefer, gives you a comfortable Ultragrip RX grip, straightforward safety features, and is well-balanced.
Fit and Finish: 8/10
The contrasting matte black and gray finish paired with a gold-plated trigger gives the Buck Mark a sleek, modern design, but some people may make some functional or aesthetic tweaks.
Features: 9/10
From adjustable trigger pull weight to its use of a fixed barrel design, the Buck Mark brings a load of features to the table. A last round bolt hold open and easy maintenance just add more to like.
Reliability: 9/10
Carrying on the legacy of John Moses Browning, the Buck Mark stands out amongst the rimfire set for its reliability. Even with hundreds of rounds, malfunctions with my Buck Mark are exceedingly rare, regardless of ammo type.
Value: 8/10
Considering the Buck Mark's reliability, features, and performance, it offers fantastic value. The huge variety of aftermarket customization options helps the little pistol keep finding new ways to stay relevant.
The Good:
Super reliable (especially for a rimfire pistol)
Crisp single-action target trigger imparts solid accuracy
Target-crowned bull barrel on most models
Adjustable Pro-Target sights
Incredibly easy to use
Hugely customizable
The Bad:
Heavy
Some models are hard to find in stock
Not all models feature a top rail
Every Buck Mark, regardless of model, starts life as a solid chunk of 7075 aircraft-grade aluminum, which is then milled down on a precision CNC machine to very tight tolerances. Barrels are all target crowned for maximum accuracy, and the chamber is hand reamed and finished as well.
Each model also features adjustable target-style sights right out of the box, making it a great option if you want to participate in rimfire pistol matches or any kind of serious target shooting. The sights are relatively fine, and the rear is adjustable so you can really dial in for your ammo of choice.
The front typically features a fixed fiber-optic sight, which makes low-light shooting easier, and glows brightly in full sunlight for very rapid target acquisition.
The gold-plated trigger has a pronounced curve to it, like many other Luger-style .22 LR pistols in this genre, and features a very crisp, competition-worthy break that ranks with some of the best single-action triggers you'll find at this price point.
On most models, you'll find a target-style bull barrel that soaks up heat during rapid strings of fire so you won't have to worry about your point of impact shifting if you're emptying mags quickly. It will certainly still heat up, but it's going to take quite a while for it to do so.
This also improves barrel longevity and helps avoid thermal wear on the rifling. Most shooters tend to go through a lot of .22 LR ammo given its affordability, so if you want to be able to shoot a lot without worrying about your rifling wearing out the Buck Mark makes a lot of sense.
The barrels, precision bull barrel or thinner "Challenger" barrel, also feature a target crown and a 5.5" length, which further increases your accuracy. The long sight radius provided by the long-ish barrel also makes the gun easier to shoot. That heavy barrel also soaks up the already-light recoil of the .22LR.
This is why you'll find the Buck Mark being recommended often for new shooters, as it makes for a very accurate and controllable experience that isn't very intimidating for those who are a bit recoil sensitive. It honestly feels on par with an airsoft or pellet gun thanks to the heft and great ergonomics.
Speaking of ergonomics, most models feature some sort of enhanced grip to help guide the shooter's hand to the same spot every time, which helps aid in accuracy and repeatability when shooting.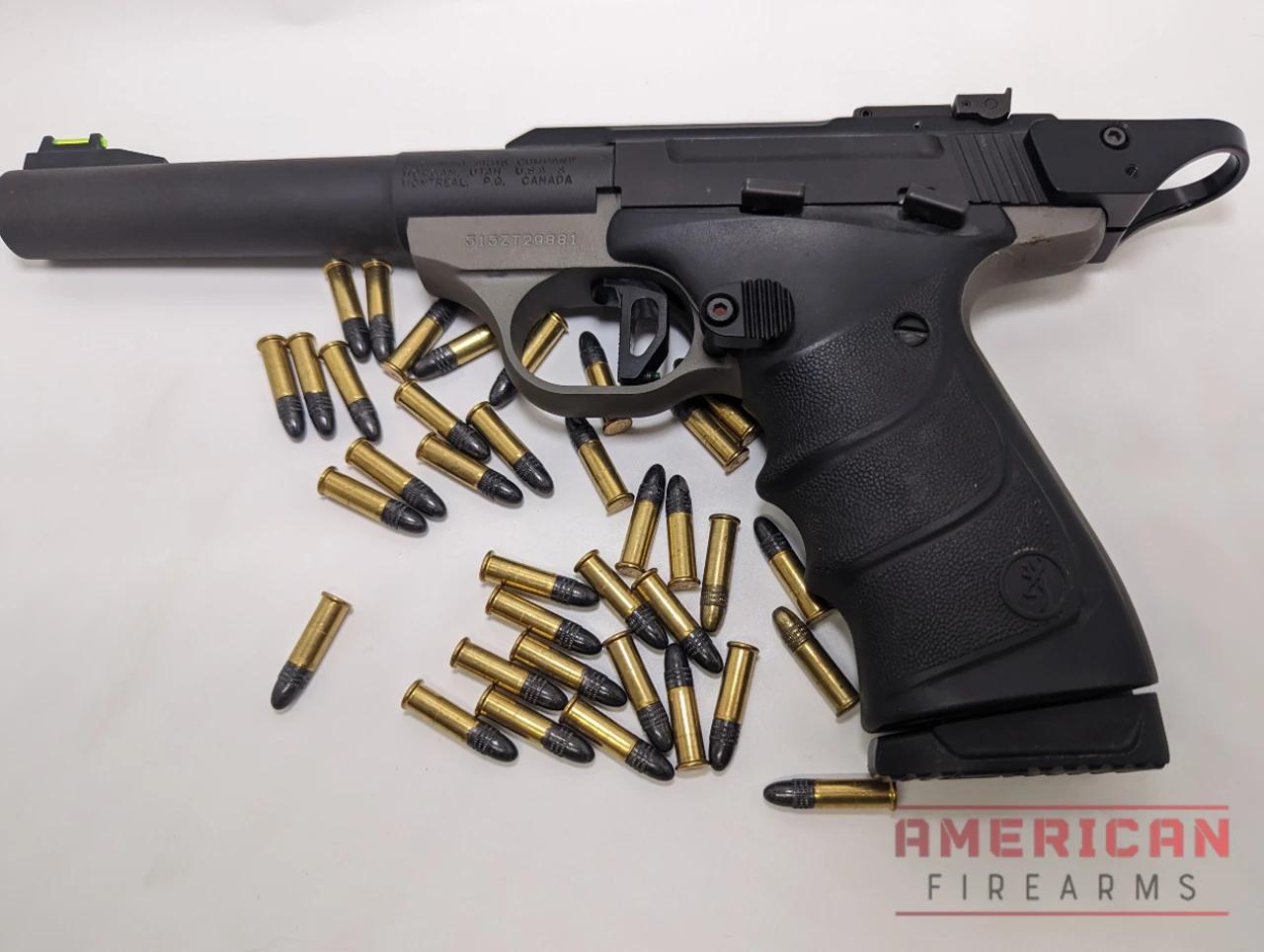 Every Buck Mark, regardless of model, starts life as a solid chunk of 7075 aircraft-grade aluminum,
Controls
The Buck Mark's controls are intuitive and easy to use, with a thumb safety on the left side of the frame, a magazine release button behind the trigger guard, and a slide stop lever on the left side of the frame.
The magazine release button and slide stop lever are both ambidextrous, so this gun is pretty southpaw-friendly. You don't really see this kind of safety design much anymore, which pushes up into the slide, but the Buck Mark dates back to when "Back to the Future" was all the rage. It is, for my money, a touch stiff as well.
The mag release drops sticks with a decent amount of force, and every time I press the release, the Buck Mark pops the mags out. In short, the controls are as reliable as the rest of the gun, for sure.
The Buck Mark's controls are intuitive and easy to use and the grip is best-in-class.
Frame, Slide, & Sights
The Buck Mark's aluminum alloy frame and steel slide are well-made and sturdy, without any noticeable play between them. The slide has a matte-blued finish, while the frame has a contrasting matte-gray finish.
The sights are pretty great. I reall like the Tru-Glo/Marble Arms fiber optic front sight, which is bright and easy to see in any kind of light. The fully adjustable white outline rear sight allows for accurate shooting even at long ranges. Well, long for a .22 pistol anyway. 
The slide is also topped with a Picatinny rail, so you can easily add a red dot to take things to the next level.  You can even fit a scout scope up there if you want to really up your precision at longer ranges, or for hunting small game.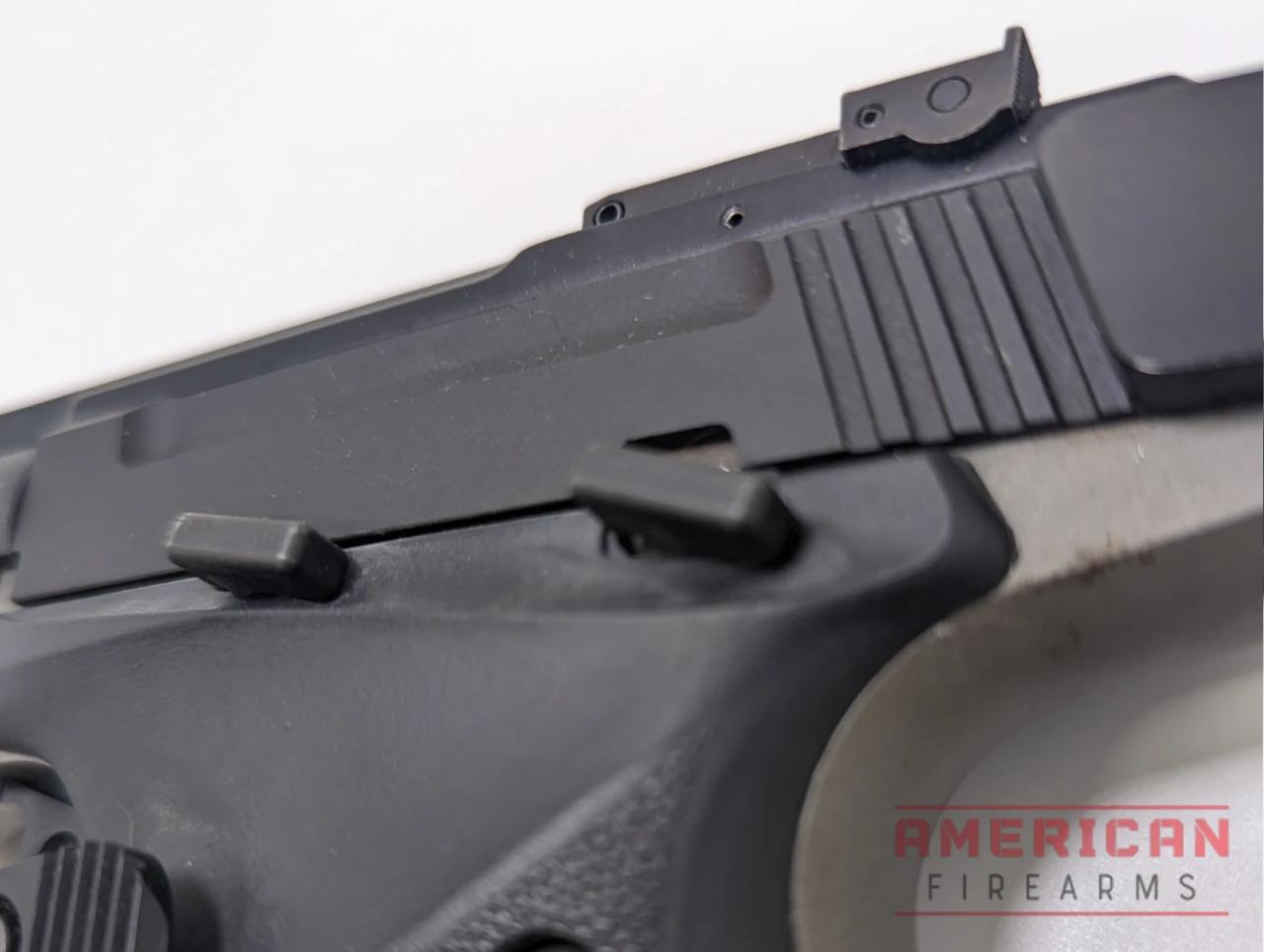 On the left side of the frame you have a slide stop (front) and thumb safety (rear), which is very easy to use.
Barrel
The Buck Mark's 5.5-inch steel barrel is well crafted. It's a tapered bull barrel, so it's designed to withstand long series of rapid-fire shooting but doesn't put too much weight on the front of the gun, keeping it balanced overall. 
The barrel has a matte black finish to match the slide and contrast with the frame.
The thickness and target crown of the barrel also means that your shot groups will most likely be unaffected by thermal expansion and contraction of the barrel, which is key for some target-shooting sports. 
That resistance to thermal effects also improves the longevity of the rifling, which means these are barrels that will easily last you through tens of thousands of rounds as long as you take care of them. 
One neat aspect of the Buck Mark's barrel is its use of a fixed barrel design, in which the barrel attaches directly to the frame. This means the barrel remains stationary when firing, giving you a stable, consistent, and, more importantly, accurate rimfire pistol. Also, the ejection port opens through both sides, which makes a huge difference in reducing carbon fouling, and eases cleaning.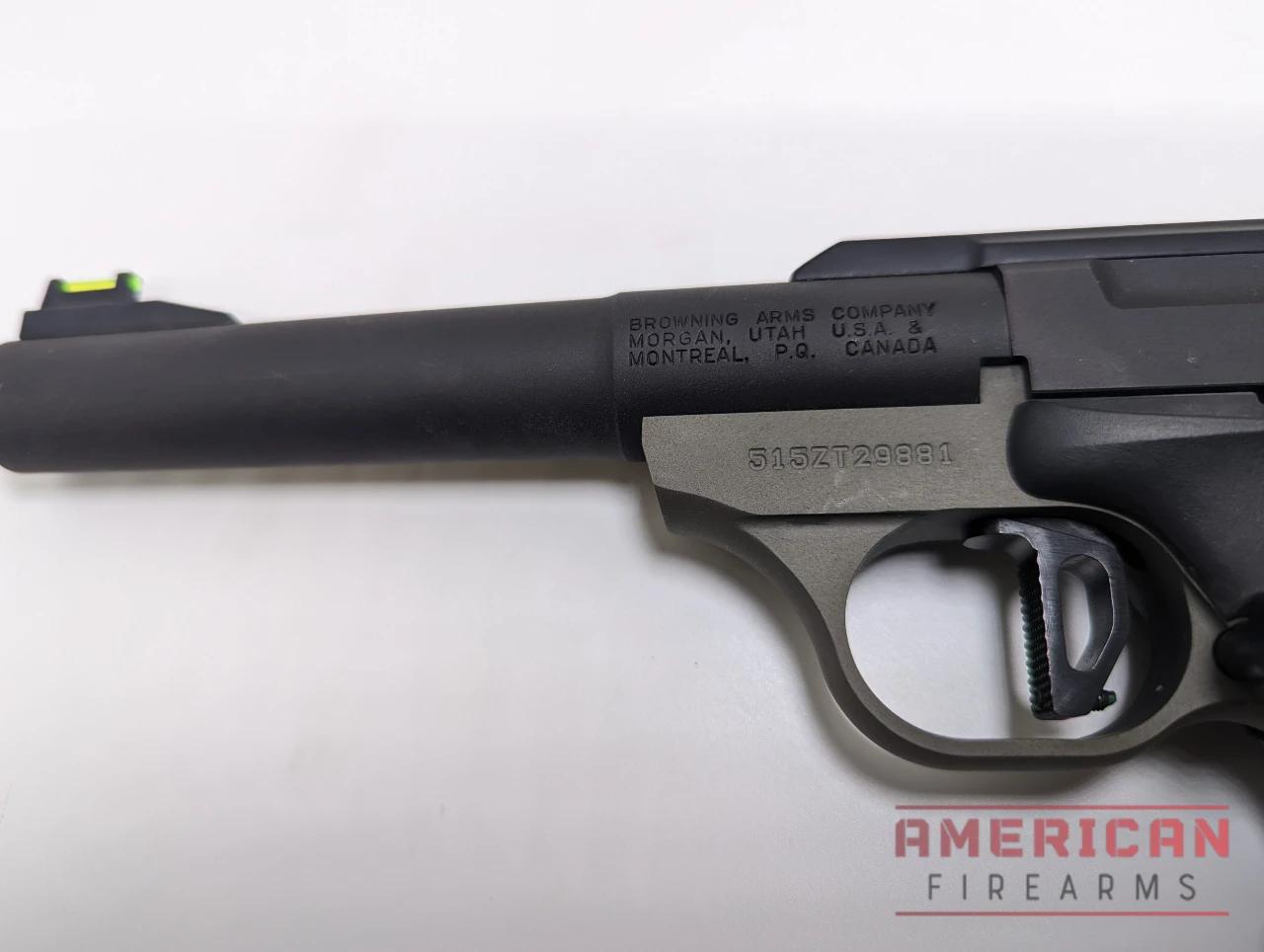 tThe Buck Mark's barrel uses fixed barrel design, in which the barrel attaches directly to the frame.
Trigger
The Buck Mark's trigger has a nice smooth pull, crisp break, and decent reset, making it easy to shoot quickly and accurately. 
The trigger pull weight is also adjustable, so you can customize it to your liking, and you can easily drop-in aftermarket flat triggers for serious target shooting if you want. The whole process requires just removing a pin and you're basically good to go. 
The stock trigger is perfectly adequate however and easily one of the best in its class.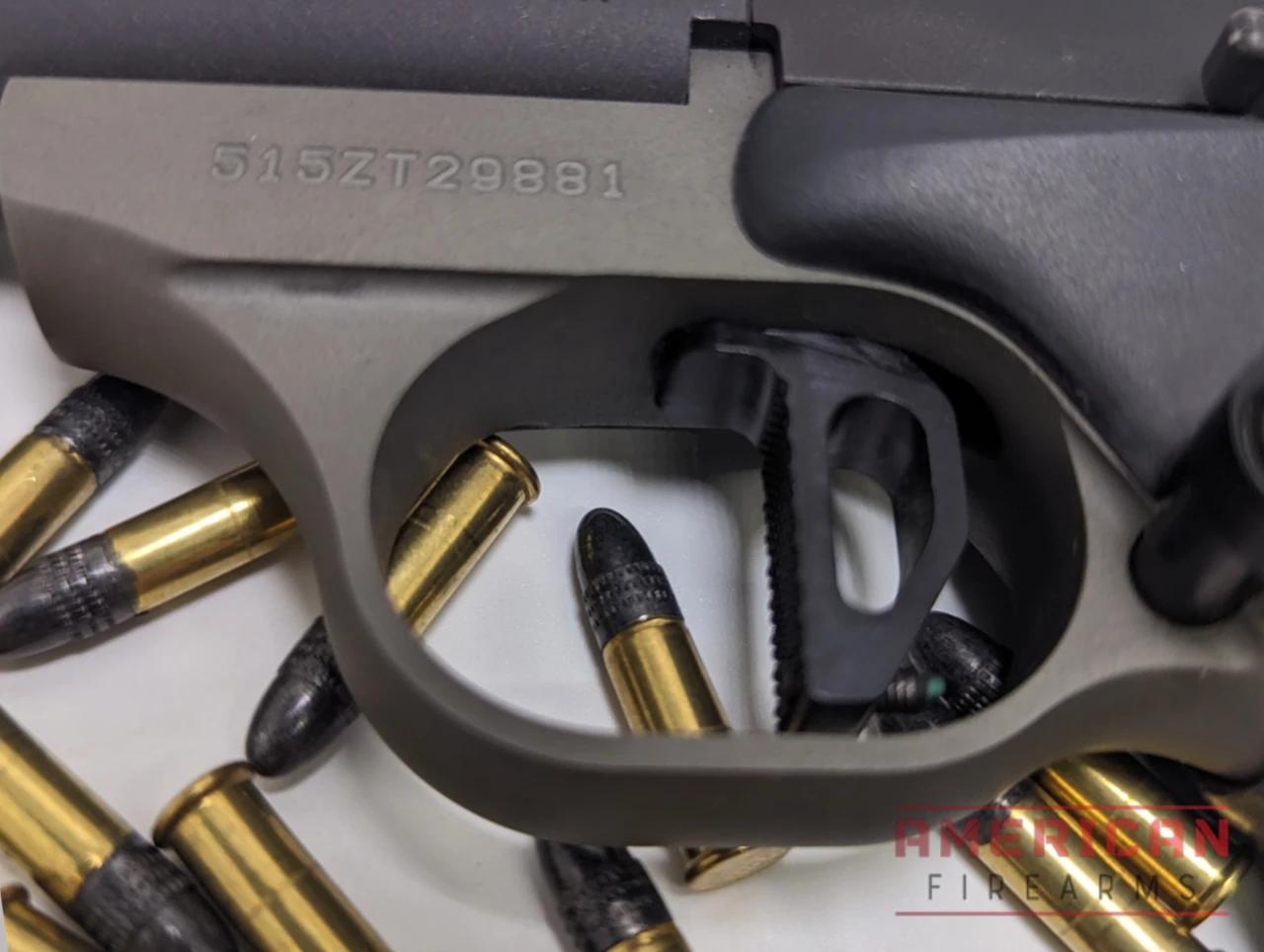 The Buck Mark's trigger is clear, snappy, and fun.
Safety
There's a thumb safety on the left side of the frame, which is easy to operate without leaving me worried that it will be shifted on accident. There's also a magazine disconnect safety, which stops the gun from firing if there's no magazine inserted.
I also appreciate that the Buck Mark has a last round bolt hold open — a rare feature on rimfire pistols.
The slide stop is positioned well and easy to actuate.
Aesthetics and Comfort
The Buck Mark has a sleek, modern design that's well-balanced for long days at the range. The Ultragrip RX grip feels great and is made from soft nitrile rubber with texturing and ergonomic finger grooves. I have pretty small hands and don't typically like grips with finger grooves, but these didn't present a problem.
The overall size of the gun is a bit much for my hand size, but I've been able to compensate for it, especially after I got used to the gun. Ideally, the Buck Mark would be a touch smaller for me, but I do appreciate that the weight helps with recoil. I also recognize that 99 percent of shooters have larger hands than I do and the size won't be a problem for the vast majority of you.
The matte gray and black finish is visually interesting without being loud or taking away from the pistol's sleek appearance. The contrasting gold plated finish on the trigger is a great-looking addition that shows that Browning really put thought into how this pistol looks. 
The pretty excellent aftermarket support also makes it easy to upgrade the look and feel of this pistol, as well as the other components.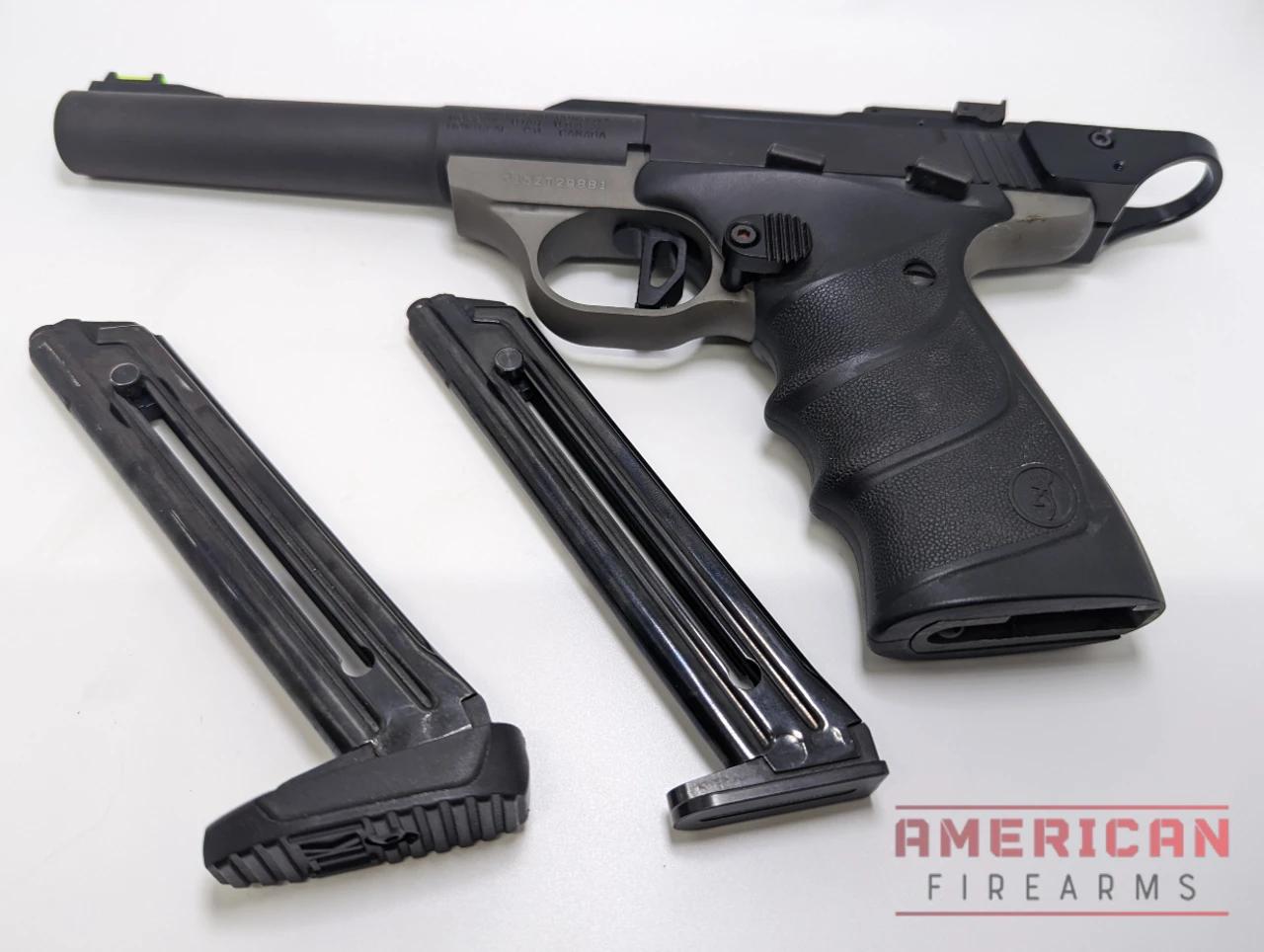 The Buck Mark magazines are metal, have nice springs, and assist buttons that make them quick and easy to load.
Accuracy 
The Buck Mark Plus Practical URX's accuracy is pretty good, especially for a .22LR pistol, with consistent groups at 25 yards and beyond. The adjustable sights help with the Buck Mark's accuracy at extended ranges. In keeping with our pistol testing protocol, we tested various types of ammo at 15 and 25 yards to assess accuracy, and this range session was done indoors. 
Off-hand groups with most ammo options we tested were under 1.5" at 15 yards, which is about what we'd expect in many competition scenarios. At 25, they opened up fairly predictably to between 2" and 3" depending mostly on the shooter. 
Our best group of the day was a .29" group at 25 yards with some Lapua Center-X, fired off a sandbag rest to test pure mechanical accuracy and control for the skill (or lack thereof) of the shooter. 
All in all, this is a great target gun right out of the box, so if you're looking to do any kind of bullseye shooting, this is a great choice.
For blasting cans and clay pigeons off a berm, shooting dueling trees at 15 yards, or knocking over lightweight steel plates from something like a Texas star? This is one of the best rimfire options out there right now, full-stop.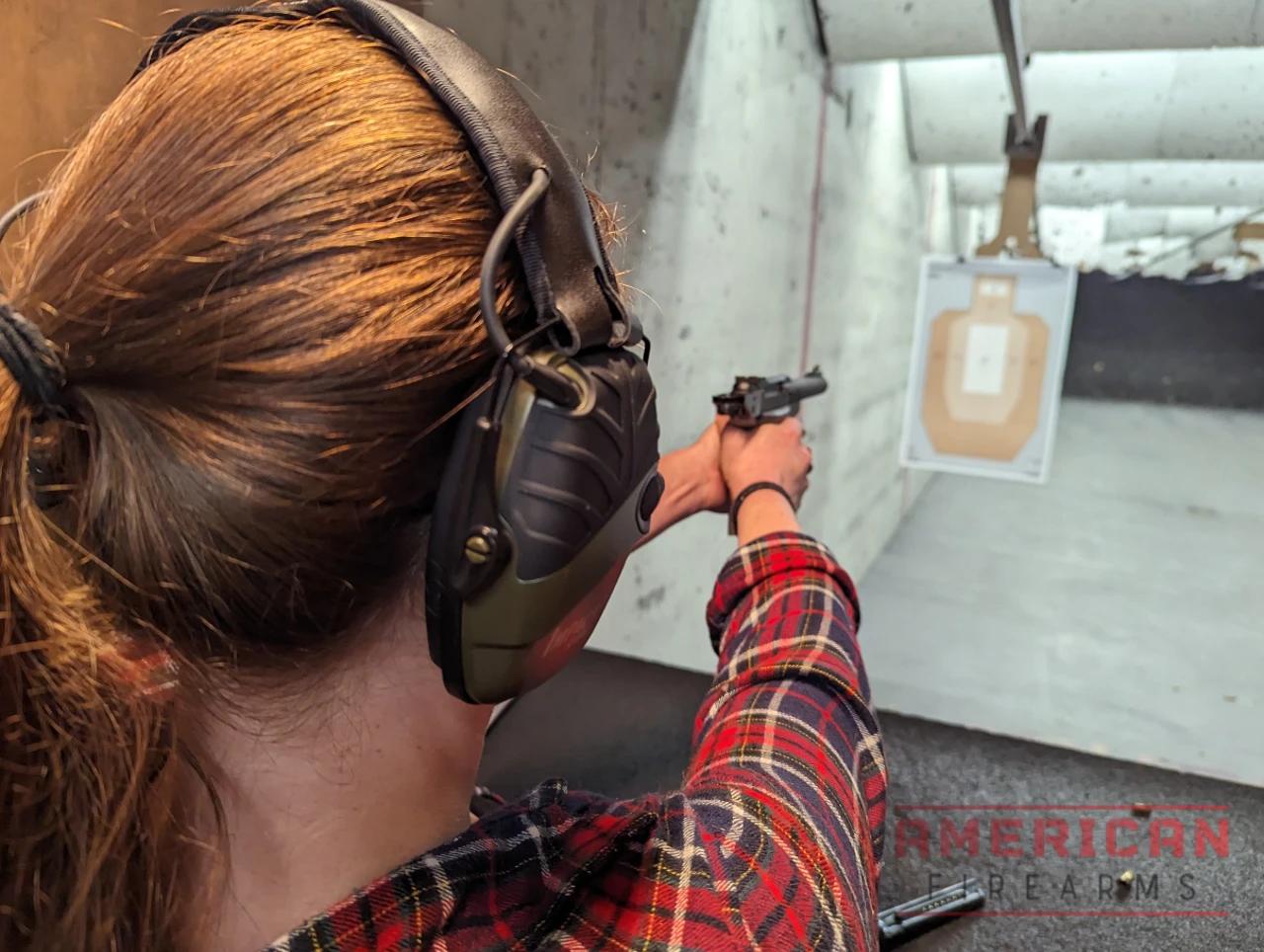 Off-hand groups with most ammo options we tested were under 1.5" at 15 yards, which is about what we'd expect.
Recoil 
It's a .22, so recoil is minimal to begin with. But even among .22s, the Buck Mark has very low recoil, thanks to the gun's weight (a hair under 2 pounds), fixed barrel design, balance, as well as the textured, ergonomic rubber grip. 
The Buck Mark is very easy to keep steady while shooting, even when shooting rapidly. Muzzle rise is virtually non-existent. Seriously, if you have a new shooter or someone who is recoil sensitive, this is a great choice because they'll hardly notice the recoil.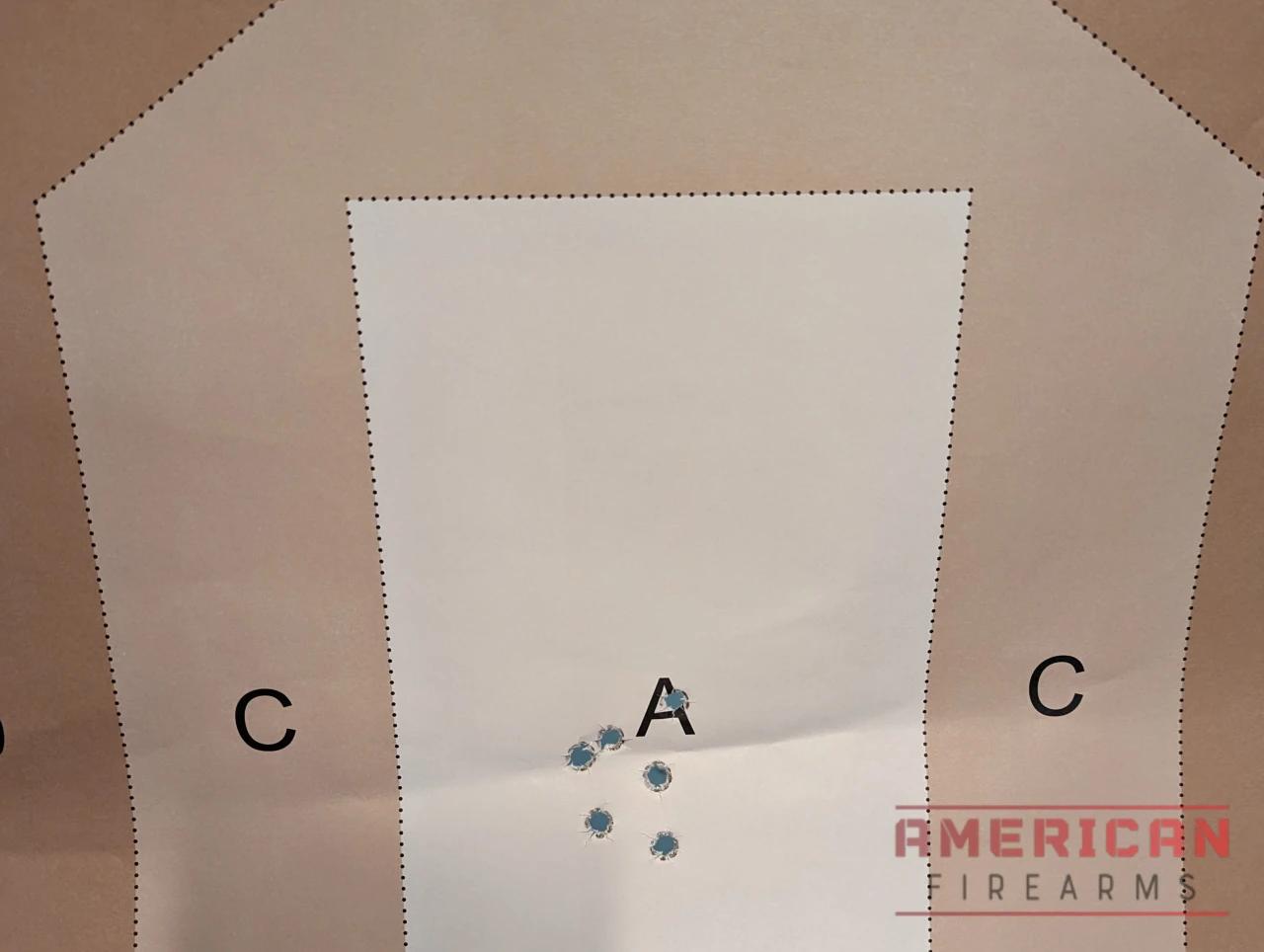 Our best group of the day was a .29" group at 25 yards with some Lapua Center-X.
Reliability
John Moses Browning was known for creating simple, reliable designs, and the Buck Mark carries on that legacy. Malfunctions while using the Buck Mark, while not unheard of, are exceedingly rare. You can fire off hundreds of rounds and not have a problem. 
I tested with Lapua Center-X, Federal Automatch, and even some cheapo Herters — all in 40 gr with round nose stuff that's been my shelf since way before the Pandemic, and the Ruger eats it all.
Takedown & Maintenance
That same simple design makes disassembling and maintaining the Buck Mark a breeze.
It breaks down into five sections: the slide, firing pin housing, frame, barrel, and sight base. Takedown is totally tool-free and takes less than a minute once you know what you're doing. It's also relatively easy to get into all of the pistol's nooks and crannies for cleaning. 
Aftermarket Support
Finally, aftermarket support for the Buck Mark is very good. It's a very common pistol with myriad factory variations, with a fairly committed fanbase among competition and target shooters.
All that having been said, there are a huge number of companies that make everything from grips to extended controls to holsters, so you'll have no trouble whatsoever customizing your Buck Mark to your personal preference.
When it comes to rimfire pistols there are few that offer the adaptability and customization options that the Buck Mark has available. Mine included the Tandemkross charging ring and mag base pads, but the sky's the limit with Buck Mark customization.
Want a gold trigger? No problem! Interested in different barrel lengths? Sure thing — you want that fluted?
All in all, the Browning Buck Mark is a fun rimfire pistol that's still holding its own in a crowded field of high-quality .22 LR handguns. It's reliable, incredibly accurate, and customizable enough that you can kit yours out for hunting, competition, plinking, shooting suppressed, or anything else you can think of. 
The Buck Mark is a solid performer in all of these roles, and between the factory options that are available from Browning and the aftermarket upgrades available like those from Tandemkross, you'll always be able to customize yours just how you want it. 
Of course, if you just want to take it out of the box, load it up, and go blast tin cans or reduce the local varmint population, you won't be disappointed there either.
Frequently Asked Questions
Is Browning Buck Mark a good gun?
Did Browning Discontinue the Buck Mark rifle?
Is the Browning Buck Mark discontinued?
Where are Browning Buck Mark pistols made?
How old is my Browning Buck Mark?