The Best Concealed Carry Jackets
Concealed carry jackets provide a discreet way to stay warm, stylish, and armed. We detail some of the best options for protecting yourself while looking good.
Written By
Michael Crites
Licensed Concealed Carry Holder
Reviewed by
Editorial Team
Learn About The Editorial Team
Share:
Products are selected by our editors. We may earn a commission on purchases from a link. How we select gear.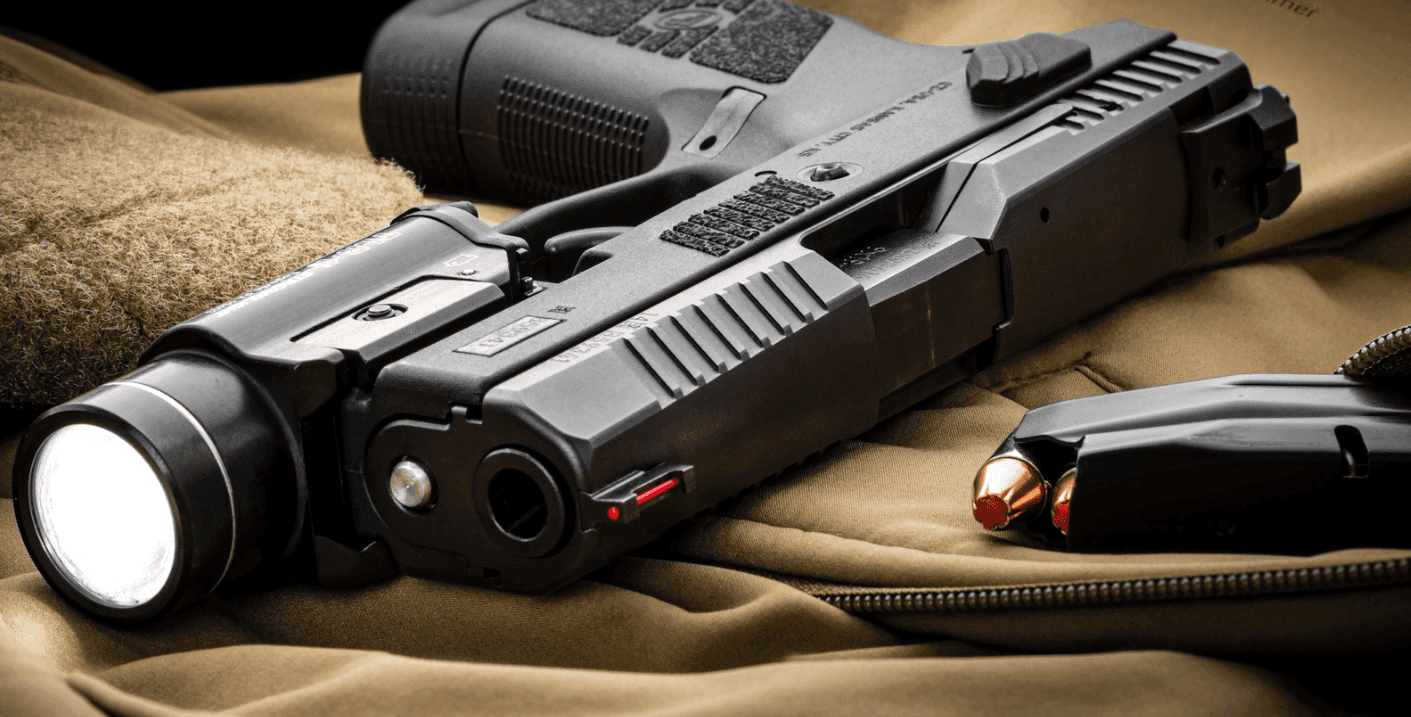 The Rothco Special Ops Soft Shell CCW jacket is the best concealed carry jacket for most people. It is lightweight, comfortable, and easy to use, and has a huge number of pockets. Most importantly, the internal carry pockets are easy to get into and make pocket carry a breeze.
Concealed Carry Jacket Comparison
We packed everything from a sub-compact pistol to a CCW-friendly revolver and a full-size 1911 across every corner of our test cities in Oregon, Montana, and Texas in 15 concealed carry jackets.
Six different testers put them to the test, covering a variety of carry situations, from running around town, hitting sports bars and tasks that anyone looking to carry a firearm would be familiar with.
Below is my list of the best concealed carry jackets. I list the best choices in terms of value, performance, design, and cost.
Click on the name to head to the product page, read reviews and check prices or skip ahead to the list of jackets.
| Name | Selection | Price |
| --- | --- | --- |
| | Best Soft Shell | $114 |
| | Best Cotton Jacket | $109 |
| | Best Leather Jacket | $169 |
| | Best Flannel | $69 |
| | Best Shirt Jacket | $139 |
| | Also Great | $80 |
Security
We looked for jackets with zippable compartments that will keep firearms secure and safe.
Weather Resistance
We concentrated our recommendations on products that would work in a variety of weather conditions.
Material Durability
We made sure the products we recommended are durable enough to handle the weight of a pistol without undue wear.
Easy of Draw
We focused on jackets that were wearable and easy to draw with across a wide range of body types.
More on our selection process
The Best Concealed Carry Jackets
1. Best Soft Shell: Rothco Special Ops
What we liked:
Well-engineered
Quick access to concealment pockets
Water-resistant
Keeps you cool and warm when you need it
Loaded with large and small pockets
What we didn't:
Runs small (size up)
Hood can be a little awkward
Not a good fit for tall men
Weighing in at an overall weight of just over 32 ounces (or about 2 lbs), Rothco's Special Ops Soft Shell Jacket (available up to 6XL) is an incredible value when you consider overall functionality & cost.
Solid construction
It has a triple-layered construction with dedicated layers for deflecting wind and water, wicking moisture, and a fleece-lined internal layer for heat retention.
That triple-layer structure means a significant increase in warmth & water-repelling capabilities compared with similarly priced jackets, but without sacrificing the lightweight jacket feel and mobility.
Surprisingly versatile
I really love the versatility of this concealed carry jacket, such as the easy access interior concealment pocket, 4×4 velcro morale patch, wire pass-through port, double zipper pockets around back which offer bigtime storage, and massive chest pockets which help you stash all kinds of things without needing to open the jacket to the wind and cold.
The substantial amount of fleece also lends wind resistance to the jacket, something our testers appreciated when running around town and getting caught in a downpour with 25 mph winds & hail.
With this jacket's effective triple-layer structure, our testers found that even when carrying a full-sized handgun while hiking up the Columbia Gorge, they didn't need to add a heavier jacket to ward off the cold or remove the coat due to overheating.
2. Best Cotton Jacket: Rothco 3 Season
What we liked:
Light & comfortable
Breathes well
Big holster pockets
What we didn't:
Not as rain resistant as other options
Interior pocket stitching is light and possibly prone to breakage
Our testers found Rothco's Concealed Carry 3 Season Jacket, available up to XXX-Large, offered competitive warmth and comfort to other lightweight concealed carry coats that cost considerably more — and it's warmer than many leather options.
A near-perfect around town CCW jacket
For those who live in parts of the world that don't require full-on puffy winter jackets (or hardcore rain gear), this concealed carry jacket is perfect for running around town in any scenario when you need extra warmth, rather than waterproofing and want concealment pockets without looking super tactical.
The inner holsters are on both the left and right sides of the jacket and are surprisingly big and deep, measuring 8″ x10″ with substantial padding.
These holster pockets are sealed with velcro hook and loop closures, for secure storage of any concealed carry weapon. There are also four inner pockets designed for additional clip storage, which measure 6″ x2 ½" and have a velcro closure.
Flaws worth noting
There are some issues with the inner pocket stitching, which seems light and has been the subject of some online complaints, even if they offer soft, if thin, construction.
The cotton exterior is more prone to snags than polyester shells, but it seems perfectly capable of brushing against bushes and undergrowth if hiking without noticeable wear.
3. Best Leather Jacket: Biker Zone
What we liked:
Tough material
Water-resistant
Fast, quick access
What we didn't:
Heavier than other options
Style may not be for everyone
For those who like to play hard – and want that classic leather jacket look – The Bikers Zone Men's Leather Motorcycle Jacket, available up to 7XL, is up to the task.
As tough as it looks
Blast down the freeway on your hog, run around town, or revel in the fact that almost no one will know you're wearing a CCW jacket.
This leather jacket works in all sorts of scenarios and adds a level of toughness along with that protective layer of leather.
Great for full-sized pistols
Our testers found that the rigidity of the leather made this their favorite for carrying full-sized pistols thanks to the weight of the jacket & strength of the material, eliminating the concern for any printing or sagging.
This isn't the jacket to use when running around town in subzero temperatures; however, it would be ideal for activities that require added protection without delving into the world of body armor.
It is designed through and through to make carry easy – with quick access a priority.
4. Best Flannel: Rothco Concealed Carry Flannel
What we liked:
Easily adjustable
Built well
Durable material
Water and windproof
Chest pockets are a nice touch
What we didn't:
Rothco Concealed Carry Flannel offers a list of features that make it a more versatile option than many of the jackets we tested.
A true anywhere carry option.
A while not waterproof or windproof, what you give up in weather protection, you gain in usability. There are very few places that a decent-looking flannel won't take you, and anyone would be hard-pressed to make out your carry with the way the flannel is cut.
A solid pick if you want to blend in
The Rothco Flannel is somewhere between a jacket and a shirt – maybe an overshirt? – that's roomy enough to accommodate your piece and appropriate mags without pinching or sagging. It's big enough to work over other shirts but can undoubtedly function as a stand-alone shirt.
One of the notable features is the fabric weight – which is heavy enough to put it in the jacket category in our opining. The fabric holds in heat nicely but breaths well enough to never get stiflingly hot.
The best part of the fabric's weight is it prevents printing and gives the breasts and sides enough stability to hold form even when fully loaded.
5. Best Shirt Jacket: Venado Concealed Carry Jacket
What we liked:
Comfortable
Impressive range of motion
Durable material
Internal flannel lining
What we didn't:
May print with larger pistols due to lighter fabric
Stitching could be heavier duty around elastic holster
The Venado carry products are some of our favorites, having included them in our CCW vest recommendations, and this short jacket is no different.
With the Venado Short Jacket, you get a very wearable carry option that will look good from morning to night. The shirt jacket offers the same left/right holster configuration as their vest and for easy access regardless of your preferred draw side.
The only downside is the fabric is relatively light compared to other heavier duty options, so it's probably best for a smaller (think compact or subcompact) carry piece.
What to Look for in a Concealed Carry Jacket
There's a slew of tactical clothing options on the market today geared toward shooting and everyday carry fans. These products integrate built-in concealment pockets, stitched into the garment's interior, giving the user a secure and discrete location for the concealed carry pistol of their choice.
The most common types of concealed carry clothing are jackets and vests, both of which are solid choices provided that the product offers reliable support and sufficient concealment.
If you're comfortable in it, the product carries the weapon well, it provides quick, unobstructed access to the firearm, and compliments your draw style, a concealed carry jacket or vest can be a great choice for concealed carry.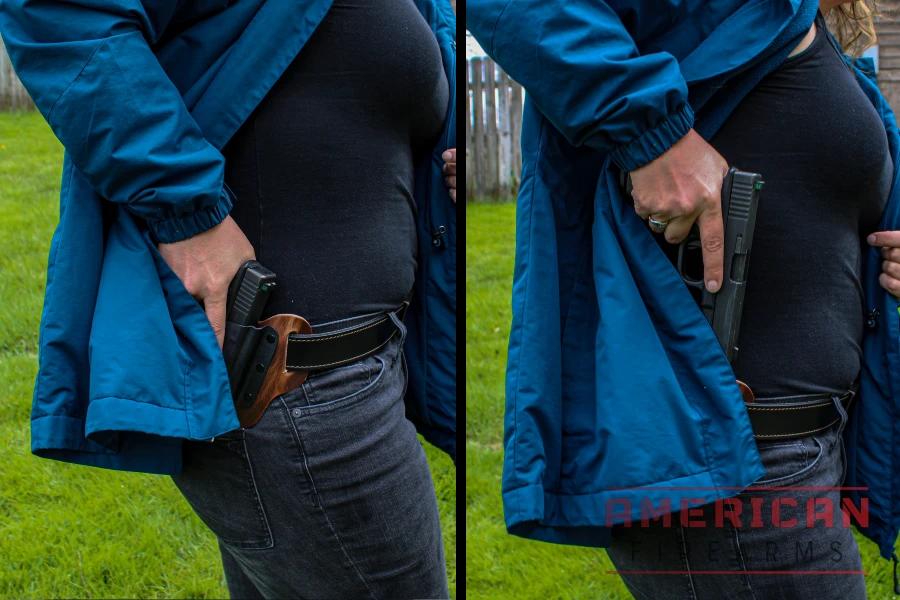 If you carry IWB or OWB, just make sure your preferred pistol is compatible.
A quality concealed carry jacket has to do more than keep your hands warm. It must accommodate the firearm of your choice, provide good warmth for daily tasks and outdoor activities, and eliminate printing while carrying.
Instead of a fashion look or a specialized task-specific selection, we looked for the most functional concealed carry jackets for various activities. Before we began testing, we gathered the six concealed carry testers together to define the most important criteria for a great, multi-use CCW jacket:
1. Compliments Your Draw
A great concealment jacket should carry your firearm without sagging, slipping to the side in which you are carrying, or printing the gun such that people can see the outline or shape.
Many CCW permit holders carry their guns in their jacket pockets, which is a straightforward carry method, but most standard jacket pockets won't competently conceal guns and can make retrieving a pistol quickly a challenge.
Your choice of concealed carry jacket should be specifically designed to conceal firearms in a dedicated pocket and ease the draw.
Jackets are a great choice because everyone these days carries cell phones, keys, and other items inside clothing pockets, so carrying a pistol in a jacket usually won't cause suspicion, and the consistent placement of your EDC piece in the dedicated pocket means you'll be able to build familiarity with its placement.
We were also mindful of features that help conceal and support the firearm, such as blocking fabric or integrated holsters.
2. Breathability
Any quality concealed carry jacket must support a full range of motion without hindrance, especially when carrying your firearm.
It should be comfortable with a piece in the holster — and provide room for air to cycle when walking, hiking, or going through the everyday tasks that any jacket would support.
3. Durability
No one wants a jacket that will catch on everything under the sun – especially when carrying.
A great everyday carry jacket should not rip, tear, or snag when used, and simple activities like brushing against things while running around town, carrying car keys or a knife in pockets, and straps on things like range bags should not cause damage or wear.
4. Water resistance/quick drying
Very few concealment jackets are genuinely waterproof, as they tend to be designed to carry first, and deal with weather second. That said, you don't want a jacket that's going to lose its shape when wet, which will increase the likelihood of printing and complicate the draw.
Look for jackets with tough, water-resistant exteriors that aren't going to become a liability should you get caught in a downpour.
They also tend to be thinner than a puffy, down jacket (the good news is down jackets are useless when wet), so they dry faster. A decent CCW jacket should dry indoors in less than 3 hours and might have an exterior treatment coating that helps water bead on contact rather than absorb directly into the coat.
5. Overall fit
A great concealed carry jacket should fit loosely, be comfortable when used, and still be functional for drawing your firearm.
It shouldn't bind or constrict – especially in the shoulders/arm areas where mobility is critical.
A solid-fitting jacket will also accommodate an under layer, such as a long sleeve shirt, and possibly offer extra pockets for tucking away all your non-carry items.
6. Windproofing
Just like few CCW jackets are fully waterproof, very few are truly windproof. With that in mind, you'll want your coat to cut the wind to some degree to handle breezy, cold weather. You don't want a Marilyn Monroe moment with your pistol, so something as simple as a drawstring waist can help keep your jacket under control when the weather turns blustery.
A great CCW jacket could also fit underneath a wind/waterproof outer layer or a heavier winter jacket if the situation requires it.
7. Purposeful zippers/pockets
A great CCW jacket features zippers that work, are in the right locations to add utility (such as interior carry or magazine pockets), are easy to use even when wearing gloves, and are durable enough to be used frequently.
It should have at least one well-designed interior carry pocket and possibly two for a more ambidextrous carry option.
There should be pockets to comfortably carry your firearm, extra magazines (or even dedicated magazine pouches), and of course, the staples like a cell phone, wallet, pocket knife, car keys, and the miscellaneous bibs and bobs that accumulate, especially if you're a parent.
Rothco Special Ops Soft Shell also met the criteria for any CCW jacket we'd recommend:
Priced right
Light but quality material
Water & wind resistant
Versatile
Purposeful pockets
There are quite a few options out in this category, and if you're in the market for concealed carry products you can check out our guide to concealed carry pants, concealed carry vests, and our holster reviews. We hope this article steers you in the right direction. If you have any questions or feedback please drop us a line.

March 13, 2023 — Following our careful review of this guide, we stand behind our current concealed carry jacket recommendations. We've updated images and links where appropriate.
Sign up for our newsletter
Get discounts from top brands and our latest reviews!