FN 5.7 Review: The Future Is Now
Written By
Michael Crites
Licensed Concealed Carry Holder
Reviewed by
Editorial Team
Learn About The Editorial Team
Share:
Products are selected by our editors. We may earn a commission on purchases from a link. How we select gear.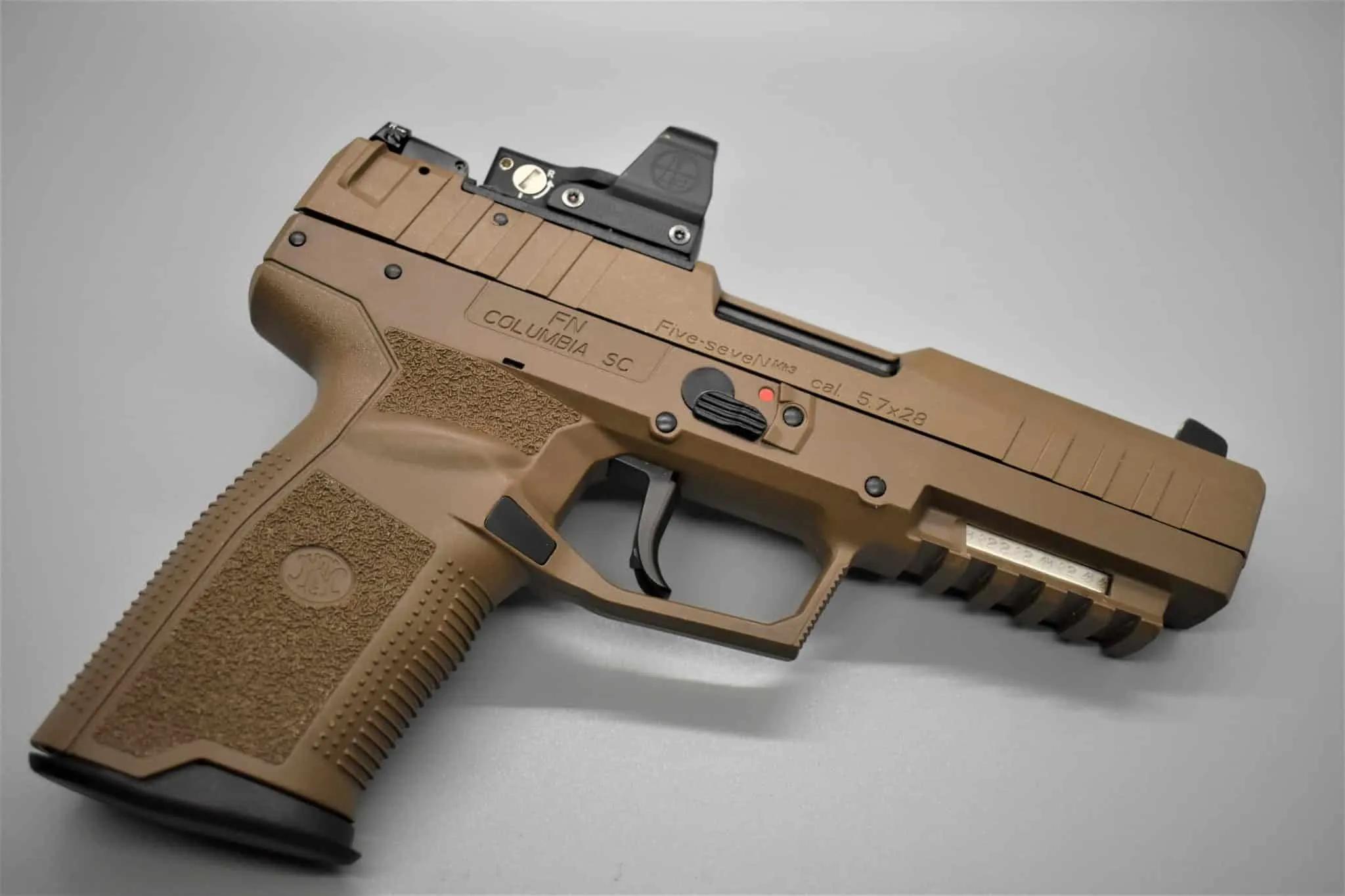 The FN Five-seveN pistol helped usher in the 5.7x28mm round it is named after and, now in its third generation, has benefited from a series of upgrades that have brought it into the 2020s with ease. We look at this icon from the last days of the Cold War and weigh the new MK3 MRD variant against today's market.
From the last days of the Cold War
One of the most worrying things for Western intelligence agencies in the 1980s were grainy photographs coming from Eastern Europe and Afghanistan– where the Soviet Army was fighting a counterinsurgency war against U.S.-backed rebels– was that regular everyday Ivans were increasingly wearing body armor.
While American troops had fielded flak jackets in combat going back to the Korean War in the 1950s, the revelation that the Russians had caught up with the tactic was chilling.
This came as most NATO militaries were relying on 9mm-caliber submachine guns and pistols to arm substantial portions of their frontline troops.
Soviet 6B2 and 6B3 series body armor vests were first fielded in the 1980s in Afghanistan and sparked alarm in the West.
Fearing the sedate 124-grain FMJ 9mm load would not be able to penetrate more modern Warsaw Pact helmets and armor in the event that the Cold War suddenly went hot, a quest was launched to field a new generation of Personal Defense Weapons, or PDWs, chambered in a roughly pistol-sized cartridge that had more of a punch to it.
By 1996– at which point the Cold War had ended and the pressing problem of body armor-clad Russian paratroopers suddenly falling from the sky had vanished– a field of four competitors stood strong.
These included a British round (.224 BOZ) and a similar one by Germany's Sommer & Ockenfuss faced off against two cartridges and systems with more R&D muscle behind them– Heckler & Koch's 4.6x30mm round and its MP7 submachine gun, and FN's Project 90 sub gun, dubbed the P90, and companion pistol, named ultimately the Five-seveN, both chambered for the then-new high velocity bottlenecked 5.7x28mm round.
After a series of trials conducted in Britain and France through 2002, HK's 4.6 and FN's 5.7 both remained, but neither was officially standardized by Western militaries at the time.
It turned out, neither was suited to the task of penetrating modern body armor, although both the MP7 and P90/Five-seveN were still seen by many as being a better option, ballistically speaking, than aging 9mm-caliber pistols and SMG systems.
As such, the MP7 was quickly adopted and fielded by users in over 20 countries including the U.S. Navy's SEALs while users in some 40 countries chose the P90 in one form or another, the latter including the U.S. Secret Service.
In the end, NATO only standardized the two PDW calibers in 2020 as part of the STANAG 4509 specification, over 30 years after the Soviet 6B2/6B3 series body armor vests were first fielded. By that time, the Russians had moved on to supposedly better armor after learning hard lessons in Chechnya.
"With almost three decades of trusted use, the FN 5.7x28mm continues to leverage the groundbreaking design to improve range, accuracy, and terminal performance from small arms," said FN in a 2021 presser on the NATO standardization.
When it came to the FN P90s handgun sidekick, the Five-seveN was introduced in 1998 after almost a decade of development.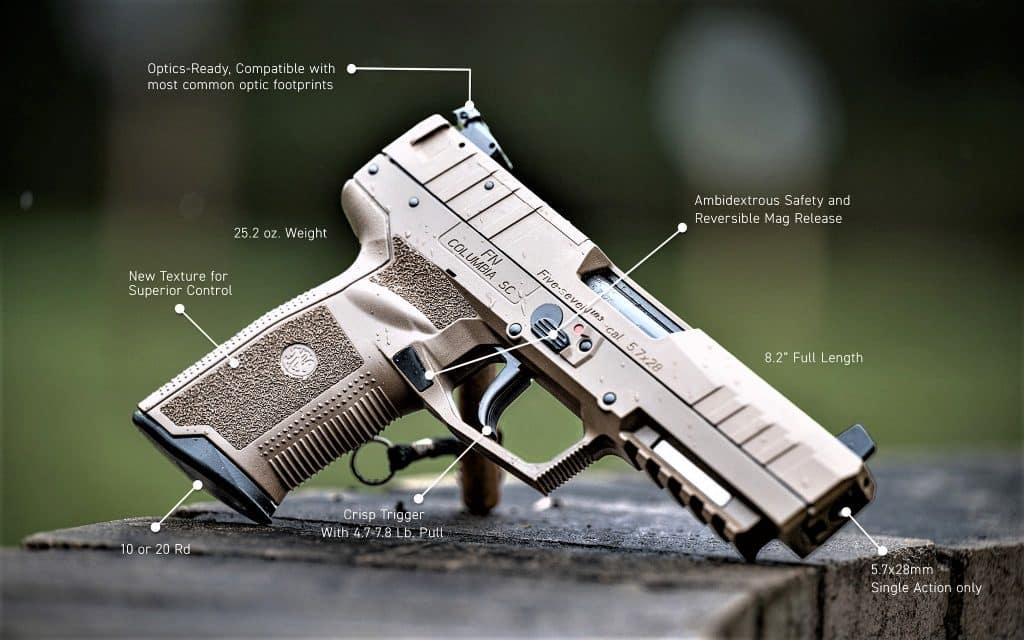 The FN Five-seveN MK2 variant, the standard version of the pistol from 2013 until last year. (Photo: FN)
Besides its obvious marketing to law enforcement and military customers– the pistol was at first only sold to military and law enforcement personnel as the "Individual Officer's Model" or IOM– by the end of the federal assault weapon ban in 2004 the Five-seveN appeared on the U.S. consumer market as the USG model alongside a semi-auto-only (and thus NFA-compliant) variant of the P90, the carbine-length PS90 rifle.
The Brady Campaign, a gun control advocacy group, had several issues with the FN 5.7 pistol. One of their main concerns was the 5.7x28mm caliber, which they believed could be paired with armor-piercing rounds and by criminals to defeat body armor worn by law enforcement officers. Of course armor piercing ammunition never materialized in the civilian market.
They also raised concerns about the high capacity magazines available for the FN 5.7, arguing that they could allow a shooter to fire more rounds without needing to reload, disregarding the capacity already available in other semi-auto handguns of the time *cough cough* G17 *cough cough*.
Additionally, the Brady Campaign argued that the FN 5.7's compact size and low recoil made it easy to conceal and handle, potentially making it appealing to criminals, which is a bridge too far given the guns asking price, but I digress.
Gun control groups seem to have been fixated on the Five-seveN, and that continues in certain circles to this day.
An improved MK2 variation arrived in 2013, with a host of cosmetic improvements such as front and rear slide serrations, all-black surface controls, and better sights. This brings us to the newly introduced MK3, FN's more modern third generation of the Five-seveN.
The FN Five-seveN MK3 MRD, rather than just being a minor change seen in the MK2 series, is almost a whole new gun externally. While the delayed blowback operation and most of the internals are the same, the grip is redesigned with a stipple-textured frame and the slide. Then there is its factory optics cut for micro red dots (hence the "MRD" designation) and a much more aggressive serration pattern to the cocking ridges than seen previously.
Going further, the new guns have oversized controls including an ambidextrous safety and a reversible magazine release.
They *do not* accept the same standard 20+1 round mags, 10+1 round restricted mags, and 30+1 round extended mags as previous models due to this redesigned grip format.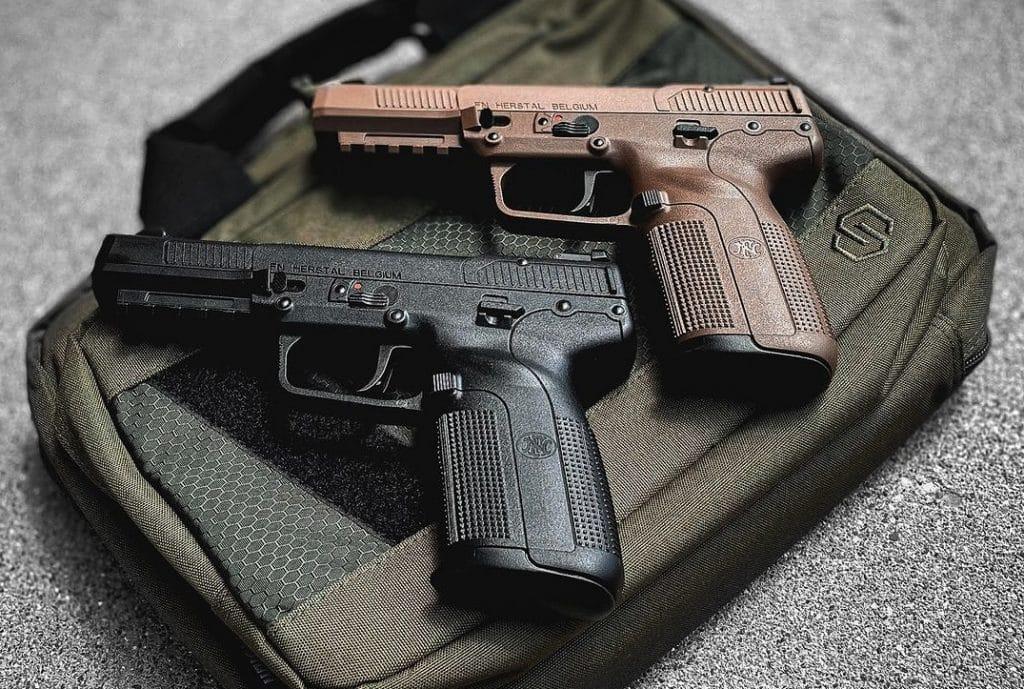 The legacy FN Five-seveN MK2 compared to the new MK3 MRD.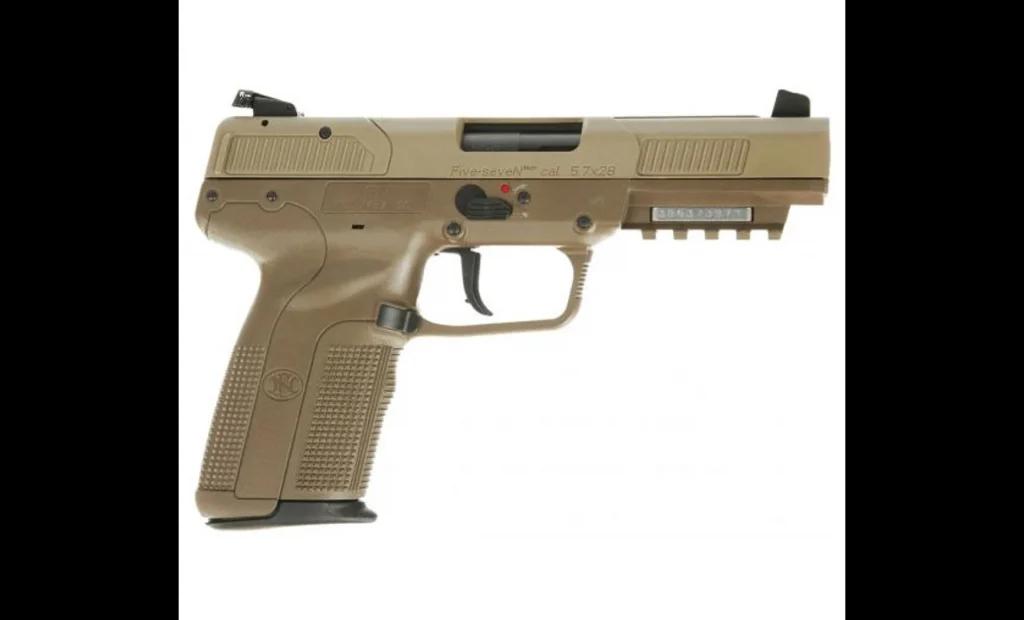 | | |
| --- | --- |
| Caliber: | 5.7x28mm NATO |
| Capacity: | 20+1 rounds standard / 30+1 extended |
| Action: | Striker-Fired |
| Trigger Pull Weight: | 6.2 pounds on average with internal single-action hammer |
| Length: | 8.2 inches overall |
| Height: | 5.7 inches over the sights with flush 20+1 round magazine inserted |
| Width: | 1.35 inches over surface controls |
| Barrel Length: | 4.8 inches |
| Weight: | 25.2 ounces unloaded (28 ounces loaded) |
| Sights: | Photo-luminescent front sight with adjustable rear / MRD slide cut |
| Finish: | Black or FDE |
| MSRP: | $1,319 |
| Real-World Price: | $999-$1,200 |
Pros:
Laser-like distance game
Loves an optic
Light and easy to shoot
Very little felt recoil
5.7 ammo options are expanding by the day
Cons:
Aged like a VHS player
Outflanked by less expensive competition
No ambidextrous controls
Near zero aftermarket support
Kludgy safety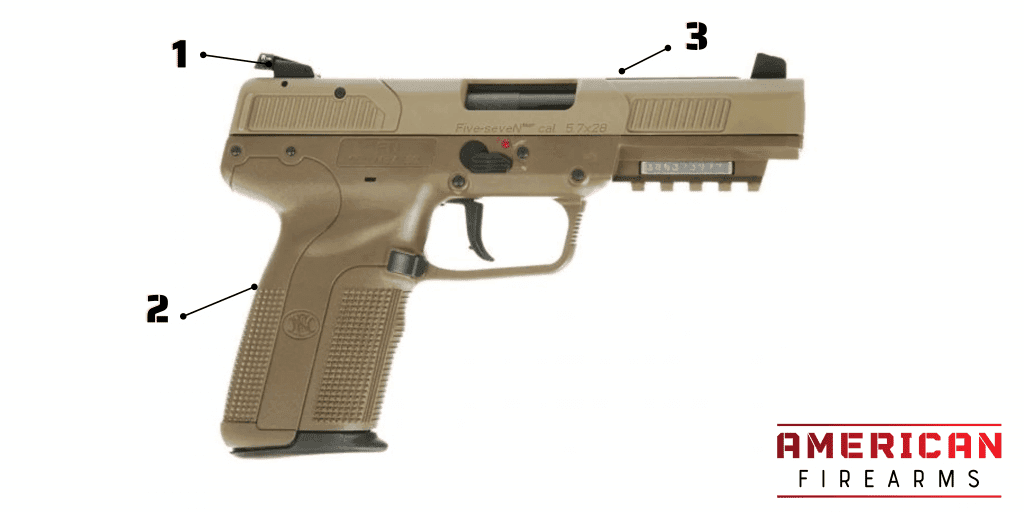 Five-seveN Product Review Feature Call-Outs
Suppressor-Height Sights
Easy co-citation with red dots
Twenty On Tap
Bring 20 rounds to the party, or 30 with an extended mag.
4.8-Inch Barrel
Laser-like accuracy at ranges up to 100 yards
Regardless of where you stand on the origin story of the cartridge it uses, when everything is distilled to its simplest, the Five-seveN came about as a replacement for legions of 9mm pistols in use by military and police forces around the world.
That is why it has several design features such as a magazine safety in addition to a manual safety lever, easy disassembly for takedown in the field without tools, light weight, and a decent magazine capacity, that fall in line with this thinking around its employment.
However, just as folks have long been shooting and collecting a number of designs that were designed originally for military use– the Colt M1911, Glock 17, and Browning Hi-Power come to mind– nothing is preventing its enjoyment and further use by those out of uniform.
Its rather unique background, curious nature, and the growing popularity of the 5.7x28mm cartridge in recent years, also make the Five-seveN both popular with collectors and, increasingly, a viable shooter and self-defense tool, if a touch large for concealed carry (and good luck finding a holster).
This viability is most evident in the new MK3 series, which brings modern capabilities and upgraded ergonomics to the model.
Build Quality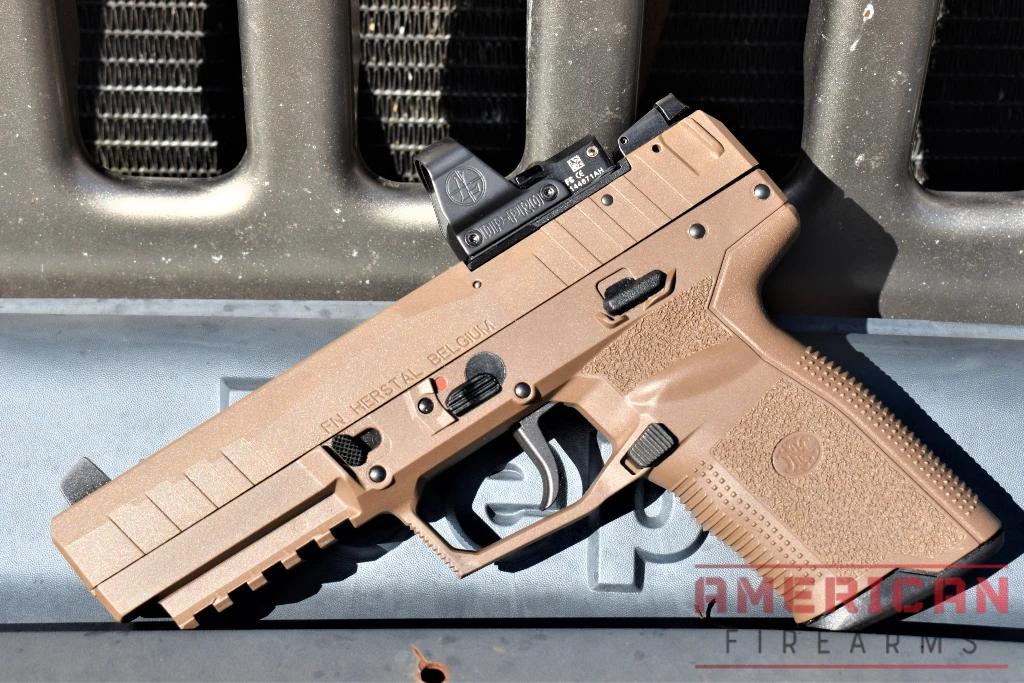 FN Five-seveN in the field
Built partially in Belgium at FN's Herstal plant and finished at its U.S. facility in Columbia, South Carolina, the construction of the Five-seveN I had for testing was superb.
The fit and finish were excellent and, while the pistol uses a lot of polymers to keep weight down, it does not come across as being done on the cheap.
Controls
FN Five-seveN Controls. The mag release is reversible, but the safety is ambi.
While some of the controls are fantastic, not all the controls are to my liking. One example is the safety.
The Five-seveN MK3 MRD has a rather funky manual safety lever that, while ambidextrous, requires both hands to operate as it is located directly above the trigger.
Even though it is easy to activate and deactivate with either your trigger finger or support hand thumb, I found it to be counter-intuitive and will likely require a bit of training for most users to learn. Meanwhile, the takedown lever and slide release lever are both located on the left side of the pistol only.
The excellent and easy-to-reach magazine release button comes oriented on the left side but can be swapped without the help of a gunsmith to the right for easier use by southpaws.
Magazines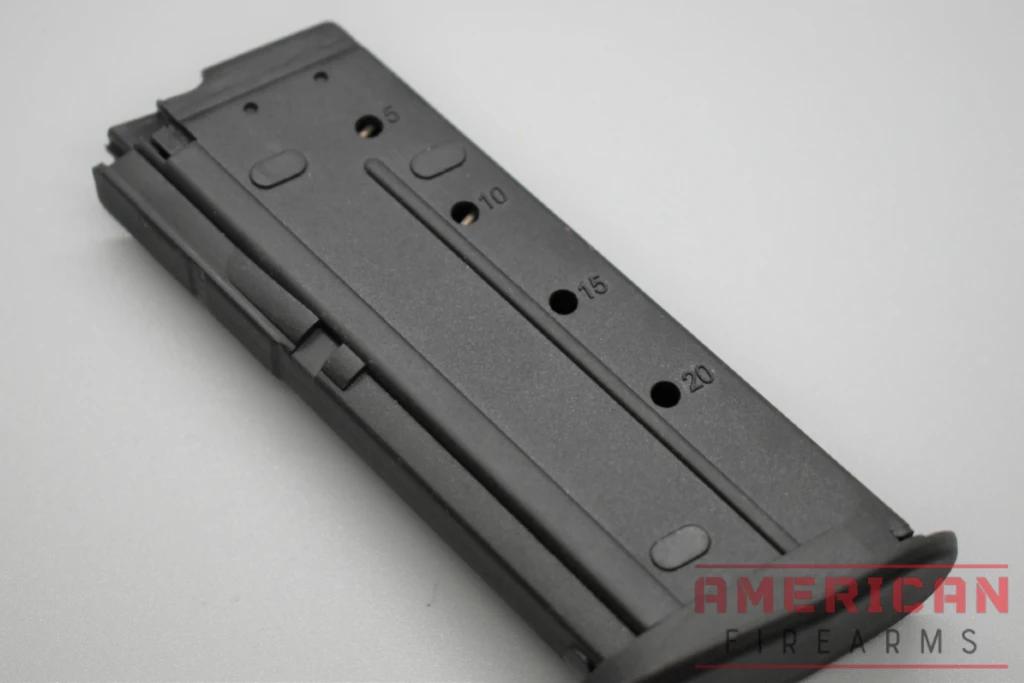 The FN Five-seveN magazine brings 20 to the party.
If you have never handled a Five-seveN magazine, it is…different. Large due to the fact it accommodates 20 rounds of ammo that are barely shorter than a 5.56 NATO cartridge, it looks almost like a 20-round AR magazine. However, as it is almost all polymer in nature, the mag just weighs 2.5 ounces when unloaded.
These longer rounds and light weight make it feel more like a magazine for an airsoft gun. Despite being a bit odd the two mags I had to work with handled the testing process beautifully, even after being dropped numerous times on concrete during handling drills and reloads on the range.
They didn't chip, crack, or break. They locked open the slide on an empty chamber every time.
They were easy to load and did not induce a malfunction while the pistol was running. The only drawback I can say about the mags is that they aren't cheap, with factory originals hitting the $45 mark, and none of the other Five-seveN mags already on the market will work in the new MK3 pistol.
Slide & Sights
The slide of a Five-seveN is interesting. To help keep weight down but still provide a durable handgun capable of hard field use in military service, it is a hybrid design that uses a steel endoskeleton under a polymer shell.
Like biting into one of those chocolate easter bunnies and finding out that it had a rock under it.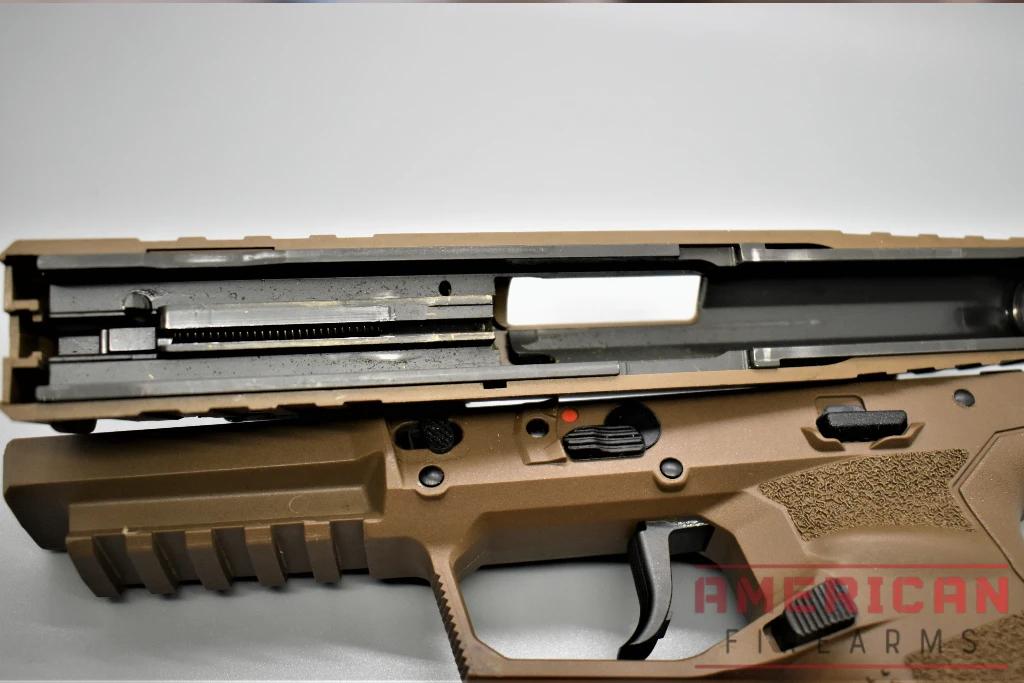 FN Five-seveN slide is a unique mix of steel overlaid with polymer.
As with the rest of the gun, this keeps it light while molded-in notches (just behind the rear cocking serrations) just under the rear sight, that help establish a good grip when slingshotting the pistol into battery or locking back the slide for unloading or cleaning.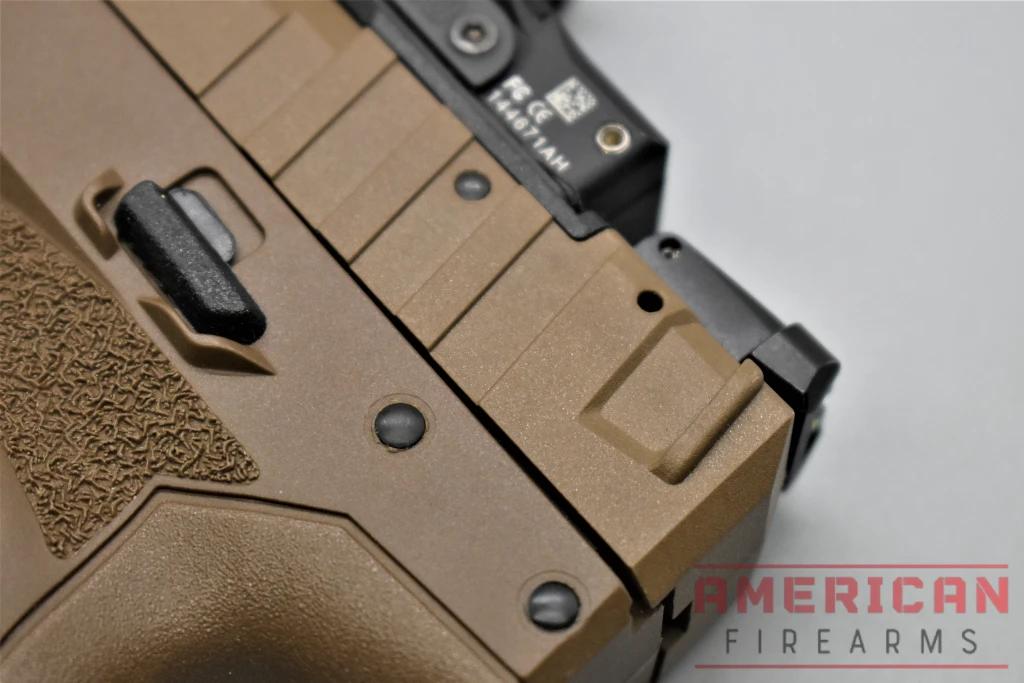 The FN Five-seveN rear slide has a couple notches that make manipulating the slide a breeze.
The standard factory sights on the pistol are suppressor height even though the barrel is neither extended nor threaded.
This allows an easy lower third co-witness when a red dot optic is mounted. Photoluminescent, they are adjustable and are LPA-marked.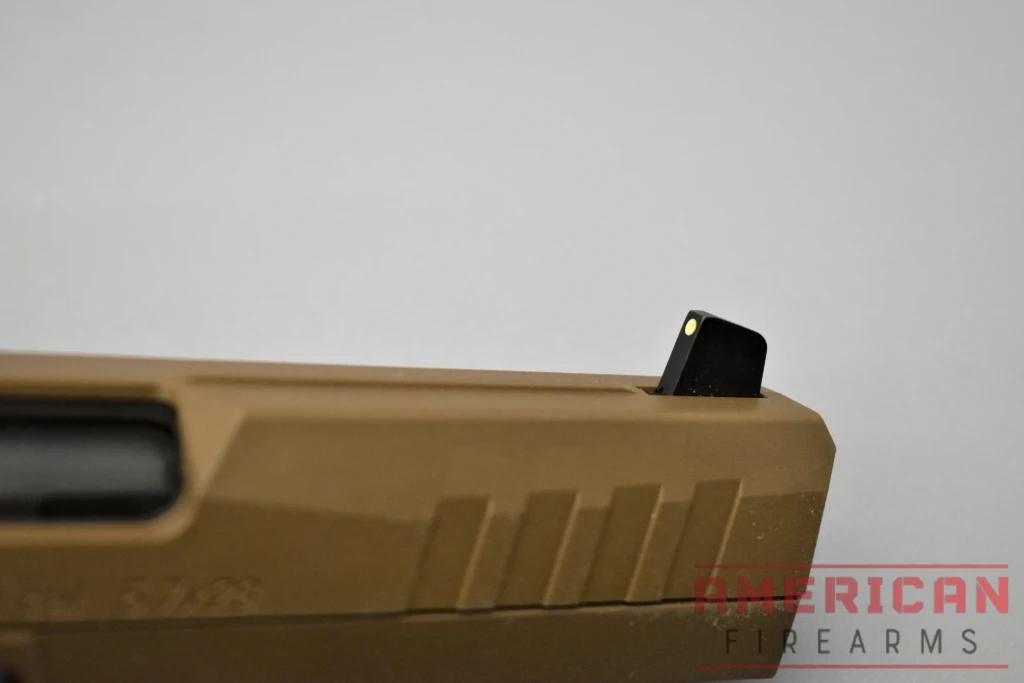 The standard factory sights on the pistol are suppressor height even though the barrel is neither extended nor threaded.This allows an easy lower third co-witness when a red dot optic is mounted.
FN Five-seveN Rear Sight
The optic mounting system used includes three polymer shim plates and four different sets of screws that between them will accommodate most red dots on the market today including Leupold (Delta Point Pro), Trijicon (RMR), Vortex, Burris (Fast Fire series), and Docter.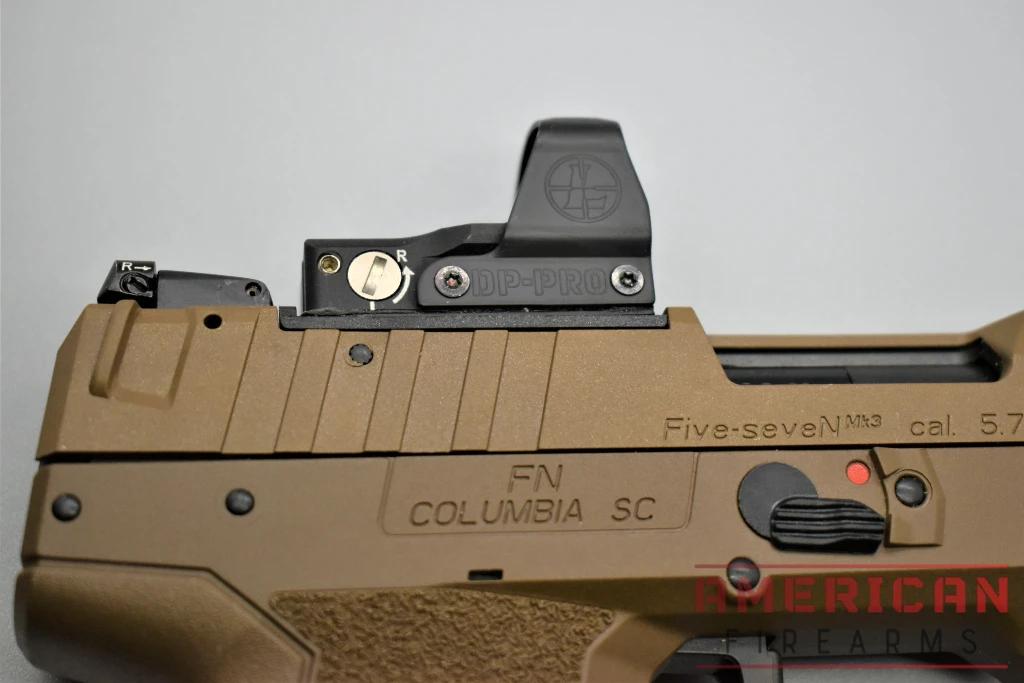 The optic mounting system will accommodate most red dots on the market today
I mounted a DPP for the entirety of my tests and it never worked loose or lost zero, despite racking the slide via the optic body several times and dropping the pistol inadvertently more than once.
You also get a full-size Picatinny accessory rail, for those who want to get tactical with a light or laser.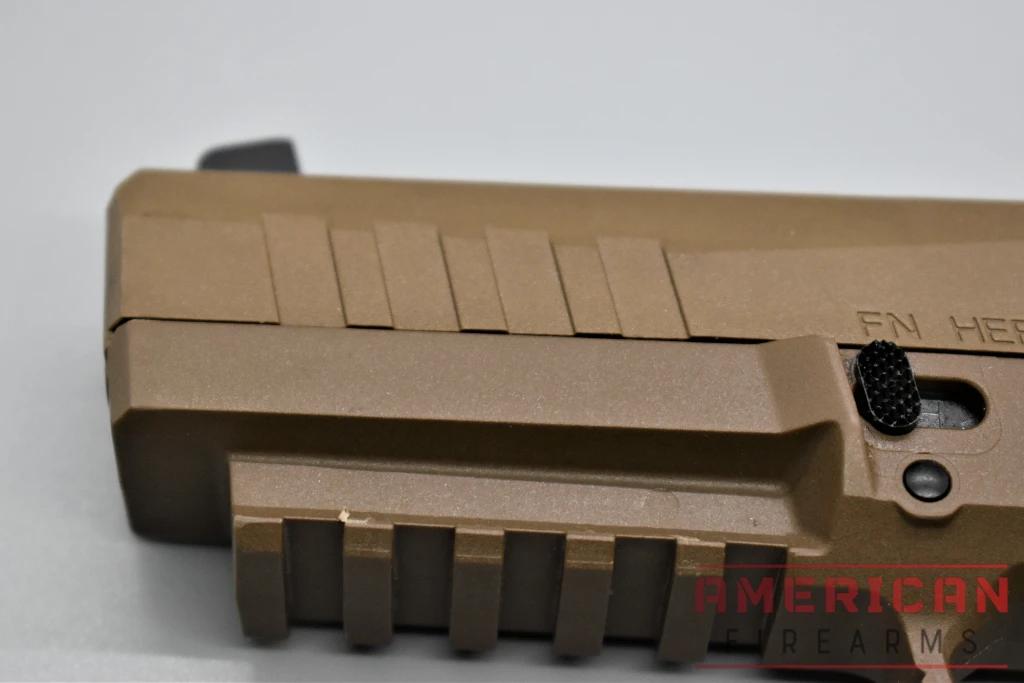 FN Five-seveN Front Slide and Rail
Grip & Ergonomics
The grip on this new generation of Five-seveN feels much better than past versions of the gun and you can tell the company is trying to carry over feedback earned from its new FN 509 series of carry pistols in more recent years.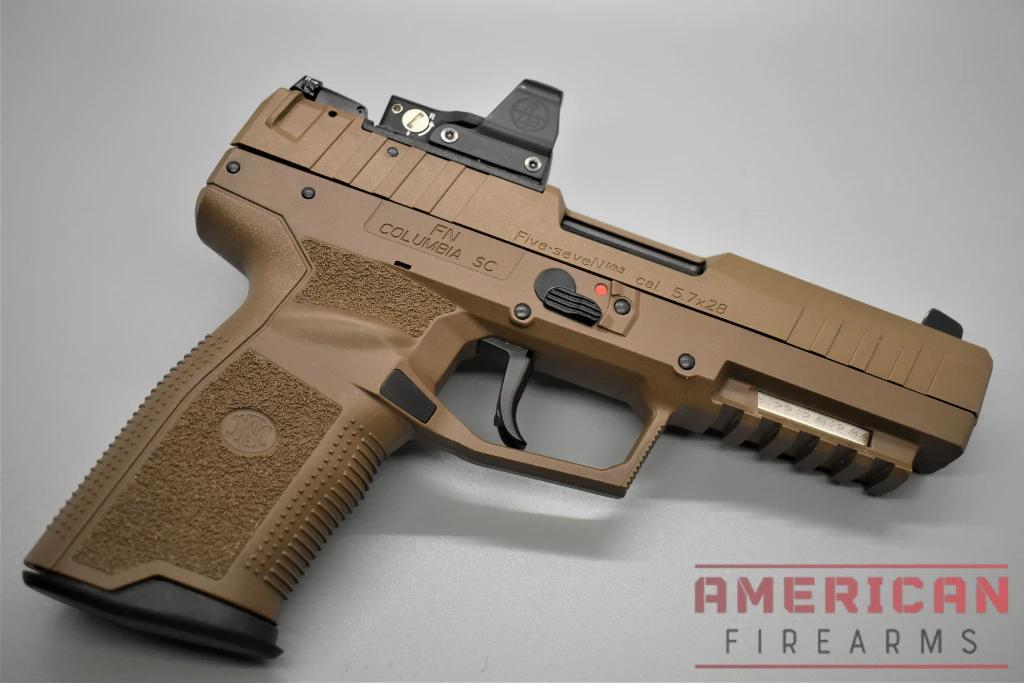 The MK3 Five-seveN grip has really benefitted from FN's work on their 509 pistol.
There is 360-degree texture on the grip and the surface controls are all either grooved or similarly textured. The trigger guard is wide enough to put half your hand through, so firing the pistol while wearing gloves shouldn't be a problem.
As discussed earlier, the manual safety lever, while easy to operate, is likely impossible for 99 percent of people to reach with the shooting hand, despite the easy grip angle and more than ample trigger guard.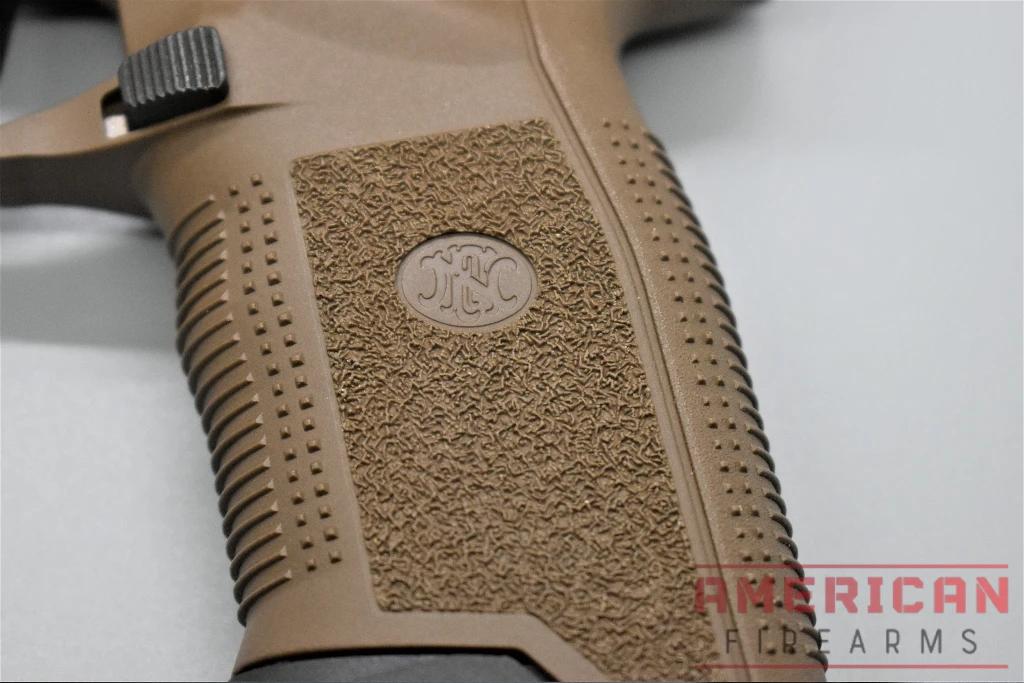 The 360-degree mixed texturing is simple and effective.
Trigger & Reset
The same angle as the previous MK2 trigger used on the Five-seveN, the new variant is billed by FN as a trigger pull breaking between 4.7 and 7.8 pounds, which is a pretty big swing but about on par for a "mil-spec" trigger on a combat handgun.
FN Five-seveN Trigger
I found it to break at 6.2 pounds on average with an immediate wall and little take-up, although even at its maximum travel it remains more than a half-inch away from the grip, which can pose some problems for those with short mitts and stubby fingers.
The reset is short with the trigger springing back to life after about a quarter inch let out. Eden Perfection, which markets an upgraded MK2 trigger pack, says they are working on a flat-faced, adjustable, short-reach trigger for the MK3.
Accuracy & Reliability
Between the target-crowned 4.8-inch cold hammer forged barrel, the 1911-length sight radius, light recoil, excellent sights to include a factory optics cut, and the flat-shooting ballistics of the 5.7x28mm round at ranges under 100 yards, the FN MK3 really shines at hitting targets that other pistols couldn't touch.
When it comes to the (relatively) long game, the MK3 is a great pistol and far outshoots most handguns.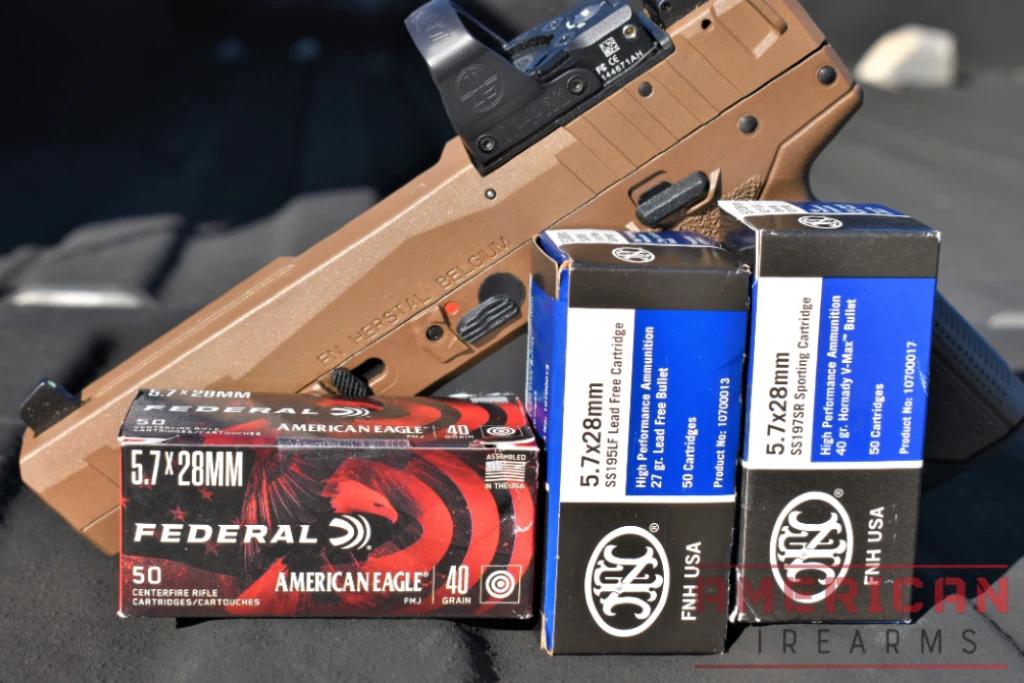 FN Five-seveN and ammo at the range
While not a match competition gun– most of my three-shot groups hovered around the 3-5 inch radius even from the bench at 25 yards– with the Delta Point Pro installed and zeroed I was able to zap 10-inch plates at 75 yards with no problem. Follow-up shots are also quick and easy.
A torso-sized target that I lased to be at 131 yards was also on the menu with the help of a simple rest. In short, if you can see a man-sized target with your naked eye, and can hold steady enough, the very low recoil, negligible muzzle flip, and flat trajectory of the round means you can probably hit it with the Five-seveN.
Cue the Dicken Drill with this one for sure.
Although I only had about 400 rounds available to run through the pistol, all 400 went bang without issue.
The Five-seveN ran flawlessly when it came to dependability, and I enjoyed shooting it both near and far.
FN Five-seveN Disassembled
A basic field strip was easy. Just drop the mag and make sure the chamber is empty. Then, once the slide is locked back and you have no brass or ammo around, use the left thumb to push the takedown lever completely to the rear and hold it in that position before releasing the slide.
After that, all you have to do is lift the slide off the frame and remove the barrel. The recoil spring is wound around the barrel and there are no links or bushings to get in the way. Simply clean, lube the few metal-on-metal contact points, and reassemble.
FN says the barrel is rated for 20,000 rounds and the recoil spring is good for at least 5,000. When replacing the spring, it is probably a good idea to replace the collar and snap ring that holds it to the front of the barrel.
Tip: exercise patience in removing the retaining clip and do it on a bench with lots of good light and few places for small parts to disappear.
Here's the thing. Despite being a great gun, for many the Five-seveN is a novelty. Even though it has been around for going on three decades and has always been in production, most in the gun world look at the pistol as something to be collected and rarely shot rather than used hard on a daily basis.
A lot of this is the fact that there were few ammo choices available for most of that period, and all of those ammo makers hit the US shores via the narrow pipeline to Europe. It is only in recent years that this has changed, with Federal now marketing domestically produced loads under both its Speer and American Eagle brands and even Palmetto State Armory's AAC house brand promising "affordable" 5.7 in the coming months.
So, while the good news is that there will be more offerings and, on more shelves, when it comes to the interesting little 5.7 pistol round, it still has only a limited appeal to those when it comes to ballistic performance, but that may be changing as well.
Beyond the glaring issue of ammo, the Five-seveN MRD has a significant muzzle flash, little aftermarket support, expensive mags ($45), a high initial cost ($1,400), and almost no holster availability should you want to carry one. The 5.7 round also has some naysayers when it comes to home defense/personal protection as over penetration would almost certainly be a thing with FMJ/aluminum core rounds.
This could keep it anchored to the collectible and novelty niche even when/if ammo becomes more mainstream.
For decades, FN America had the market cornered when it came to 5.7x28mm pistols. Then, a funny thing happened a few years ago and Ruger introduced their Model 5.7 pistol, which did most of the same things the FN handgun did but for a $900 price point.
Large format pistols from Diamondback (DB57), CMMG (MK57), and KelTec (P50) also hit the market but were more competitive against FN's PS90 carbine due to their respective size.
Then, undercutting Ruger, PSA last year introduced the Rock, a 5.7x28mm caliber pistol that is both optics- and suppressor-ready for under $600.
It is tough to argue that the FN Five-seveN, even in its MK3 modernity (but is still not suppressor-ready for some reason), is better than having two PSA Rocks that you can put a suppressor on and still have $200 change leftover.
How did the 5.7 stack up on our ten-point scale?
Accuracy: 9/10
It's a laser beam.
Ergonomics: 6/10
The pistol has a decent grip that's hampered by the dimensions of the 5.7mm round. It also lacks ambidextrous controls and may not be comfortable for everyone.
Fit and Finish: 7/10
The 5.7 is built well and it's still a good-looking pistol, but you get a lot of polymer.
Features: 6/10
The suppressor-height sights and full-size Pic rail are great, but the lack of ambi controls or much aftermarket support make it feel outclassed by more modern pistols.
Reliability: 9/10
We didn't encounter any funny stories after 400 rounds, but the limited ammo availability and muzzle flash are potential concerns.
Value: 4/10
The high initial cost, expensive magazines, limited holster availability, and niche appeal make the 5.7 a relatively poor value, especially when compared to other more recent entries into the 5.7mm market.
Are you ready to go back to the future?
The futuristic FN Five-seveN was one of the original combat handguns — but it was also initially developed back when the fight between VHS and Beta was a thing.
Now in its third official generation and hitting the market at a time when its hallmark caliber is finally getting some love and attention, it feels dated– almost like a VCR tape in a world of streaming video– even with the updates and ability to use red dot pistol optics continue to make this fun gun even more capable.
Still, if you are interested in curious firearms with a great backstory rooted in some very Red Dawn-era fears and want to reliably ring steel a football field away with a handgun, the FN Five-seveN MK3 MRD is the only game in town.