Glock 19X Review
Written By
Michael Crites
Licensed Concealed Carry Holder
Reviewed by
Editorial Team
Learn About The Editorial Team
Share:
Products are selected by our editors. We may earn a commission on purchases from a link. How we select gear.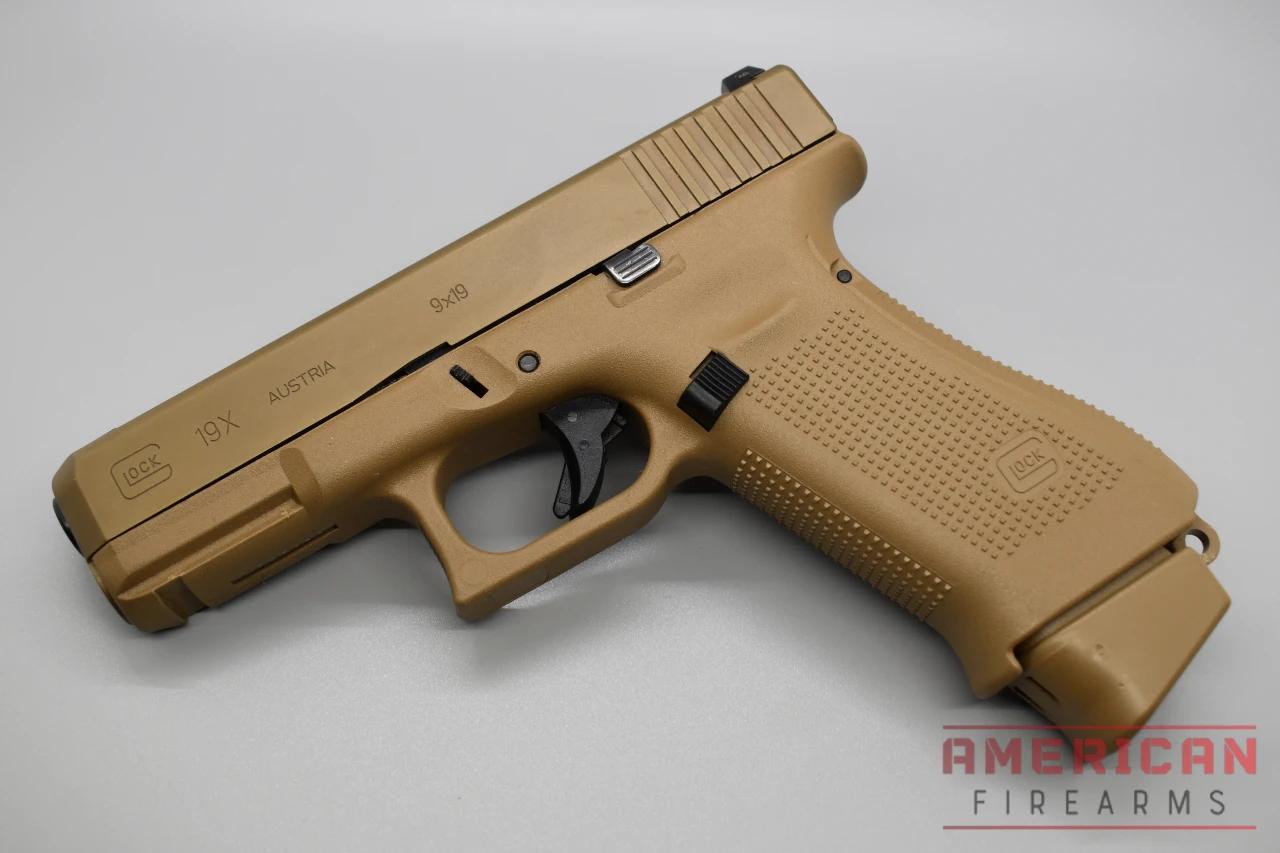 Glock's first "crossover" design that borrowed from the lineage of two proven 9mm Glock pistols, the G19X has been around for just over a half-decade and is something of an overlooked gem.
We've got the scoop on this Coyote-colored war horse.
Introduced in 1986, the original Glock 19 was a slightly down-sized variant of Mr. Gaston Glock's 9mm Pistole 80/G17 service/sport pistol, the latter a polymer-framed striker-fired game changer with a 17+1 standard capacity magazine.
My Glock 19 Gen 3 has never let me down.
With a shorter slide/barrel assembly and a more abbreviated grip to accommodate a 15+1 magazine, the first generation of G19 soon proved a hit.
Successive waves of the gun swapped out the original pebbled texture for a more "grenade" finish with horizontal grooves to the front and rear grip straps in the 2nd Generation of 1988 while the 3rd Gen guns, which arrived in 1995, added finger grooves with recessed thumb rests, an integral accessory rail in front of the trigger guard, and checkered finished frame.
A compensated model (19C) and threaded barreled model (19TB) of the same generation were briefly carried in the catalog as well.
The Gen 4 Glock 19s, introduced in 2010 brought with it a "Polymid Traction Rough Textured Frame" while keeping the recessed thumb rests, molded-in finger grooves, and an accessories rail, then added interchangeable frame back straps. It also included a reversible and enlarged magazine catch, a better dual spring recoil assembly, and a new trigger system that most agreed was only a marginal improvement.
Then, a year after the Gen 4 G17 and G19 were introduced, came the news that the Army was kicking around the idea for a program aimed at the evaluation and purchase of a more modular handgun system to replace the venerable Beretta-made M9 pistol and assorted other handguns in the Pentagon's arsenal such as the M11 (Sig Sauer P228), and ancient M1911A1 .45ACPs still used by commando units.
This would evolve into the full-blown XM17 MHS (the Military's Modular Handgun System) competition by 2014 with the intention at the time to buy something like 280,000 standard pistols and 7,000 compact versions– with up to 550,000 total guns on the table if all options were used.
Eventually, nine different pistol makers including Beretta, FN, Ruger, S&W, CZ, Sig Sauer, and Glock brainstormed designs for the Army's consideration. Glock's submissions were improved G17 and G19s in a Coyote finish to meet the standard (XM17) and compact (XM18) use guidelines, with a backup being the .40S&W caliber G22 and G23 if the service wanted something with more umpf.
In the end, by January 2017, the final two competitors were Sig's design, which used two different sizes of their P320 pistol, and the new Glock G17/G19 variants.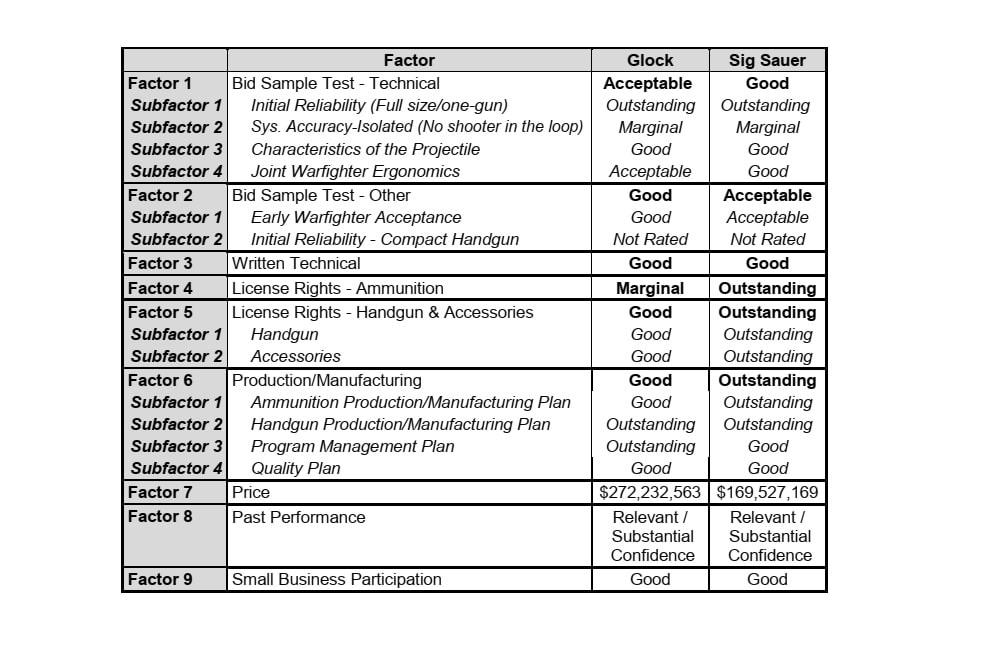 MHS competition factors between Sig Sauer's P320 submissions and Glocks.
When it came to the bottom line, the Glock tested slightly better with warfighters who evaluated it– earning a "good" rating against Sig's "acceptable" rating, but the latter company blew Glock out of the water in terms of cost with Sig saying they could deliver 550,000 guns for $169.5 million against Glock's bid of $272.2 million.
This, as the GAO would contend in a later unsuccessful challenge to the award by Glock, made the Sig P320 variants the better value to the taxpayer. Sig went on to win the competition and then fielded as the M17 and M18 pistols to the entire Department of Defense.
However, as each competitor had sunk lots of R&D dollars and hours into chasing the Army's new standard, 2017 went on to see the introduction of several new pistols based on their MHS program submissions. This included the FN 509, the S&W M&P M2.0, the Ruger American pistol, and the Beretta APX. Glock's MHS design would be fleshed out and hit the commercial market at SHOT Show 2018 as the G19X.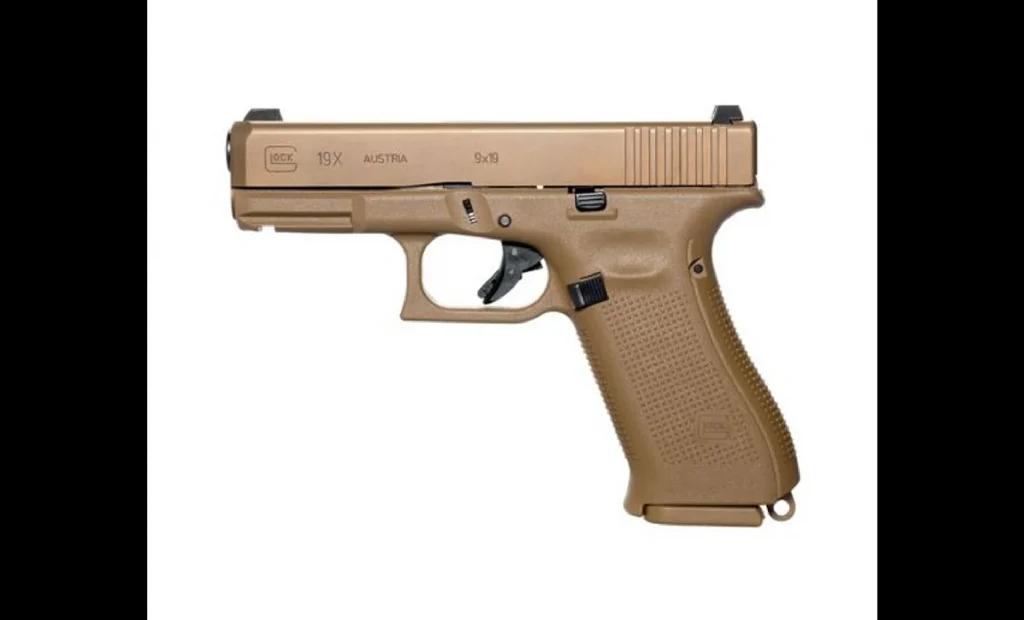 | | |
| --- | --- |
| Caliber: | 9mm Parabellum (9x19) |
| Capacity: | 17+1 rounds standard / 19+1 extended |
| Action: | Striker-Fired |
| Trigger Pull Weight: | 5-6 pounds in weight (5.84 listed by Glock) |
| Length: | 7.44 in |
| Height: | 5.47 in over the sights with flush 17+1 round magazine inserted |
| Width: | 1.3 inches over surface controls |
| Barrel Length: | 4.02 in |
| Weight: | 24.83 ounces unloaded (32 loaded) |
| Sight Radius: | 5.94 in |
| Sights: | Polymer / Steel or GNS as standard options |
| Safeties: | Glock Safe Action System (Trigger / Firing Pin / Drop Safeties) |
| Finish: | nPVD slide coating / nDLC barrel coating |
| MSRP: | $649 |
| Real-World Price: | $550-$600 |
Pros
"Mullet" set up gives you more capacity and control
Shorter slide enhances concealability
Unsurpassed reliability
Cons
Unique magwell hampers mag cross-compatibility
No optics cut or Gen5 front slide serrations
Beginning to feel dated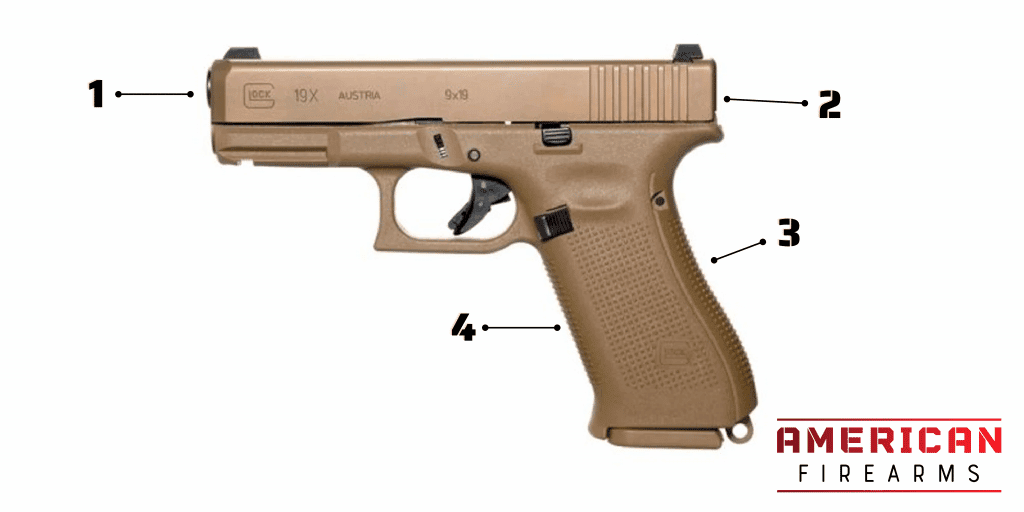 G19X Review Feature Call-Outs
Superb Barrel
Glock's Marksman barrel is a terrific upgrade.
Short Slide
The 4-inch barrel keeps things short and plenty concealable.
Full-Size Grip
More control, more capacity, more fun.
Dubbed a "crossover" by Glock, the G19X is the first Glock that blends a standard-sized Model 17 grip with the more compact Model 19 slide and barrel for an Austrian take on a hybrid pistol.
This "mullet" concept gives the user a full grip, which enhances shooter control, makes it easier to handle from a carry position, and is capable of a 17+1 (flush fit) and 19+1 (gently extended) magazine capacity, with the better concealability of a pistol with a 4-inch barrel.
Developed along the same timeline as Glock's new Gen 5 models it has many of the same features such as the updated and very accurate Glock Marksman barrel and new trigger system.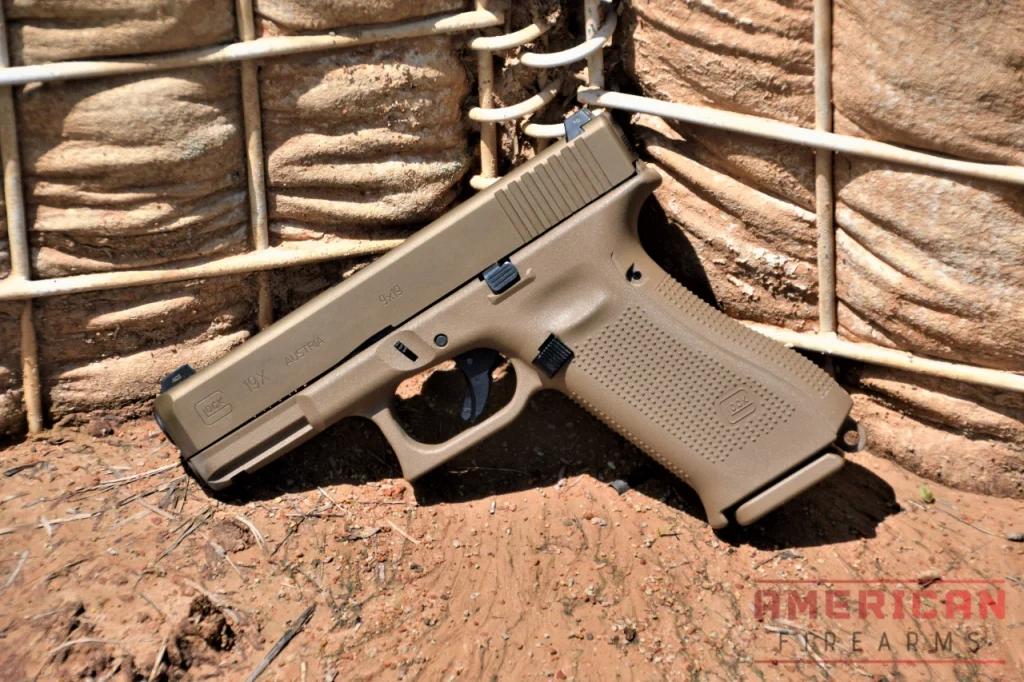 The G19x blends a standard-sized Model 17 grip with the more compact Model 19 slide and barrel for a Austrian take on a hybrid pistol or "mullet" concept. Party in the back indeed.
The first-ever factory-colored Coyote Tan Glock, the frame mimics the other Gen 5 models in the respect that it has no finger grooves, a recessed thumb rest, and interchangeable frame backstraps.
Unlike just about any other factory Glock, it comes standard with a flared magwell with a distinctive front "toe" to allow for faster loading in rough field conditions such as in a desert, along with a lanyard loop, the latter a feature requested as part of the XM17 MHS competition.
This puts the Coyote Brown G19X in an interesting ballpark, being large and durable enough for serious duty or field use, fully capable of running a 3-gun competition, well able to clock in for home defense, or, with the right holster, be carried every day for personal protection.
In short, it is a modern take on the old Colt Commander concept, but with much better reliability not to mention an expanded magazine capacity.
Glock has never had a reputation for building junk. Other than a shrinking and that aging cohort of dinosaurs that just despise polymer-framed and/or striker-fired handguns on principle, most folks who know firearms recognize and respect Glocks for their build quality.
Just about every torture test– some legendary– that can be done to a handgun has been done to a Glock and they just can't be killed. Heck, Chuck Taylor has put well over 300,000 rounds through his G17 in the past three decades. There is a reason these guns go thousands after thousands of rounds in the rental game, where regular "burn down" by legions of users is a real thing.
The fit and finish, internal parts durability, and functionality of my test Glock 19X were never in question throughout the 2,000 rounds I have put through it. I haven't felt the need to replace any parts and, in that period, only field stripped and cleaned it three times, roughly after every 600-700 rounds.
Controls
The Glock 19X, like most modern handguns on the market in America, is principally set up with controls on the left side of the grip frame for right-handed users. This makes sense, after all, as studies show that about 90 percent of folks are right-hand dominant while left-handed and fully ambidextrous people make up the rest of the population.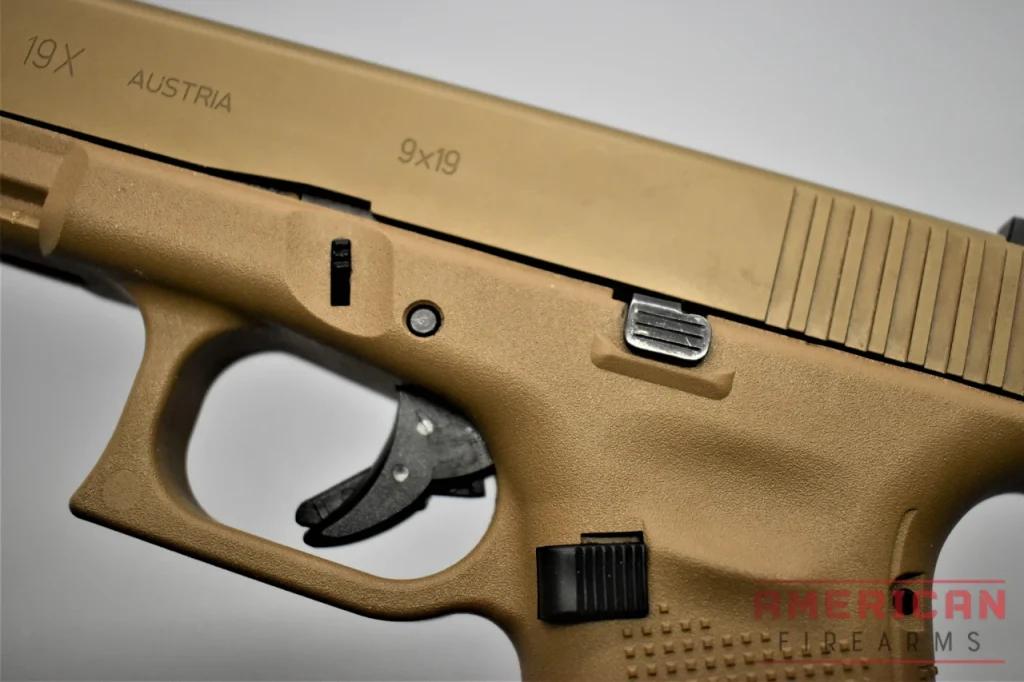 The default Glock 19X controls are configured for righties.
However, to accommodate those southpaws out there, the G19X includes ambidextrous slide-stop levers and a reversible enlarged magazine catch that can be swapped easily to the other side of the frame.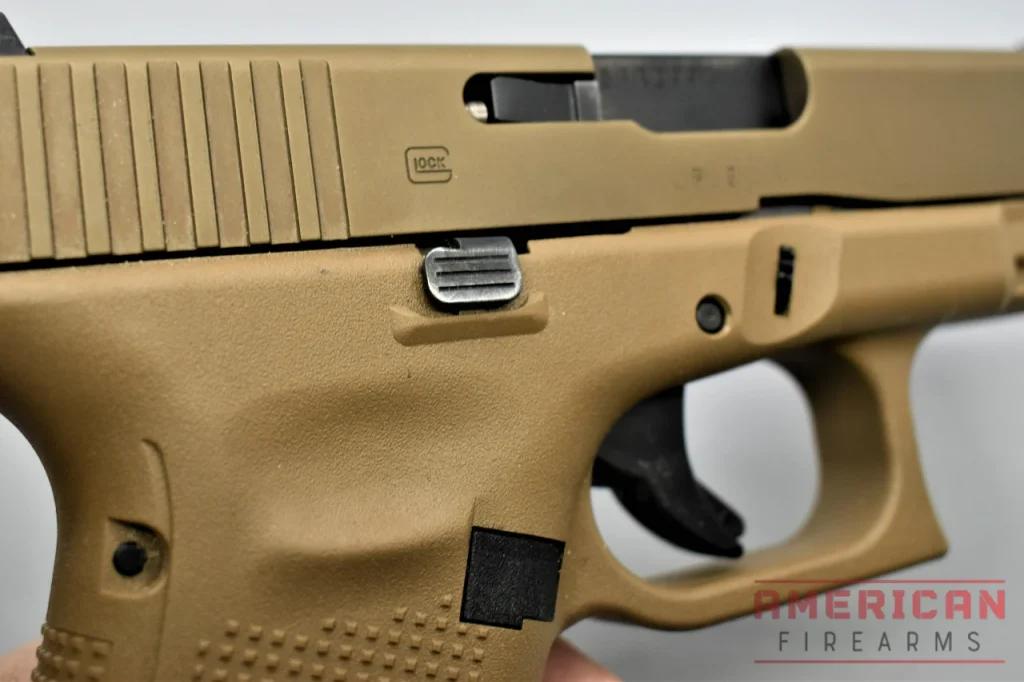 But the controls can be swapped for you southpaws.
The controls were workable and laid out logically, particularly the mag release, and I found no real issue working them under normal conditions.
About the worst I can say is that, when wearing gloves, the ambidextrous slide stop lever is a little slippery, but it can be swapped out for something larger should the user want, scaling up to something like the GoGun Gas Pedal or Tandemkross Accelerator thumb ledge.
Magazines
Included with the G19X is a standard 17-round magazine of the type used by the Gen 4 G17 that fits flush in the magwell and a pair of 19-round mags that use special extended baseplates similar to those seen on a Pearce grip extension.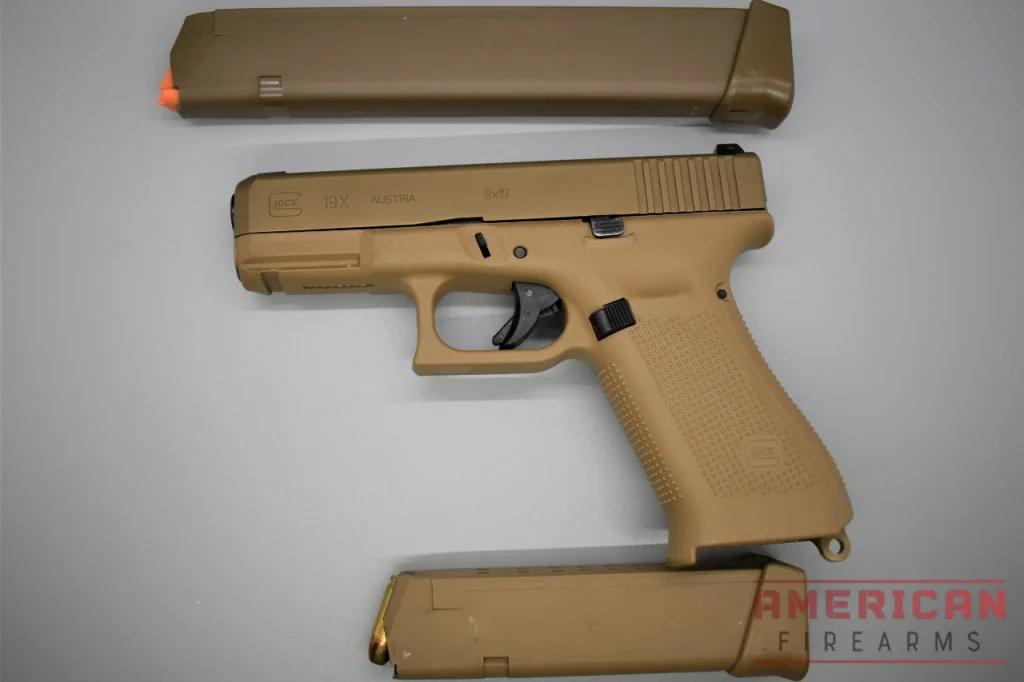 Glock 19X with 17 and 19 round magazines
Like most G17-sized frames, it will accept Glock's standard factory double-stack extended (24-round, 31-round, and 33-round) 9mm magazines as well as quality Glock-pattern aftermarkets such as Magpul's GL9-series PMAGS in 21-round and 27-round sticks, along with their 50-round D50 drum.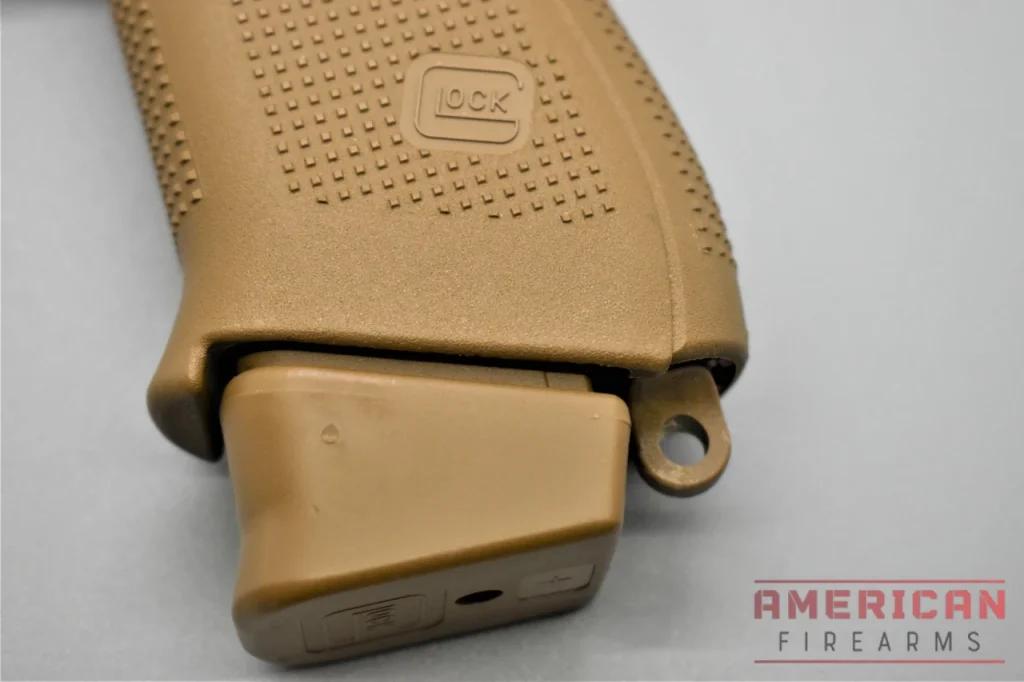 Glock 19X extended baseplate and lanyard look. That toe on the magwell and the loop prevent standard Glock 17 mags from working with the G19X.
What *won't* work is standard Glock G17 Gen 5 magazines as the base plates hit the "toe" of the flared magwell on the G19X. On some other Gen 4/5 extended baseplates, the lanyard loop prevents them from seating. Also, standard 15-round G19 mags of any generation are all too short to work in the pistol.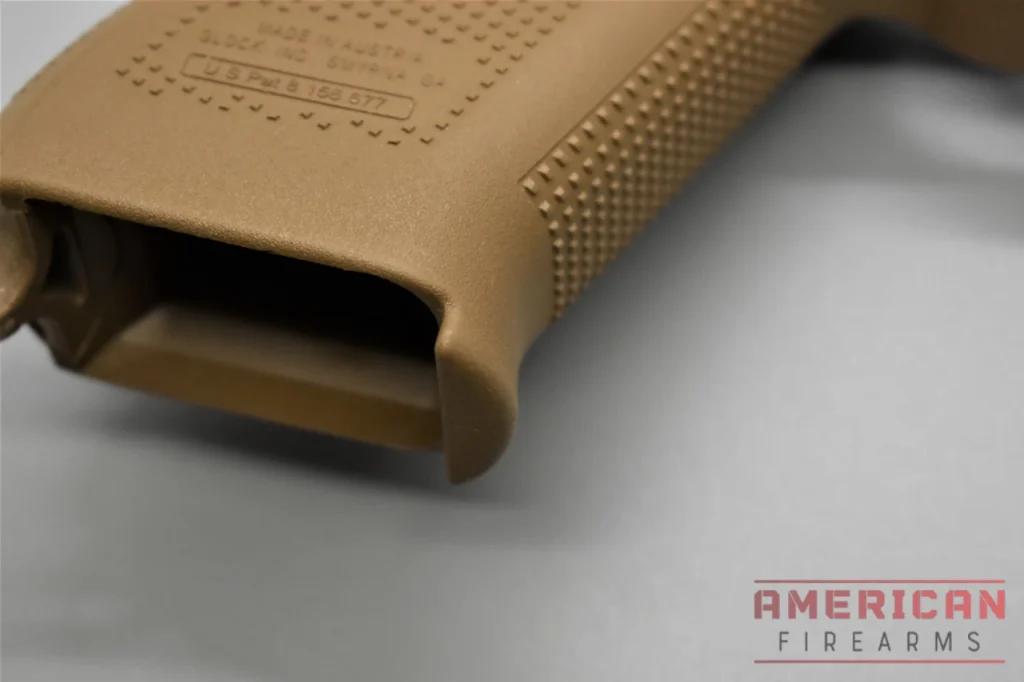 See that toe? That little bugger prevents standard Glock 17 mags from seating.
In testing, I ran all the above through my G19X and had no problems to report other than the GL9 aftermarkets occasionally failing to lock back the slide on an empty mag.
Slide & Sights
The slide on the G19X, other than its Coyote finish, is an almost typical Gen 5 G19 slide (except for the fact that it doesn't have forward slide serrations) which is good as it allows for easy upgrades and parts compatibility, and the beveled front portion makes for a smooth draw from practically any holster.
The shorter slide also makes the gun faster to draw.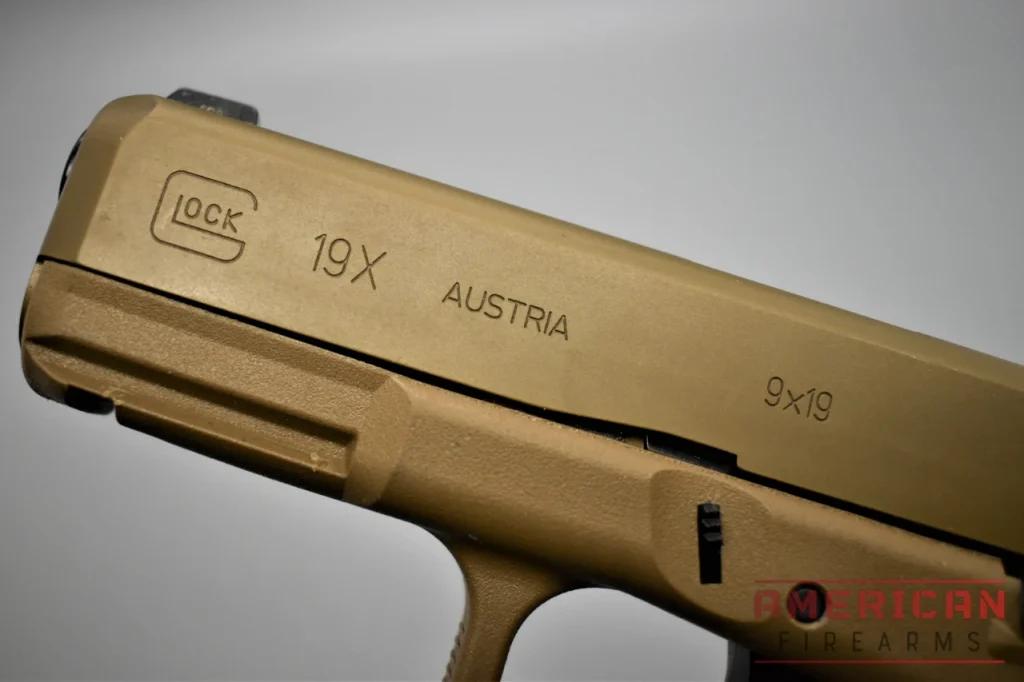 The Glock 19X slide front is just like any other Gen5 slide, except for the Coyote finish and abesnse of forward slide serrations.
I swapped out a few different G19 barrels with my pistol to assess interchangeability and can report that the Lone Wolf Alpha Wolf– a 416 stainless threaded M19 barrel– and Faxon's flame-fluted match barrel both dropped in without the need for fitting and performed fine.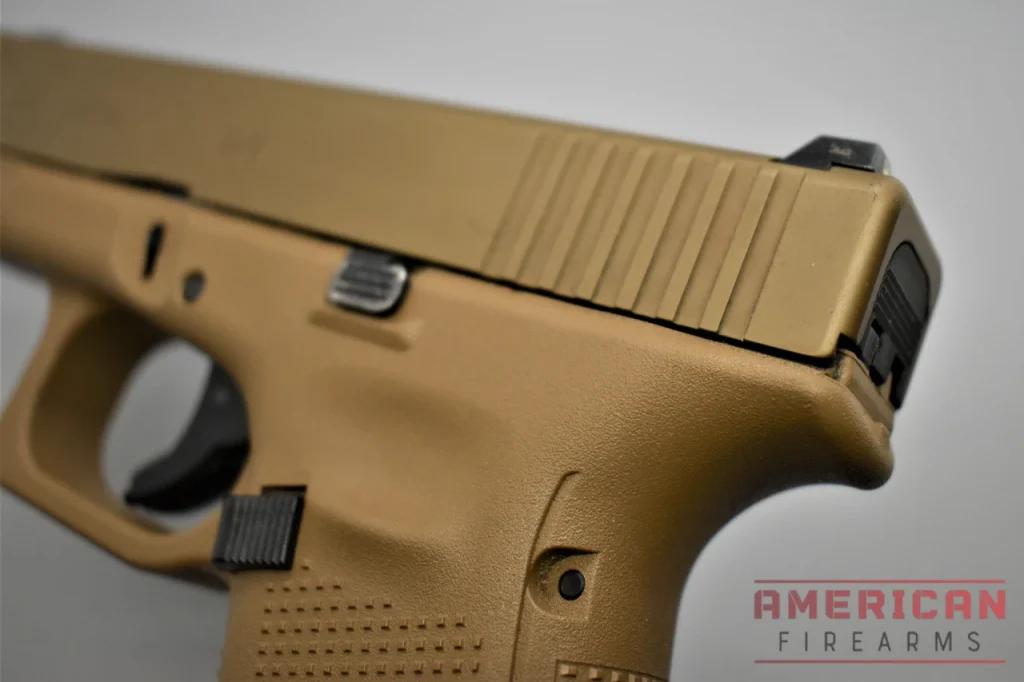 Glock 19X slide, rear
However, as the standard factory barrel on the G19X is Glock's superb new Marksman series barrel, complete with a tough-as-nails black nDLC finish and enhanced barrel rifling based on the company's proven polygonal design, about the only reason to swap out from the factory OEM, would be if you planned to use the pistol as a suppressor host or wanted to mount a muzzle device and needed threads for that purpose.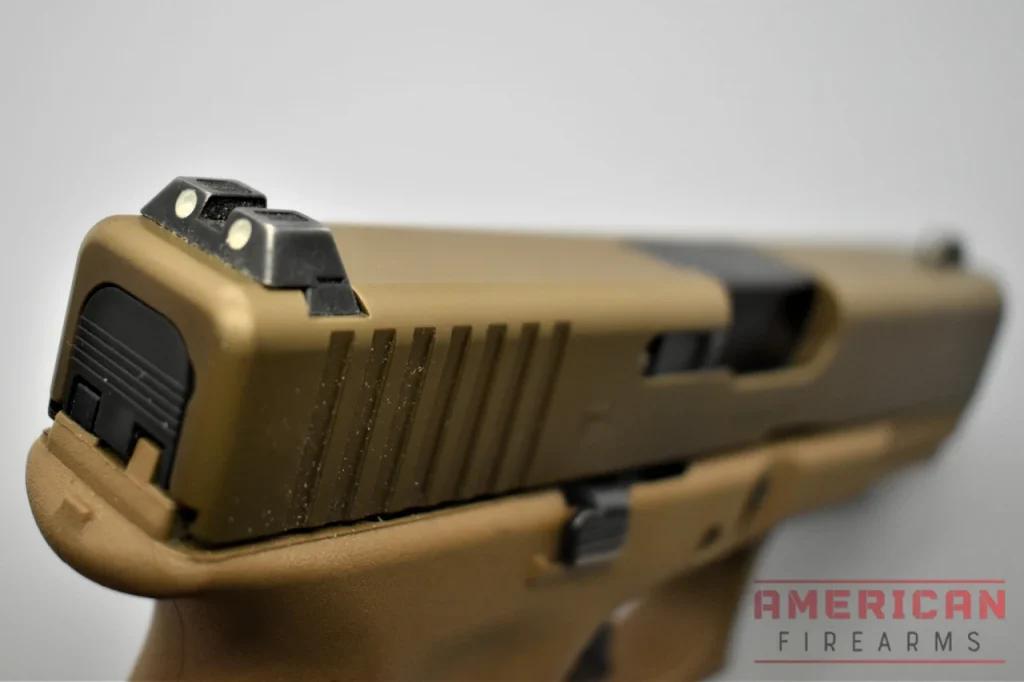 Glock 19X with the GNS sights fitted
When it comes to sights, the shorter sight radius makes the G19X faster on target thanks to the shorter slide, and Glock catalogs the G19X with options for standard polymer sights, steel sights, or GNS– Glock Night Sights.
However, every G19X I have seen in the wild, including mine, has the GNS sights fitted.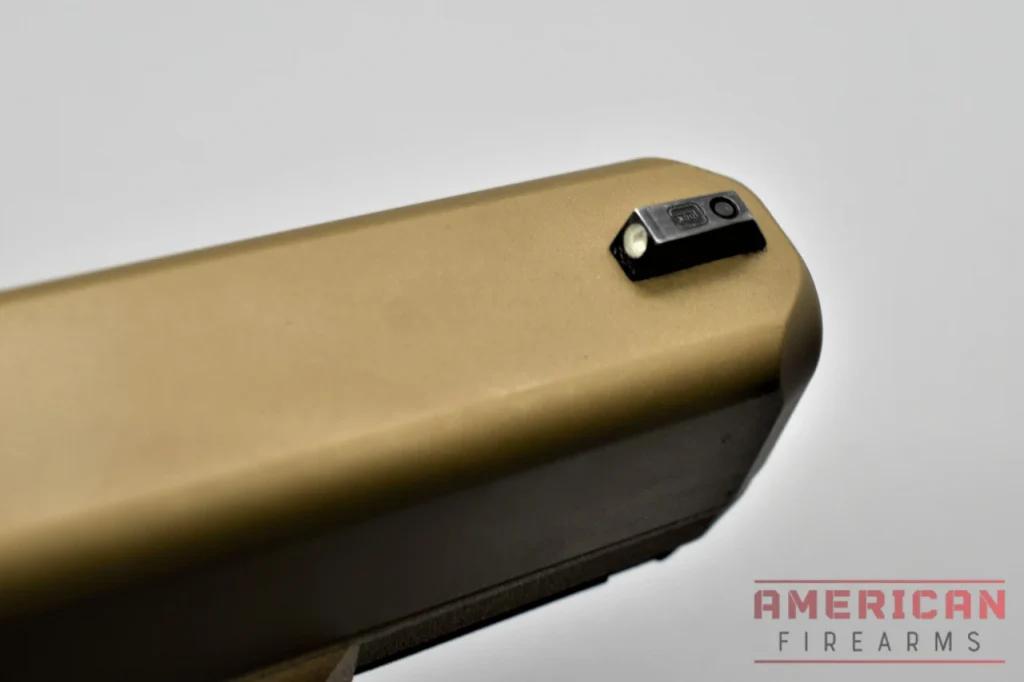 Glock 19X front sight
The GNS line is straightforward when it comes to their arrangement, fitted with a small tritium element, glowing green in low light and set in three white contrasting dots, which is a departure from Glock's more familiar U-notch rear and front post.
The vials on the GNS were strongly illuminated in low light conditions without the sight needing to be exposed to a light source first, while in the daytime were still easy to acquire even in bright sunlight.
The vials on the GNS sights illuminate strongly without needing to be exposed to a light source first.
For height reference, mine were MH3s, which is a 6.5mm tall rear and 4.1mm front.
Grip & Ergonomics
The G19X borrows the same rough textured frame surface as introduced back on the Gen 4 Glocks in 2010.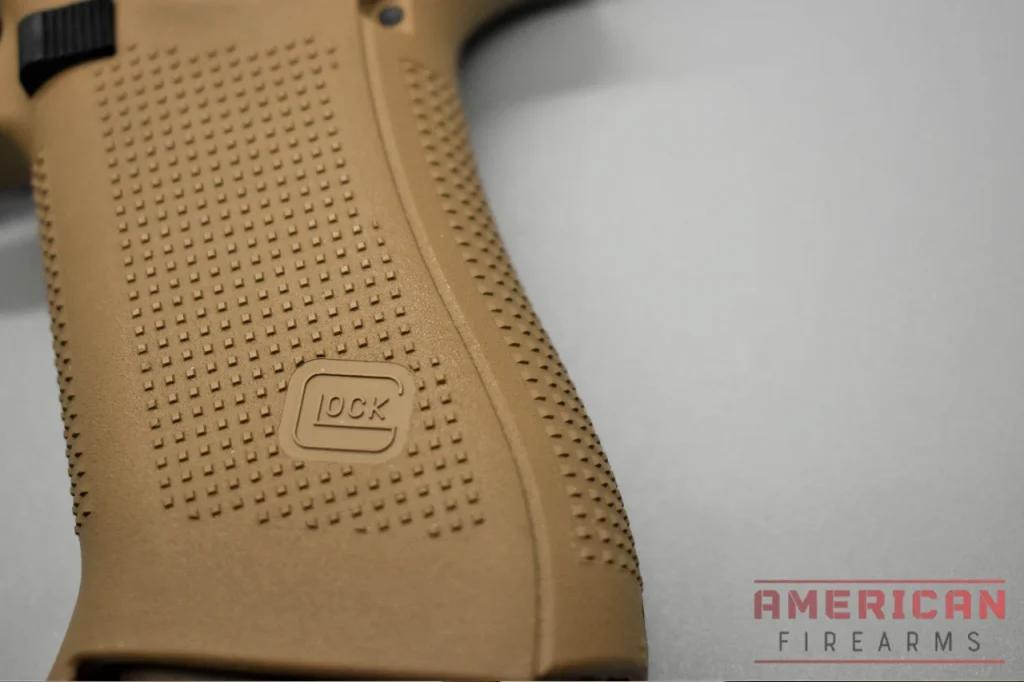 Glock 19X RTF grip stippling is a good balance between the "Grenade" texture on older Gen1/2/3 and all-too-abrasive RTF2. It also uses a 360-degree coverage for solid hand "stick".
This RTF variant has been among the most popular with Glock users as it draws a balance between the kind of slippery pebbled and grenade texture of the old Gen 1/2/3 series Glocks and the hyper abrasive and short-lived RTF2.
With sections of this tall polymid texture on the front, sides, and rear of the grip, the user has 360-degree coverage, allowing the pistol to "stick" to the hand for a comfortable grip.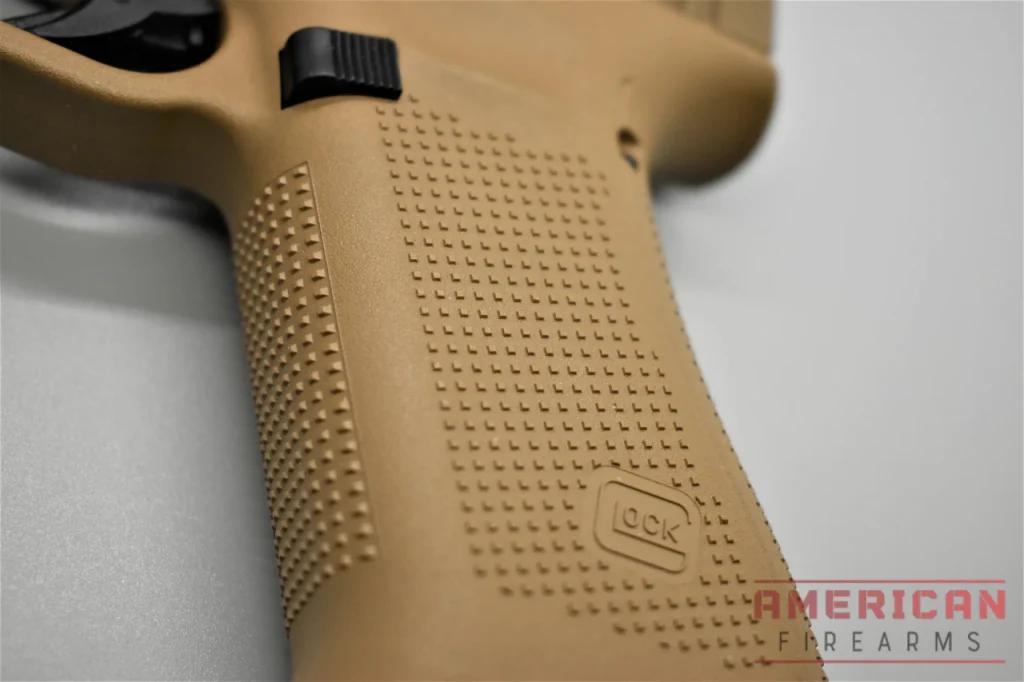 Glock 19X grip lack of finger grooves
What the G19X doesn't have from the Gen 4 Glocks are molded finger grooves, an element many users found disrupted their grip as their fingers rarely lined up perfectly with the mold.
Like the Gen 5s, the G19X ships standard with interchangeable beavertail backstraps in two sizes. This modularity allows the users to change the circumference of the grip to better fit their hand size, shifting the ergonomics.
While the feature is nice, I did not adjust the grip size in testing as the G19X felt fine right out of the box, even with tapping in three different shooters.
However, it is nice to know these backstraps are there if you need them and have a challenging time getting a good grip on the gun.
Speaking of which, should the texture not be ideal, there is always the old standby of stippling (have you seen what people are doing with laser stippling these days?) to make it more aggressive, or applying a bit of sandpaper to smooth the polymids down for those who find it too pointed.
Trigger & Reset
Glock's striker-fired action has often been criticized for having a terrible trigger, something that each subsequent generation of the family tried to improve on.
The Glock 19X uses the Gen 5 trigger design, which has improved components (trigger bar, plunger, spring assembly and locking block) and I found to break at almost 6 pounds at the start of my tests and even out closer to 5 pounds after running a couple of thousand rounds through it.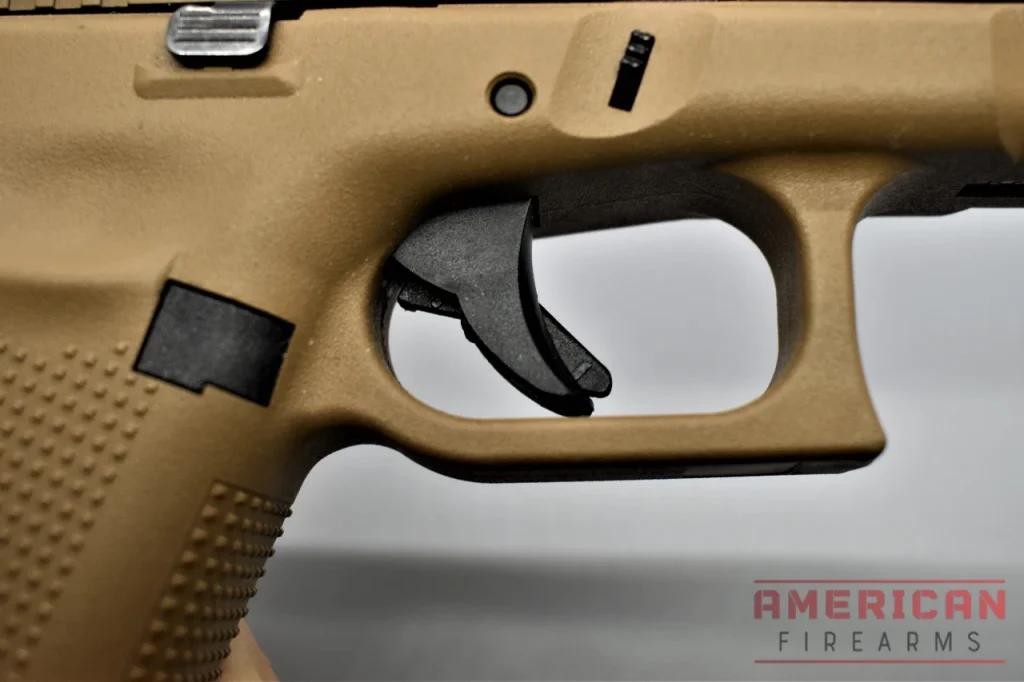 Glock 19X trigger
This tracks as Glock lists their standard for the trigger as 26 Newtons, which converts to about 5.84 pounds. With a rounded trigger bow, after about a half-inch travel you hit the wall and pull through for another quarter inch until it breaks. Reset is audible and tactile after about a third of an inch. Unlike some inexpensive competitors in the striker-fired game (Taurus G2/G3), there is no second-strike ability.
Also, the center blade safety lever is very noticeable.
While not the best factory trigger in the world when it comes to striker-fired guns– that probably goes to the flat-faced trigger packs on Sig Sauer's better P320 X models– the Glock 19X is still very workable and houses no spooky surprises.
For those who want, as it uses a standard Gen 5 pack, you can pick up a trigger enhancement kit from companies like Timney, Apex, or a Ghost Trigger to dial the pull, break, and reset in to something more desirable with the swap of the trigger assembly.
Glock's new Marksman barrel is probably the best upgrade the company has ever delivered to their standard factory pistols. After using and abusing older Gen 2, Gen 3, and Gen 4 models over the years, the increased practical accuracy observed with Glock's Gen 5 guns using the GMB is marked.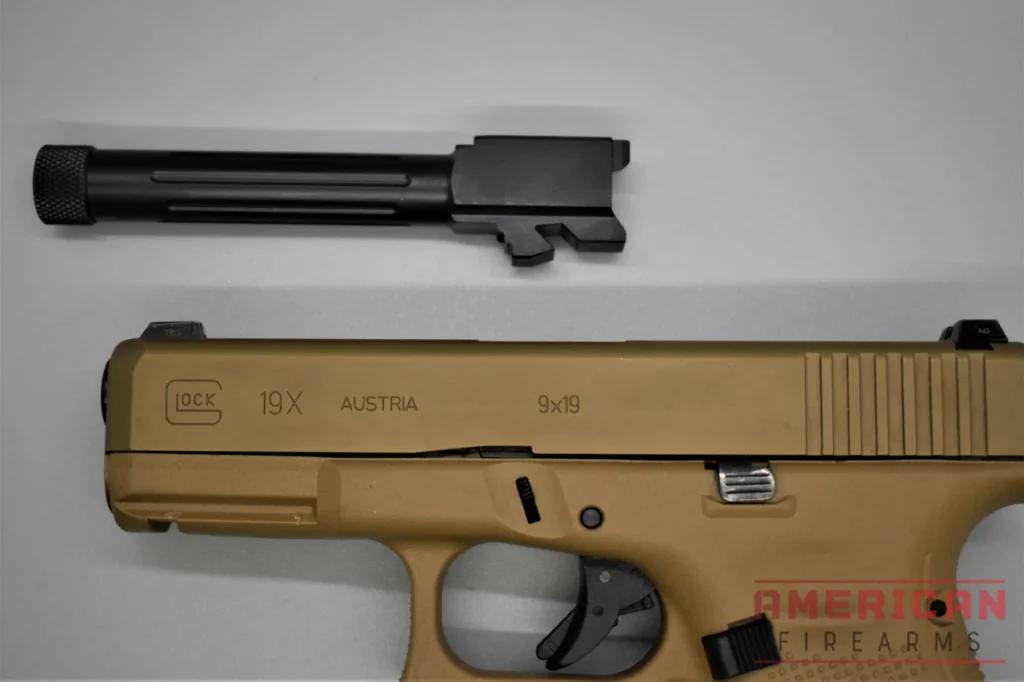 Glock's new Marksman barrel is probably the best upgrade the company has ever delivered to their standard factory pistols.
The GMB, at least according to Glock, uses an improved barrel crown and an enhanced polygonal rifling, which may explain the reason for tighter groups and an overall more accurate gun.
All I know is that I felt like I was a on a carnival shooting game whenever I hit the range with it. Its exceptional accuracy was punching out neat holes in the target center to the point that the gun was almost boring to shoot.
As far as reliability, I suffered no stoppages, jams, or malfunctions that I could blame on the gun. That is not to say I didn't have a few ammo-related failures as I ran some moody remanufactured loads mixed in with factory brass and steel case rounds and in bullet sizes ranging from 115 through 147 grains in weight.
The brass and steel were fine, but we'd recommend against Uncle Willy's reloads.
My range time wth the Glock 19X and its coyote polymer frame consisted of three extended sessions, each with 600-700 rounds on the menu, firing at a mixture of paper targets and steel plates at distances from 3 yards to 50 yards in five shot groups before letting loose and blasting paper to shreds.
The G19X's exceptional accuracy was punching out neat holes in the target center to the point that the gun was almost boring to shoot.
I found the most repeatable accuracy with Federal's Syntech target loads, Winchester's 124-grain NATO, and PMC Bronze 115 when it came to training fodder while Speer's 124-grain Gold Dot and Federal's 147-grain HST were laser-accurate when stacking up the assorted personal protection loads.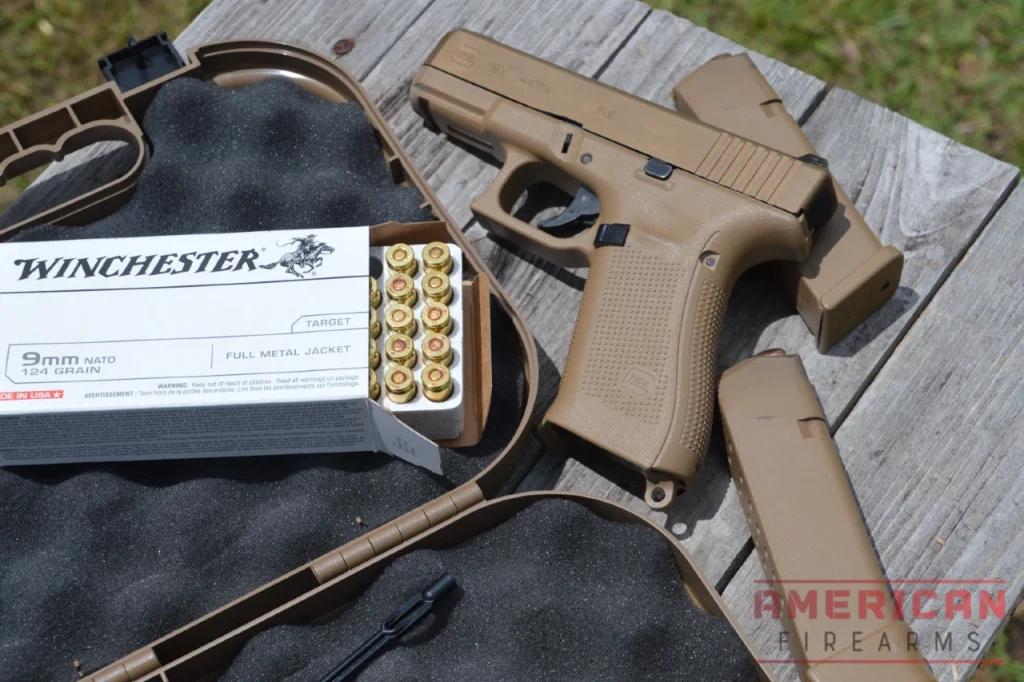 I found the most repeatable accuracy with Federal's Syntech target loads, Winchester's 124-grain NATO, and PMC Bronze 115 when it came to training fodder.
For more than 2,000 rounds, the G19X proved itself over and over and never supplied one of those "hey, look at this" moments, which is about as much as you can ask of a firearm.
Field stripping for cleaning and maintenance is much the same as with any Glock.
With an empty and unloaded pistol, drop the mag and verify the chamber is clear then hold the slide back about a quarter of an inch, pull down the dual take-down levers on each side of the frame, release the slide, pull the trigger (see why you want to make sure you do this on an unloaded and empty pistol!?) to release the tension on the striker and push the slide off the frame.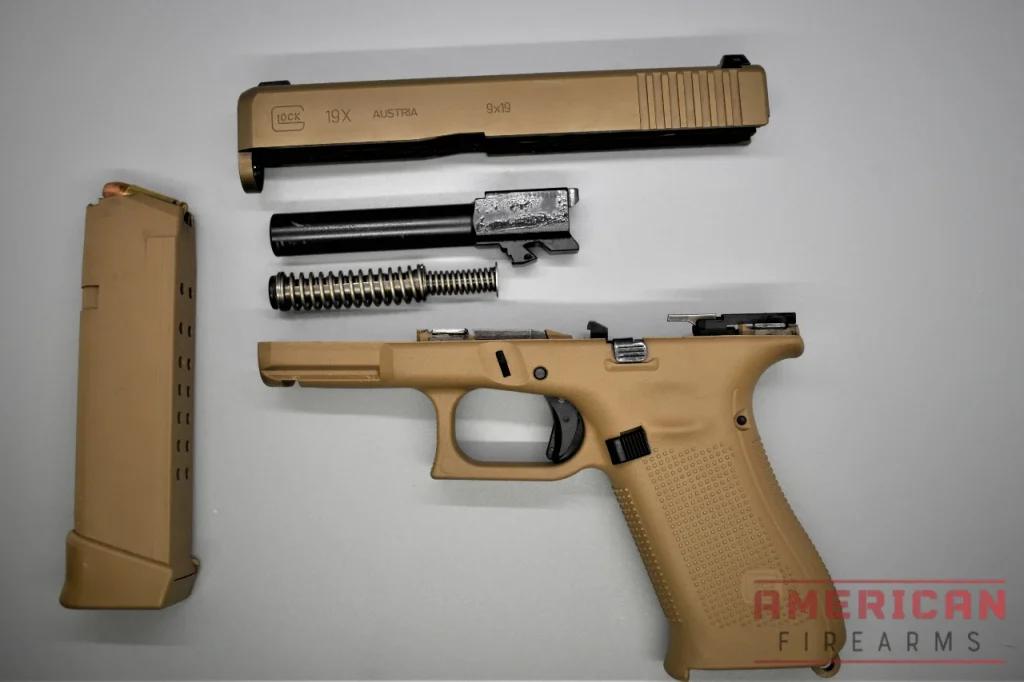 Glock 19X taken down
I did an inspection and take down before my first range trip coupled with cleaning after finishing with each session, making sure to leave only a fine line of lube (Ballistol but your own choice may vary) on metal-to-metal moving surfaces. Maintenance was easy and accomplished in minutes and, between the nPVD slide coating and nDLC barrel finish, the pistol held up very well.
It isn't hard to keep a high-mileage Gen 5 Glock rolling when it comes to extended use, changing the recoil spring assembly every 7,500 rounds or so and the other springs (striker spring, striker safety spring, extractor depressor spring, mag catch spring, trigger spring, slide lock spring, and slide stop lever spring) every 15-20,000 rounds or so.
The Glock 19X came about as part of a military pistol competition with roots in the circa 2014 period, and it shows. While reliable and dependable– a true combat pistol if you will– it is not optics ready and the slide will need to be milled by a professional to fit a micro red dot, now about the most popular accessory for a handgun other than a holster.
A bit of a confusing design, it has most of the features of Glock's Gen5 models but not all, a child of the company's transitional period between generations. Further, the "toe" of the extended magwell and plastic lanyard ring stand out like a sore thumb when viewed through the lens of most consumers.
The long G17-sized grip can be difficult to conceal, especially for those with slim frames seeking to carry AIWB under a graphic tee.
Now pushing a decade old, the G19X is beginning to feel dated, especially when compared to other, more modern, Glock models and the new breed of "micro 9s" like the Sig Sauer P365 and Springfield Amory Hellcat that have been introduced in the past few years.
Glock took the G19X and developed it into their first standalone Gen5 pistol series, the G45. Introduced in late 2018– just months after the 19X was announced– the G45 uses the same "Crossover" concept blending the Model 17-sized grip and Model 19-sized slide.
More than just a G19X semi auto pistol in black and with forward slide serrations, the G45 is available in a Modular Optic System, or MOS, variant that allows quick mounting of red dots.
It also deletes the troublesome toe on the magwell and the GI lanyard ring in addition to a few other small tweaks to the design. In other words, if you like the G19X, odds are, you'll love its half-brother, the G45.
It is little wonder that, while the G19X tanked when it came to scoring big contracts, the follow-on G45 MOS has become Glock's best-selling law enforcement handgun model in recent years.
For those looking for something more concealable for EDC/concealed carry use, the G43X MOS, fitted with Shield Arms's innovative S15 magazines, may be perfect.
Is the G19X right for you?
A hybrid between Glock's two most popular 9mm handgun models that was developed with the U.S. Army in mind and left without a home, the Glock 19X has a curious backstory in the "what could have been" category when dropped onto the civilian market.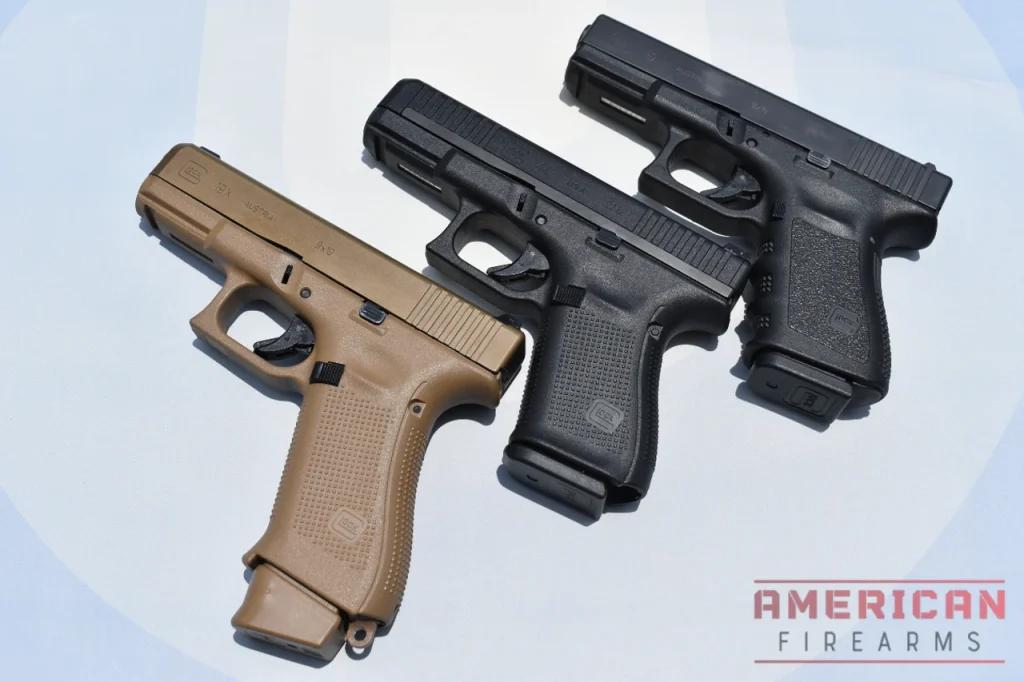 Glock 19X compared to G44 and G19
However, moving past the MHS nostalgia, this Glock pistol is almost amazingly accurate, rock-solid dependable, and versatile in addition to just flat-out looking good to those who dig flat dark earth (err, "coyote finish" Glock guns.
Handy for range visits, competition, or protection, it is also able to draw from the vast supply of standard Glock-pattern parts and mags for support. I bet that, while its military service was short-lived, the Glock 19X will keep on serving for generations to come. It's a great gun that has more than enough capability for any prospective user.