Glock 48 vs. Glock 43: A Comparison
We put these top carry-focused Glocks head to head. How does the Glock 48 compare with the G43? Come find out.
Written By
Elizabeth Bienas
Licensed Concealed Carry Holder
Edited By
Michael Crites
Licensed Concealed Carry Holder
Share:
Products are selected by our editors. We may earn a commission on purchases from a link. How we select gear.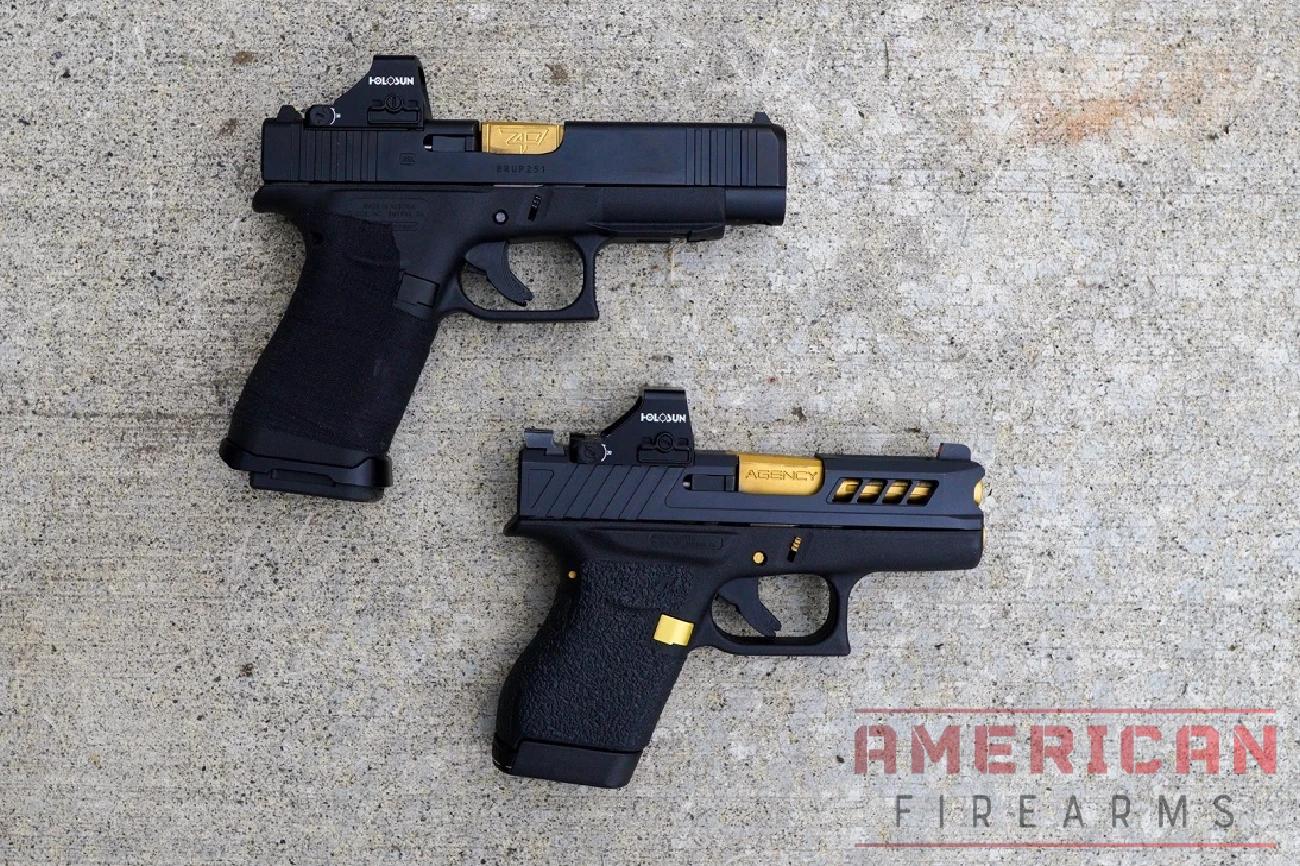 In short:
The Glock 43 is an unbelievably concealable pistol but may be too small or lean on features for some.
The Glock 48 ups the features and size, but isn't as concealable nor as shootable as the G43.
The Glock 43X, which shares a frame with the G48 but with a shorter slide, is a solid compromise.
There's a good chance you or someone you know owns a Glock. For nearly 40 years, the company has been manufacturing high-quality, reliable handguns. What started as service pistols for the military and law enforcement community has expanded into concealed carry guns for civilians.
Today we will compare two Glock pistols designed for carrying concealed — the G48 and G43 — to help you determine if one might be the right Glock pistol for you.
The 43 and 48 are two popular choices from Glock's Slimline lineup. Slimline Glocks are all about carry use — they pair a more narrow slide and frame (hence "Slimline") with single stack magazines and a beaver tail on the grip, which helps you get as high up on the grip as possible while reducing the risk of the infamous semi-auto "pocket pistol" slide bite.
The G43 is a subcompact, and the G48 is compact, but they're both clearly designed for concealed carry.
Glock's first foray into the world of subcompacts was the G26, which debuted in 1995 as Glock's version of a modern backup gun — the kind that would carry like a snubnose .38 Spl revolver or .32 Auto — but with 10+1 of 9mm on tap.
The G26 "Baby Glock" was the first Third Generation pistol Glock produced, and while it solved a lot of the problems it was designed to tackle, it's just as wide as a full-size Glock 17, at 1.26 inches.
They had previously released the Glock 42, chambered in .380 ACP. And while customers were happy to have a tiny concealed carry pistol, they'd hoped for a 9mm single stack Glock.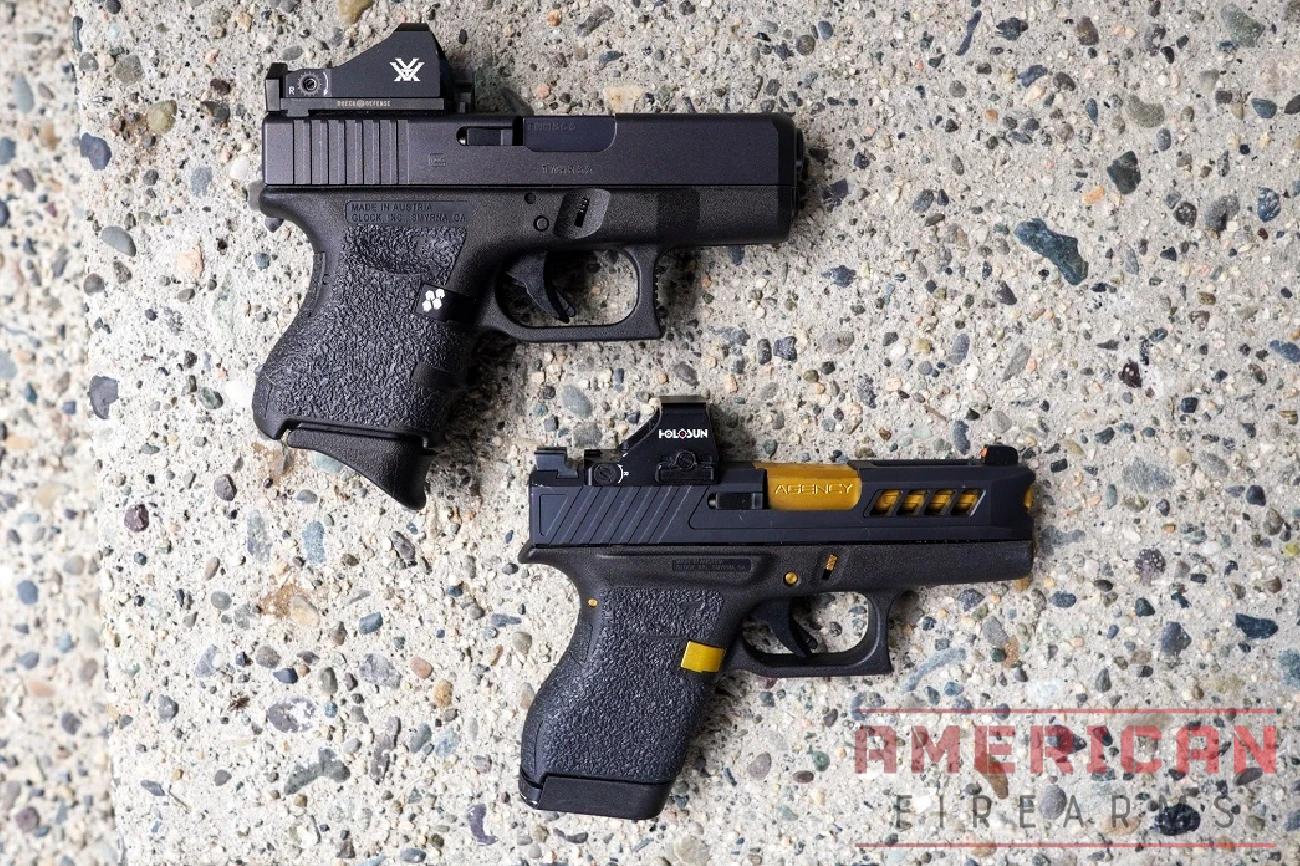 The Glock 26 (top) compared to the G43 (bottom).
Listening to user feedback and building on what Glock learned over the years, Glock worked out the kinks, made some changes, and followed up with the 9mm G43 in April 2015, which was an immediate success. It was a good seller then and continues to be today.
$420.99
Four years later, at Shot Show 2019, Glock announced the G48, and again they were targeting the concealed carry market. Intended to be the do-everything pistol, the G48 is a compact Glock that's a bit like a scaled-up G43 (or maybe a Slimeline G19?).
It adds more capacity and a longer slide, giving you, on paper, a pistol that's small enough to conceal but big enough to shoot accurately.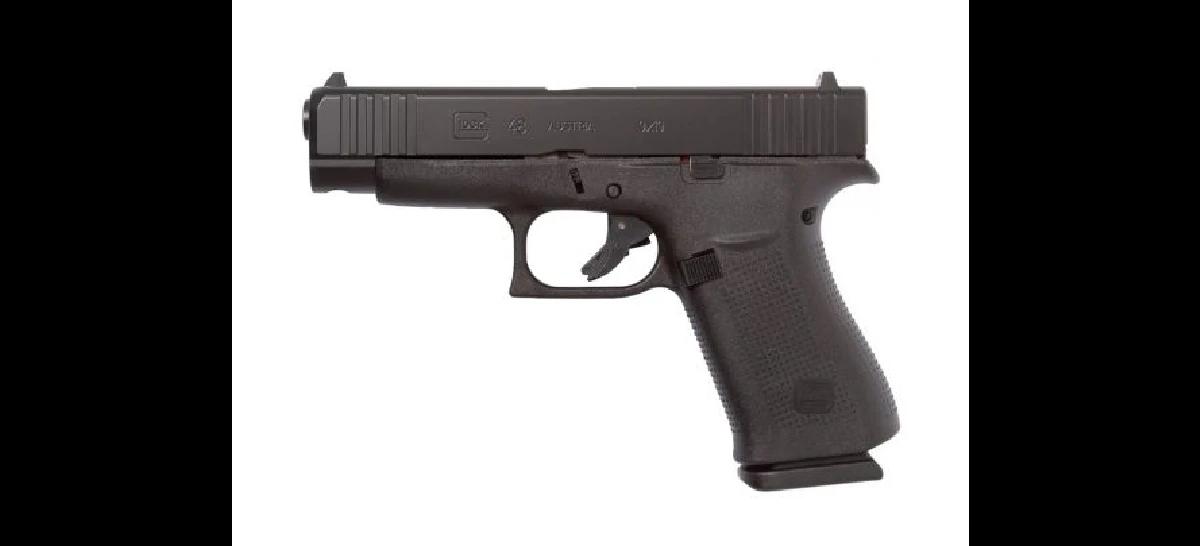 At the same time, they also released the Glock 43X, which shares a frame and has the same grip as the G48 but uses has shorter barrel and slide, so the only real difference between the two is the slide length.
About Slimline
You may have noticed that these Slimline models don't adhere to a particular generation of Glocks. The G36, G42, G43, and other Slimline Glock models are categorized by their Slimline status, rather than any specific generational features. In fact, Glock lists the Slimline products in a dedicated category on their site. The more you know…
| Attribute | Glock 43 | Glock 48 |
| --- | --- | --- |
| Caliber: | 9mm | 9mm |
| Capacity: | 6+1 | 10+1 |
| Action: | Semi-auto | Semi-auto |
| Trigger Pull Weight: | 5.5 lbs | 5.25 lbs |
| Weight: | 17.95 oz. | 20.74 oz. |
| Length: | 6.26 inches | 7.28 inches |
| Barrel Length: | 3.39 inches | 4.17 inches |
| Width: | 1.06 inches | 1.1 inches |
| Height: | 4.25 inches | 5.04 inches |
| Sights: | Three dot fixed | Three dot fixed |
| Safeties: | Safe Action | Safe Action |
| Source: | | |
| Hands-on Reviews: | | |
Similarities & Differences
Similarities
Since we're talking about Glocks, especially Glocks released in the past 10 years, there's going to be a lot of overlap between these two pistols, from their chambering to cerain design choices. Here's how they're alike:
Slimeline build: Both are part of Glock's Slimline lineup designed for concealed carry.
Chambering: Both are only chambered in 9mm
Semi-Automatic Action: The G43 and G48 are semi-automatic handguns that use Glock's Safe Action trigger system.
Plastic Sights: They both come with Glock's standard three-dot fixed sights
Beavertail Grip: Both have a similar grip design with built-in beavertails
Reliable Service: They share a record of reliable, consistent performance
Differences
What makes these two pistols distinct?
Size: The Glock 43 is a subcompact pistol, while the Glock 48 is compact but slightly larger than the G43
Capacity: The Glock 43 has a 6+1 capacity, whereas the Glock 48 has a 10+1 capacity
Dimensions: The Glock 48 is longer and slightly wider than the G43
Barrel Length: The Glock 43 has a 3.39-inch barrel, while the Glock 48 has a 4.17-inch barrel
Recoil: The Glock 43 is snappy and can produce pronounced muzzle rise, while the Glock 48 handles recoil better due to its larger size and slim grip design (but is still quite rowdy).
Concealability: The Glock 43 is effortless to conceal, especially in warm weather, due to its smaller size, while the Glock 48 is still highly concealable but may be challenging in certain situations or for the particularly petite.
Optics Support: The Glock 48 has a MOS version available with optics-cut slide support, while the Glock 43 lacks this feature. For these features, you must turn to the Glock 43X.
Aftermarket Support: Both pistols have a wide range of aftermarket support and accessories, but the G48 offers more factory features in the way of front serrations and a rail for attachments with the MOS version.
The Glock 43 is accurate for a small pistol but is as snappy as they come. Of the two pistols I found it easier to shoot at shorter distances which makes sense for self-defense.
At 3 yards, I had decent groups, and after several magazines, I started dropping shots. And at 10 yards, I shot a tight group but was having an off day and kept hitting low.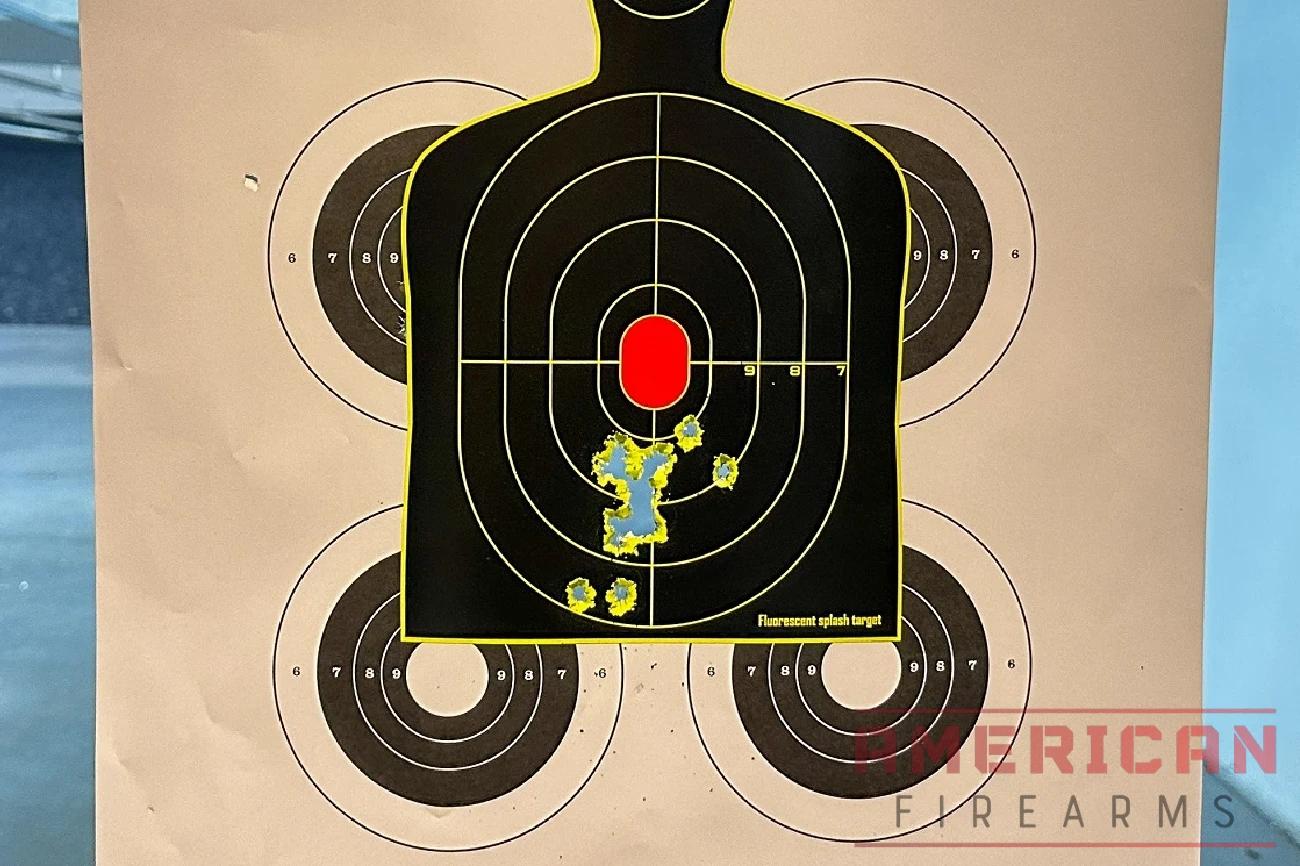 Glock 43 10 yard group
The Glock 48 is surprisingly snappy for the size of the gun. It's certainly better than the G43, but not as good as most would expect. It handles like a small gun despite the effort Glock put into making it controllable.
The thin frame and slim grip concentrates recoil impulse into the beavertail, which produces more muzzle rise despite the G48 being a larger Glock than its G43 relative.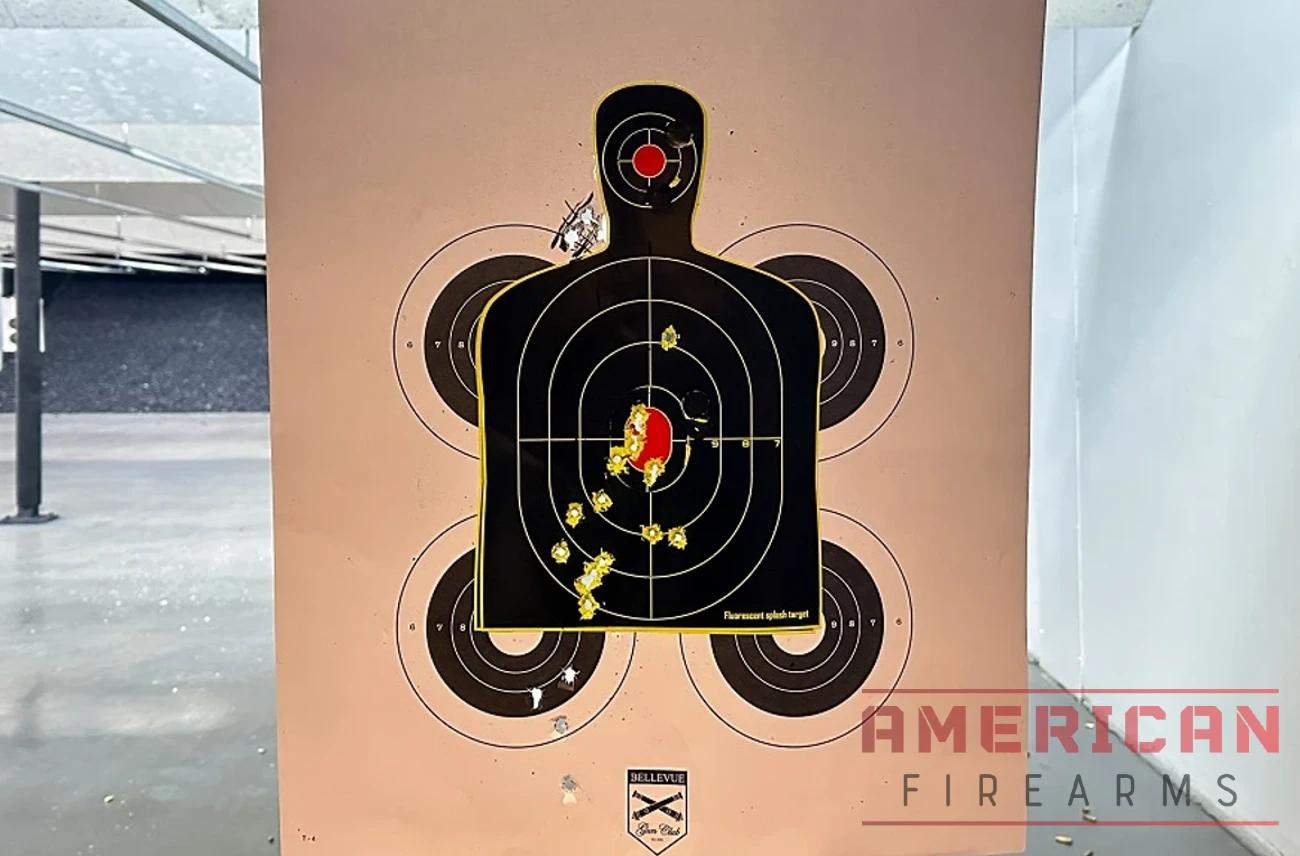 Glock G48 groups at 10 Yards
The built-in beavertail is there to mitigate some of the recoil, but I feel it most in the web of my shooting hand. It's not a deal breaker–just one of the trade-offs for a streamlined concealed carry gun.
The longer sight radius did help me shoot with reasonable accuracy at 3 yards. I started dropping shots when I took it out to 10 yards. After I shoot mine for a while, the trigger begins to feel heavy, and I anticipate the recoil.
The G43 has the older standard Glock barrel, while the G48 comes with the Glock Marksman Barrel (GMB). The GMB improves the rifling and is designed to improve accuracy.
The extra length in the G48 barrel means you eek out a touch more velocity with your shots, which may not matter much in terms of improving accuracy (we're talking about pistols designed for use within 20 yards here), but the higher muzzle velocity does help with hollow point expansion, which means you can stop threats faster.
Winner: Glock 43
The Glock model 43 and model 48 are Slimline pistols that use single-stack magazines, making them great for concealed carry, with the biggest difference being their relative size.
The G43 is 1.06 inches wide, and the G48 is slightly wider at 1.1 inches. Compared to thicker double-stacks, these two are small guns that are easy to conceal for most people, although their Slimline builds mean you can't use double-stack mags from non-Slimline Glock models.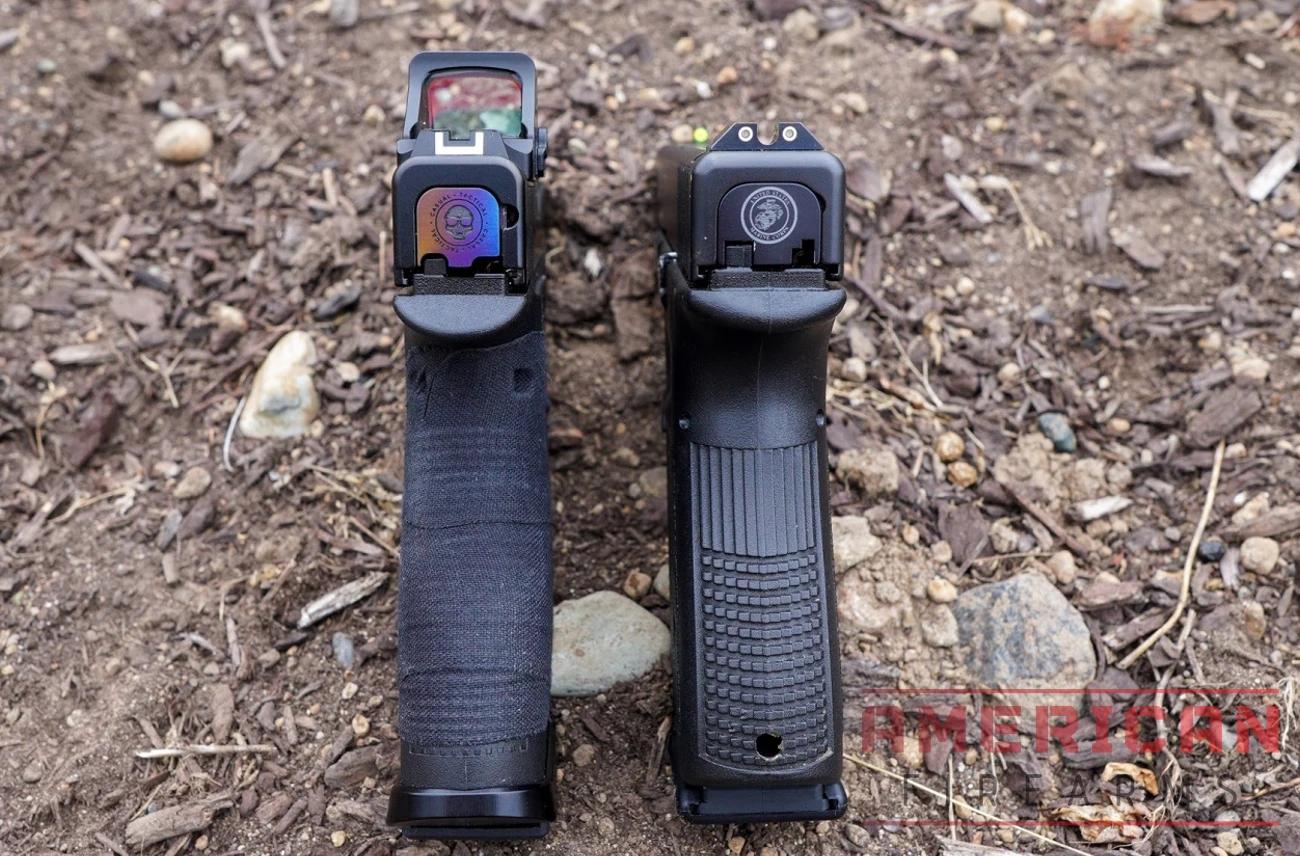 The G48 (left) is a Slimline Glock, which, when compared to a G19 (right) you can really see the difference.
Despite being a smaller Glock, the G43 feels surprisingly good in the hands. It's small, though, and most people probably can't get their pinky on the grip with a flush magazine.
If that's the case, I'd suggest getting an extended magazine because the pinky is important for control. It's small enough that it works well in standard carry positions or deep concealment type pocket or ankle carry. All things being equal a smaller gun will carry more comfortably for most people.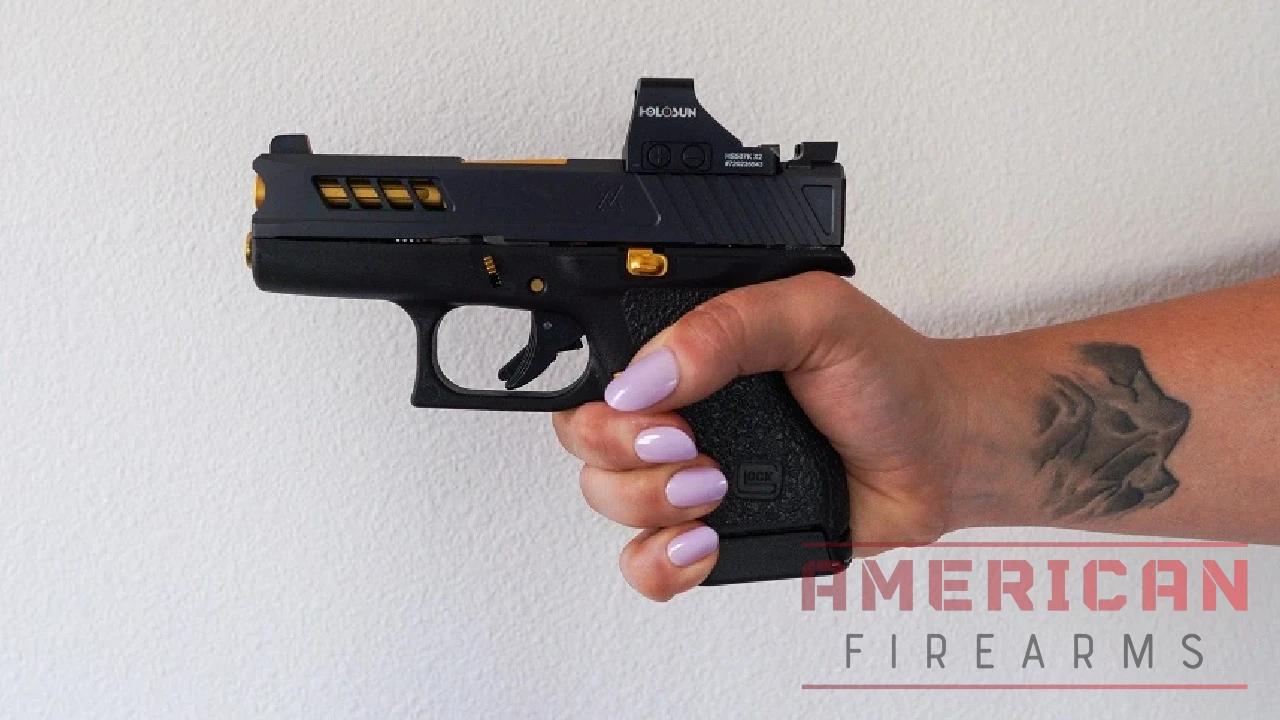 G43 In Hand
The texture on the G43 could be better. It's great for concealed carry because it won't tear up your shirts or skin. But it doesn't take long to feel like you're slipping when shooting. I've had grip tape on mine for years, and it works.
Although it's not very ergonomic, I like the way the Glock 48 feels in my small hands. The slim grip feels good and allows me to reach the trigger easier than I would on a Glock 19. Similarly, my husband likes the feel too. This is one pistol that services different hand sizes equally.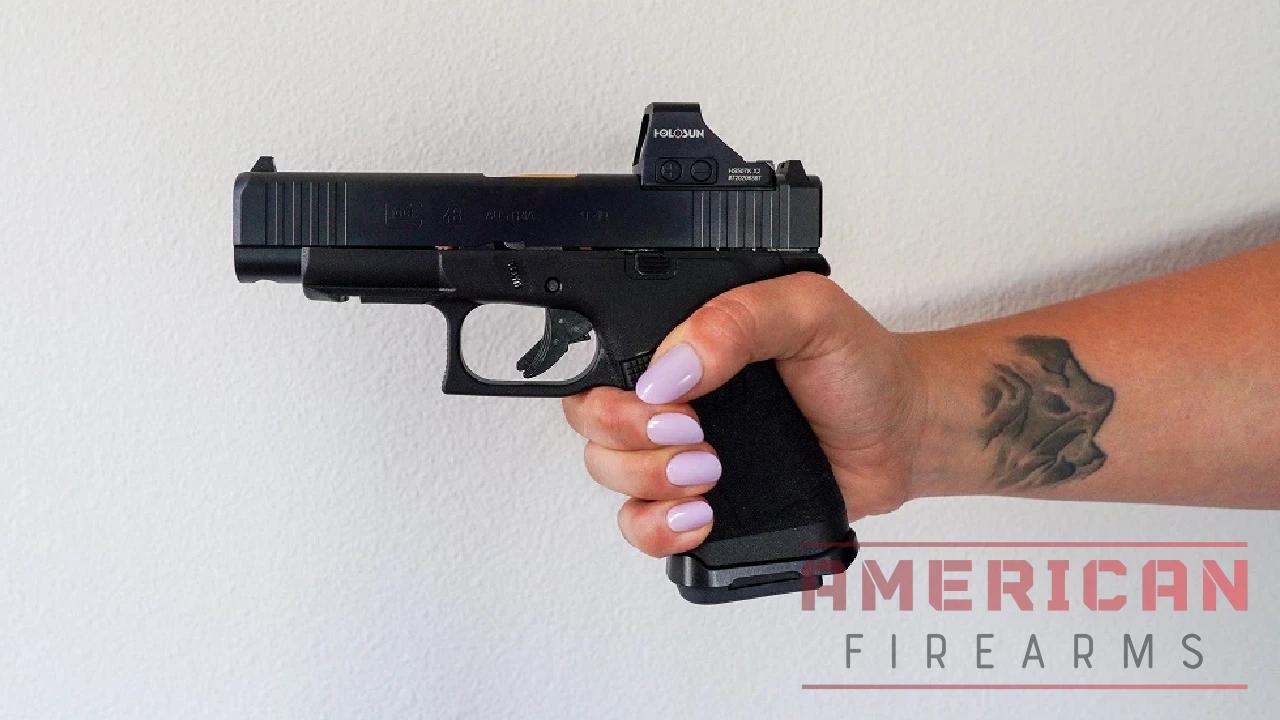 G48 In Hand
The grip size is much better for drawing from concealment than the Glock 43. You can get a better purchase on the gun right out of the holster, be it an IWB or OWB holster, but its size puts it more in the waist or appendix carry range than the G43.
The G48 has Glock's raised squares texture, falling somewhere in the middle on the aggressiveness scale. Once your hands get sweaty, you'll want something more like the grip tape I use on mine.
It's also 2.5-3 ounces heavier than the G43, which may not make a huge difference overall by may impact your decision to carry the G48 in certain ways.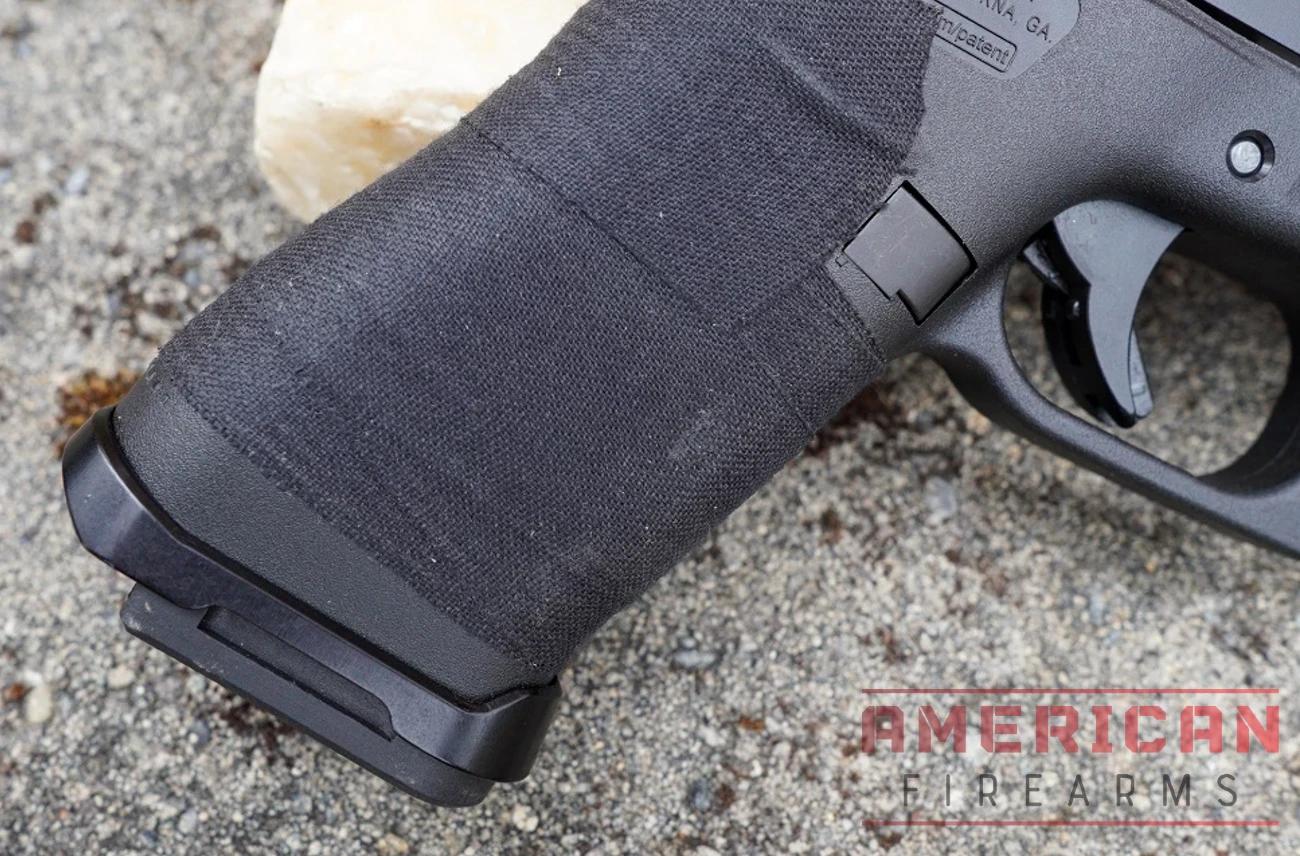 The G48 grip
They both feature the standard black-polymer Glock frame. And the 43 frame, although slightly more rounded on the back, looks like a shrunken-down version of the 48. They both have built-in beavertails but the G48 has a slightly longer grip to accommodate the 10+1 mag.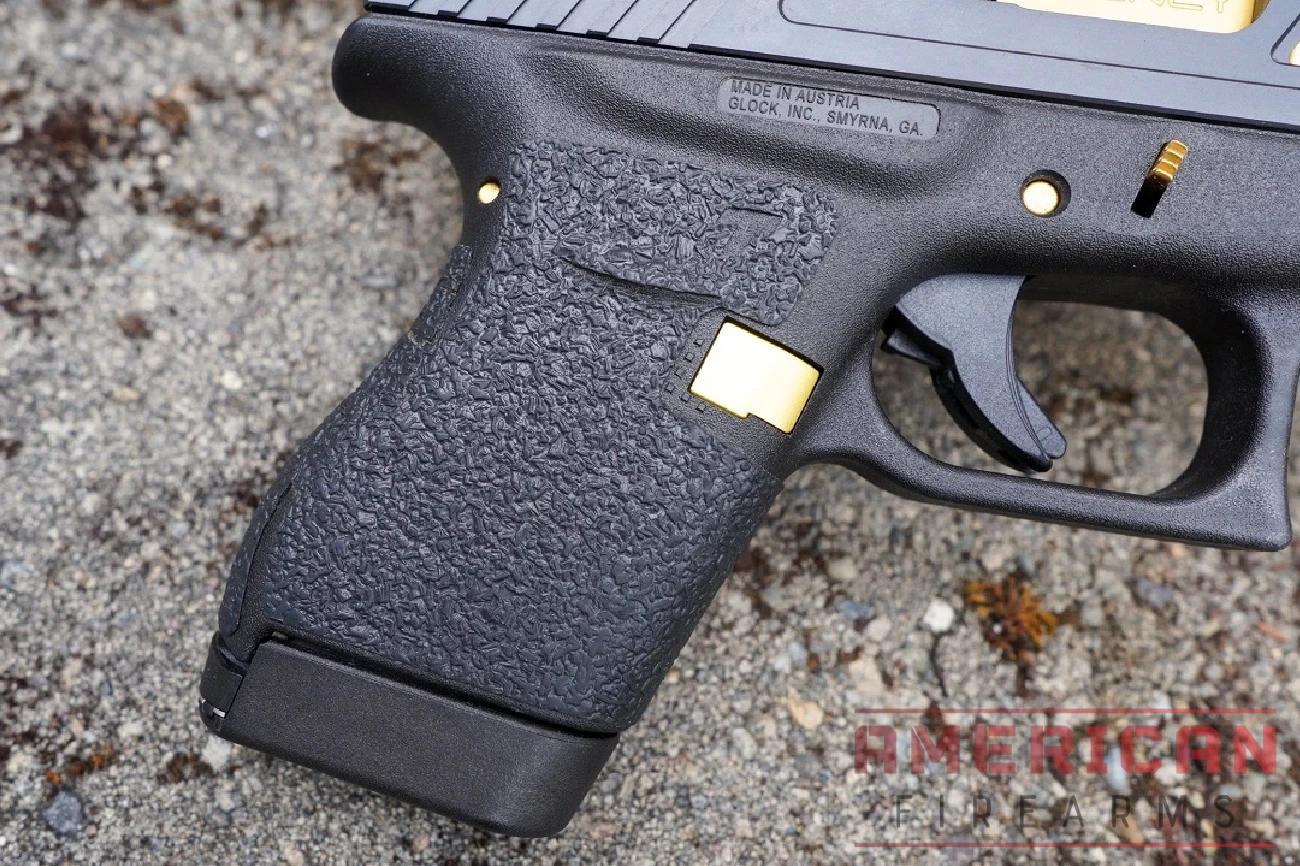 The G43 grip looks like a more compact version of the G48, but with a slightly more pronounced rear hump.
These two pistols are both excellent options for concealed carry, but for me, they serve two distinct purposes. If maximum comfort is the deciding factor, I love carrying the G48 when I can. Its slightly longer slide and grip means there's more to conceal in both directions.
If it's all about concealment and wardrobe flexibility, I know I can conceal the G43 in any outfit I own.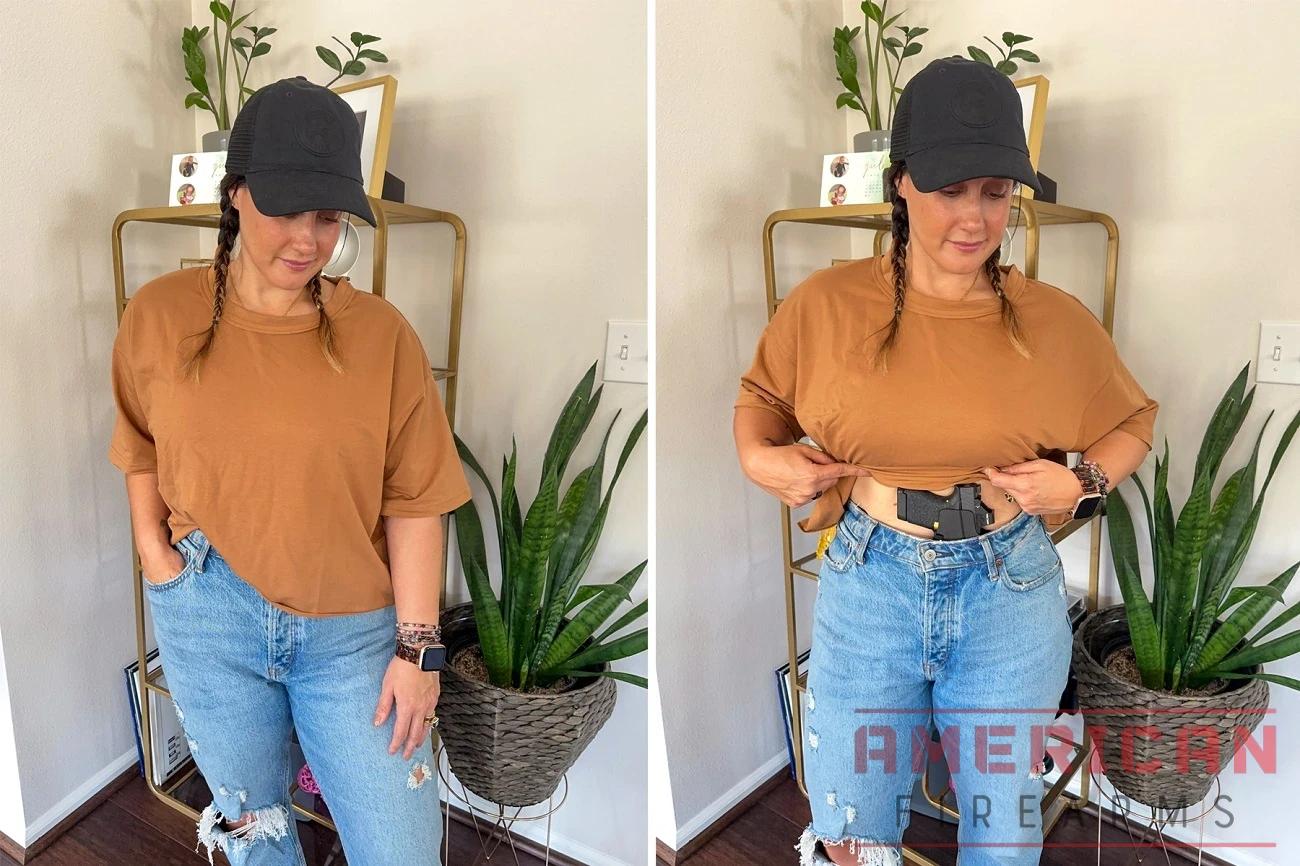 G43 in IWB Holster. The G43 is effortless to conceal.
I carry the Glock 48 in every season with the exception of summer when I need something that can easily be concealed in warm weather clothing. I prefer the Glock 48, but if I could only have one, I'd choose the G43 because it's effortless to conceal.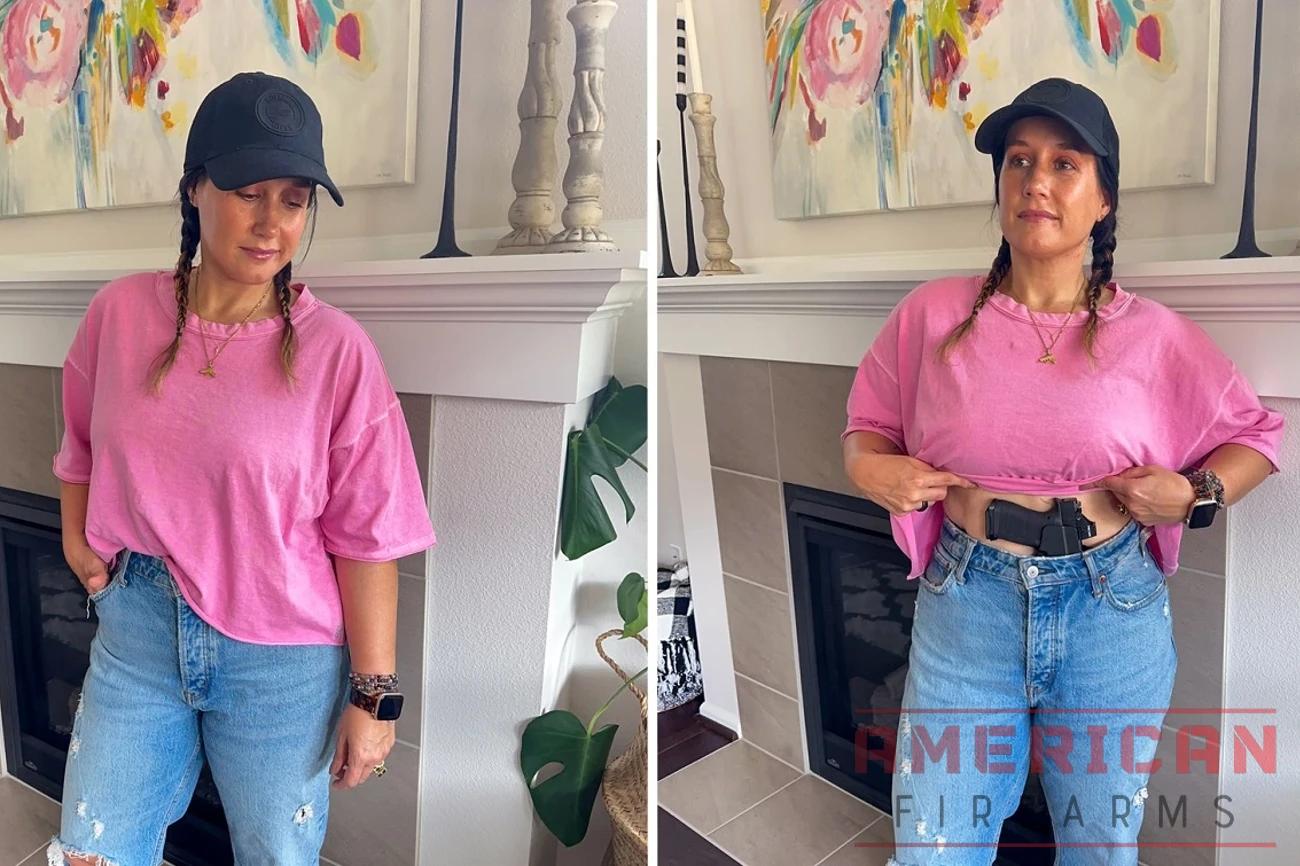 G48 in IWB Holster. I wear my G48 in every season except summer.
That said, I'm all of 5 foot 1, so larger humans probably won't struggle to carry the G48 year-round.
Winner: Glock 43
My biggest complaint with the G43 is the 6+1 capacity, but at the time, that was good. Remember, this gun came out in 2015. You can get up to 15+1 in certain aftermarket extended magazines, but that kind of defeats the purpose of carrying a small pistol. A +2 extender is still easily concealed.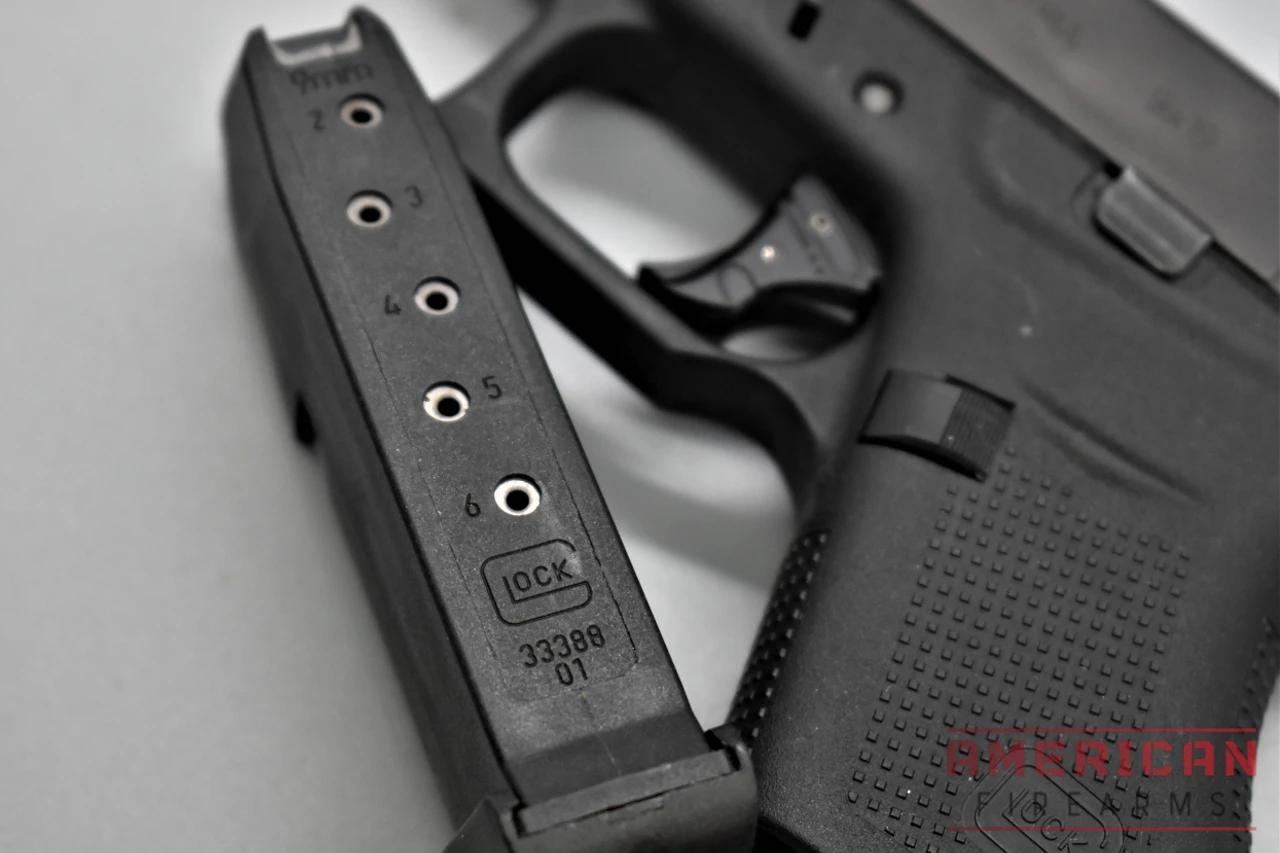 G43 & is 6-round magazine
The Glock 48 comes with a 10+1 round magazine which may seem low to some. You can pick up the S15 magazines by Shield Arms to increase capacity if ten rounds doesn't feel like enough. The G48 offers more capacity than the G43 and a MOS version with optics and rail support if you want to run a red dot.
G48 & is 10-round magazine
The Glock 43 is cute. There, I said. It looks like a baby version of other Glocks with a little more rounded backstrap. There are no frills, but it looks good for a subcompact and is finished with the same quality as any other Glock models.
The Glock 43 is, well, cute
Glocks always have a utilitarian look, which I don't mind. The G48 looks streamlined with its slim profile. I like that they included front serrations, which are missing from the G43.
Winner: Glock 48
The 43 is reliable and exactly what you'd expect from Glock. I've been shooting my G43 for nearly eight years, and I've had very few issues. A rare malfunction here and there that can usually be chalked up to an aftermarket magazine or my grip wearing out.
Glocks have always been reliable and have a good track record of consistency. With about 1,000 rounds through my G48, I've had zero issues. It takes any ammo I feed it and always shoots as expected. This one's a draw.
Winner: Draw
Trigger
Ahhh, Glock triggers. What can I say? They're in between good and not good. The G43's pull is heavy for a small pistol. I've polished mine to help a little, but I can see why people are always hunting for aftermarket triggers. That said, it works fine and consistently.
There's a short take-up on the G43 before you get to the wall. After that, there's a little bit of creep before the break. And then a positive, short reset you can feel. With practice, you can shoot the G43 pretty quickly.
Stock Glock triggers are decidedly mediocre, and this is true on both the G43 and 48.
The G48 also has a short take-up, but it feels heavier. When you get to the wall, there's a rolling break and some resistance. Again, the reset is short and positive, and you can feel it.
Winner: Glock 43
Sights & Optics Support
Both the 43 and 48 come with Glock's plastic filler sights that they know people will upgrade with night or aftermarket sights. You can also choose to upgrade to an Ameriglo option from the factory. These are night sights with a blacked-out rear u-notch and either an orange or yellow dot front sight.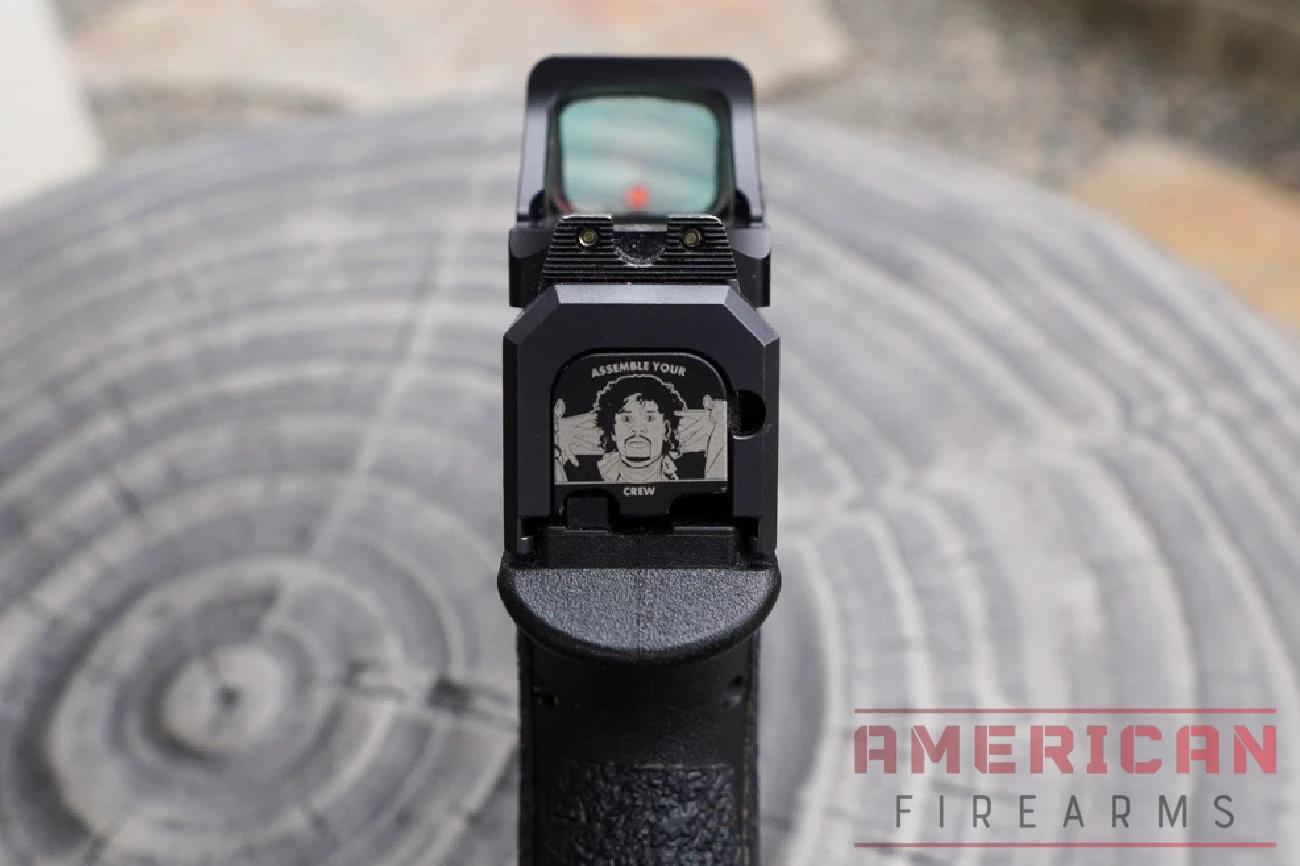 Sight picture on the G43
The Glock 43 doesn't have a MOS version, but the G48 does. Because it's a Slimline pistol, it can take a micro-reflex optic like the Holosun 507k or Shield RMSc mounted with a plate. Of course, you can always have a slide milled for an optic too.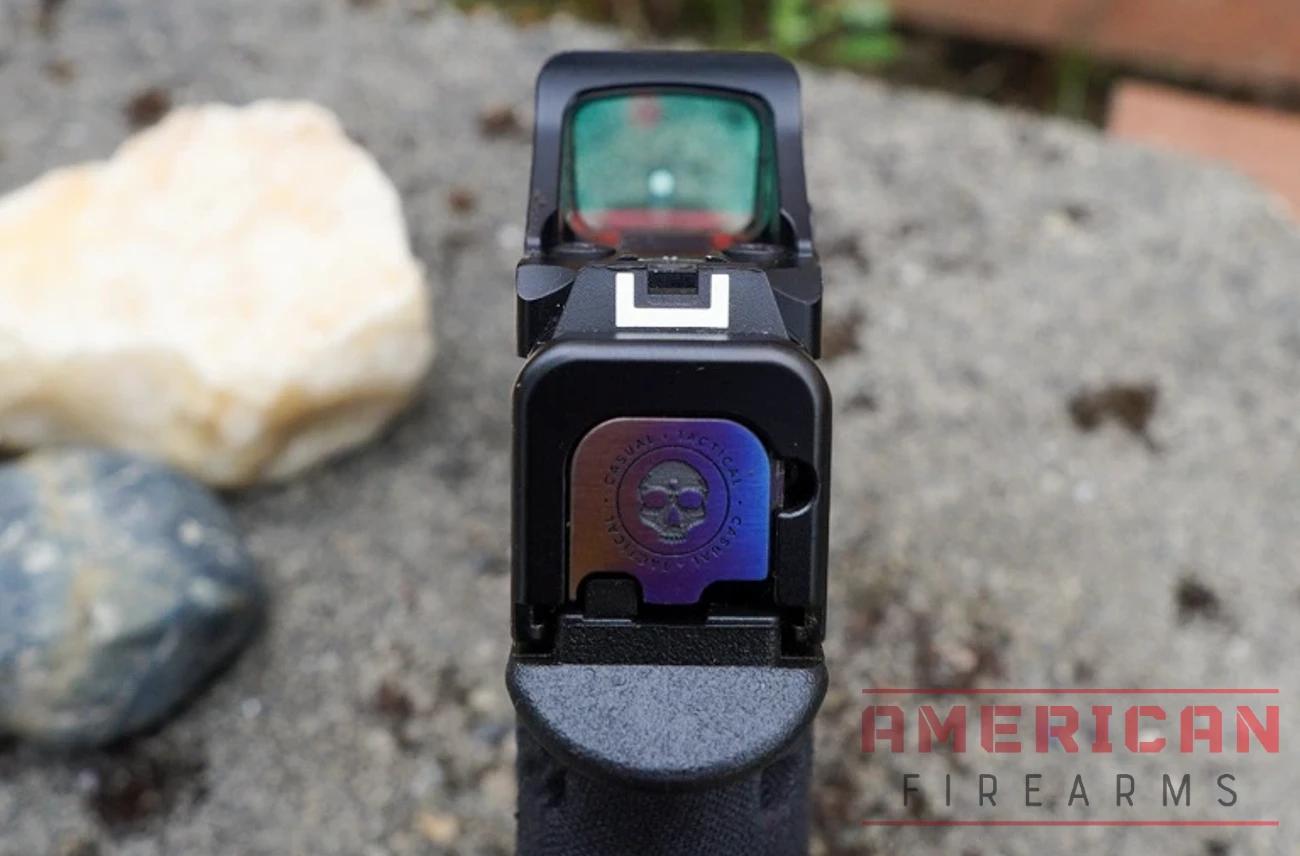 Sight picture on the G48
The G43's shorter sight radius means it can be a challenge for some users to acquire targets quickly, especially those who are used to larger pistols, but the short stature is a common compromise when considering a compact pistol.
Winner: Glock 48
Slide, Rails & Accessories
The Glock 43 has a basic Gen 4 slide, so there are rear serrations but none at the front. Adding front serrations would have been nice because Glocks can be tight to rack until they break in, and the small slide is a challenge to gain purchase to begin with.
G48 Stock Barrel and Slide
Glock included front serrations on the G48, although I wish they were slightly deeper. If you want features like an accessory rail and optic-cut slide, opt for the Glock 48 MOS because those are missing on the original G48.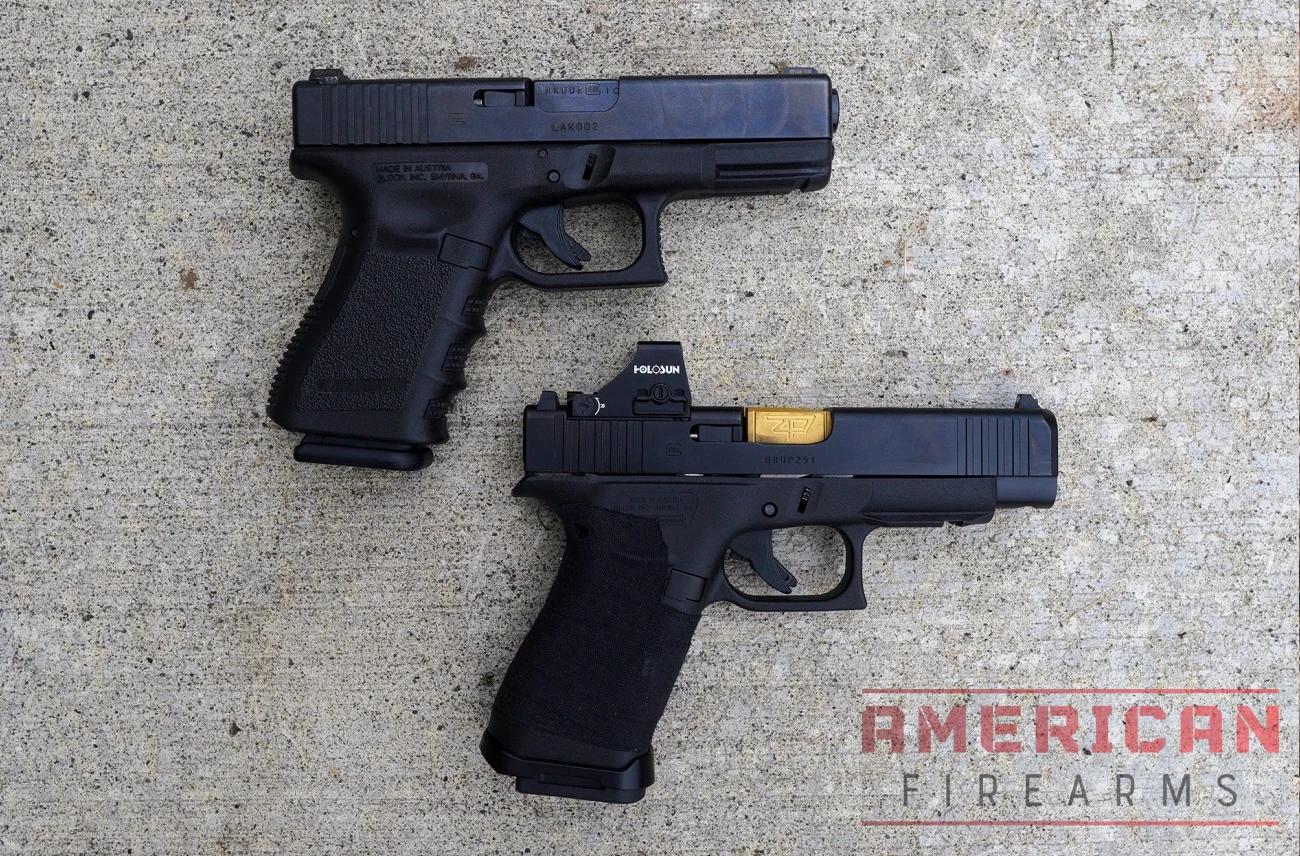 G48 vs G19 Side by Side. You get front slide serrations with the G48 and a MOS option that includes an optics cut slide and rail.
Neither of these is available on the G43, which gives the nod in the features category to the G48. For a G43-sized pistol that offers the rail and optics support you'll need to look into the G43X.
Winner: Glock 48
Since the Glock 43 was released, a lot has changed in the subcompact market. Namely, manufacturers like Sig Sauer are getting more rounds in smaller guns.
Still, the G43 is a good value. It's affordable, reliable, and easy to conceal, everything I want in an everyday carry gun.
The Glock 48 isn't loaded with fancy features like other guns, but that's the trade-off for the affordable price. If you're looking for a simple pistol that will function with very little maintenance, it's a good choice.
Of course, you can do all kinds of upgrades to make it your own. Aftermarket parts aren't cheap, but they are generally in heavy supply for the 48 and all Glocks.
This is another draw.
Glock 43
Pros
Cons

Anyone can conceal it

Tiny grip

Can be carried in many positions

Tons of recoil

Reliable

6+1 capacity feels antiquated

Has the ergonomics of a larger gun

Virtually no grip texture

It takes all kinds of ammo

Glock triggers... man

Wide aftermarket support,

Simple design,
Glock 48
Pros
Cons

Good size for concealed carry

The thin grip makes it snappy to shoot

Reliable

Standard capacity is still only 10+1

Not picky about ammo

The stock trigger could be better

Works for small and large hands,

Wide aftermarket support,

Easy to take down,
Let's start with the scores by category:
| Category | Glock 43 | Glock 48 |
| --- | --- | --- |
| Accuracy: | Winner | Loser |
| Ergonomics: | Winner | Loser |
| Concealability: | Winner | Loser |
| Capacity: | Loser | Winner |
| Fit & Finish: | Loser | Winner |
| Reliability: | Draw | Draw |
| Trigger: | Winner | Loser |
| Sights & Optics Support: | Loser | Winner |
| Slide Rails & Accessories: | Loser | Winner |
| Value: | Draw | Draw |
So, which is a better choice between the G43 and G48? That's a tough question to answer, so I bought both! And it's not difficult to see why; based on the numbers, it's a toss-up. Both the Glock 43 and Glock 48 took 4 categories outright and drew twice. But that is my personal experience.
For me, the two guns serve a dedicated purpose — I prefer to carry the G48 but when the weather turns warm it can be challenging to conceal for me, so I turn to the G43 which I can easily conceal with any outfit.
That said, I am a petite woman. If you're bigger than my whole 5-foot, 1-inch self, you can likely conceal the Glock 48 all year round. And in that case, pair it with the Shield S15 magazines, and you have yourself a solid concealed carry setup.
Which is better, Glock 43 or Glock 48?
Why the Glock 48 is better than the 43X?
What is the difference between Glock 43 43X and 48?
Why is the Glock 48 so good?