Real Avid AR15 Armorer's Master Kit Review [Hands-On]
Written By
Kenzie Fitzpatrick
Certified Armorer & Instructor
Edited By
Michael Crites
Licensed Concealed Carry Holder
Share:
Products are selected by our editors. We may earn a commission on purchases from a link. How we select gear.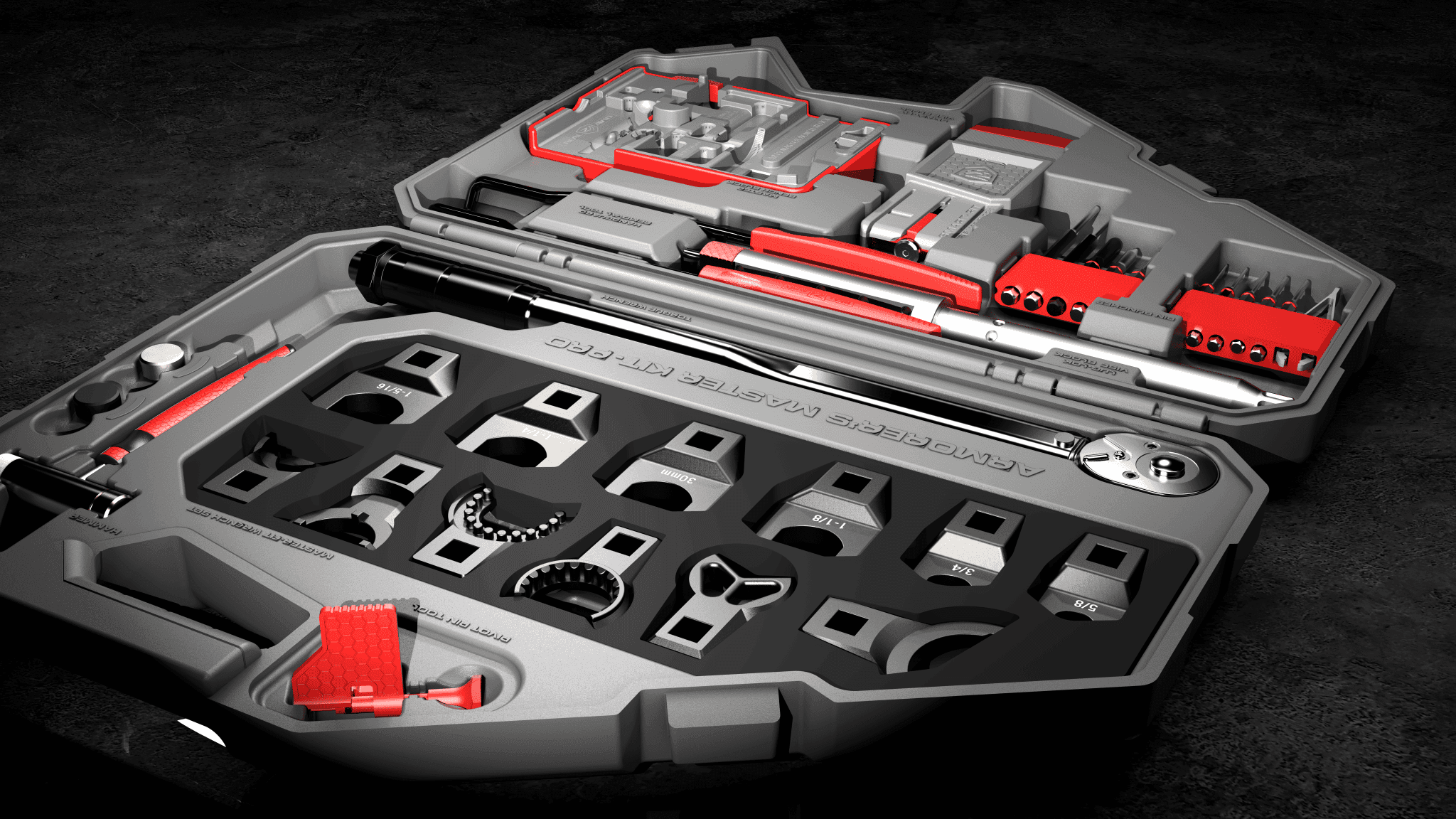 The AR-15 is arguably the most common rifle Americans own, and then can be found at just about every LGS. ARs are also relatively simple to build on your own.
Whether you plan to buy or build an AR, someone has to have the proper tools to put it together. Thanks to the popularity of complete ARs — and the tendency for many gun owners to build their own — AR tools have proliferated in the past decade. There are simply too many AR-building tools on the market to differentiate one brand from another if you're new to building.
AR tool kits offer everything you need to build a rifle, or you can piecemeal tools out. Like anything else in the firearms industry, there are high-quality tool options and some, uh, not-so-good options.
Thankfully, I have tested, and broken, untold numbers of tools and have a ton of experience building and tinkering with rifles. The Real Avid AR15 Armorer's Master Kit is one of the best for any AR builder. We'll show you why.
Why you should listen to us
In order to demonstate how the Real Avid AR-15 Armorer's Master Kit can more or less do it all, I documented the assembly of my new rifle, which paired a Ballistic Advantage barrel with a Luth-AR upper set in an Anderson lower -- and built with the Armorer's Master Kit.
Almost two years ago, I officially became an AR-15 Armorer through the course DoubleStar USA offers at their headquarters in Kentucky. After years of competing in competitions and constantly modifying my firearms, I realized it was time to learn how to properly take apart an AR and put one back together on my own, using the right tools.
I find it essential in the firearms industry to find legit, credentialed instructors, gunsmiths, armorers, and other professionals because many people claim to know how to do things and fail expectations. Some fantastic people know how to do these things without official credentials, but formal education is something I believe in and gives me more peace of mind if I ever need to service any firearms.
There is not a single rifle I own that I have not built or modified in some way or fashion. I am a total trigger snob and have to have an adjustable gas block as well as a good muzzle brake on all my ARs. The same goes for my Pistol Caliber Carbines, where I always upgrade the trigger, muzzle brake, and since there is no gas system, I have a specific buffer system I use that I tune to the way I shoot and the ammunition I use. There is not a week that goes by usually that I'm not using my AR Tool kit, punch set, or torque wrenches.
I often inspect my AR-15s and PCCs because they are mostly my competition rifles, and I rely on them to work. I also like checking torque specs on the castle nut to ensure it hasn't loosened. I do not stake my castle nuts because I often change things on my guns.I live by the phrase "buy once, cry once" if I want something of quality, but AR tools don't have to be the most expensive to be the best. If I have high-end carbines, I tend to invest in high-end tools, optics, and mounts.
The AR build kit I've been using this year is Real Avid's AR15 Armorer's Master Kit. Real Avid is one of the most innovative tool companies that listen to feedback from shooters who build their own guns.
They continue to find solutions to builders' problems, making things easier with every product they design.
The Real Avid Armorer's Master Kit for the AR-15 has all the tools you need to build a rifle and has very helpful instructions on what each tool does.
Furthermore, if you've never built a rifle before but are attempting it independently, Real Avid has a step-by-step guide with illustrations on how to build an AR-15. The skill needed to build a rifle is minimal, and patience is of the utmost importance.
Once you understand the process and have a few builds under your belt, it takes about an hour to build an AR, if not less. Here's a rundown of everything in the Avid AR15 Armorer's kit and what the tool(s) are used for:
1. AR15 Master Bench Block
This block is arguably one of the best tools I've ever used for anything gun related. This one product blows my mind and makes working on any small part with a pin a breeze. The block is made with an over-molding that grips your bench, so it doesn't slide at all. The inside of the block is magnetic, so when you punch out a pin or take out a small screw, they stay attached to the bench block rather than rolling around.
The block holds five key AR-15 components in eight different orientations, so you can easily install and remove pins hands-free.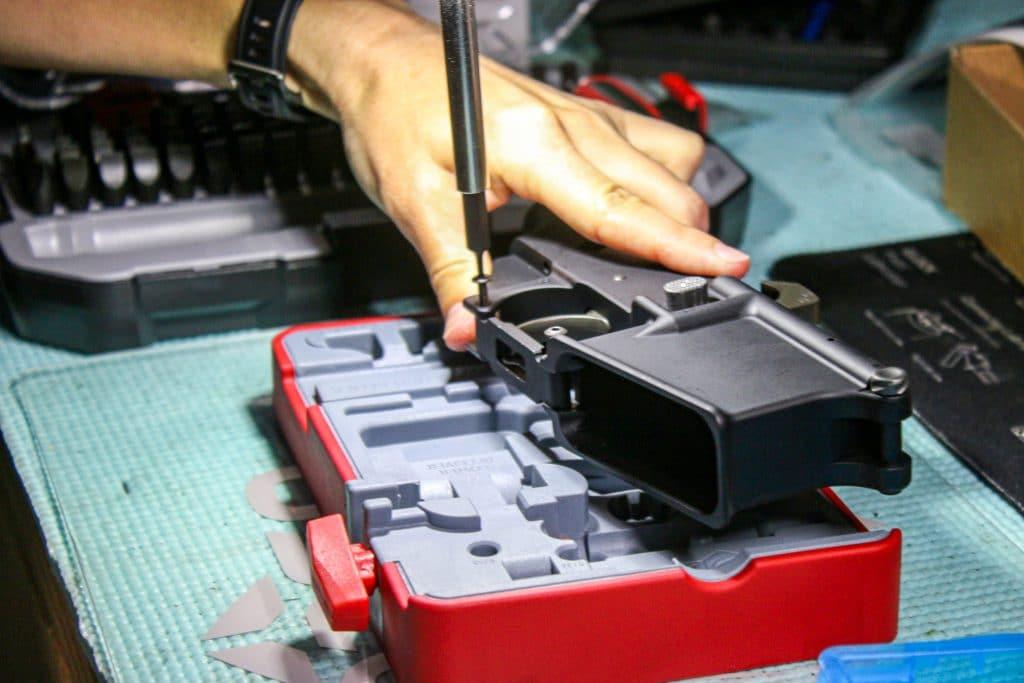 A classic piece of every armorers kit, this Real Avid AR-15 Master Bench Block makes getting pins out of your AR a breeze.
The block is labeled with what parts can rest or attach to it. One of my favorite features is attaching the lower receiver to the block by the front pivot pin. With this orientation, it's a lot easier to install your grip or install a stock on the end of your buffer tube while the lower is upright.
It's not often that you would ever need to clean or replace your ejector in your bolt, but if you ever do, the T-handle on the side of the block will allow you to push down on the ejector while you knock out the small pin keeping it in place.
To reinstall a new ejector, ejector spring, or pin, you can use this block to hold the ejector in place while installing the roll pin back in place. There are many other uses for this block, but those are a few of its favorite benefits.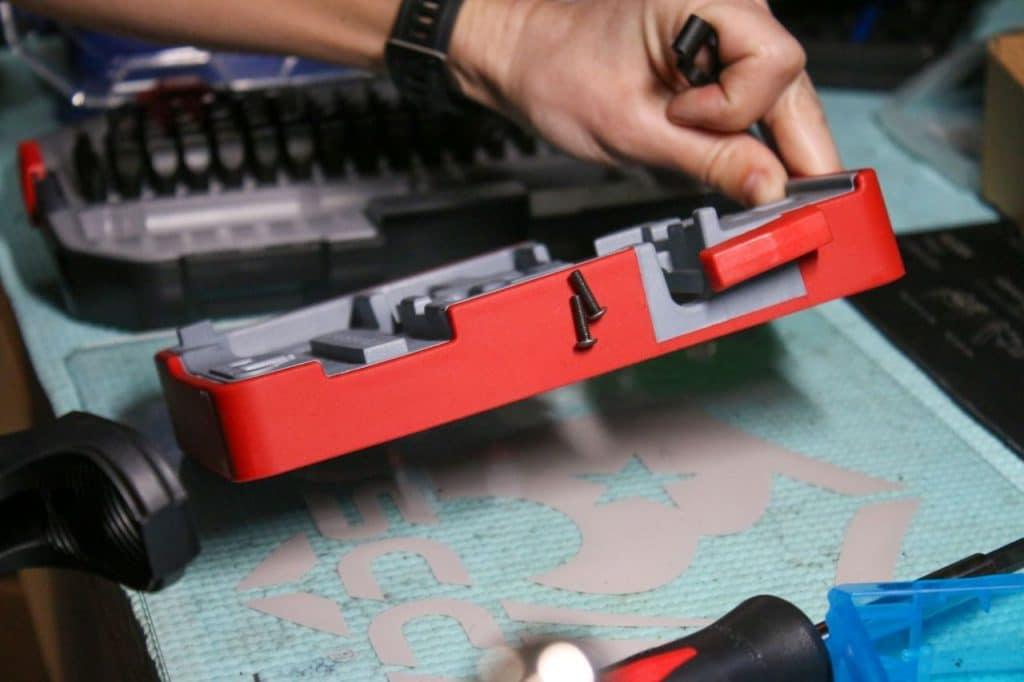 The magnetic side of the bench block keeps screws from falling to the floor
Simply put, this gun vise rotates on a ball which gives you 360 degrees of movement, enablign you to position your rifle at any angle. If you are serious about building or working on rifles and do so often, this vise saves time and removes almost all of the headaches assocaited with static vices.
Just like a regular vise, it features steel jaw plates with a crank but also includes gun-fit reversible sleeves with dual-purpose locking pins for the sleeves and Real Avid's Lug-Lok upper vise block.
2. Smart Fit AR15 Lower Vise Block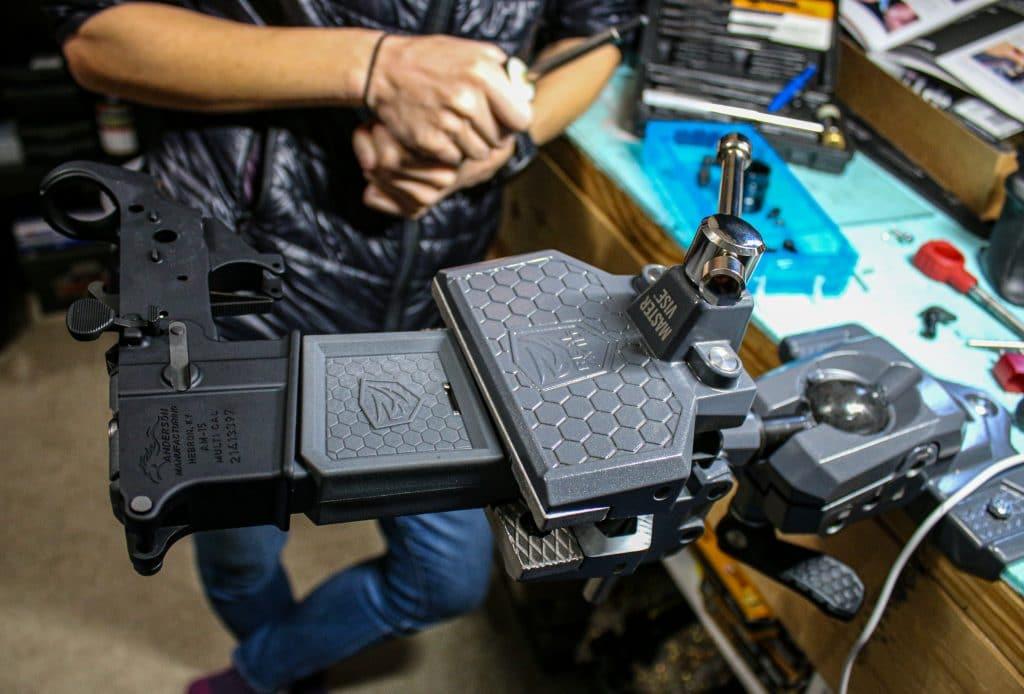 It's clear that Real Avid put a lot of thought into the design of their vices and blocks, and the Lower Vise Block is super handy (especially when paired with their Master Gun Vice.)
Whether you have a regular vise on your bench or the Master Gun Vise for AR building, you'll need a lower receiver block that keeps your lower in place while you build your gun.
One of the first features of the Real Avid lower vise block is that it expands to fit any .223 or 5.56 AR15 mag well, eliminating any play in the gun while working on the lower. Another minor feature that is mighty handy is the pivot lock that comes with the vise block.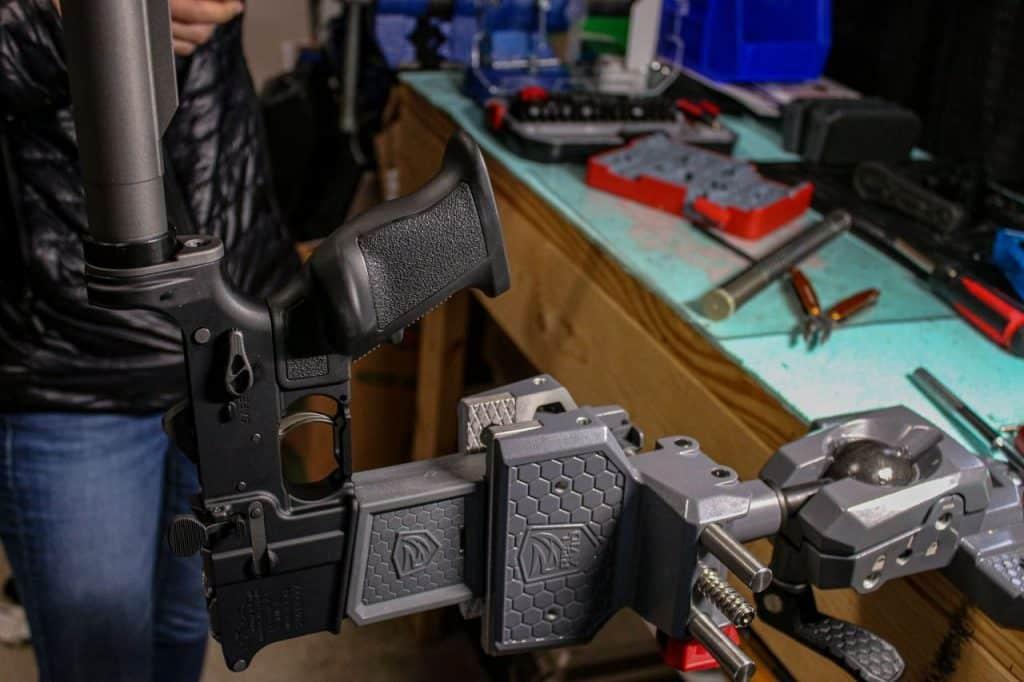 Lower assembled? Check.
You can use this to hold open your upper receiver for easy cleaning while your rifle is stable in the vise. This block is durable and is designed for you to be able to torque the castle nut to proper specifications without worrying about the gun staying in place.
3. Lug-Lok Upper Vise Block
Real Avid's AR15 Armorer's Master Kit includes their upper vise block that is compatible with their Master Gun Vise to lock into place with pins that go through the vice and block.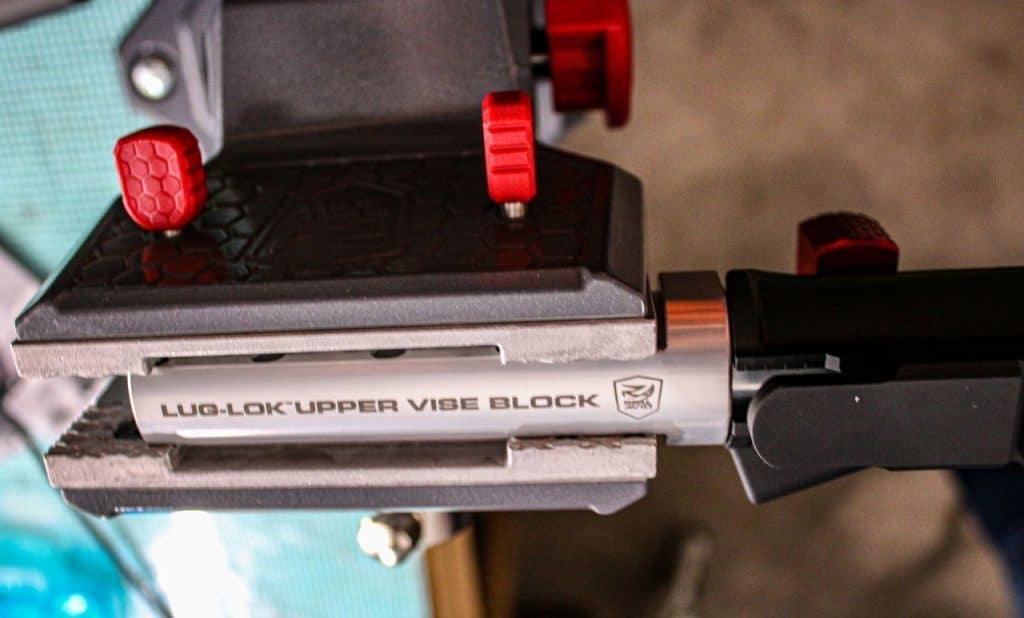 Locking the upper in place makes barrel installation much, much easier.
This block will also work in a regular vise, but if you have the Master Gun Vise, it adds extra stability to the block. One end of the upper vise block is designed to line up with the barrel lugs inside the star chamber of all Mil-Spec uppers. Because the lugs lock in place, this makes for an easier barrel install than if you didn't have a way to lock your upper in place.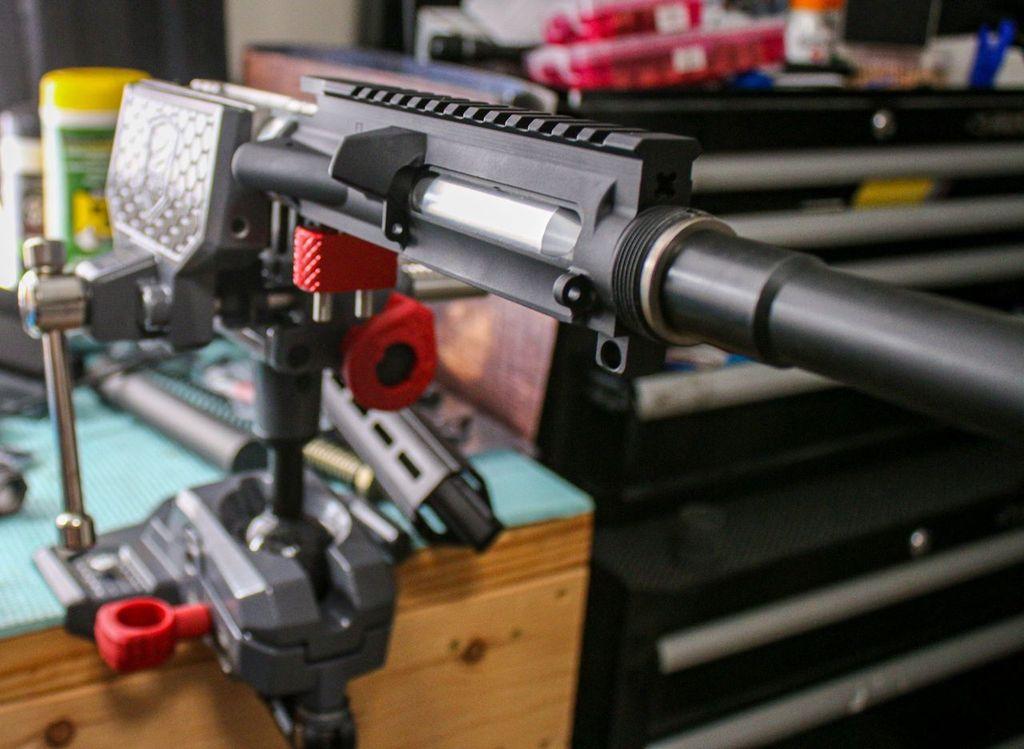 Barrel ready for locking down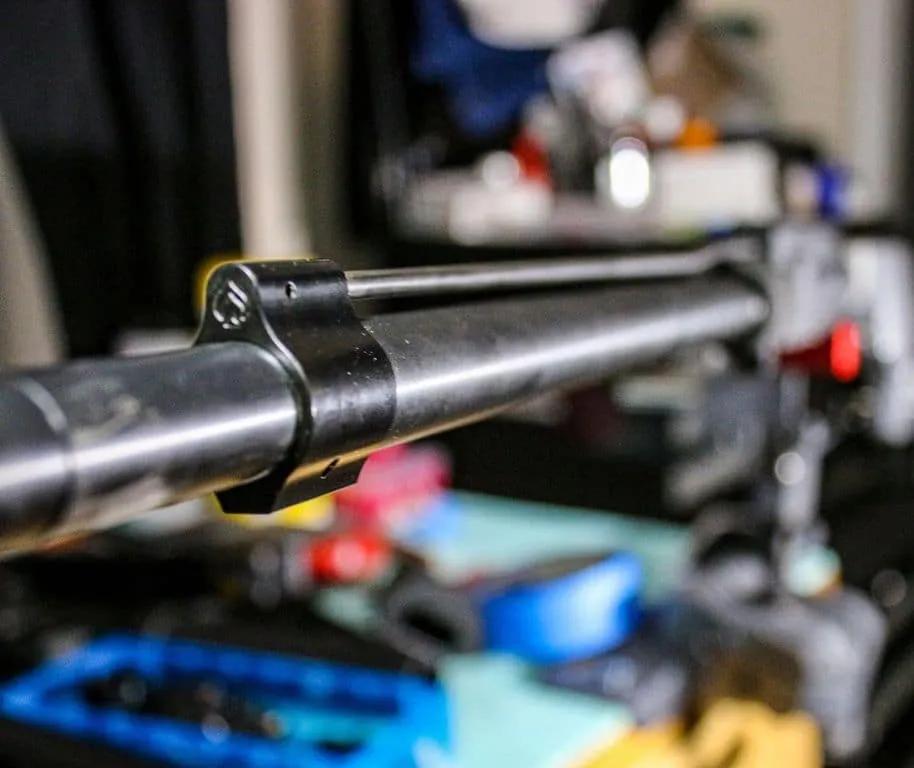 Barrel and gas system in place on an AR barrel.
There are also two vise pins that hold the upper in place while you are working at different angles to prevent any wiggle or unwanted rotation. Finally, it also has a lock knob that keeps the upper seated into the barrel lugs at any rotation.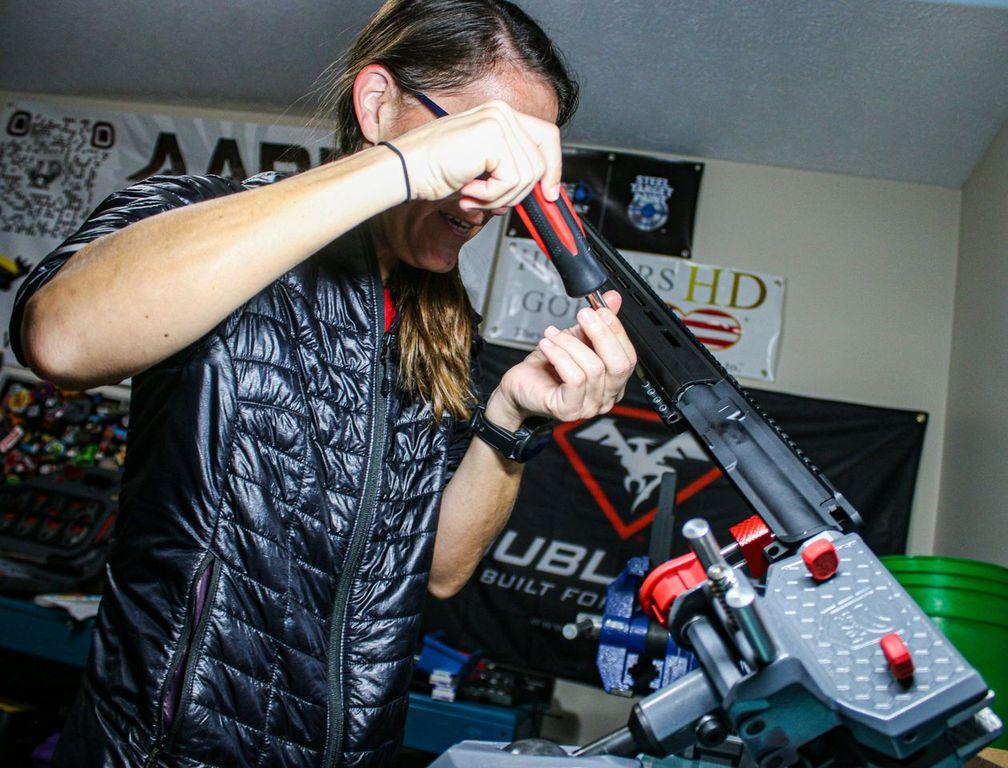 Installing the handguard
4. Armorer's Master Wrench
All AR builders need an armorer wrench to install muzzle brakes, castle nuts, and barrel nuts. This isn't a tool you can pick up at your local hardware store, so it's crucial to have this tool. Real Avid designed this one wrench to perform all of these functions and more.
The grip has interchangeable replacement hammer heads embedded into the grip that can attach to the end of the wrench and act as a hammer for punches and roll pins.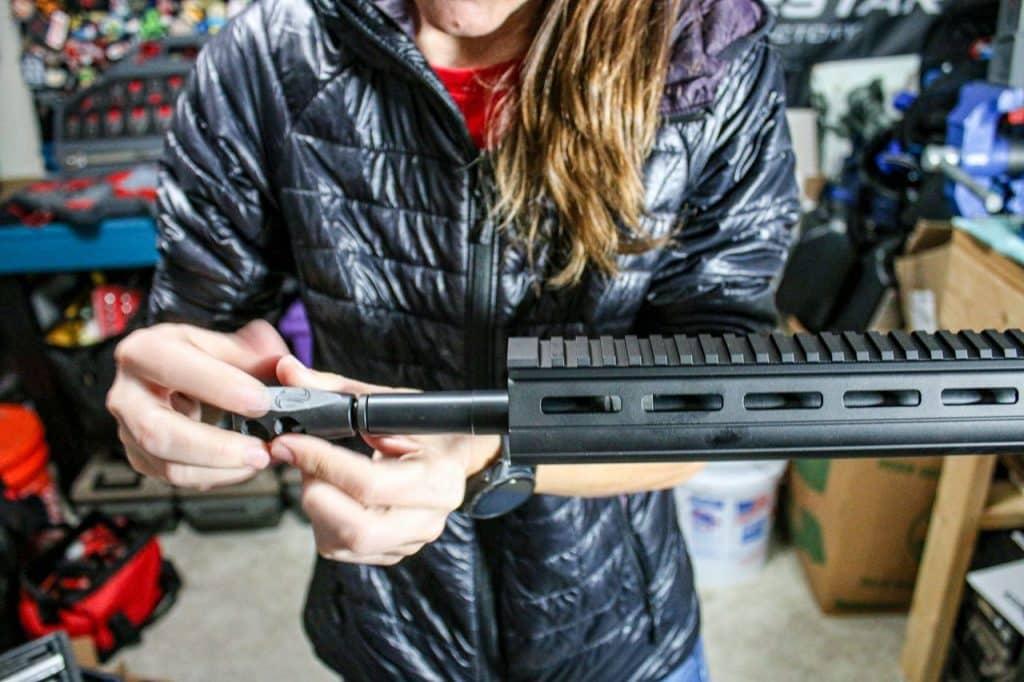 Hand-fitting my muzzle brake before tightening with the Armorer's Master Wrench.
6. Pivot Pin Tool
The number one struggle I have with building an AR is installing the front takedown pin above the mag well. I have used the ERGO PicTool for years to install the front pin, but you have to time it just right and shove the takedown pin in quickly for it to work.
I have also used a credit card to hold down the spring-loaded detent while installing the takedown pin, but that's not the best way and can also end up with springs flying across the room. Real Avid's pin tool does all the work for you similarly to the ERGO tool but completes the job hassle free.
What Real Avid does better than any company is produce how-to information for all the products they make in writing, visuals, and videos. The best way to learn how to use this pin tool is by watching the one-minute video on their website.
7. Torque Wrench
Real Avid makes some of the best torque wrenches. You'll notice that the Real Avid AR15 Armorer's Master Kit's torque wrench includes a scale that measures ft/lb, so you know how far to tighten a part.
8. Pin Punch Set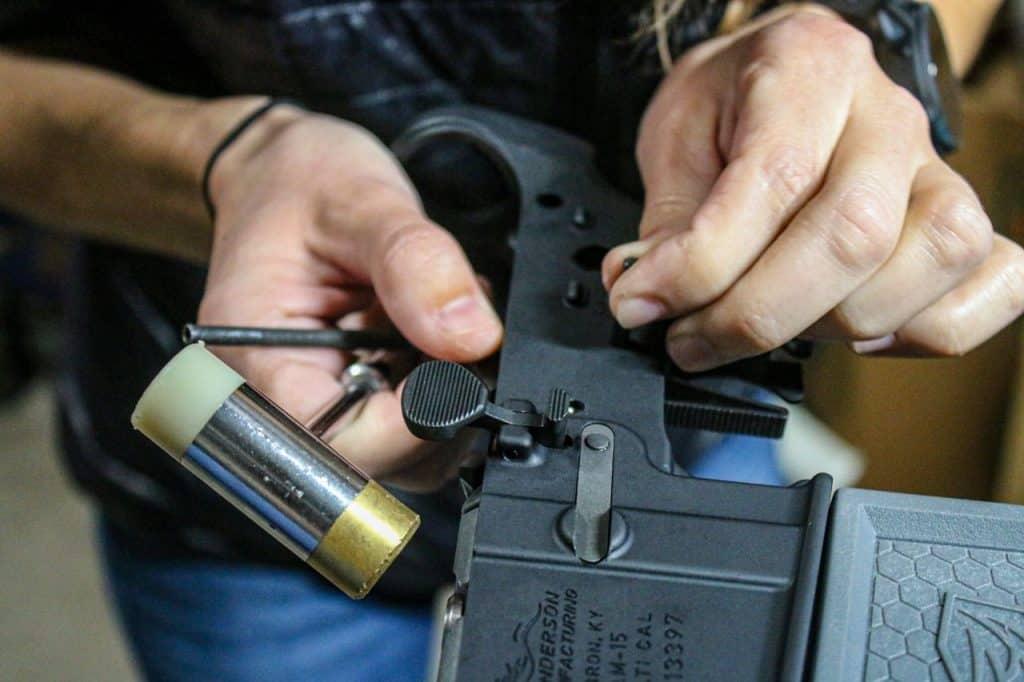 Pushing pins with the Real Avid pin punch set
It's not very often that you need to change out or adjust your sights, but for a gun collector, someone who changes sights on every gun they own or helps buddies work on their guns, the master sight pusher tool is beneficial. 
If you cannot use a punch to remove a rear sight or don't have the right vice to avoid marring up your gun, this Sight Pusher will be the most simple tool you can get.
The functionality is easy with a simple torque handle that doesn't require a lot of hand strength to turn. This sight pusher works on most modern pistol sights and almost any size and style of press-fit dovetail slots and sight profiles.
Plus, this tool is compact enough to bring to the range if you need to make adjustments.
9. Replacement Hammer Heads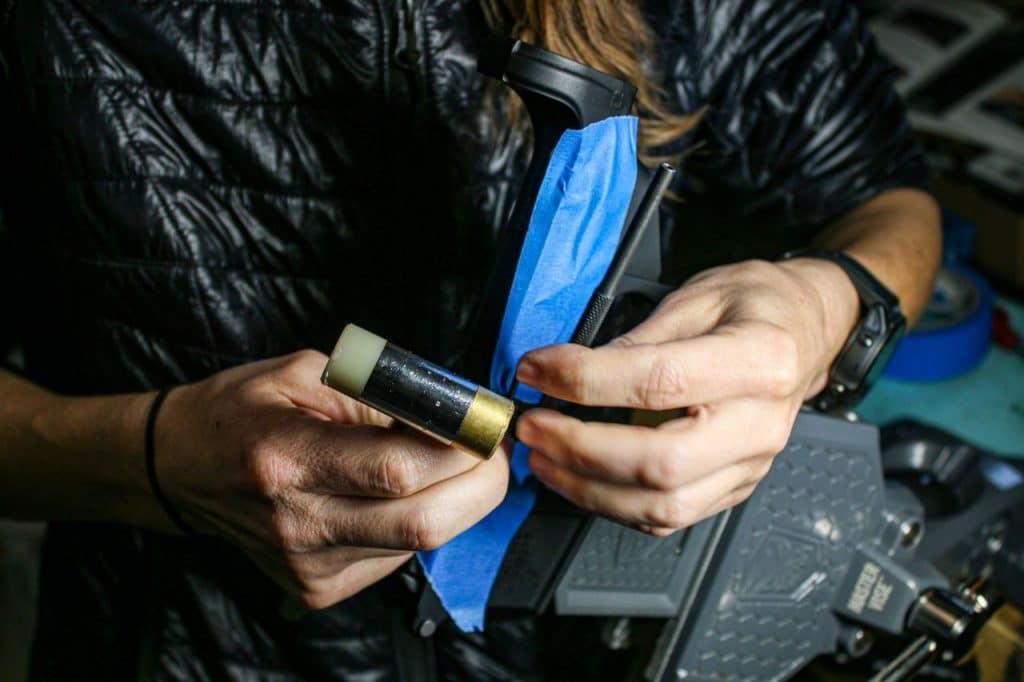 Replacement hammer heads will come in handy after a few builds.
Three replacement hammer heads are included in the AR15 Armorer's Master kit. They are brass, nylon, and rubber hammer heads.
The different materials allow you to punch pins properly with the suitable material. For example, if you need to hammer something near your lower or upper receiver, the rubber head is best not to mar the finish of your firearm. The Master Bench Block is an excellent block to use to knock some pins out, but a good hammer drop block for guns beyond only rifles is Real Avid's Smart Bench Block.
10. Accu-Grip Picks
The Real Avid AR15 Armorer's Master Kit also includes simple Accu-grip picks that make cleaning easy that are made of material that doesn't damage your firearm.
These picks have also helped me install magazine button releases and pistol extractors. Anything complicated to reach is made easy with these picks.
11. Pivot Lock
As mentioned earlier in the lower vise block, the pivot lock is one of the most simply designed tools with a powerful purpose. You can have your gun locked into the lower block and positioned in a vise, while the pivot lock keeps your upper open in the perfect position to clean hands-free.
12. Pin Alignment Tool
I don't know about you, but I have fat and clumsy fingers that have dropped many roll pins. If this is the first AR you've ever built, the pin alignment tool will be your best friend. 
The easiest way to install pins is to line them up with the hole using the pin alignment tool to hold the pin in place, use a punch to start hammering the pin in, and once you've got it halfway in or at least started, you can finish installing the pin without the alignment tool.
13. Front Sight Adjuster Tool
Whether you're rocking an A1 or A2 front iron sight, the front sight adjuster tool can be used with both.
14. Easy-Grip Handguard Tool
This handguard tool is specifically for use with a Delta Ring. Getting the Delta Ring pushed down to remove a handguard without this tool is one of my least favorite tasks to perform. Using the Easy-Grip Handguard Tool is simple.
The hook goes into the empty mag well while the contoured rods go around the Delta Ring. Next, squeeze the tool handles together while pulling down to compress the Delta Ring. Then finish the job by removing the handguard, and you're done!
15. Bore Illuminator/Safety Flag
The safety flag can be used as a punch or to identify an empty chamber.
16. Professional Tool Case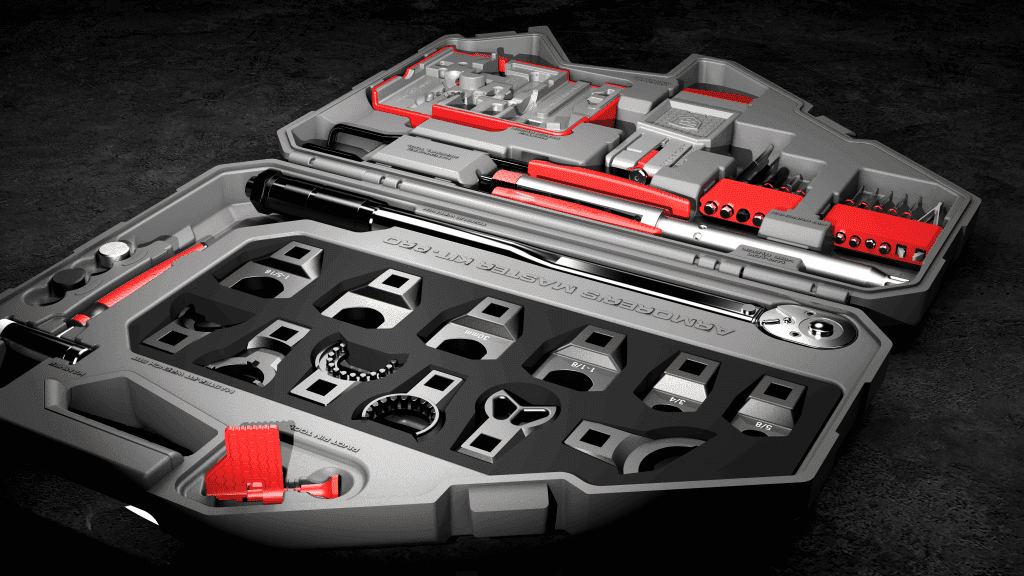 Real Avid Tool case
To top it all off, The Real Avid AR-15 Armorer's kit has a professional tool carry case that locks up tight with an easy-to-carry handle.
If you choose not to purchase an AR build kit, you can just buy the carry case separately and add only the tools you need.
17. Top 18 Mods Instructions
Real Avid's Master Grade Tools are made for the average consumer to be able to make simple or complex modifications to their guns.
This booklet contains very helpful instructions for 18 gun-related tasks all AR-15 owners should know how to do — whether working on their own or your friends ARs.
One does not simply assemble a custom AR with common tools...
Quality AR tools are an investment, and most often, a kit will save you more than if you were to buy tools individually. When you purchase an AR tool kit specifically, you are setting yourself up for success in properly building an AR.
 These tools are made with the right material for torquing, have the correct sizes to tighten flash hiders or muzzle brakes, include the wrench that fits the castle nut, and more.
Important AR Tool Kit Considerations
The essential AR-15 rifle-building tools are a punch set with a hammer, wrenches, and vise blocks to hold the upper and lower receivers in place. The rest is just extra that makes building easier. Low-quality tools that snap when torquing something down or punches that bend when hammering roll pins down will result in a low-quality rifle build.
I own and have used Wheeler Tools before, and while they are good, since finding Real Avid Tools, I found them more innovative and easy to use. Every Real Avid AR-15 tool that they've designed has saved me time and headache. I believe in working smarter, not harder, and that's precisely what Real Avid allows me to do.
Price Ranges vs. Features
A beginner or basic tool kit with essentials will cost about $300 as a kit, whether that's Real Avid, Wheeler Tools, or if you were to price out tools individually combined. More premium offerings are between $300 and $500.
The Master Kit Pro from Real Avid is $479.99 and a complete set of every tool from A to Z you'd need to customize or build an AR. Wheeler Tools' AR Armorer's Ultra Kit is $384.99 and does not offer nearly as much as Real Avid, and the upper vise block is an entirely different design from Real Avid's that solidly locks the upper in place. Plus, not a single punch is included, which is necessary for rifle building. Brownell's also has an AR-15 Armorer's Kit for $367.49 and has the same upper block design as Wheeler Tools.
It doesn't come with a lower vise block, a variety of punches, and isn't of the quality standards I'd like to see. Not only does Real Avid offer the most, but they also offer higher quality tools at a price that is worth the value offered.
The average rating of Real Avid Tools online in reviews is also higher than other brands.
I have personal hands-on experience with a ton of Real Avid's Tools. I only use the Master Gun Vise these days for all my gun building and tinkering on my ARs, PCCs, bolt action rifles, and even for swapping out a 10/22 chassis. Real Avid has always offered proper support online and over the phone if you have questions.
They make not just a good instruction manual for the AR-15 Master Kit but for every single product they offer. The manuals are detailed, instructional with step-by-step guides, and have visuals that are easy to understand, unlike IKEA's complex manuals (if you know what I'm talking about). Real Avid does a million things right, but the most impressive is their video library showing you all the details about their tools and how to use them.
I have a few friends in the industry who swear by Real Avid's tool kits, punch sets, cleaning kits, the scope leveling kit, and Real Avid cleaning chemicals. Just about all of my friends' ARs are hand built by them or modified in some way.
We have learned torque specs, how to mount, level, and zero a scope, and how important it is to have the right tools when something breaks or needs replacing. Everyone I've spoken to personally gives a great review of and recommends Real Avid tools.
Whether dreaming of your first rifle build or planning your next AR build, the Real Avid Armorer's Master Kit is the right choice for DIYers of all experience levels.