The Best Car Holsters in 2023
Written By
Michael Crites
Licensed Concealed Carry Holder
Reviewed by
Editorial Team
Learn About The Editorial Team
Share:
Products are selected by our editors. We may earn a commission on purchases from a link. How we select gear.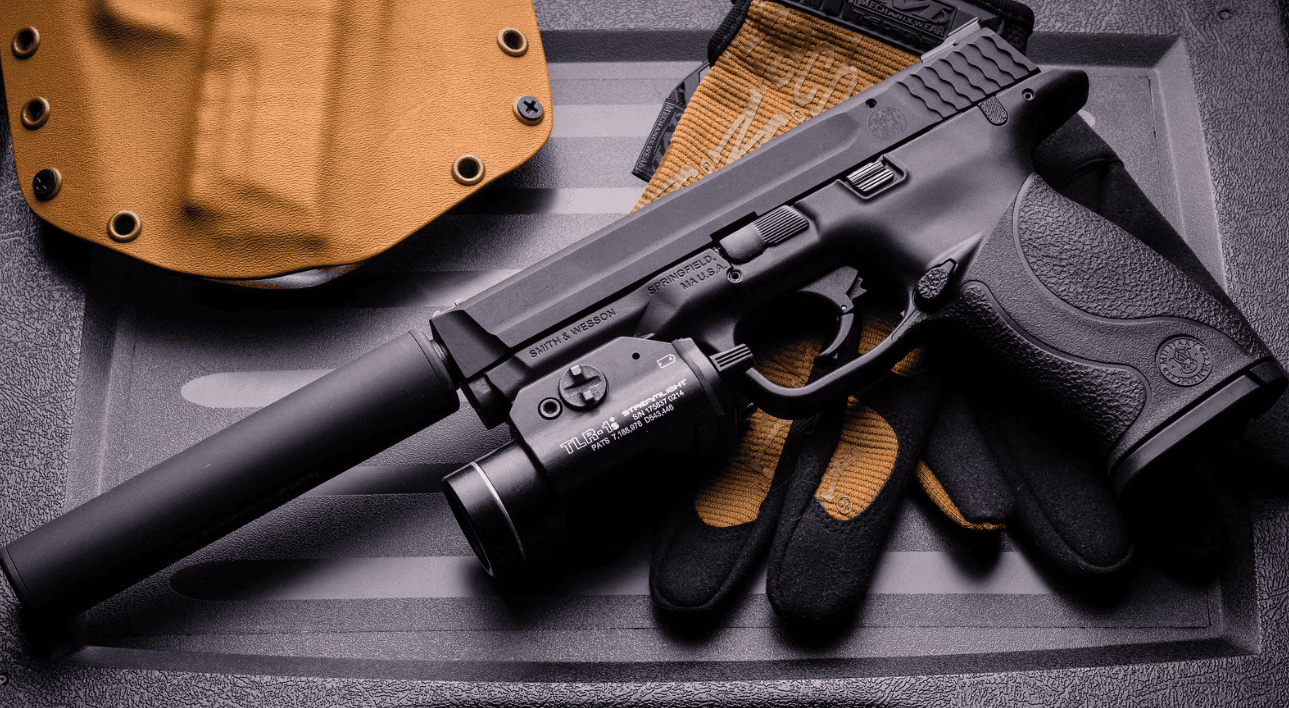 Wearing a firearm while seated (even for short hops) can be cumbersome, and longer road trips will be downright irritating. Plus carrying a firearm on your person while seated will seriously compromise your ability to draw.
A concealable, easy-to-install car holster will almost certainly make things a little easier and give you a better experience when traveling with your EDC piece. Vehicle safes and lockboxes can also provide longer-term secure storage – but will slow access to your firearm.
We researched over a dozen car holsters, safes, magnetic mounts, and lockboxes to see how they perform for short and long-distance travel in a variety of vehicle types and identified a number of features & models that make for an ideal vehicle holster. In our opinion, there's no one-size-fits-all car gun holster so we provided a variety of options within this guide to make sure you find the vehicle holster that best fits your needs.
Car Pistol Mount Comparison
Below is my list of the best car gun mounts. I list the best choices in terms of value, performance, reliability, and cost.
Click on the name to head to the product page, read reviews and check prices or skip ahead to the list of mounts.
| Car Holster | Selection | Price |
| --- | --- | --- |
| | Best Console Safe | $329 |
| | Best Individual Car Holster | $139.95 |
| | Universal Pick | $39.95 |
| | Universal Pick | $25.00 |
1. Lock'er Down Console Safe
What we liked:
Well-engineered
Tough
Relatively easy to install
American Made
What we didn't:
Not a universal fit product
More difficult to retrieve your firearm than other options
The totally appropriately named Lock 'Er Down Console Lockboxes are center console replacement lockboxes that come in a huge variety of configurations and model-specific orientations.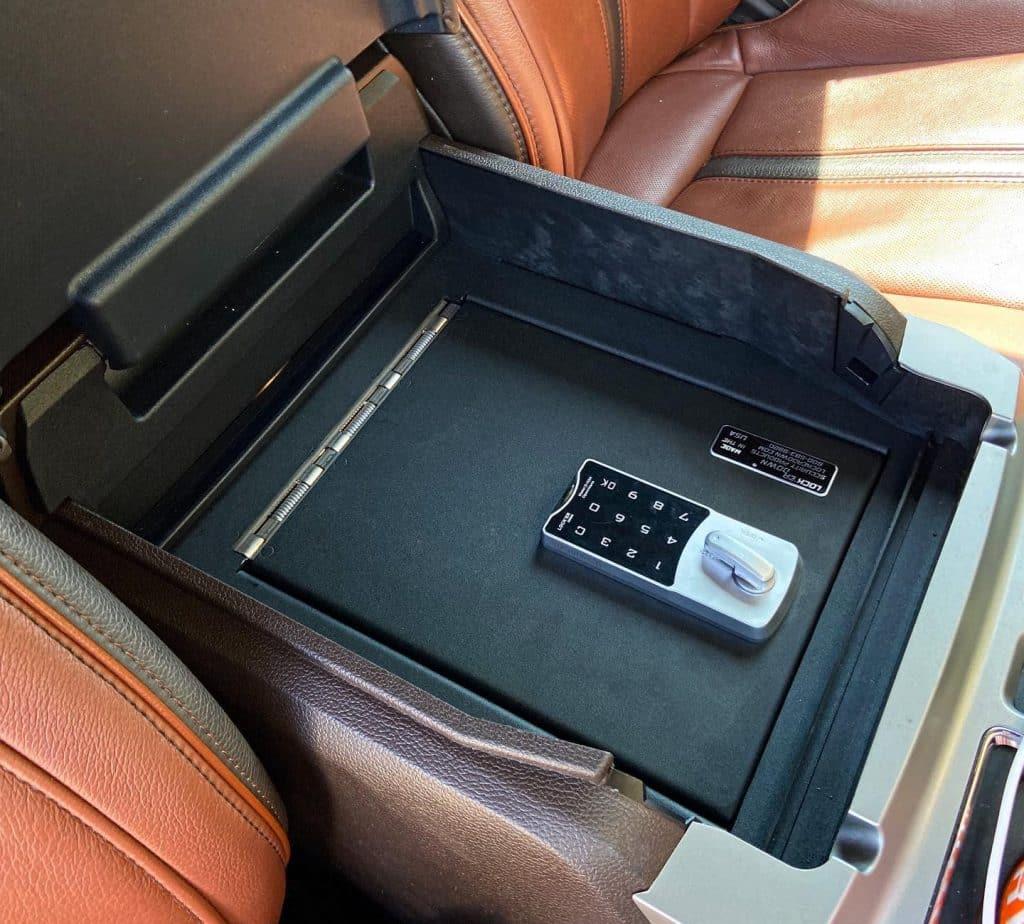 locker down console safe
They're (relatively) easy to install and combine a 4-digit combination lock with 12 gauge cold rolled steel, which is more than enough to keep your handgun (and any number of valuables) safe from would-be smash & grab thieves.
USB Ports & Big Doors
One feature we really liked was the USB port access, which is available from the outside or inside, so you can charge devices from the outside of the safe.
Plus, if you need to charge a device when you are not in the vehicle, they can be plugged in while safely stored inside the safe. A really nice feature.
We also really like the size of the door, which is nice and large. Some of the other console lockboxes have surprisingly small doors, so it can be a challenge to get large items in and out.
Not so with the Lock 'Er Down line – the doors are big and easy to get anything that will fit in the box in and out easily.
Quality finish & spring-assisted doors
These lockboxes feature a black powder coat finish and spring-assisted door hinge, so you don't have to worry about fiddling with the door while reaching for your pistol.
They're also made in the USA and feature a lifetime warranty, which is something we always look for.
Simple enough to install (especially if you've done it before.)
Installation wasn't incredibly challenging, but these are designed to fit very securely (see: tightly) between the seats, so prepare for a little wrestling with it to get in into its final resting place.
Also – these are model-specific, so make sure you research the specific year, make, and model to ensure you're getting the correct unit for your vehicle.
2. Jotto Gear Locking Handgun Holster
What we liked:
Sturdy
Adjustable & configurable
Built like a tank
Protects your pistol
Easy to open & use
What we didn't:
Bulky
Mounting can be difficult
Security depends on what you mount it to
The Jotto is a steel, locking pistol holster that allows for quick access to your pistol and supports a variety of mounting locations/orientations.
For car holsters, this is about as secure as it gets
Allowing users to rely on a single piece of equipment for two needs: maintaining a line of sight to their firearm and quick, secure access.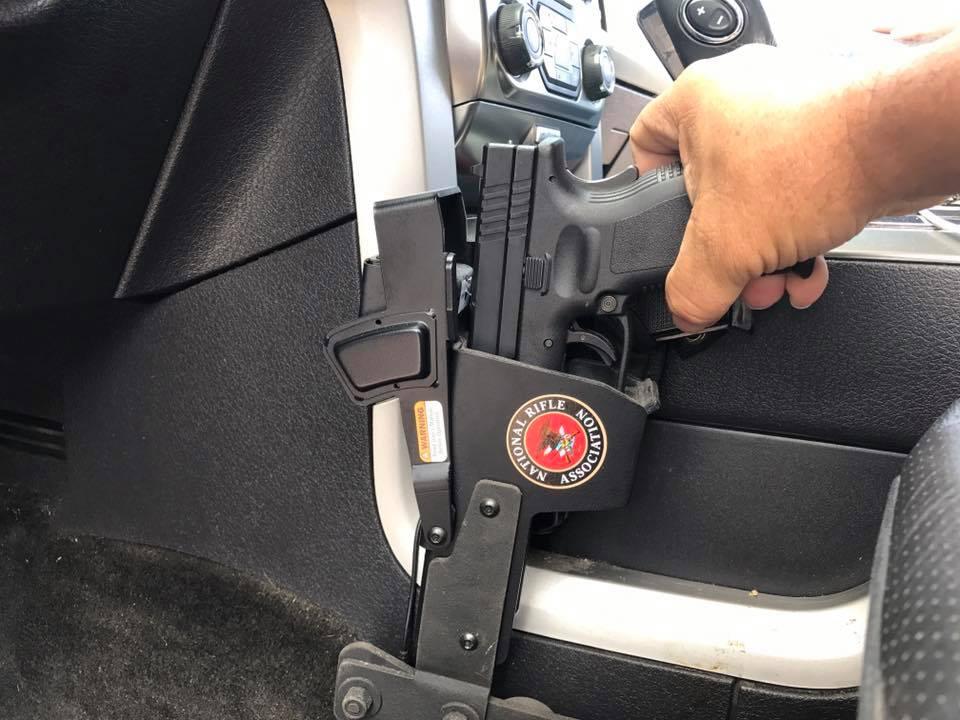 The Jotto Gear handgun Holster
The barrel lock holster design opens easily, and the quick flip bale is intuitive and easy to use.
One tester praised the Jotto for its heavy-duty design and customizable trigger fit, making it work with many different sizes and shapes of handguns.
Lots of mounting options
It also supports a pretty wide range of mounting options – well beyond just a car or truck.
You can mount this to a desk, bed rail, or any other stable piece of furniture without fail. Plus it works just as well mounted for right or left-hand draw.
The Jotto is one of the few all-steel, fully secure handgun holsters convenient for securing a handgun when a user isn't able to carry.
Anyone who makes frequent trips to courthouses, schools, banks, airports – generally any place you can't carry a firearm – but still wants to know they have a pistol available and that it's securely stored.
Plus it's sturdy enough that it acts as a shield against bumps, knicks, or unintended damage.
Flaws worth noting
But when compared with less rigid car holsters the Jotto has some drawbacks. First, it's bulky compared to other options, and at about 3" wide it can take up a considerable amount of space. It can also be difficult to mount, and a number of buyers didn't find the mounting bracket particularly useful.
As with any mounted holster, the security of the holster is totally dependent on what it's mounted to. You should make sure it's mounted to a fit surface – a steel or aluminum frame or console body – vs a plastic shroud.
3. Gum Creek Handgun Mount
What we liked:
Easy to install
Designed to work with essentially any hoster
Universal fit
What we didn't:
Lacks grip on smoother surfaces
Can be too long for some vehicles even at the minimum length
While this mount does require a separate holster, the Gum Creek Vehicle Handgun Mount is a universal design mounting strap that will fit almost any car or truck with a gap between the steering column & dash required for tilt steering.
A simple, nearly universal mounting solution
The mount uses hooks that latch into the steering column gap, with the top hook attaching beneath your vehicle's steering column with any 1/4 inch gap.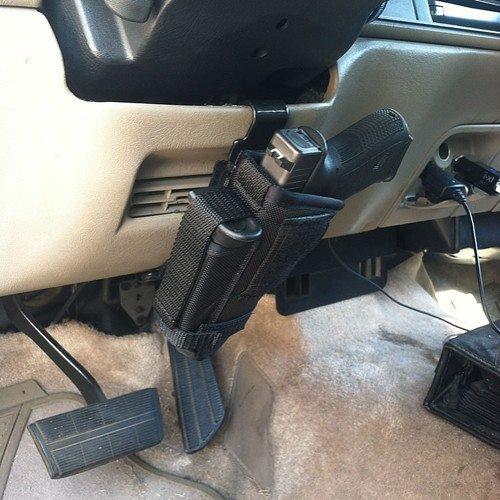 Gum Creek Vehicle Handgun Mount
An adapter allows you to completely bypass this steering column mount, which can be required when you have a dash console covered with rubber or plastic.
Lots of length, just measure for fit
The vehicle mount adjusts from 6 3/4″ to 13 1/2″, and we had no problem mounting this holster mount on smaller vehicles (Tacoma), midsize SUVs (Highlander) and larger full-sized trucks (Ford F250). That said, you should measure the depth of your lower dash to make sure the mount will fit without modification.
Also, if your vehicle is equipped with a lower dash airbag you should steer clear of this mount, as the airbag will turn your pistol into a projectile if deployed.
Pair it with your favorite holster (not included)
After mounting our testers paired the Gum Creek with a Serpa clip concealed carry holster, and had no problems adjusting the slack out of the mount for their Glock 19 and Sig 223 test pistols. Really any IWB or belt clip holster would work.
Flaws worth noting
The main fault with this mount is the fact the hooks don't have any grip or traction, so they can slip on smooth plastic dash material.
We used a small bit of rubber beneath the hooks, which gave us the stability we were looking for. That said, this is a simple fix that should be addressed in a future product update.
We also found that this is probably designed more for trucks than standard cars, as we tried mounting it on a VW Golf and found there was too much material to get a good grip on the VW dash.
Measuring should prevent this, but it's one thing to look out for.
4. STINGRAY Magnetic Gun Holster
What we liked:
Strong, stable magnets
Integrated trigger guard
Lightweight & small
Simple to install and use
What we didn't:
Not as secure as other options
No strap or means of securing your firearm
The Stinger Gun Mount is a magnetic gun mount that combines the simplicity of a magnetic gun holster with the safety of a trigger guard in a single unit.
Strong magnets & a smart trigger guard design
There are lots of magnetic holsters that will mount a pistol with the trigger fully exposed, but the Stinger offers one of the simplest and smartest designs we found, which both secures the pistol with a strong gun magnet for secure mounting and fully covers the trigger to prevent accidental discharge and maximize safety, while still making the firearm easily accessible.
One of our favorite aspects of the Stinger is its compact design – at just 2" wide and 3.5" long giving you almost every mounting option you could want.
The way the trigger guard wraps around the firearm works in combination with the magnet and gives the mount additional support, which holds the pistol much more securely than a magnet alone.
In addition to working well in a vehicle, you can easily use the mount in an office, bedside, desk, and or table.
Small, simple, & useful
Even with the u-shape, the Stinger is much smaller than many magnet-based car holsters and leaves you with a lot of space where other holsters might hit your knee, leg, or obstruct the steering wheel.
Kept our pistol in place – even off-road
The magnets are rare earth metal magnets, which are shockingly strong, and will hold up to 15 lbs. We successfully used a hook and metal end to pick a 15 lb dumbbell off the floor with the Stinger, so it certainly met expectations when it comes to stability, which can be an area of concern with magnetic holsters & mounts.
After mounting in our Tacoma test vehicle we took our Sig 223 off-roading and it stayed put through gravel, unpaved roads, and backwoods trails.
Designed to protect your firearm from itself
We also appreciate how the mount is coated with rubber to prevent scratches, dings, and dents, which is especially important given the retention mechanism requires the pistol to directly contact the metal mount (vs a leather or Kydex holster.)
Vehicle Gun Mount Considerations
Car holsters vs. gun safes vs. vehicle lockboxes vs. straps
We have touched on these categories throughout the guide, as each serves different purposes.
Car holsters will allow you to carry and transport your concealed carry weapon within your vehicle, while a safe or lockbox is better used to store your firearm (and often other items like purses or electronics) within the vehicle while you're away, such as shopping or at work.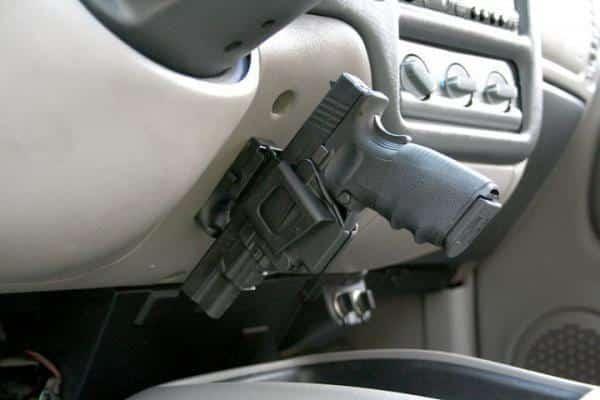 Car holsters vs safes
A holster is much more temporary but provides quick, easy access, while a safe or lockbox works better for less urgent, often longer-term storage.
Straps aren't holsters but are used to provide a mounting surface for a holster. Depending upon the strap design, they can be secured to a dashboard, car seat, or other portion of the vehicle.
Legality
Before approaching anything new regarding firearms, check your state laws and policies for transporting a handgun.
Laws can be surprisingly strict regarding off-body carry and subtle things like disclosure when pulled over or questioned by a police officer.
It's 100% your responsibility to know — and abide by — the laws in your state or any state you are transporting a firearm within.
Each of these car gun holsters offers CCW enthusiasts a specific benefit, which is why we selected various options. We think the right choice is totally dependent on your situation and needs, but you might consider trying a couple of these products to see what best meets your needs.
There are quite a few options for gun holsters, mounts, and safes or lockboxes, but we hope this article steers you in the right direction.
If you have any questions or feedback please drop us a line.

March 15, 2023 — Having re-examined this guide, we stand by our current car gun holster recommendations. We've updated images and links where appropriate.
Sign up for our newsletter
Get discounts from top brands and our latest reviews!