The Best Gun Cases in 2023
Written By
Michael Crites
Licensed Concealed Carry Holder
Reviewed by
Editorial Team
Learn About The Editorial Team
Share:
Products are selected by our editors. We may earn a commission on purchases from a link. How we select gear.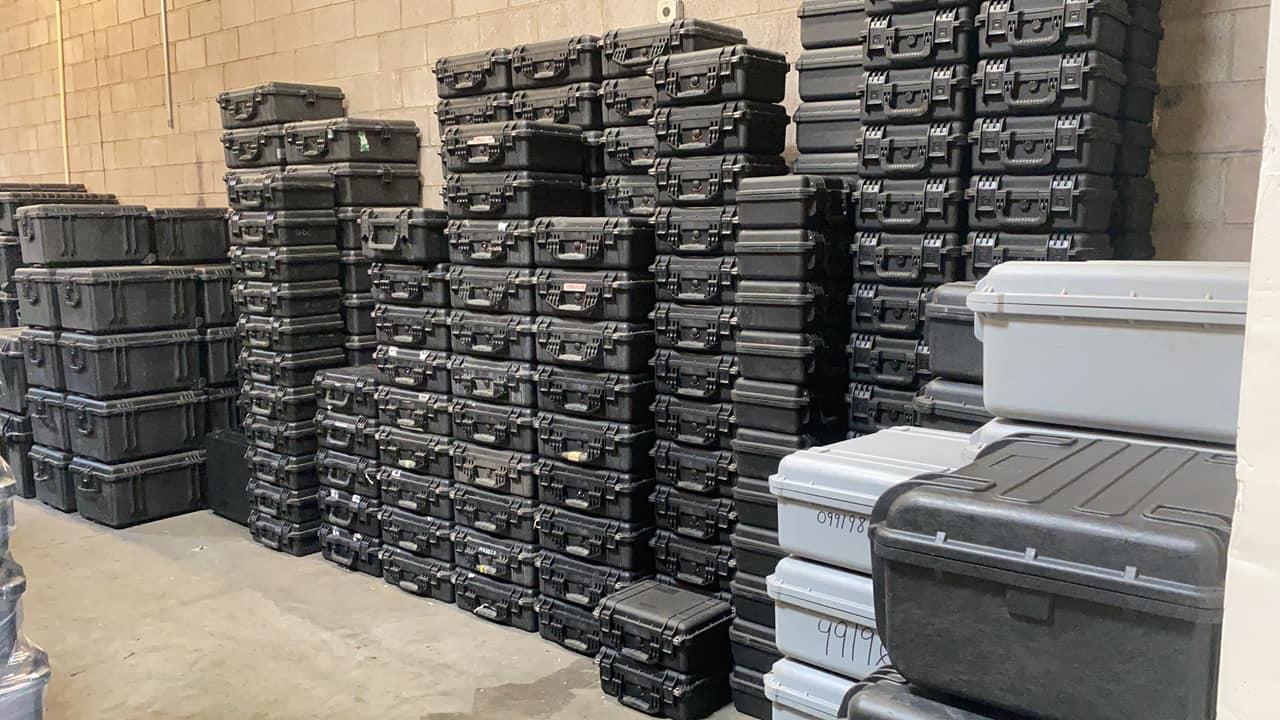 Gun safes are must-have items for all responsible gun owners, but what defines safes also limits them: they're large, heavy, and cumbersome. So how are you going to transport your gear when you're headed to the range?
You're going to need a portable solution to secure your weapons, keep in compliance with local and state laws for transportation (as applicable to your region), and enable you to efficiently and effectively port all your favorite gear at once.
Of course, unless you're on an episode of The Walking Dead you're not just going to throw your guns into a duffel bag. You need a solution that provides protection, structure and enables you to carry more than one type of firearm.
It should also provide space for extra magazines and other range gear. There are even very high-end cases that will outlast you  — your kids will fight over them (along with your heirloom firearm) when you're gone.
In the way you'll likely spend as much (if not more) than you paid for your rifle on quality glass, and you'll likely spend half as much again on a case to protect that investment. We break it all down for you.
| Name | Selection | Length (Interior) | Width (Interior) | Weight (with Foam) |
| --- | --- | --- | --- | --- |
| | Best Long Gun Case | 53 in. | 12 in. | 24.95 lbs |
| | Runner-Up | 44 in. | 16.8 in. | 21.06 lbs |
| | Also Great | 42 in. | 12 in. | 6 lbs |
| | Best Shotgun Case | 33.75 in. | 11.15 in. | 6.17 lbs |
| | Best Soft Rifle Case | 36-55 in. | 12 in. | 8-10 lbs |
| | Best Pistol Case | 10.5 in. | 6 in. | 2.10 lbs |
1. Best Long Gun Case: Pelican V800
No list of quality rifle cases would be complete without at least one of Pelican's tactical rifle and AR cases. The Pelican V800 case is an exceptional example, which I liked well enough to replace the previous Pelican selection, the 1750.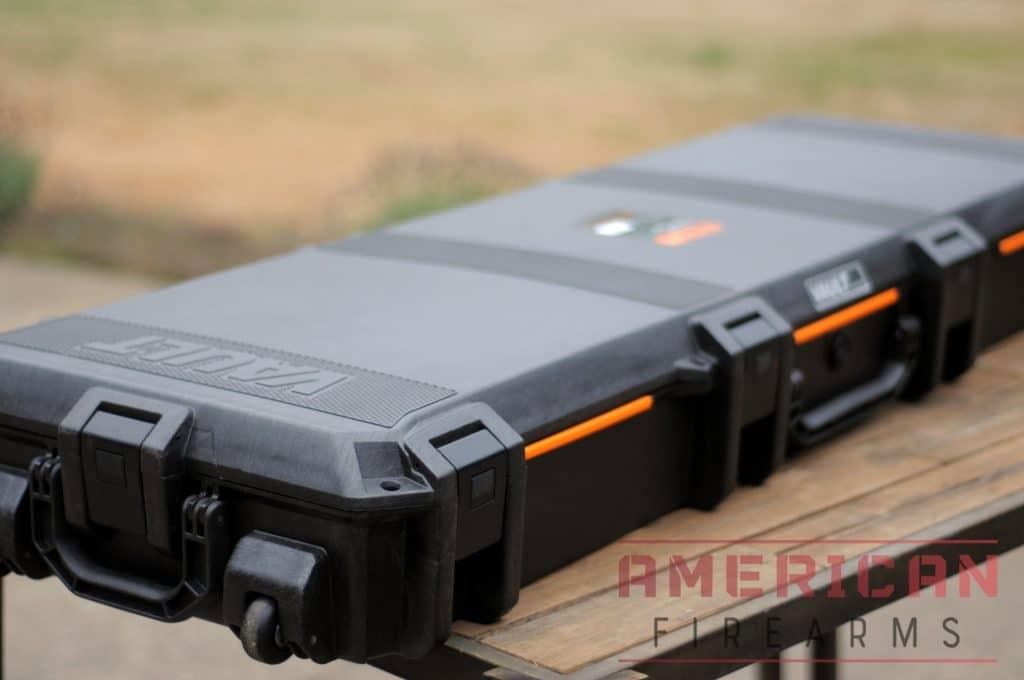 The Pelican V800 Vault Case is the most economical way to get a double rifle case with the Pelican name.
The Pelican is capital "HD" Heavy Duty and designed to keep sensitive gear – like photography and scientific equipment – safe and field-ready.
If scientists and photo pros trust them with their massively expensive gear, you can too.
One of my favorite features is the latch system, which uses a 6-point latch array and Pelican's Press and Pull latches. These things are a dream to use — you press a button in the center of the latch, and they pop right open. Closing them is even easier — they basically close with just a touch.
For anyone who has struggled with a cheap case with latches that fight you every step of the way, the V800 is a godsend.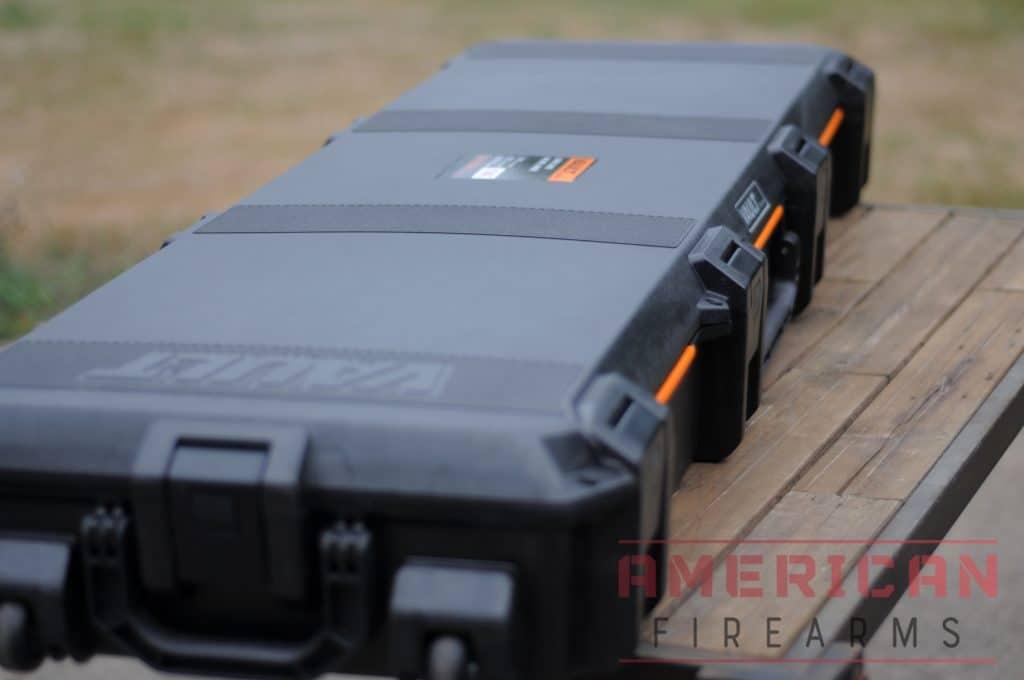 The 6-point, push-button latches are the best in the biz. They pop open with a single finger and snap closed with just a slight press.
The V800 includes Pelican's integrated Automatic Pressure Equalization Valve releases built-up air pressure from within the case while preventing water from entering. I had to haul my V800 in the back of my truck through a downpour, and when I got home, everything inside was dry as a bone. Talk about over-engineered!
The 53-inch length should accommodate the longest bolt guns, but like the Vault line and want something shorter there's a 36-inch V700 Takedown and 14-inch V200 pistol case available as well. You can also choose from up to 3 different colors.
Two areas where the V800 isn't on par with Pelican's higher-end products are the foam and handles.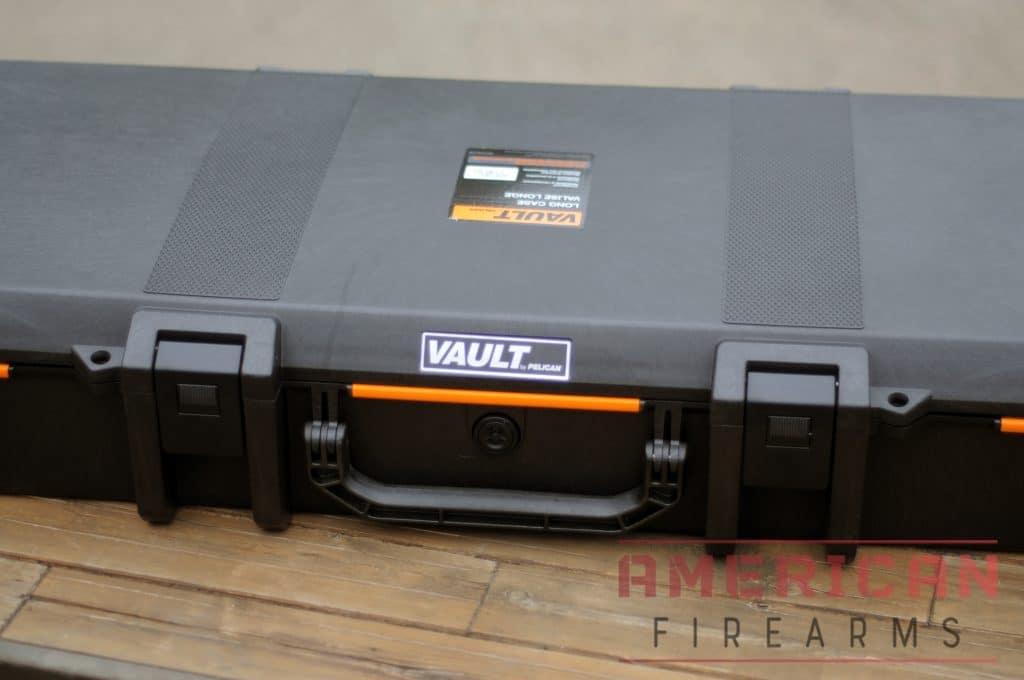 The V800 eschews higher-end handle materials for a straightforward polymer handle. They're tough and sturdy but lack any of the rubberized grip found on higher-end Pelican products, like their Air line.
The carry handles are high-impact polymer — so they sturdy enough — but compared to something like their Air line the handles lack the same rubberized texture that's a delight to use — especially over long hauls. Also, the V800 isn't engineered to stand on end — so you have to lay it down horizontally when not on the move.
The foam is nice and dense but isn't the Pick N Pluck foam that makes it so easy to customize the interior to our specific rifle's dimensions.
The V800's foam is high-quality and nicely dense, but not the Pick N Pluck stuff that's impossibly convienent for layout customization. Bring your razor!
The V800 gives you all of the Pelican quality and most of the features found on high-end models without cracking into the $300 range, and I think for most people, it'll give you the best bang for the high-end case buck.
Pros:
Built like a tank and will likely outlive you
Water-resistant and crush resistant
Pressure equalization technology
Latches are the best in the biz
Cons:
Won't win any beauty contests.
Won't stand vertically
No Pick and Pluck foam
2. Runner Up: Pelican 1745 Air Long Case
If the Vault is the most economical way to get into a Pelican double rifle case, the 1745 Air Long Case is the jewel in the gun case crown.
The level of fit and finish is outstanding — and the Air has a few tricks up its sleeve that are unique to the Pelican line.
The Pelican Air case is a top-tier rifle case by any measure. It's wheels enable easy transport through airports or through (reasonably short) grass.
The Air line is specifically designed for travel, so in addition to the six Push-and-Pull latches and crushproof design, the Air adds in stainless steel padlock protectors, rubber over-molded handles, five color options, and Pick N Pluck foam, all in a package that's 40% lighter than their other models.  These are heavy duty cases without the "heavy".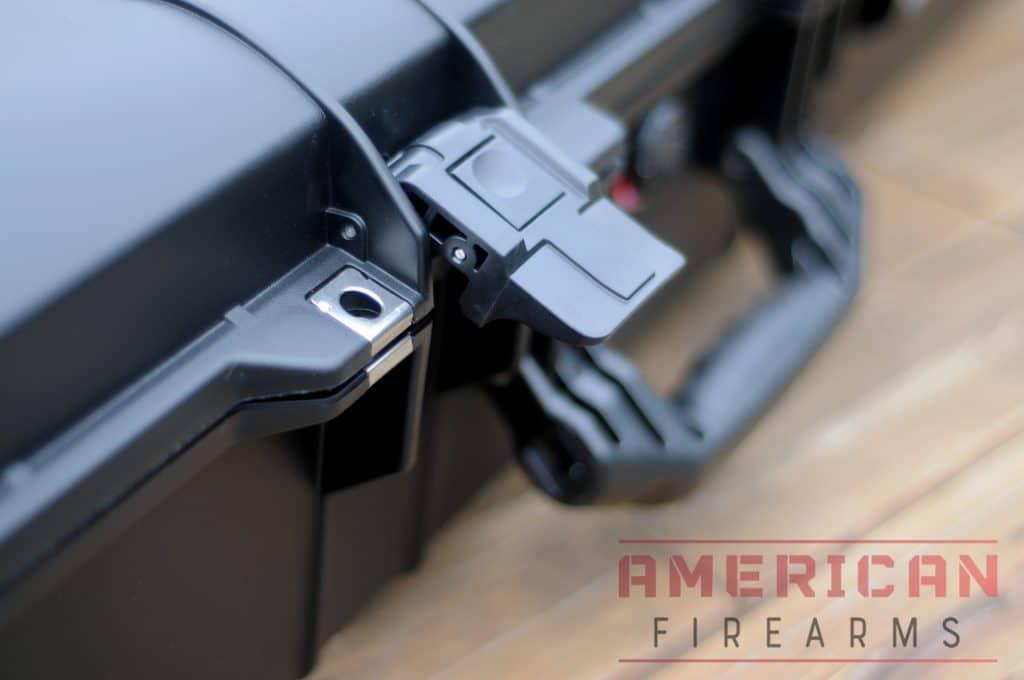 The Push-and-Pull latches are a treat to use -- but the Air also adds Stainless steel padlock protectors that increase the security of the locked case by making it tougher to saw through.
The rubber overmolded handles require less effort to hold and pull -- they practically hold your hand for you.
The Air carry handles are positioned similarly to the Vault — one on the front and one up top. They are upgraded from the Vault line and use a rubber over-molded design that's surprisingly comfortable to pull and use. I found the Air incredibly easy to haul around even with 25lbs of gun, ammo, and gear lined up on the interior.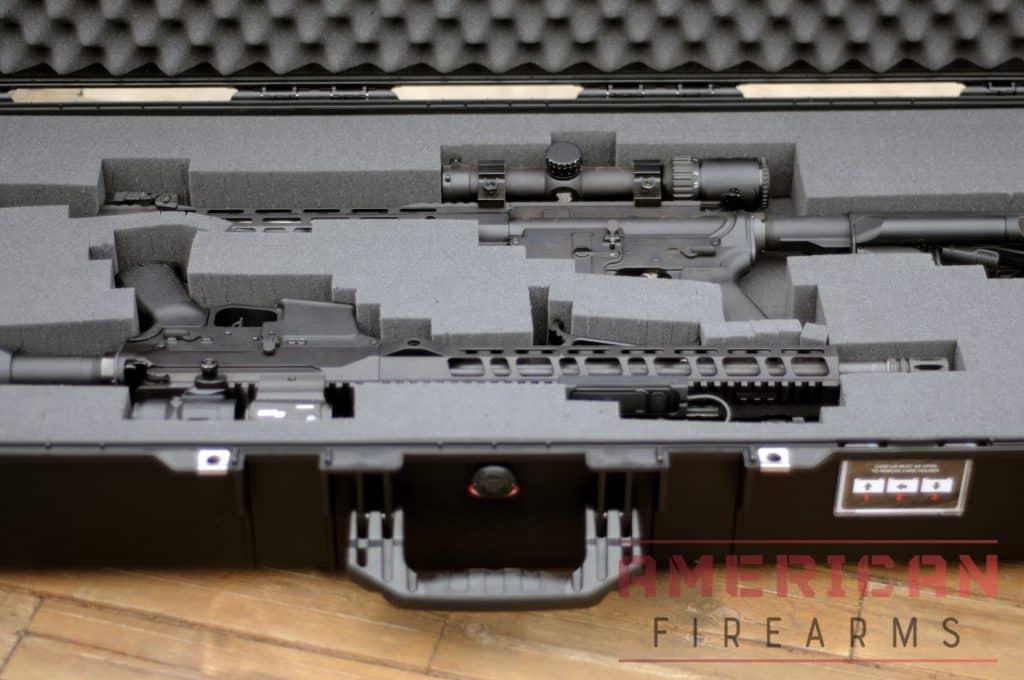 It tool me all of 10 minutes to configure the interior of the air case for my two ARs. The 1745 measures 44-inches in length, but if you need more there's a 55-inch single rifle Air case available.
The Pick and Pluck form is so, so useful. It take some careful planning — once you remove a block you can't put it back — but if you spend some time laying out your rifles and other accessories you'll find the right layout for your needs.
Once I got my rifles positioned how I wanted I used a pencil to highlight the cells I needed to remove then slowly worked across the layout to get the bulk of the material out. I double checked and with a little fine-tuning had my two rifles in their new case within about 10 minutes.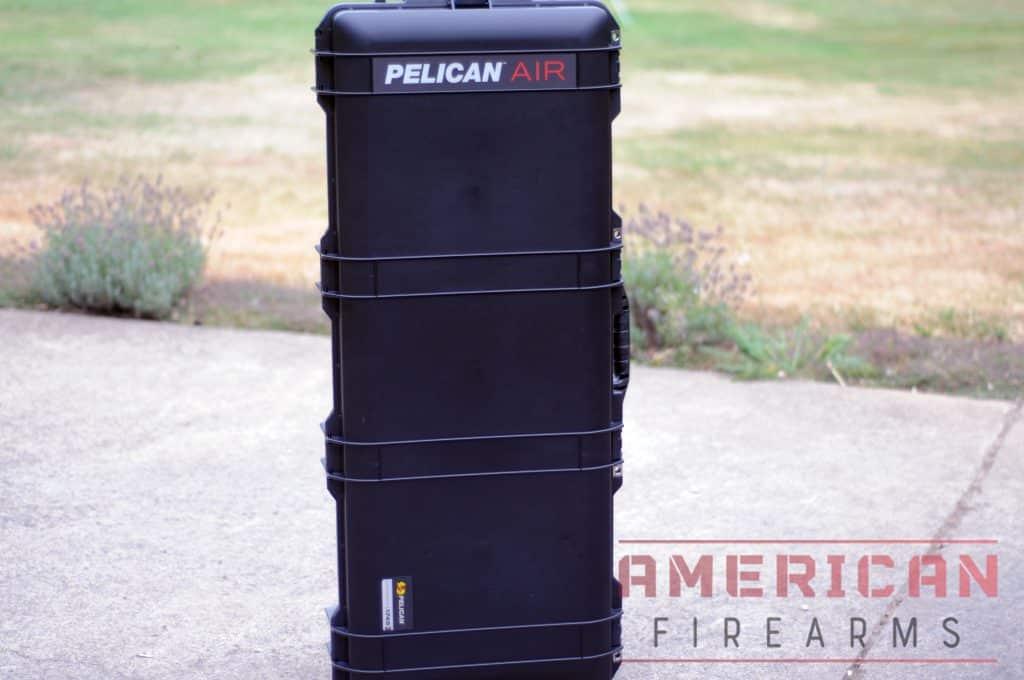 The Pelican Air Case will stand up vertically -- which means when traveling you don't have to set it down (and therefor don't have to pick it back up.)
My favorite trick the Air case pulls is standing up vertically. When hauling a case through an airport or long trek you'll eventually have to stop — which means setting a regular case on the ground. That, of course, means that to get going again, you have to pick the case back up. The Air avoids this whole song and dance by standing on its end — so you can just grab the handle and walk on.
With so much love for the Air you might be asking — why is it #2? Two reasons: it's expensive and it's probably more case than most need.
The Vault isn't as polished or as light as the Air, but it's almost half the price. If you must have a premium gun case, the Air is the top of the hill in my opinion – -and I won't fault you for it. Your wallet might though.
Pros:
Pick and Pluck foam means easy customization
The easiest rifle case for travel
Comfy handles
Most secure case available
Cons:
More features than most will need
Twice as expensive as other options
3. Also Great: VoodDoo Tactical
This bag by VooDoo Tactical is our runner up because it takes the concept of a basic soft rifle bag and checks all the boxes that matter.
The sides of the case are semi-rigid and the internal divider enables you to carry multiple rifles, shotguns, or carbines without damage. Oversize exterior pockets have plenty of space for ammunition, tools, and other peripherals. The exterior MOLLE webbing makes room for a first aid kit or additional storage – as they say – better to have it and not need it than need it and not have it.
The thick straps keep everything in place when it comes to the rifles, but the internal pockets & separator don't offer the same level of fit and finish as the exterior. You can certainly fit two rifles in the Deluxe, but if both have optics mounted you may find optics rubbing up against one another due to the soft case construction and height of the separator.
Other than that, we think this is a quality range case.
Pros:
Accommodates two long guns and plenty of magazines
MOLLE webbing to attach even more pouches if needed
Sturdy strap and handle
Available in a variety of colors
Cons:
Internal pockets are flimsy
Rated for multiple rifles but lacks support
Shoulder strap loops are too close together making for an awkward carry
4. Best Shotgun Case: SKB
The double-barreled shotgun is a special kind of firearm – one that recalls the days of hunting on horseback through soggy, dreary forests. A big, tactical, plastic case just looks out of place when you're knocking down sporting clays.
This plush-lined case by SKB can accommodate one shotgun with up to a 33.75-inch barrel, cleaning supplies, a variety of chokes, and your ear/eye protection. No other tactical doodads or webbing to be found here. Its semi-rigid construction provides hard-case protection in a lightweight, easy-to-carry package.
This is an understated case that would fit nicely with a day of trap shooting or waterfowl hunting.
While it's plenty durable, there are a few nitpicky things that are worth mentioning. First the case closure mechanism is a full length zipper, but the handle only uses Velcro, which seems like a missed opportunity to add either a locking strap or padlock hoops.
Also the lid straps aren't long enough to allow the top to prop and stay open – so you'll be using both hands to put your shotgun into the case, which some folks find an annoyance.
Pros:
Specialized padding for double-barreled shotguns
Simple, understated design
Offers the right amount of storage
High-quality interior lining preserves your shotgun's finish
Cons:
We do wish the external pockets were bigger.
It's only held shut by a hook and loop enclosure.
5. Best Soft Rifle Case: Savior Equipment
Savior Equipment has been in the gun case game for years and the American Classic is another example of their quality work. This soft case is sturdy, well-built, and nicely portable. It has room enough for multiple rifles, handguns, magazines, and backpack-style straps allow you to lug all your gear around in relative comfort.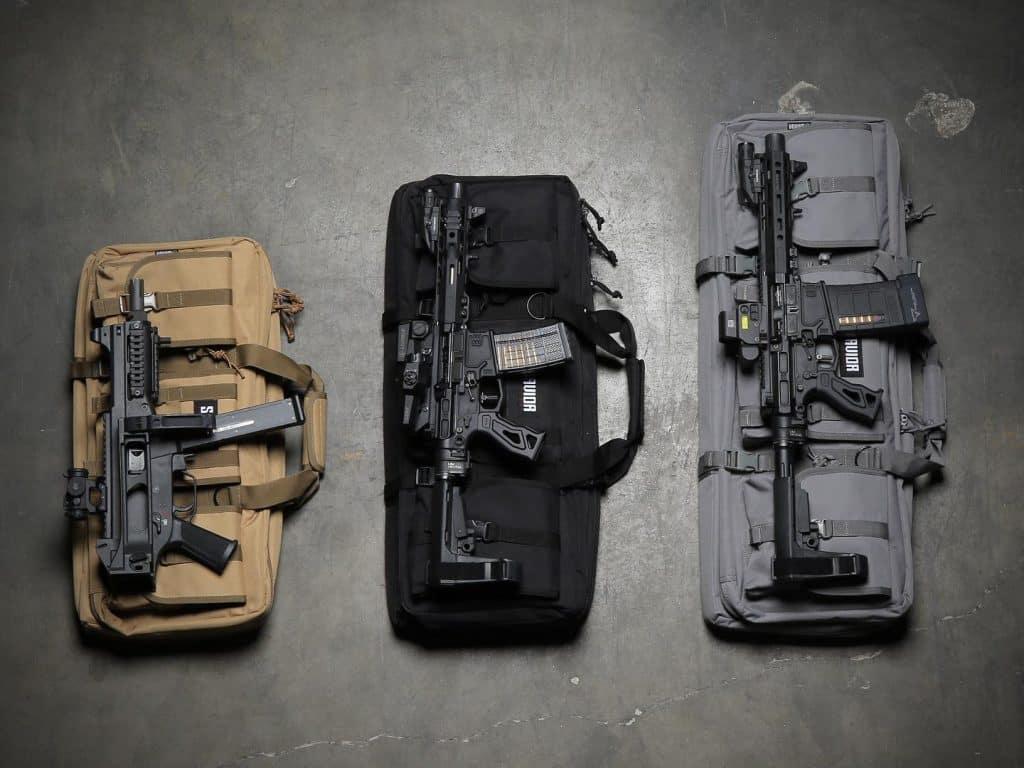 Savior Equiment American Classic. Via Savior Equipment
Plus, as with most tactical rifle cases, both ends of the case have large patches of MOLLE/Alice-compatible grids that give you plenty of space for further customization.
With that said, some shortcomings of this case are the Velcro tie-downs & placement of the backpack straps. The case straps are Velcro and unless situated exactly right can allow the firearm more movement than we'd like. While the backpack straps are nicely padded they're secured in a way that can dig into your hips while carrying it – making it less than comfortable with heavier loads.
All-in-all the American Classic is an incredible value and quality case.
Pros:
Built to last for years.
Lockable zippers on the compartments
Backpack straps make for easy carry
Well-sealed and UV resistant
Lots of color options
Expandable MOLLE grid
Cons:
Difficult to secure shorter rifles
Reports of some stitching coming loose
6. Best Pistol Case: Pelican
Rounding out our list, it's only appropriate to show some love to the pistol side of the world. This heavy-duty single pistol case, by Pelican, is a great way to securely store a pistol you don't want locked away in a safe or one you need to haul securely.
The 1170 includes Pelican's Pick and Pluck foam and configuring my case for my Glock 22 took less than 5 minutes. There's a reason it topped our list of pistol cases — it's a perfectly sized single pistol case.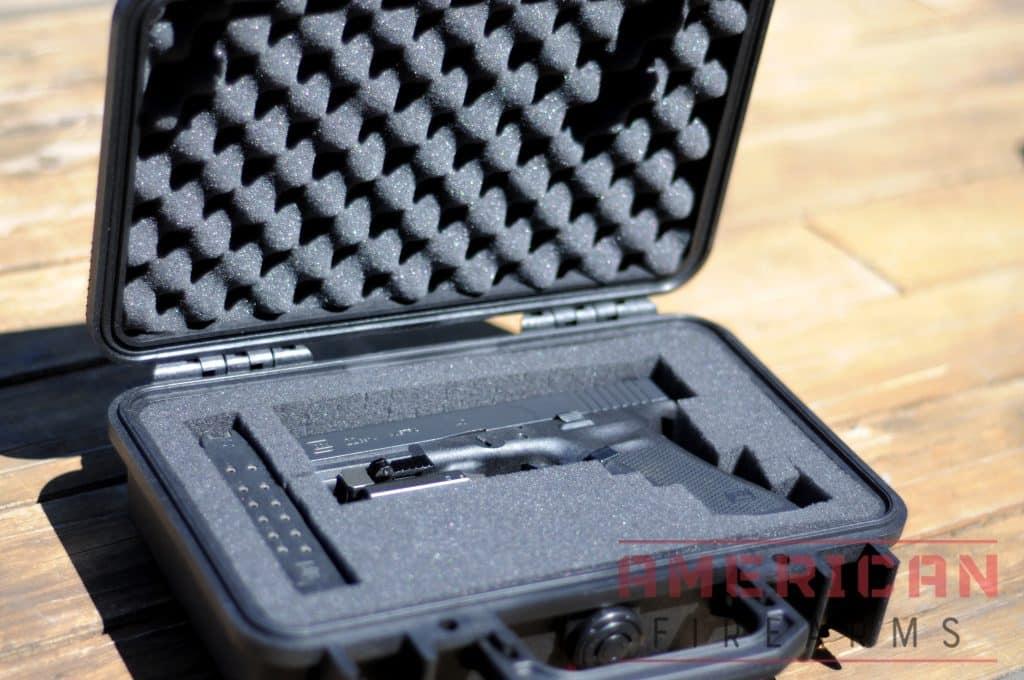 My Pelican 1170 with the foam cradling my G22.
Handgun cases come in a dizzying array of sizes and features, but what I like most about the 1170 is it's just the right size for a single handgun and extra mag. That said if you're looking for another size or configuration option Pelican's Protector line has a wide range of size options — with more than 40 different sizes and configurations available. That's 2-3x the options available with the Vault or Air lines.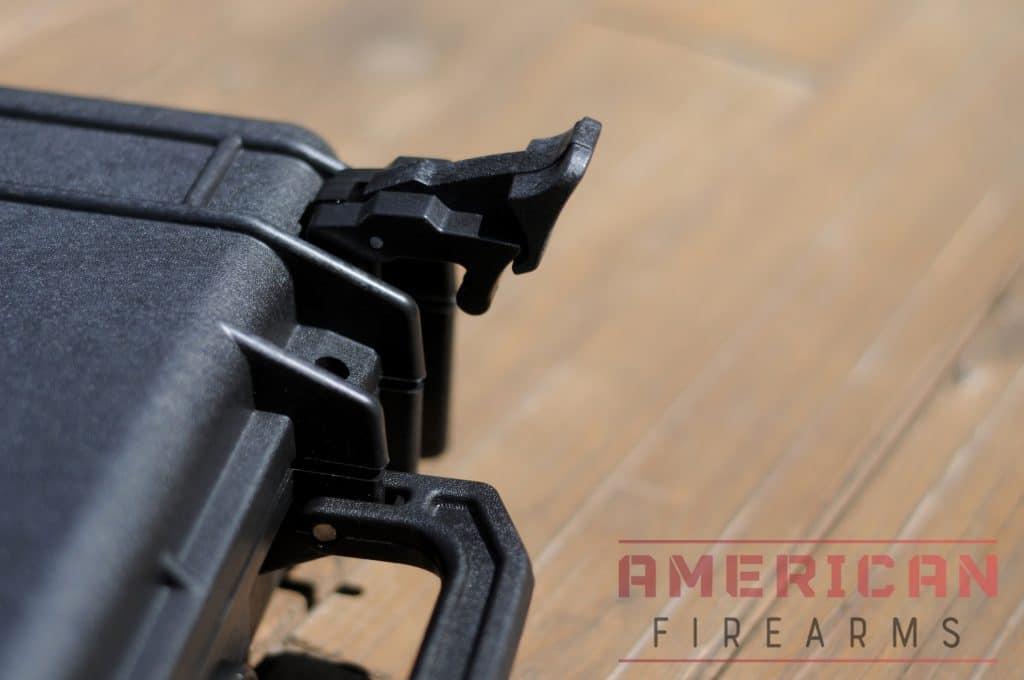 The Pelican 1170 has double-throw latches that lock down tightly but are easy to open.
I really like the way Pelican designed the double-throw latches on the 1170. There isn't enough room for their larger Push and Pull latches, but they integrated a hinged latch which gives you additional leverage to actuate the locking mechanism. To unlock it you just slide your finger under the lever and they pop right open.
Protector products are available in up to six different colors, so you don't have to settle on Plain Jane black if that's not your jam.
Pelican 1170 closed and locked.
Beyond the customizable foam interior, the 1170 offers Pelican's waterproof, dustproof, crushproof design and comes with a three year warranty.
Pros:
Perfect for a single pistol
Lockable so you can ship it and travel with it
Super customizable foam interior
Easy latch system
Cons:
Limited space
Basic handle
Why bother with a gun case?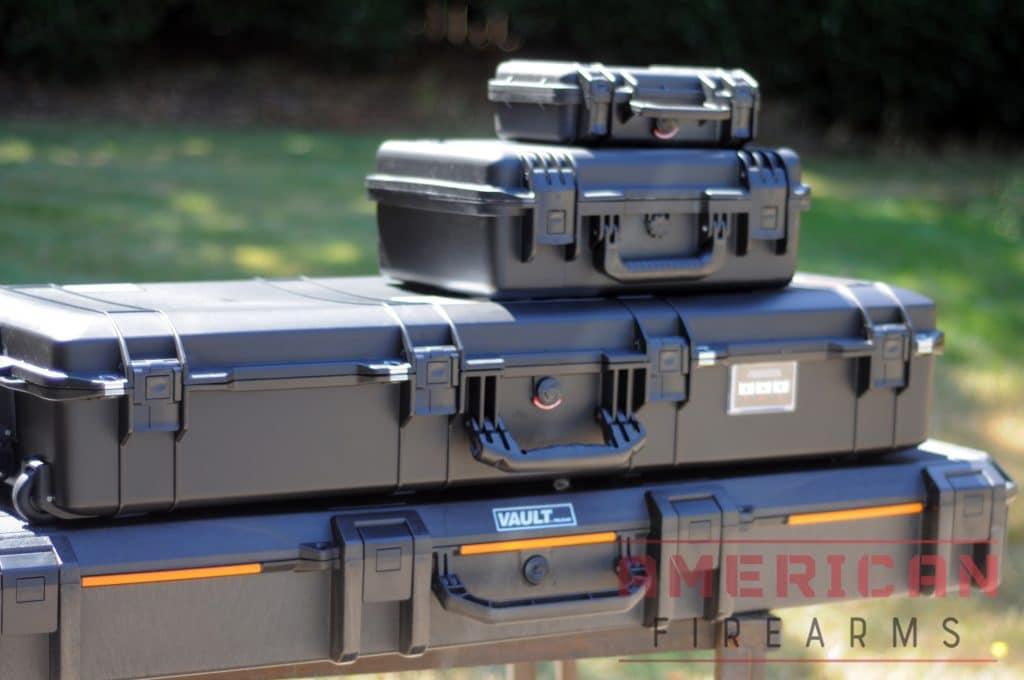 There are a few good reasons to consider quality gun cases; first and foremost is portability. Eventually, you'll need to move your firearms from your safe to the range or field, and the only way to do that safely is with a gun case of some sort — soft or hard-sided
All of the cases we've chosen can lock, which cuts down on the chances of anyone gaining unauthorized access to your firearm.
Second, they protect the firearm itself. In general, cases that have foam padding are great all-around choices.
All of the cases we recommend are heavy-duty and should more than stand up to light drops and some mild abuse at your hands  — or if you're flying, those of the TSA. (And, yes, you can fly with a checked firearm as long as you follow some relevant rules.)
Which kind of case should you consider?
In terms of rifle, carbine, or AR cases, there are a ton of varieties out there, most of which work well for rifles and other kinds of long guns. There are two main types: hard cases and soft cases.
The Hard Gun Case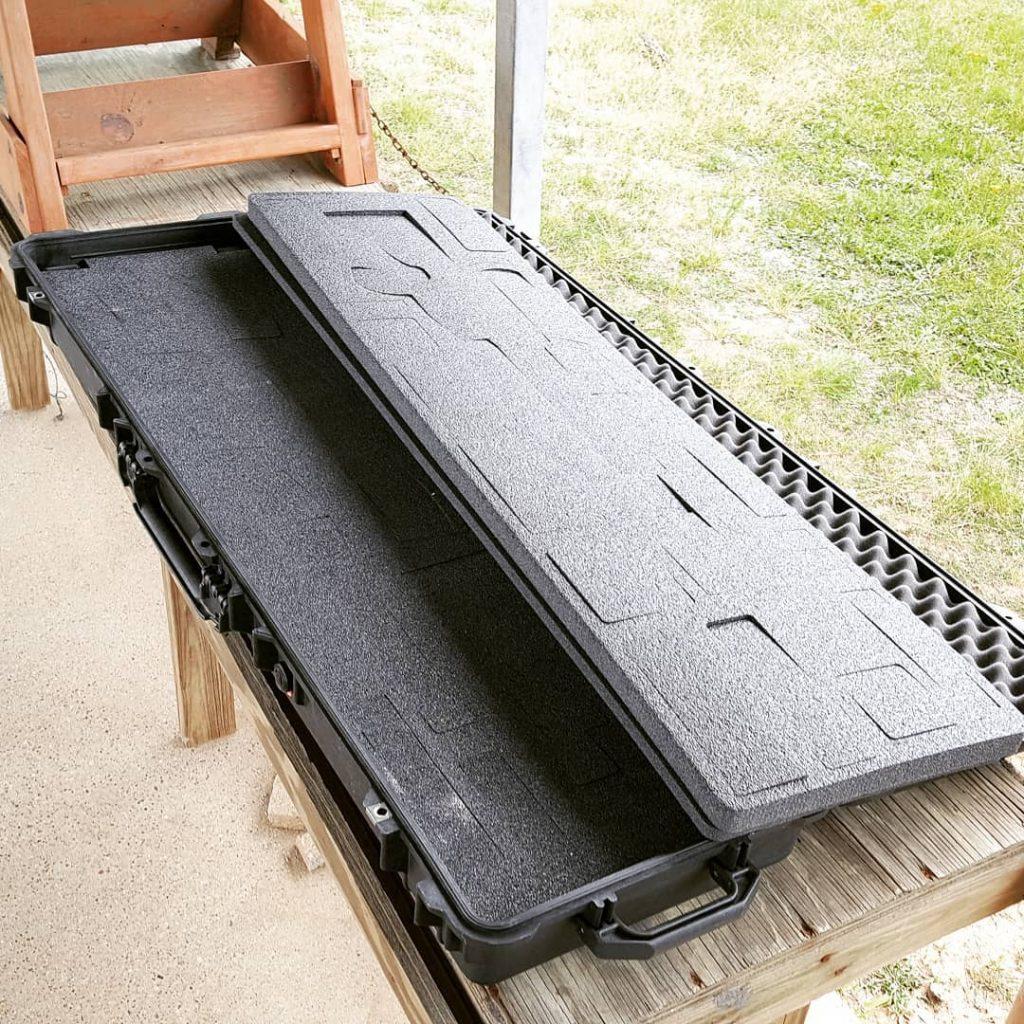 Hard-sided gun cases give you maximum protection, but often require customization to fit your firearm. They're also much heavier than soft cases and won't fold up to fit tight spaces.
Hard gun cases are generally a little more durable and often look like the typical tactical rifle case that you'll see professionals using.
These are sometimes water-resistant, which is worth keeping in mind if you work in adverse conditions. Also — if you're planning on flying with a firearm, the only cases which are TSA-approved are lockable hard cases — or what the TSA calls "a hard-sided container."
Soft Cases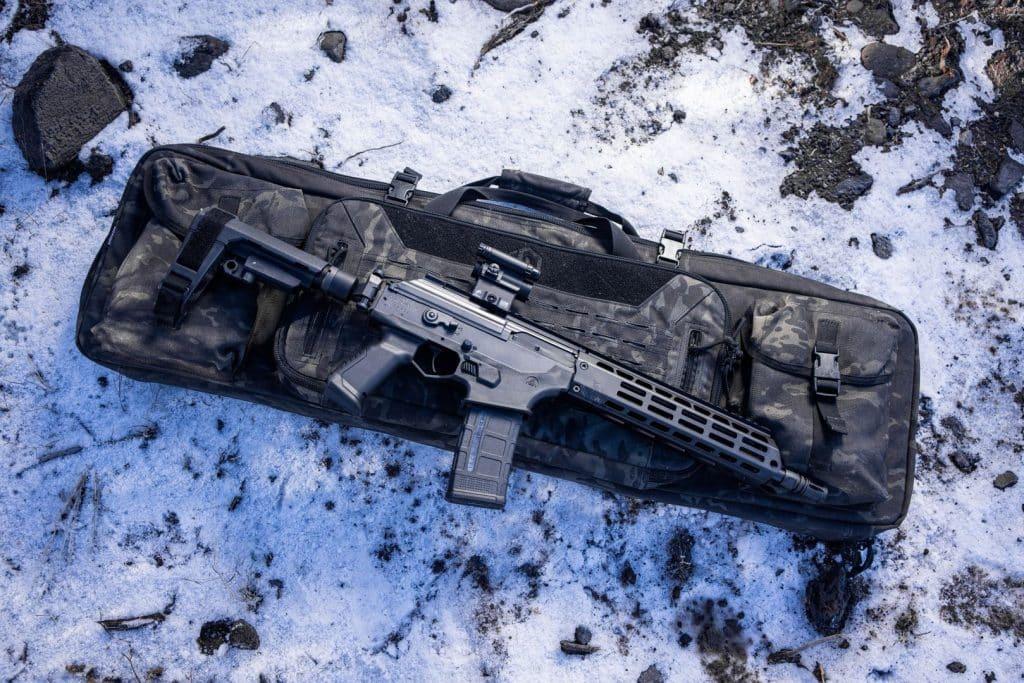 Soft gun cases offer a ton of flexibility, weight savings, and are easy to store, but they're not TSA compliant nor do they offer maximal protection.
Soft cases, sometimes known as rifle bags, are slightly less durable than their hard-shelled counterparts, but come with the benefits of often being lighter weight and offer accessory pockets for things like magazines, boxes of ammo, and smaller objects.
Both types vary in terms of capacity, size, and weight, so it's up to you to get one, or a few — as is the case with our experts — that gives you the functionality you need for your planned activities. Some people will want something as simple as a single rifle case, while others might want a case that accommodates scoped rifles.
Similar can be said about pistol cases – they come in a lot of varieties. Here, we're focusing on hard cases and tactical pistol cases that can be used for storage as well as for transport, making sure you get the most bang for your buck (literally).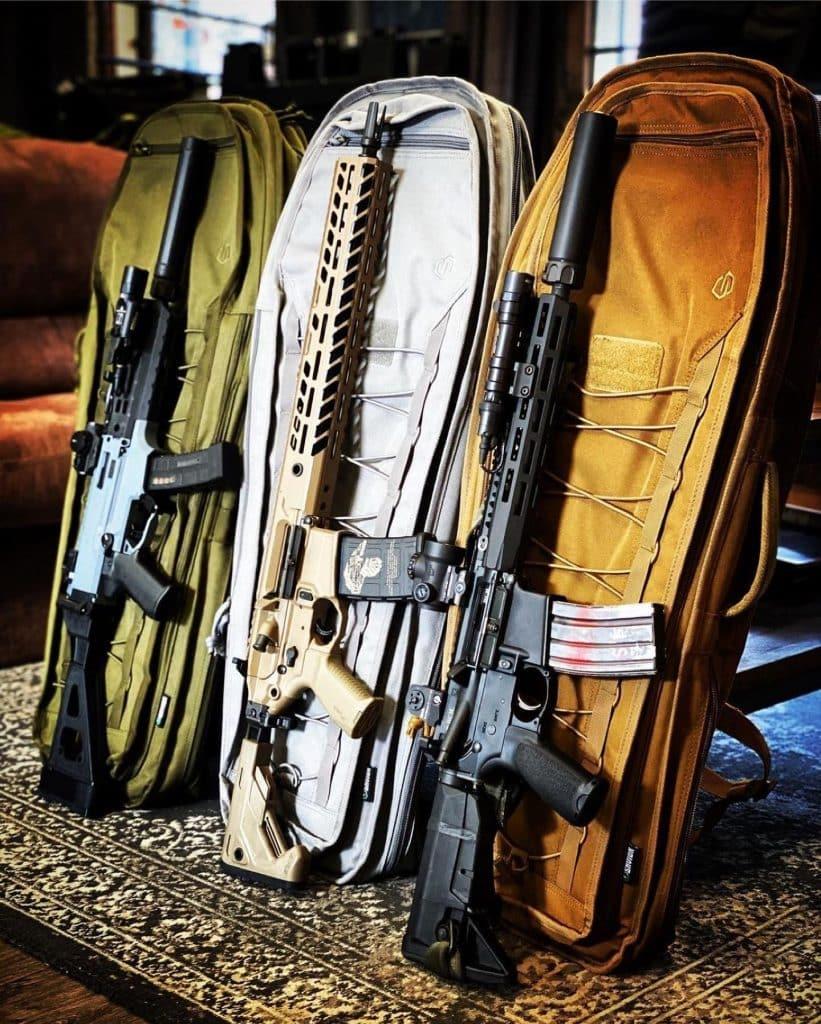 Lots of gun cases. Via Savior Equipment
First and foremost, keep an eye on quality: good cases will usually come with some kind of warranty or, at the very least, a company that has an actual customer service line you can call. No-name cases are often no-name for a reason.
Second, depending on your security needs, either an integrated lock or means of attaching exterior padlocks are often must-haves – and can be used to meet the requirements for flying with your firearm.
Then we start thinking about things like weight. If you anticipate a need for long treks with the case a lighter material paired with shoulder or backpack straps will have your back and arms thanking you.
Finally, some extra durability is always a plus, so we look for things like water resistance, high-quality (preferably customizable) interior foam padding, and some level of rigidity to stand up to the conditions we're likely to encounter at the range or traveling with firearms.
So there it is – our list of gun case recommendations.
For many people, the idea of shelling out for something beyond a factory case seems unnecessary, but for our money, investing in the right level of protection and something that's discreet (to avoid advertising that you're carrying an armload of guns) is more than worth it.
Plus, when it comes to shipping or traveling with guns – or protecting expensive accessories – you'll likely need the kind of protection and features our above recommendations can provide. Good luck finding the perfect case!
More on shooting accessories: