The Best Hidden Gun Shelves
Written By
Michael Crites
Licensed Concealed Carry Holder
Reviewed by
Editorial Team
Learn About The Editorial Team
Share:
Products are selected by our editors. We may earn a commission on purchases from a link. How we select gear.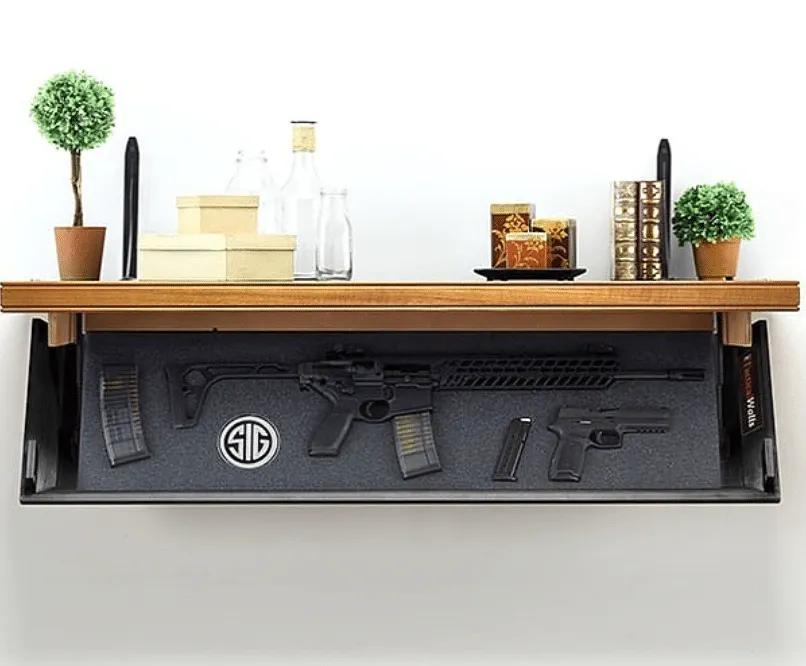 What are the best hidden gun shelves? As gun owners, we have to strike a balance between making sure our firearms are both inaccessible to unwanted visitors and maintaining quick access to those firearms in the event we need to defend ourselves or our loved ones. A hidden gun shelf can help you achieve both.
As gun owners, we have to strike a balance between making sure our firearms are both inaccessible to unwanted visitors and maintaining quick access to those firearms in the event we need to defend ourselves or our loved ones.
Maintaining that balance between safety and availability is one of the fundamental keys to home security, but keeping your firearms out of sight doesn't have to mean relying on bulky gun safes.
Hidden shelves designed from the ground-up for secretive gun concealment look like a normal piece of furniture but help you hide your long gun, handgun, or anything else in plain sight. These little wonders are the key to distributed firearm storage – multiple firearms hidden throughout your home – which allows you to protect yourself regardless of where an assailant enters your residence.
It pays to keep 'em guessing.
Tactical Walls 1242 Rifle Concealment Shelf
At just over 50" long, the Tactical Walls 1242 Shelf is large enough to accommodate a full-sized rifle. It's relatively easy to mount to any standard wall and offers 5 finishes for some decor flexibility.
The 1242s are large – more than 4 feet long, 14" deep, and 5" in height, which gives you room to house an entire tactical kit – including a rifle, magazines, a handgun, and a first aid kit.
Disengaging the locks (which can be both manual and via RFID) enables you to lower the bottom portion of the shelf in a controlled manner thanks to a pair of pneumatic struts. Everything within is held in place with medium density polyurethane foam, which is easily modified to customize the internal shelf fit for your preferred layout.
Alpha Large Concealment Shelf
A solidly-crafted concealment shelf, the Alpha is slightly smaller than the Tactical Walls 1242 and neutral enough to work in any room.
The rectangular design is simple enough to pair with non-concealment shelves as a decoy to further improve concealment, and the bottom drawer tucks into the shelf in a way that eliminates any visible joint, making it nearly impossible to spot.
The RFID opening mechanism is quick and easy to use – plus it's more secure than magnet-based locks and much faster than keyed options. Interior foam can be cut to match your desired layout with simple do-it-yourself installation. The Alpha also offers a 1-year warranty, which is a nice bonus.
Tactical Walls 1420 Concealment Mirror Shelf
Pairing a mirror with internal concealment shelves, the Tactical Walls 1420 is an excellent way to keep a few handguns, ammo, and other sensitive items hidden in plain sight. Mirrors expand your concealment options considerably given they often fit into locations where dedicated shelves may not – creating a natural look while expanding your self defense options without standing out.
It comes in a wide variety of woods and finishes, including raw wood option that you finish yourself, ensuring it can work with a variety of decors.
Tactical Walls Concealment Clock
The folks at Tactical Walls missed a real opportunity to call this a "Glock Clock" – of course licensing the name may be more trouble than it's worth. That said, this concealment clock is another handy way to store a handgun, taser, or flashlight for emergency access.
The clock offers 2 designs to fit various decor choices, and it's small enough at 14" wide  to fit in a bathroom or guest room where you might head to create a defensive space during a break-in. Pressing on the 12 o'clock location releases the clock face from its velcro retention straps so you can pull the face off and access your firearm.
The storage isn't massive – there's room for a handgun and magazine – and there's no locking mechanism, so be sure this is mounted high enough to keep it out of children's reach.
Best Biometric Rifle Safe:
If you don't have room for a wall-mounted solution but still want to keep a firearm within close – but secure – reach, this standalone concealment end table is the way to go. It comes in three finishes so you coordinate with other furniture in your home and has room for both a pistol and home defense gear like a flashlight or taser.
A hidden bottom shelf hinges open in a controlled manner thanks to pneumatic struts, revealing a hidden tray with a foam inlay you can customize to fit your gear.
There are three major advantages to having a hidden means of storing firearms: effective concealment, security, and availability.
First, and probably the most obvious, is the effective concealment of the firearm. Whether it's from curious children or people breaking into your home, it's a good idea to keep your firearms out of sight – preventing both nefarious and accidental access. This will deter theft and can provide a tactical advantage if you need to defend yourself at home. A big, heavy gun safe can draw unwanted attention, force you into a single location to retrieve your firearm, and can slow your response.
The second advantage is many of these concealment options are lockable – providing both covert storage and a secure place for a firearm. With sturdy locking mechanisms, these hidden gun safes function as intended, and keep prying hands and eyes off of your firearms.
The third reason we love hidden gun cabinets is just how inconspicuous they are. There's no door or keypad – you can place them anywhere in your home and only you know, giving you an information advantage over an intruder. A vault door in your living room doesn't make much sense – but a clock, shelf, or mirror will fit right in.
The goal is concealment in plain sight – and a coffee table with a hidden compartment is a great option that will ensure fast access when needed.
Some Disadvantages
There are a few distinct disadvantages to hidden gun shelves – aesthetics and mobility.
These products are, at their core, a kind of decor, which means it can be a challenge to fit them into a specific aesthetic. These speciality items have to accommodate a hidden compartment, which can somewhat limit style options.
Again, this isn't purely an aesthetic issue – it can have tactical implications. Dropping an oversized, solid wood, craftsman-style coffee table into a chic, minimalist living room might draw the wrong kind of attention. For a piece to be concealed, we think it has to blend into the room.
Another challenge is that these shelves aren't permanently attached or heavy enough to prevent theft. For many, this might not be much of an issue, given these shelves must support not only their weight but the weight of the firearms held within – and any decor placed on top of them – so they need to be mounted incredibly securely, assuaging some of the portability concerns.
That said, a brute force attack will dislodge most of these products, which is a risk.
Distributed Firearms Increase Availability
This is where a hidden gun shelf really shines. Gun safes tend to be located in a bedroom closet or garage, which means anyone who wants access to your firearms may very well head to those locations first – putting them between you and your self-protection. This puts a wrinkle in most people's tactical plans.
If you, however, decentralize your firearms by storing them in multiple locations throughout your house, you make it more difficult for thieves to locate your guns while simultaneously increasing your opportunities to protect yourself.
Big, heavy gun safes are indeed secure – and you should absolutely use them – but the addition of an under-bed gun safe in the bedroom, a living room gun shelf or hidden gun storage in the kitchen pantry gives you many opportunities to defend yourself.
Are there fireproof options?
Yes and no. While many shelves and concealment pieces are made out of wood or wood derivatives, there certainly ways to improve the heat protection of any gun shelf.
Replacing the interior foam of a shelf with a small, steel lock boxwon't fire-proof the shelf, but it will add a layer of protection these kinds of products don't generally provide. This further prevents unauthorized entry but certainly slows down access to the firearm, which is counter-productive to some degree.
Gun Shelves vs Gun Safes
Gun safes are, admittedly, more secure. Concealment furniture doesn't offer the same kind of thick doors or locking bolts you'll find with safes. Instead, you'll find magnetic locks used to keep the shelf from dropping open – but can be defeated by brute force. The value with hidden gun shelves is in the concealment – they're intended to avoid detection. A full-sized gun safe is large, heavy, and hard to move, which makes it a preferred way to store non-emergency firearms.
Gun shelves, on the other hand, enable you to stage guns around the home in the most convenient places. It's simply impractical to keep a gun safe in your kitchen (unless you engineer something during construction) and investing in a hidden gun shelf is much easier than a home remodel.
Rules to Using Hidden Gun Shelves
Here are three rules we think are key to making good use of a hidden gun shelf.
Concealment is king. The goal is to keep your firearms or other items concealed. While it may be tempting to show off the new concealment clock you just picked up, only let people you truly trust know it's there. Don't post about it on Facebook or share a snap via group IM for the same reason you don't post images from your vacation – you never know who's paying attention.
Match the decor of the room. If all of your furniture is a consistent style but that one oversized piece that makes no sense in the room (and just happens to contain a firearm) it may draw the kind of attention you do not want. Blend your concealment pieces into the rest of your decor.
Immobilize it. Install shelves by bolting them into a wall stud or other fixed surface. This prevents them from being dislodged or removed via brute force. You'll still be able to get into them just as quickly, but a solid mount offsets this disadvantage of shelf-based concealment.
Hidden gun shelves range from standalone shelves to clocks and mirrors, giving you unparalleled opportunities to conceal distributed firearms throughout your home.
If you purchase quality products and use them as intended – for quick access rather than secure storage – they are an excellent, and often tasteful, way to stage your home for self-defense. If you're interested in not just shelves but complete concealment furniture we've covered the best in our guide to hidden gun safes.
Sources:
The Latest Gun Safe Reviews
The Best Biometric Gun Safes
The Best Trigger Locks
The Best Hidden Gun Shelves
The Best Hidden Gun Safes
The Best Under Bed Gun Safes

March 16, 2023 — Our hidden gun shelf recommendations remain unchanged after a thorough review of this guide. We've updated images and links.
Sign up for our newsletter
Get discounts from top brands and our latest reviews!