The Best Running Holsters
Written By
Michael Crites
Licensed Concealed Carry Holder
Reviewed by
Editorial Team
Learn About The Editorial Team
Share:
Products are selected by our editors. We may earn a commission on purchases from a link. How we select gear.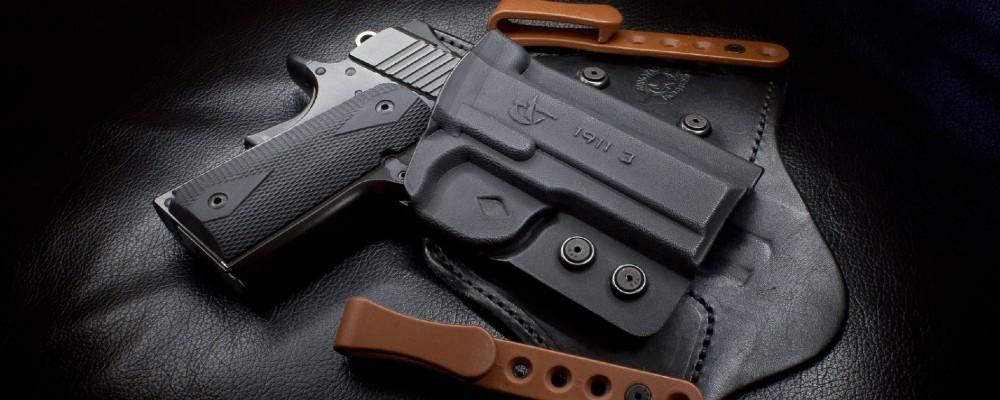 The Crossbreed Modular Belly Band is the best running holster for most people. It pairs a molded, gun-specific CrossBreed Kydex holster with a high-quality elastic band that gives you the best of both worlds – a super-stable gun/holster fit with the flexibility of an elastic belly band. Plus the Kydex holster is backed by a supple cowhide that adds comfort without weight.
Running Holster Comparison
After testing more new models, we've updated our top recommendation to the Crossbreed Modular Belly Band. We're keeping the other recommendations on our list, but now recommend them as runners-up or budget options.
After nearly a month spent looking at 25 different runner-friendly gun holsters in retail stores and online, weeding out far too many low-quality duds, and running a battery of tests with our running enthusiast friends (yes, we have them) on 10 standout contenders, we found the best gun holsters for folks who want to carry a gun while running or jogging in a both IWB & OWB configurations.
These holsters hold your piece tight to your body, resist slipping, sliding, and sweat, accept several types of handguns, will work as jogging holsters for both men and women, and are the most comfortable of our test selections.
Below is my list of the best running holsters. I list the best choices in terms of value, performance, design, and cost.
Click on the name to head to the product page, read reviews and check prices or skip ahead to the list of holsters.
| Name | Selection | Price |
| --- | --- | --- |
| | Best Overall | $59 |
| | Runner-Up Belly Band | $24 |
| | Budget Belly-Band Pick | $18 |
| | Shoulder Holster Pick | $24 |
| | Best Pocket Holster | $37 |
| | Buget Pocket Holster | $22 |
The Best Running Holster Reviewed
1. Best Overall: CrossBreed Modular Belly Band
The CrossBreed Modular Belly Band holster is truly unique. It pairs a firearm-specific cowhide/Kydex holster with an elastic belly band, giving you the best mix of comfort, control, and quality in a running holster.
Leather + Kydex custom holster
The CrossBreed holster uses a leather backing, which sits inside the elastic band against the elastic facing your body. The use of leather provides much more comfort than Kydex alone, which is too stiff to be comfortable while on the run. When paired with soft elastic, the leather makes for easy all-day wear and only gets better and better over time.
The leather backing is fronted by a make/model-specific CrossBreed Kydex holster, which really gives the user the best of both worlds – an incredibly secure firearm/holster fit with the flexibility and all-day comfort of an elastic band.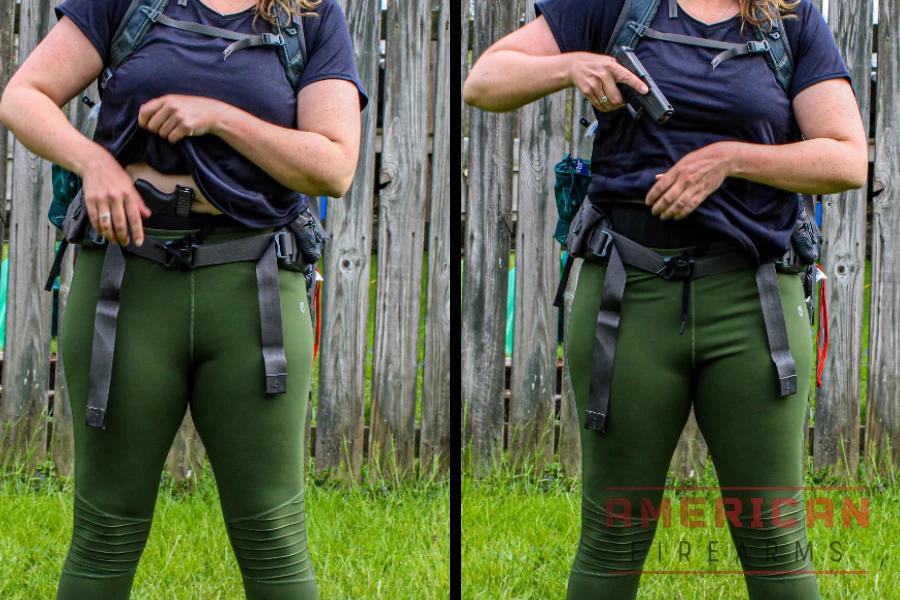 We took the Modular Belly Band hiking in our tests, and it offered an amazing amount of stability while on the go.
This modular design can be found in several other holster brands, but this CrossBreed Modular holster really is the best example of a modular approach to the belly band. Users love these for their comfort when running, but my people use them as a more casual wear holster.
You can wear this with a much broader array of clothing types (sweatshirts, shorts, t-shirts) without sagging or weighing down your clothes.
The only potential downside is it's more expensive than other belly band holsters. Still, for the price, you get the most secure fit available in a belly band and a holster brand in CrossBreed that's known for quality and standing behind their products.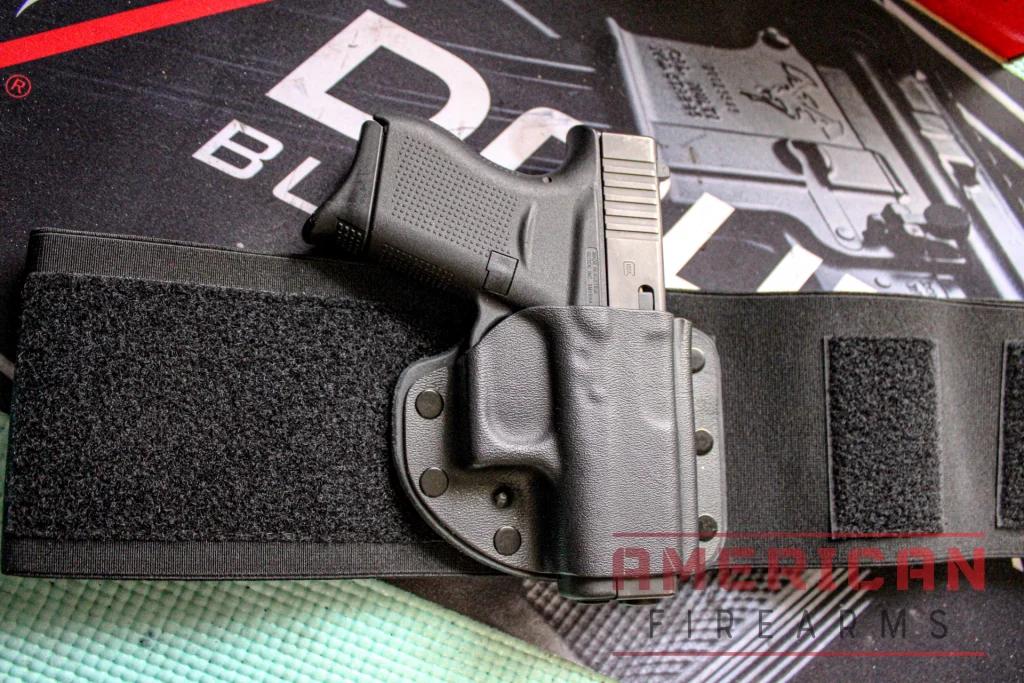 The Modular Belly Band pairs an integrated Kydex holster with a strap which wraps back over the firearm.
Once the strap is secured you've got an unbeatable fit.
2. Belly Band Runner-Up: ComfortTac
Pros
Trigger-guard retention system
Thick but light neoprene
Works for at least 8 different carry styles
Works for every size pistol
Cons
Retention clip isn't particularly durable
The ComfortTac Ultimate Belly Band Holster is part neoprene belt, part universal holster. Roughly the same weight as an elastic knee brace, its flexibility and variety of carry options make it ideal for carrying various handguns while running.
Smaller than other belly bands but just as capable
It's smaller than similar belly bands we tested but still has room for an extra magazine or a wallet and keys.
Even if you don't have a compact pistol, it's one of the few belly bands we found with a holster big enough to accommodate basically any size pistol that also included a hard trigger cover.
We tested a number of these belly bands, and you'd be surprised how easy it can be to pull the trigger through the elastic holster forcefully.
That's a non-issue with the ComfortTac as it has a hard snap retainer that closed directly over the trigger – making it impossible to pull the trigger through the holster. Brilliant touch. It's available in both left and right draw orientations with sizes up to a 54" waist.
3. Budget Belly Band Holster: CCW Holster
Pros
Very small and light
Easy to wear
Secures handguns well
Fits and size handgun
Cons
Elastic thin enough to pull the trigger while holstered
44" waist is maximum size
You could try numerous belly band holsters, but we liked the Concealed Carrier Belly Band Holster because it's perfectly sized for a running holster and feels sleek and minimal when worn. It accommodates any sized pistol, but it's still not so large that it won't work for concealed carry.
This belly band is slim and compact (5″ wide x 42″ long), will fit up to a 44″ waist, and still has space to fit accessories like an extra mag, wallet, or phone.
We preferred the ComfortTek due to its ability to accommodate larger waists and a more secure trigger guard.
While it wasn't easy, we were able to pull the trigger on the Concealed Carry belly band, which we couldn't on the ComfortTek.
4. Best Shoulder Holster: LINIXU
Pros
Firm, tight fit
Fits all sizes of handguns
Price
Cons
Can run small
Not as durable as other options
No one likes having their run interrupted by a jostling firearm, but the LINIXU Deep Concealment Shoulder Holster will make you look forward to strapping your piece down before your run.
It's a secure, capable shoulder holster and comes in sizes from 33" – 50", right and left orientation, and is designed to hold every pistol size securely. It can run a little small, so it's very popular with men at or under 6 ft tall and various women.
That said, the smaller sizing means it's a solidly firm fit and very effective for concealed carry.
5. Best Pocket Holster: Sticky Holsters
Pros
American made
Super light weight
Most flexible option
Cons
The MD-1 gives you a ton of carry options without a single loop or clip. Source: Sticky Holsters Instagram.
For a maximally flexible everyday running holster, consider a strapless, clipless IWB holster or pocket holster.
We have plenty of recommendations in our guides for different holsters, but for unrivaled flexibility, you can't beat the Sticky Holsters MD-1, which is sturdy, takes little space, super secure.
Useful & easy to draw
No pocket holster can give you the same kind of stability you'd get with a full harness, but they are useful if you want the flexibility to move while carrying and need something light.
The Sticky Holster tested well in our draw tests – shifting slightly upon draw along with our clothing, but nothing that made us feel like it was difficult or awkward to draw.
Works with 3.5″ barrels or less
If your pistol's barrel is more than 3.5" – or don't wear something that has a taught waistband or pockets – these won't work if you want to carry while running, but the Sticky has a marvelously non-slip exterior skin that makes it stick to whatever you place it next to.
It makes for a very secure carry with a good variety of different workout gear – even running shorts provided they offer a tight fit. Its ambidextrous fit makes it work for right and left-handed users, so there's no chance of ordering the wrong orientation.
No clips or loops
We like that there are no clips or loops involved, which keeps it about as light as any holster on the market without requiring you to wear a belt.
They're also made in America, which is a bonus.
6. Budget Pocket Pick: BLACKHAWK!
Pros
Price
Quality materials
Comfortable & stable
Cons
Fabric cut requires grip adjustment before attaining firing position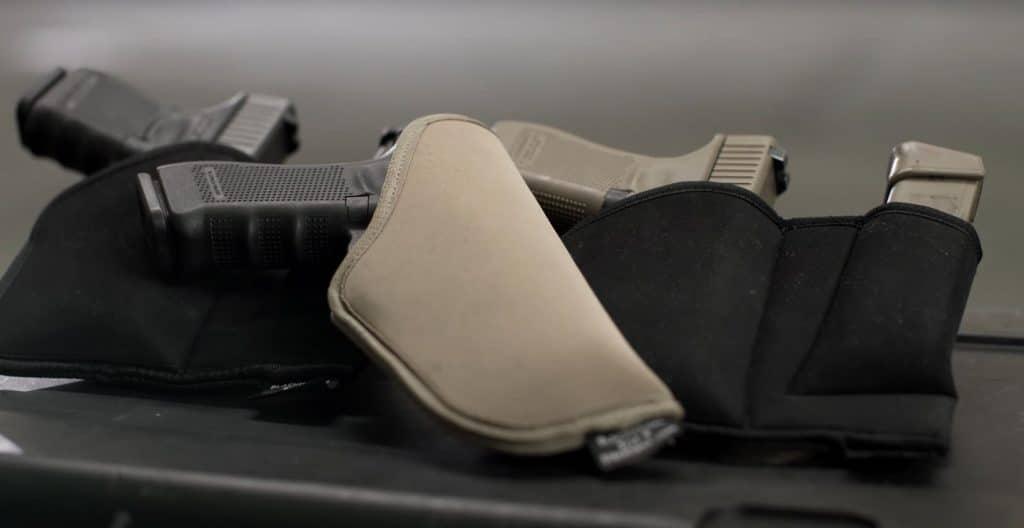 The BLACKHAWK! TecGrip's grippy exterior keeps your pistol holstered secure and snug in your pocket. Source: BLACKHAWK! YouTube.
Blackhawk is a well-known brand in the holster market. Their TecGrip Holster is another high-quality product that benefits from their experience with civilian and law enforcement concealed carry holsters.
The exterior of the TecGrip is designed to create friction and "stick" to fabric or skin, and the pouch fits most firearms tightly enough to prevent jostling while running.
It's also very comfortable to wear due to the 3 layers of closed-cell foam that provide a buffer between your body and the firearm.
Those layers also help the holster conform to your body shape, and in our tests, there was no real sense of the gun shape, sharp corners, or pressure points.
You know where the pistol is — it's comfortably separated from your hip, side, or back.
The TecGrip is the runner-up principally due to how it performed in our draw tests. The way the fabric is cut, we could only gain purchase on the bottom portion of the grip, which required us to adjust our grip post draw before our support finger was directly under the trigger guard.
The TecGrip was a solid performer in terms of stability and grip on our test units other than the draw tests.
Important Running Holster Features
1. Fit & Flex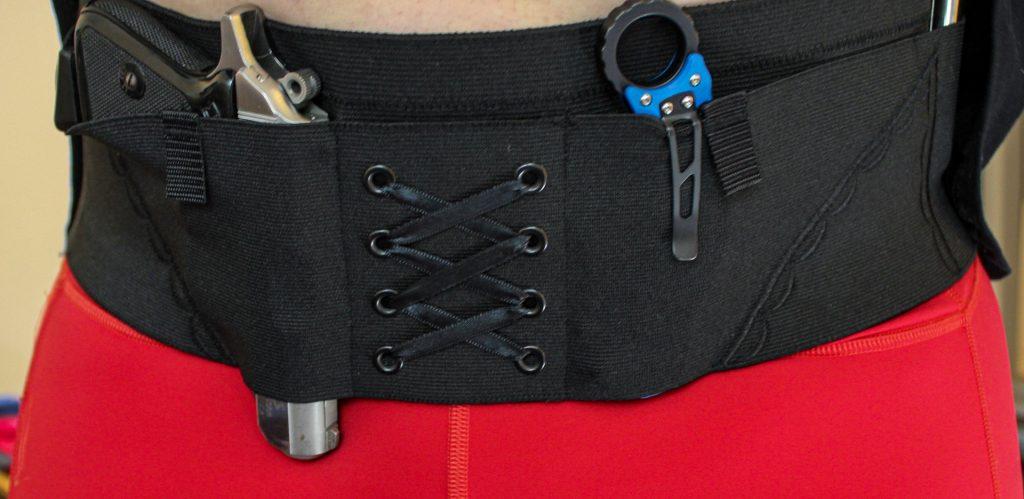 Running holsters need to be comfortable and snug -- which often means a bellly band.
When looking for a running holster, the fit is the most important thing you have to keep in mind. Generally speaking, you want the holster to fit pretty tightly to keep your firearm from moving around, but not so tight that it restricts your breathing.
The holster has to fit your body, first and foremost. To get this right, always pay close attention to any info you can find from the manufacturer. From there, think about adjustability: if you're starting to run for the first time, you might well lose some inches, and not having to get a new holster when you do would be a nice bonus.
2. Retention
Second, the holster has to retain your gun: having a firearm come loose when you're running is not only embarrassing, it's dangerous. It can even be criminal if you run into a particularly cranky cop.
A piece of advice: keep the receipt and take your new holster for a run. If your new holster keeps you from breathing well or causes any uncomfortable rash, rubbing, etc. on a short run, try something different. If it's a problem on the first run, it will likely continue to be a problem.
Also, this is not the time for vanity sizing: get real, objective inch measurements of your waist so that you can get a holster that not only fits you well but is also comfortable so that you'll actually use it when you go for a run.
3. Pockets
In some regards, you can think of a running holster, kind of like a duty belt. Thus, you can keep more than your gun in it to make the best use of the fact that you plan to have a holster when you go for a run.
Obviously, the pocket that matters the most is the one where your gun goes: your firearm has to fit well and not bounce too much when you run. Many holsters have retention straps that go around the back of the grip, and we think this is a good idea.
Second, most of us run with a phone or other deceive for music or tracking: having another pocket for that is nice on a holster as well, as it saves you from having to keep an armband, running with a phone in your pocket, or simply using your hands.
A few holsters have further pockets, where you can keep things like keys and spare magazines. At some point, it's up to you to decide how much weight you're comfortable with carrying around your waist in a holster. With that in mind, we like the idea of keeping as much weight as possible close to your body: this makes it easier to run and cuts down on things flapping around in pockets.
Spare magazines, in particular, can be a sticking point: each magazine adds a fair bit of weight. But, with that said, at least having the option is always appreciated.
4. Modularity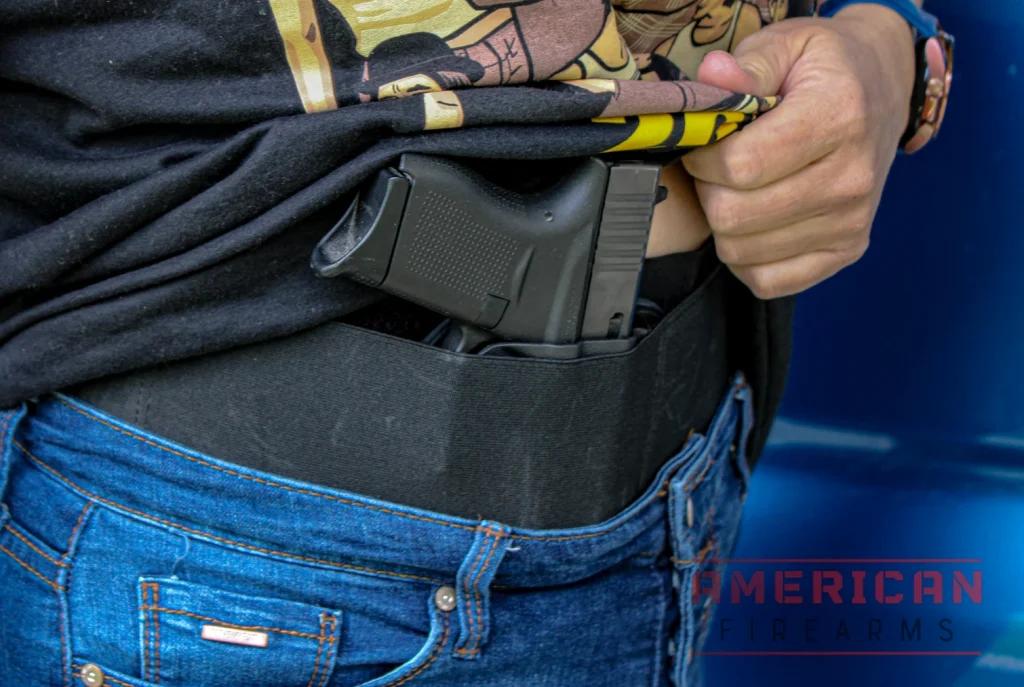 Modularity can come in the form of pairing a Kydex holster with an elastic band, or offering pockets and places to store additional items.
As with most tactical gear, many holsters come with MOLLE webbing or hook and loop closures to add or remove extra kit. We think this is a good idea in concept, but with a few caveats.
First, the pocket for your gun should be sewn right into the structure of the holster: you really do not want your firearm coming out and flying off while you run. That would defeat the purpose of a holster in the first place.
Second, we'd be cautious about rubbing: if there's a chance for hook and loop to make contact with your skin, the irritation will get very unpleasant, very quickly. Finally, we wouldn't put anything too heavy in a modular pouch: the heavier an object is, the more likely it is to come flying out.
But, with those in mind, we like the idea of being able to customize your holster to your needs. This is especially true if you run in different seasons or areas that require different gear.
You might want to carry more ammunition running in a kind of sketchy neighborhood at night than, for instance, during the day in a rural or suburban area.
Similarly, in the summer carrying a bottle of water hooked to the holster in some way might be handy, but not necessary in the winter. Having one holster that could do it all would, indeed, be handy for most purposes.
4. Material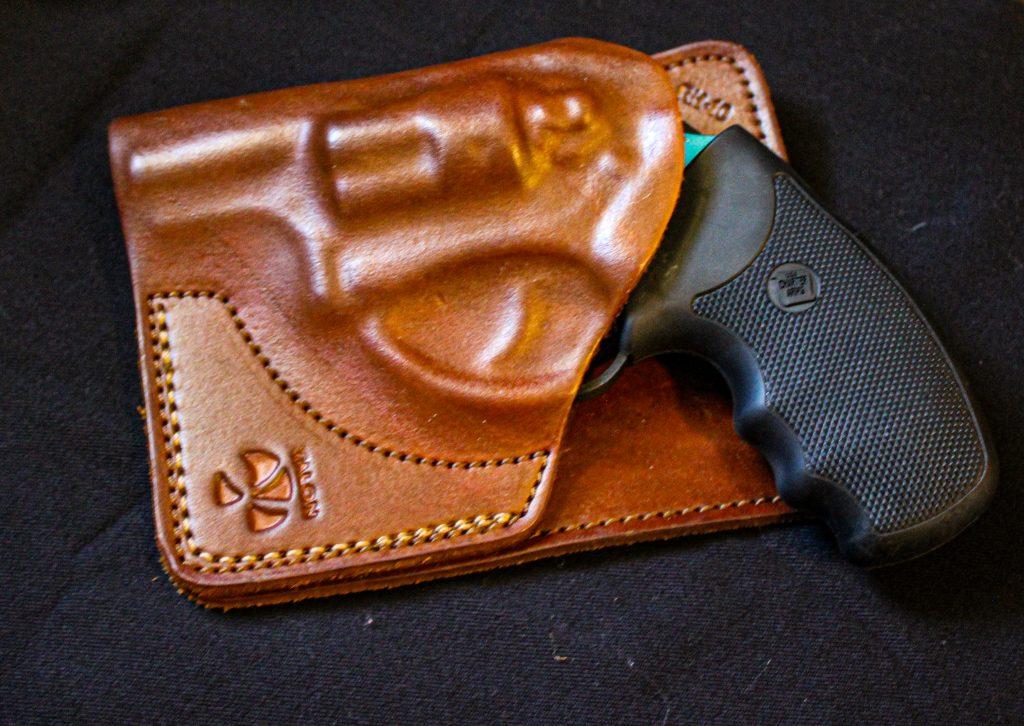 Leather holsters are great for everyday carry, but running with one is going to irritate.
The gear you use has to fit the mission, and that can vary a lot depending on the weather. In this case, the material will vary a lot depending on where you are.
A cotton holster, for example, might be excellent for use in winter, but in summer, it will soak up and hold sweat right next to your skin, getting unpleasant in a hurry. In the summer, or hotter weather, more generally, a neoprene holster is a better option, though the fact that it is so stretchy might make it hard to fit well.
Similar comments can be made about band size, weight, and thickness. On a cool winter morning, a thick holster might even be pleasant. Still, when temperatures are nearing triple digits, you want as little fabric on you as humanly possible to try to keep down the possibility of heatstroke. No matter what you do, your running holster is going to get sweaty.
That's a fact, and we need to learn how to deal with it. Thus, we wouldn't buy a running holster that cannot be run through a washing machine. The sheer stink you build up after a few runs would be something that would deter people better than a 9mm, so we think it's wise to wash it after every run.
Similarly, it's also a good idea to keep a rag on hand at home to rub down any sweat that might get onto your gun, magazines, etc. Sweat has a lot of salt in it and can wreak havoc on metal parts like those found on your firearms.
Types of Running Holsters
While there's technically no official style of "running holster" there are several styles of holsters that will work well for runners, and each has its advantages and disadvantages.
The initial task is to simply narrow your search to holster options that are compatible with the activity you plan to do while carrying. Next, of those that will work, consider the style you're more likely to actually wear. Finally, consider your body type and select from options that will provide the most real-world comfort.
Belly Band Holsters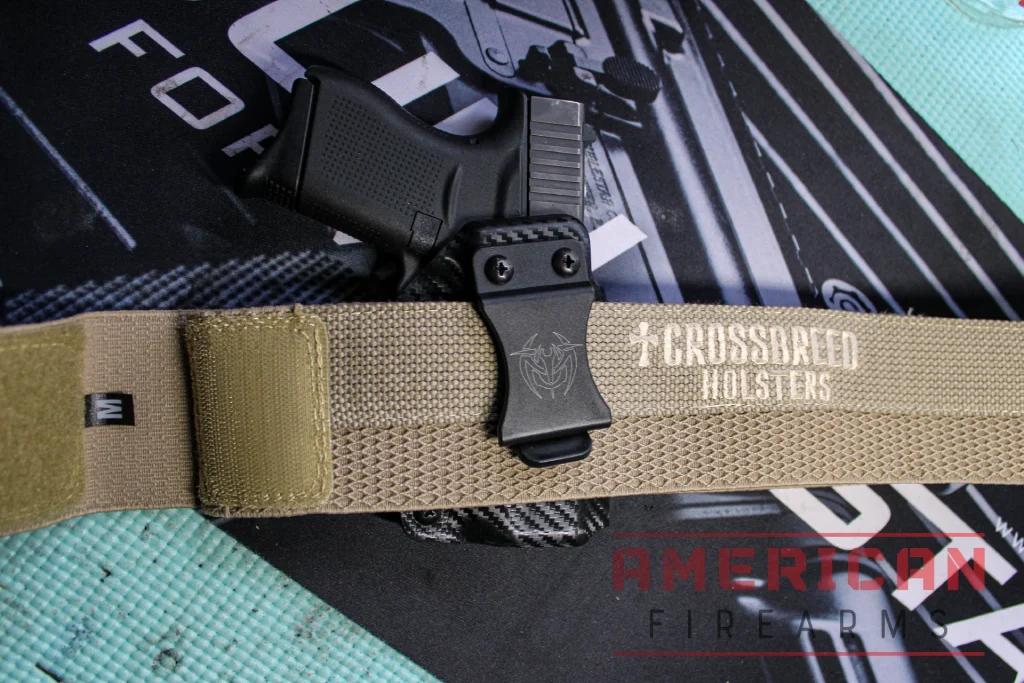 Belly bands can also utilize a clip-based approach, which gives the user more flexibility but may not offer the level of security you'd want for vigorous activilty.
Most belly band holsters are designed to be firearm agnostic — making them compatible with a wide range of firearms and magazines.
They use a wide elastic band that wraps around a person's mid-section and hugs close to their person. This band generally houses a soft holster, made from the same elastic material that can accommodate a wide array of different pistol sizes. They also often include side pockets for magazines or other small items.
Standard elastic belly band holsters aren't molded to fit tightly around a specific handgun model, so they can be challenging to use with larger or full-size pistols or revolvers.
Shoulder Holsters
While many runners might not think that a shoulder holster would provide the most runner-friendly method of carrying a sidearm, some certainly do a better job than others. Shoulder holsters keep your pistol higher up on the body than belly bands, which can prevent sway & sag provided they offer a tight fit.
They also have a load of adjustability, so they can accommodate a wide variety of body types and distribute the weight of the firearm throughout your upper torso, preventing hot spots.
Shoulder holsters that use leather (which is both durable and strong) wear better and better over time but will require more adjustment, while synthetic materials will stay true longer and handle a variety of environments with ease.
The right running holster can make all the difference between training with your pistol and leaving it at home — not to mention the quality of your workouts.
When you're not distracted by a jostling pistol, skin irritation, or worries about fit, you can focus on running your best & using your workout time most effectively. It's simply much easier to push yourself & be prepared when you aren't consistently disappointed in the performance of your running holster when on the move.
A properly fitted holster keeps your firearm snug to your person — preventing inefficient strides and compensating for an awkward fit.
Running holsters aren't particularly expensive, but understanding the components that separate chintzy from choice can make a more expensive holster definitely worth the investment.
Expect to pay $50, give or take. There are models that are under $30 that are a bargain but won't offer higher-end features, and more premium models will have you shelling out closer to $80. At these prices, you're getting better materials, more comfort, and features tailored to your running style and pistols rather than a generic holster.
Keep in mind that running holsters are consumable items that will wear down over time, and will need to be replaced eventually before they start sagging and irritating.
One way to extend the life of your running holsters is to rotate through multiple holsters from one run or workout to the next, possibly using a cheaper, but functional, holster on shorter or less intense workouts, and your higher-end model when you're pushing the distance & need more comfort for longer.
How we selected these products
The American Firearms team has loads of experience with a variety of holsters, and we even occasionally run! but there are always people with more direct experience.
Since I haven't worn every available option, I spoke with industry experts and consulted customer feedback in the form of ratings and reviews. By pairing our knowledge with detailed online research, I'm confident anything on this list will serve your needs.
If you need a practical way to protect yourself while running – either due to early morning or late evening runs or offroad/trail running. where you might encounter a bear or large predator, a running holster is a great addition to your kit.
Each of these running holsters offers gun owners a variety of different features but our top picks are as follows:
Each of these holsters best met the requirements of the role they were designed for and met the criteria for any running holster we'd recommend:
Stable fit
Comfortable, non-chafing material
Fits a wide variety of body shapes and carry styles
There are quite a few options out in this category, but we hope this article steers you in the right direction. If you have any questions or feedback please drop us a line.

March 13, 2023 — We re-checked this guide and continue to stand by our recommended running holsters. We've updated images and links where appropriate.
Sign up for our newsletter
Get discounts from top brands and our latest reviews!