The Best Pistol Safes in 2023
Written By
Michael Crites
Licensed Concealed Carry Holder
Reviewed by
Editorial Team
Learn About The Editorial Team
Share:
Products are selected by our editors. We may earn a commission on purchases from a link. How we select gear.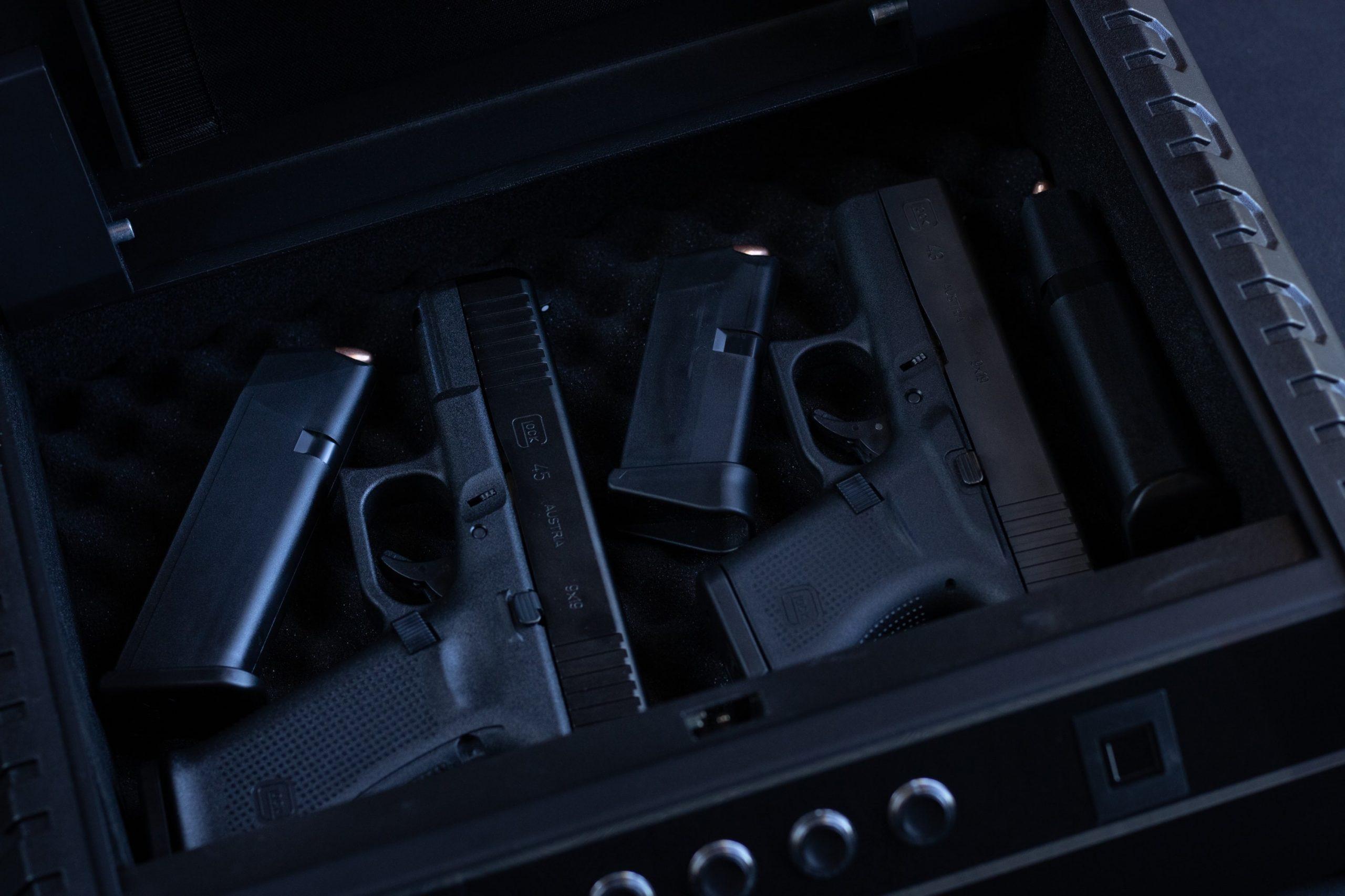 Storing handguns in a pistol safe is a best practice for any gun owner who owns a handgun, and gun owners have a universal responsibility to prevent our firearms from causing injury or harm. A critical piece of this puzzle is ensuring our guns are safely stored when not in use.
The meaning of "safely stored" can be a challenge to define universally, as there's a natural tension between quick access and preventing unwanted access to the firearm. Guns locked away in 400 lb combination safes will keep your firearm safe from the wrong hands, but you will not be able to gain access particularly quickly in an emergency.
Likewise, a Glock sitting on your nightstand will be available almost instantly, but for kids or visitors it's far too easy to access to be considered safe.
There's a lot to consider before you even get to the thousands of products on the market. Where do you even start? Which handgun safe should you choose? What are the best criteria with which to make a choice?
You have to make the best decision for you, but we've broken down the key features you'll want in a good pistol safe, with 6 excellent examples to suit almost anyone.
1. KONIG Pistol Safe
The KONIG Safe really cought our attention this year, not only making a splash on our bio safe guide, but topping our pistol safe list thanks to its build quality, reliability, and overal design.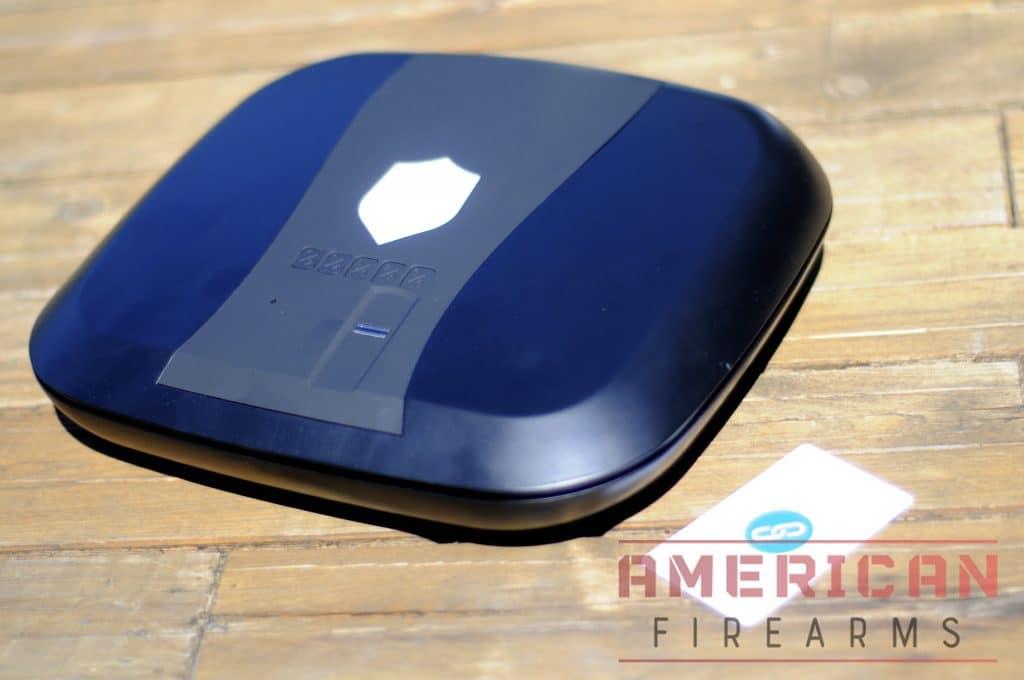 The KONIG Safe with RFID reader. RFID readers may not be as reliable as a key, but tend to be faster than other opening systems. The shield atop the safe acts as a button, light, and target for the RFID reader.
The three the opening options — RFID, keypad, and fingerprint — all work reliably and consistenly, even when tested with obstructions such as the RFID card in my wallet or hands that were greasy from working on my AR. While the bio reader wasn't perfect (it opened for 12 of 15 tries, or an 80% success rate) it's a great little safe that's secure, reliable, and attractive.
To open the safe you tap the button atop the safe (shaped like a shield icon) and enter your code, slide your finger down the bio reader, or hold the RFID card or fob against the top.  The shield icon lights up, which is fanstastic feature if you're planning on using teh KONIG for nightstand duty.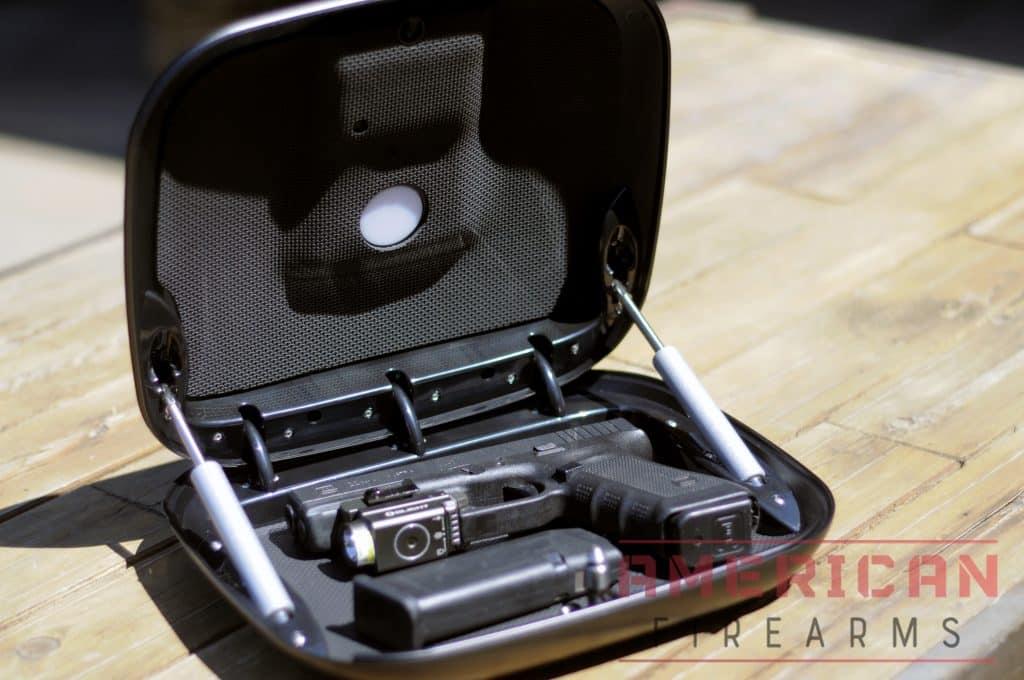 The Konig safe is about perfect for a single pistol and spare mag. My G22 fits securely with a mag in place and the spare stick along side.
The clamshell shape has a slight taper that makes the safe easy to leave on a shelf or nightstand without drawing any attention. A safe that isn't noticable is a good thing IMO.
There's a slight gap along the lip of the shell, but the lid has a 1/4-inch lip which slids in behind the bottom of the shell, effectively preventing prying.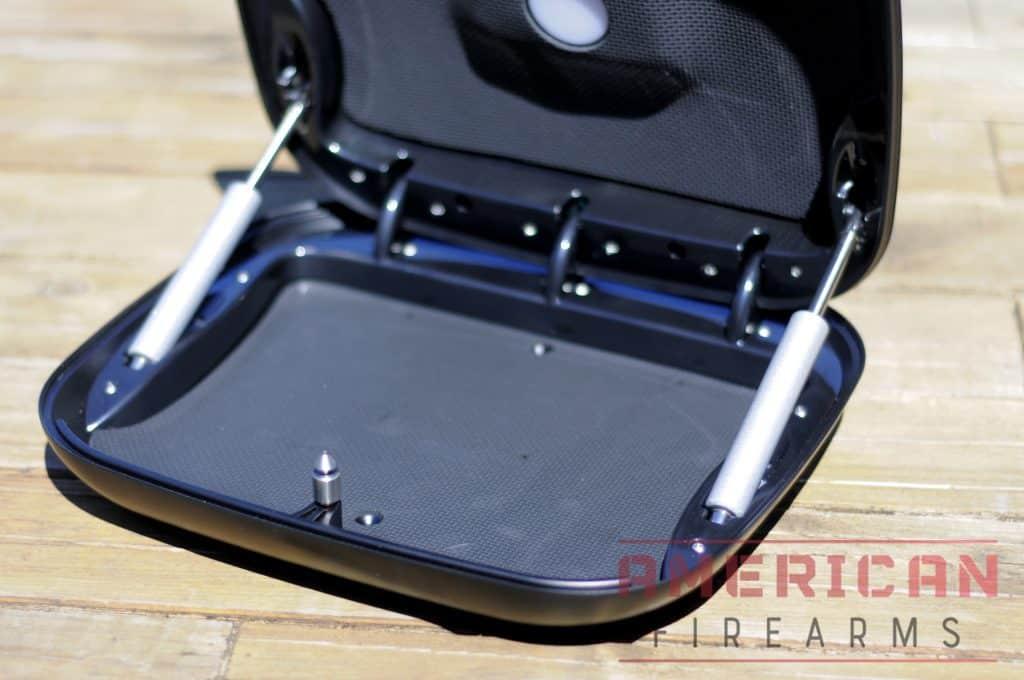 The gas struts on the Konig safe pop the lid open with an aggressive thrust but the foam interior keeps things in place and protects from bumps and scratches.
I really liked how the double gas struts push the lid open with an affirmative pop. It's not the quietest pistol safe I've ever used but there's no doubt that it will open when promoted.
Another nice touch is the interior foam padding, which covers the floor and top and ensures your valuables are protected from bumps and bruises.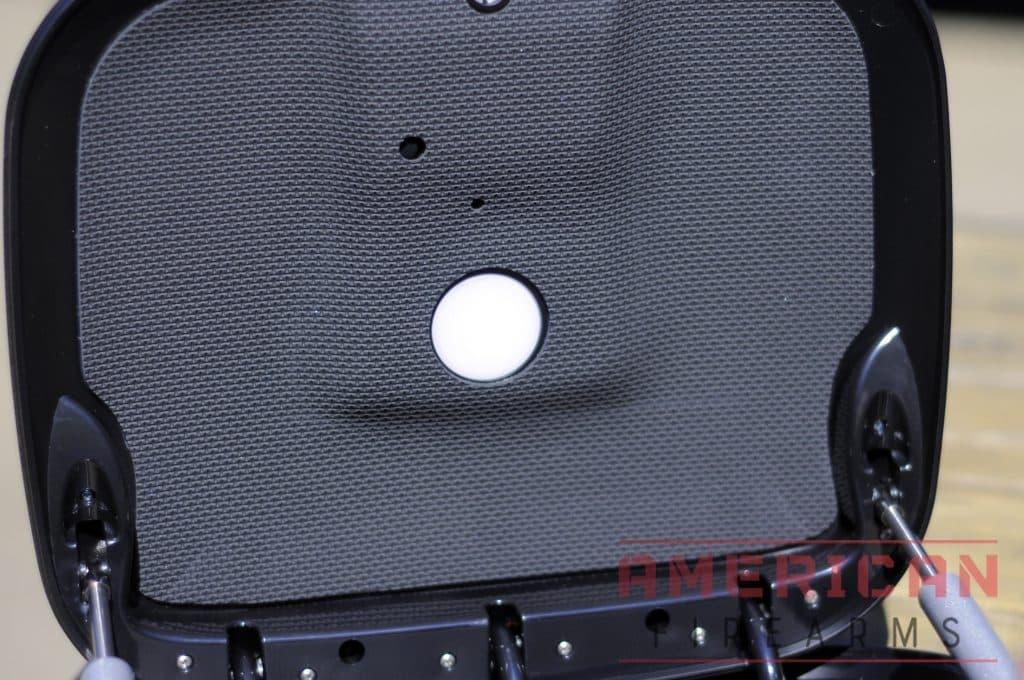 The Konig incorporates a top-mounted interior light that makes navigating in the dark much easier than blinding yourself with a lamp.
In addion to the exterior light, an interior light turns on when the safe is open, helping you orient yourself when reaching for a pistol in the dark — and saving you time from reaching for a lamp or other light source. The keys aren't backlit, and even with the lid light the buttons are tough to read — but they're easy to locate with touch and enter even without a bright light source.
The KONIG is a great little pistol safe that's well built and accomodates a single and extra mag almost perfectly. 
2. Amazon Basics Steel Security Box
The Amazon Basics line includes a line of safes/lock boxes, which are stoutly built and have some very smart features. The lock consists of two thick stainless steel bolts in the door, and has concealed hinges which prevents thiefs from targeting the more vulnerable hinge joints. 
The locking mechanism is a battery-operated combination lock, powered by four AA batteries in an internal compartment. Access is two-stage; enter the combination and turn the doorknob. It's a good blend of speed and security. 
For those with battery-based concerns, there's a backup key in the event of dead batteries, as well as a digital display that shows locking status and battery life. Little touches like this helps the Amazon box punch above its weight. 
This safe is made with black stainless steel, and is available in 0.5, 0.7, 1 and 1.2 cubic-feet sizes. Mounting holes are tapped in the floor and the rear wall of the safes for mounting to furniture or walls, and mounting bolts are included. Given it's an Amazon product, it's not a "pistol safe" per se, and other safes certainly have better features, for well under $100 it's hard to beat.
3. Hornady Alpha Elite Lockbox
While a little bit less secure than other designs, even a simple lockbox can be a good choice for storage or as a backup safe option. 
The Hornady Alpha Elite Lockbox can be hidden inside a nightstand drawer for covert storage, and include a steel cable (rated to 1500 lbs) that can be used to tether the lockbox. This makes it usable in the home or in a vehicle. 
It's a simple lockbox, with a barrel-key lock (two included) and 16-gauge steel construction, so it's quite durable. Access can be fast so long as the key is on-hand and nothing impedes opening the door. Exterior dimensions are 10.25″x8″x2.75″, and it weighs just under 6 lbs.
At under $50 it's a great portable lockbox for use in the home or car and works well for the budget-minded. Certainly consider a more substantial safe first, but this is a good option in the right circumstances.
4. Hornady RAPiD Safe 2600KP
If a simpler, smaller safe is your preference, the Hornady RAPiD Safe is the better option if you can invest a little more. They start at under $200, but the features are the selling point.  
Dimensions are slightly larger than the Alpha Elite, at 12.7″x8.7″x 2.9″, and fits up to a full-size 1911 or 4-inch revolver. The shell is 14-gauge steel for solid durability, but it's the locking features that makes it a standout. 
The RAPiD 2600KP and 2700KP (the larger version) have three locking mechanisms, including a digital combination lock – which can be programmed for a 4- or 6-digit code, a barrel key backup and an RFID-operated lock with 5 chips included with the safe. Any of the three — the chip, combination or key — can open the lock. 
The simple 4-button interface on the 2600KP is easy to use.
The lock is powered, but the RAPiD safe is powered via cable, so it can be plugged in instead of battery-powered, though a battery-powered backup is included.  
If you prefer a sleek pistol safe with some of the best features, the RAPiD safe line is one of the best available.
5. SentrySafe SF123ES Fireproof Safe
If you want the utmost in security, SentrySafe's SF123ES is a miniature vault safe, with the same features including fire protection as larger vault gun safes. It's rated for one hour at 1700 degrees. 
The locking mechanism are four 1-inch live-locking bolts, with recessed hinges and anti-pry hinge bar around the door, with a steel shell that can withstand a 15-foot drop, even during a fire. 
The lock is a digital combination lock, powered by 4 AA batteries, with a low battery indicator on the keypad. 
The SF123ES provides 1.2 cubic feet of storage with a removable interior shelf and mounting holes on the bottom in case you want to mount it to furniture or the floor. Exterior dimensions are 19.3″x16.3″x17.8″. If mounting to a dresser or nightstand, it had better be stout — as it weighs in at 85 pounds. 
This is a real, honest-to-goodness miniature safe. Access is a blend of speed and security as you enter the code and rotate the doorknob. The only downside is the lack of a backup key and it's not exactly cheap. 
However, compact vault safes from name gun safe brands can command much more.
6. VAULTEK VTi Series
The VAULTEK VTi series are feature-packed. Among the sleeker single pistol safes on the market, they offer the best of most worlds, but do require some investment to get your hands on one. 
They're offered in subcompact, compact and full-size variants, designed around pistol sizes. 
These are ideal for bedside use, and include mounting holes with hardware to mount to a hard surface like a drawer, dresser, or nightstand. However, they also can be fitted with the included steel security cable for use in a vehicle.
The locking mechanism are two anti-pry latches, which are blocked by two sliding live-locking bolts on either side of the safe. The shell is a unibody design made of 16-gauge steel, with an anti-pry recessed door and interior hinges. 
The locking mechanism can be actuated several ways. There is a biometric fingerprint scanner, combination buttons, a nano key (RFID, included) and the safe can be operated via a Bluetooth app, which is programmed so the safe cannot be opened remotely more than 25 feet away. 
The keypad includes proximity-sensitive backlighting (your hand illuminates it, making you feel a little like a magician) and the interior has an adjustable LED light, so you wain't get stuck fiddling around in the dark.
Power comes from an onboard Li-ion battery with up to 4 months of charge. A charging cable and wall adapter are included. 
Prices start at under $200 for the subcompact VT10i, and go up from there for the VT20i (compact) and the full-size VTi being the most expensive of the bunch.
7. SentrySafe QAP2 EL Series
The SentrySafe QAP2 EL Series are SentrySafe's feature-laden pistol safes. While lacking in some high-tech features, it's a good balance of features. It's also California DOJ-approved, which is a claim not all safes can make. 
The body is 12-gauge steel unibody construction, with recessed door hinges and an anti-pry recess when the door is closed. Access is fast with a four-button digital combination pad and a backup key lock. A gas strut is installed on the door for fast access once the door is opened. 
Mounting holes are tapped in the bottom, and includes two mounting bolts. 
There are multiple sizes available, including single- and dual-pistol safes, able to store up to two full-size handguns in the largest model. The keypad and interior have LED lighting for use in low-light environments. The keypad and lighting are powered by four AA batteries, which much be replaced from time-to-time. 
While it isn't the most premium of pistol safes, there are some smart features (assisted opening and LED lighting) for the worst-case scenario, and if nothing else are rugged (12-gauge steel is no joke) and simple. Prices depend on the model but you'll be looking at just under $200 to take one home.
Pistol Safe opened with pistol inside
Safe storage is a cornerstone of responsible gun ownership. Loaded or unloaded, guns should be secured when not in use to prevent unauthorized access. 
You can think of safe gun storage as a spectrum ranging from the most secure approach to the least so. The most secure method of home gun storage is a high-quality, fire-rated gun safe. 
These are the classic gun safes that come to mind — with heavy doors, floor bolts, and room for long guns, ammunition, and other valuables. These aren't going to give you quick access, but they serve multiple purposes beyond protecting guns.
On the other end of the spectrum is something like a biometric trigger lock. These aren't safe to use on a loaded firearm, but can give you nearly immediate access for home defense without the need to open a safe at all.
The right balance between these two — safety and accessibility — would be the pistol safe. Even the simplest of pistol safes, including heavy duty lockboxes you can get at any hardware store, can prevent most accidents and are small enough to be housed next to a bed, in a nightstand, or anywhere you see fit.
So, what makes for a good pistol safe?
Handgun Safe Selection Criteria
There are a few questions you can ask of potential products that will help winnow your list down to those that will best fit your needs. 
Can you get into it quickly? How fast can you open it if getting the safe open really matters? Is an electronic keypad fast enough for your needs or would a biometric gun safe be a better fit?
Is it built for reliability? How strong is the locking mechanism? Is it easily defeated or is it fussy to open? 
Will this protect your firearms well? How strong is the safe's construction overall, and does it offer any fire protection? 
Does it offer enough space? Just how big is the thing? Will it fit where you plan on storing your firearms? The general guidance is buy for twice what you need to accommodate optics, ammo, and accessories without creating a game of tetris.
Can you mount it where you want? Can it be mounted to a surface, and how complicated is the mounting process? 
Unless you're a single-issue safe buyer, it's important to consider these facets with a goal of achieving some kind of balance. No handgun safe is perfect, but one may be perfect for you and what you want in a safe. 
Pay attention to the locking mechanism. While common key-and-barrel locks are simplest, they aren't always the strongest, often being defeated with a few smacks from a hammer or a $5 cats paw. If possible, look for a safe with at least three locking lugs and a pry-proof door.
Biometric safes offer an ingenious approach to security — a biometric pad that stores fingerprints, and pop the safe open with the touch of a finger. They depend on a quality read – which some people consider problematic in an emergency – and require a power source, meaning batteries or a constant power source.
Pistol Safe Placement
The best place to have a pistol safe is somewhere you can get to it quickly if need be, but ideally will be out of reach for tiny hands. There's no universal answer for everyone, but instead there are a few common locations. 
On a nightstand is common, though this does place the safe in a location that is available to children. If mounting a safe near a bed or nightstand, a strong, reliable locking mechanism is critical. 
On a dresser near a bed is another good location, especially a taller chest of drawers that puts the safe out of reach of small children. A tall shelf within a closet is likewise another good storage location. 
Some pistol safes are made to be mounted to a wall. Installation, however, will require locating and mounting to a stud as mere drywall will not be secure enough given the weight of even a small safe. The mounting location is influenced in part by the design of the safe itself.
Which Of These Pistol Safes Is Best For You?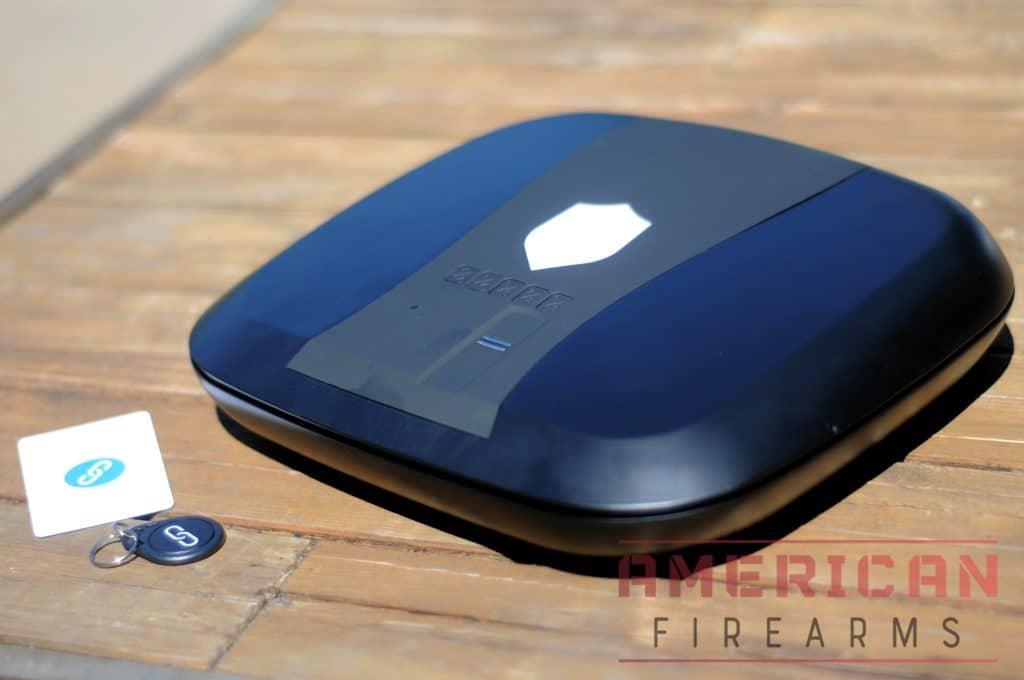 Pistol Safes wth multiple opening mechanisms give you the most flexibility.
No single pistol safe will work for everyone; you'll have to make a trade-off somewhere.
You can double-down on rugged construction and security, but you may lose speed of access. You can gain versatility, but possibly sacrifice a bit of durability. What's non-negotiable is firearms need to be locked up — especially those which can be accessed outside of a big, heavy safe.
What side you want to err on, so to speak, is the crux of the biscuit. You have to decide for yourself. Maybe you want the most steel possible between the gun and anyone else, maybe you just want a simple lockbox, or maybe you want a balance of all factors. 
That much is up to you. 
However, any one of these pistol safes — or similar ones like them — are a great fit in the right situation.
The Latest Gun Safe Reviews
The Best Biometric Gun Safes
The Best Trigger Locks
The Best Hidden Gun Shelves
The Best Hidden Gun Safes
The Best Under Bed Gun Safes