The Best Reloading Kits in 2023
Written By
Michael Crites
Licensed Concealed Carry Holder
Reviewed by
Editorial Team
Learn About The Editorial Team
Share:
Products are selected by our editors. We may earn a commission on purchases from a link. How we select gear.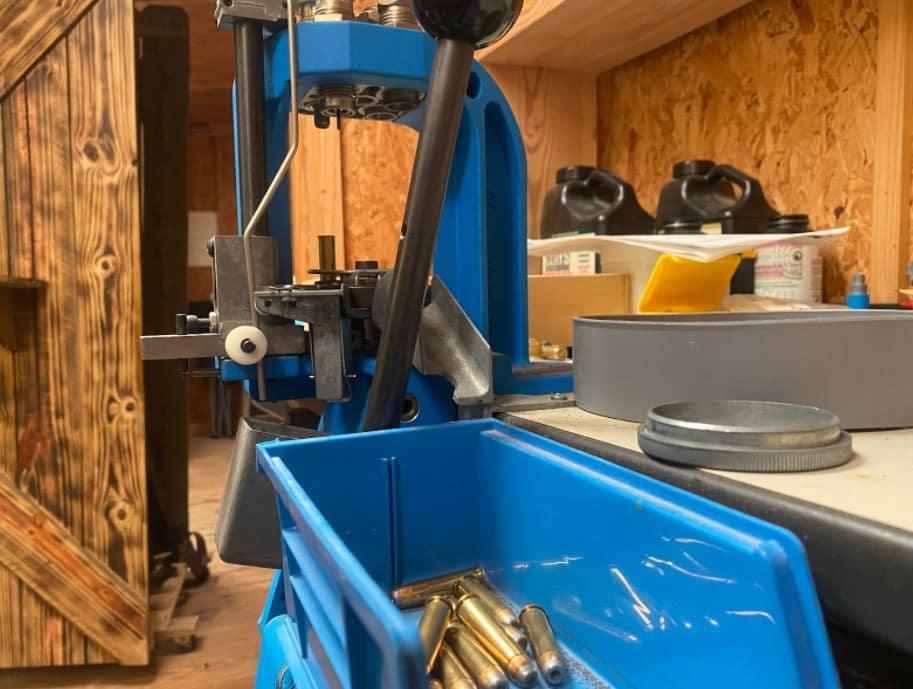 "The best time to plant a tree was 20 years ago; the next best time is today." This Chinese Proverb can also be said about reloading. If the last couple of years has taught us anything, it's that ammo manufacturers can't keep up with demand during times of pandemic and political turmoil.
If you have walked into any sporting goods or gun store in the past year, you have seen the empty shelves, where boxes of ammo were once in abundance. Even if manufacturers could afford to install the needed machines and invest in the talent to operate them, would it be enough?
Therefore, many of us gun owners have realized the need to start reloading for the first time.
Think about it: you can pay three times the regular price for a box of ammo or reload it yourself for below retail price. Take 9mm, for example; it's possible to reload it for $0.30 per round; if you were to go out and purchase that round, it would cost you nearly $1 per round. Don't forget you have much more control over the process, making the ammo you reload more consistent.
If you own a firearm in a rare caliber, reloading might be your only option as manufacturers mass-produce the most common calibers to maximize profits.
You can have fun while creating incredible bonds with friends and family while you reload together. I spent many hours with my grandpa shooting and reloading his custom-built .45ACP as a teenager. We have a fantastic bond to this day because of the time we spent in the shop all those years ago.
So let's recap. Reloading:
Provides comfort knowing you have ammo when you need it most
It is less expensive than buying factory ammunition
Produces more reliable ammunition
It offers the ability to make rare ammunition.
Is FUN!
It is Family bonding time.
Below is my list of the best reloading kits. I list the best choices in terms of value, performance, design, and cost.
Click on the name to head to the product page, read reviews and check prices or skip ahead to the list of reloading kits.
| Name | Type | Rounds/Hour | Price |
| --- | --- | --- | --- |
| | Single Stage Press Kit | 600 | $679 |
| | Turret Press Kit | 200 | $185 |
| | Progressive Press | 500 | $576 |
| | Progressive Press | 400 | $348 |
| | Progressive Press | 400 | $751 |
| | Hand Press Kit | 250 | $76.99 |
| | Shotgun Press | 100 | $76.99 |
Why You Should Listen To Us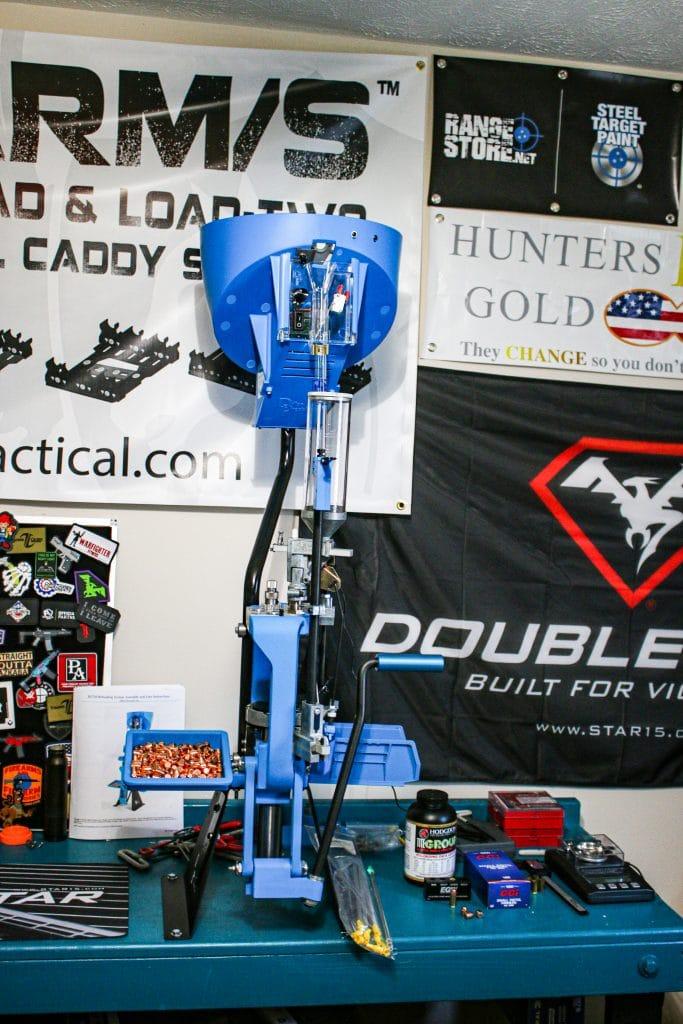 My Dillon XL750 reloading press knocks out 5.56, 9mm, and everything in between.
You can read countless articles claiming that they know what's best for you, but they have no interest or experience in the firearms industry.
That's not us.
We want to walk alongside you and help you decide which reloading press is best for you. We have done most of the hard work in compiling 7 of the best reloading presses on the market.
This list is not randomly generated. It was created after hours of online research, speaking with experts, and hands-on experience.
Yes, we own and use some of the products we recommend on this list.
As mentioned above, we've spent many hours sitting at our grandpa's reloading press and testing that ammo at our local gun range. Several of our friends reload as a hobby and use the products on our list.
We covered the spectrum from reloading kits for beginners to experts. You will find pistol, rifle, and shotshell reloading kits all making the list below.
1. RCBS Rock Chucker Supreme Master Kit
RCBS is known for making quality reloading products for beginners and experts alike.
The Rock Chucker Supreme Master Reloading Kit is great for beginners because it comes with MOST of the reloading equipment you will need to get started, but be prepared to purchase more. The single-stage press is perfect for an expert interested in precision loading and keeping everything simple for a beginner.
Some of the tools included in the kit, like the scale, work decently but are not the top of the line. Consider purchasing a digital scale if you find you enjoy reloading because a digital scale is far more accurate and reliable than an analog scale like the one that comes with this kit. Digital scales are also smaller, so your accessories will take up less space. The outdated Nosler reloading manual lacks many calibers, such as 50 cal. and only focuses on Nosler bullets. Purchase the Lyman Reloading manual to help expand the range of your reloading knowledge. You will still need to buy the correct dies and all the materials for the ammunition itself.
The RCBS Rock Chucker Press quality is solid; since it's built from cast iron and has a simple design. It will last a lifetime. Overall, it's a great kit to help you get started reloading.
2. Lee Precision 4 Hole Turret Press Deluxe Kit
Lee Precision is the best brand for people new to reloading. The entry-level pricing offered by their 4 Hole Turret Press ensures you won't break the bank to get started reloading.
This turret press deluxe kit includes everything you will need to get started, including a reloading manual. You will need to purchase the consumables, but you should have the basics covered with this kit, accessories, and tools.
This press gives you the versatility to load pistol or rifle rounds. Lee claims one can load 250 rounds per hour once it's set up correctly. This press is designed simply enough for beginner reloaders to catch on quickly and should last you your entire reloading "career."
This kit offers beginners the best overall value.
3. Hornady Lock N' Load Press
Hornady is a staple in the ammunition market. In addition to their reputation for high-quality ammunition, Hornady also makes some of the best presses on the market.
This is not an all-encompassing kit, so you will still need to purchase many other tools and accessories. The Lock N' Load is a progressive press with case-activated powder drop, so once you have it set up correctly, you can pump out up to 500 rounds per hour without completely skimping on quality.
The cast iron construction requires a bench or stand to mount to but ensures a heavy-duty press. The design allows for changing calibers in a matter of seconds, so if you plan to load multiple calibers, this press will meet your needs.
The Hornady Lock N' Load is excellent for intermediate to expert level reloaders who already have the accessories and tools not included with this press. If you're a reloading beginner, consider the Rock Chucker or Lee Precision reloading kits because they will minimize initial set-up costs.
4. Lee Precision Load Master 45
Lee is considered to be an entry-level brand for reloading. They have their haters and naysayers, but they also have their devoted followers.
The Load Master 45 only includes the press itself. For the price compared to other progressive press brands, you cannot beat it. However, this is a pistol-only press, so if you plan to reload rifle ammunition, you should look at the Lee Precision Classic Turret Press or the Rock Chucker. Out of the box, it will reload .45 ACP not .45 Long Colt because the cartridges of the .45 Long Colt are too long. You can purchase separate dies and shell plates to reload calibers other than .45.
The press is made from cast aluminum, so it is lighter than some other options. The aesthetics of the press does leave one wondering how long it will last; however, its versatility allows you to use it as a single-stage or automatic indexing progressive press.
If you're on a budget below $500, are new to the world of reloading, or only reload pistol calibers, then the Lee Precision Load Master 45 is an excellent option for the price. Many people love this press once it's set up correctly.
5. Dillon Precision 4 Stage Progressive Reloader
Dillon is known to make top-of-the-line reloading products. Their products are trusted by professional competitive shooters and firearms enthusiasts such as myself. You know you will achieve quality reloads; however, it is also one of the most expensive brands on our list.
Their RL 550 C Press enables you to reload over 120 rifle and pistol calibers. It is a progressive press, so you can produce a large amount of ammunition quickly because the press has multiple rounds at different stages of the reloading process at once. However, it is manually indexing, meaning you will have to move the shell plate to the next stage, unlike with an auto-indexing press. If you prefer, Dillon sells other models that are auto-indexing such as the XL 750. However, you will pay at least $400 more for this feature.
Ideally, this is not a press for the beginner as it lacks most of the tools and accessories you will need to get started. However, if you're looking to upgrade your setup to the top-of-the-line universal reloading progressive press, then Dillon has you covered.
6. Lee Precision Breech Lock Hand Press Kit
The Lee Precision Breech Lock Hand Press Kit is perfect for someone who likes to reload on the go or the reloader with limited bench space.
This kit offers the ability to reload pistol and rifle ammunition by ordering the set(s) of dies you need to get started reloading. This kit does not come with a manual or scales; however, the price allows room to purchase the tools and accessories you need.
At less than half the price of bench presses, this kit is for beginners looking to test out reloading without spending a fortune. It's also an excellent addition for someone looking to take their reloading station mobile, like the range. The Lock hand press kit is the best starter kit for firearms enthusiasts who don't have the space for a full-size press.
7. Lee Precision Load All II Shotgun Press
Lee designed this shotgun-specific press for those of us who love the excitement of shooting our shotguns. As usual, Lee Precision produced another budget-friendly product under $100 that is sure to last you a lifetime of reloading shotshells.
Depending on the exact model you purchase, you can load 12 gauge, 16 gauge, and 20 gauge shotgun shells.
This is the press only, so you will still need a few other tools and accessories, including a shotshell-specific reloading manual. You can reload up to a 3" shell with this press which means you will be limited on your choice of shell lengths.
A single press is not interchangeable with more than one gauge, so you will have to purchase a separate press if you want to reload multiple gauges. Thankfully, the price point of $80 is reasonable even if you need to buy multiples.
The Load All II is for the beginner or advanced shotshell reloader.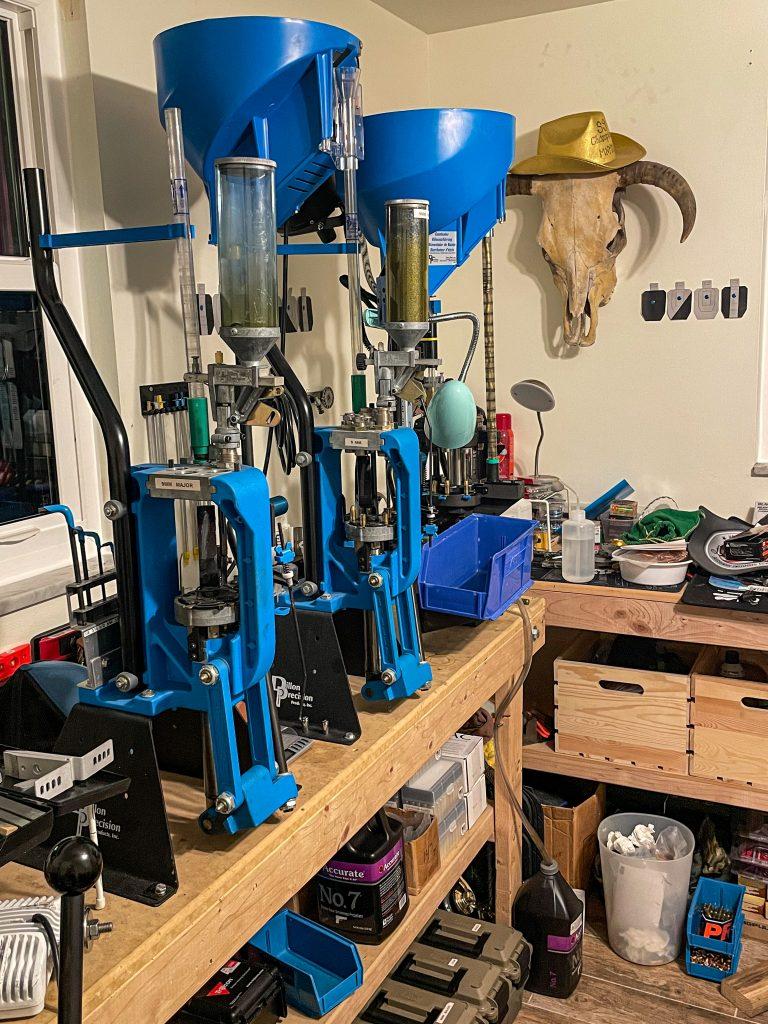 Dry Tumblers - Garage Setup
All kits are not created equal. Some come with all the tools of the trade, and others will require you to purchase accessories to finish out your reloading kit. So while the price is a good starting point, be sure to pay close attention to the actual contents of the kit, not just what's in the picture.
Let's break down the different types of presses first. Then we will break down the other tools you will need to get started.
Single-Stage Reloading Press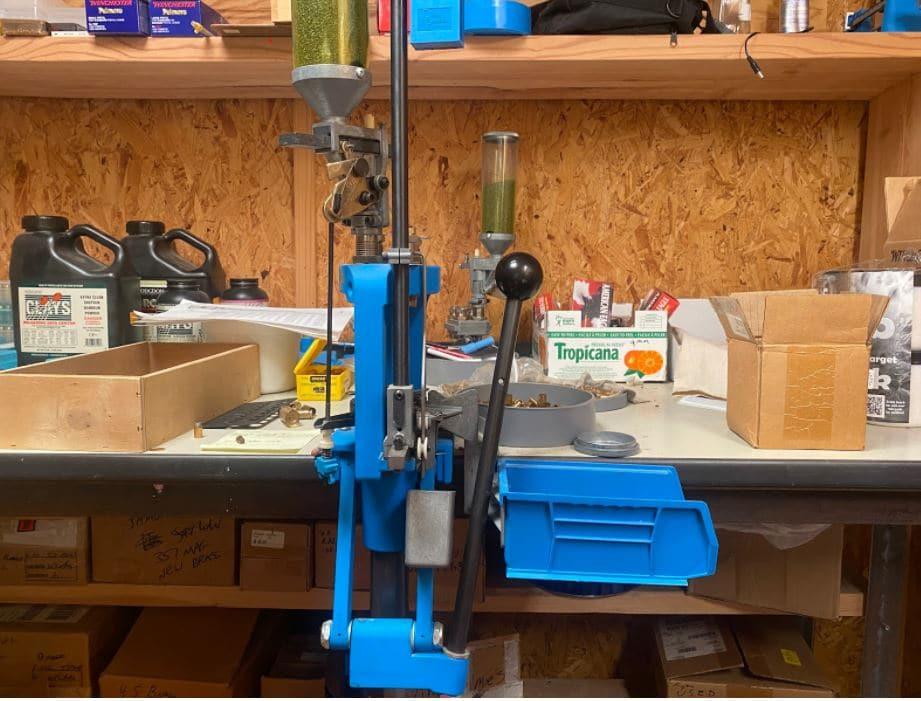 reloading supplies
The least expensive and most beginner-friendly, a single-stage press is also the most accurate of all presses. Because the press only holds one cartridge at a time, it is also the slowest of the press types.
While slower than turret or progressive presses, single-stage presses tend to be easier to learn on due to the one-at-a-time process. This simplicity helps you get each round correct by avoiding distractions.
Turret Reloading Press
Depending on the model, the turret holds multiple dies at once and allows them to be rotated manually or automatically.
This function allows you to load multiple rounds simultaneously, speeding up the process while maintaining accuracy. Turret presses are great for intermediate ammunition recyclers.
Progressive Reloading Press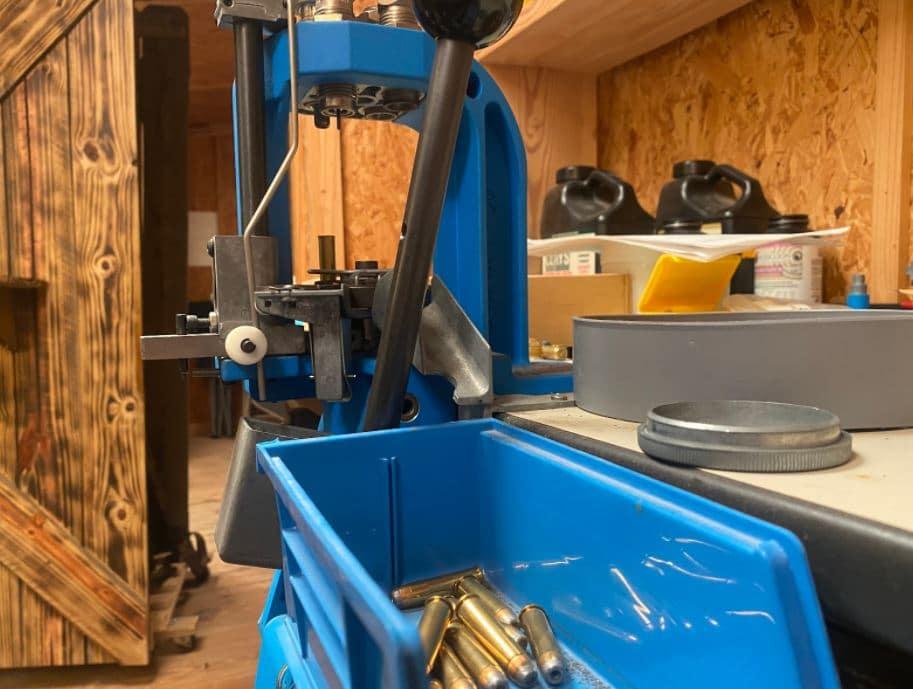 single stage reloading press in action
If you're primarily concerned with maximizing your production volume, look into progressive presses. They also have a turret but differ because of several other features, such as a case feeder, powder measurer, and automatic round dispenser, which simplifies the finishing process by popping the finished rounds out of the press for you.
A progressive press does remove some of your control of the reloading process. However, you will still produce more accurate and consistent ammo than the boxes you can buy at the store if you can even find it.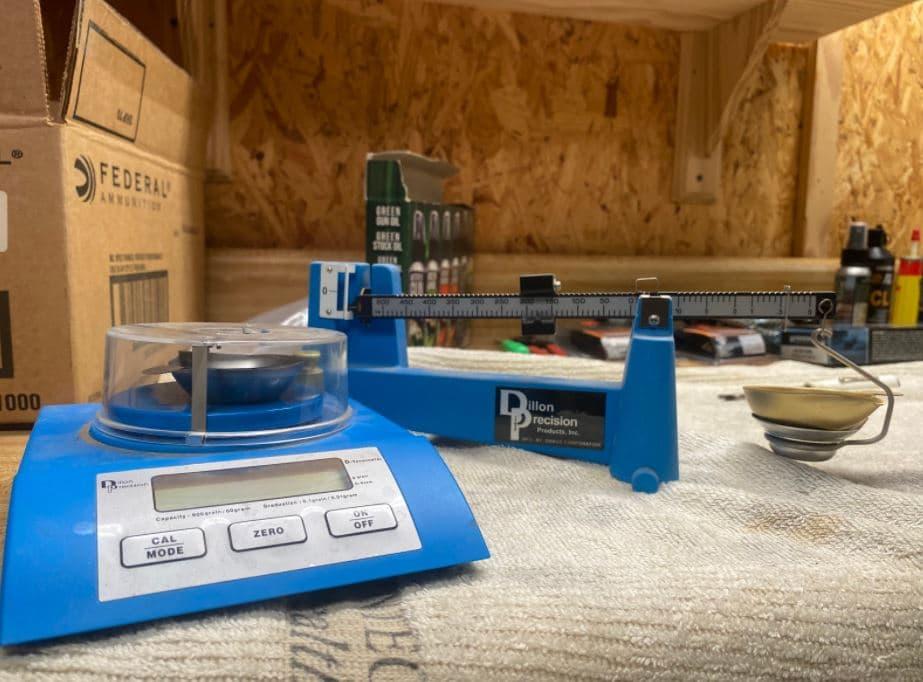 digital scale for measuring powder
While it's reasonable to focus on the press when you first consider getting into reloading, a good kit comes with more tools than just the press, which is great because you will spend less time figuring out what you're missing.
You will need most, if not all of the tools listed below to get started reloading. Yes, this list may seem overwhelming to purchase separately; that's why we recommend purchasing a kit that has as many of these tools included as possible.
Up-to-date book on reloading
Powder scale
Powder trickler
Powder funnel
Powder measure
Shell holder
Reloading die(s) in the correct caliber
Case lubricant and pad (needed for most but not all calibers)
Priming unit
Priming tray
Hand Priming Tool
Primer catcher (not needed to get started but
saves on the mess)
Dial indicating caliper
Deburring tool
Case trimmer with pilot
Case tumbler (not required to get started)
Safety glasses
About Reloading Scales
While it may be tempting to use a bathroom scale for reloading projects, that never worked for me. Digital scales and mechanical scales will both work as long as they read in grains avoirdupois. In English, that means they have to be highly accurate in tiny amounts.
Accessories
As you progress in your reloading skills and knowledge, you will inevitably want to purchase more tools and accessories. You will find no shortage of options when it comes to additional accessories, such as reloading dies, measuring devices, and case cleaning kits. If I've learned anything from the firearms industry, there are always cool new gadgets to find.
While it's possible to reload at the kitchen table, your marriage may not survive it. A suitable workbench and a comfortable chair are two accessories few consider when initially purchasing a reloading kit.
For Beginners
With so many options, tools, and accessories available, we recommend buying a kit that includes everything you will need to get started. It is a significant purchase initially, but a kit is often less expensive than buying all the items separately and ensures you have what you need.
Important Reloading Kit Features
Each kit listed above has specific features that helped it to make our list. Sometimes a brand stands out because of its ease of use, other times its versatility, and others stand out because of the number of rounds it can produce per hour.
Compact Hand Loaders vs. Larger Presses
As the name suggests, compact hand loaders take up less space than a bench-mounted press. Hand loaders do not offer the versatility or rounds per hour that a larger press provides, but they are ideal for people who are short on space, budget-minded shoppers, or absolute beginners.
Reloading Rifle & Pistol vs. Shot Shells
Some presses will adjust for both rifle and pistol ammunition with a few minor changes. If you plan to reload multiple calibers, you must purchase separate dies for each caliber, adding up to $400 to your overall cost. Loading rifle and pistol ammunition are similar enough that the press can be adjusted to fit each scenario which is great because you won't have to buy a separate press.
However, if you also plan to load shotgun shells, you must purchase a separate press. The process of reloading shotshells requires different features like inserting the wad, adding pellets, and crimping a shell is very different from crimping a casing.
Ease of Use
A feature that few consider is the ease of use. If the press is not user-friendly or downright complicated to use, you're not going to want to use it. While progressive presses have a lot going on all at once, they are relatively straightforward to use once you get them set up. So you can start reloading ASAP.
Materials & Supplies
You can purchase the cheapest materials to save money, but remember, you will end up with low-quality ammunition. If you're just having a fun day at the range, this isn't such a bad thing, but if you're in a competition or hunting, cheap ammunition can cause you to miss or, worse, wound your target.
Consumables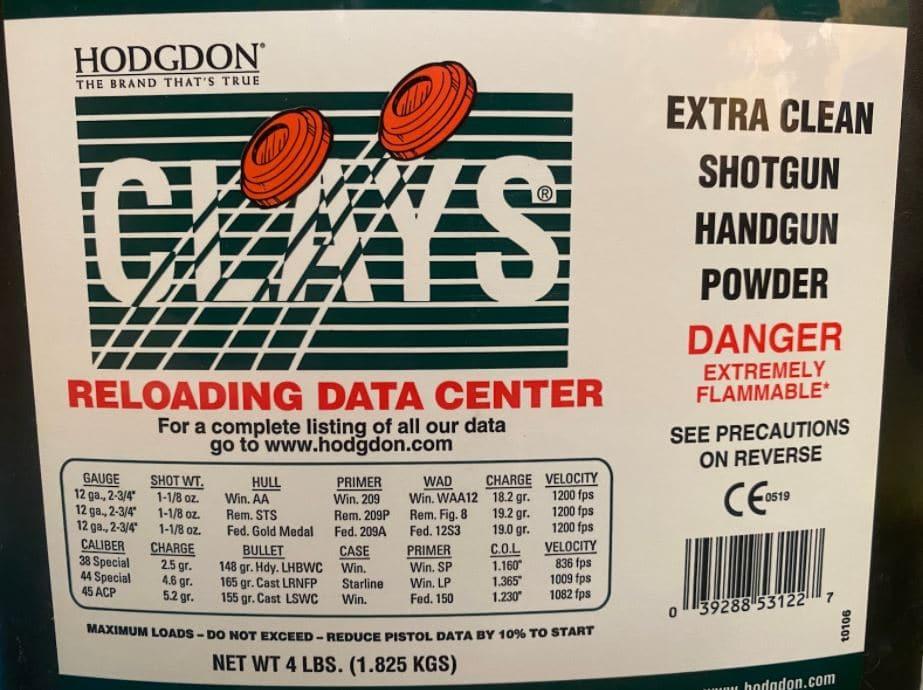 gunpowder
Consumables are the materials from which you get only one use, such as primers, powder, wads, bullets, and pellets. Once you fire the round, you cannot reuse them, so stockpiling these materials is a must, especially when finding them is challenging.
Rounds Per Hour
Many factors must be considered to determine rounds per hour. As a beginner, you will want to focus on the quality of the ammo instead of rounds per hour to ensure you are making usable ammunition. As you progress, you will naturally be able to produce more rounds per hour.
Upgrading to a progressive press will drastically increase your production because you will have multiple rounds progressing through the stages of reloading at the same time.
Why Get Started Reloading Ammo?
The real question is, why not get started reloading ammo? Yes, it is a significant initial investment, but over time you will save that money and more as the price of ammo continues to rise.
Reloading also means you have as much control as you want over the process of making ammunition so you can have more accurate rounds downrange. Or, if you own a gun that requires rare ammunition, you can reload to ensure you always have ammo on hand for that gun.
How To Get Started with Reloading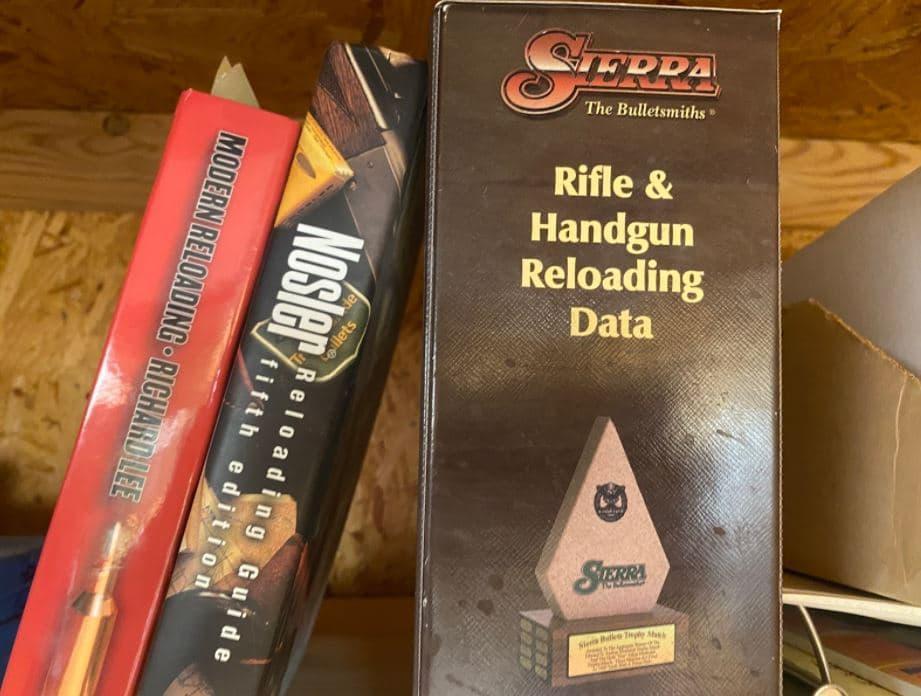 reloading books
The best way to get started reloading is by finding a mentor, someone who already reloads. Check out their setup and use it for yourself. Test out as many brands and presses as you can.
If you're unable to find a mentor, reading books and articles like this one is a great way to gather information. Watching videos on other people's setups and mistakes is another way to become informed on reloading.
Once you've gathered your information, it's time to put it to the test. You will need to purchase a kit and begin reloading. Yes, you're going to make some mistakes initially. That's why it's best to have a mentor. They can guide you to the best practices and help you avoid the mistakes that they've made.
Reloading Kit Price Ranges
Under $500. Like every other product, the price will determine the quality of the product and the available features. It will be challenging to find a kit that includes everything you need for less than $500. Typically you will be getting a handheld single-stage press with several of the accessories at this price.
$500-$1,000. If you're willing and able to spend over $500, then your options drastically increase. The best reloading kits will cost around $1,000. Now that you've woken up from fainting at the initial price, you can find many suitable kits for under $1,000, and these kits will include EVERY tool you need to get started.
How We Selected Our Recommendations
As much as we would love to test out every press on the list, that simply isn't feasible monetarily or time-wise. Therefore, we must lean on online reviews and discussion with experts and the personal experience with the products. By considering all these factors, we can give you our best advice on reloading presses.
There are times when certain products or categories are a real challenge — be it availability, cost, or simply a lack of resources — we can get stymied going hands-on with all the potential candidates. Rather than present a never-ending list of all the reloading kits on the planet, we selected those which we felt best represent the price points laid out above — giving you a solid representational list to serve as a jumping-off point for your own research (you are going to do you own research, right?)
To avoid disappointment or steering you in the wrong direction, we bolster our own experience with conversations with experts, comb through reviews on retailer sites & sales data, review industry publications, other blogs, and otherwise surface the best information available.
We aim for all thriller, no filler, as they say.

May 15, 2023 — After careful reexamination of this guide, we stand by our present reloading kit recommendations. We've added and updated images and links where appropriate.
Sign up for our newsletter
Get discounts from top brands and our latest reviews!