Find Your Perfect Fit: The Best Shooting Gloves Tested
Written By
Michael Crites
Licensed Concealed Carry Holder
Reviewed by
Editorial Team
Learn About The Editorial Team
Share:
Products are selected by our editors. We may earn a commission on purchases from a link. How we select gear.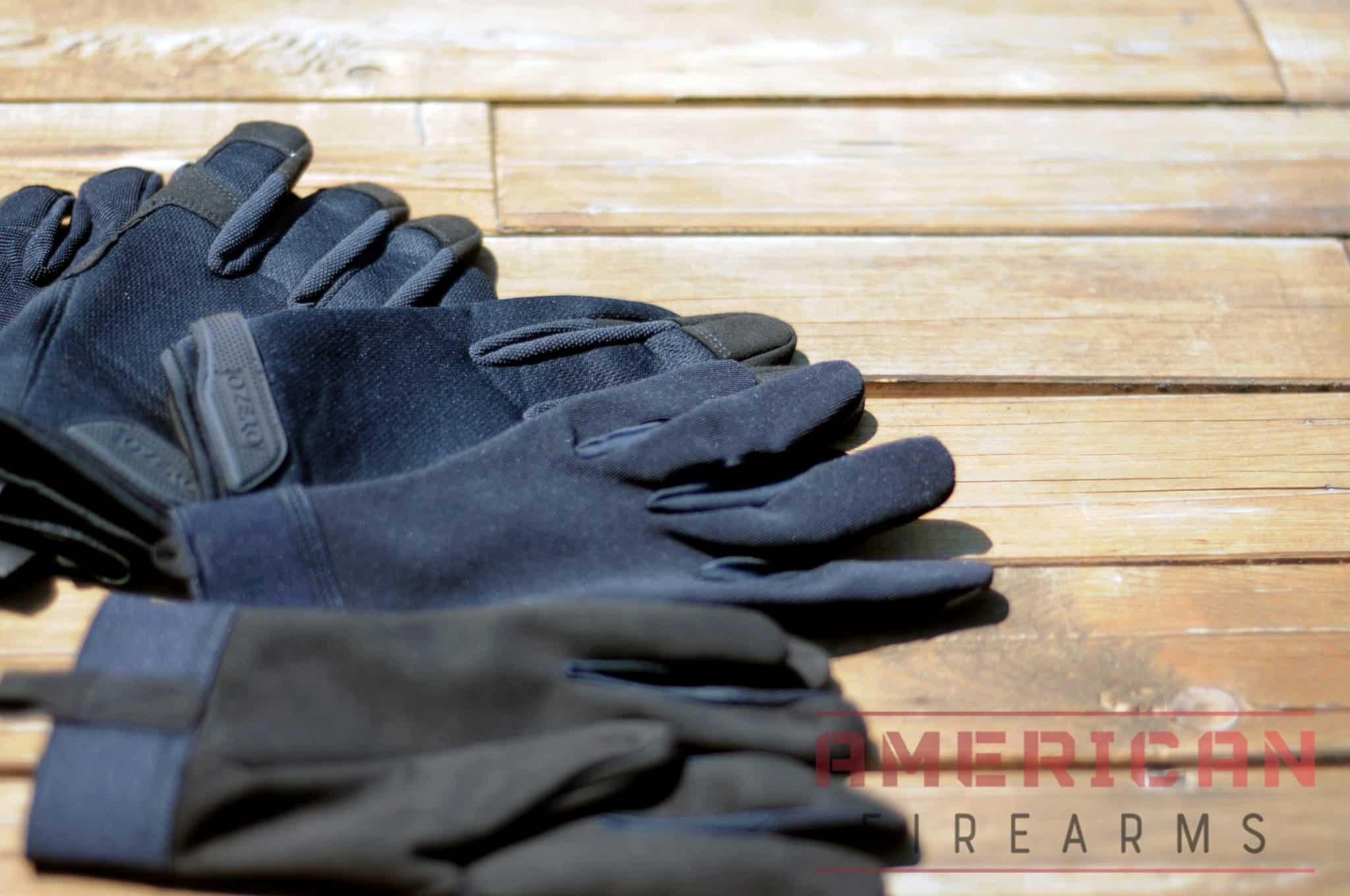 With a hobby like shooting, safety accessories abound. Of course, we recommend that eye and ear protection accompanies every shot you take (so that you can keep shooting for years to come) – but what about your hands?
Putting all the tough guy pretense aside (some of us certainly take pride in our calluses & scars), certain injuries just plain suck, and anyone would want to avoid them at all costs.
For example, have you ever had a sunburn on the backs of your hands? It's awful, will annoy you for days, and impact your ability to shoot accurately. Same with burns from shell casings or other injuries you can sustain at the range.
Also, especially for some of us in the northern parts of the world, it can get awfully cold out for good portions of the year, and you'll still want to be able to use touchscreen devices to ensure you nail emojis as well as downrange targets.
Therefore, I experts recommend a good pair of tactical gloves to add to your shooting accessories. It's impossible to test very glove on the market, but I pulled together some of the very best with the goal of giving you a representative slice of the features, styles, and materials that you should be looking for when combing through the pile of gloves available today.
Shooting Glove Comparison
Below is my list of the best shooting gloves. I list the best choices in terms of value, performance, reliability, and cost.
Click on the name to head to the product page, read reviews and check prices or skip ahead to the list of gloves.
| Glove | Selection | Price |
| --- | --- | --- |
| | Best Overall | $49.95 |
| | Best Touchscreen Performance | $14.96 |
| | Best Feel | $29.95 |
| | Best Thermal Protection | $49.95 |
| | Also Great | $35.00 |
| | Grip & Dexterity Runner-Up | $29.95 |
Material and construction
We first assess the durability of the material by stretching, twisting, and bending the gloves, then inspect the seams and stitching for any signs of fraying or loose threads.
Comfort and fit
We evaluate the fit of the gloves, including the finger length and overall size, noting any particularly long or loose aspects of the fit. We then test the flexibility and range of motion of the gloves by making a fist and extending our fingers to see if there's any bunching or pulling.
Dexterity
We evaluate the gloves' impact on dexterity with what I call a "Mag Race". This is a great way to see how much a glove negatively impacts tactile sensitivity.
Thermal protection
We then test the gloves' ability to protect against extreme heat as is common with long shooting sessions, shooting in hot environments, or shooting in direct sun.
More on our glove testing process
1. Best Overall: Magpul Patrol
In a more rigorous round of testing this year, the Magpul Patrol 2.0 Gloves have topped our list of the best shooting gloves.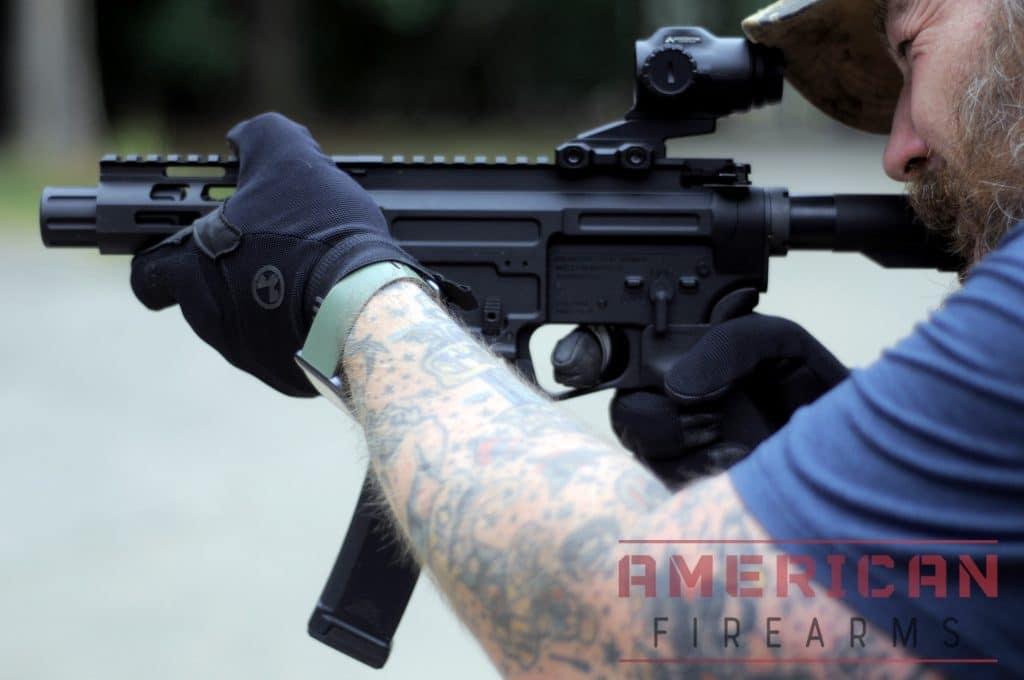 The Magpul Technical Glove 2.0 hits a real Goldilocks Zone of fit and protection. They're never too hot but your hands always feel wrapped in protective comfort.
Material and construction
After testing the Patrol 2.0s in the field with ARs, handguns, shotguns, and a fair bit of mountain biking, they offered better comfort and control than the Rothco's.
The leather palms are goatskin which, if you've had to administer shots to a goat like I have, you know is absurdly tough. It's also supple — I had no issues actioning controls on rifles or loading magazines with the Patrol 2.0s.
The palms are also "articulated," — which basically means there's a slit in the leather on the pinky side of the glove that is supposed to help with dexterity.
Does it? Maybe. There's no non-articulated Patrol 2.0 to test, but it's an interesting feature nonetheless.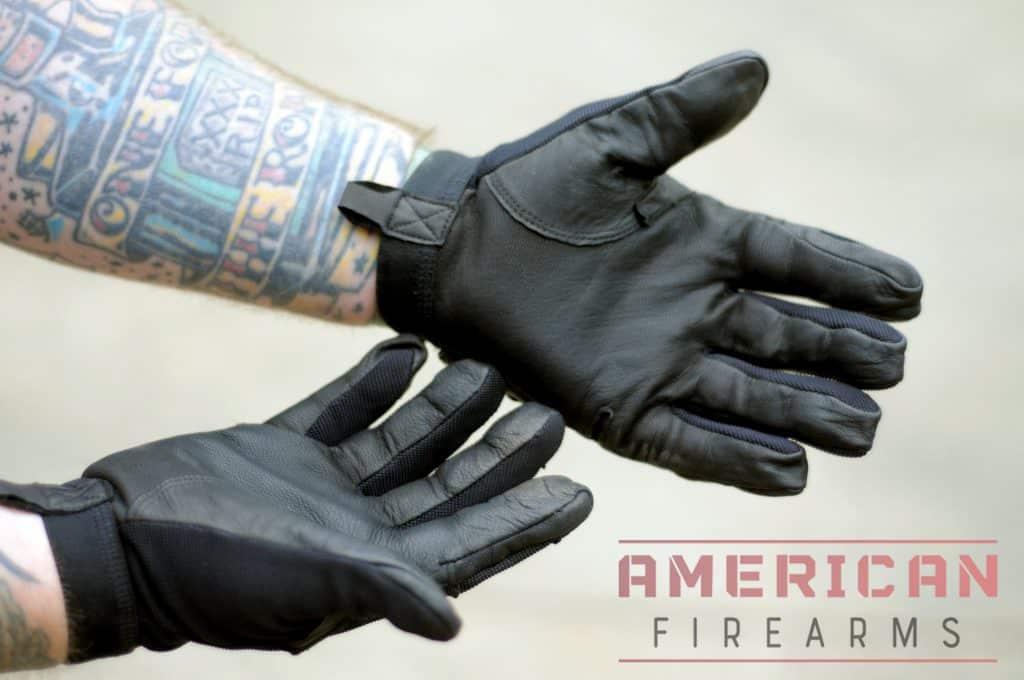 The Patrol 2.0 palms are goatskin, which is tough stuff but really comfortable and supple. It also sheds water pretty effectively, but that means they're less effective at wiping sweat away from your eyes than woven material. Also, touchscreens will only register the central panel on the fingers -- so make sure the fingers of the gloves are aligned to your fingers or taps and swipes will be hit-and-miss.
Grip and sensitivity
The main issues I have with Magpul's gloves — both the Technical and Patrol 2.0 — are the lack of an adjustable wrist closure and the touchscreen support.
Magpul uses a compression-molded neoprene cuff on their gloves, which once on is comfy — but getting them on the hand requires more effort than gloves with a Velcro closure. I recently received a shoulder injury, and pulling the gloves on was slightly painful with a jacked-up shoulder.
Touchscreen support is so-so. Swiping worked well — my phone consistently registered a swipe when unlocking the phone or closing an app with a swipe, but more delicate maneuvers — like opening apps, selecting an email, or typing out a message — aren't easy — and often require multiple taps or extended holds to activate.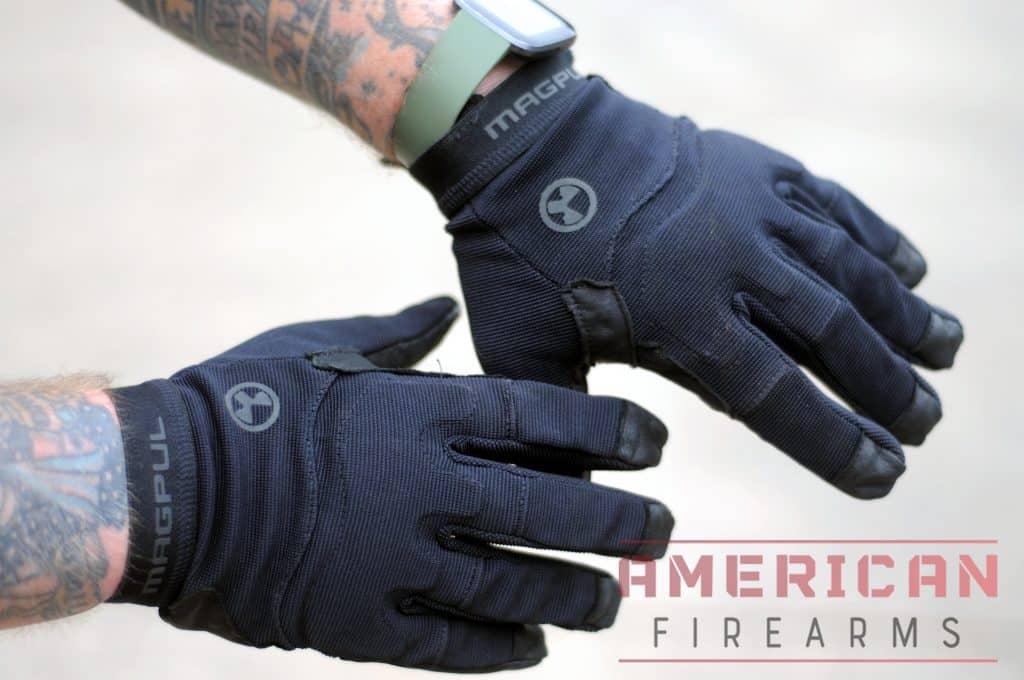 The Magpul Patrol 2.0 gloves uses a slight padding across the knuckles to add protection. The additional material also adds to heat retention.
Thermal protection
In our Hot Bottle thermal protection test, the Patrol 2.0s enabled me to hold onto the boiling hot aluminum bottle for 15 seconds, good enough for third on the list behind the North Face and OZERO gloves.
Dexterity
What surprised me was how well the Patrols faired in our Mag Race test. I thought the slick leather would work against me, but it proved to have a really natural feel that enabled me to fill a Glock mag with ten 9mm rounds in 20.7 sections — or just about a second and half slower than bare hands — and the fastest of our test gloves.
Comfort and fit
The Magpul Patrol 2.0s dried quickly when doused with water, form fit nicely with a few uses, and ultimately impressed me enough to become my go-to gloves for most things when I want something other than lightweight protection.
Pros:
Fastest in our Mag Race test
Goatskin palm is tough and supple
Offers best mix of protection and comfort
Will work across both hot and cold climates
Cons:
Touchscreen support is so-so
Neoprene cuff can be tight
Pinky has a lot of excess material
2. Best Touchscreen Experience: OZERO
While no glove is going to be as accurate as typing with your bare hands, the OZERO Tactical Gloves are shockingly accurate — and less than $15 most of the time.
After years of testing gloves at the range, in heat and wet, these have proven to be the easiest to type with time and time again.
The anti-slip silicone webbing on the palms add grip -- and the conductive fiber on the thumb and index makes any touchscreen activity from swiping, opening apps, and even typing out messages, super quick and easy.
Grip and sensitivity
Even though the OZEROs have more material than the Magpul Technicals and a synthetic leather palm that's not as supple as the Magpul Patrol 2.0s, the typing experience is head and shoulders above the competition.
I can open apps like my Caldwell Ballistic Chrono app, turn on some tunes to sync into my earbuds, and tap out a message to my wife or shooting buddy almost as quickly with the OZEROs as I can with my bare hands.
Comfort and fit
They don't fit as tightly as other options, and the material is all synthetic. Still, if you need a functional glove that supports touchscreen use without fail, the OZEROs are my recommendation.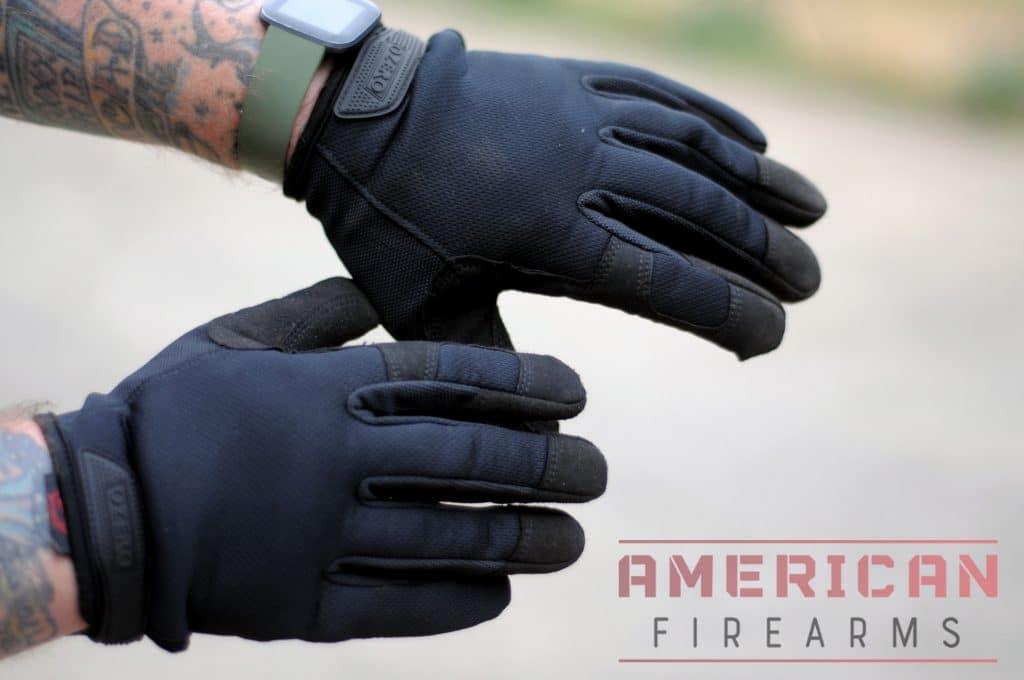 The backs of the OZEROs use a multi-layered synthetic sponge padding that offers slight impact resistance and warmth.
Although it may sound trivial, one of my favorite features of the OZERO gloves is the Velcro wrist closure. They make getting into and out of the gloves super simple and allow me to keep them together by sticking one glove to the other. This means when you locate one at the bottom of your range bag, you also find the other.
They may require a little adjusting here and there — which the Magpuls don't with their neoprene cuff — but I like the added utility of the closures.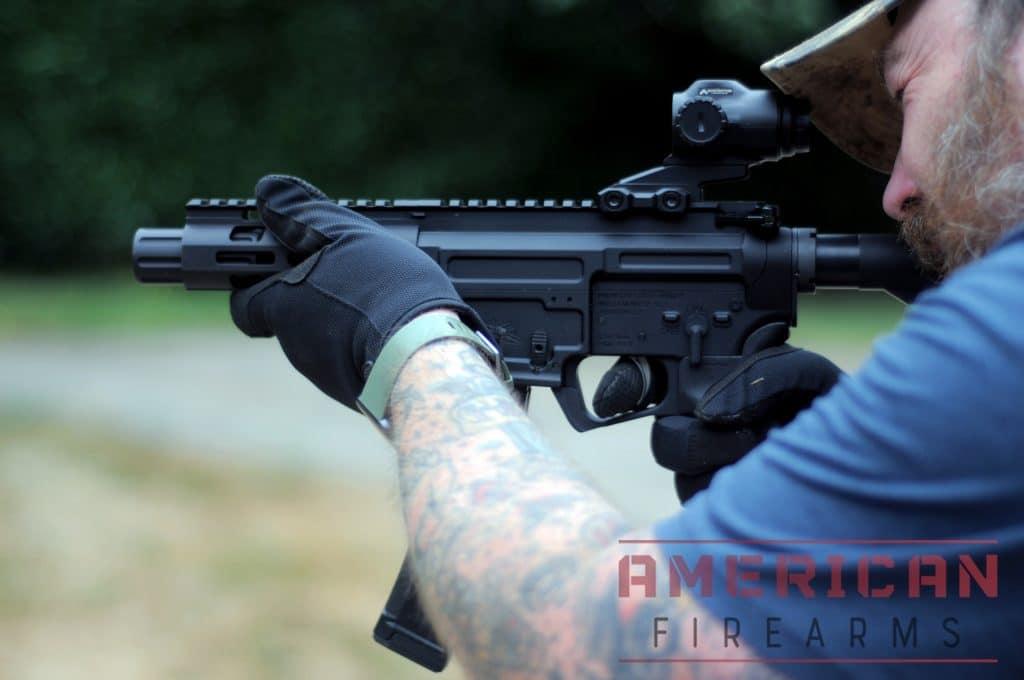 Putting the OZERO gloves to the test.
Material and construction
The principal downside of the OZEROs is the material isn't particularly high-end, but I have used these for years, and they have no signs of wear. They're not water resistant at all, so if they get wet, they stay wet for some time, and the foam padding on the backside of the gloves means they will run hotter than other options.
Pros:
Top-notch touchscreen functionality
Cheap!
Velcro closure makes them easy to adjust and keep together
Cons:
Can get hot in direct sunlight
Synthetic materials throughout
3. Magpul Technical 2.0 Glove
After testing a new round of gloves, the former top recommendation, Magpul's Technical Glove 2.0, no longer tops the list, but it does have the best feel of any of our test subjects.
They are light and durable and offer a more comfortable experience that heavier gloves can't replicate.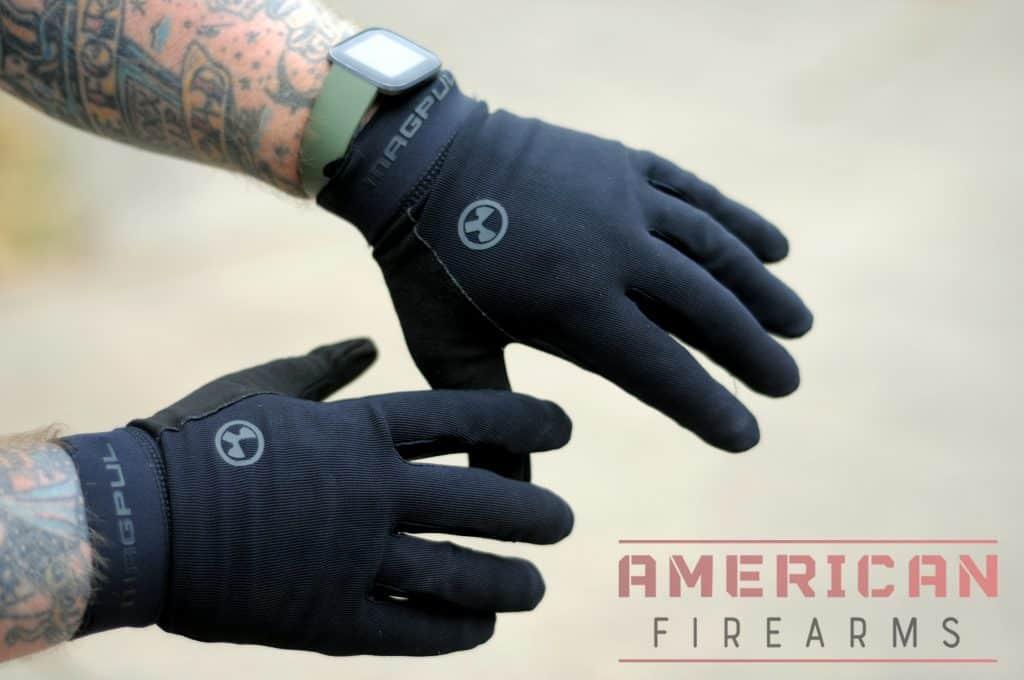 The Magpul Technical Glove 2.0 hits a real Goldilocks Zone of fit and protection. They're never too hot but your hands always feel wrapped in protective comfort.
Comfort and fit
Beyond the fit, the thing that jumped out to me about the Technical Glove 2.0 is how they blend into the background. Chances are if you're too aware of the fact you're wearing gloves, that's probably a bad thing, and at the range, the Technical Glove 2.0 do everything I want and nothing I don't.
The neoprene cuffs are compression-molded, which means they grab onto your wrists and keep the gloves in place, whether you're dropping in a new mag, racking a slide, or moving from one target to the next.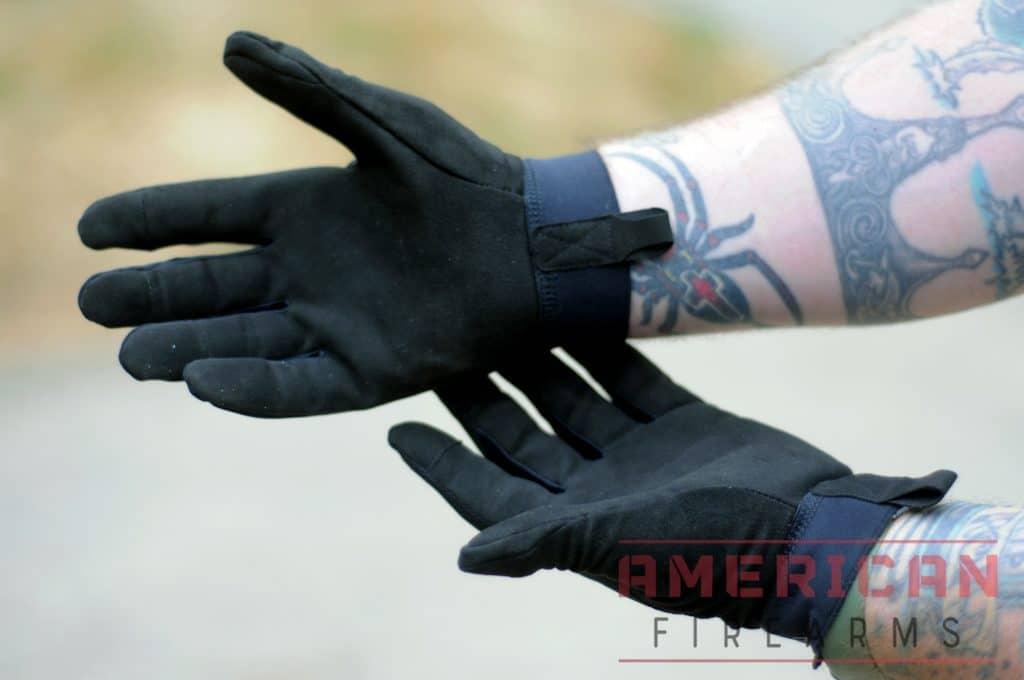 Magpul Technical Glove 2.0 palms are suede, which is both supple and tough. Plus, the thumb, index, and middle fingers are touch-enabled.
Grip and sensitivity
The touch-enabled fingers (thumb, index, and middle fingers) work reasonably well, but I often found the need to swipe up multiple times, and tapping in a passcode worked about 75% of the time. They were, however, more effective with a touchscreen than the Patrol 2.0s listed below.
There's undoubtedly lots of re-tapping with the Magpul Technicals, but no more than other touch-enabled gloves I have put to the test.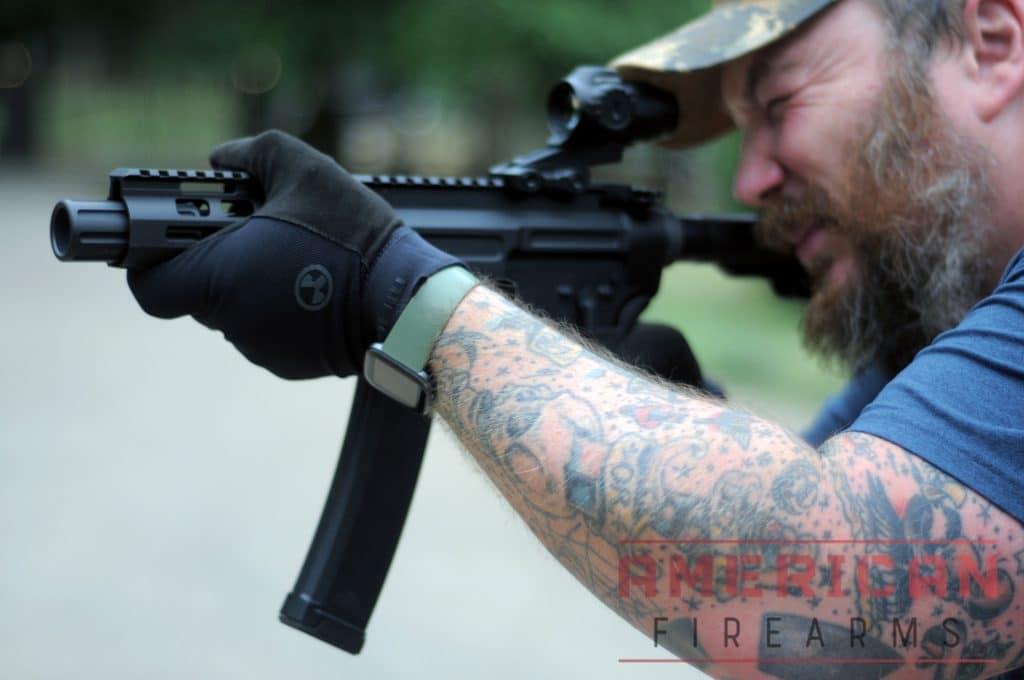 I'm a pretty clumsy guy, but the Technical Glove 2.0 never hindered actuating all the controls at the range. I did tend to drop more rounds when reloading mags, but that's a constant reality for me.
Dexterity
At the range, the Technical Glove 2.0 did what I expected — keep my hands dry and protected — without much of a fuss. I breezed through shooting rifles, AR pistols, and handguns — but I did tend to drop rounds when reloading mags more often than without gloves, but that's something I tend to do regardless of whether I'm wearing gloves or not.
With the Technical Glove 2.0, I tended to drop fewer rounds, and the feel was better than other gloves — plus, they kept my hands cooler even when shooting in the direct sun. That said, they were on the slower side of the Mag Race testing, with the suede palms adding more than two and a half seconds over my bare hand time and a fill second lower than the Magpul Patrols.
I don't have super big hands, but I have big forearms, and the compression-molded cuff felt a tad tight initially. After a few sessions (both at the range and mountain biking through some of my favorite PNW spots), the cuff loosened up and seemed to mold to my wrist size nicely.
Thermal protection
With the Hot Bottle test, the Technicals again scored on the lower end, barely enabling me to hold onto the bottle for more than 13 seconds, or 2 seconds less than the Patrols and a full 5 to 6 seconds less than the OZEROs or North Face options.
If you want a lightweight glove that will work just as well tackling a woodworking project as it will at the range, I recommend the Magpul Technical Glove 2.0.
Pros:
Great balance between fit and protection
Suede palms are fantastic
Keeps hands cool
Passable touchscreen support
Cons:
Tight cuff fit
Sweaty palms can make the suede slick
Lots of excess thumb material (for me)
Scored poorly in our thermal tests
4. Best Thermal Protection: North Face
When it gets frigid, you need a little more than a standard shooting glove. These situations call for more warmth, more protection, and more material. While no pair of gloves will keep your hands perfectly warm while giving you bare-handed dexterity, the North Face Apex Etip gloves are warm, offer a solid fit, and provide the best feel for most shooters.
They might not have the tactical looks, but they're both warm and will help you maintain as much dexterity as possible – all while protecting your trigger finger from frostbite.
Additionally, they work with most touch screens, which gets a thumbs up from us.
Pros:
Very warm, even in cold weather.
Windproof fabric further cuts down on the chill
Work with touchscreens
Cons:
Could do with a better wrist closure.
Not waterproof
5. Also Great: Mechanix M Pack
The Mechanix M-Pact Coverts are a beefed-up version of the Mechanix Pursuit gloves. The significant differences are that these have stiff plastic padding on the back of the hands for finger and knuckle protection and additional soft padding on the palm, which offers more impact protection.
Remember, though, that these are neither cut nor burn resistant. With that said, Mechanix gloves offer a broad feature set, and there's more than likely the right mix of protection and feel for most people somewhere in their product line.
Pros:
Same great features as the Pursuit in terms of closure and retention.
Has extra palm padding for impact protection.
Machine washable
The back is well ventilated.
Hardened plastic knuckles & top of fingers offers additional protection
Cons:
The plastic knuckles can impact range of motion
The plastics may not hold up that well to high heat.
6. Grip & Dexterity Runner-Up: PIG Tactical Gloves
Last on our list are the PIG full dexterity gloves. If we knew we'd be shooting in a tropical or temperate environment where precision counts, these would be the gloves we'd go choose.
They're designed to convey a "barehand shooting feel" with a single-layer palm, so there's literally as little material as possible between you and your firearm, which helps to keep them from impacting shooting performance.
They're thin and light (tying your shoes with them is a breeze) and offer reasonable protection from the heat, direct sun, and shell casings. They're performant but aren't going to last forever. But that's not a knock against these gloves; any glove is, ultimately, an item that will experience wear with use.
If you need precision, feel these are excellent range gloves.
Pros:
Super lightweight
The grip is fantastic on even polymer rifles & handguns
Wrist loops make it easy to pull them on and keep them together
Good hand and finder ventilation
Comes in a variety of colors
Cons:
Relatively thin, which may impact durability
Possibly too light for seriously cold weather.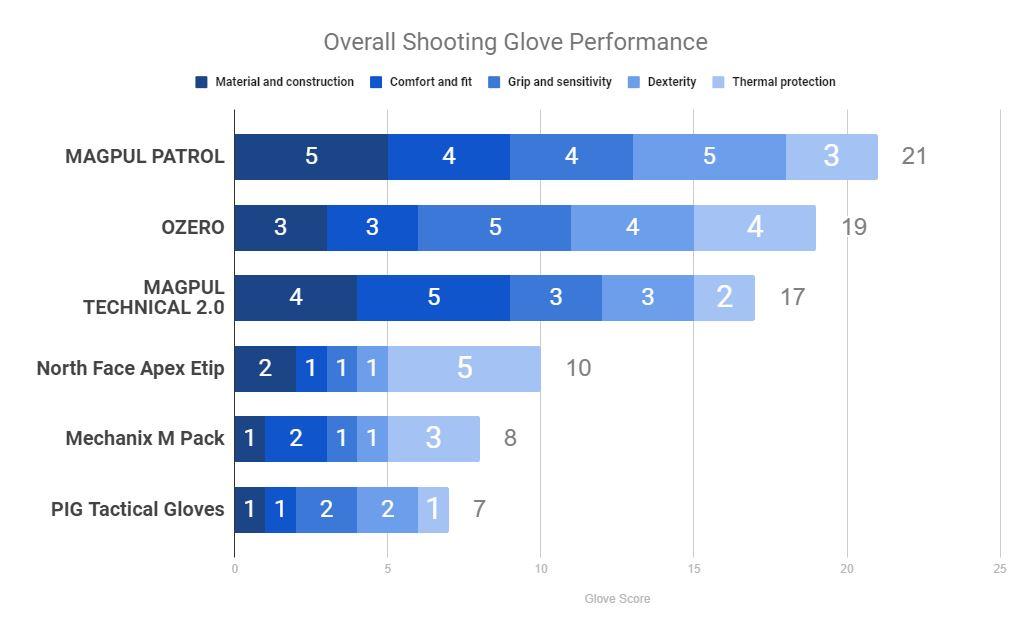 The Glove Test Results
You can see that the Magpul Patrols, OZEROs, and Magpul Technical really stood out from the crowd, with the Patrols offering incredible dexterity — in our Mag Race, they were only a second and a half slower than bare hands. They also did well when it came to thermal protection, comfort, and material.
The OZERO gloves surprised me with their grip and thermal protection, in which they second only to the North Face gloves.
The Magpul Technicals didn't hold up as well this year, as their slick suede palms provide great feel, but they're a touch slick and slowed me down on the Mag Race.
They also didn't offer as much thermal protection but would probably do well on hotter days as the backs of the gloves are thin enough and breathe well.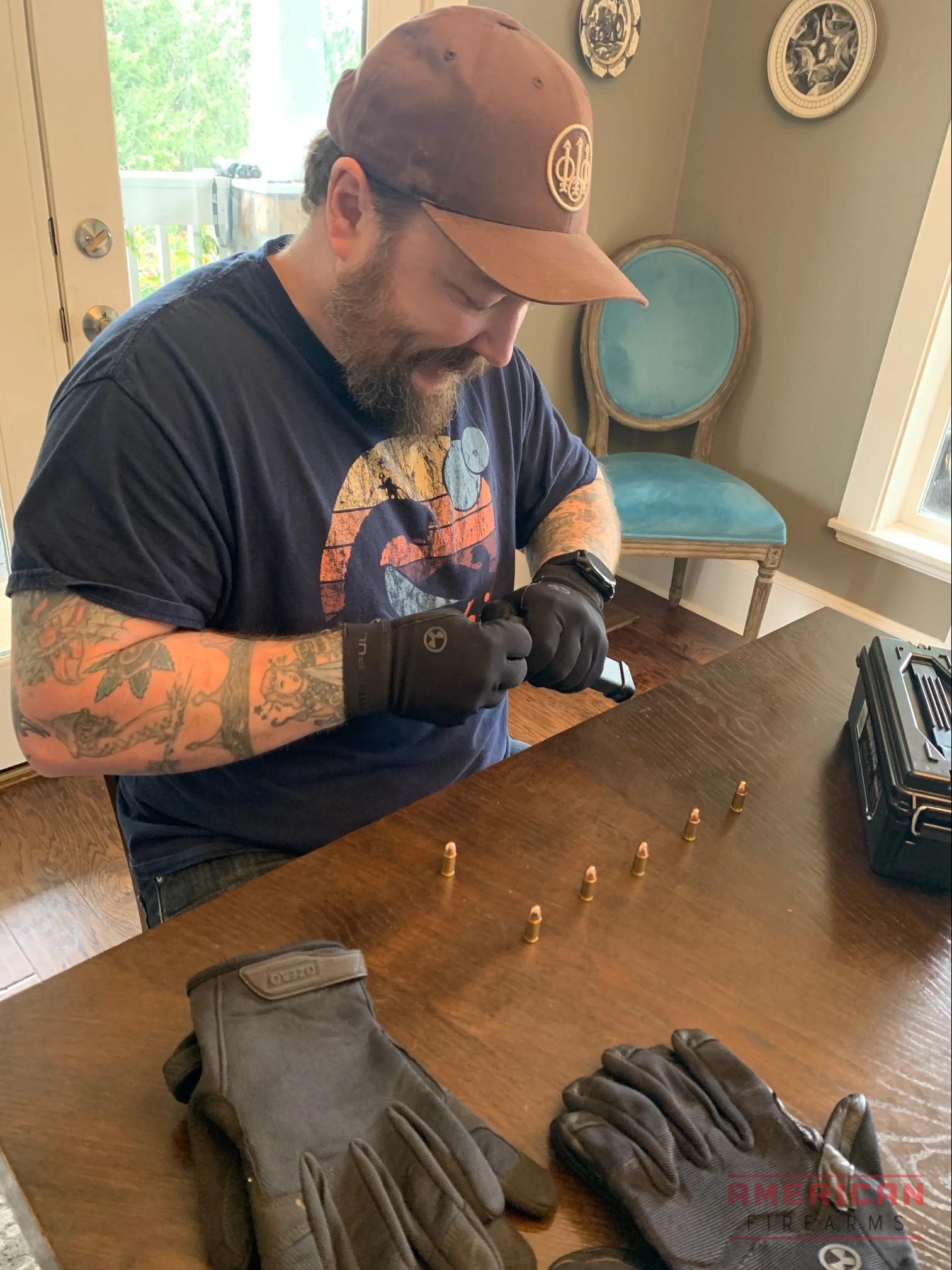 Me running the Mag Race
Our Testing Data:
Mag Race Times
Three rounds of loading ten 9mm rounds into a 33-round Glock stick, first with bare hands to establish a baseline, then with each test glove to measure impact on dexterity.
| Test Subject | Time (Shorter is Better) |
| --- | --- |
| Bare Hands | 19.2 |
| Magpul Patrol 2.0 | 20.7 |
| OZERO | 20.9 |
| Magpul Technical 2.0 | 21.5 |
Hot Bottle Test Times
We place boiling hot water into a single-walled non-thermal metal container and grab hold until the tester hits an 8 (out of 10) on the pain scale and can no longer maintain their hold on the bottle.
| Test Subject | Time (Longer Is Better) |
| --- | --- |
| OZERO | 18.9 |
| Magpul Patrol 2.0 | 15.1 |
| Magul Technical 2.0 | 13.3 |
Velcro Durability Test
We scraped the test gloves across the backs with a stiff Velcro patch to see how much snagging would occur, and you can see the Magpul Technical Glove 2.0 had almost no snagging while the Magpul Patrols had the most. The OZEROs were somewhere in the middle.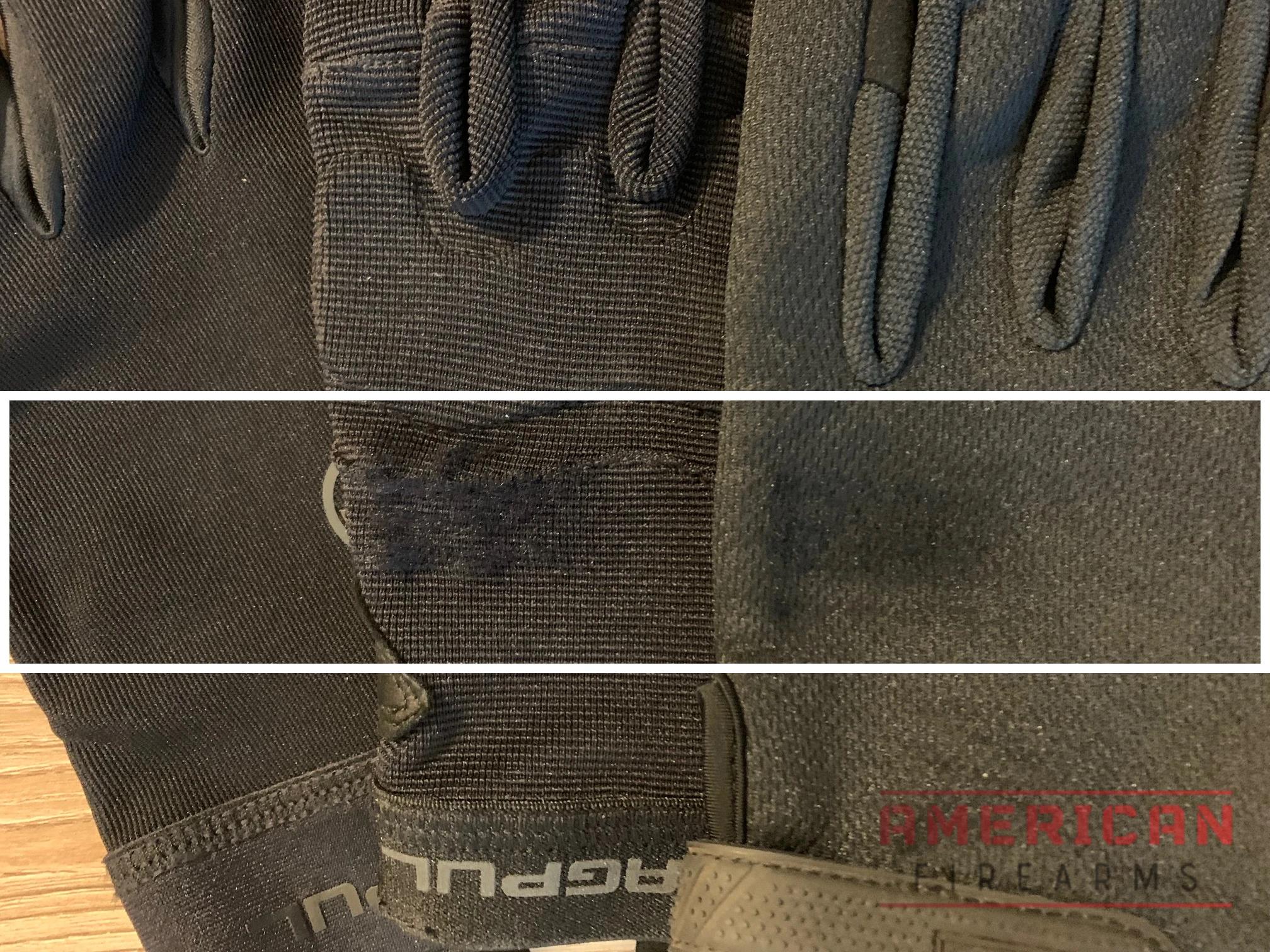 Shooting Glove Velcro Test Results: the Magpul Technical Glove 2.0 (left) had almost no snagging while the Magpul Patrols (center) had the most. The OZEROs (right) were somewhere in the middle. 
Why use shooting gloves anyway?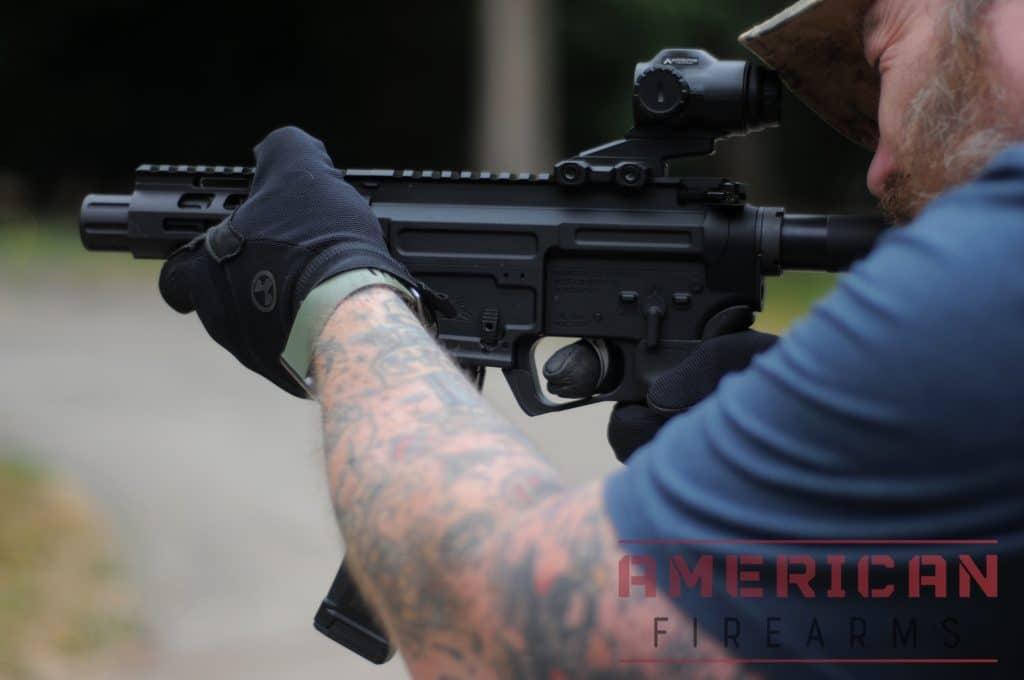 Shooting gloves can add grip and protection, but the fit has to be right or you risk adding a lot of heat and material.
A good pair of shooting gloves should do one essential thing: protect your hands. What that means will differ widely based on your situation and the context in which you'll be using the gloves.
For example, if you live in hot weather, you will want gloves designed to protect you from the sun while keeping your hands cool. At the same time, they should be thick enough to deal with the heat of a gun barrel and other hazards a firearm can create.
If you live in a place where the mercury drops more often than not, you're going to want gloves that keep your hands warm without impacting your ability to be precise with your shots, so a balance between warmth, thickness, and dexterity will be a must.
Folks in law enforcement or other environments, you'll need duty-specific gloves (often designated as "Patrol") for something a little more heavy-duty.
In those applications, we've recommended tactical gloves that have some of the features of technical gloves – like material to ensure taps and swipes register on capacitive touch screens (like those on your phone or tablet) – which are ubiquitous these days and certainly a big part of any modern career field.
These gloves have specific materials embedded in the fingers to achieve the same effect as your naked digit.
Important Shooting Glove Features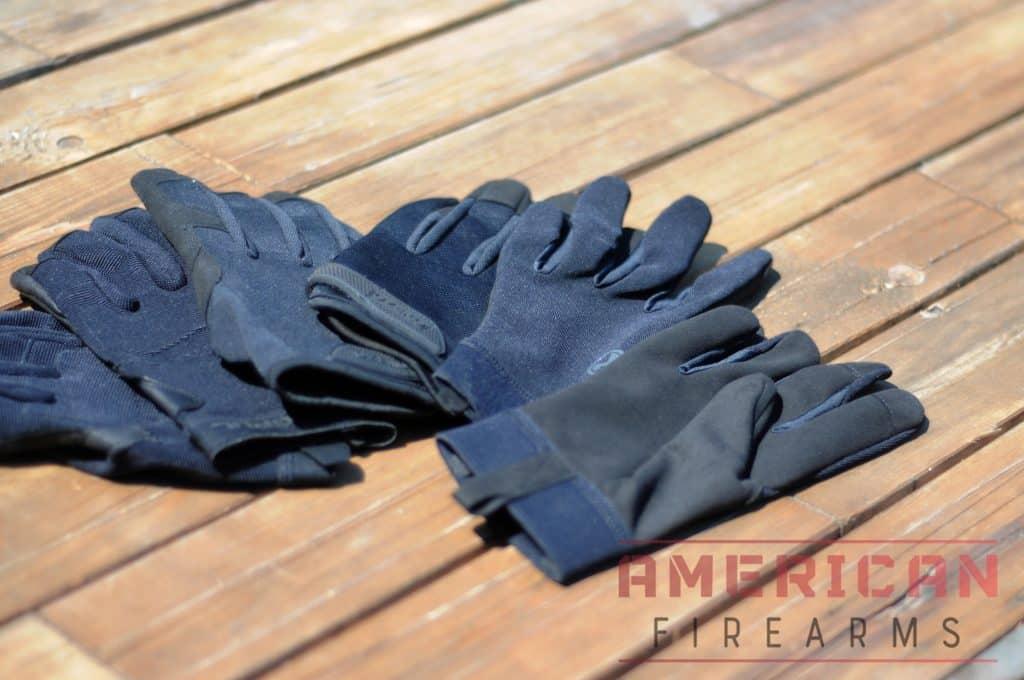 Some of the shooting gloves I put to the test.
First and foremost, you want your gloves to have a nice, snug fit. That way, you'll maintain dexterity, and all other features will work as intended. Specifically, your palms and fingers should make good contact with the inside of the glove for maximum utility.
A second thing we like to keep in mind is the wrists. Some folks tend to lose one glove from a pair like one does with socks.
That's why we like something with a wrist strap — be it Velcro or some snap system — so that we can store them together. Or, when your dog runs off with them, they'll be kept together.
While we're on the subject of wrist fit, an adjustable wrist closure is a must for ensuring proper fit and keeping dirt, snow, or other debris out of your gloves.

April 23, 2023 — Following a comprehensive reassessment of this guide and retesting with our updated glove testing protocol, the Magpul Patrol Glove 2.0 now tops our list. We've updated images and links as necessary.
Sign up for our newsletter
Get discounts from top brands and our latest reviews!