The Best Sniper & Precision Rifles
Written By
Michael Crites
Licensed Concealed Carry Holder
Reviewed by
Editorial Team
Learn About The Editorial Team
Share:
Products are selected by our editors. We may earn a commission on purchases from a link. How we select gear.
What is the best precision rifle? Sniper and precision rifles are mostly enjoyed by target shooting enthusiasts and hunters. While you can't get the top-of-the-line rifles utilized by special forces in the military, there are plenty of civilian rifles that are ideal for these purposes. Let's break down some of the best sniper and precision …
What is the best precision rifle?
Sniper and precision rifles are mostly enjoyed by target shooting enthusiasts and hunters. While you can't get the top-of-the-line rifles utilized by special forces in the military, there are plenty of civilian rifles that are ideal for these purposes.
Let's break down some of the best sniper and precision rifles on the market for casual, competitive, or hunting use.
Quick List: The Top Sniper Rifles
What we liked:
Has good barrel material and length
Trigger can be adjusted to your liking
Comes with a scope already mounted
Built with good wood material
Not too heavy at just over 8 pounds
Very budget-friendly
What we didn't:
Scope quality could be a little better
This budget-friendly Savage model precision rifle is a centerfire model that comes with a scope in the purchase. It can provide magnification between 3-9x with a 40 mm objective lens – all this means for you is that it's ready for hunting and target shooting right out of the box. The scope itself is pretty decent even if it isn't the best you can find on the market, but it's already bore sighted and mounted. So it'll serve you well if you don't have a particularly good optic to replace it with.
Aside from the optic, the rifle features a hardwood frame that both looks aesthetically pleasing and is comfortable to hold. The trigger is user adjustable so you can fine-tune it for your needs and comfort level. Plus, the rifle's barrel is made with blued carbon steel that can resist corrosive damage and should last for a long time to come.
It's lightweight, easy to use, and chambered for 308 Winchester rounds. This makes it a perfect hunting rifle for even larger types of game. Add in a 22-inch barrel and you have a phenomenal precision weapon, even for long distances, without breaking the bank.
Remington 700 Magpul Bolt Action Rifle
What we liked:
Comes with a good coating
Very durable overall
Good barrel length and capacity
Has expandable stock
What we didn't:
Barrel isn't free-floating
This rifle is a beauty, but that's not the only reason you should consider it for hunting or target shooting. For starters, The Remington 700 one of the staple bolt action rifle models that have been hunting favorites for decades on end.
So it has a long history of positive reviews and proven performance.
For another, it features a special "cerakote" coating on the outside that protects it from water damage and ensures great durability for years on end.
It's not even a very heavy rifle at just 8.75 pounds. On top of that, it comes with a total capacity of six cartridges and a 22-inch long barrel: perfect for ensuring long-distance accuracy on your next hunting expedition.
You can add scopes with rails to this weapon if you desire, and it comes with an expandable stock. This means you can adjust the feel and fit of the weapon according to your needs. The stock itself is comfortable, durable, and won't slide around.
All in all, it's just a solid precision rifle for hunters who want something steady and easy to use. The bolt action is smooth and doesn't often result in bad ejections, and you can purchase the weapon for a reasonable asking price, even if it isn't the most budget-friendly on this list.
Aero Precision M5E1 Complete Rifle
What we liked:
Lots of customization options
Free-floating barrel for added accuracy
Lightweight for its size
Durable
What we didn't:
We said above that bolt action rifles are usually better than semi-automatic rifles for long-distance engagements or hunting. But sometimes, semi-automatic rifles prove that general rule to be wrong.
Take this Aero Precision semi-automatic AR-10. That's right; it's a cousin to the AR-15 that everyone always talks about. The big difference is that this rifle is semiautomatic and better designed for shooting at longer distances. Just like the AR-15, the AR-10 comes in a wide variety of types, models, and sizes.
This particular AR-10 has a custom integrated upper receiver and a special handguard system. In short, this will provide you with a free-floated barrel and a lightweight weapon that can provide fantastic performance at a distance and on any gun range you decide to try it on. 
It comes with a flash hider by default, which is great since the asking price is quite high. It's also chambered for 6.5 Creedmoor rounds: a good hunting option that's also suitable for target practice competitions. While it may not be the best hunting rifle on the market, it's a phenomenal "fun" gun and has all of the customizability of AR-15s. We think rifle enthusiasts will appreciate this gun in particular.
Best Beginner Precision Rifle:
Ruger American Predator Rifle
What we liked:
Light and easy to use
Made with quality materials
Comes with adjustable trigger
Superb, familiar layout design
Easy-to-use safety features
Stock designed to reduce recoil
What we didn't:
Not as accurate at long ranges as other options
May not last as long as other rifles
The Ruger American Predator Series rifle is more affordable than the last, making it a great beginner rifle first and foremost. It's cheap enough and comes with familiar features for a beginner hunter or someone wanting to learn the ropes of precision shooting on a gun range without breaking the bank or getting too deep into the weeds of advanced precision rifles.
Even with this aspect, it's chambered for 308 Winchester rounds and features an adjustable trigger that you can modify depending on your ideal trigger pull weight. It also has a great bolt design that shouldn't interfere with any kind of optic you decide to mount on the top. The barrel is free-floating for even more added accuracy, and it comes with a hammer forged and threaded barrel.
The ultra-precise rifling is easy to clean, and the gun comes with an easy-to-actuate safety.
Thus, beginners shouldn't have any trouble locating or using the safety as they get the basics of gun control under their thumb. The rotary magazine is easy to load and eject and the rifle comes with a soft rubber buttpad, reducing the felt recoil.
Altogether, it's a quality piece of equipment that isn't the most accurate on the market, nor is it the overall best. But it's budget-friendly, easy to use and master, and perfect for smaller or younger folks thanks to its low weight of 6.2 pounds and short barrel length of 18 inches. 
What we liked:
Made with M-LOK handguard
Larger than average magazine
Easy to mount optics of the top
Has good recoil control and muzzle brake
Lightweight for its size
What we didn't:
Price
Barrel length could be a bit longer
This Ruger precision rifle is chambered for 308 Winchester rounds and comes with an M-LOK handguard – this special firearm rail system will allow you to mount optics or other accessories easily and protect your hand from excess heat at the same time. It's one of the best handguards on the market for a reason. 
This rifle also comes with advanced features, like a medium contour barrel, pistol grip, picatinny rail, plus an integrated muzzle brake that can reduce recoil and increase your accuracy as you take multiple shots in rapid succession. Though it's a bolt action rifle, it has a larger than average magazine that can hold up to 10 cartridges, plus another cartridge in the receiver.
A quickdraw sling attachment system will allow you to carry this rifle comfortably and easily. It also comes with a left folding stock hinge, meaning you can modify this rifle to your liking and swap out the default stock with any AR-style stock. Even the length of pull and comb height are adjustable.
All in all, it's quite a fun rifle to use, and a perfect bolt action precision rifle for firearm enthusiasts that will enjoy fine-tuning and modifying the weapon in addition to using it in the field.
What makes for the best precision rifle?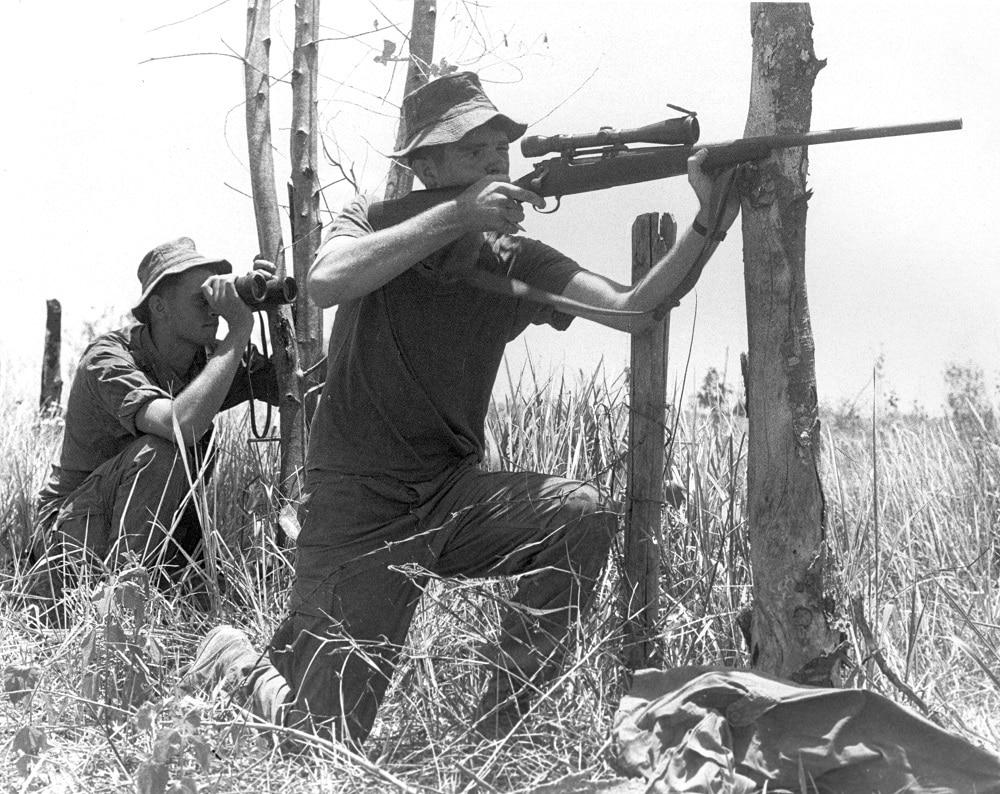 Marine sniper, PFC D. M. Taylor, sights-in on an enemy NVA rifleman harassing Marines during an operation south of Phu Bai." His rifle is a commercial Remington 700 with a 3x9 power scope
There are a few things that can determine whether a given precision rifle is actually a decent piece of equipment or isn't worth your time.
Bolt Action or Semi-Auto?
First off, consider whether a given rifle is a bolt action or semi-automatic model. Bolt action rifles are generally more accurate at range and use heavier, longer cartridges that result in better penetration and more stopping power. They can also be paired with match grade heavy barrels and threaded muzzle devices to further increase their ability to hit targets at range. In general, bolt action rifles are favored by civilian hunters all around the world.
That doesn't mean semi-automatic rifles are necessarily an automatic pass. They allow for faster follow-up shots and often provide much more capacity, which can increase their applicability to a variety of use cases. Still, most high-quality sniper and precision rifles will be bolt action rather than semi-auto rifles like AR-15s.
Cartridge Type
Naturally, the cartridge type affects a precision rifle's effective accuracy and stopping power. .308 Winchester cartridges have been favorites since evolving from the 7.62×51mm NATO cartridge in 1954.
The .308 Winchester has become the most popular big-game hunting cartridge anywhere. They're a good choice if you don't know where to start. But you can also look for 6.5 Creedmoor rifles or precision rifles chambered in .300 Win Mag, which are great competitors and have made 600+ yard guns accessible to all. 
Scope Mounting Options
A good long-distance sniper rifle should have plenty of mounting options in terms of rails or rings. Rails are a little easier to use than rings and come in two types: Weaver or Picatinny.
Whatever the case, just make sure that a rifle has room to mount the high-quality optic of your choice, or even better, has a high-quality optic included with the purchase.
You won't be able to make the most out of any long-distance rifle if you can't combine it with a scope!
Stock Quality & Adjustability
The best sniper and precision rifles come with high-quality buttstocks that can help reduce the recoil you feel whenever you take a shot. Furthermore, some of the best stocks will be made of certain materials that reduce drag or movement, effectively keeping the rifle planted at your shoulder.
Carbon fiber materials are often great for keeping the rifle light but adding rigidity & stability.
You can also find many stocks that are adjustable for length, personalizing the firearm even further. As you can imagine, these stocks are great for keeping your aim true and consistent for long-range shooting.
Durability
Lastly, be sure to choose a rifle that's durable and made with long-lasting materials.
This is especially true if you need a hunting weapon – you'll want something that'll last for a long time and that can withstand inclement weather without breaking down.
Similarly, try to find weapons that aren't too heavy for comfort, but are still made with heavy-duty materials like aircraft-grade aluminum chassis or composites.