The Chiappa Rhino: A Review
Written By
Michael Crites
Licensed Concealed Carry Holder
Reviewed by
Editorial Team
Learn About The Editorial Team
Share:
Products are selected by our editors. We may earn a commission on purchases from a link. How we select gear.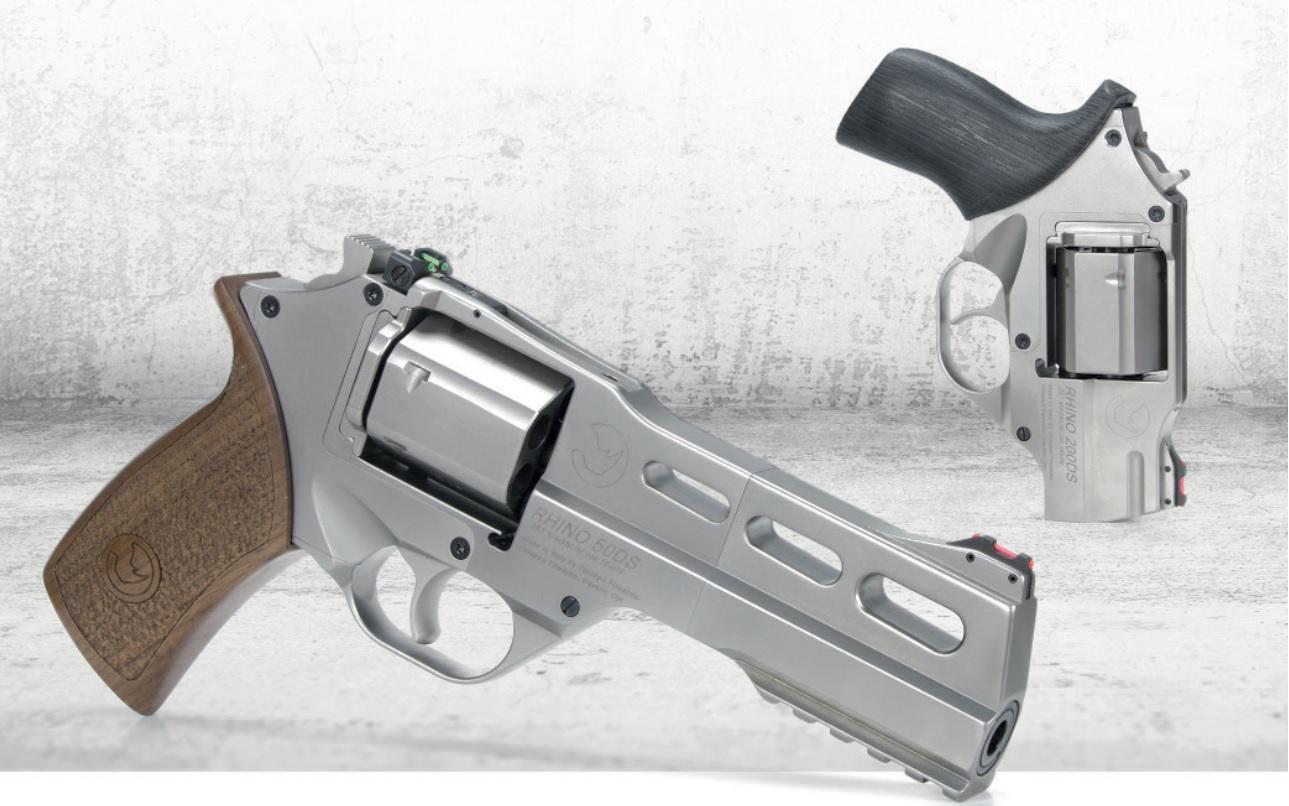 A Review of the Oddball Italian Stallion Rarely encountered in the wild, Chiappa Rhino revolvers are very different and a little weird, but these Italian stallions have a solid pedigree and a lot of hidden traits that make them phenomenally comfortable guns to shoot. The Best of the Chiappa Rhino Models Browsing Chiappa's catalogs for …
A Review of the Oddball Italian Stallion
Rarely encountered in the wild, Chiappa Rhino revolvers are very different and a little weird, but these Italian stallions have a solid pedigree and a lot of hidden traits that make them phenomenally comfortable guns to shoot.
The Best of the Chiappa Rhino Models
Browsing Chiappa's catalogs for the past decade, the Rhino has been produced in over 150 variants between different barrel lengths (2-, 3, 4-, 5-, 6-inch), actions (DA/SA, DAO, SAO), calibers (.357 Mag, .38SPL, .40S&W, 9x19mm, 9x21mm), grip styles (rubber, G10, wood), and finishes (black anodized, chrome, camo, nickel, gold PVD, slate, green Cerakote, grey PVD, stainless), and sight options (adjustable rear sight, fiber optic front sight, 
While made in Italy and certified at the National Proof House of Gardone Val Trompia in Brescia, Chiappa has been marketing these guns around the world and about 60 of these variants have made it to the U.S. market in recent years. Here are some of the best Rhinos that are available over here.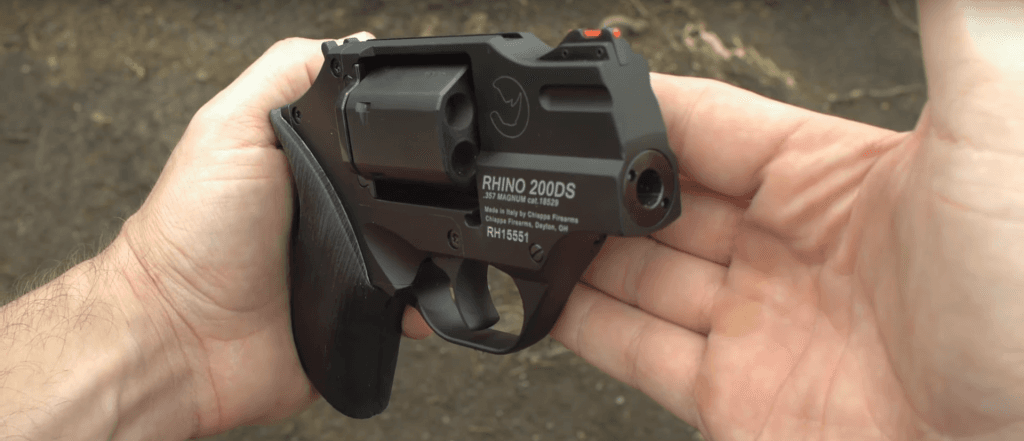 The Rhino 200DS feels good in hand, with a unique build that capitalizes on the low-bore axis orientation's strength.
This stacks up favorably to snub-nosed revolvers on the market from legacy manufacturers such as S&W's J-frame and Colt's Cobra.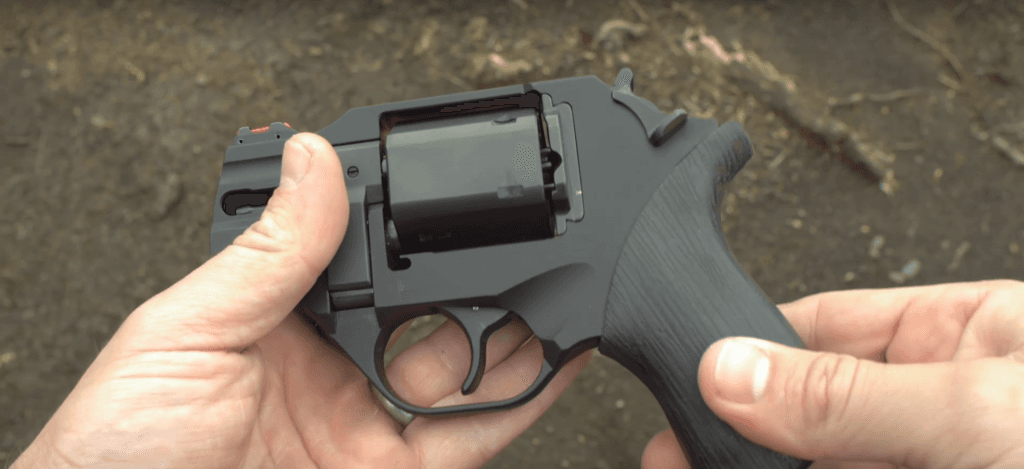 The 200DS is a little chunky from the side view
However, I found that the 200DS has better ergonomics, is snag-free while still having a smooth DA/SA action, and is comfortable to shoot by comparison producing favorable reviews across both CCW fans and home defense users.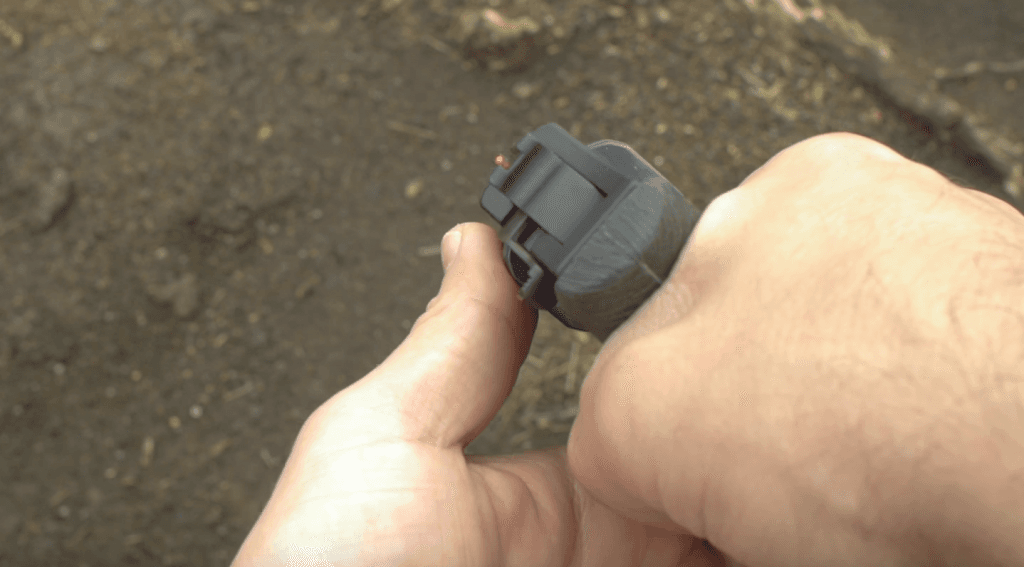 A simple but effective sight picture.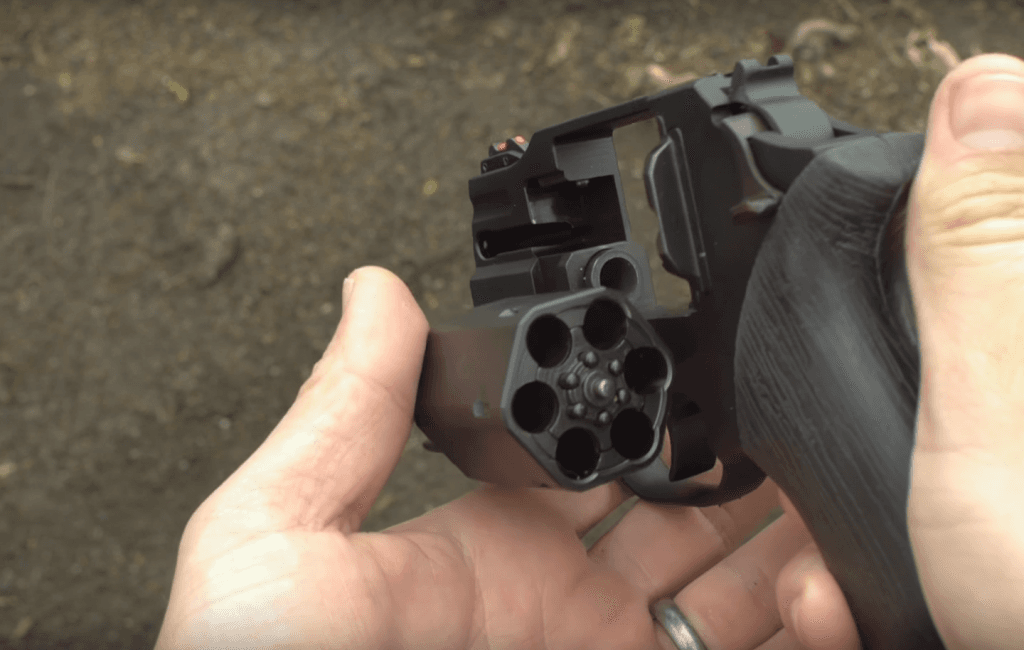 The hexagonal wheel gets the job done without snagging on the draw.
This revolver is a more "standard" sized wheel gun, having a 4-inch barrel, 8.75-inch overall length, and 28-ounce weight.
Italian firearms craft personified.
Notably, I like that this Rhino is available in 9mm Luger, which makes using 6-shot full moon clips that'll give it a rapid reload capability — putting it on par with reloading a semi-auto pistol in speed if not surpassing it with a little practice.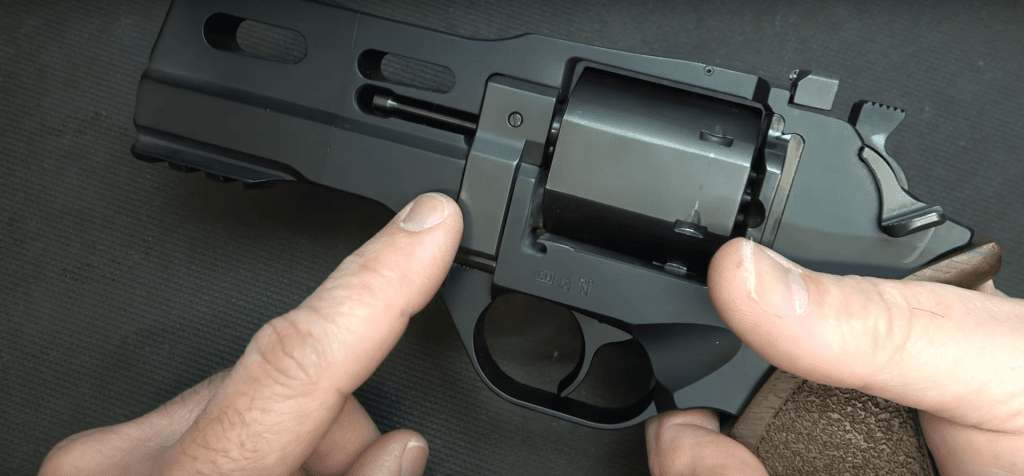 The 28oz 40DS has a great feel in the hand.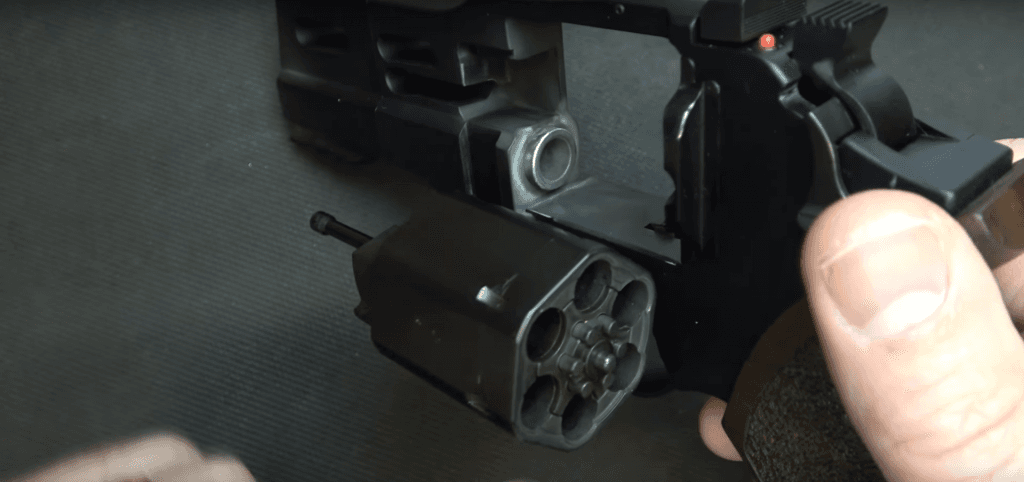 Look ma! A low bore!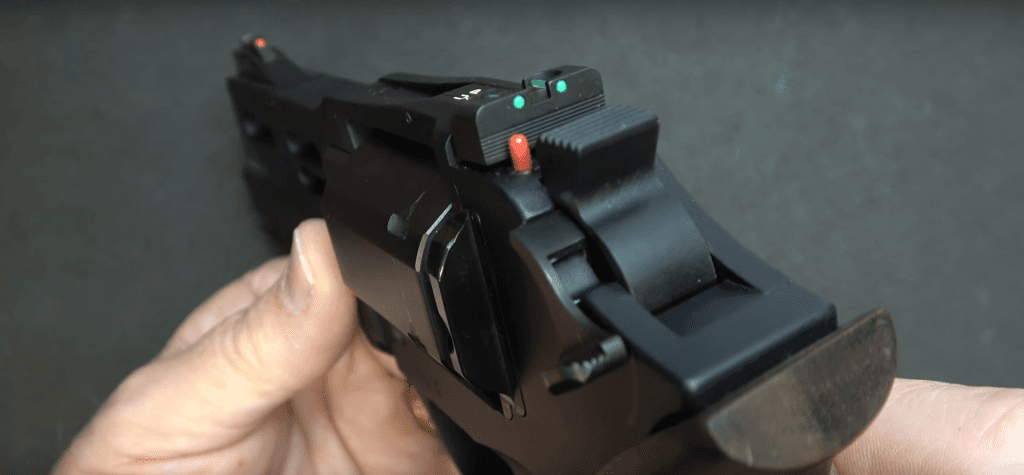 Rhinos sport one of the chunkiest hammers known to man.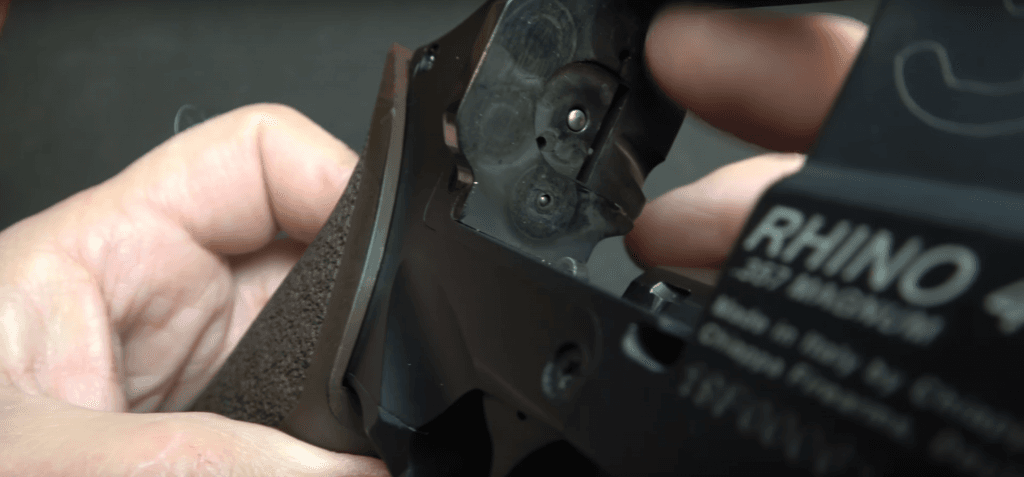 Note the position of the firing pin.
A beefy target revolver that takes cues from the classic PPC (Police Pistol Combat) and Bullseye competitions of old, the Match Master runs a fully adjustable Aristocrat 3-position sight system that can be flipped from 10M to 50M zeroes atop a 6-inch barrel.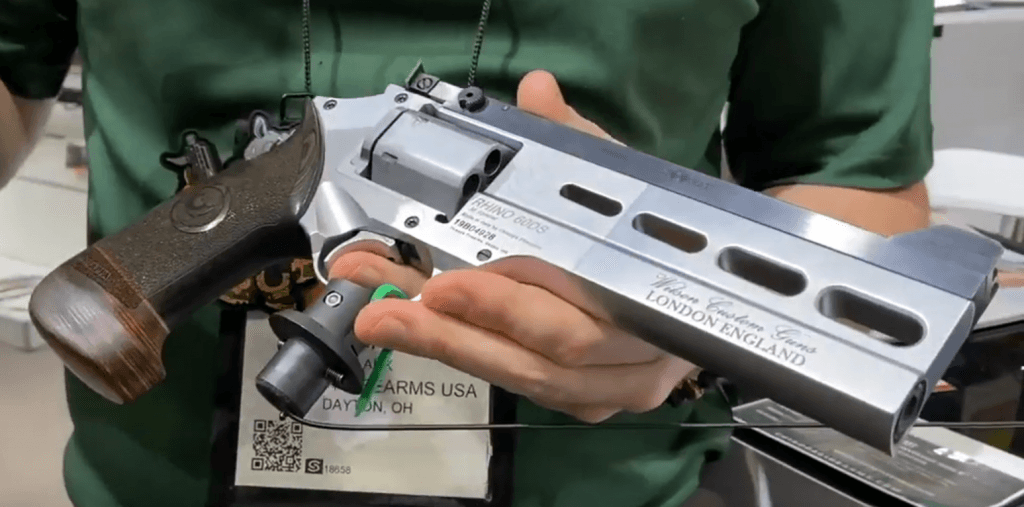 It's a beast!
The Ergal frame on this tack-driving target gun has a grey PVD finish while the grips are Hogue Micarta. The action is finely and professionally tuned by Richard Wilson's London-based Wilson Custom Guns. If you can't hit it with one of these, you can't hit it.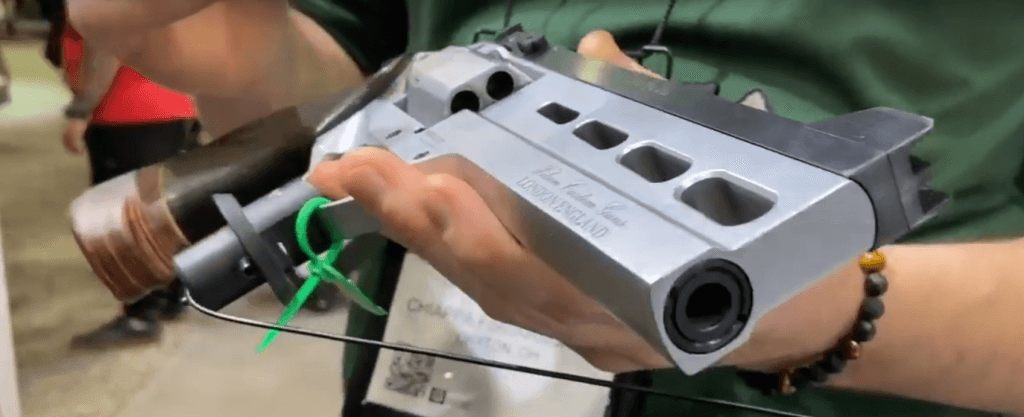 The business end of the Match Master is just as intimidating.
In a nutshell, the Chiappa Rhino was the swansong of a forward-thinking Italian firearms designer by the name of Emilio Ghisoni. Born in the town of Pavia in northern Italy's Lombardy region, at the age of 19 years old he inherited his father's manufacturing company, Macchine Termo-Balistiche (English = Thermo-Ballistic Machines), abbreviated to Ma.Te.Ba (more on that later), which specialized in the production of pasta-making machines. 
Yes, young Emilio's inheritance was a spaghetti machine factory.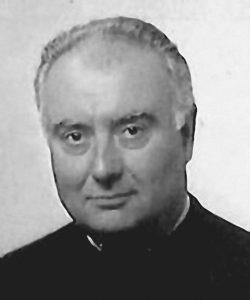 Italian firearms designer, Emilio Ghisoni
A walking, talking cliché in real life. However, Ghisoni was an avid sports shooter on the side and naturally talented when it came to tinkering with firearms. This led him to take out no less than 54 patents in his life, including some very interesting handguns.
Ghisoni had a background in and a love of ISU/ISSF (Olympic) Rapid-Fire Pistol matches, in which a competitor uses a handgun chambered in .22 caliber to zap a string of five targets 25M (82 feet) away with just five shots on tap within a limited time–typically just four seconds. Miss a target and you are penalized. 
This led him to his first firearms patent, for his MT1, a recoil-operated autoloading pistol that had a trigger mechanism with a user-adjustable trigger pull– pretty heady stuff for 1975. Outside of a few prototypes, the MT1 never made it to serious production. 
Then came his MTR8 revolver design, which used a very low-slung cylinder placed in front of the trigger guard producing a handgun with a low bore axis while having a grip frame almost identical to an Olympic-style target pistol within ISU Rapid Fire rules. Double-action, it had a single-action capability through the use of an external cocking lever. 
It looked unusual but shot like a dream. Sadly, only about 500 were produced across a range of calibers (.22, .32 S&W, .38 Spl., .357 Mag.), making the revolver rare.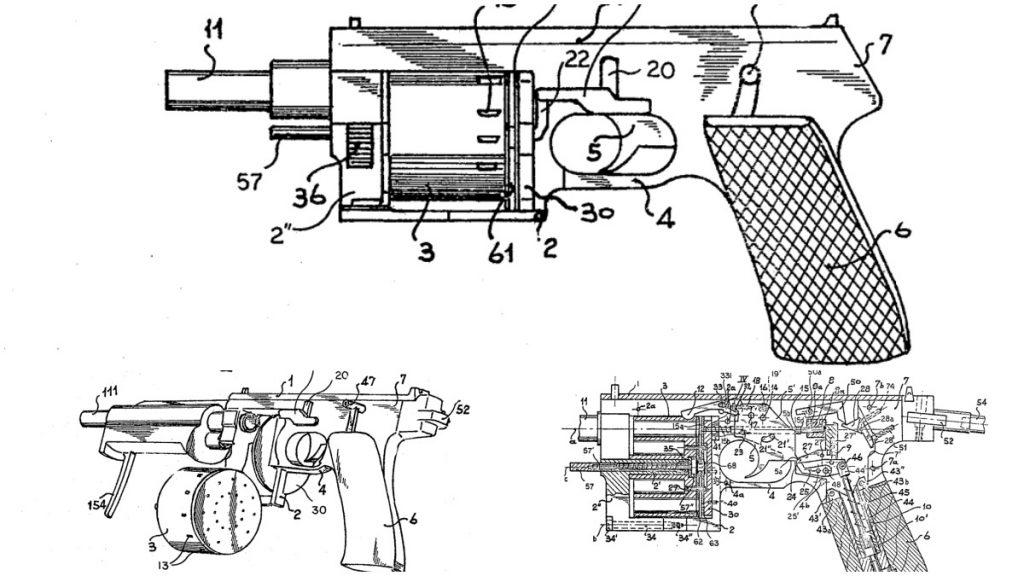 Fig. 1 Ghisoni's 1981 patent drawing for his Mateba MTR8. Note the low, removable cylinder arranged under the frame and an angled grip that looks more akin to a semi-auto target pistol than a revolver.
Then came Ghisoni's semi-automatic revolver (not a misprint) design in 1985 which ingeniously used the recoil action of the handgun to advance the cylinder to the next chamber. Marketed eventually as the Mateba Model 6 Unica Autorevolver with German assistance, it wasn't the first of its breed (see the circa 1900s Webley-Fosbery) but it was the most successful such modern handgun to use such a system.
Going further, the Unica's unique design aligned the barrel over the lowest cartridge in the cylinder (the 6 o´clock position) rather than the more traditional highest (the 12 o´clock position) as seen on just about every other revolver made. 
With the ability to quickly use interchangeable barrels up to carbine length (18-inches) and offered in serious self-defense calibers such as .357 Magnum, .44 Magnum, and .454 Casull, the Model 6 was arguably Mateba's most popular firearm, with some 2,000 made.

Fig. 2. The Mateba Model 6 Unica Autorevolver fired through the bottom cylinder with a low bore-axis barrel. The top frame is a tall rib on the barrel.
A simplified version, the Mateba 2006M, which still used the same "upside-down" barrel arrangement of the Unica but in a more traditional double-action/single-action format like the MTR8, was also introduced in the late 1980s/early 1990s. 
These guns are very hard to find on the collector's market but are sought after, often fetching over $3,000 at auction for Model 6 Unicas and upwards of $5,000 for MTR8s. Minty specimens in 100 percent condition go even higher with vintage Mateba fans. Speaking of hard to get, it is believed that only four Mateba 2006Ms were ever imported to the U.S., brought in from Italy directly by the folks over at MatebaFan.com before that awesome website folded a few years ago.
While the famed Italian firearms maker Franchi reportedly flirted with buying Mateba off and on in the mid-1980s, the shop continued its small-scale production until it closed for good in 2006, and Ghisoni, son of a spaghetti machine maker who went on to change handguns forever, passed away two years later at age 71, his passing noted only by the Italian firearms industry magazine Aremi e Tiro. 
A rebooted company under the name of "Mateba Italia S.r.l". existed in Montebelluna, Italy for a few years in the 2010s– with its website active as late as 2019– but, curiously, their offerings, pitched to the defense market, consisted exclusively of AR-10 and AR-15 style rifles and pistols, hinting at the likelihood that they had nothing to do with the old Ghisoni-designed revolvers despite using the logo and a patent drawing of one on the cover of their catalog. 
Nonetheless, there is another true Ghisoni invention that survives to this day– the Chiappa Rhino. 
What Makes the Rhino so Unique?
The last Ghisoni handgun design to see the light of day, the gun we know now as the Chiappa Rhino was originally brainstormed by the inventor while Mateba was still in operation. Intended as a compact 7-shot snub-nosed revolver building on past lessons from the 2006M series and others, it was created in conjunction with Antonio Cudazzo, of the Milan-based FAR League S.r.l company who had their hand in a variety of modern submachine gun patents. 
However, before it could be put into production, Ghisoni fell ill and died of cancer, leaving Cudazzo to inherit the project. Eventually, he pitched it to Rino Chiappa, president of the Italian-based Chiappa Firearms Company, and, after the new self-defense gun underwent some tweaks, it entered production in 2010 as the Rhino. 
To be sure, there is a lot of Mateba DNA in the Rhino. It greatly resembles Ghisoni's previous revolvers, uses the same "upside-down" low bore axis barrel configuration as seen on the Unica and 2006M, and the same style grip angle. 
Various Rhino models & dimensions
A double-action/single-action revolver with a flat-sided hexagonal cylinder– which makes it very narrow compared to other wheel guns– it uses a lightweight 7075-T6 aluminum frame, akin to the receivers on AR-15s. What looks like the hammer is actually a spring-loaded cocking lever which in turn works against an internal hammer to make it single action. 
Many experienced shooters who are familiar with traditional revolvers such as a Colt Python or Smith & Wesson K-frame, when they first handle a Chiappa Rhino, are bewildered by its operation. 
With that…
Why Would You Want a Chiappa Rhino?
A work of functional art in the revolver medium, the Ghisoni patented reduced recoil system relies on basic physics to keep the barrel better aligned with the centerline of the forearm when naturally pointed. Following the "arm of the lever", if you remember your high school math and science classes, the felt recoil travels straight back through the frame into the grip and through the arm, rather than translating to dynamic muzzle flip as seen on other revolvers that ends up torquing the wrist. 
As such, the muzzle rise when firing the Rhino is dramatically lower when compared to traditional firearms since it works with and not against the angle of the shooter's arm. In short, it pushes straight back rather than flipping up to the sky. This means the funky-looking Chiappa comfortably eats full-power and magnum loads with ease due to the ergonomics of its layout.
It also makes rapid-fire very consistent and easy since the muzzle tends to remain on target better. Likewise, the unique rhino-horn-shaped grip allows the user to achieve and maintain a higher grip, providing better control, while its diameter is well-suited for smaller statured shooters. 
Using a very short pull with a smooth journey across the linkages, the Rhino feels natural to shoot. Chiappa markets at least five different triggers for the revolver designed for defense and target shooting applications with weights ranging from 5-to-10-pounds. Single action on a standard trigger is typically around 3-pounds while double action is about 6-pounds.
As a byproduct of the internal hammer/external cocking lever, you still get a DA/SA revolver that is snag-free and is impossible to deliver a case of hammer bite to the user.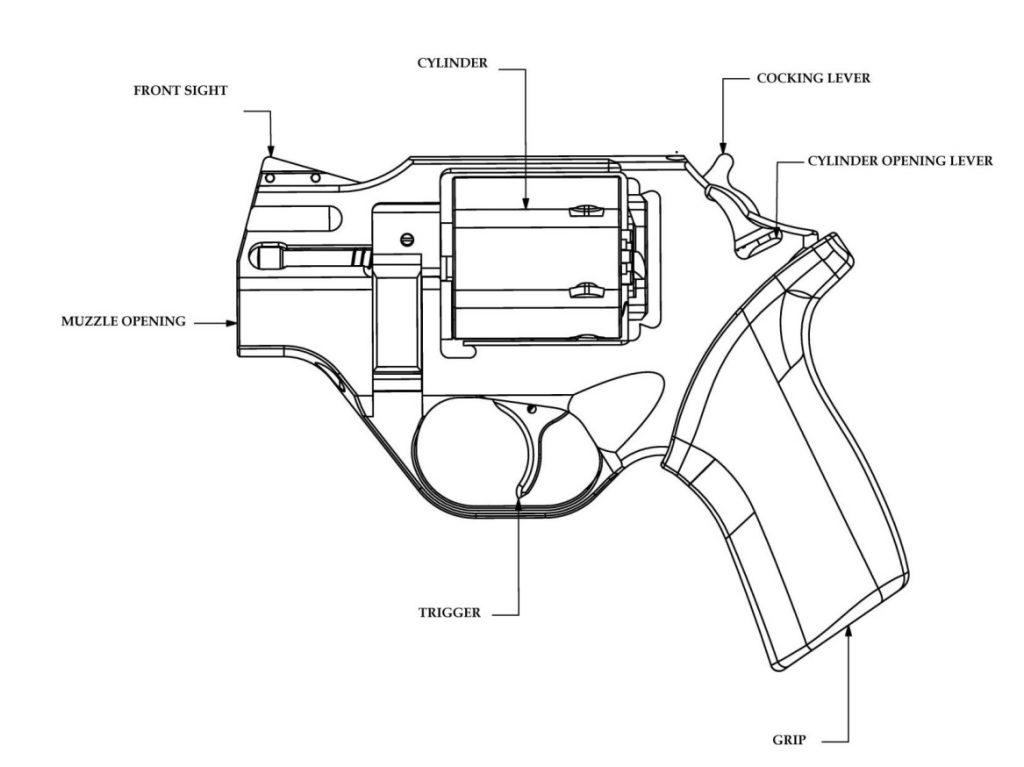 When it comes to the cylinder, which is opened to the left-hand side by a rear-mounted cylinder release, it uses full moon clips for lightning-fast reloads and many have had good results with standard 6-shot HKS-10 (S&W K-frame) speed loaders.
One of the safest firearms ever made, it uses two cylinder safeties and an automatic trigger safety that is disengaged when the trigger is pulled. In another bonus, some Rhinos offer the ability to swap cylinders to convert from one caliber to another (e.g., the 200DS/40DS combos which can swap from .357 to 9mm).
About the worst thing you can say about the Rhino is that you need to watch your grip placement while firing the gun, as traditional "thumbs forward" positioning can inadvertently position the user's thumbs in line with the low barrel forcing cone, subjecting them to cylinder blast.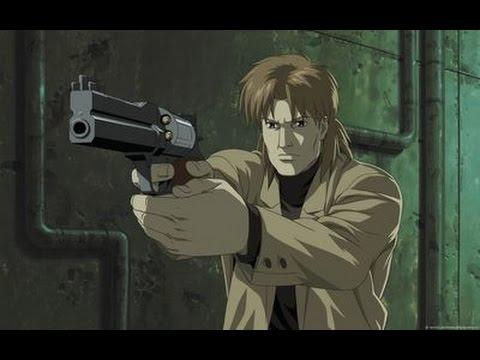 Hands up, bore axis down
Besides their obvious use in target shooting and personal protection, Chiappa Rhinos and their Mateba forerunners have long been stars on screens both big and small, driving demand for the guns all their own. Due to their futuristic styling, they have been the obvious choice for prop masters working on Sci-fi television shows and films as well as video games. 
This has made them regulars across the Ghost in the Shell franchise, Looper, Serenity, Terminator, Total Recall, Nikita, and Resident Evil, among others. Just as the Dirty Harry movies proved drivers for S&W Model 29 .44 Magnums, HK P7 owners watch Die Hard every Christmas, and James Bond has low-key kept the Walther PPK on the market for the past 50 years, the Mateba/Rhino family will continue to be sought out by fans who saw them first in via a screen rather than in the gun shop.