Top Concealed Carry Pants: Stay Prepared and Comfortable
Discover the top concealed carry pants of 2023. We cover everything from tactical jeans to cargo pants, all to help you find the perfect fit for your EDC needs.
Written By
Michael Crites
Licensed Concealed Carry Holder
Reviewed by
Editorial Team
Learn About The Editorial Team
Share:
Products are selected by our editors. We may earn a commission on purchases from a link. How we select gear.

After diving deep into the world of EDC pants, we think 5.11 Tactical's Defender Flex Jeans are the best concealed carry pants for most people.
They use a 65% polyester/35% cotton blend that offers rip-stop to keep your pants in one piece, are water-resistant yet breathable, come in multiple inseam lengths, have rear-slanted side pockets that work well when seated, offer such features as front slip pocket, articulated knees, and are more affordable than many of the other pants we tested.
Although you probably won't need concealed carry pants during 100% of the time, a good pair of concealed carry pants will give you the options necessary when you're looking to carry your EDC without printing and want the additional functionality pants designed specifically for concealed carry can provide.
To find the best pair, we spent a full week – 40 hours in total – conducting research, speaking to experts, and testing a variety of pistols in carry positions – from subcompacts to full-sized handguns.
Below is my list of the best concealed carry pants. I list the best choices in terms of value, performance, design, and cost.
Click on the name to head to the product page, read reviews and check prices or skip ahead to the list of pants.
| Name | Selection | Price |
| --- | --- | --- |
| | Best Overall | $69.99+ |
| | Best Cargo Pant | $36+ |
| | Best Kneepad Support | $45 |
| | Best Tactical Pant | $45 |
Different types of Concealed Carry Pants
In the way everyday pants come in various styles, CCW pants are available in different designs and styles. In general, there are four common types of concealed carry pants.
Covert Tactical Pants
Tactical pants are often associated with law enforcement, and as such, can signal that someone might be carrying a weapon, which eliminates the tactical advantage.
Federal agents and undercover officers need to go undetected, so tactical pants evolved from this need, often considered "covert design." They look and feel much like everyday pants but offer additional features like extra pockets, additional flex, special closures, and added versatility. They can be worn both in both business casual and everyday scenarios.
Tactical Jeans
Tactical jeans take the covert look even further. These jeans look right at home tackling the woods, the range, or even around the house.
They're often available in standard jean styles – such as boot cut. The use of denim molds ccw capabilities into an unassuming look but maximizes comfort, familiarity, and proper fit.
Cargo Pants
Incredibly useful in battle, hunting and hiking, cargo pants fit more loosely than tactical pants or jeans. They often feature oversized cargo pockets, heavy-duty belt loops, and interior pockets for things like magazines, knives, or utility tools.
Concealed carry cargo pants tend to be made from stiffer, more durable fabric and are not intended for covert applications – cargos are meant for duty.
What to Look for in Quality Concealed Carry Pants
How will you know which kind of concealed carry pant is right for you? Here are the key points to consider before sliding into your new pair.
1. Price
Based on the reviews we read & the pants we tested, most concealed carry pants that cost more than $50 didn't add extra features, durability, or value, so we avoided them in our tests.
In our research, we found that pants priced below $20 lacked preferred features like multiple pockets, which increase the versatility of the pants, and pants that averaged around $50 tended to be made of similar material, and that offered the kinds of water resistance and durability we wanted. However, we still tested a few less expensive pairs to see what we'd get when we put them through their paces.
2. Water Resistance
A good pair of concealed carry pants should resist getting too wet when exposed to water. These aren't rain pants, but a wet pistol is harder to handle than a dry one, so we factored that into our criteria. Plus, fabric that holds water will stick to your body, both increasing the likelihood of your pistol printing and making the draw more difficult.
However, your preferred level of water-resistance will depend on things like how you carry (pocket, IWB/OWN, ankle, etc.) and how you feel about how those kinds of fabrics wear.
3. Materials
Most of the pants in this guide are 65/35 polyester cotton blends with rip-stop features baked in. We didn't explicitly test how well the pants would prevent a rip or snag, but all of the rip-stop pants made it through a mountain hike filled with blackberries & brambles without so much as a snag, which bodes well for that fabric.
This fabric mix is breathable and reasonably element-blocking (wind/rain), so it does a good job of keeping most people dry & comfortable in normal situations.
4. Mobility
You'll probably be moving around with a couple of pounds of firearm in your pants, so the pants must move with your body and accommodate your holster or pocket carry with ease.
Some CCW pants offer stretchy pockets or waistbands that allow for greater mobility; these can add cost, but spending more can be worth it depending on your needs.
Designers also add gussets—pieces of fabric shaped like a wedge or pleat— to the crotches or knees of carry pants to reduce the stress on the seams and make it easier to bend, crouch, or climb.
5. Features
We looked for pants with a variety of pockets simply because they add a ton of versatility. Front pockets, external, or hidden pockets make items easily accessible and allow you to pack items with you – but keep the pants comfortable to wear.
The Best Concealed Carry Pants Reviewed
1. Best CCW Jeans: 5.11 Tactical
What we liked:
Light & comfortable
Stretchy
Adds comfort to your carry
What we didn't:
Not as rain resistant as other options
Some testers experienced slight bleed from the blue dye
If we found ourselves stranded on a desert island with only the clothes on our backs, we'd count ourselves lucky if we happened to be wearing 5.11 Tactical's Defender Flex Jeans.
Tough but comfortable
Rather than cotton denim, the Defenders are made from a blend of 76% cotton and 24% polyester with Lycra T400 Tough Max – a poly blend that combines the feel and durability of denim with the stretchiness, breathability, water & odor resistance of a technical fabric.
Performs like a technical pant, feels like denim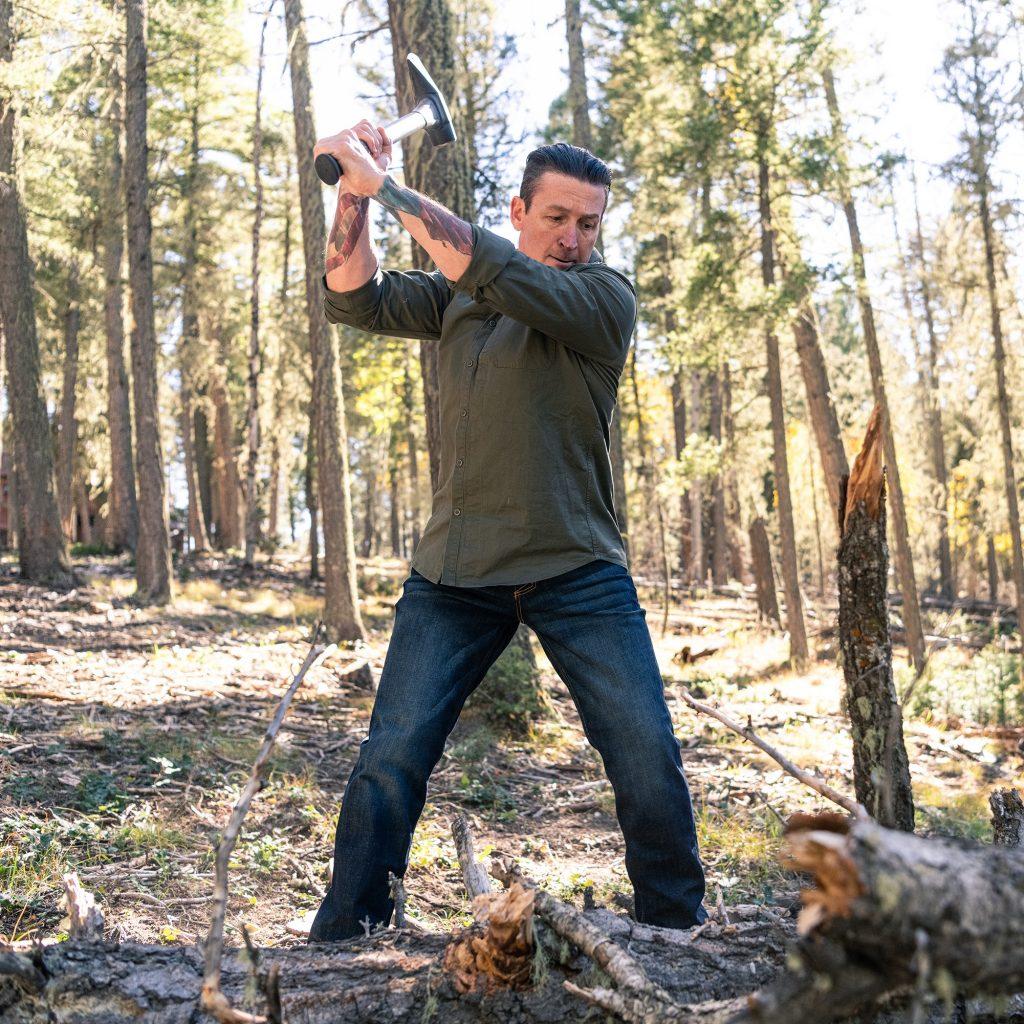 The 511's mechanical stretch denim gives you 7 pockets and the flexibility to carry in comfort. Via 5.1 Tactical Facebook.
The resulting product performs like an everyday straight-leg denim flex pant yet makes it easy to carry with an IWB/OWN holster or pocket carry, and can be dressed up easily with a blazer (or something other than a hoodie). And the jeans dry surprisingly quickly – drying out in just a few hours.
The only downside is they can shrink after washing, as our test unit's legs shrank, so it's worth buying a size up to ensure post-wash fit.
Peace officer tested & approved
One of our testers is a former peace officer (over 30+ years in the force), who is very familiar with a variety of tactical and uniform pants, as well as carry positions.
His preferred carry handgun is a Sig P365 in an appendix holster, and the extra stretch made a massive improvement in comfort – especially when seated. His review noted that these were some of the most comfortable jeans he had ever worn.
He was shocked by their comfort and how lightweight they were – straight out of the box.
2. Best CCW Cargo Pants: LA Police Gear
LA Police Gear Urban Ops Tactical Cargo Pants will give you as comfortable a carry option as the competition, at a lower price, and they're available in a wider array of inseam lengths.
Quality Rip-Stop & Comfort
They're ripstop nylon, offer large side pockets that are canted forward to make them easier to use when seated, and offer basic CCW pant features such as a front slip pocket for magazines, and articulated knees and a gusseted crotch that allow for better movement.
Where the Urban Ops stand out is their cut: they were among the best-fitting pants we tried, and come in a variety of inseam lengths. Out of all the CCW pants we tested, they're the most likely to fit the widest variety of people comfortably, which really matters for concealed carry situations.
Passed our carry tests with ease
LA Police Gear's pants allowed our testers to carry their test pistols comfortably while walking for several miles through crowded markets, several restaurants, and a river-side walk in mild rain and wind (to test water repellency).
Paying close attention to the position and comfort of our test firearms after the test walks, no testers reported any discomfort or significant shifts in carry position.
Decently water-resistant
These pants also repelled water well during our rain walk test – even after we put them through 5 consecutive wash cycles.
Water didn't bead up and jump off the Urban Ops pants quite as well as it did some other options, but neither did the water cling to fabric like it would with less water-resistant material.
3. Best Pants with Knee Pads Support: Tru-Spec
What we liked:
Well designed
Water-resistant
Accommodate knee pads
What we didn't:
Knee pad spaces will be unnecessary for some
If you're looking for a tactical pant option that accommodates knee pads, Tru-Spec's 24-7 pants are nearly identical to our top pick. They're comfortable, water-resistant CCW pants made from technical fabric but they have an internal knee opening into which you can place a knee pad.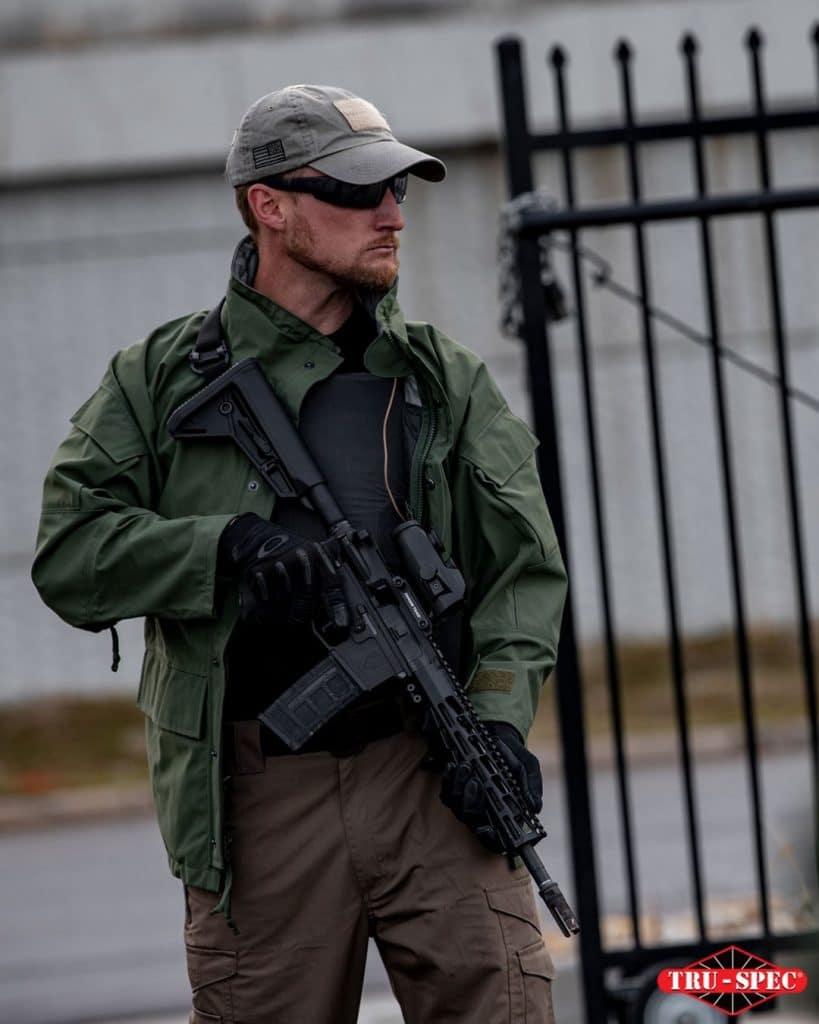 Tru-Spec's Tactical Pants accomodate kneepads
The ever-popular 65/35 poly rip-stop fabric
They have a similar 65/35 polyester cotton rip-stop fabric as the LA Police Gear option and are DWR water repellent coated, so they shed water well (but wouldn't qualify as waterproof.)
Additional breathability thanks to knee venting
They're as breathable than many of the other options we tested (if not more so thanks to the knee venting to accommodate knee pads). But the Tru-Spec don't offer the inseam length variations of the LA Police Gear pants—so if you're short or tall, these pants may not fit you quite as well as our top pick.
The fabric honestly looks and feels identical to that of the Urban Ops pants. Both are made from 65/35 ripstop poly/cotton blend. These pants are slightly heavier than the Urban Ops.
Another top performer
The 24-7 pants did just as good a job as our top pick, the Urban Ops, when it came to shedding water and giving the wearer additional comfort in a variety of carry positions. The way they incorporated stretch into the entire pant makes it feel sturdy and avoids a puckered belt waistband, which means these pants work well in a variety of settings and can be dressed up with a decent pair of shoes and a simple jacket.
We also liked how the velcro extends to the corners of the pockets so the pocket flaps won't curl up after laundering. Lots of little touches that make these a good choice.
4. Best Tactical Pant: Propper
What we liked:
Solid brand name
Conceals well
Lightweight
Water-resistant
2-year warrant
What we didn't:
More expensive than other options
Propper is a brand that has been around since the late 60's – initially working with the Navy to produce those iconic Dixie Cup hats, the Propper Canvas Tactical Pant is another 65/35 polyester cotton rip-stop fabric pant designed to increase carry comfort and provide flexibility for tactical applications or situations that demand mobility.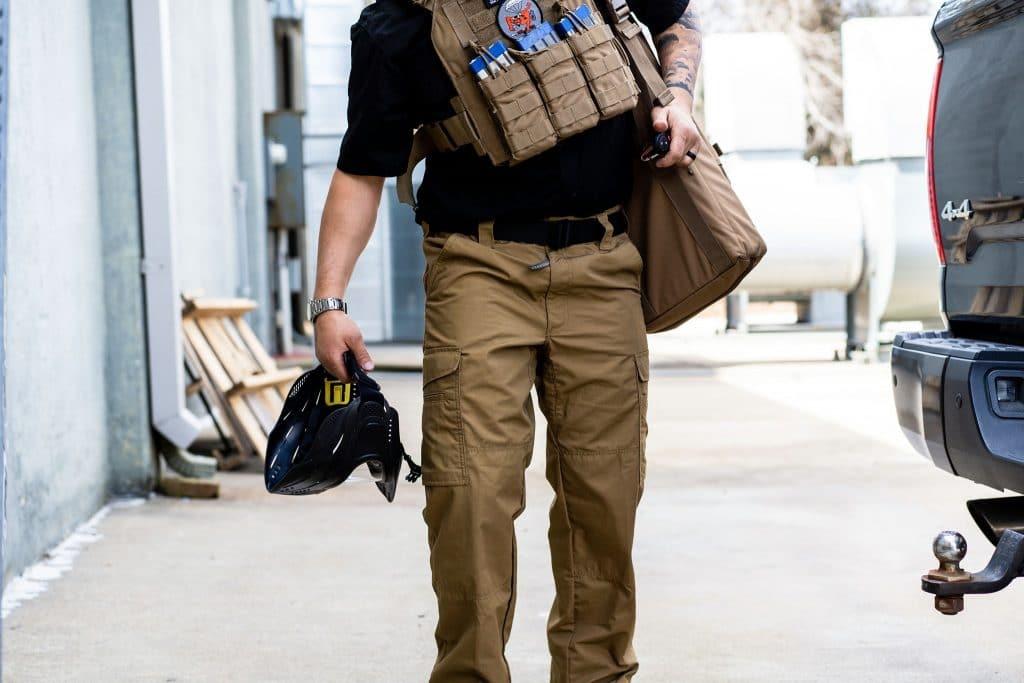 Propper's tactical pants give you a stiff leg that allows you to carry in confidence. Via Propper Facebook.
Slightly more expensive, but well-established quality
Price-wise, the Propper pants are slightly more expensive than other concealed carry pants we tested. At the time of writing, they were $5-$8 more than the average pant in this category and almost identical to the LA Police Gear Urban Ops pants.
For the cost, these pants offer some of the best value out of all the pants we tested.
Backed by a 2-year warranty
Only time will demonstrate the true durability of any concealed carry pant—whether seams will bust, the fabric will tear, or the Velcro will wear out too quickly. You'll need to wash the Proppers with powder detergent, not liquid, and dry them on low.
If your pants do wear out faster than expected, you can file a warranty claim with Propper, as they offer a 2-year warranty against manufacturing and material defects.
Each of these CCW pants offers EDC enthusiasts a variety of different features but our top pick is the 5.11 Tactical's Defender Flex Jeans. We really like their design, looks, and overall build quality.
They also met the criteria for any CCW pant we'd recommend:
Priced right
Light but quality material
Water-resistant
Versatile
There are quite a few options out in this category, but we hope this article steers you in the right direction. If you have any questions or feedback please drop us a line.

March 13, 2023 — After reviewing this guide and other new products on the market, we remain confident in our concealed carry pant recommendations. We've updated images and links where appropriate.
Sign up for our newsletter
Get discounts from top brands and our latest reviews!