Glock 48 MOS Review: 1,000 Rounds Later, Still The 'Just Right' Glock?
Does the Glock 48's balance of compactness and control allow it to challenge its full-sized counterparts? Come find out.
Written By
Elizabeth Bienas
Licensed Concealed Carry Holder
Edited By
Michael Crites
Licensed Concealed Carry Holder
Share:
Products are selected by our editors. We may earn a commission on purchases from a link. How we select gear.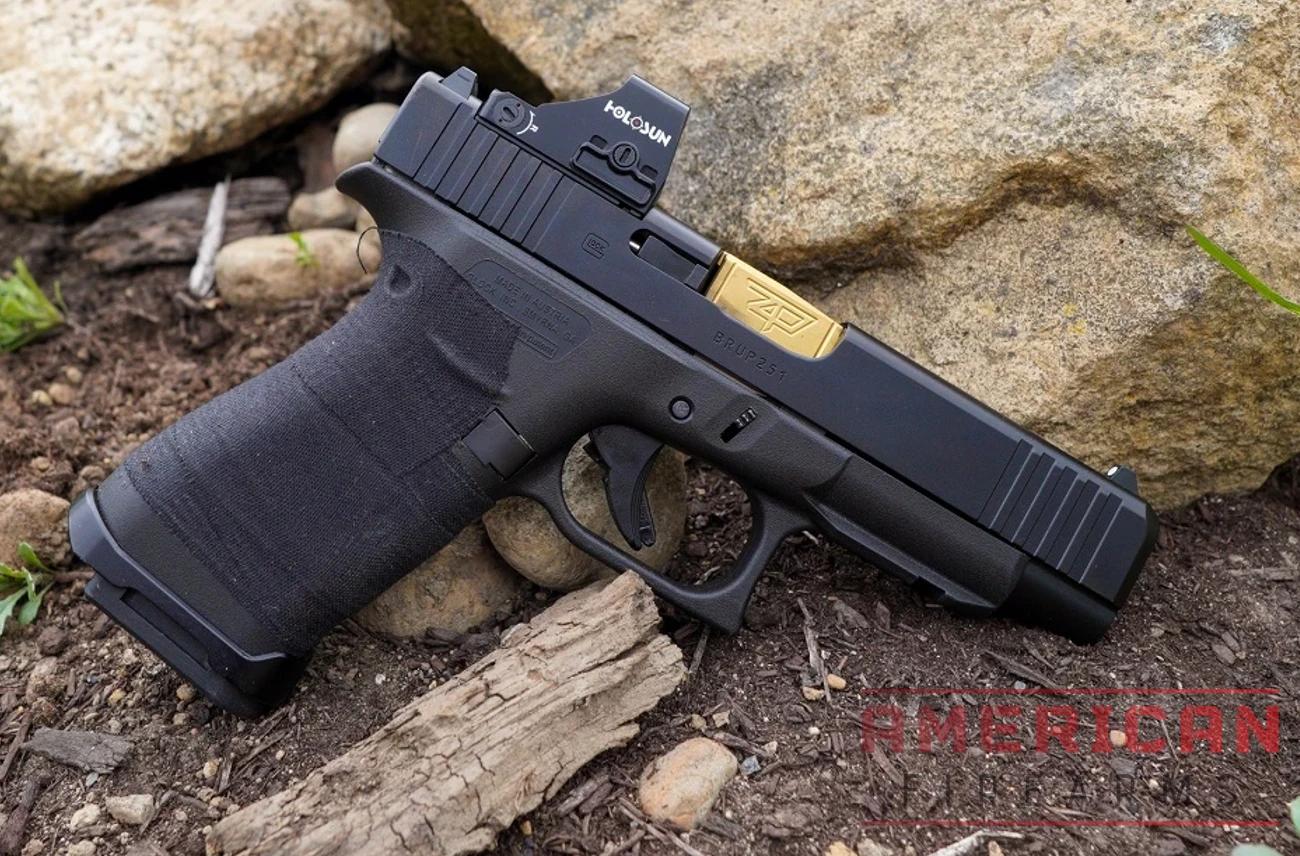 The Glock 48 is a compact size, striker-fired, polymer framed concealed carry pistol. It's a single-stack pistol that's part of Glock's Slimline lineup, which fits (size-wise) in between the single-stack and double-stack categories. If you're familiar with Glocks, think of it as a skinny G19.
It's also very similar in size to Sig Sauer P365XL. Being that Glock and Sig are two of the biggest competitors in the concealed carry market, these two pistols get pitted against each other quite often.
Many call the G48 the "do everything" pistol they'd been waiting for. It's big enough to shoot accurately but small enough to carry comfortably. Is it everything you're looking for in a concealed carry pistol? Let's dive in and see what it's all about.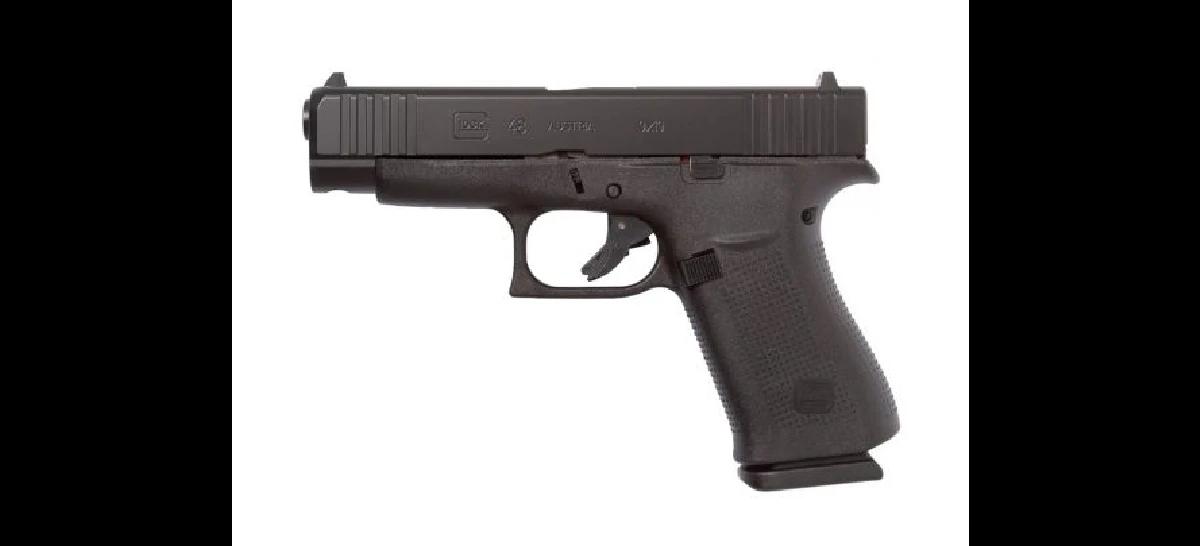 Best For
Perfect size for concealed carry
Reliable brand history
Not picky about ammo
Simple design so it's easy to swap parts
Wide aftermarket support
Easy to take down
Considerations
Snappy to shoot despite the size
Standard capacity is only 10+1
Glock factory plastic sights are not good
The stock trigger is not the best
Our Verdict
Is the Glock 48 perfect? Certainly not. When assessing carry guns, it's important to consider the primary use. The G48 is intended as a concealed carry pistol and does an excellent job filling that need.
It's slim and low profile with a grip that's large enough to draw from concealment. The standard 10+1 magazine is great for people in states with restrictions. And for others, pairing it with a Shield S15 magazine is a nice bonus.
I like to carry the biggest gun I can conceal, and the Glock 48 MOS sits in that sweet spot. Other factors like capacity and reliability have made it a strong choice for my everyday carry.
I wish it were a little easier to shoot. But over the years, I've learned that with concealed carry, there will always be some compromise. Especially if you're small in stature like I am. I shoot other pistols more accurately but could never conceal them in even the baggiest of clothing.
So… how does the Glock 48 stack up on our 60-point scale?
Accuracy: 6/10
The Glock 48 has more recoil and muzzle flip than I expected, despite its longer grip and sight radius. Accuracy is decent up to 10 yards, but recoil anticipation can be challenging.
Ergonomics: 5/10
Similar to other Glocks, the 48's slim grip fits well in both large and small hands. However, the basic grip texture may require tape or other material for those whose hands tend to sweat. Controls are standard and easily upgradeable.
Features: 7/10
The Glock 48 is basic, utilitarian, and tends to be upgraded by its owners. It doesn't have a standard front accessory rail and comes with a (relatively limited) 10+1 round magazine, but aftermarket magazines like the Shield S15 can add capacity (but also cost.) That said, the MOS version includes the rail and optics support, so it's above average in terms of Glock features, which can be very spartan.
Fit and Finish: 8/10
The Glock 48 is a well-built pistol that sports a utilitarian Block look but with a slim, streamlined profile. The aesthetics are simple, predominantly black polymer, but it's functional and sturdy.
Reliability: 9/10
As expected from Glock, the G48 is highly reliable, running efficiently even with minimal maintenance. It performs well with different ammo types and has been a consistent performer through the approximately 1,000 rounds I've run through it.
Value: 7/10
While affordable, the entry price of the Glock 48 hides the potential need for upgrades after purchase. While not a feature-rich pistol, it's a reliable and straightforward choice for concealed carry.
| | |
| --- | --- |
| Caliber: | .9mm |
| Capacity: | 10+1 |
| Action: | Semi-automatic |
| Weight: | 20.74 ounces |
| Overall Length: | 7.28 Inches |
| Barrel Length: | 4.17 inches |
| Width: | 1.1 inches |
| Height: | 5.04 inches |
| Trigger Pull Weight: | 5.5 lbs |
| Sight Radius: | 4.5 inches |
| Sights: | Three dot fixed |
| MSRP: | $530 |
| Real-word price: | $425 |
Is It The 'Do Everything' Pistol?
In January 2019, Glock announced their two new pistols–the 48 and the 43X. Both guns were designed for concealed carry, with the 48 being compact and the 43X falling into the subcompact category. Some speculated these two were Glock's response to the wildly popular Sig Sauer P365 line.
The two Glocks are very similar since they share the same frame. The only differences are the weight, barrel, and slide length. The 48 is 7.28 inches long with a barrel length of 4.17 inches, or about the same size as the Glock 19, and the 43X is 6.5 inches long with a barrel length of 3.41 inches. Both the G48 and G43X are available with a silver or black slide.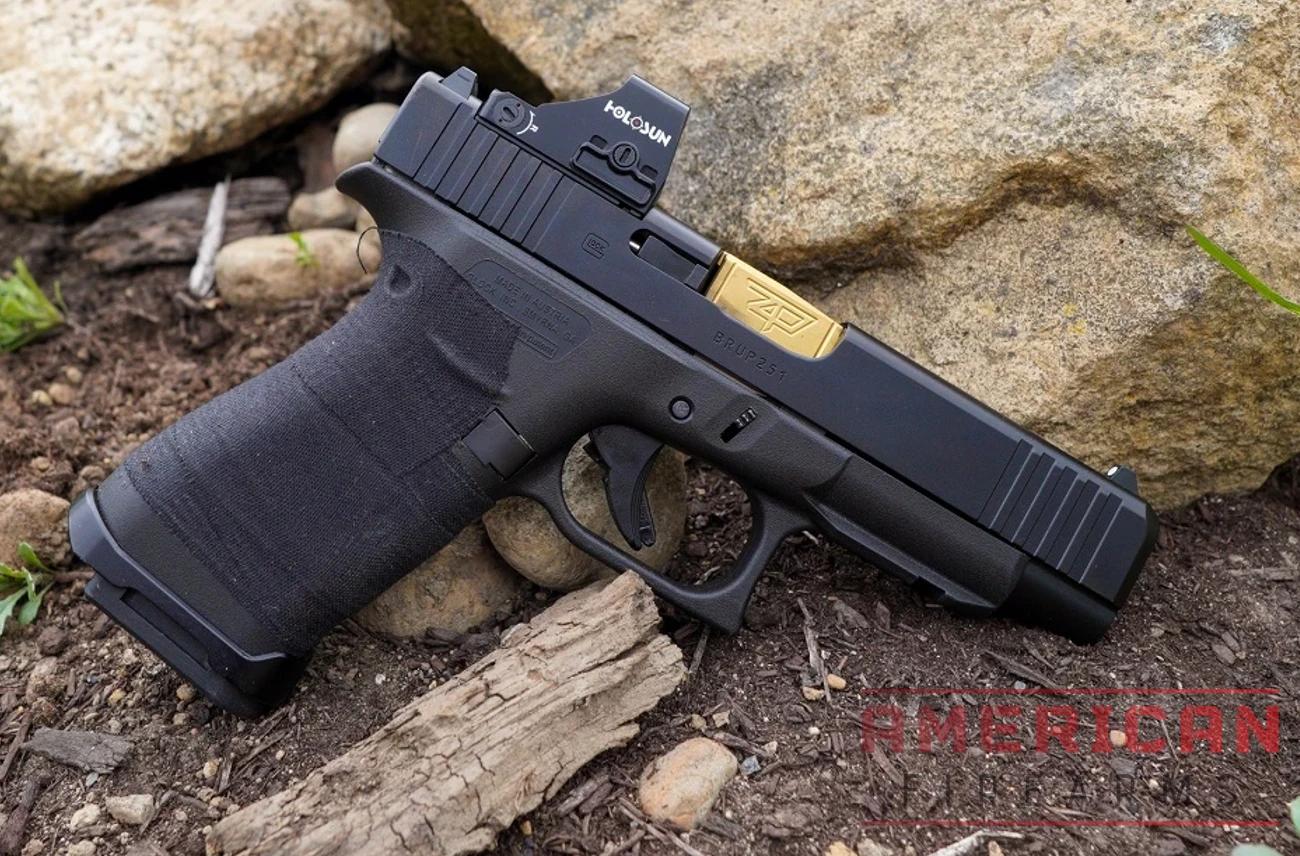 The Glock 48 pistol
The standard magazine capacity on both pistols is 10+1. And because the frame is the same, you can use the same magazines in either. Glock shooters have been hoping for years to get some continuity in magazines across platforms, and this was a step in the right direction.
I've been carrying for over a decade, and for most of those years, my EDC of choice has been the Glock 43. Everything else was just simply too big and bulky for my frame. Three years ago, I purchased a Glock 48 MOS, which has become my primary everyday carry gun.
You probably think I'm a Glock fangirl, but stay with me. While I like Glocks, they aren't the only pistols I own or even my favorite. I'll do my best to be objective as we review the Glock 48. Is it the "do everything" pistol people claim? Let's dig in and see.
One thing I've always loved about Glocks is the simplicity. Years ago, as a new shooter, this helped me understand how handguns work. I became more comfortable with firearms after learning to disassemble and assemble them again. And learning on a Glock 19 made that easier.
The company's founder, Gaston Glock, is an engineer who believed that reliability was the number one factor in a service pistol. Because of this, he aimed to keep early Glock designs simple by including as few parts as possible. Even today, a Glock pistol has an average of only 35 parts, making it easy to maintain.
The Glock 48 and its magazine
Frame and Grip
As I mentioned above, the Glock 48 is part of the Slimline lineup of pistols. At 1.1 inches wide, it's an excellent concealed carry choice (in fact, the slide is even thinner at under an inch in width). It's a very thin pistol.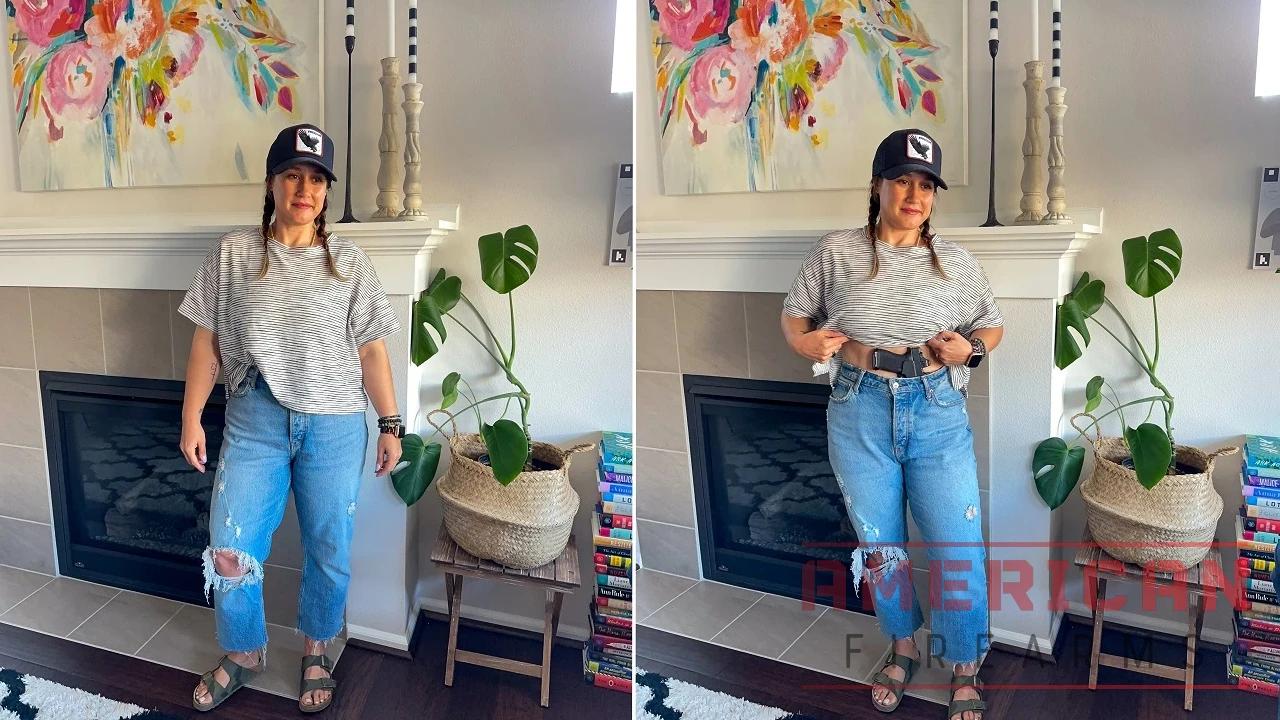 I'm 5-foot one-inch tall with a short torso, and for me the 48 is totally concealable thanks to its slimmer slide.
I'm 5-foot one-inch tall with a short torso, and for me the 48 is totally concealable thanks to its slimmer slide, unless I'm wearing something very tight. Alternatively, I struggle to conceal a G19 because that's just slightly thicker at 1.26 inches wide.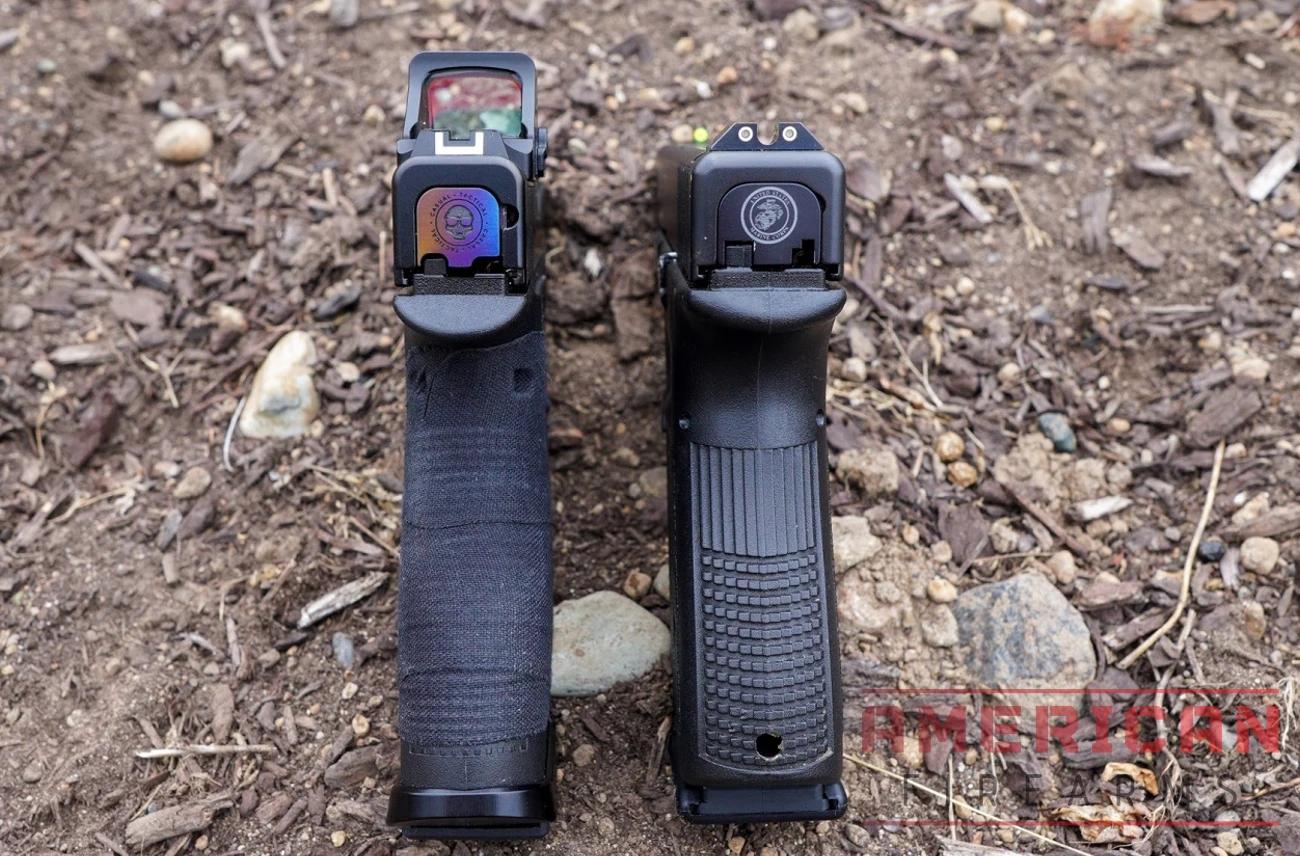 The width of the G48 (left) compared to the G19 (right).
The black polymer frame looks like most other Glocks. It's not a Gen 5, but it shares some elements like the short trigger distance and built-in beavertail. The grip is also your standard Glock variety but skinnier and with no finger grooves. I like how it feels, but it's nothing to write home about regarding ergonomics.
Trigger
With the G48, you're getting the standard Glock factory trigger. Not too bad, but not too great, either. At 5.25 pounds, it's heavier than I expected and I have seen reports of G48 triggers with 8 to 10 lb pulls. Mine has a little nicer overall trigger than other Glocks I own, but there's a degree of personal preference regarding triggers.
With the G48, you're getting the standard Glock factory trigger.
The G48 trigger pull has a short but heavy-ish take-up until you reach the wall. From there, it's a rolling break with a bit of resistance. And then it resets itself back to the wall. The reset is also short and very positive. You can both feel and hear it.
Unsurprisingly, many people swap out the factory Glock triggers for an aftermaket option that's lighter and smoother. There are tons of aftermarket triggers out there with something to suit every shooter's needs.
Slide and Barrel
The G48's slimmer slide features front serrations in addition to the rear, which is another Gen 5 feature that should have been added long ago. They look nice and balance the aesthetic of the pistol. I wish they were deeper, as brand-new Glocks can be challenging to rack until broken in.
While you get both front and rear slide serrations, they're a touch shallow for me.
The Glock 48 comes with the Glock Marksman Barrel (GMB). The GMB falls somewhere between their traditional barrel design and a new polygonal rifling. It's the same barrel that comes on Gen 5 Glocks and is designed to improve accuracy.
That barrel is also about ¾ of an inch longer than the Glock 43 barrel, and an inch longer than P365 barrels, making it roughly the same length as the Glock 19. That longer barrel, of course, translates into more velocity.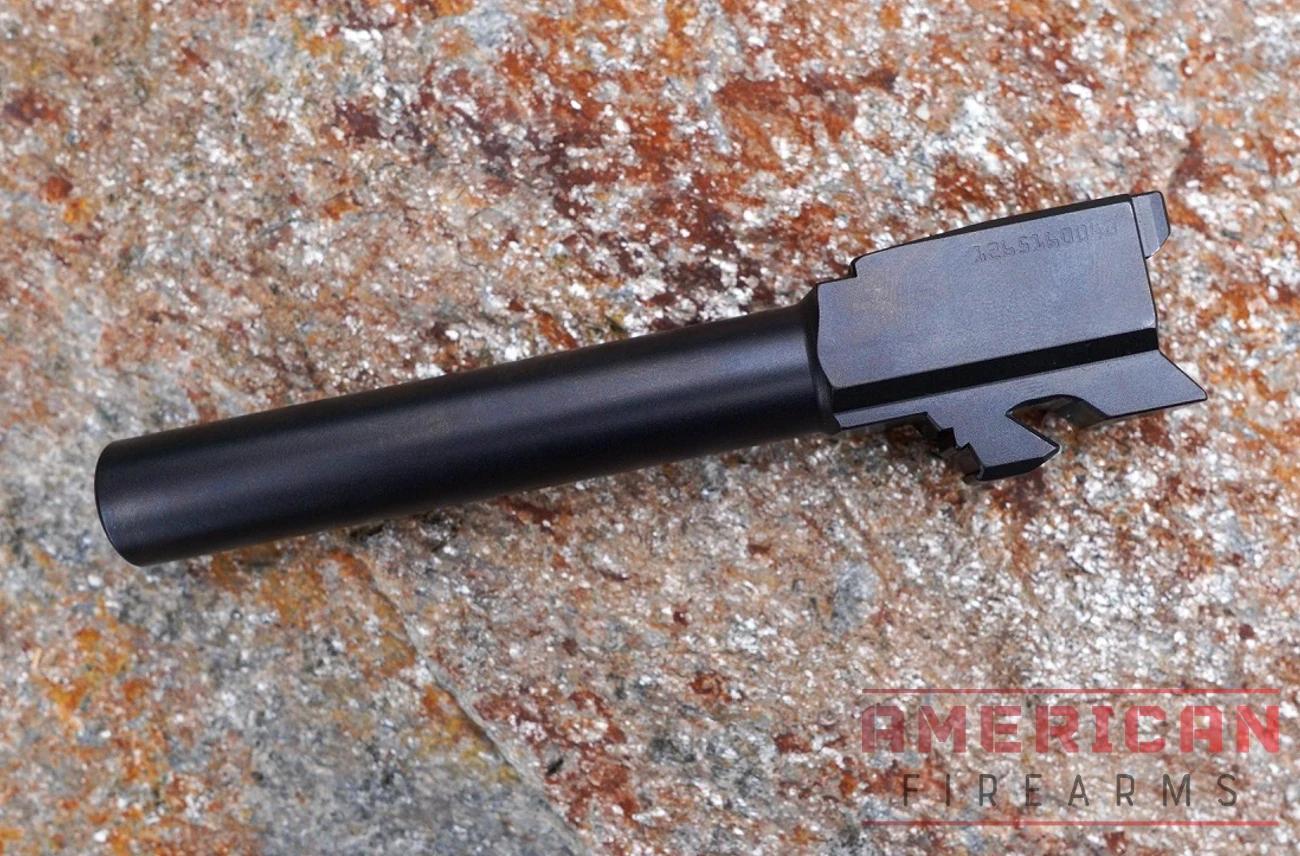 The Glock 48 comes with the Glock Marksman Barrel (GMB), which falls somewhere between their traditional barrel design and a new polygonal rifling.
Why does velocity matter when it comes to carry pistols? Well, most people carry hollow point rounds for self defense, and more velocity means a more consistent hollow point expansion. This produces bigger holes and stops threats more quickly.
That's a big part of the G48's selling point — an easy-to-conceal pistol that gives you a faster means of taking down threats. Of course, if you want something fluted or with dynamic color, you can always upgrade your barrel, too.
Sights
The G48 comes with the standard plastic Glock sights. There's also the optional upgrade to AmeriGlo installed from the factory. It's a nice option with a square-notch rear sight and either an orange or yellow front sight. And if you don't like either of those, there are plenty of aftermarket and upgraded sights to choose from.
The Glock 48 slide is not optics-ready unless you get the MOS version, for which you'll need a micro-reflex optic like the Holosun 507k or Shield RMSc
The Glock 48 slide is not optics-ready unless you get the MOS version. If you do, you'll need a micro-reflex optic like the Holosun 507k or Shield RMSc. Depending on the red dot sight you choose, you'll also need to buy the appropriate mounting plate for the associated footprint.
Accuracy
Being a slimmed-down version of the Glock 19, with similar slide and barrel dimensions, I expected the 48 to perform similarly at the range. When I bought it, I was mostly shooting a Glock 43, and surely the longer grip had to make the G48 less snappy, right? Well, yes, and no.
It's certainly easier to control than a Glock 43, and the longer sight radius is helpful, but there is still a good amount of recoil and muzzle flip. More than I expected.
Chalk it up to the very slim grip. That narrow grip concentrates recoil force more directly into your palm, which makes it feel a little rowdy. The built-in beavertail is supposed to mitigate this, but that's where I feel the recoil. It's not a deal breaker, but I think I'd struggle to shoot the G48 all day compared to something like the G19.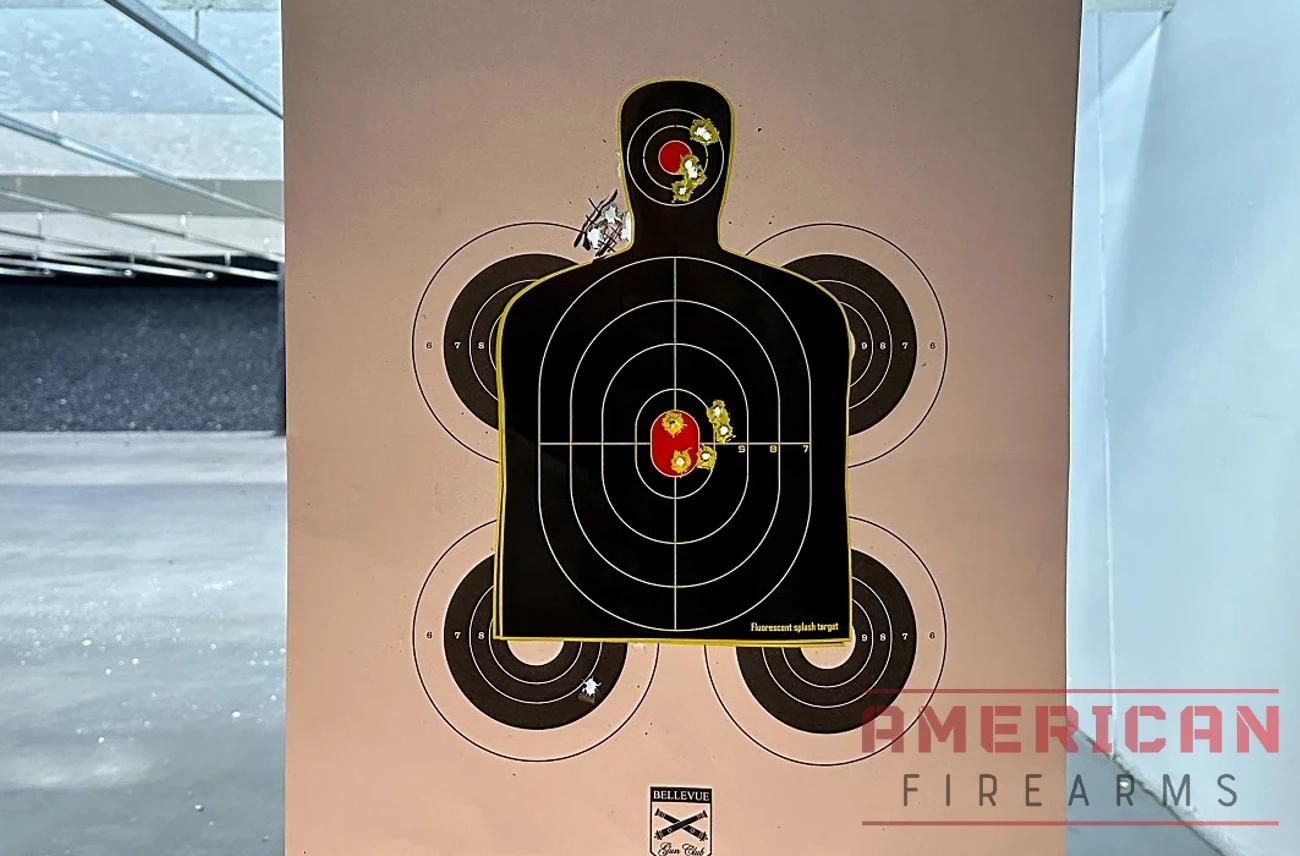 Solidly tight groups fired from 3 yards with my G48.
I took my Glock 48 MOS with a Holosun 507k installed to the range to test the accuracy for this article. I bought mine during the height of the pandemic when we were hoarding ammo and not practicing much. As of today, I'd say it's got about 1000 rounds through it since I started shooting regularly again.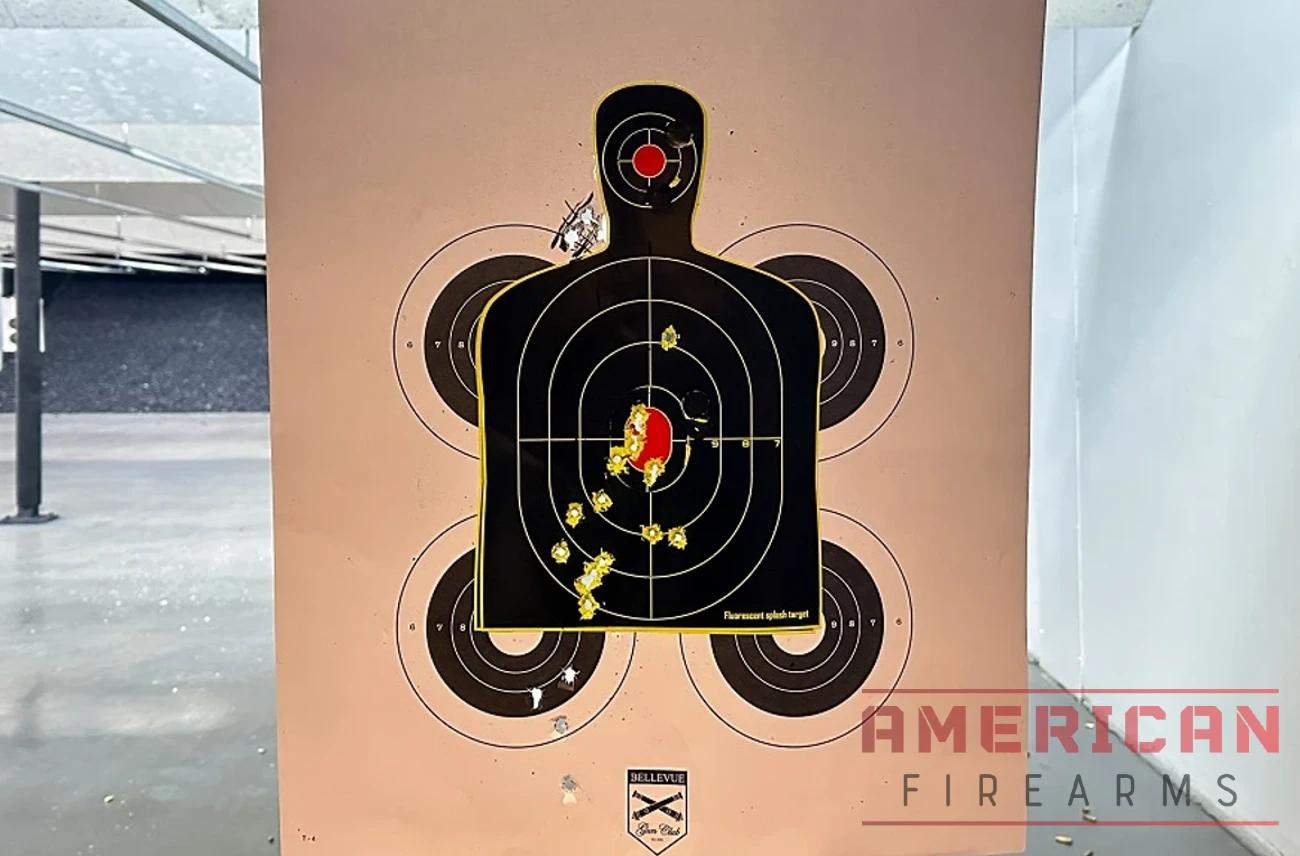 At 10 yards I dropped several shots and produced a much wider pattern.
At 3 yards, I'm pretty accurate. And when I get out to 10 yards, you can see where I dropped several shots. This is something I struggle with after shooting it for a bit. The trigger starts to feel heavy, and I anticipate the recoil, which is something I'm working on.
Clearly, the longer slide puts it above the G43 in the accuracy department, but not in G19 territory. I think the factory sights hold the pistol back in terms of both speed and accuracy as well, so opting for the G48 MOS (as we reviewed here) gets around the need to swap out the irons for night sights altogether.
Ergonomics
If you're comfortable with Glocks, the 48 will feel familiar. That's one of the plusses of Glocks, after all. You can switch from model to model without much adjustment. It's one of the reasons I go between a G48 and a G43 for my daily carry.
The grip feels surprisingly great in my small hands. I don't consider it ergonomic because it's basic, like all Glocks. It's slim, there's no palm swell to speak of, and the backstrap isn't interchangeable. Still, the 48 is a good fit for me.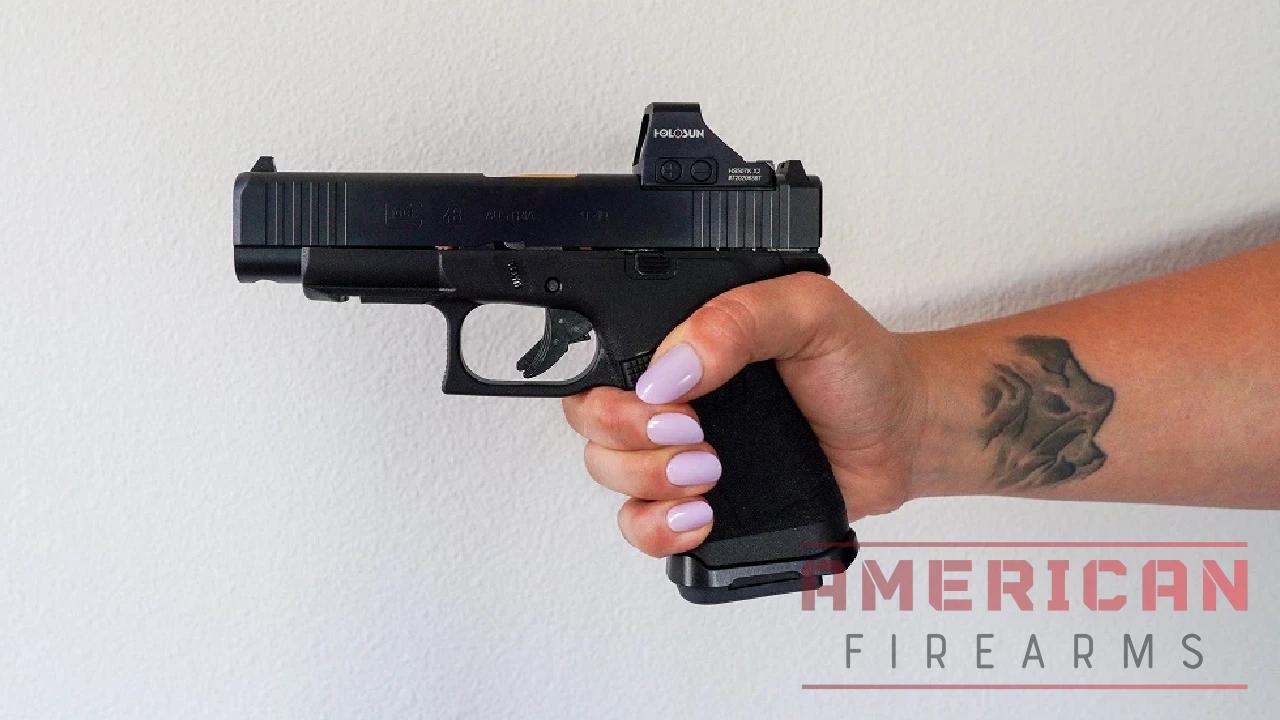 The grip feels surprisingly great in my small hands.
My husband has large hands, and he also likes the feel of the 48. The distance from the backstrap to the trigger is similar on the 48 and 19, which is why I think it works well for big and small hands. I find the slimmer grip makes it much to reach the trigger on the 48.
The grip is also a good length for drawing from concealment. I carry a Glock 43 in the summer, and depending on the position, it can be difficult to get a purchase on the small grip. It's nice to get that solid grip from the holster.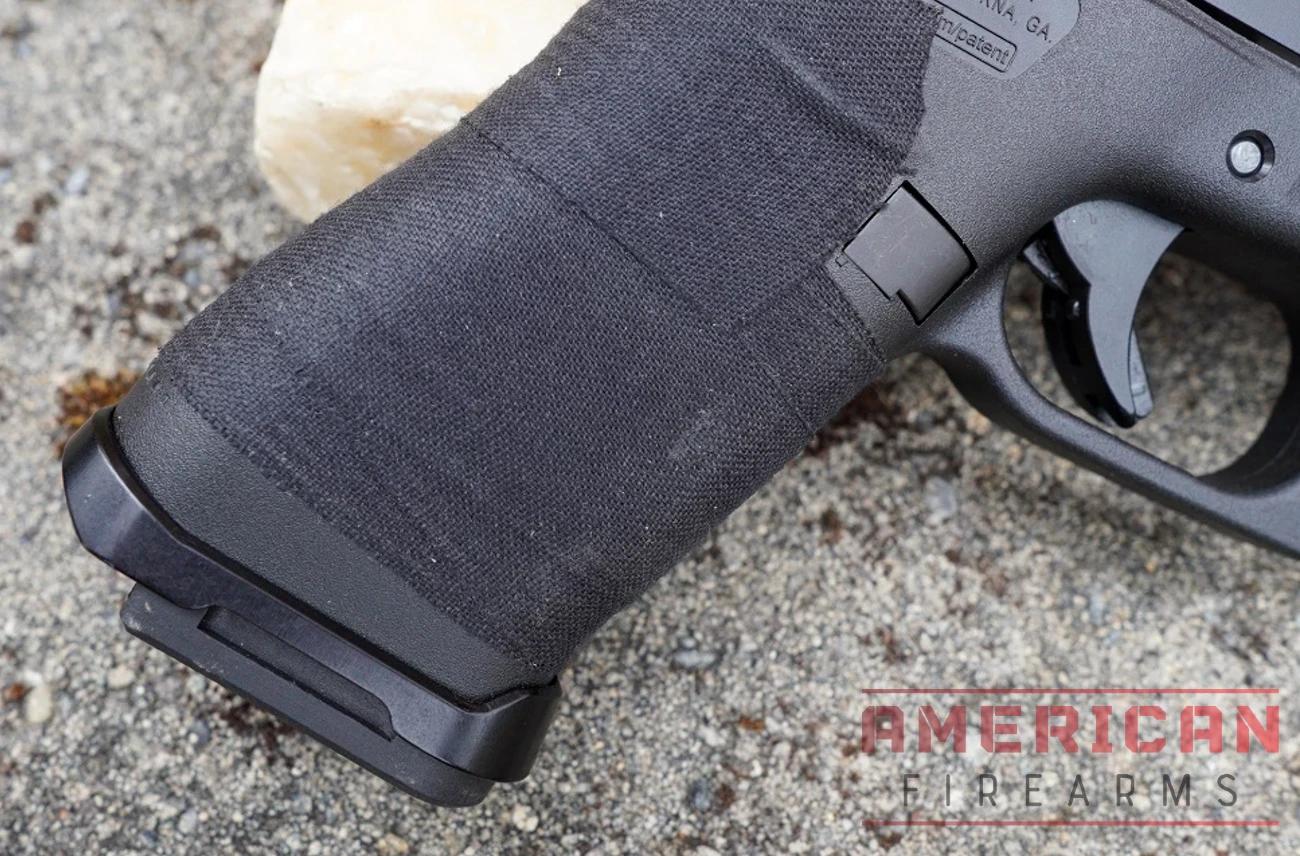 The grip is slim and there's no palm swell to speak of, nor is the backstrap interchangeable, but the G48 has a good fit for me.
The grip texture is Glock's standard raised squares. The 48 isn't technically a Generation 5, so it doesn't have that more aggressive texture. It's good enough for a short trip to the range, but you'll want something more if you have sweaty hands. I use grip tape on mine, but you could have it stippled.
The controls are standard for Glock. You get what you'd expect at the price point and not a bit more. And as with any Glock, there are about a zillion aftermarket part choices if you want to upgrade.
The mag release is the basic plastic version that comes with all Glocks. It's ambidextrous and easily switched for the lefties. I prefer something slightly more extended, or even a metal magazine release, but it works well enough. I have to break my grip to drop the magazine, which is the standard for me, and my small hands on most pistols. I've swapped mine for Shield Arms Steel Mag Catch since I almost exclusively run the S15 single stack magazine.
The slide-stop is basic, but it works well enough. I like that it's low-profile, but you could swap it for something extended if you prefer.
Features
As far as features, the theme here is basic. Many people buy a Glock and swap several parts right away. And others leave it completely stock. The beauty of the simplicity of the Glock design is that it's straightforward to make upgrades. I'm not mechanically inclined, and I've replaced parts on mine.
The Glock 48 comes with a 10+1 round polymer-coated steel magazine. Given the size difference over the Sig P365XL, which has 12+1 rounds, I expected a little more, but it's great for people in magazine-restricted states.
To increase the capacity, you can get the Shield S15 magazines. I've seen several people have issues with these, but I haven't experienced it myself in either generation one or two. Note that you'll need to upgrade to a steel magazine catch if you run the S15s.
The Glock 48 lacks a front accessory rail, so if you want to attach a light, you're out of luck. They added this on the MOS version, which is what I have, but the rail is not standard width. Still, manufacturers have worked around this, and you can find several lights that will fit on the 48 MOS.
Fit & Finish
The Glock 48 looks like, well, a Glock. Utilitarian is the word that comes to mind. The slim profile looks nice, and everything is streamlined. And the front serrations make it look a little cooler.
You won't find any flashy aesthetics here. It's your garden variety black polymer gun. They tried to make it different by offering the initial run with a silver slide. I wasn't a fan of that one, so I was glad to see the all-black option, but I give them credit for switching it up.
Reliability
There's a reason Glock sells so many pistols, and it's because they're as reliable as they come. What they lack in features, they make up in dependability, which matters for a self-defense pistol. 
A quick search on YouTube will give you all kinds of examples of shooters who never clean their Glocks, yet they still seem to run. I'm a clean-after-every-range-trip kind of gal, but I've had zero issues with my 48 MOS with about 1,000 rounds through it. And in case my husband reads this, I'll give him credit as the gun cleaner in our household.
My G48 MOS also takes any ammo I feed it and performs as expected.
Value
Glocks are uber affordable, which makes them a good value for the money. If you're like me and like upgraded parts, that value starts to diminish. Add on an optic or nice steel sights and a couple of Shield mags, and your $500 Glock 48 is creeping up in investment.
It's no secret that other pistols in this class come with better parts from the factory. These guns are typically more expensive, so you'll need to decide what's worth your money. Like anything else, a lot of what people like is personal preference.
Overall, you're not getting a fancy, feature-rich pistol with the Glock 48, but you are getting a solid concealed carry gun. Glocks have been the reliable choice for many years compared to other manufacturers, which matters for a carry gun. And while they function with very little maintenance, they're also straightforward to take down and clean.
Smaller Alternative: Glock 43X
The Glock 43X is the slightly shorter brother to the 48. The two pistols share the same frame, but the 43X has a shorter barrel and slide length, putting it in the realm of subcompact guns.
Because they share a frame, they also have the same grip and share magazines which means you get the same capacity (10+1) with the factory option. And you can also get 15+1 with the Shield S15 magazines.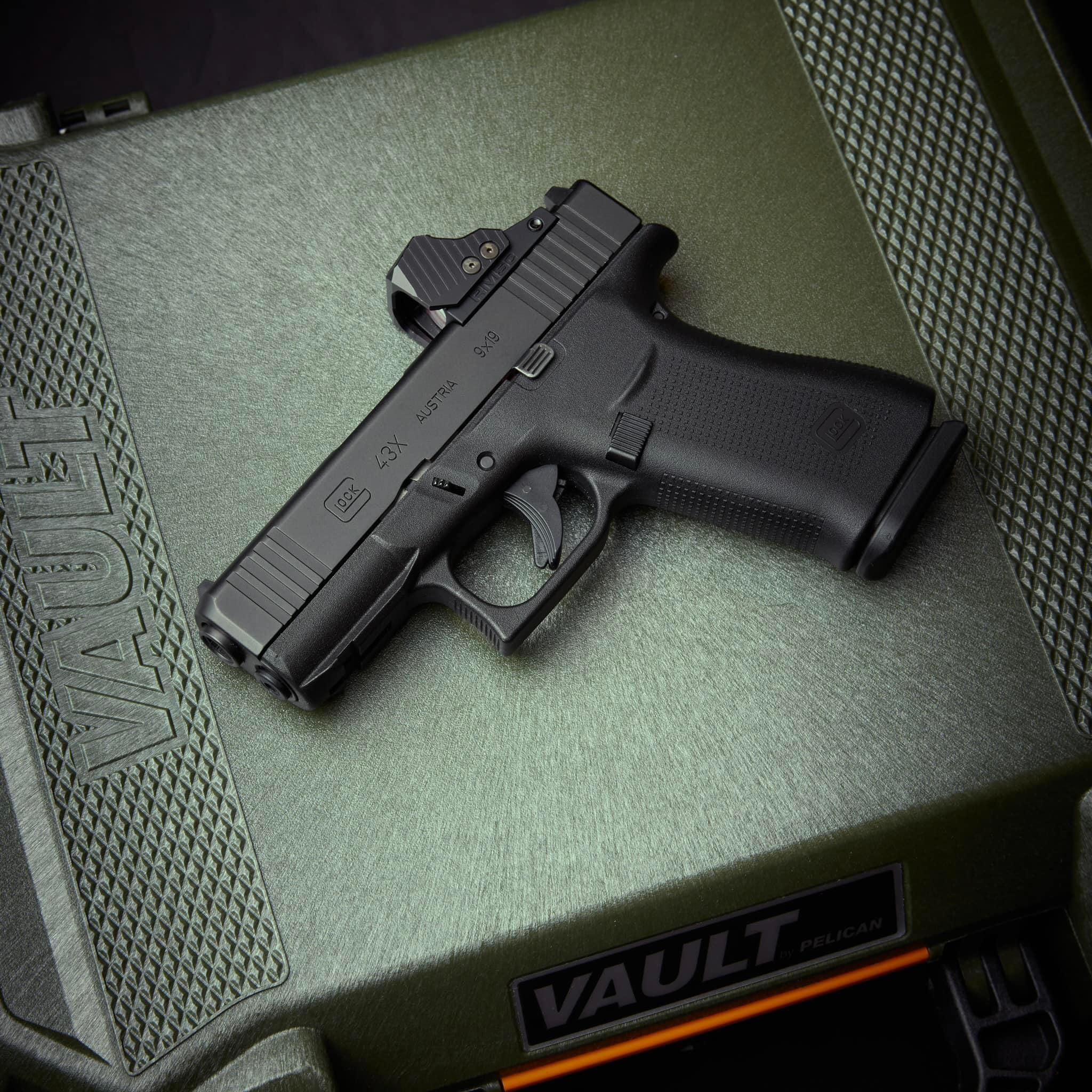 The Glock 43X
The ergonomics and feel are identical to the Glock 48 because of the shared frame. Shooting, however, is snappier, as expected with a subcompact handgun. That's not a deal-breaker for a concealed carry gun, but just be aware that you might have to work on your fundamentals with the smaller gun.
Everything else about the design, like the trigger, slide, and controls, is basically the same as the G48. Some like the smaller version because they find the shorter slide easier to carry. I'm the opposite and prefer a longer slide, so it doesn't dig into me. Of course, you can carry the G43X in a G48 holster to alleviate that problem.
More Capacity: Sig Sauer P365XL
The P365 line of pistols is wildly popular due to the capacity Sig seems to cram into such small guns. The P365XL is slightly smaller than the G48, but the factory magazines have a higher capacity.
With options for 12+1, and 15+1, you can carry a few more rounds than the 48 without buying aftermarket magazines.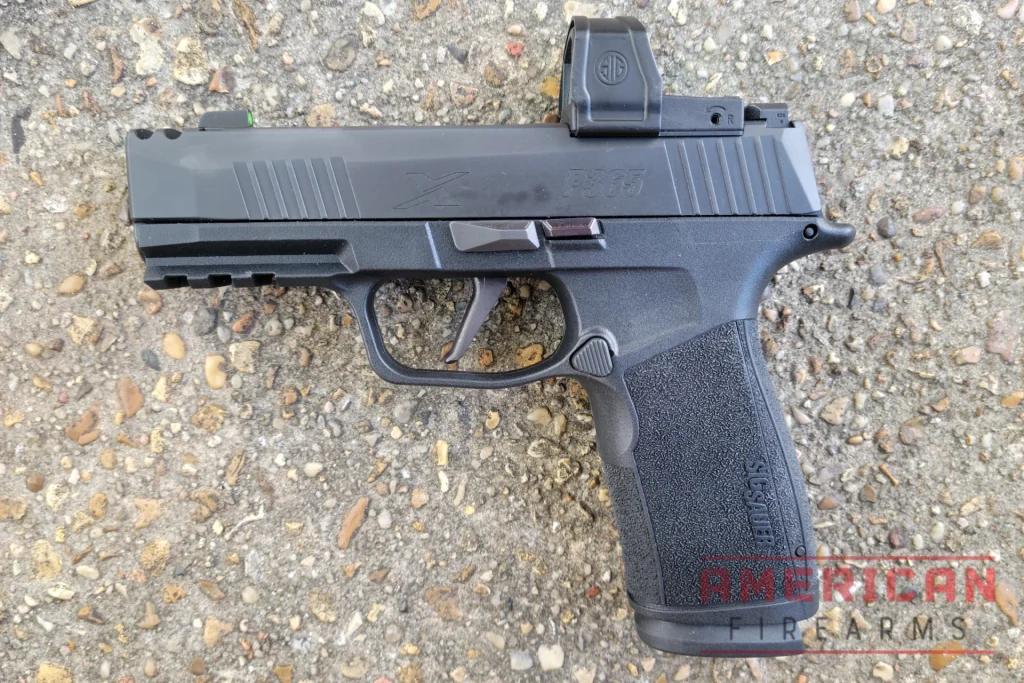 The P365 XMACRO
Many people feel the stock trigger on the P365XL is better than the G48, but overall it shoots about the same. It's slightly snappy for its size but shoots accurately.
If you have large hands, the grip may feel small for the size of the gun, but small-handed shooters will likely love it. If you want more capacity and a slightly larger pistol, there's also the P365 XMACRO, which we reviewed here, and gives you 18 on tap.
Is the Glock 48 a good gun?
Why is the Glock 48 so good?
Is the Glock 48 as reliable as the 19?
Is the Glock 48 MOS worth it?