The Best Gun Safe Dehumidifiers
Written By
Michael Crites
Licensed Concealed Carry Holder
Reviewed by
Editorial Team
Learn About The Editorial Team
Share:
Products are selected by our editors. We may earn a commission on purchases from a link. How we select gear.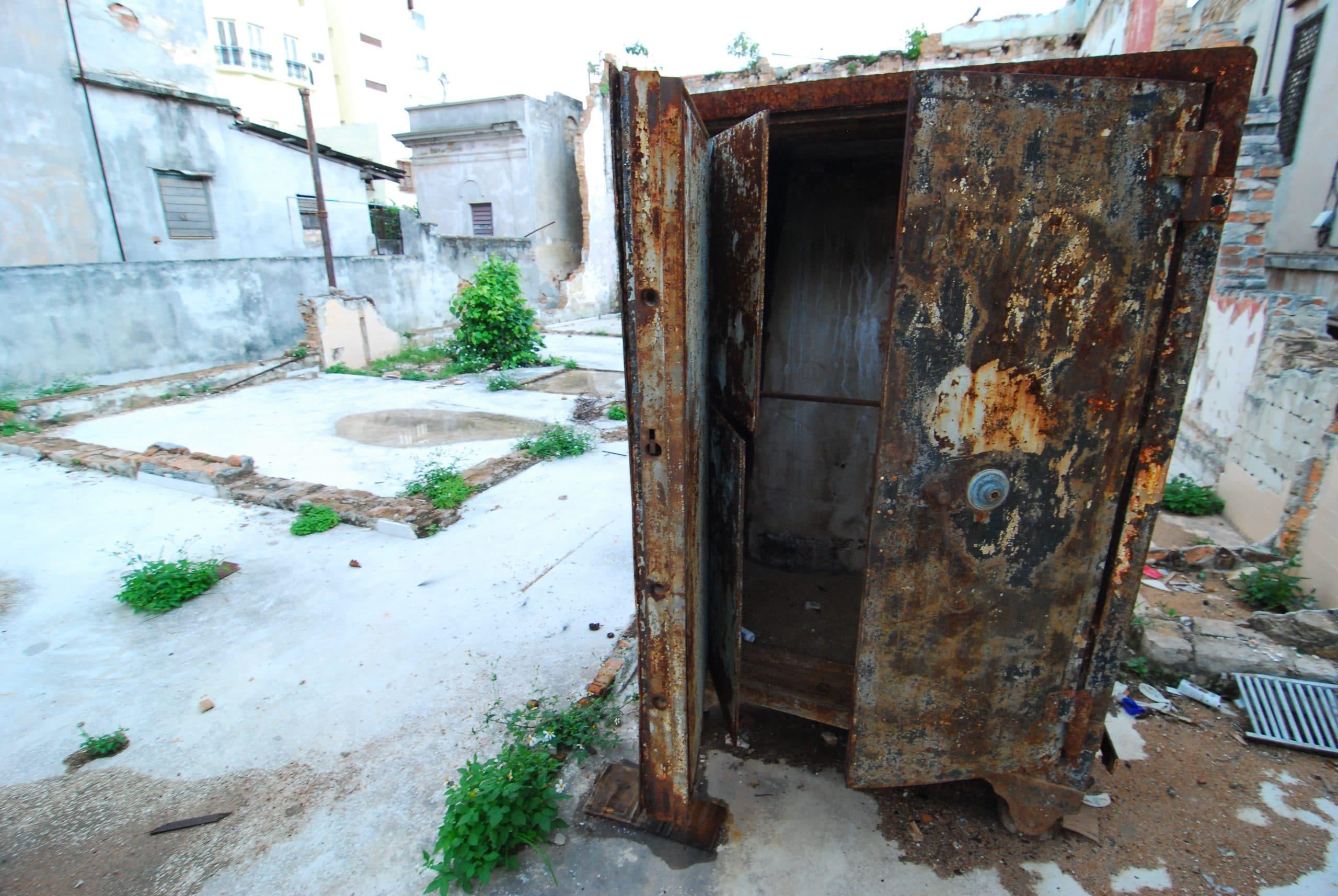 Dehumidifiers are the perfect accessory for a gun safe. They regulate a safes internal humidity levels so your firearms will retain their cosmetic integrity and optimal functionality.
Failing to control your gun safe's humidity can result in rust or corrosion – which completely defeats the purpose of storing them to begin with. 
We've compiled a list of handpicked recommendations from our team of experts to help you separate the wheat from the chaff – and hopefully give you a little education along the way.
Gun Safe Dehumidifier Comparison
Below is my list of the best gun safe dehumidifiers for 2022. I list the best choices in terms of value, performance, reliability, and cost.
Click on the name to head to the product page, read reviews and check prices or skip ahead to the list of dehumidifiers.
Gun Safe Dehumidifier Reviews
1. Liberty Safe Dehumidifier Rod
What we liked:
Protection against rust and mildew
Multiple size options 12″ or 18″ 
Simple installation with the two snap-on legs 
Easily plugs into any electrical outlet 
What we didn't:
Only two sizes to choose from
The 18″ still too small for large safes 
Needs electricity to operate
Our testers awarded the Liberty Safe Dehumidifier the top choice for gun owners looking for a dehumidifier due to the device's overall effectiveness.
Once the Liberty Safe Dehumidifier Rod is at 100-120 degrees Fahrenheit, the dehumidifier produces natural convection that evenly disperses warm, dry air over consistent 24-hour periods.
It's this thorough, consistent production of a dry environment that makes the Liberty Safe Dehumidifier surprisingly effective. 
Our experts found that the Liberty Safe Dehumidifier was convenient with a simple wall outlet plug and the optional electrical outlet kit offered through the Liberty gives you back some outlet space.
2. Lockdown Dehumidifier Gel
What we liked:
Absorbs moisture via a vault design 
Doesn't require constant power connection 
Durable and minimalistic in its design
What we didn't:
One year warranty as opposed to a lifetime warranty 
Recharge requirement
The best desiccant dehumidifier in our opinion is the Lockdown Silica Gel Can. 
Part of what makes the Lockdown Silica Gel Can an excellent product is its simplicity. Gun safe owners looking to purchase a dehumidifier might hesitate when it comes to a silica gel dehumidifier due to the maintenance – or the idea of trusting their firearm collection to something as simple as a silica gel canister. 
The good news is the Lockdown makes it easy to see when you need to recharge it. Crystals within the device will change color when it's time to renew the canister, and recharging the device is as simple as placing the gel can into the oven to reset saturation levels. 
When it comes to a reliable and convenient gun safe dehumidifier, the Lockdown Silica Gel Can is hard to beat.
By absorbing moisture from the safe's enclosed space, the Lockdown fights mildew, condensation, & rust around the clock.
The Lockdown is available small, medium, and large sizes, which means you have an option if you own a smaller safe. Size and range specs for the Lockdown Silica Gel Can are:
1.5" x 6" x "2
2-pound weight
50 cubic feet efficiency 
The multiple dehumidifier sizes enable gun safe owners to find the right fit for there needs.
3. Renewable Mini Dehumidifier
What we liked:
Convenient size
Exceptional moisture-absorbent qualities 
Straightforward charging 
Silent
Safety conscious design
Quick installation 
Easy to read maintenance warnings 
Cordless operation 
What we didn't:
Large safes will require multiple devices  
Requires a recharge every 1-3 weeks 
Recharge takes over 12 hours
Our team of experts love mini dehumidifiers for their flexibility & the fact many gun owners use smaller safes that hold just a few firearms and don't need much in the way of dehumidification.
Plus, mini dehumidifiers significantly are simple to use and install, and the idea of less being more proves true with the Ezpur Renewable Mini Dehumidifier.
No gun owner wants inconsistent performance from their dehumidifier – but it's also important that you can rely on it without the need to service it too frequently.
You'll know when to charge the device when the beads change color from green to orange, and recharging can be done in 12-15 hours with a simple wall plug. 
The Ezpur Mini is also silent (nobody wants a noisy dehumidifier.)  It's convenient size and flame-retardant design were solid perks that sold our team of experts on this little gem of a dehumidifier. Mini dehumidifiers are an evolving technology – and similar models such as the Eva Dry Mini can dehumidify spaces up to 333 cubic feet.
While mini desiccant dehumidifiers may be small – they get the job done in big ways.
4. Stack-On Wireless Dehumidifier
What we liked:
Compact 
Easy to use and recharge 
Standard electrical outlet design 
Charge lifespan of up to 6 weeks
What we didn't:
Can get hot to the touch
Takes some time to recharge 
Somewhat pricey compared to other options
Some people prefer not to drill holes in their safes. While electric gun safe dehumidifiers tend to be slightly more popular than the desiccant variety, we thought it important to highlight another reliable option. 
The Stack-on Spad-1500 Rechargeable Cordless Dehumidifier pairs convenient size with a cordless design, so you can avoid drilling onto your safe.
In addition, you get:
Rechargeable for reliable performance 
Dry-wet level monitoring display
No need for batteries 
Low maintenance requirements for a desiccant model 
Easy installation
Stack-on Spad-1500's can efficiently remove moisture from a safe's enclosed space for up to 4-6 weeks, and recharging the Stack-on Spad-1500 is simple. Plug the device into your everyday outlet for easy plug-and-go powering.
Overnight charging is recommended as the device takes between 8-10 hours to charge, but once the Spad-1500 is charged the dehumidifier can remove moisture from up to 100 cubic feet of space.
5. Lockdown Dehumidifier Rod
What we liked:
Consistent power 
Easy set-up and installation
Affordable
Two size options in 12″ or 18″
Protection against rust and moisture 
Simple connection
What we didn't:
Simple bracket design doesn't offer a ton of support
Can get hot
Low quality plug
Obviously, not everyone owns a small safe. And with large gun safes, it's even more important to use a reliable dehumidifier, as they hold more firearms and have more surface area on which to develop condensation.
As previously stated – electric gun safe dehumidifiers tend to be slightly more popular an effective than desiccant models, which is even more true the larger the safe.
One of the perks of electric dehumidifiers is their consistent performance due to the fact you don't need to recharge the device. That said, you'll probably need to drill a hole in your safe as a means of threading the power cable, which can be a downside for some.  
Electric dehumidifiers therefor require more effort when it comes to installation than their desiccant counterparts. Our crew of experts noted that it's crucial to identify models of electric dehumidifiers that are easy to install so you don't take on more work than necessary. Nobody wants to re-engineer their safe's internals to run a wire or two. 
If you're putting in the work of drilling holes through a personal safe, you might find that the Lockdown Dehumidifier Rod is a low maintenance option when it comes to installation due to:
A useful quick plug attachment 
Included mounting brackets for quick set-up
With a dehumidifier range of up to 100 cubic feet, the Lockdown Dehumidifier Rod offers excellent value compared to other Lockdown models such as the GoldenRod Original Dehumidifier.
Choosing the Best Gun Safe Dehumidifier
It's essential to have an understanding of how dehumidifiers work and the different varieties and attributes that help gun safe dehumidifiers protect your guns.   
Gun Safe Dehumidifier Varieties and Attributes
Two main types of gun safe dehumidifiers remain popular with consumers:
Desiccant dehumidifiers 
Electric dehumidifiers 
Desiccant dehumidifiers don't require an electrical outlet, which negates the need to drill holes in a safe. If properly maintained, desiccant dehumidifiers can have a multi-month lifespan without much effort.
While electric dehumidifiers may require you to drill holes in a safe for wires or cables, electric dehumidifiers provide consistent performance without much maintenance. 
So, which variety of gun safe dehumidifiers are better?  
Gun Safe Dehumidifier Use
Whether you choose a desiccant or an electric dehumidifier, both devices perform the same task of absorbing moisture within the safe's enclosed space.
The type of dehumidifier design you select comes down to personal preference. 
As a heads up:  
Most desiccant dehumidifiers can run efficiently for a month before the need for reactivation. Many models of desiccant dehumidifiers contain beads that alert for the need to be changed or recharged via a change in color.
If you're a gun safe owner, purchasing a dehumidifier to regulate the moisture levels within your safe is always a good idea. If you're looking to keep your safe dry, you can't go wrong with selecting one of the five gun safe dehumidifiers our experts recommend. 
When we broke down how to select the best gun dehumidifier, there was an emphasis on: 
Choosing between electric and desiccant models
How to prepare for an electric dehumidifier 
The maintenance & installation effort involved 
Liberty Safe Dehumidifiershares similar perks that other products on our list contain, such as easy set-up, reliability, and multiple size options, what separates this dehumidifier from the rest of the competition is the precision in its design. 
The Liberty Safe Dehumidifier only produces enough heat to remove moisture from your gun safe's enclosed space. It doesn't actually get hot to the touch.
Stack-on Spad-1500 Rechargeable Cordless Dehumidifier were hot to the touch during team testing. 
With the Liberty Safe Dehumidifier, you'll receive optimal protection against moisture within your gun safe at an affordable price and with little to no maintenance. 
The Latest Gun Safe Reviews
The Best Biometric Gun Safes
The Best Trigger Locks
The Best Hidden Gun Shelves
The Best Hidden Gun Safes
The Best Under Bed Gun Safes