The Best Sig Sauer Handguns
Written By
Michael Crites
Licensed Concealed Carry Holder
Reviewed by
Editorial Team
Learn About The Editorial Team
Share:
Products are selected by our editors. We may earn a commission on purchases from a link. How we select gear.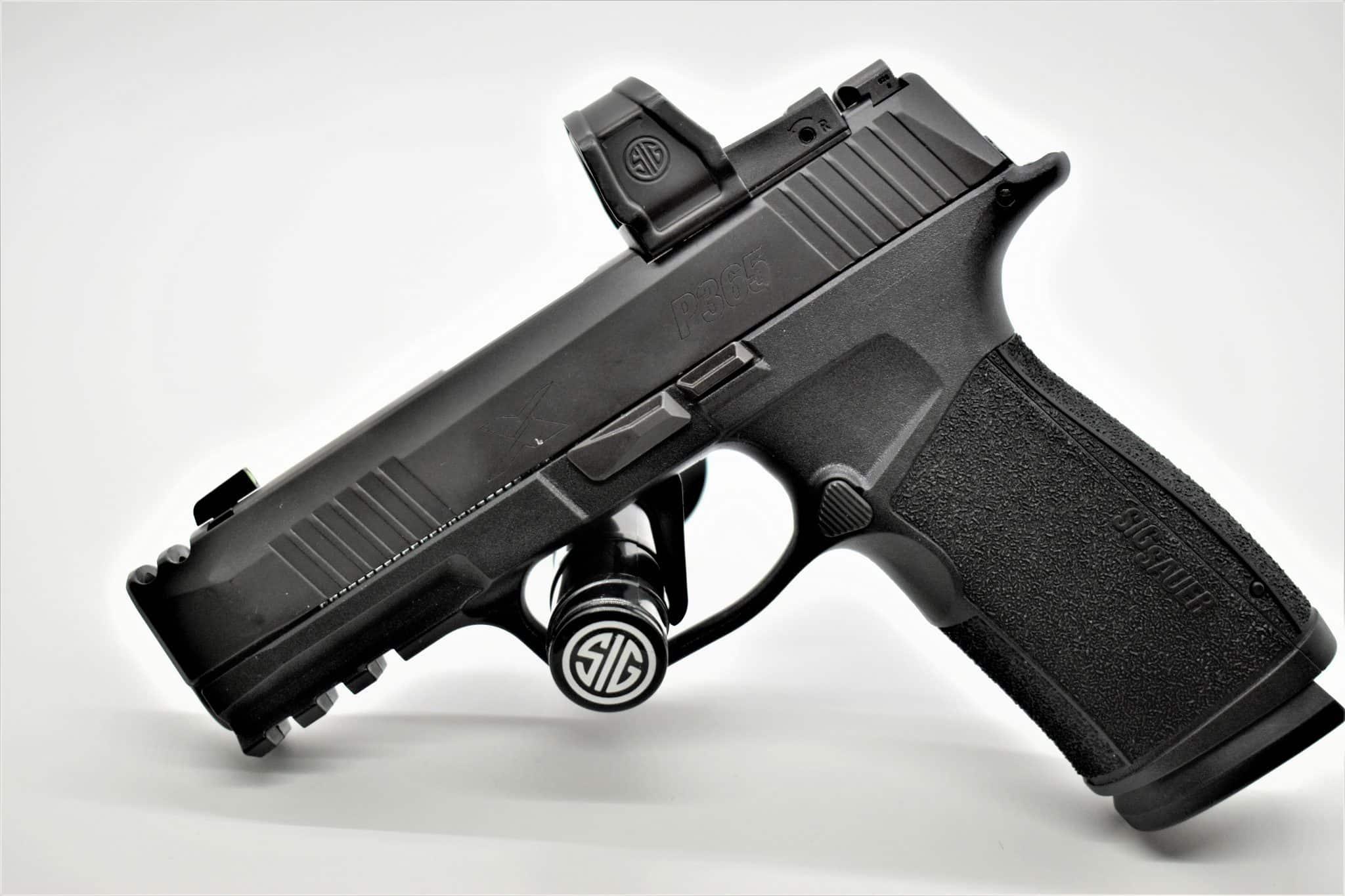 The Sig Sauer P365 is the best Sig pistol for most people. The P365 range has expanded well beyond the revolutionary carry pistol, with a serious collection of variants, configurations, and calibers to be discovered. At one inch wide, you have an all-metal pistol that'll go from concealed carry to home defense to range time without blinking, all with the legendary Sig dependability.
Sig Sauer Pistol Comparison
Sig Sauer makes an astonishing number of weapons, and we've received a number of requests for our take on the best of the Sig line-up – so here it is – a list of the best Sig Sauer handguns from carry to competition.
Sig pistols are legendary – from the original P230 to the new M17 modular system (which won the US Military's pistol shootout & subsequent contract) – these Sid handguns are the best of the best, which is saying quite a bit when you're talking about Sig Sauer products.
Below is my list of the best shooting Sig Sauer pistols. I list the best choices in terms of value, performance, design, and cost.
Click on the name to head to the product page, read reviews and check prices or skip ahead to the list of pistols.
| Name | Selection | Price |
| --- | --- | --- |
| | Best Overall | $499 |
| | Also Great | $485 |
| | Best .40 S&W | $1,356 |
| | Polymer Frame Pick | $599 |
| | Concealed Carry Pick | $649 |
| | Best 1911 | $999 |
| | Best .380 ACP | $1,099 |
| | Best Suppressor Host | $1,299 |
Calibers
Sig makes a ton of handguns, so we made sure to cover an array of pistols in top calibers.
Users
We picked handguns that are known to be used by some of the top operators anywhere.
Use Cases
We covered pistols in sizes that cover the most common use cases.
First-Hand Experience
The American Firearms team owns, has reviewed, or has range time with every pistol on this list.
More on our selection process
The Best Sig Sauer Pistols
1. Sig Sauer P365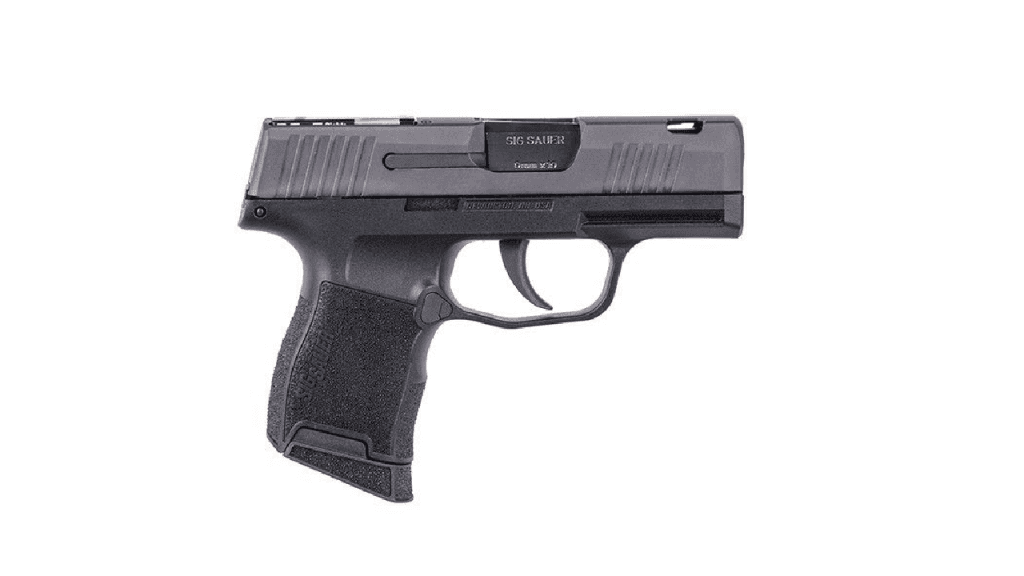 The P365 is one of the most reliable, lightweight, and easy-to-carry Sig handguns ever produced. In 2018, the company replaced both the metal-framed P239 and polymer P290 with something about the same size but added a 10-round, 12-round, or 15-round magazine capacity in a salute to the "every day, 365" set — the P365.
The Sig 365 is super easy to disassemble & service
The resulting pistol just about broke the carry market and has proven to be one of Sig's most popular introductions of all time.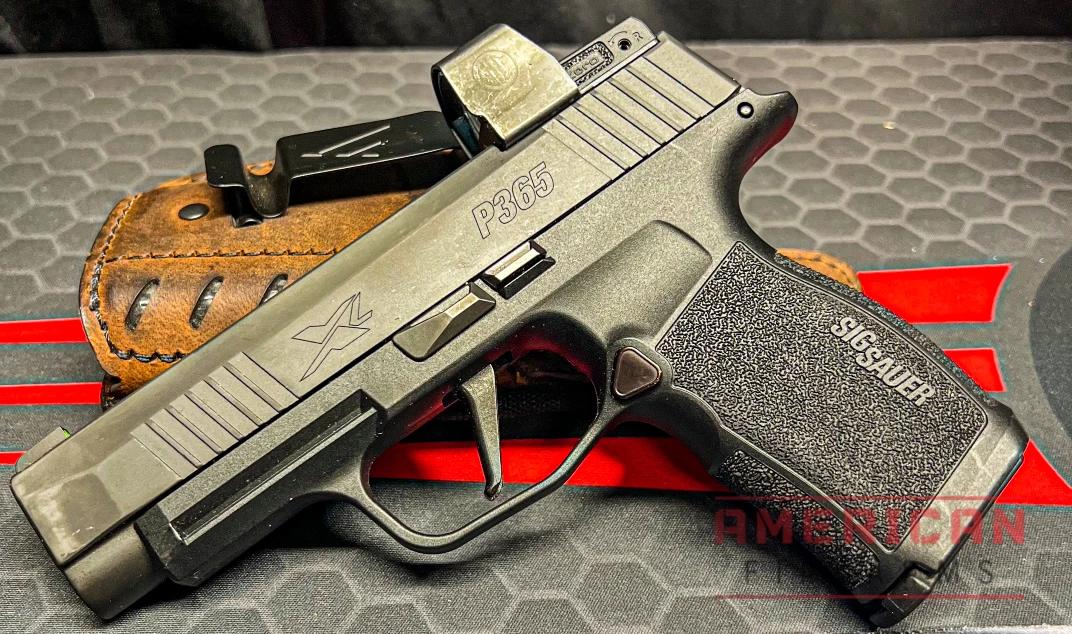 My favorite variant, the P365XL, gives you two more rounds worth of capacity and touch more grip space.
With a width of just one inch, this high-quality all-metal pistol has the right mix of ergonomics & performance to top our list and top the list of most pistols designed for those who carry concealed or want a proven pistol for home defense.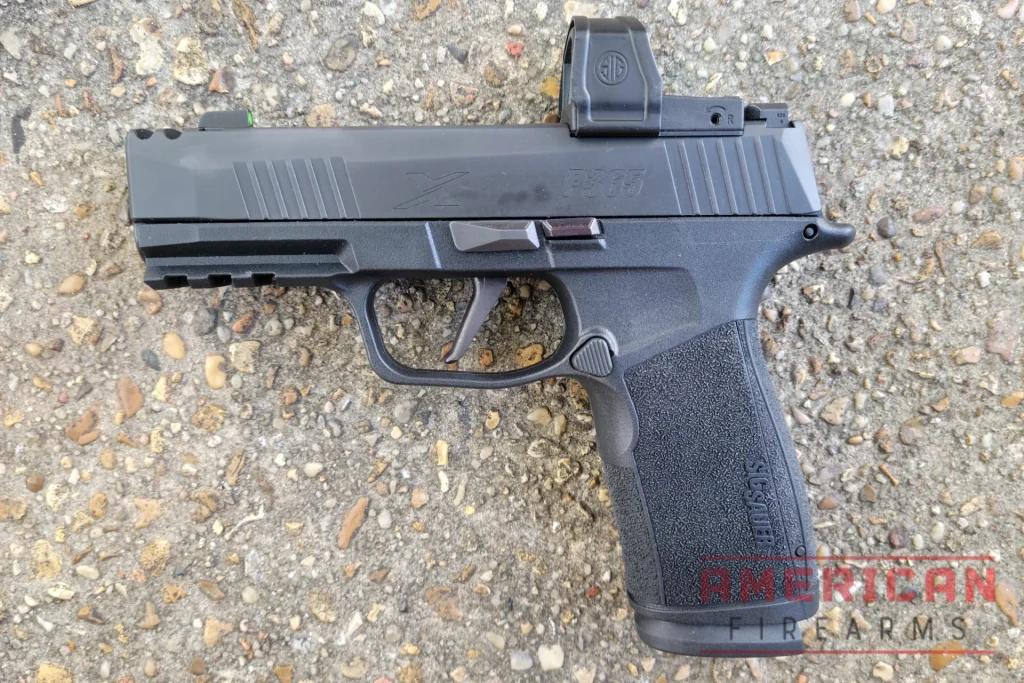 The XMacro is like your other P365, just bigger. This one's sporting the SIG Romeo Zero Elite MRD, which was built specifically for the P365 platform.
Taking a step beyond the tiny carry model P365, we took the P365 XMacro out for a spin to see what the latest innovation in the P365 platform had to offer. It didn't disappoint.
2. Sig Sauer P320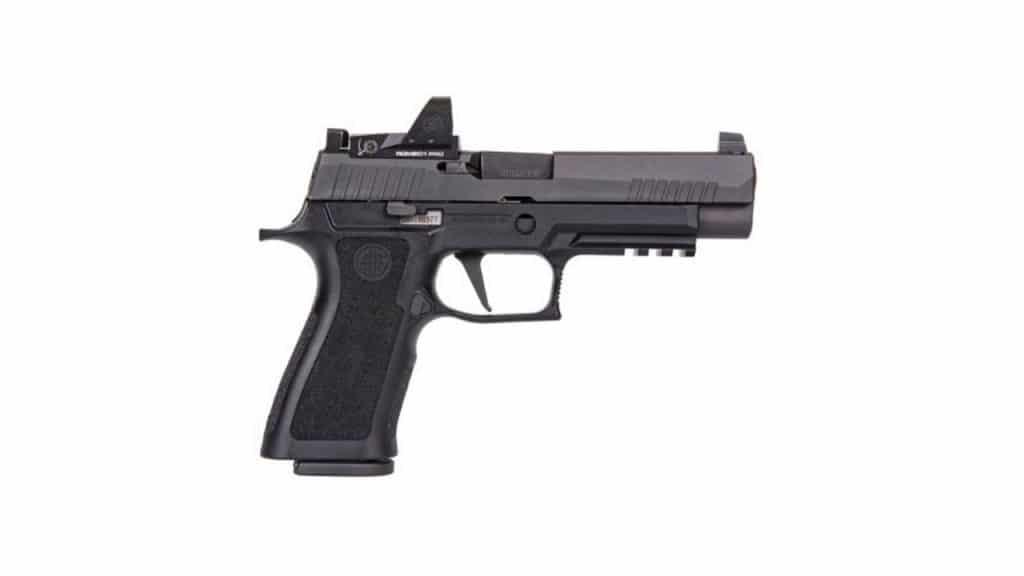 The United States Military official handgun. If it's good enough for Uncle Sam it's good enough for us. A remarkable striker fired pistol platform for the next decade.
SIG P365 XMacro w Sig Foxtrot G19X w TLR7A Sig P320 with Inforce Wild
Led by Sig engineer Ethan Lessard, the project that would become the P320 pistol were intitally started in the P250 format, with the first two prototypes using  Sig's standard protocol of magazine removal and slide lock before disassembly is possible which eventually went nowhere.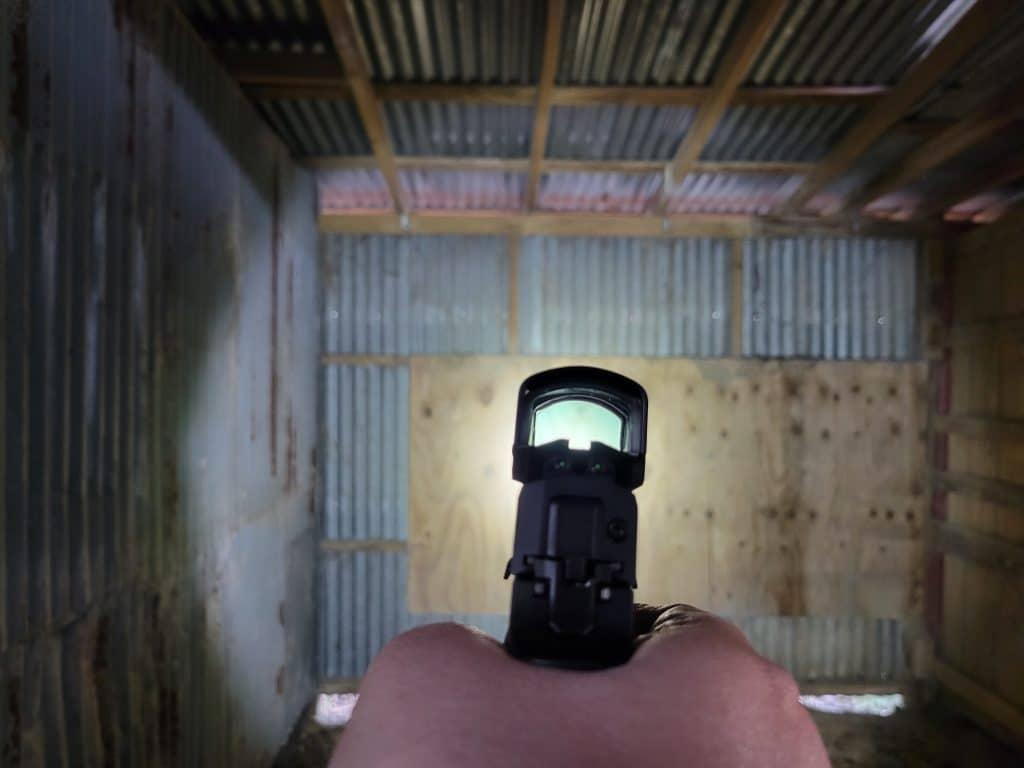 Sig P320 with Inforce Wild WML
Sig's striker-fired pistol project kicked back off around 2011, with one prototype way outside the norm for striker-fired guns because it cocked on opening like a hammer-fired pistol.
Sig eventually chose to enable the P320 to cock on closing, as well, giving the P320 a remarkably good feel in hand, a distinctive look, and a relatively low bore axis — all of which results in less muzzle rise and reduced time between shots.
Also worth noting, the P320 sports a manual safety, a key Army requirement.
The beauty of the Sig 320 in action.
The P320 is double action only, which means a single trigger pull both cocks and releases the firing pin, firing the gun quick;y and effectively.
3. Sig Sauer P229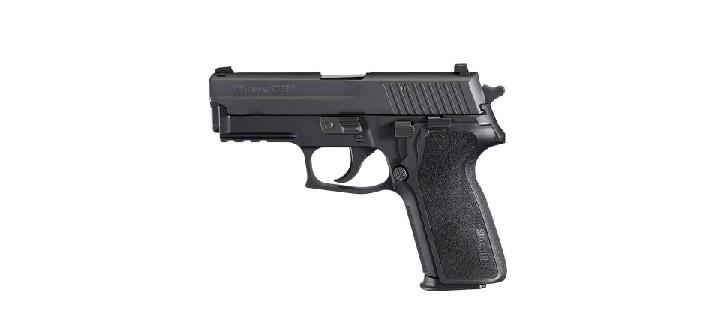 When the .40 S&W cartridge was introduced in 1990 at the SHOT Show, the industry more or less jumped into the deep end of this so-called "compromise cartridge."
But not everyone.
Many brands introduced .40 pistols that were just rechambered 9mms, Sig determined that the high slide velocity and significant pressure curve of the .40S&W required some significant engineering to get right, so they waited a full 12 years later, and in 1992 the P229 was one of the first .40S&W pistols that truly worked.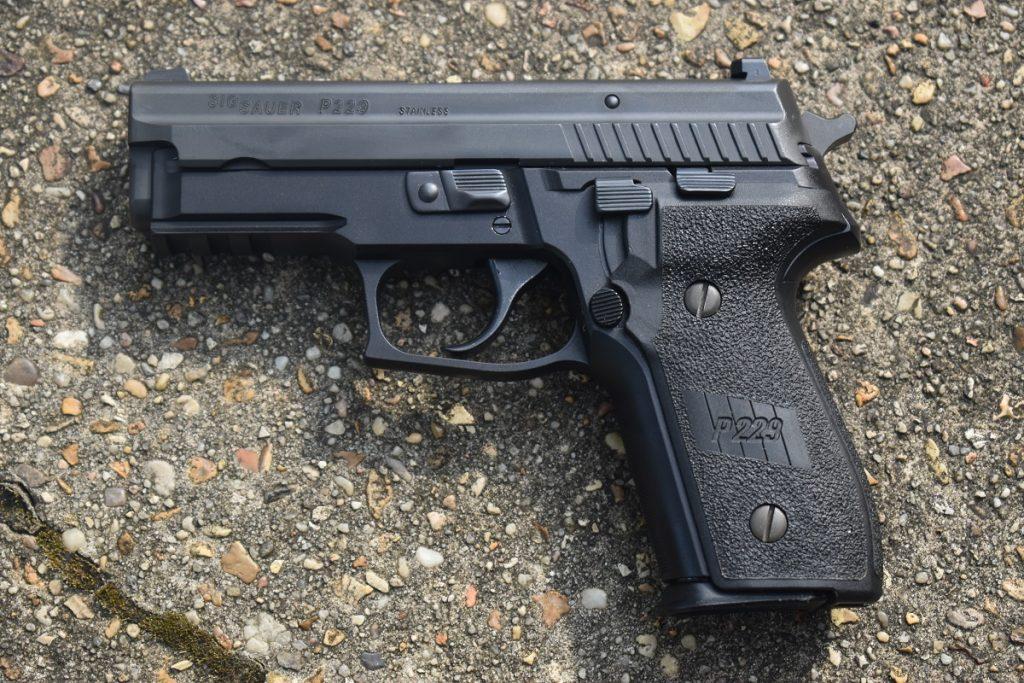 Sig P229
The 229 Legion is one of 3 pistols introduced with the launch of the Legion Series. These are factory semi-custom variants of classic Sig pistols that offer premium upgrades not available on the stock versions.
The P229 packs a more rugged, slightly thicker slide than the P228, which, along with its metal frame, adds some weight, eventually landing about an ounce and a half heavier than the P228 — which works well with the snappy .40S&W cartridge.
If you're going to pick up a double-action carry pistol – the Legion version of the P229 is a superb example of a Sig pistol engineered to keep the .40S&W under control.
These Legion pistols are simply outstanding.
4. Sig Sauer SP2022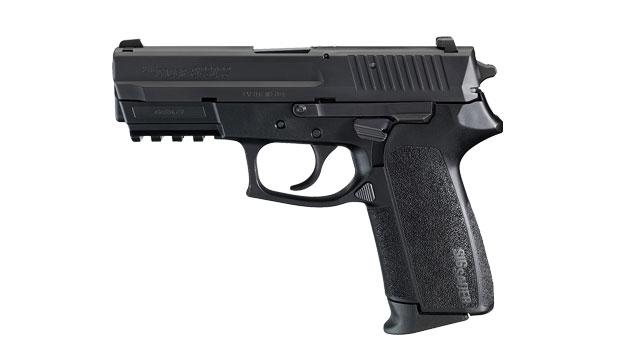 $674.99
Often overlooked in favor of the P365 and P320s of the world, the SP2022 is an affordable 9MM Sig designed to compete with Glocks and other polymer-framed handguns. All the quality, reliability, and experience of a Sig in a more affordable package.
Sig has entered the polymer pistol market a few times, in both instances with polymer frame, hammer-fired, double action guns. The Sig Pro, introduced more than twenty years ago, is still on offer in the Model 2022 and chambered in 9mm Luger, .40 S&W, and .357 Sig. This budget version of P-series Sigs hasn't been on the radar screen of polymer pistol buyers – who often opt for the Glocks or Smith & Wesson M&Ps of the world, which is a shame, as the 2022 gives plastic fantastic fans a lot of what they want in other brands with s touch more style.
5. Sig Sauer 938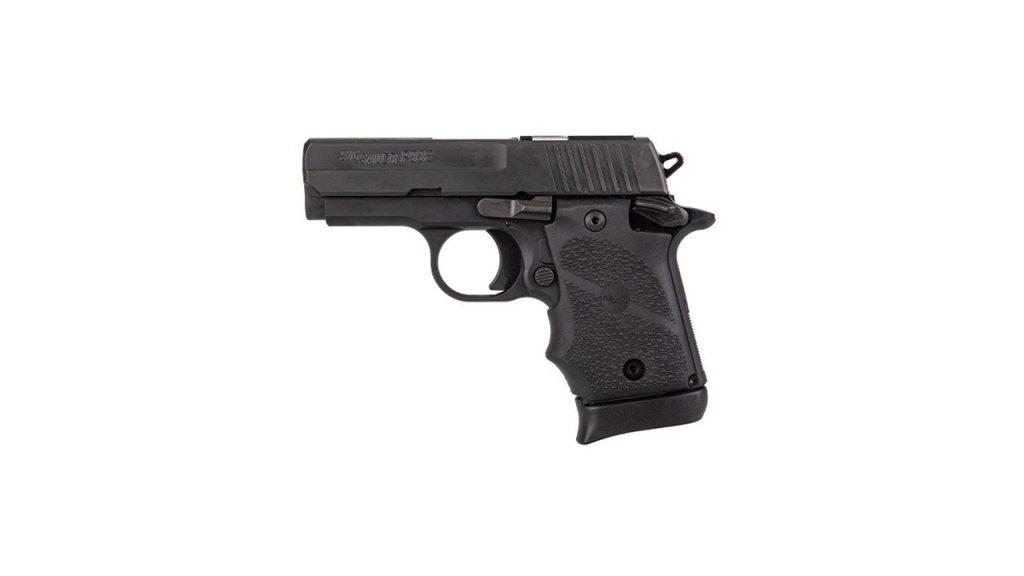 $999.99
Chambered in 9MM – the P938 micro is just 5.9″ long and offers a 3″ barrel. Perfect for CCW – with a manual safety & external hammer paired with a 6+1 capacity and night-sights.
Slightly snappy, which you'd expect from a micro 9MM.
6. Sig Sauer 1911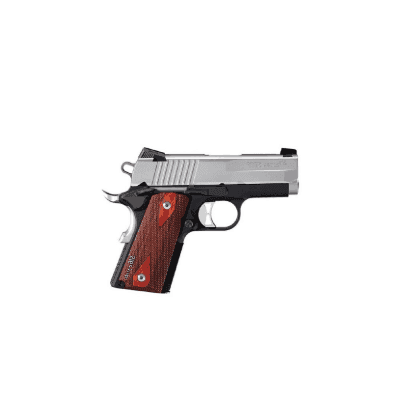 $1300.99
Sig updating the 1911 platform for the modern shooter. Every bit as good as other compacts but with the distinct 1911 look and feel.
Tight, compact, and impressively useful.
Recommended Sig Sauer Optics
In addition to their premium firearms,  Sig Sauer makes a collection of high-end optical products – from scopes to binoculars and range-finders. Here's our collection of the best Sig Sauer optics.
In addition to their premium firearms,  Sig Sauer makes a collection of high-end optical products – from scopes to binoculars and range-finders. Here's our collection of the best Sig Sauer optics.
There are a lot of Sig pistols and optics available, so we hope this list winnowed your options down to a manageable set.
All of our selections met the important criteria for the best Sig Sauer firearms and optics anyone would need:
Consistent performance a the range
Lots of options to personalization
Firearms are available in full and concealed carry options
Optics have ratings higher than 4 stars
I hope you enjoyed this article and will find it useful for selecting your next Sig product. If you have any questions or feedback for me, please drop us a line.

Match 11, 2023 — We re-checked this guide, updated images and links, and continue to stand by our recommended products.
Sign up for our newsletter
Get discounts from top brands and our latest reviews!