Walther PDP Review
Written By
Kenzie Fitzpatrick
Certified Armorer & Instructor
Edited By
Michael Crites
Licensed Concealed Carry Holder
Share:
Products are selected by our editors. We may earn a commission on purchases from a link. How we select gear.
Despite their pedigree and depth of experience, Walther Arms seems to be the true underdog of the firearms manufacturing industry, never reaching the ubiquity and prominence of the Glocks and S&Ws of the world. Founded in 1886 by Carl Walther and manufacturing firearms and air guns for over 100 years, the quality of Walther Arms handguns is superb, with their focus on innovating in the worlds of defensive and competition guns.
In recent years, they've produced the Q5 Match polymer and steel framed pistols, the all-new PDP, and the PDP-F series for females. Plus, classics like the Walther PPK will never go out of style. Thanks, James Bond!
The Walther Performance Duty Pistol (PDP) has served me well as a loyal bedside and concealed carry pistol. Currently, I'm getting ready to set it up as a competitive pistol for the USPSA Carry Optics division. It comes in various sizes and versions with a modular design, so you can get the right gun to serve your purpose. Let's dive in!
Carl Wilhelm Freund Walther started his rifle-making business in 1886 with limited tools and equipment. He married a woman from a rifle manufacturing family and had five children together, three of which learned how to build rifles, one pursued a career in business, and the last as a tool and die maker.
In 1903, the first factory was built in Zella-Mehlis. With the help of one of his sons, Carl Walther built and patented their Model 1 pistol. This started in 1911 until the series ended in 1920 with the Model 9.
When Carl passed in 1915, his eldest son, Fritz Walther, took over the company. In 1929, Fritz produced the PP model with the famous James Bond PPK following in 1931. After that success, Walther manufactured the P38 pistol used by the German armed forces. The war left the company in ruins, and Fritz had to start over again with nothing but his design drawings and patents.
He turned to producing air guns in 1950, followed by other pistol designs, concluding with the KKS and KKM series. In 1966, Fritz passed away, and his son, Karl-Heinz, took over the company. In 1969, his success came from producing the Walther GSP and the KK-Match rifle, the latter of which was used by Lanny Bassham to win the gold medal for the US, and Malcolm Cooper won gold twice for the UK in the Olympics with the KK-Match rifle. In 1983, Karl-Heinz Walther died suddenly, and his nephew, Hans Fahr, led the company.
With the company in disarray, Wulf Heinz Pflaumer and Franz Wonisch, managing partners of the Arnsberg-based Umarex Group, took over Walther, maintaining it as a German company.
With Walther's patents and controlling interest with Umarex, Walther has thrived to become the respected manufacturer it is today. Walther's current catalog includes air guns, the classic PPK, competition guns and carry pistols — and German police units still use Walther, as do other LEO units throughout the world.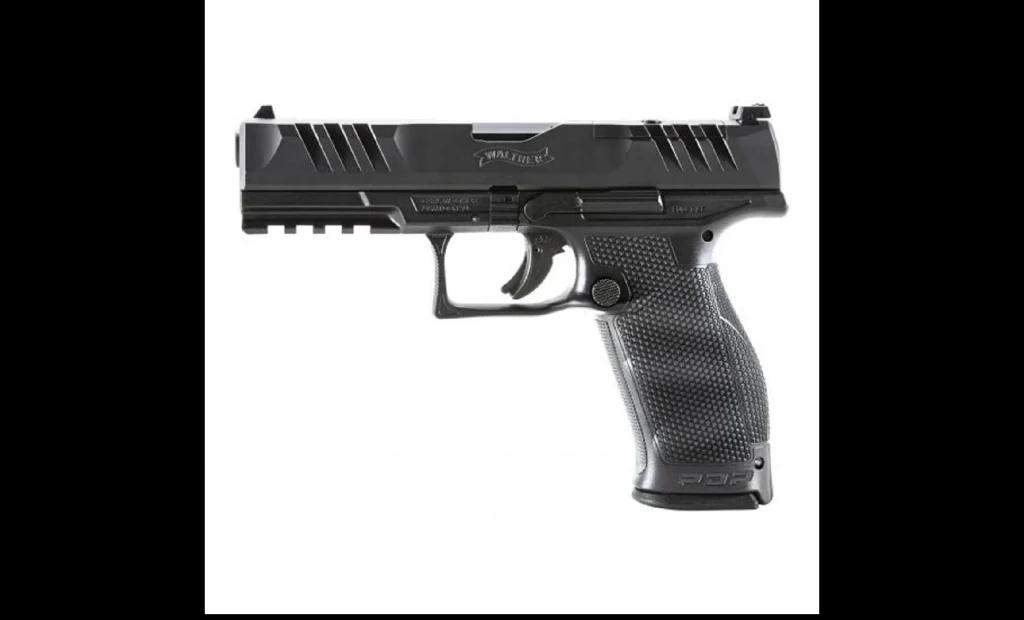 Walther PDP Specifications
| | |
| --- | --- |
| Caliber: | 9mm (9x19 Parabellum) |
| Capacity: | 18 or 10 (2 Magazines Included) |
| Action: | Striker-Fired |
| Trigger Pull Weight: | 5.6 lbs |
| Length: | 8 in |
| Height: | 5.7 in |
| Width: | 1.34 in |
| Barrel Length: | 4.5 in |
| Weight: | 25.4 oz. (with empty magazine) |
| Slide: | Alloy steel front and rear serrations |
| Sights: | Steel fixed front white dot |
| Safeties: | 3 Auto Safeties |
| Operational Controls Finish: | Polymer |
| MSRP: | $699 |
| Real-World Price: | $400-$600 |
Pros
Consistent performance across multiple ammo types
Huge variety of sizes for multiple applications
MRD-optimized grip angle
Rewarding shooting experience
Cons
Overly-aggressive grip texture limits IWB carry for some
Limited aftermarket support compared to other manufacturers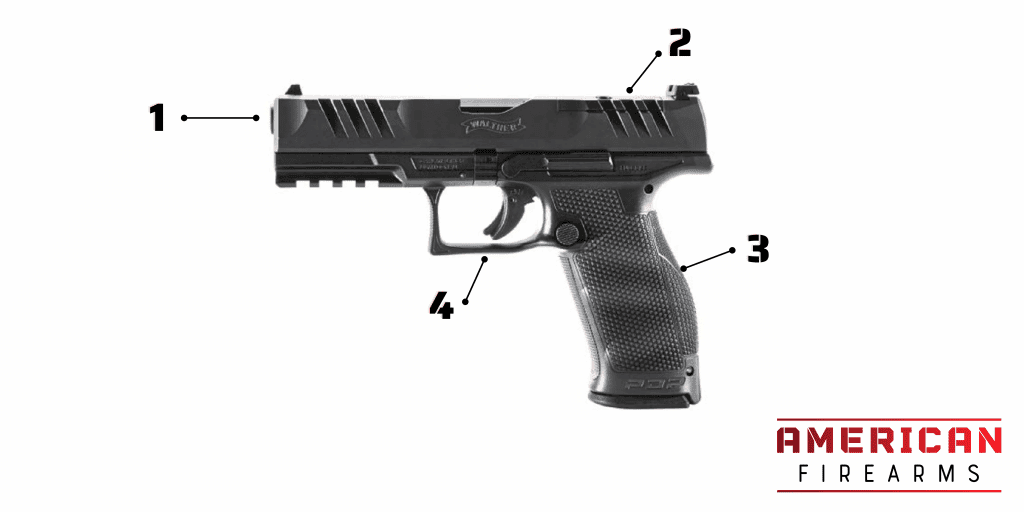 Walther PDP Review Feature Call-Outs
Stepped Chamber
Wring more FPS out of every round.
Red Dot Ready
Makes bringing an MRD to the party much easier.
Performance Duty Trigger
One of the best factory triggers anywhere.
The Walther PDP doesn't serve just one purpose. It makes for a good competition handgun, personal defense pistol, or a fun gun to plink on the range. The PDP comes in a full range of sizes, each designed to fit into a variety of roles — you can choose from the PDP Compact 4", Compact 5", Full Size 4", Full Size 4.5", Full Size 5", PDP PRO SD Compact 4", and PDP Pro SD Full Size 4.5".
The PDP is a striker-fired pistol, which doesn't have any confusing external backstrap or thumb safeties for newer gun owners. The features that make this an all-around great gun are the red dot co-witness sights, the gun's modularity, the fact it's red dot sight out of the box, outfitted with a Picatinny rail, and has an ambidextrous slide lock lever.
Finally, the gun comes with interchangeable backstraps to get the right grip size for your hand. It's effortless to switch to the larger or smaller backstrap to add or decrease the grip size, although I've since swapped out any factory backstaps for a brass Taylor Freelance backstrap which adds weight to the back end of the gun and softens recoil for competition performance.
Concealed Carry & Self Defense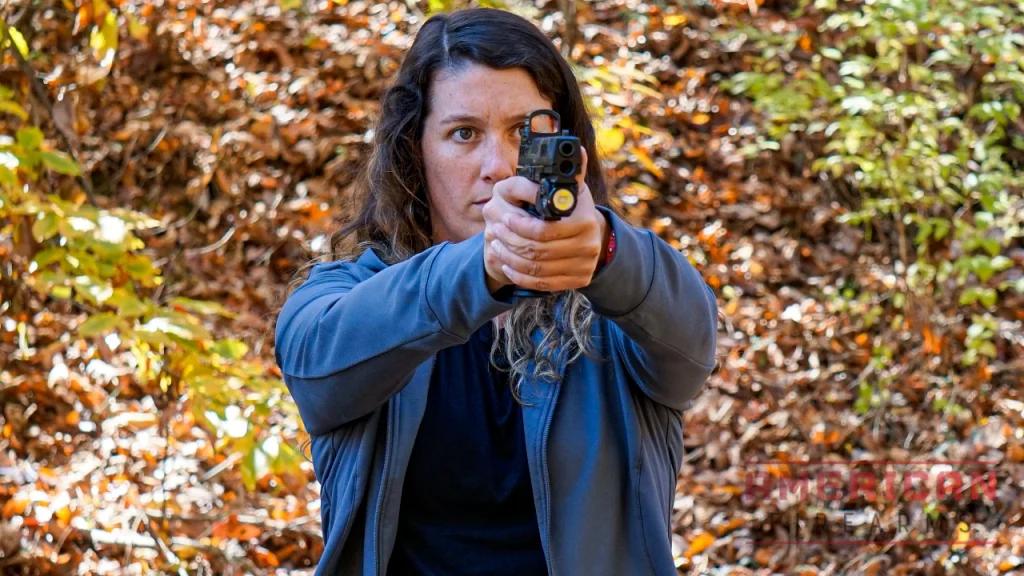 Range time with the Walther PDP
The PDP Compact or Pro SD Compact are ideal self-defense pistols. The main differences between these models are the mag well, threaded barrel, and higher magazine capacity with the Pro SD Compact, but both work well for carry use.
I bought my Full Size 4.5" before Walther expanded upon the PDP line, and still use my full-size PDP for self-defense — what with the 18+1 capacity. Of course, choosing a self-defense pistol should always be a personal decision, so choose what works best for you. The gun's overall length should be considered, as well as the grip size — the 4.5" PDP has never given me fits on either front.
If you OWB concealed carry, it might not matter as much, but for those that carry IWB, it can be a challenge with a larger pistol, so try before your buy.
Competition
I don't just write about firearms, I compete with them.
I have spent years with my PDP prior to writing this Walther PDP review, so I can attest to the competitive aspects of this pistol when used in shooting disciplines such as USPSA, Steel Challenge, 3 Gun, and more. For a stock pistol, you can be competitive against people with heavily modified guns when racing with the PDP.
Most new and long-time competitive shooters use striker-fired handguns such as Glocks, Caniks, Smith & Wessons, and other firearms. They're reliable, easy to use, and simple to take apart and clean.
The most significant benefit of the PDP is the Performance Duty Trigger. The defined, crisp trigger pull, built-in trigger safety, and short reset is a truly unfair advantage from Walther.
The slightly longer grip on the full-size gun makes it easy to manage recoil and gives you the maximum number of rounds of 18+1. The aggressive grip texture on the PDP is what most competitive shooters modify on stock guns to give them a firmer grip. Many shooters stipple their guns, add grip tape, or change grip panels for a more aggressive texture, but the PDP has one of the more aggressive textures anywhere, so you get a lot of "advanced" features with the factory stock PDP.
Of course, tinkering is half the fun of owning a firearm, so consider making a few modifications, such as upgrading to a competition trigger, swapping the recoil spring assembly to reduce muzzle flip, adding a flared mag well, and extending the magazines for more ammo capacity.
With a few enhancements, you can have the PDP feeling like a different gun, if that's your goal.
Controls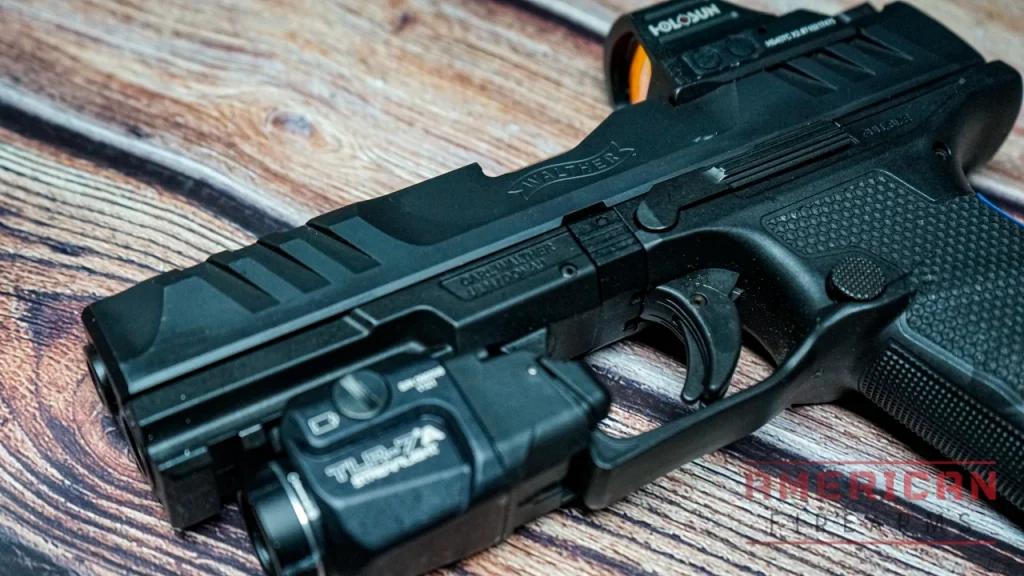 Polymer, ambi controls & the PDP's massive "Superterrain Slide Serrations"
The PDP has an ambidextrous slide stop lever, and the thumb-operated magazine release is reversible for left or right-handed shooters.
While technically not a control, PDP pistols have a loaded or empty chamber indicator as an additional safety precaution. When someone picks up the gun, the indicator lets them know if it's loaded, or if the striker is ready to fire.
Along with that, the striker-fired trigger has a built-in safety which is paired with other internal safeties to avoid discharging when dropped.
Magazines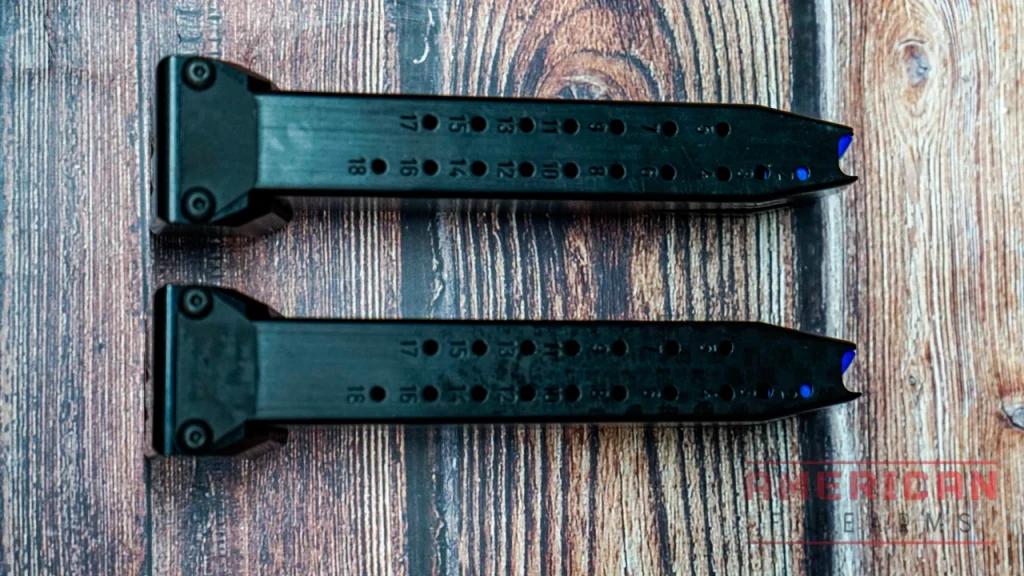 18 on tap!
The full-size PDP models and both PDP Pro models have the larger 18 round magazines, while the two compact models drop that down to a still respectable 15 rounds. The PDP Pro models come with three magazines, while the others come with two. The magazines include witness holes to know how many rounds are loaded, much like Glock sticks.
For ease of loading, the Walther magazine loader can help you depress the spring tension on the magazine to load rounds quicker than using your thumbs.
One thing that's unique about the PDP is inserting a magazine once you load a round into the chamber. After you top off the magazine and insert it into the loaded chamber, you have to push the mag in until you hear an audible click. That sound lets you know the stick has successfully seated.
Regarding cross-compatibility, the PDP compact can use Walther PPQ magazines, but the full-size cannot.
The PDP does allow you to reverse the magazine release button, so if you're left-handed, you're in luck!
Magazine Base Plates
Aftermarket Support
The PDP also has a lot of aftermarket support from sights, base pads, weapon-mounted lights, and more, all listed on Walther's website. You can increase your magazine capacity with base pad extensions from several companies.
Don't forget to clean your magazines often, especially if you drop them on the ground or carry in humid or rainy weather, because it's necessary to keep them free of dust and debris. Check the spring tension if you keep your gun fully loaded year round and replace the spring regularly to ensure the magazine will feed rounds properly.
Sights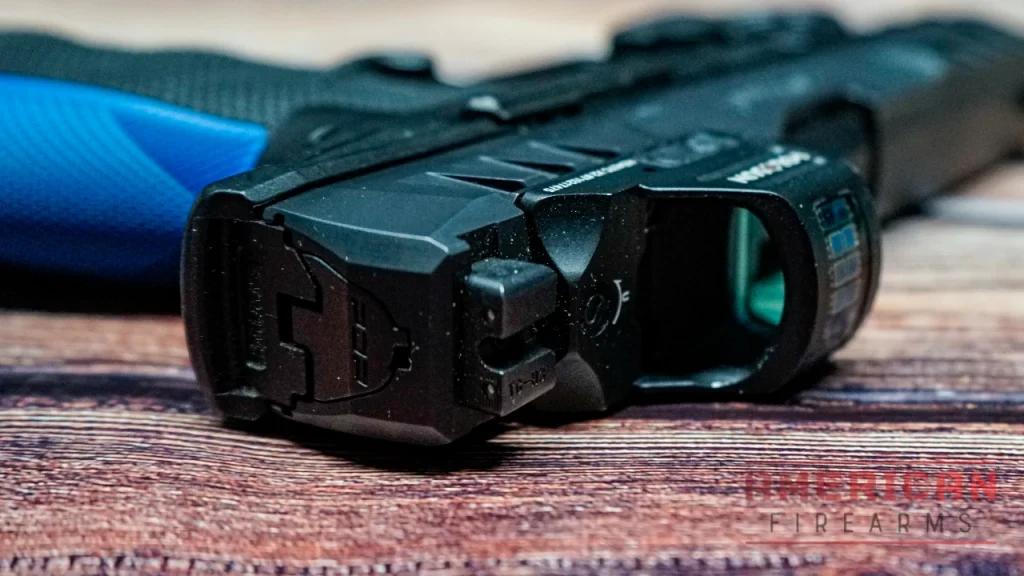 The PDP uses G17 and G19-compatible aftermarket sights, so you'll have a load of options on that front.
The front and rear PDP sights are replaceable. The stock rear sight is adjustable for elevation and windage, and Walther mentions on their aftermarket support page that the PDP is compatible with most Glock sights made for G17 and G19 models.
If you swap your stock iron sights out, I recommend sticking with adjustable sights so you can ensure the sights align with your line of sight.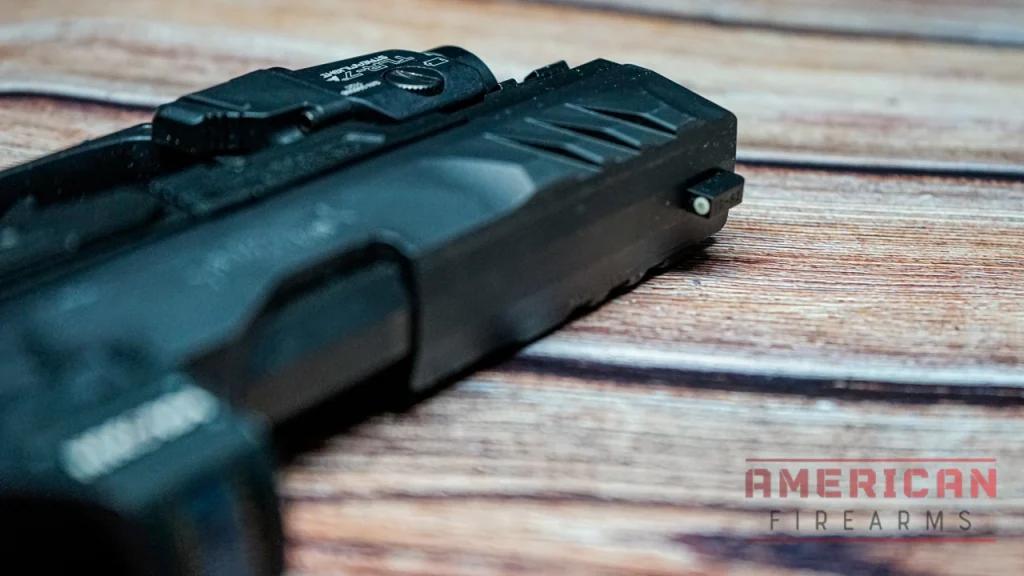 Front Sight Post
The Walther PDP is also compatible with numerous red dot sights and comes optics-ready. The mount base is easily removable by unscrewing the two screws holding it in place on top of the slide. The iron sights also co-witness with whatever red dot you mount, as the plate sits in front of the rear sight, which is a nice touch.
The PDP is built around "Red Dot Ergonomics" which really orients the pistol around MRD use, which is ideal for both competition and carry.
Before you mount any red dot onto the PDP slide, make sure you have a compatible mounting plate. For example, the 02 plate fits Trijicon optics while the 04 plate fits Leupold/DeltaPoint. Your gun will come with one plate, but additional mounting plates can be ordered from Walther's website, so if you're planning on using a red dot that's not supported by the plate you have on hand, you'll need to pick up the correct one prior to use.
Finally, if you are interested in the Pro SD PDP model gun with the threaded barrel, you can mount suppressor height sights to the slide, which is a natural fit when running a can.
Ammunition Sensitivity
As mentioned earlier, the stepped chamber on the PDP helps it run reliably with even the most questionable ammunition.
A stepped chamber pairs a full-sized 9mm SAAMI-spec rear chamber with a front section that tapers to a more narrow chamber. The bigger rear chamber ensures maximum feed reliability across the variety of loads and projectiles you'll encounter with a 9mm, while the narrow front portion ensures the projectile is perfectly centered as it enters the rifling on the barrel — improving accuracy and unlocking additional FPS.
I prefer 147 grain 9mm, which is a slower load that helps reduce muzzle flip and soften felt recoil. The heavier projectile produces lower velocity, making the gun less "snappy."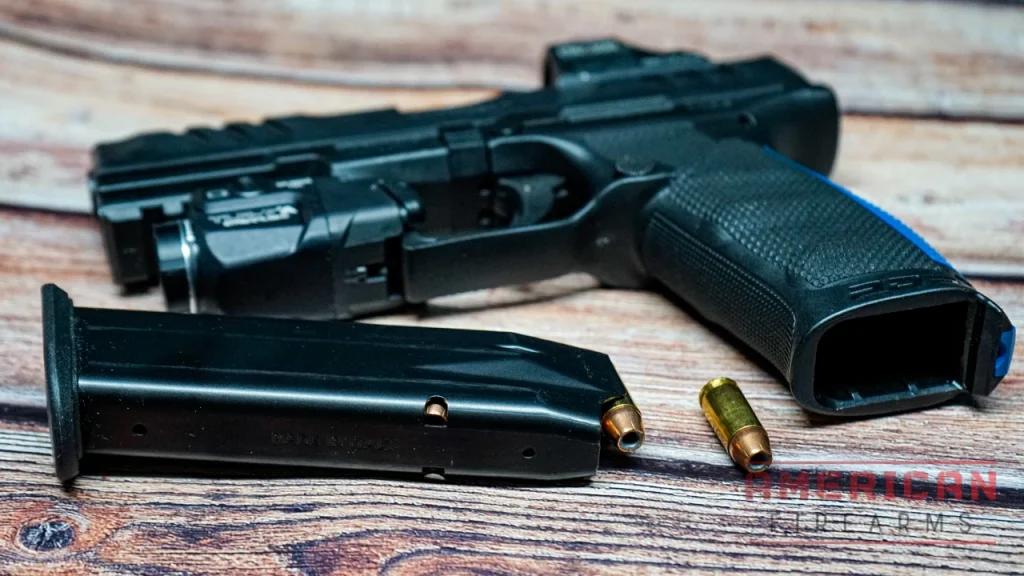 Walther PDP Review - Ammo
It is important to note that the PDP's stepped chamber is designed to run various bullet profiles such as hollow points, full metal jackets, coated bullets, flat nose, or round-nose projectiles without incident, so there's no need to worry about your preferred profile — they all run great.
If you plan to use this pistol for duty or self-defense, the stepped chamber gives you peace of mind that the gun will run no matter what.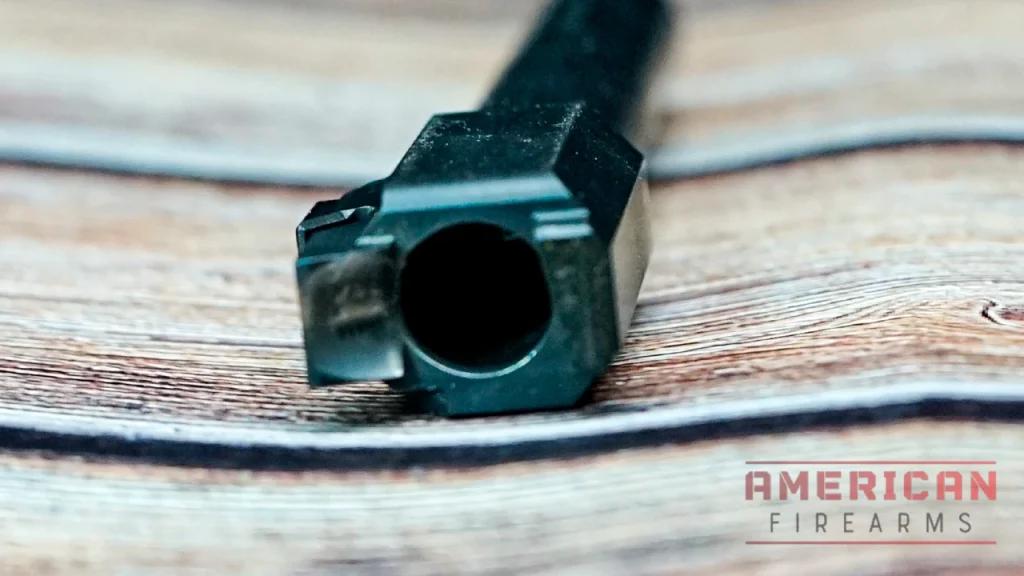 The Stepped Chamber on the PDP helps wring a claimed 50fps out of most ammo.
Grip & Ergonomics
The PDP's grip, to many people's satisfaction, does not include with finger grooves. Instead, Walther focused on creating an ergonomic, polymer grip that serves a purpose; supporting an MRD.
As mentioned earlier, the red dot ergonomics focus the user on a proper grip, which makes switching to a red dot sight system easier for new red dot users and faster for those who know their way around red dots.
The grip texture on the PDP offers a better grip than many other pistols when it comes to unholstering the firearm, and it really helps lock the pistol into your hand while firing. The Performance Duty Texture is excellent when shooting the gun, but despite the "non-abrasive" label I find it slightly uncomfortable to carry IWB all day.
Any aggressive grip texture can make carrying against your bare skin less pleasant than smoother stock grips, but this is a personal quibble.
The PDP's tetrahedron grip texture is almost too abrasive for IWB, but it's fantastic for conveying control to the hands.
The stock PDP trigger is 5.6 lbs with a travel distance of 0.28", which is an ideal weight and pull for a defensive pistol as it helps prevent accidental discharges but is manageable for most people to pull consistently. You'll find most carry and self-defense oriented pistols falling in the 5-6 lb range for this reason.
The trigger is outfitted with a striker safety, a slightly curved trigger, and is protected with a trigger guard. While the stock go pedal is a good trigger, Overwatch Precision makes a solid aftermarket trigger if you want to tailor this gun more toward competition. There are also quality PDP triggers on offer from Apex Tactical and Walther Dynamic Performance.
These triggers can get the weight of the trigger pull down to about 3.8 lbs, shorten the travel, and shorten the trigger reset, so you can really dial-in the characteristics to your liking.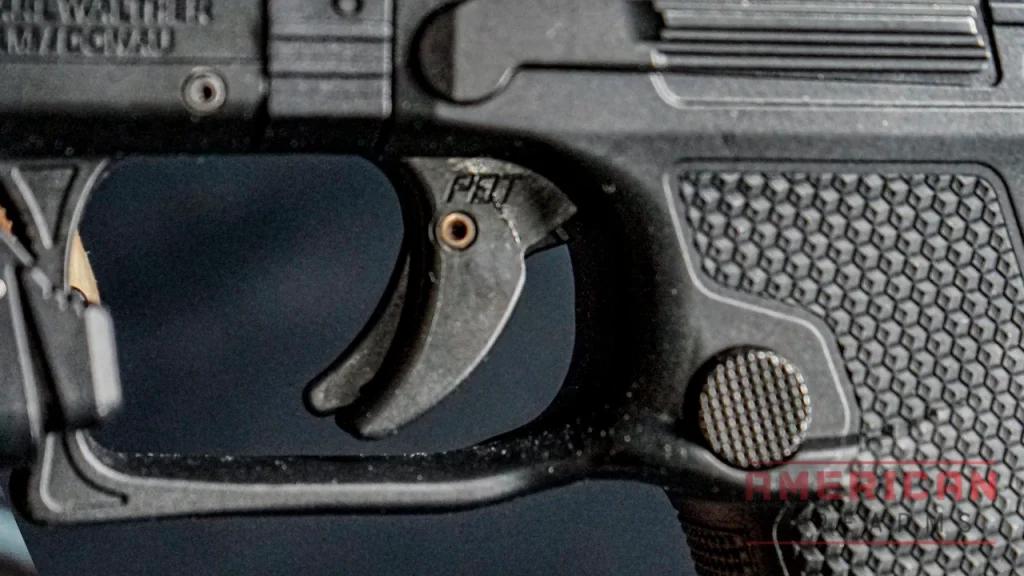 Walther PDP Review - Trigger Closeup
The PDP's reliability is due to the use of their stepped chamber, a focus on quality manufacturing, and more than a century of firearm experience. I've used this gun in competition setting as well as range time, and its never given me one of those "hey look at this" moment.
The gun's accuracy is also improved with this chamber, but the type of ammunition you use will also impact the gun's accuracy.
In a new gun, I recommend using better quality ammunition that is known for its accuracy, clean powder burn, and feeding reliability. You'll see good results on paper if you feed it good ammo.
That's not to say that the PDP isn't reliable and accurate with other types of ammunition, but ammo will always play a factor in accuracy for pistols, rifles, and shotguns.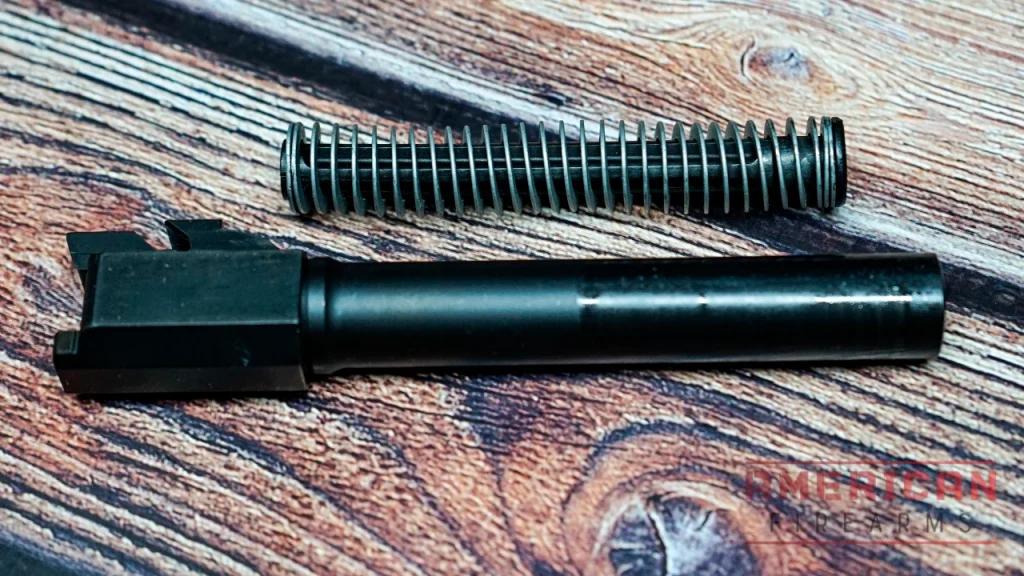 Walther PDP Review - Barrel and Spring Assembly
The Walther PDP is a great all-around gun that serves many purposes. It is accurate, reliable, easy to manipulate the controls, ambidextrous, and fun to shoot. I carried the PDP for over a year, shot it in competition, and used it to instruct my students.
The full-size PDP and 4" Compact both have large enough grips to offer a comfortable shooting experience across various hand sizes. I've taught many women to use the gun, which they find comfortable, primarily because of the lack of finger grooves. Other guns like pre-Gen5 Glocks and H&Ks use finger grooves on the grip which can often lead to improper grip with smaller hands, as they are forced to fit the finger grooves rather than naturally gripping as high as on the grip as possible.
I have yet to experience a single malfunction or stoppage with the PDP, despite thousands of rounds test-fired across hollow points I carry with the gun, full metal jackets, and Federal's line of Syntech coated flat-nose bullets. The stepped chamber has proven its effectiveness time and time again across various types of ammunition and velocities.
The velocities of 115, 124, and 147-grain bullets make power factor for USPSA minor power factor requirement, which is essential for competitive shooters, so if having a flexible pistol is a critical requirement for you, the PDP gives you a lot of options.
I travel with the PDP and keep it on the nightstand wherever I sleep. I installed night iron sights that glow in the dark and mounted a red dot optic on the gun. I shoot it in USPSA's Carry Optics division and enjoy it completely stock other than the Taylor Freelance brass backstrap I add to weigh the gun down.
Overall, the PDP is a gun I trust, use daily, and plan to keep for my lifetime.
Walther PDP Review - Disassembled
Before disassembling your gun, always have your pistol pointed in a safe direction. Ensure your finger is off the trigger and out of the trigger guard. Remove the magazine and check that your chamber is empty by locking the slide to the rear using the slide stop. Visually and physically inspect that the chamber is empty.
It's a good idea to ensure no loose ammunition or loaded magazines near your cleaning area so the solvents don't touch the ammo and potentiall begin to break down the cartridges.
Once the PDP is clear, depress the trigger to the rear. On each side of the PDP slide is a rectangular-shaped section with small serrations. This is called the take-down catch. Pull or press downwards on the catch using your pointer finger and thumb while moving the slide forward.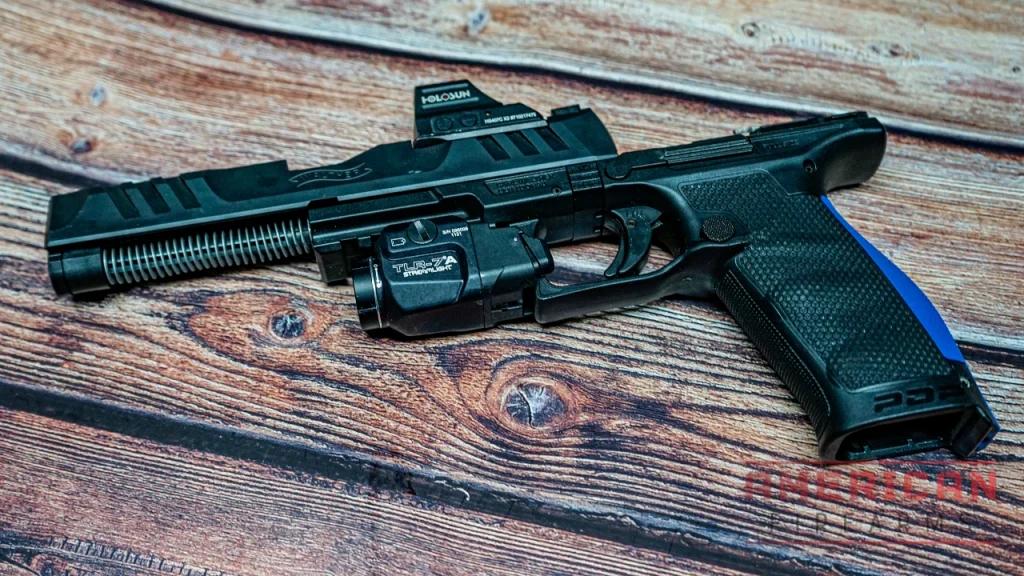 Walther PDP Review - Full Slide Removal
The slide should come off the PDP frame completely. The recoil spring can be removed, followed by the barrel.
Always clean your barrel with a bore brush to break up any carbon. Using a brush with solvent, scrub the feed ramp, extractor, and other areas exposed to powder and primer residue. Use patches with solvent to run through the barrel and finish with a dry patch to remove excess liquid. You can also wipe down small parts of your frame covered in carbon and slide using a solvent patch.
To oil the gun properly, oil all external metal surfaces and wipe any excess off lightly. Reassemble, and you're good to go!
My only complaint is the grip texture is too aggressive for IWB carry. I would prefer a more moderate grip option or some aftermarket support. There are aftermarket grip manufacturers such as LOK Grips, Hogue gun sleeves, and VZ grips, but none make grips for the PDP. C'mon guys!
If I could swap the factory grip for something less abrasive, I'd be more inclined to carry the PDP IWB.
I love the PDP, but I'm not the only one. Larry Vickers explains some of the feature of the PDP that make it a standout pistol.
Is the Performance Duty Pistol für dich?
The Walther PDP is among my five favorite polymer pistols on the market. I always recommend it as an option when someone is looking for a carry or competition gun or a gun that serves both purposes.
And as I've bought, owned, and used the gun for some time, it has proven it's value and reliability time and time again — it's nearly impossible not to enjoy the pistol. If you want something that's a touch outside the G43s and P365s of the world, it's hard to go wrong with the PDP.