The Best Hidden Gun Safes
Written By
Michael Crites
Licensed Concealed Carry Holder
Reviewed by
Editorial Team
Learn About The Editorial Team
Share:
Products are selected by our editors. We may earn a commission on purchases from a link. How we select gear.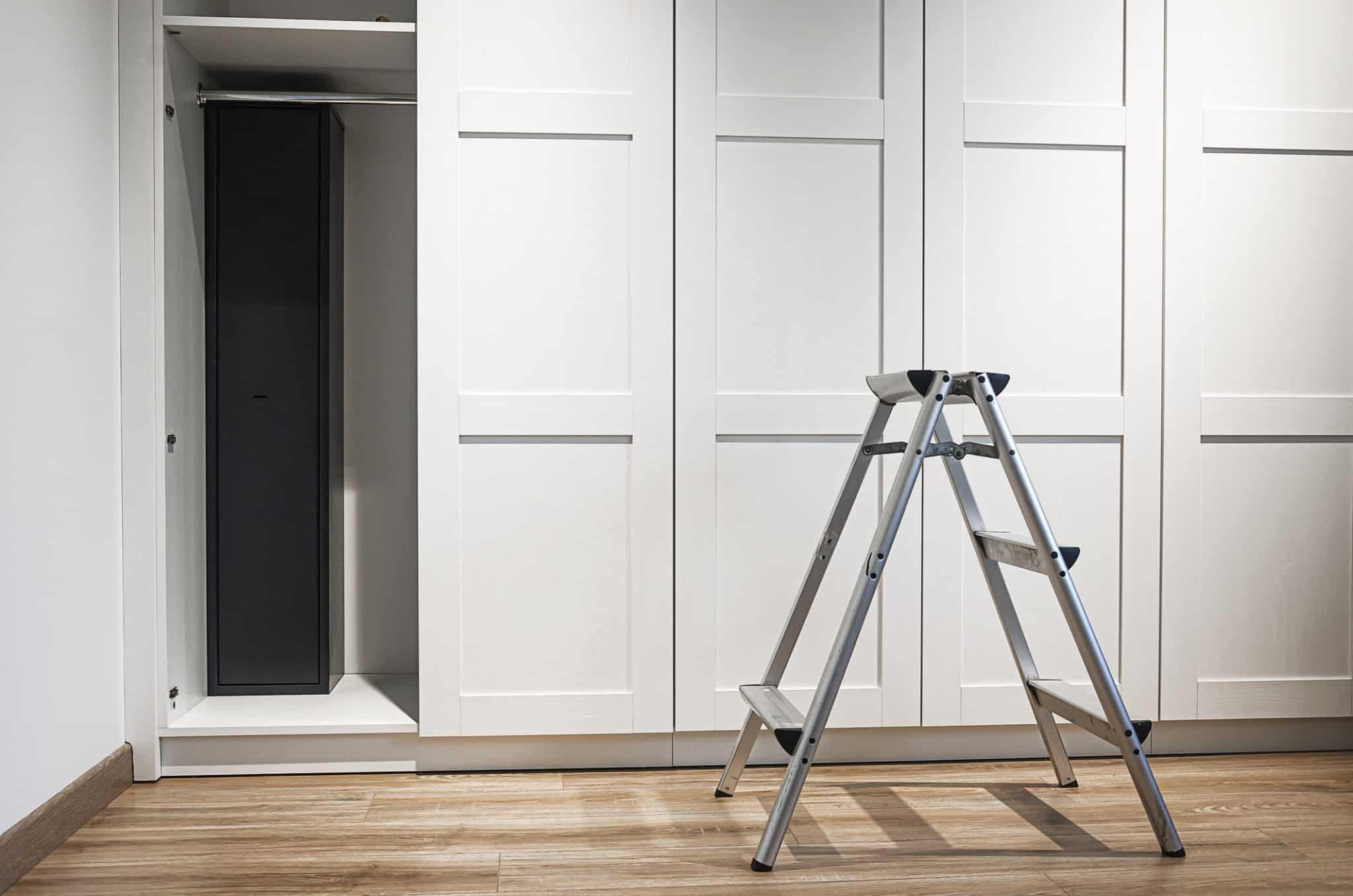 We're big on gun safety around here, and for some folks storing a firearm safely also means concealing it.
Many people don't want just firearm storage – they want to hide their guns – often in everyday-looking products or in plain sight. And using a gun safe that looks like furniture can give you the best of both worlds.
We took a look at a wide variety of hidden gun storage options – furniture, accessories, and the like – and put a few to the test, testing for handguns, mag storage, loose ammo and ease of use, and have compiled our recommendations below across as many categories that are practical for most people.
We didn't get into large-scale customization – things like chairs, bed modifications, or things like that as the concealed options are pretty limited and come with a much higher price tag than most people will want to spend for a gun concealment solution.
The one downside to these concealment products is they often don't have great safety features – like locks or fire protection – so they work best for concealing quick-access firearms either in a home without children or in a place that kids aren't going to get into.
Below is my list of the best hidden gun storage options for 2022. I list the best choices in terms of value, performance, reliability, and cost.
Click on the name to head to the product page, read reviews and check prices or skip ahead to the list of gun storage.
1. American Furniture Wall Shelf
Specifications:
Measurements: 13.75 x 17 x 5 inches
Weight: 26 pounds
The American Furniture Classics Concealment Shelf is the best option if you're looking for a wall-mountable shelf concealment solution. There's no locking system but for the price you get a pair of shelves – one non-concealment shelf and one with a pull-out hidden compartment – so the fact you have a pair makes decoration easier and improves the concealment factor.
The one criticism we have is that the drawer – while study and smooth operating – isn't 100% hidden from view. Looking at the drawer from the side you can see the seam, which kind of defeats the purpose of the product.
That said, the drawer gap is not particularly pronounced, and you do have to know to look for it to see it. Plus considering break-ins mostly occur in the evenings a burglar is going to be dealing with darkness, making a seam on a pull-out shelf more than likely invisible to the invader. 
One thing to note – this shelf is not light at 26lbs – almost as heavy as a smaller gun safe – so be sure you have a place you can mount the concealment shelf to something sturdy and secure – like a stud or door/window frame.
2. Castlecreek Wall Shelf
Specifications:
Measurements: 28 x 5 x 10.5 inches
Weight: 14 pounds
Sometimes the best place to hide your firearms is in plain sight. What we liked most about this ordinary-looking wall shelf is the fact it's both utilitarian – you can literally hang keys, coats, or hats on this little shelf all while easily concealing a full-sized handgun and extra magazines in the hidden compartment.
We all have images of thieves rifling through drawers or picking up small safes and walking away with them, but this little shelf is so inconspicuous that any would-be burglar would walk right past it.
Plus, it's small enough that you can mount it in a bedroom or hallway location that's easy to get to in a moment's notice – all while concealing your personal protection piece.
Plus – while it's MDF and not real solid wood – the dark cherry finish doesn't look bad at all.
The chain is pretty flimsy though, so you have to open the door carefully or you're likely to break it off its mounts. Also, the magnetic lock isn't premium either.
Some people have crafted solutions for better chain mounts and magnets to get around the shortcomings of the piece, but for an easy and relatively attractive concealment shelf, it's a decent concealed option. 
3. Peace Keeper Gun Concealment Clock
Specifications:
Measurements: 6.2 x 9.5 x 13.2 inches
Weight: 7 pounds
Sometimes you're less interested in buying a piece of furniture or mounting a wall clock – and you need hidden gun storage that's both portable and convenient. The Peace Keeper Concealment Clock is both of those things – plus it's a working clock that looks good in a home office or as a piece of decor. 
In addition to the style points this concealment clock offers some degree of security with a lock on the back of the unit and front magnetic lock that works surprisingly well.
Given that this is a clock and not a piece of furniture the hidden compartment storage is probably best for standard pistols in the 4"-9" length range.
We tested with a Ruger Security 9 and a Glock G20 (10MM pistol) and both fit well, but if you're looking to store a 6" barrel Taurus Judge it's probably not going to work.
Another plus is it's one of the less expensive options on this list, so if you're comfortable with the dimensions and want some desk-friendly hidden gun storage this might just fit the bill. 
4. CovoBox 2 Storage Book Box
Specifications:
Measurements: Various (3" –  30")
Weight: Various – depends on length
Sometimes the simplest option is best, and if you're looking for a concealment option that will integrate seamlessly with your existing interior design and spruce up a bookshelf we really like the Covobox 2.0 hidden storage unit. 
Each unit is made from real books that are selected to create a particular look, then the books are cut and repurposed to create the look of the Covobox. It's a really unique product.
You can select a size and color (these can get pretty pricey – an 11" black option is $200 – and choosing a particular color adds more from there) but if you're looking for a stylish concealment solution and need to maintain a cohesive color palette the Covobox is a unique option that will accommodate any specification or color requirement.
As with most faux book concealment options, there are no security features, hidden compartment, or locking system. This is an open-back box that's hidden in plain sight – but the little touches like the variety in book heights and the fact the tops of the books go all the way to the rear of the unit make it really effective for concealing a firearm.
It's also great for concealing other unsightly things like a router or surge protector. They're also available in a horizontal option.
5. Hornady Rapid Safe AR Gun Locker
Specifications:
Exterior: 42" x 15.25" x 6.75"
Interior: 40.5″ x 13.5″ x 5.5″
Weight: 50 pounds
If you want to conceal long guns or shotgun under your bed and ensure quick access the Hornady RAPiD Gunlocker is a great option.
The Hornady offers touch-free entry with an RFID wristband, key fob, or sticker that prompts the locker to pop open instantly via the spring-assisted opening. It also has a keypad entry which can be programmed with a 4-6 digit entry code.
The aspects we really liked about this when it comes to firearm concealment is the fact it offers proper security features – they claim it exceeds ASTM International safety standards in all kinds of areas, including child and pry resistance, lock strength, drop/pick/saw testing and hinge attacks. It's really engineered like a gun safe – and it will also work as an RV or truck gunlocker provided you have space. 
It's not silent (there's an audible sound when unlocking and opening the unit) nor impossible to see depending on how you store it – when plugged into an A/C power source the keypad will stay lit. Not deal-breakers but worth noting if you need something that's James Bond-level concealable.
If safety is your top priority when it comes to hidden gun storage and you have space for a long gun cabinet under your bed, the Hornady is a great option.
6. Castlecreek Concealment Bookcase
Specifications:
Measurements: 19″ x 15.75″ x 5.25″
Weight: 2 pounds
UL fireproof rating: None
The Castlecreek gun concealment bookcase is one of the more effective concealed options we tested. Thieves may look at the items on the shelf – but even the most determined burglar is not going to check the actual shelf of a bookcase.
What makes this particular bookcase effective is that the shelf that acts as the concealed compartment looks exactly like the other shelves – making it nearly impossible to locate.
Considering it's a full-fledged piece of gun concealment furniture it blends in with other household items and is difficult to spot even if you have owned one yourself.
The material isn't real solid wood – it's MDF – but the hinges on the slide-out drawer operates smoothly and the felt lining protects your firearm from sliding around when you open it.
It's certainly not a safe – and it offers no safety features – but for a decently priced piece of concealment furniture this bookcase will get the job done.
7. Casual Home Concealment Drawer
Pros
Easy, quick access
Fantastic concealment
Blends in well with other furniture
No installation needed
Cons
Tedious assembly
Drawer can only accommodate 5 lbs
The Kennedy End Table is another gun concealment furniture piece that offers a single pull-out drawer and makes concealing handguns straightforward.
End tables – like coffee tables – tend to be used in the living room, so concealing a gun in the Kennedy gives you access in a central location. The hidden compartment drawer measures 8" x 13″ and is 2.25″ tall – big enough to conceal a handgun and multiple magazines as well as a flashlight or other items.
The compartment opens via a small access latch and hangs down from the underside of the unit. Another plus is the price – these generally run under $100.
8. Viking Wall Safe
Specifications:
Measurements: 19" x 14" x 4"
Weight: 37 pounds
UL fireproof rating: None
If you're interested in concealing your ammo & smaller firearms with an actual wall-mounted safe, we recommend the Viking Security Safe VS-52BLX. It's one of the best hidden gun safes and designed to fit snugly between wall studs, and offers a biometric scanner for quick access to its contents. It also offers a digital keypad and physical key with multiple entry mechanisms. 
We also appreciated the range of features this safe offered for the price – an interior LED light, 3 separate shelves and 4 compartments, a carpeted interior to prevent dings, and key hooks on the door – a natural spot for backup keys.
It doesn't fit 100% flush to the wall, bit the small bulge from the fingerprint reader is more than worth the speed of entry and additional room for storage.
Each of these hidden gun storage options best met the requirements of the role they were designed for and met the criteria for any storage option we'd recommend if concealment is the top priority.
There are quite a few concealed options in this category, but we hope this article steers you in the right direction. If you have any questions or feedback please drop us a line. 
The Latest Gun Safe Reviews
The Best Biometric Gun Safes
The Best Trigger Locks
The Best Hidden Gun Shelves
The Best Hidden Gun Safes
The Best Under Bed Gun Safes