HK VP9 Review
Written By
Kenzie Fitzpatrick
Certified Armorer & Instructor
Edited By
Michael Crites
Licensed Concealed Carry Holder
Share:
Products are selected by our editors. We may earn a commission on purchases from a link. How we select gear.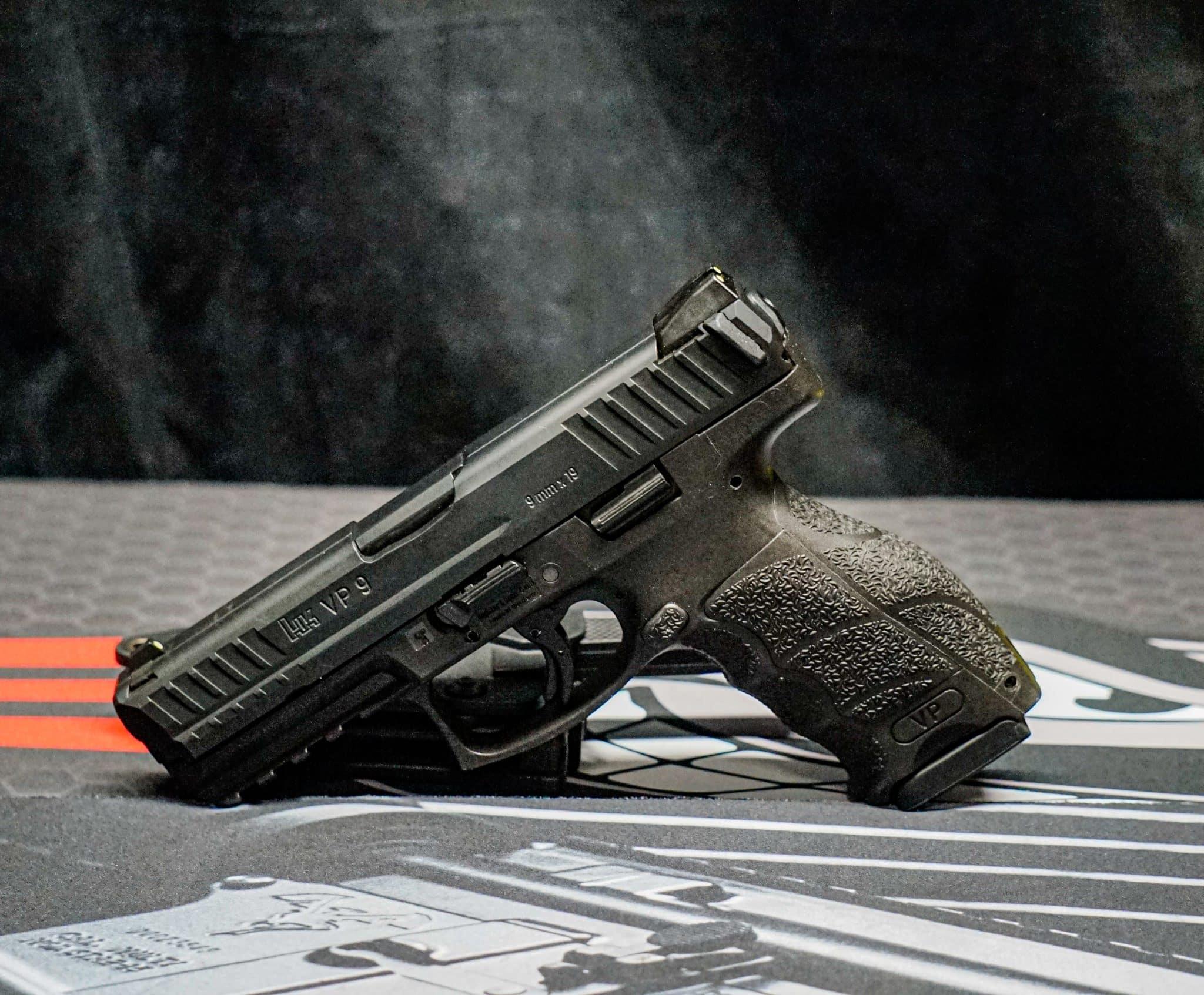 HK's VP9 pistol is one of the most popular full-sized firearms on the market today. Its wide acceptance and popularity have given rise to several versions and variants, and you can now find an HK VP9 in a compact, tactical threaded barrel model, an optics-ready VP9, and even one dedicated to competition shooting.
Heckler & Koch has a long history of firearms manufacturing and is a deeply reputable company you can trust to build great guns, and their VP9 does not buck that trend.
Here's a breakdown of my experience using the VP9 after more than 6,000 rounds.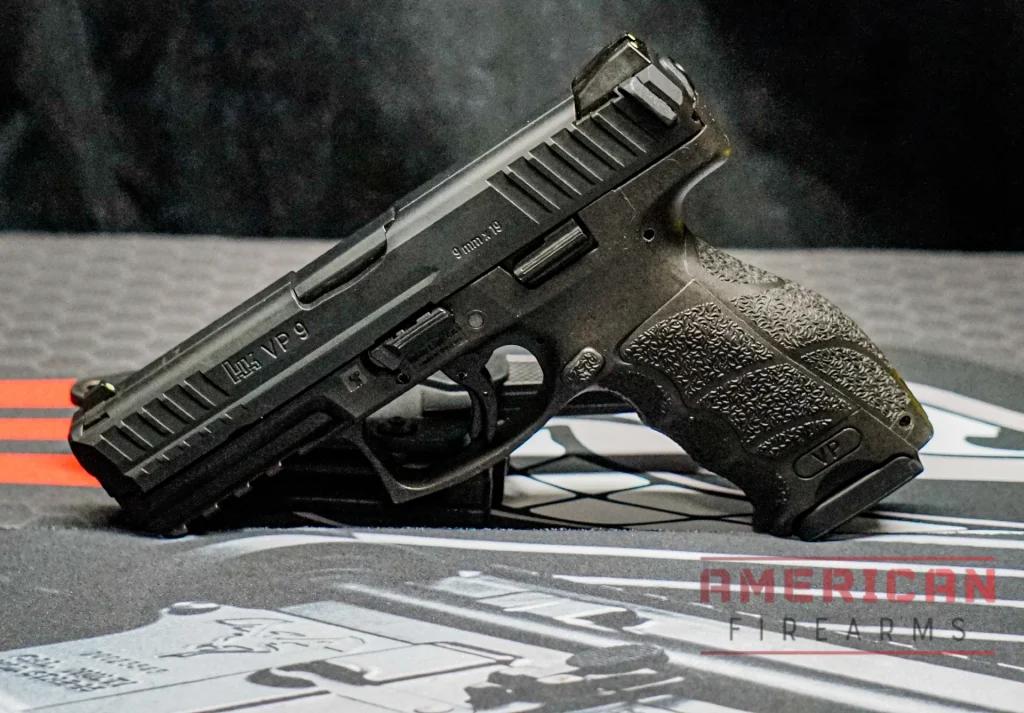 HK VP9 Cover
Heckler & Koch was founded on December 28, 1949. They are a German manufacturer that now operates globally — in Germany, the United Kingdom, France, and the US. There have been many highlights for HK along the way as they've built enthusiasm among the military and civilian fans of Teutonic firearms.
In 2004, HK was awarded the largest pistol contract in law enforcement history. They were tasked with servicing all organizational elements/agencies under the Department of Homeland Security.
In 2015, Heckler & Koch's VP9 ("VP" being the German "Volkspistole", which translates to "people's pistol") was awarded the Golden Bullseye Handgun of the Year Award. In 2019, HK was asked to supply complete rifle weapon systems to the US Army, with their HK416 rifles outfitted with mounts, scopes, and various accessories by HK as well.
HK is also the manufacturer of perhaps one of the most popular submachine guns ever made, the MP5. The MP5 was developed by HK in the mid-1960s and uses the delayed blowback operating system found on the famous HK G3 automatic rifle. If you're familiar with Die Hard, one of the most famous guns used in that movie is the HK MP5. Ho-ho-ho indeed.
Hollywood is a big fan of the submachine gun and makes it a point to show "The HK Slap" in a staggering number of films. The MP5 bolt is released by slapping the cocking lever to confirm you have loaded a round into the chamber. This is similar to releasing the slide using the slide lock or slide release on a semi-automatic handgun but, like, way more fun.
If you've never had the opportunity to release an MP5 bolt, I highly recommend it. One of my favorite experiences in the world.
The VP9 striker-fired pistol was first announced by HK in June 2014 and released to the public in July 2014. HK spent more than four years developing the VP9 and testing it through NATO and U.S. NIJ drop tests. The HK VP9 also underwent comprehensive ammunition testing with the widest variety of 9mm imaginable.
It passed through each trial it was presented. In this article, we offer our own HK VP9 review and let you know if it passed our battery of not-quite-John-Mclain-level tests.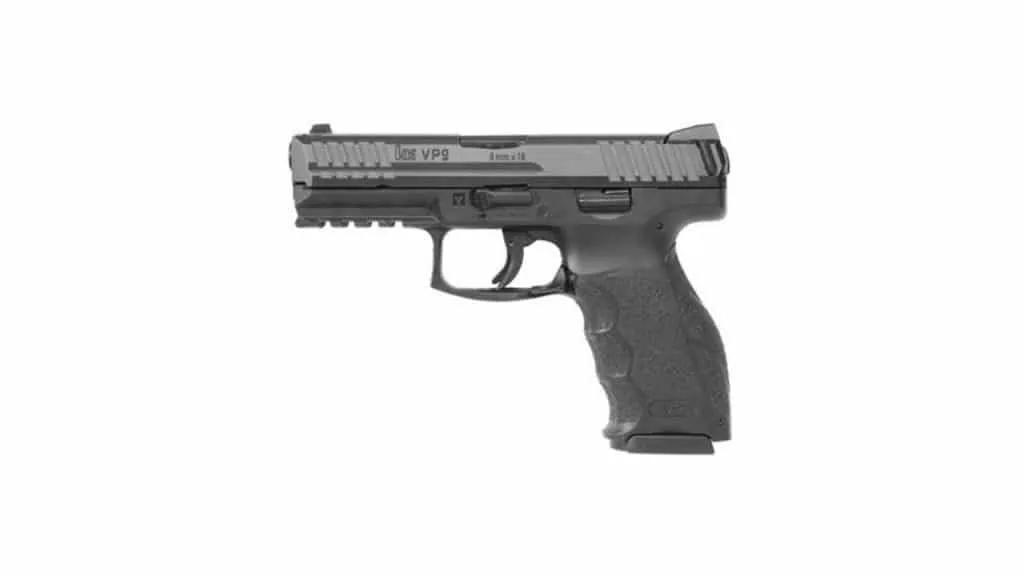 As I mentioned earlier, there are various models of the VP9 to serve different purposes, but that doesn't mean the original VP9 can't perform in several roles as well. HK was decidedly intentional about their design of the VP9 — building a pistol that could be all-encompassing.
The VP9 can withstand serious abuse, whether neglecting to clean it, shooting it in cold or wet conditions, or feeding it sub-optimal ammunition. It makes for a reliable home-defense firearm and serves as a duty weapon for the military and law enforcement without fail.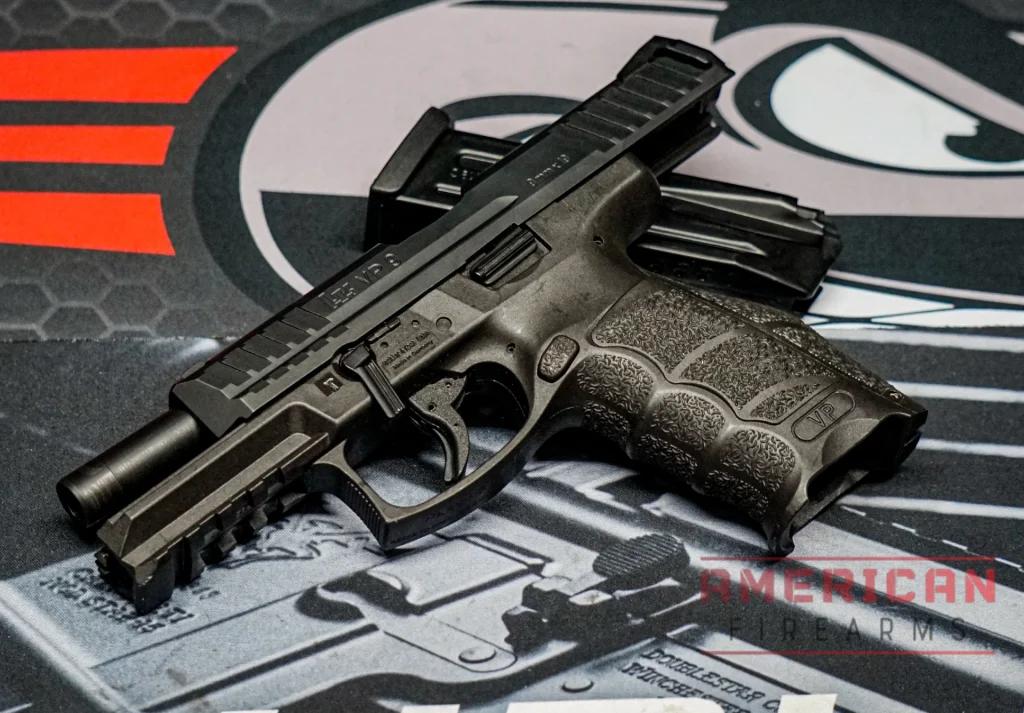 HK VP9 Slide Locked
It can be used for concealed carry, especially in the winter when layers help conceal guns more effectively. Finally, many shooters in the competition world use the VP9 as their choice of pistol. While there's little concern for self-defense on the field, these professionals demand a pistol that can perform at the highest levels.
| | |
| --- | --- |
| Caliber: | 9x19mm Parabellum |
| Capacity: | 10 / 15 / 17 rounds (3 Magazines Included) |
| Action: | Striker-fired |
| Trigger Pull Weight: | 5.4 lbs |
| Length: | 7.34 in |
| Height: | 5.41 in |
| Width: | 1.32 in |
| Barrel Length: | 4.09 in |
| Weight: | 25.56 oz. (with empty magazine) |
| Rifling: | Polygonal / 6 grooves / right-hand twist / 1 in 9.8 inches |
Controls
The controls of the VP9 striker-fired handgun are one of the features that make it so popular. HK made the VP9 an ambidextrous pistol — giving left-handed and right-handed shooters equal opportunity to enjoy the pistol, with slide releases present on both sides of the frame.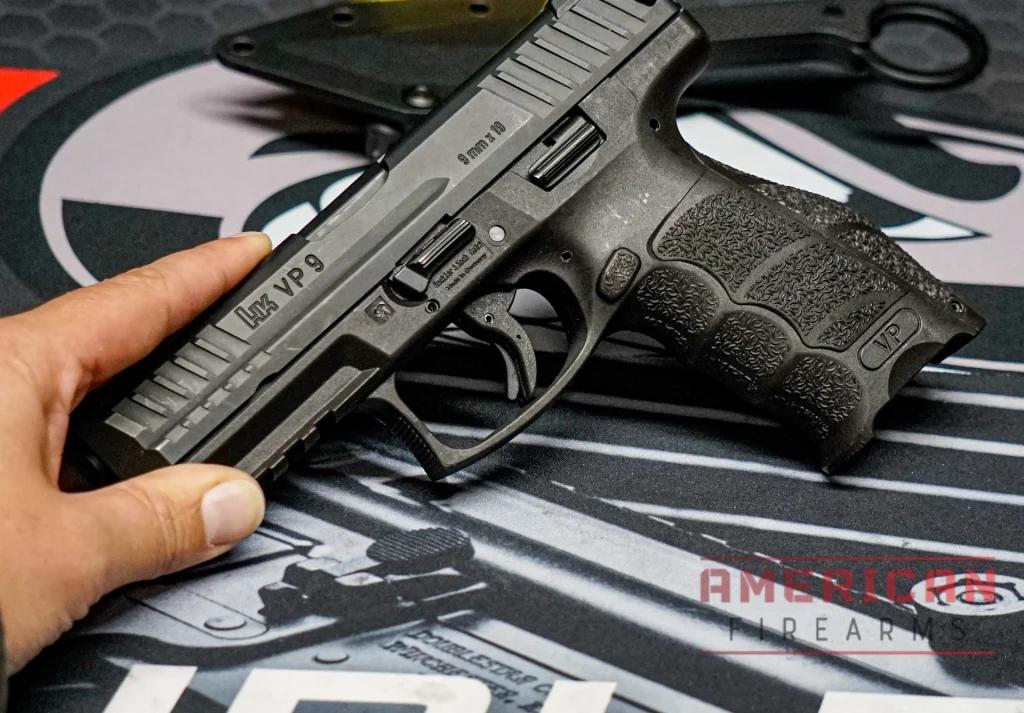 HK VP9-B has ambi controls -- with the "B" variant including the push button mag release.
The unique control of the VP9 is the easy-to-access ambidextrous magazine release on the rear bottom portion of the trigger guard. There are curved finger recesses on both sides of the magazine well to give purchase on the magazine's floor plate if the mag doesn't drop free. This magazine release is called the paddle-style magazine release and is a truly unique aspect of the VP9's design.
The idea of a mag release on the bottom of the trigger guard is simple — it allows the shooter to use the middle finger or trigger finger of their dominant hand to push down on the release rather than the traditional method of a grip-mounted push-button magazine release. The paddle release is advantageous for shooters with small hands who usually have to shift their grip to reach the push button mag release with their thumb, shaving milliseconds off reloads.
An issue this design helps is when a new shooter squeezes too hard on the gun, causing their grip pressure to hit a push button release and drop a mag unintentionally. The trigger guard release prevents this almost uniformly.
The only downside to the paddle release is its unique design, which can mean retraining yourself from a traditional button release found on most pistols. Shooting traditional semi-automatic handguns can ingrain a habit of reaching for the button with your thumb, which can slow reloads when shooting a VP9 if not sufficiently trained on the pistol.
I have owned an HK VP9 for years. I bought mine so long ago that it was manufactured before an optics-ready version existed. You'll also notice that my VP9 lower has a button release rather than the paddle magazine release.
I shoot competitively, which means I like running the same gear and setup, or at least having the same controls on all of my firearms so I can go from one sport to the next without relearning something.
I tried the paddle release and found it created too much of a challenge when switching between handguns, so I eventually landed on a push button. Good news: if you prefer a button to a paddle, HK offers the VP9-B, with the "B" meaning push-button magazine release. No paddles for you!
The controls people don't see on the VP9 series are the number of safeties HK built into it. There is a unique side-mounted safety for the firing pin. The frame has a trigger-mounted safety to prevent accidental discharge if the weapon is dropped, and a disconnector internally ensures the slide must be in battery for the VP9 to fire.
The HK VP9 also has a loaded chamber indicator on the back of the pistol's slide. A red color indicates that the firing pin is cocked — but always treat all guns as if they're loaded, whether the chamber indicator is red or not. Always visually inspect the gun's status for yourself regardless of what a loaded chamber indicator tells you.
Magazines
The HK VP9 comes in a California-compliant version with 10-round magazines as well as standard 15 or 17-round magazine capacity for those without state-sponsored capacity limitations.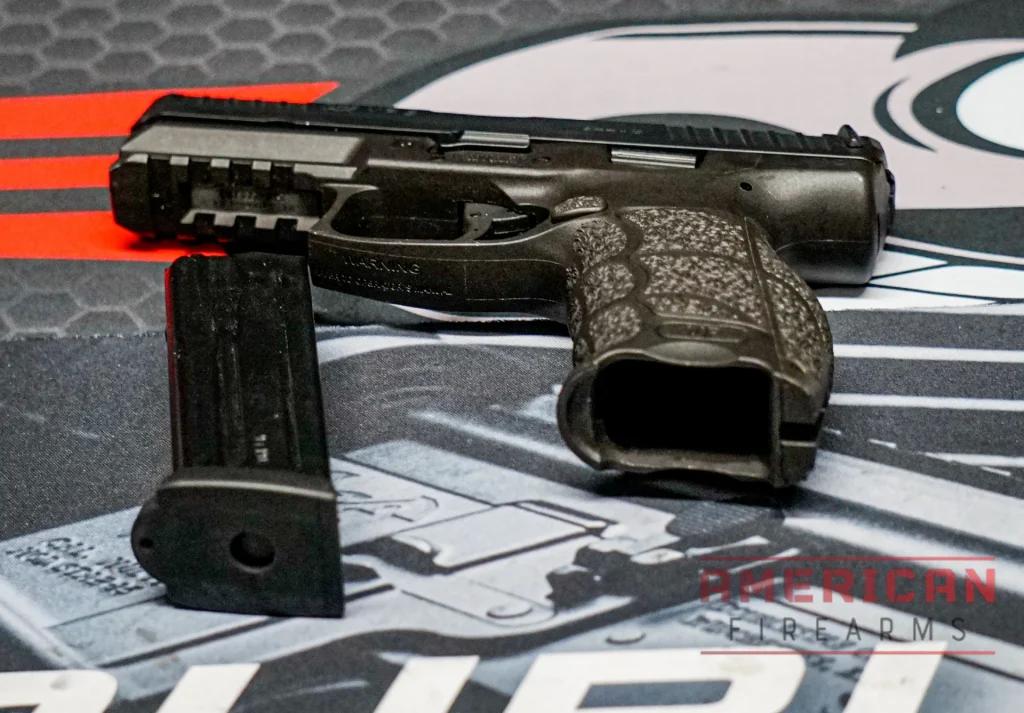 HK VP9 Stick & Magwell
The back of the magazine has witness holes in the housing to view the amount of ammunition left. Every HK pistol manufactured has considerable aftermarket support, so if you want to add custom sights, an extended magazine, or other goodies you'll find lots of options here.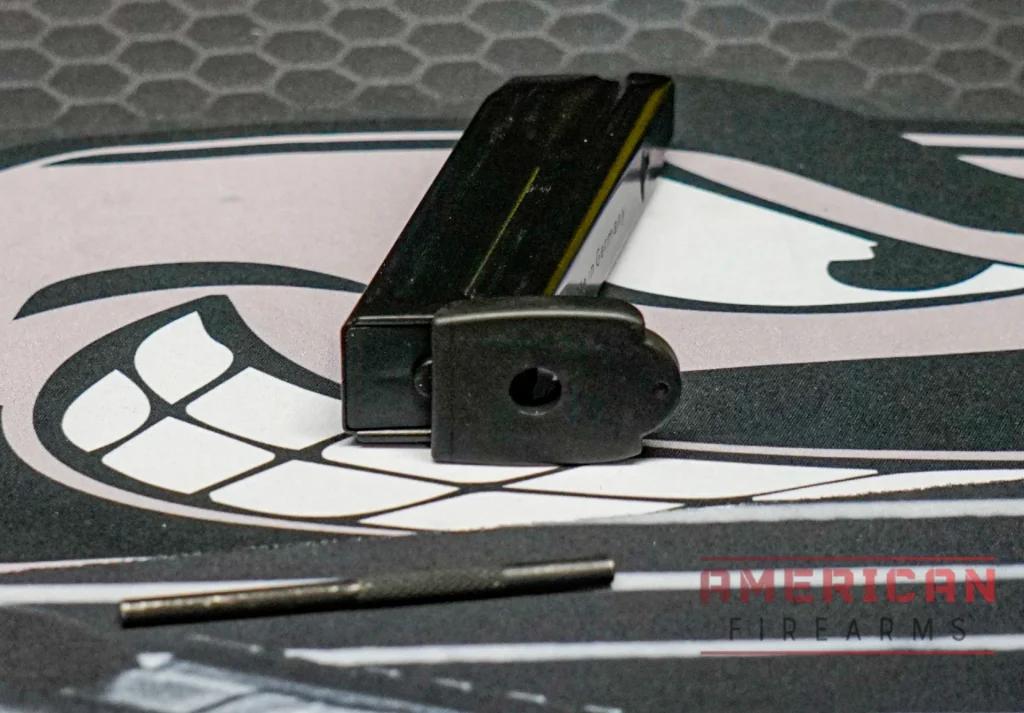 Adding an extended magazine plate is simple with the People's Pistol.
The VP9 is the most popular HK pistol, which means it's easy to find magazine extensions to add extra capacity to your pistol.
Sights
The VP9 comes with standard three-dot sights found on most striker-fired pistols. The front and rear sights are non-radioactive luminous sights that are adjustable for windage and elevation. HK also designed the slide to be optics ready with an adapter plate to fit specific red dot optics. Five plate options are marked in the manual and can be purchased separately.
HK VP9 Sights Up Close
The aftermarket is filled with sights that will fit the VP9 and other pistols like your popular Glock models. The VP9 supports a mounted red dot sight and co-witness iron sights on the gun. Your choice of sights should align with the purpose of the firearm. For example, installing night sights on a self-defense pistol is an excellent idea to see your sights in low light and daylight.
Fiber optic front sights, for another example, are popular for competition shooters who can use either green or red fiber depending on what their eyes pick up best. Sights are a personal preference and should be a purpose-driven decision.
Is the VP9 picky about ammo?
There are too many ammunition manufacturers to list, all of which make ammunition slightly different.
A quick primer about ammunition components, it's essential to understand what runs in the HK VP9 or other handguns you own. The four components that comprise ammunition are the casing, primer, powder, and bullet. Cases can be made of brass, steel, or aluminum.
There are thousands of powders on the market, all designated in some way for the ammunition they are intended to be used for. Powders have different burn rates and various grain textures, which can impact the performance of the ammunition. The powder propels the bullet out of the casing and through the barrel, and the power of the powder has to match the bullet it needs to force out of the barrel to ensure consistent performance shot to shot.
Primers come in different sizes and are designated by their power level. For example, there are small pistol primers vs. small magnum pistol primers and small rifle primers vs. small magnum rifle primers. The difference in bullets is astronomical these days.
There are jacketed hollow points, full metal jackets, semi-jacketed hollow points, and more. Bullets are weighed in grains and, for 9mm alone, can come in 90gr, 115gr, 124gr, 147gr, 158gr, 165gr, and more. The weight of the bullet can affect velocity, accuracy, and even felt recoil.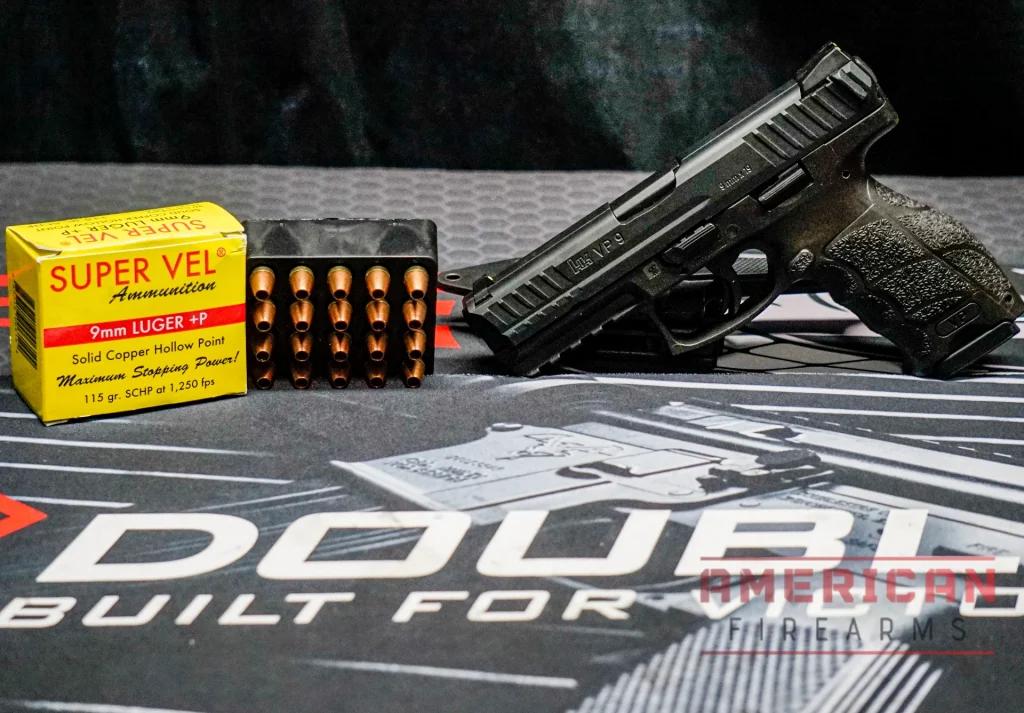 My VP9 eats anything, but really loves Super Vel's 9mm Luger +P 115 gr. SCHP
When HK said they put the VP9 through the ammunition ringer, they meant it. They wanted a rock-solid pistol that someone could take out of the box and run any ammunition through it without hiccups.
Most polymer striker-fired handguns were designed for your average gun owner to shoot a completely stock gun with cheap training ammunition or expensive defensive rounds without incident.
Consumers are looking for reliable firearms that don't have to be "broken in" to run right or tuned to one kind of ammunition. Consumers want a great gun with a reasonable purchase price, with many people willing to pay extra for ambidextrous controls, interchangeable backstraps, and adjustable sights to fit them.
HK VP pistols are designed to fire factory-loaded ammunition, loaded to NATO or SAAMI specifications. The accuracy of any firearm is directly related to the quality of ammo used and I prefer to use more expensive ammunition for competition and cheaper ammo for training purposes.
Curiously, in my experience, 147-grain bullets are softer recoiling than 115-grain bullets in lightweight polymer-framed pistols. The extra weight slows the bullet down and takes the "snappy" feeling out of the muzzle.
The VP9 handles well for a striker-fired gun no matter what ammunition you use, but I recommend trying the difference between 115 and 147 to feel for yourself.
The biggest issue with hollow points and striker-fired handguns is the bullet profile can get hung up on the feed ramp. I test-fired a variety of defensive hollow point bullet profiles to see what fed most reliably with my VP9.
Some hollow points are more "open" than others — hollow points designed to bloom can behave differently from more round-nose bullets, for example. What I found fed more reliably with my VP9 is Super Vel's 9mm Luger +P 115 gr. SCHP and Hornady Critical Defense Ammunition 9mm Luger 115 Grain FTX, which I have used since the beginning of my carry concealed experience.
Always test-fire the defensive ammunition you plan to use before carrying a gun with those rounds. Hollow points can feed entirely differently than round-nose full metal jacket, so test and learn.
Grip & Ergonomics
Any handgun's sharp recoil will tax the muscles and joints of any shooter, which makes an effective grip a critical tool for keeping a gun on target, isolating the trigger press, and controlling recoil.
A frail, uncommitted grip invites problems of all stripes and makes it impossible to attain consistent performance. Grip optimization is an area where the VP9 excels.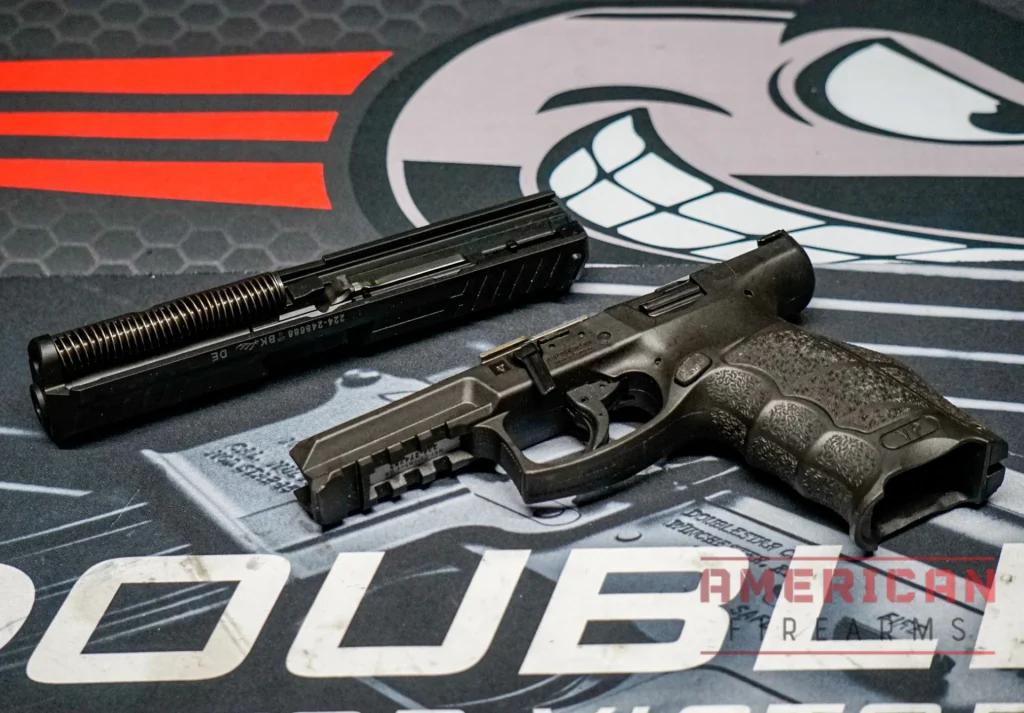 HK VP9 grip gives you a tremendous amount of customizability.
The most significant difference between the VP9 and other striker-fired pistols is the subtle finger grooves HK designed. The molded finger grooves in the front of the grip help ensure the shooter has the gun gripped properly.
Hand sizes vary, so HK included different back strap sizes to help end consumers customize the grip to fit them. Not only are the backstraps interchangeable, but the grip panels are also. There are three back straps, small, medium, and large, and six side panels to accommodate almost any shooter's hand.
The side incorporates front and rear slide serrations, what HK calls "charging supports," that create extra grip texture for racking the slide rearward. These supports are tactile and deep, super valuable for anyone who struggles to manipulate semi-automatic slides consistently. This pistol is versatile and accommodates people of all hand sizes and strengths.
When selecting a pistol — be it your first or your twentieth, for hunting, competition, or self-defense — it's best to choose a gun with which manipulating the controls and slide are comfortable, the pistol grip ensures you can hang onto it when firing, and its sights make it easy to aim — all of which can be significantly improved with proper hand fit.
Just like clothes aren't one-size-fits-all, neither are guns, but the VP9's flexible design gets you as close to a "universal" pistol as you can get.
Over the last several years, grip options have made huge strides in the firearms industry, with a massive number of companies offering grip options for just about every polymer frame pistol manufactured.
Changing grip panels, the front strap, and the back strap to fit your hand should be your first order of business with any new gun you purchase, and the VP9 allows you to tackle that on your first range day.
Trigger & Reset
The pre-travel is the most significant difference between the VP9 trigger and other striker-fired triggers. Most striker-fired guns have a pre-travel pull that increases in weight as you near the "wall" when the trigger breaks. The VP9 has a less noticeable pre-travel pull until it reaches the clean break point.
The stock trigger on the VP9 is 5.4lbs with a trigger travel of just .24 inches and a return travel of .12 inches. Essentially, the VP9 has a short reset compared to the full trigger pull from at rest through the break, making it easy to control and predictable from shot to shot.
I always tell people that if I miss shots with certain firearms, it's not the gun, the optic, or the iron sights; it's me. I see people's pistols get blamed for "inaccuracy" rather than the shooter's fundamentals, or lack thereof.
Even with every shooting fundamental mastered, one bad trigger pull can cause a shot to move dramatically. A good trigger pull comes with time spent behind the gun in live fire and dry fire practice. I dry fire more with almost all of my firearms than live fire to focus on one thing: trigger discipline.
The best shooters in the world have excellent trigger discipline. They know precisely where their trigger breaks, based on feeling alone, and do not ride the trigger reset. Rather than holding down the trigger while the gun recoils and then letting off the trigger only when their sights align again, they let off the trigger immediately after firing the shot while the gun is recoiling.
Then, they begin to prep the trigger by taking up all the pre-travel slack while the gun is still recoiling. When their sights are re-aligned on target, they finish the trigger pull and make the follow-up shot faster than you can believe.
The VP9 has an excellent trigger on which to establish good habits. The reset is audible, you can feel the wall right before you break the shot, and it's a smooth pull from start to finish. That solid foundation will help you learn how to shoot better, and faster.
Quality of the VP Series is maintained by ensuring that the design is tested under the North Atlantic Treaty Organization's (NATO) AC/225 D/14 and the National Institute of Justice's (NIJ) Standard 0112.03 certifications.
Before HK introduced the VP9, it underwent rigorous testing, as mentioned earlier, to ensure that HK released a quality product clear of defects or issues.
Beyond the reliable range performance, Heckler & Koch is one gun company you can also trust with customer service & support. They are active in the firearms industry, social media, and shooting sports. I appreciate a company that stands by its products and offers a full-throated product warranty.
Heckler & Koch has perfected the polygonal profile barrel, which effectively seals propellant gases behind the bullet — increasing bullet velocity — and every HK handgun uses their polygonal profile barrel technology.
The polygonal design is more resistant to wear and will outlast conventional "lands and grooves" barrels found on most striker-fired handguns by thousands of rounds.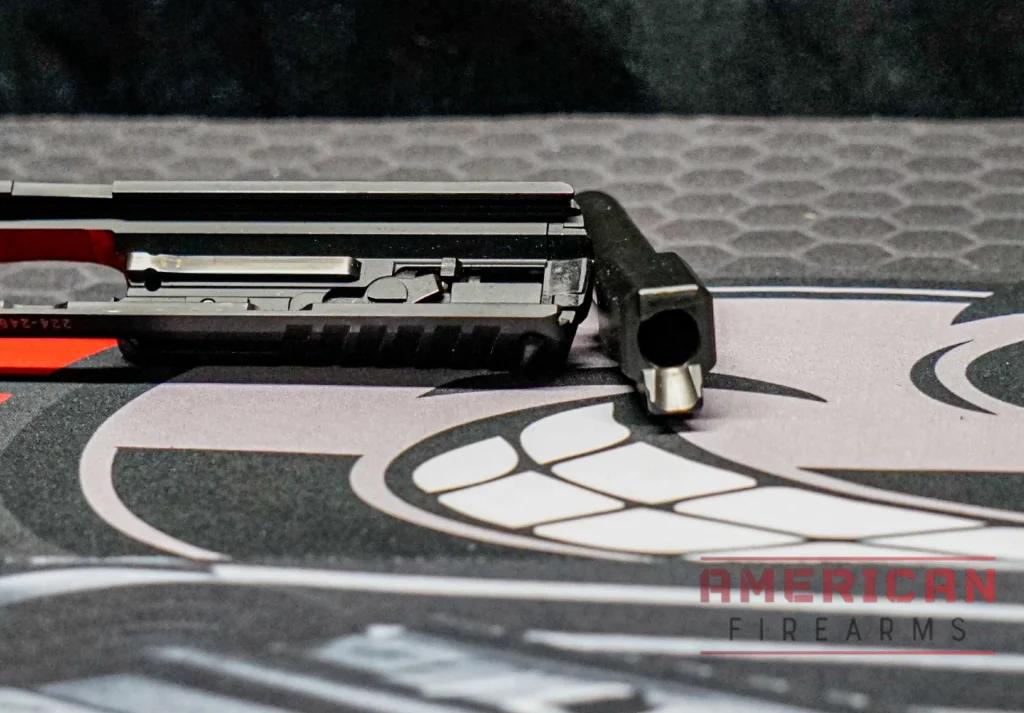 HK VP9 Barrel and Feed Ramp after 6,000 rounds.
The VP9 has a cold hammer-forged barrel and a polished feed ramp, which improves the reliability of feeding all kinds of ammo. That said, when performing regular maintenance on your gun, be sure to keep the feed ramp clean.
Regarding accuracy, HK's have been tested in major competitions like 3 Gun, USPSA, and Steel Challenge and come out on top. At the same time, ammunition can affect accuracy, the VP9 groups tightly and rings steel at a distance with any kind of ammunition you can find.
Many of their pro shooter team members, from Derek Giddings to John Rasmussen, have won competitions shooting the VP9. Highlighting the VP9's extensive accessory support, many pro shooters for HK have upgraded their VP9 with the long slide kit, which offers just that, a long slide for competition shooters.
This kit includes the slide assembly, an O-ring enhanced barrel, the recoil spring assembly, complete small parts, and adjustable sights, including a fiber optic front from LPA. The long slide adds an inch to the barrel and slide, increasing sight radius and overall weight, helping improve balance, and is super accurate to shoot.
For the last seven years, I have shot a gun from just about every major firearms manufacturer in different competitions. My VP9 has maybe 6,000 rounds through it, and I use it as a demo gun in all of the firearms classes I teach. I can trust the VP9 to perform in any weather, with any ammo, and for any type of competition.
The gun was built for durability, long days of shooting on the range, and to maintain accuracy through thousands of rounds. I'm no ordinary gun owner who only shoots a few hundred rounds a year, if that. I expect the pistols I own to shoot for tens of thousands of rounds before needing a barrel replacement.
Disassembly of the VP9 is simple, so I recommend this gun for newer gun owners or people looking for a simple weapon they can take apart on their own.
To disassemble, first, check that the firearm is clear, remove the magazine, and lock the slide to the rear. The take-down lever is on the left side of the gun above the trigger.
Rotate the lever forward until the lever is pointing down at the 6 o'clock position. Push the slide forward to remove it from the frame. When you turn the slide upside down, you can push the recoil spring forward and pull it out to the right or left side. The barrel should fall loose at that point.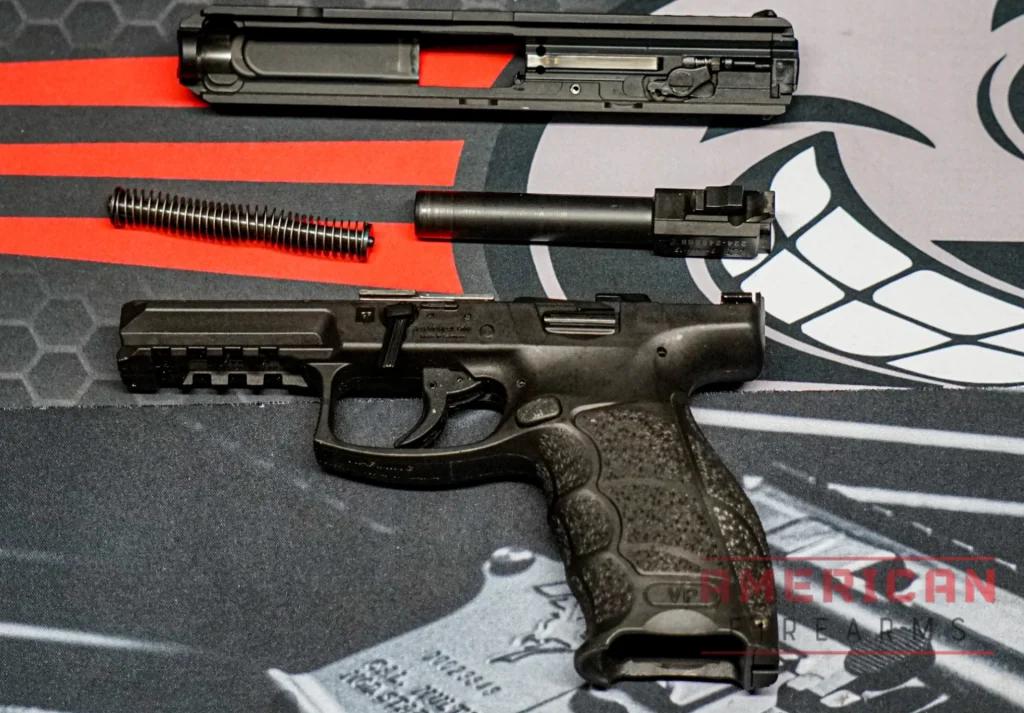 HK VP9 Dissassembled
Always check your gun for wear and tear. You can wear out your recoil spring tension if you shoot thousands of rounds a year. The spring is easy to replace. The slide and barrel should be inspected for any cracks or deformation in the metal. While unusual, it can happen if you use over-pressurized ammunition, drop the gun, or something else happens.
The barrel needs to be cleaned with a cleaning solvent, a copper cleaning solvent depending on the ammunition you use, and a brass brush to free any build-up or debris from the barrel.
Always run a clean patch through the barrel until it comes out clean and not black from carbon. You can look through the barrel to check for debris or obstructions. Remember to check that the feed ramp is still polished and clean looking. The slide may have some carbon build-up and can be sprayed with solvent and brushed off.
Always wipe down the slide as well after scrubbing it. The gun's frame can be wiped down with a rag or patch soaked in solvent. The carbon build-up will be visible, and occasionally, you'll need to use a metal pick to get into the smaller areas of the frame where debris builds up.
Check that the mag well is clear of oil, solvent, or any liquid substance. You do not want dust clinging to the inside of the mag well; you want it completely dry to insert your mags in and out. The last part of maintenance is oiling your gun. If metal contacts metal, it's a good idea to have a little oil where these two parts join.
Oil the barrel's exterior, the small metal parts in the slide and frame, the barrel locking block, slide rails and grooves, all operating controls, and the recoil spring assembly.
If you carry your VP9 daily, have stored ammunition for long periods in the magazines, have shot in the rain, or dropped your magazine in mud or dirt, you need to clean your magazines. You should clean magazines anytime you clean your gun, especially if your magazines are dirty.
The springs need to be replaced over time from being under tension if you leave your magazines loaded. You could have a worn-out spring or a bad follower if you notice any feeding issues.
To disassemble your magazines, use a punch to depress the locking detent in the bottom of the magazine base pad. While depressed, use your thumb to slide the base pad forward. Be ready for the spring to fly out if you aren't covering the bottom of the magazine as you slide the base pad off.
The magazine components are the housing, follower, spring, locking plate, and base pad (also known as floor plate).
They make magazine brushes specifically for cleaning the inside of your magazine housing. You also can use a dry lube spray that repels dirt, grime, and moisture, protecting the magazine components from rust. Dirty magazines can cause just as many issues as a dirty gun, so start including magazine maintenance in your gun maintenance routine.
Nowadays, many firearms manufacturers are moving to all steel frame model pistols. Smith & Wesson and Springfield Armory recently released all metal versions of their popular polymer pistols.
We've seen Walther do this with the release of their steel frame Q5 Match pistol. I'm hoping HK has something in the works to maintain its place in the market and meet the demand for metal-framed guns.
While the gun itself doesn't have any shortcomings, HK may end up behind the curve on this trend. They were a little slower to release an optics-ready gun and may have missed some of the market on that release.
If the full-size VP9 isn't your style, you have the VP9 Match, VP9L OR, VP9 Tactical OR, or the VP9SK to choose from. HK made sure to make a VP9 that serves every purpose. Knowing the purpose of why you are buying a gun helps make the decision of what to buy easier.
A threaded barrel is good if you're interested in using a suppressor on the end of it. Having an optics-ready gun doesn't mean you have to ditch iron sights, but it does give you the option to use a red dot in the future if you ever want to try it.
The smaller SK model is designed for concealed carry, and the Match model is designed for competitive shooters.
Aftermarket support is something I look for before buying any kind of firearm. I want to know if my referred gun holster manufacturers have products for a pistol I'm considering. Are there aftermarket triggers, sights, base pads, and other support for the gun?
If I need a replacement part in the future, I want to know how hard it will be to find — and even how much it will cost. Some optics-ready gun models are incompatible with my favorite red dot optics, so I always make sure I can mount my preferred red dot before buying a specific gun model.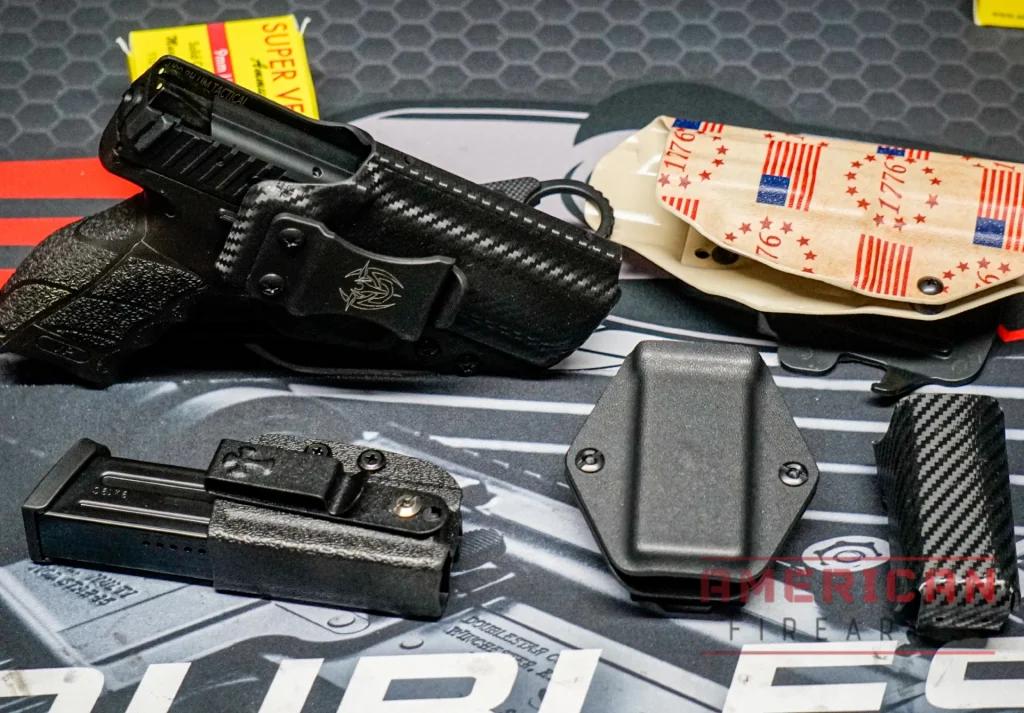 HK VP9 Holsters
HK VP9 model holsters are available from all major manufacturers, with materials ranging from leather, Kydex, and even hybrid holsters with a combination of the two. There are magazine pouches made of leather and Kydex that fit not just the VP9 specifically but most all double-stack magazines as well.
You'll also find holsters for your preferred carry style –IWB, OWB, backpack carry, shoulder holsters, and those made for rigorous competitions where a level III retention hood keeps the gun from falling out while running or climbing obstacles.
Most full-size Glock sights also fit other full-size guns like the VP9. Always confirm with the aftermarket supplier whether or not something is compatible with your gun model. Still, I've been largely successful with finding sights that can mount to both full-size HK and Glock model guns, for example.
I swap out the factory trigger on almost every gun I own as nearly all of my guns are for competition shooting. One major upgrade for the VP9 is the Lazy Wolf VP Series Trigger, which has a 90-degree break angle, reduces reset length, externally adjustable over-travel stop, and is a true drop-in installation using the factory trigger bar.
Overall, if you want to upgrade your HK VP9, you can go crazy with all the aftermarket support available.
So, is the VP9 right for you?
I tell everyone who asks me what new pistol they should buy for competition or concealed carry, for example, only to consider one that has been tried and tested. The worst thing you can do is buy a gun that's new to the market, only to watch it end up getting recalled, discover that it's difficult to use, or has no aftermarket support.
The VP9 design has been perfected. The gun has a proven, successful track record and it isn't going anywhere. It's a versatile gun you can enjoy at an indoor or outdoor range, travel with, carry concealed, or keep at home as a bedside gun.
If those are considerations that are important to you, give the VP9 a try.