In-Depth Review: Taurus G3C [Hands-On]
Written By
Michael Crites
Licensed Concealed Carry Holder
Reviewed by
Editorial Team
Learn About The Editorial Team
Share:
Products are selected by our editors. We may earn a commission on purchases from a link. How we select gear.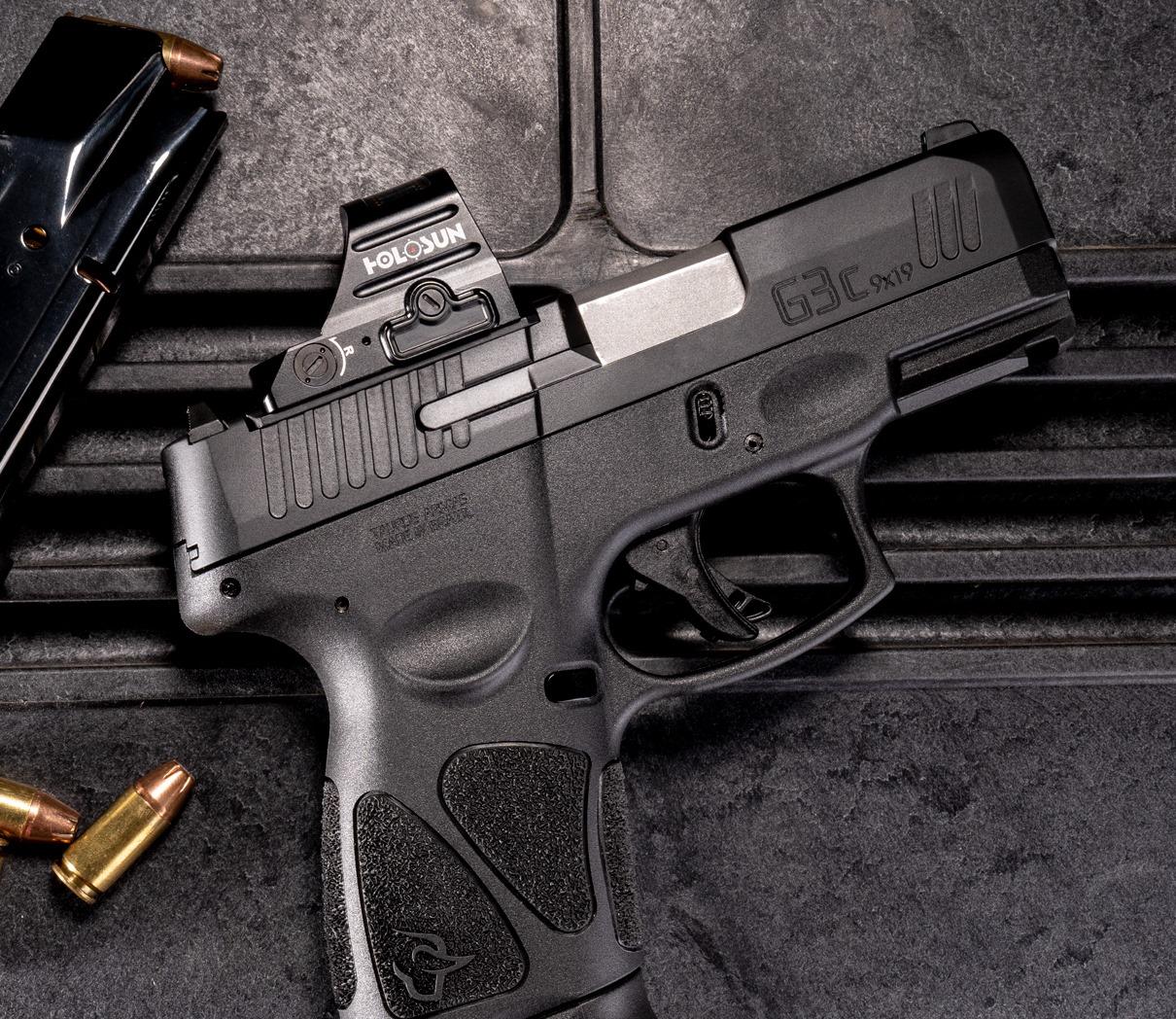 Is the subcompact Taurus G3C the best budget polymer handgun on the market today? We take this striker-fired polymer frame pistol through its paces and help you determine if this affordable pistol is right for you.
Best For
Solid Standard Features: Accessory rail, slide serrations
Ergonomic Design: Comfortable grip, memory pads
Magazine Capacity: Three 12-round magazines
Durable Sights: Steel, drift adjustable
Reliable Performance: No cycling issues
Improved Trigger: Predictable, restrike capability
Considerations
Not Left-Hand Friendly: Non-swappable safety levers
Slide Lock Issues: Occasional lock-back failure
Our Verdict
The Taurus G3C is not flashy, and the company previously earned a spotty reputation for having less-than-optimal semi-auto pistols, which stacks the cards against the gun in the eyes of many potential users.
However, this compact semi-auto pistol is a great gun that brings a lot to the table in terms of feature set, rugged durability, and, yes, dependability, and it deserves a second look from anyone looking for a good subcompact that will deliver as a self-defense handgun or concealed carry pistol and won't break the bank.
Where does the Taurus G3C land on our 60-point scale?
Accuracy: 7/10
It stands out for its accuracy due to factors like superior ergonomics or smoother trigger, delivering solid performance with most ammunition brands​.
Ergonomics: 7/10
Well-designed controls and possible adjustability, with only minor criticisms regarding shape, texture, and controls​.
Features: 7/10
A diverse range of features such as adjustable sights, accessory rails, ambidextrous controls, and advanced safety mechanisms, adds adaptability and customization for various preferences​.
Fit & Finish: 7/10
It has well-assembled components, tight tolerances, and evenly applied finish, indicating competent craftsmanship​.
Reliability: 9/10
We saw one malfunction in more than 1,000 rounds of testing, indicating dependable functionality under even adverse conditions​.
Value: 9/10
The G3C has a solid base of features and performance at a competitive price, outshining competitors and delivering exceptional value for money​.
Caliber:

9mm Luger (also commonly known as 9mm)

Action:

Single action striker-fired with restrike capability

Capacity:

12+1 or 10+1 rounds with flush-fit magazines / optional 15- and 17-round extended mags

Barrel Length:

3.27 inches

Overall Length:

6.30 inches

Overall Height:

5.06 inches (with a 12-round magazine)

Overall Width: 1.25 inches

Weight:

(with an empty 12-round magazine) 21.87 ounces

Sights:

Serrated drift adjustable rear / fixed front / Glock pattern

Slide:

Black Tenifer coated alloy steel

Barrel:

Stainless steel

Grip frame:

Polymer with steel slide rail inserts

Safety Devices:

Firing pin block / Trigger safety / Manual safety / Loaded chamber indicator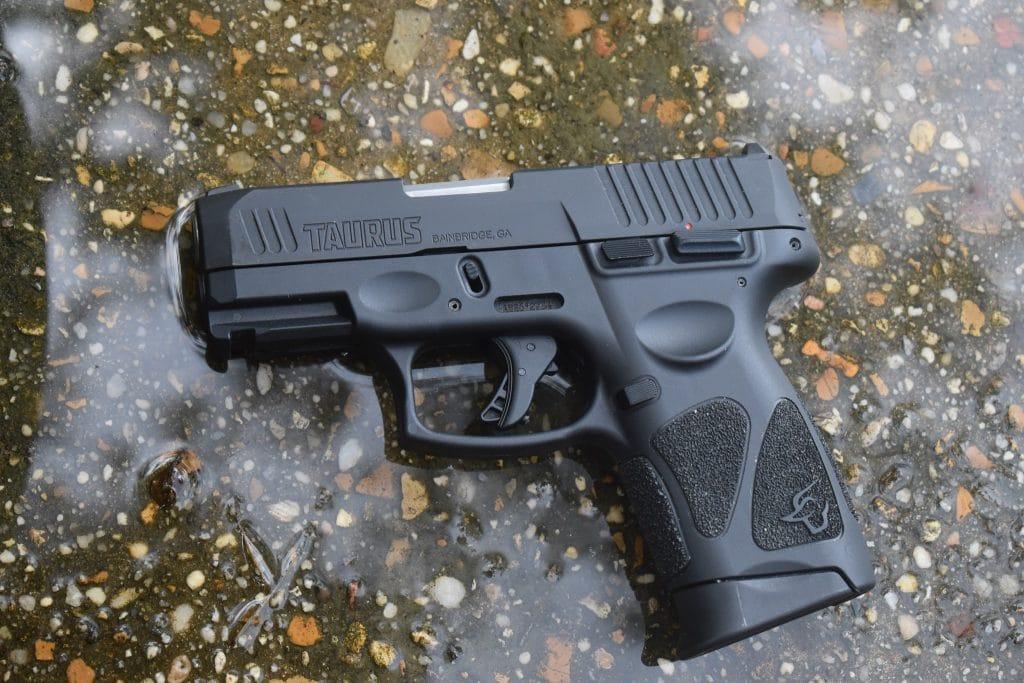 Taurus G3C Pistol
Forjas Taurus Ltda (Portuguese = Taurus Forge), a Brazilian firearms maker that has been increasingly expanding operations to the United States over the past couple of generations, started off making revolvers in 1941 and continued that path– during which they were owned by the same company as Smith & Wesson for about a decade– until 1980 when they expanded into the world of semi-automatics.
Purchasing surplus tooling and equipment from Beretta, which had made Model 92 pistols for the Brazilian military in a factory in Sao Paulo on a six-year contract during the 1970s, Taurus soon began making PT92 series clones.
Branching out from full-sized guns into more compact models, ideal for concealed carry, Taurus introduced their first generation of polymer-framed semi-autos with the PT-111 Millennium in 1998.
After more than a decade of user feedback, the company revamped and improved the PT-111 to create a more reliable and ergonomic second generation gun, the G2 Millennium, in 2013, soon dropping all but the "G2" from its marketing.
Again, taking lessons learned from thousands of guns heading out to the market, Taurus updated the design to create its third generation pistol, the G3, in 2020. A gun that bordered on being full-sized, the G3 has a 4-inch barrel and a 15+1 magazine capacity.
As a companion pistol in the same family, the G3C, with the "C" denoting it as a compact model, came along shortly afterward and sports a shorter 3.2-inch barrel along with a shorter grip, which trimmed standard capacity to 12+1.le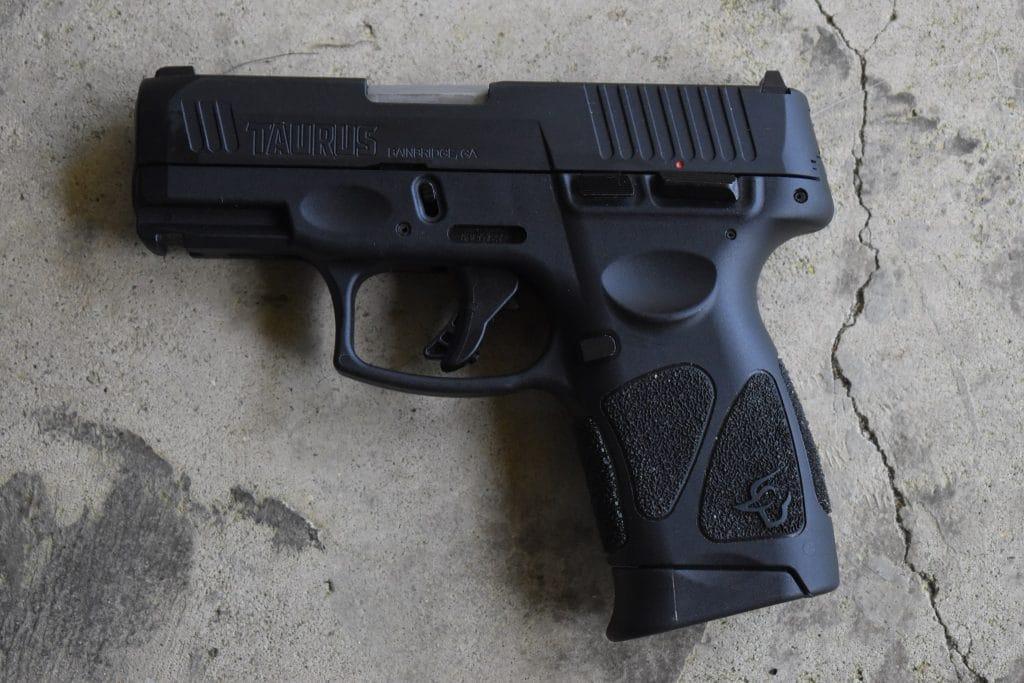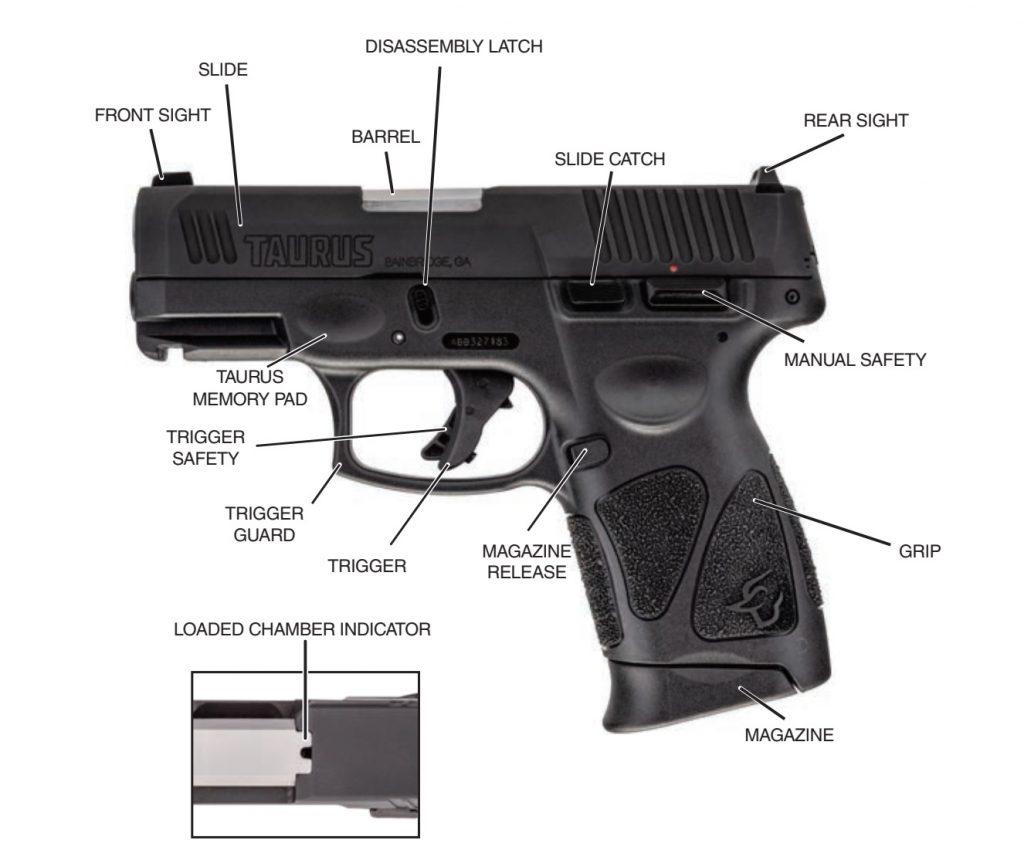 Taurus G3C features highlighting the loaded chamber indicator and manual safety
Rather than just a generic white box that just says "PISTOL" in black lettering on the top of it, the Taurus G3C has a lot of decent features that come standard from the factory.
This includes a Picatinny MIL-STD-1913 accessory rail on the frame, which not all pistols in its comparative size come with (see the Glock 43). Although the slide is short, it has both front and rear slide serrations, again, not a feature seen on similar-sized pistols.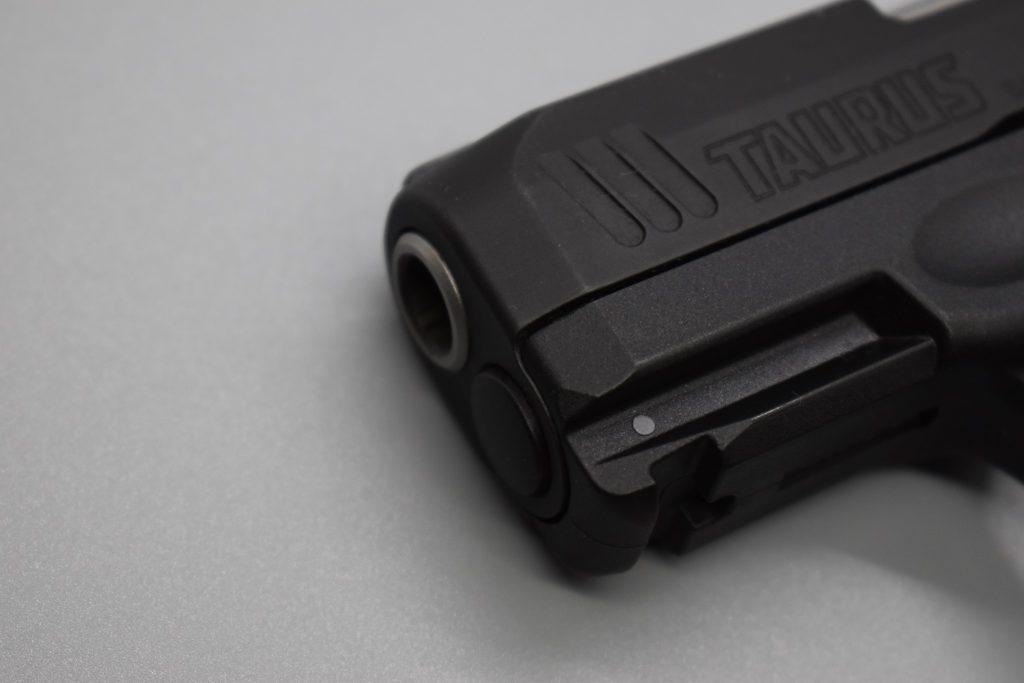 A Picatinny MIL-STD-1913 accessory rail is included on the frame
While the PT-111 and G2 series used nylon guide rods which imparted a degree of flex to the pistol, Taurus smartened up and supplied the G3 series with a steel guide rod and spring assembly in addition to a more ergonomic frame and redesigned trigger.
Speaking of steel, the gun also uses steel sights that are easily replaceable.
Controls
Taurus G3C manual safety
The main surface controls of the Taurus G3C– slide stop lever, magazine release, and the manual safety lever– are ideal to accommodate about 90 percent of the population, that is to say, they are oriented to the strong-hand use of right-handed shooters.
The only true ambi control on the pistol is the take-down lever, located on both sides of the frame. While most southpaws are used to having to train to manipulate a right-hand-oriented gun, the G3 series magazine release button is at least swappable to the left-hand side of the grip to help those who need it.
Such a transfer can be done at the user level in about five minutes with the aid of a YouTube video and a flat-head screwdriver.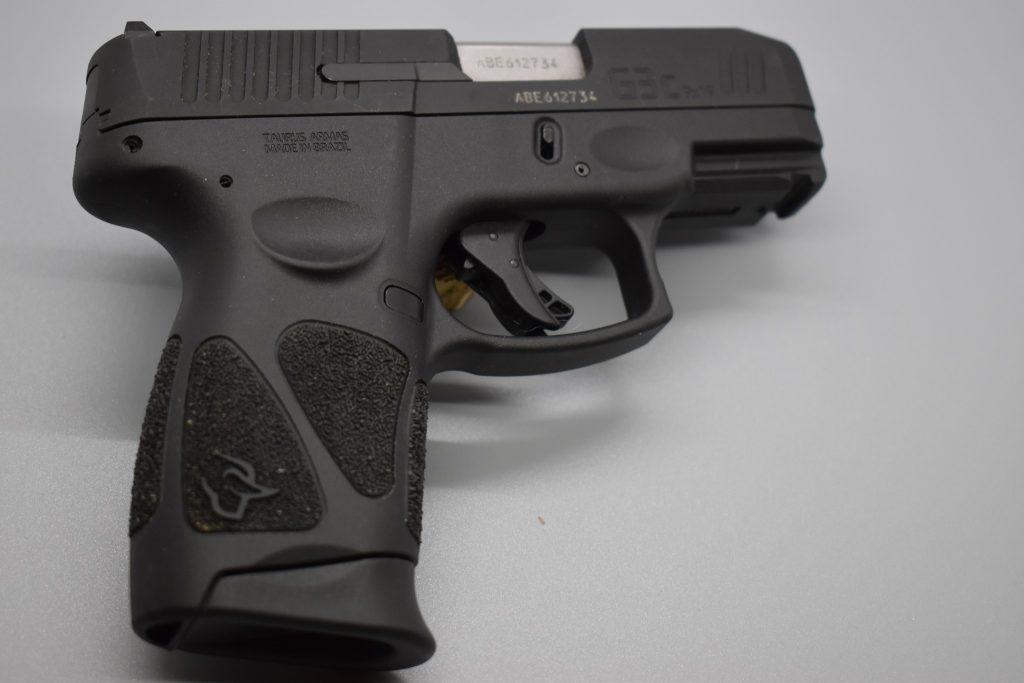 The mag release is swappable to the left side, but the safety and slide stop are righty-only.
However, the frame-mounted slide catch and manual safety lever are not swappable, so lefties must learn to cope with those.
The good news for the other 90 percent is that in our testing we found the mag release easy to reach, even for those with small hands, and well-textured, which aids in dropping the mag when the grip or user's hands are sweaty or wet.
All is not perfect in right-hand paradise, however, as the slide catch and manual safety levers are thin, basically about the size of a shaved Tic Tac, and are oriented horizontally, which forces the user to break their grip when trying to manipulate them. While the controls work, they can be awkward at times to actuate, a factor that the pistol's user can overcome with training.
If Taurus reads this, please redesign those levers to make them more user-friendly.
When it comes to the durability of the surface controls Taurus has coated them in Teflon for that product's reputation as being both corrosion-resistant and able to reduce friction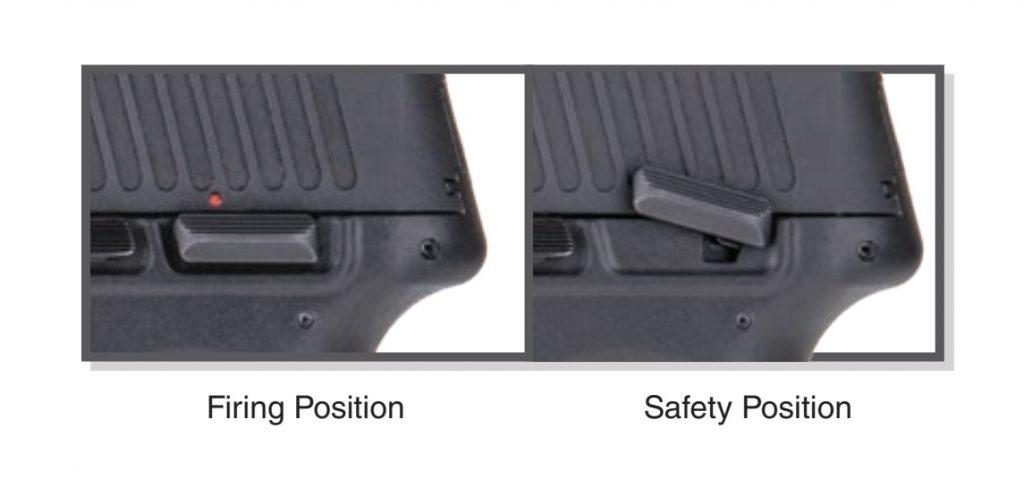 Taurus G3C manual safety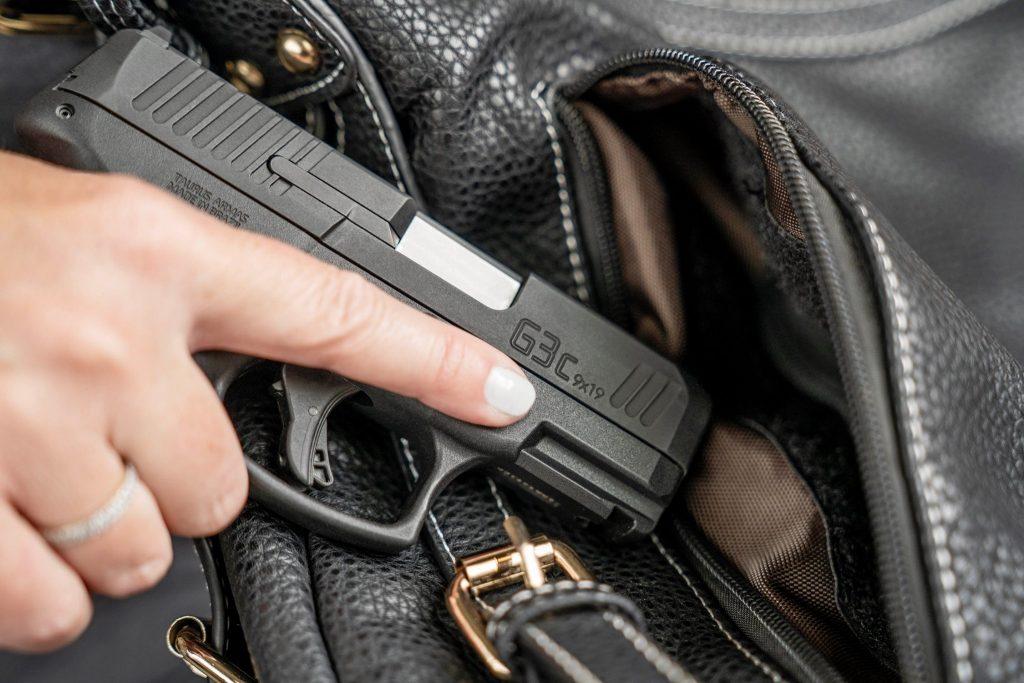 Taurus G3C lifestyle image purse carry
Due to its subcompact size, the Taurus G3C is intended for use as a carry gun. With its 12+1 magazine capacity, should the user elect to carry a reload magazine with them as well, the Taurus provides 25 rounds of 9mm at hand in a package that weighs in the neighborhood of two pounds.
Although ideal for use outside the home, the G3C is also very accurate for its size, especially at ranges under 15 yards, making it ready to stand in for home defense as well.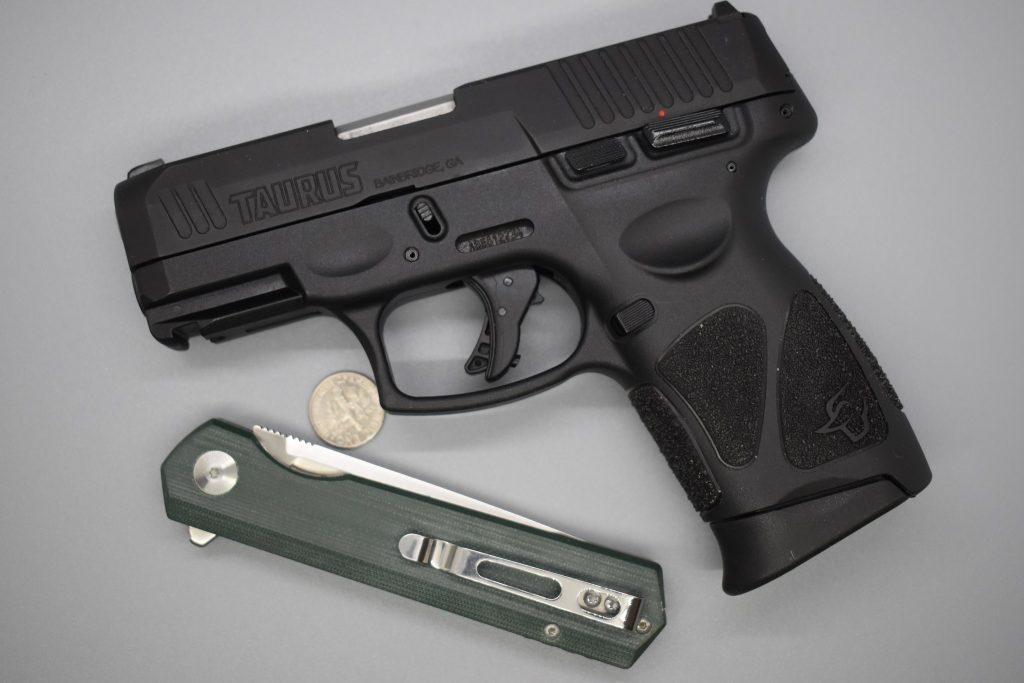 My EDC most days.
Magazines
Taurus supplies the G3C, at the time of writing, with three magazines with the standard capacity of each allowing for 12 cartridges.
Those in capacity-restricted states have to make do with 10-round mags while the longer 15- and 17-round mags intended for use with the larger G3 model will fit in the compact but extend past the magwell.
The magazines are steel-bodied with yellow followers and two witness holes at the 6- and 12-round mark to allow the user to gauge how full they are.
The body has cutouts on both the left and right sides to allow for use with a magazine release installed on either side of the grip frame. In our experience, they dropped free from the mag well when the release button was pressed.
In a salute to the worst-case scenario, the bottom of the mag well is scalloped to allow the user to better strip a stuck mag away.
Sights
Unlike most polymer-framed pistol makers (Glock for example), Taurus ships its G3 line with steel front and rear sights rather than easy-to-damage plastic sights.
The standard no-frills fixed front sight has a blacked-out drift adjustable rear sight with a front that carries a white dot, and we found them to be perfectly adequate and easy to acquire in daylight conditions.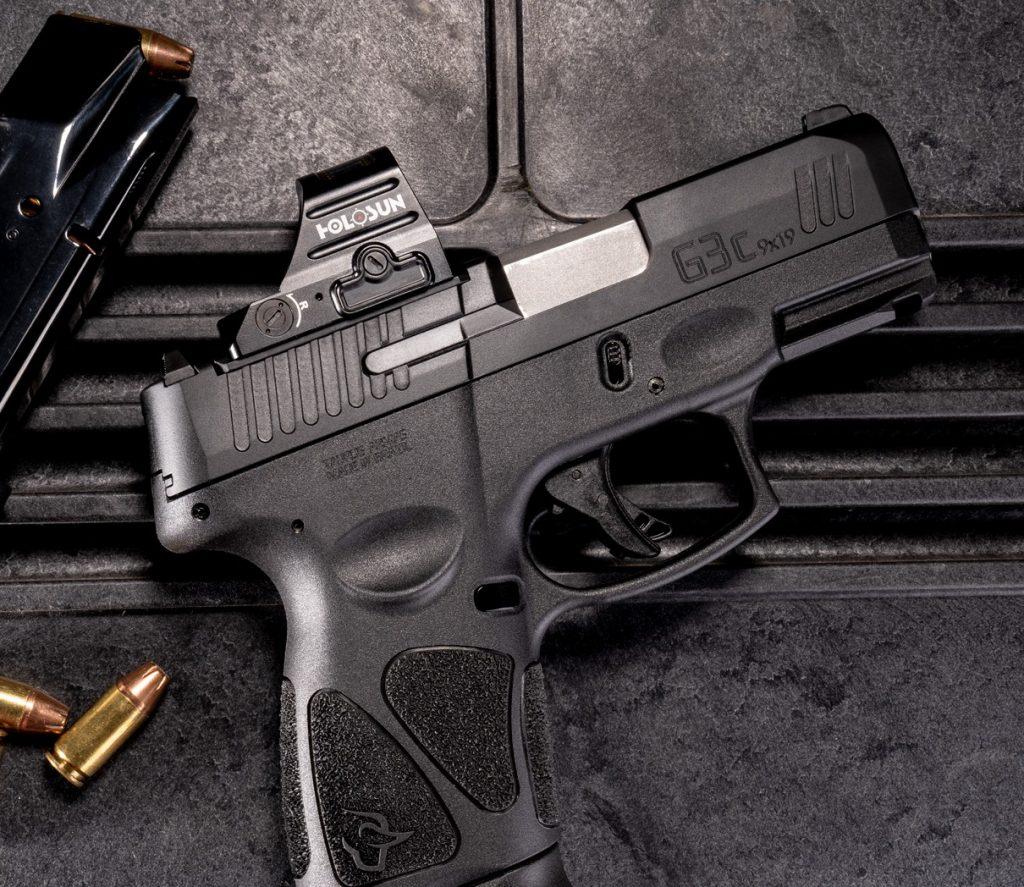 TORO hero shot
The rear sights, dovetailed to the slide, are drift adjustable by the user.
Besides the standard factory-installed front sight, Taurus sells replacements in three different heights (small, low, and high) as well as an AmeriGlo Tritium night sight. Speaking of replacement, the G3 series uses standard Glock-spec dovetails and front post sizes so just about any Glock aftermarket sights can be used.
Be advised you will need a sight replacement tool for the front and it is a good idea to have a sight pusher to replace the rear. Both can be reused extensively on other projects.
Trigger & Reset
The third-generation trigger pack on the Taurus G3C is probably the best one the company has ever marketed.
While not a competition model by any stretch of the imagination, it is predictable, hitting a wall and breaking at just under 5-pounds of pressure. The reset is short, less than a half-inch, and tactile. In other words, you feel it in your finger if you are concentrating on it.
One feature hyped a lot by Taurus is the gun's restrike capability which would theoretically allow the pistol a second chance to hit the primer of a round that did not ignite the first time.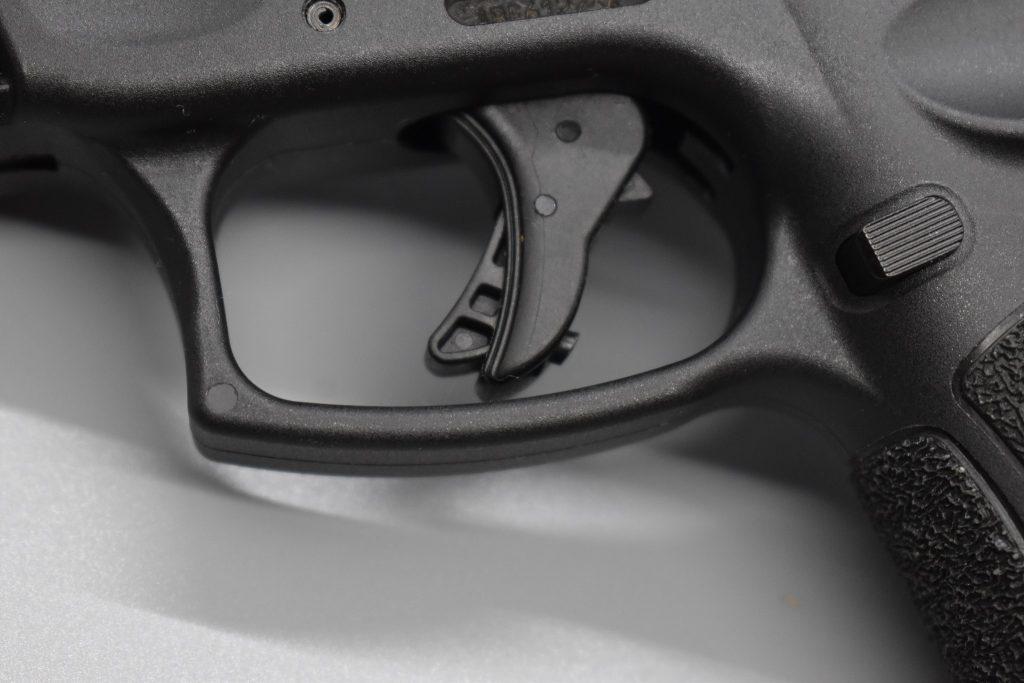 The third-generation trigger pack on the Taurus G3C is probably the best one the company has ever marketed.
This is different from most striker-fired handguns, such as Glocks and S&W M&Ps which would be left with a dead trigger after the first pull.
We verified the restrike capability several times in unloaded function checks but were not able to vouch for it in action as the G3C experienced no light primer strikes in testing with live rounds.
Ammo Preferences
Taurus details that its 9mm semi-auto pistols are cleared to fire SAAMI-rated Plus P ("+P") as well as factory ammo.
However, it notes that such hot loads generate pressures more than those seen with standard ammo. As such, the company warns that heavy use of +P ammo may shorten the useful life of the firearm.
"Unless you need +P ammunition, do not use it, particularly for practice," says Taurus.
In our testing with the Taurus G3C, we ran Blazer, Remington, and Winchester brass-cased 115- and 124-grain full metal jacketed rounds as well as Federal 147-grain FMJs. We balanced this out with Russian-made Wolf and Barnaul steel-cased FMJs, which, due to the current ammo crisis, accounted for about 60 percent of our rounds sent downrange.
When it comes to self-defense ammo, we tested the G3C with personal protection hollow points from Federal (HST), Hornady (Critical Defense), Speer (Gold Dot), and Winchester (Ranger).
In all, we fired 1,300 rounds through this pint-sized 9mm, with no ammunition-related issues regarding cycling.
It just plain ate everything we put through it.
Quality Control
Taurus has come a long way with the fit and finish, design, and construction of their semi-auto pistols in the past 20 years.
We tested a first-generation PT-111 Millennium about 15 years ago when they were first introduced and it shot horribly, felt gritty when the slide was racked, had a long, creepy trigger with an unexpected breakpoint; and proved to be only marginally reliable, jamming at least once per box of ammo in range sessions.
Taurus G3C American Firearms
That gun was soon passed on to a new owner who was cautioned to have low expectations.
Then came the G2, which fixed a lot of the problems we encountered with the original PT-111 but suffered from having a very thin surface black oxide finish on the slide, and it soon wore away in hot spots leaving the bare metal underneath. However, the G2 at least worked when you pulled the trigger, even if it did tend toward rust.
Grip & Ergonomics
Going into the ergonomics of the G3C, it has a series of texture pads on the grip that are aggressive and stick to the hand well, even when wet.
Another useful yet understated aspect of the pistol are memory pads near the trigger guard to give the user a tactile spot to rest both the thumb of the off-hand and the trigger finger of the strong hand when indexed outside of the trigger well.
The standard 10- and 12-shot flush-fit magazines that the gun ships with have a pinky extension that helps with the grip. Extended mags double down on this.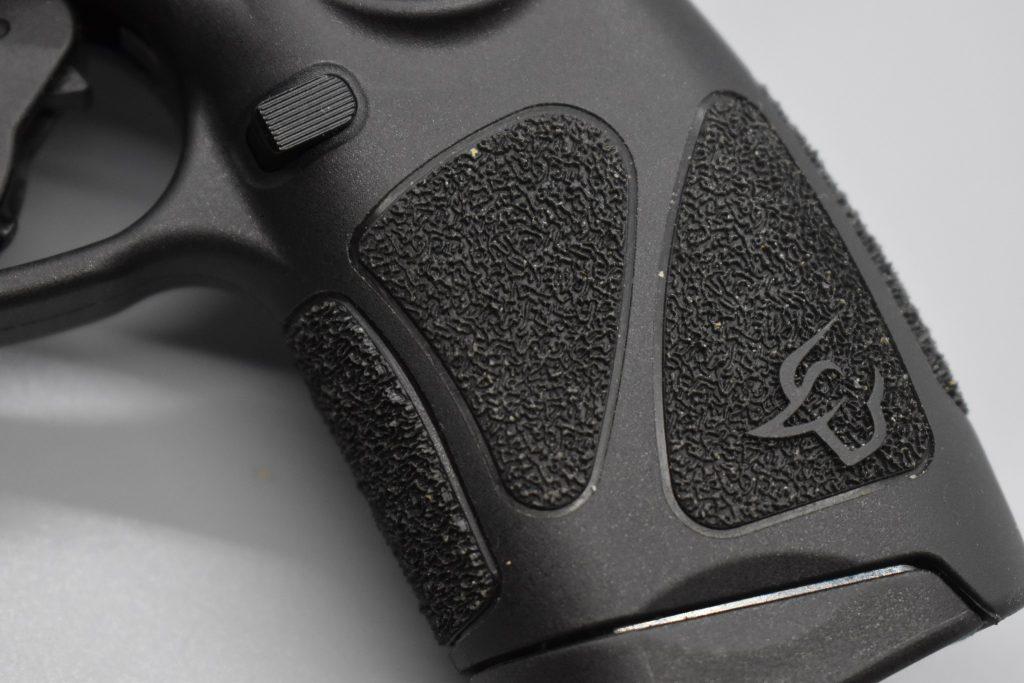 Taurus G3C Aggressive Grip Texture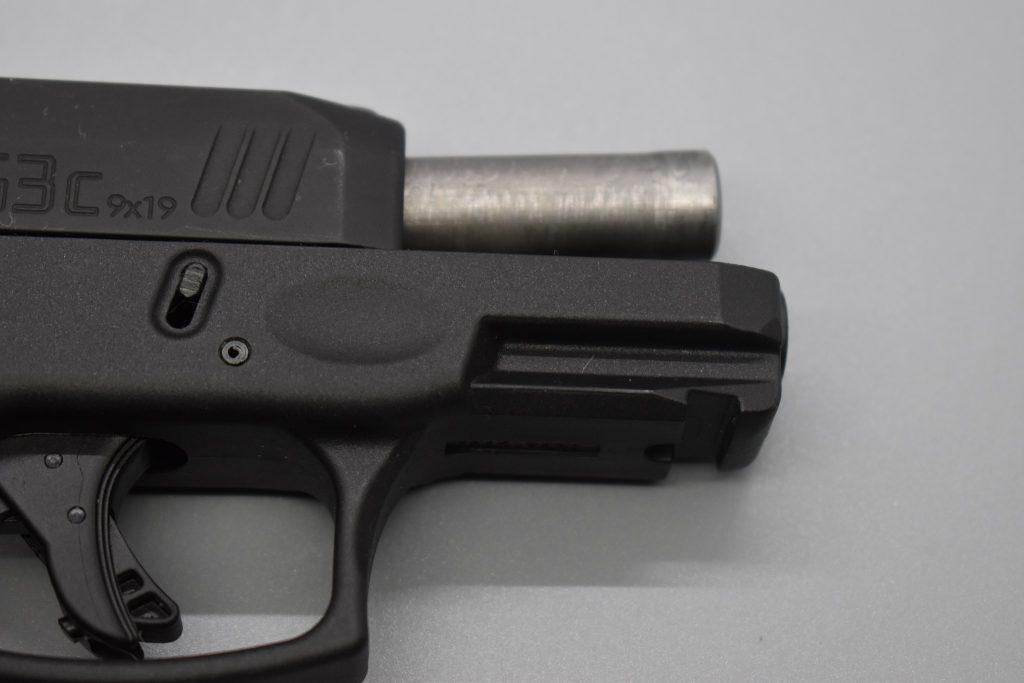 After several weeks of hard use, our G3C could still pass for gently used.
With the G3C, Taurus seems to have worked out their finish issues, and the slide and surface controls have a deep ferritic nitrocarburized (Tenifer) treatment. Rather than just being applied to the surface, such treatments are extremely durable even under the toughest conditions.
For reference, Glock used to use Tenifer (they were the first large gunmaker to do so) but have since moved to a black nitride treatment in recent years. With that, the dark black to grey slide of the G3C greatly resembles that of Gen 2/3 Glocks in terms of color.
After several weeks of hard use, our G3C could still pass for gently used, even though it has been both carried and shot far more than your average Taurus. Not even the laser-engraved serial numbers on the slide have rusted.
When it comes to the fit and overall quality of the pistol, we found nothing that was poorly finished or out of spec, for instance, burrs or blemishes.
Accuracy & Reliability
Although not intended for use as a target or competition gun, the Taurus G3C has good practical accuracy. In testing, we could ring a torso-sized steel target in rapid-fire at 7 yards with almost boring predictability. When concentrating in two-handed slow-fire at 15 yards, we were able to keep a magazine load inside a ragged baseball-sized group.
When it comes to reliability, the little Taurus kept on ticking. We took a new gun, stripped it down right out of the box to verify everything was there, then reassembled and function-checked it without adding any lube to what it had when it shipped from the factory.
After a mixed batch of 500 rounds, we field stripped it, wiped it down, gave it a blast of Ballistol, then put it back together for another 800.
In all, we had no stoppages, be they stovepipes, failure to feed, to extract, or to eject.
The worst problem we had was unintentionally dropping the magazine twice by accidentally rolling the ball of the strong-hand thumb over the edge of the mag release.
This was fixed with training. Other than that, the sole reportable malfunctions were an occasional failure of the slide to lock back on an empty magazine, a trait that occurred about five or six times, most notable when the gun was very dirty.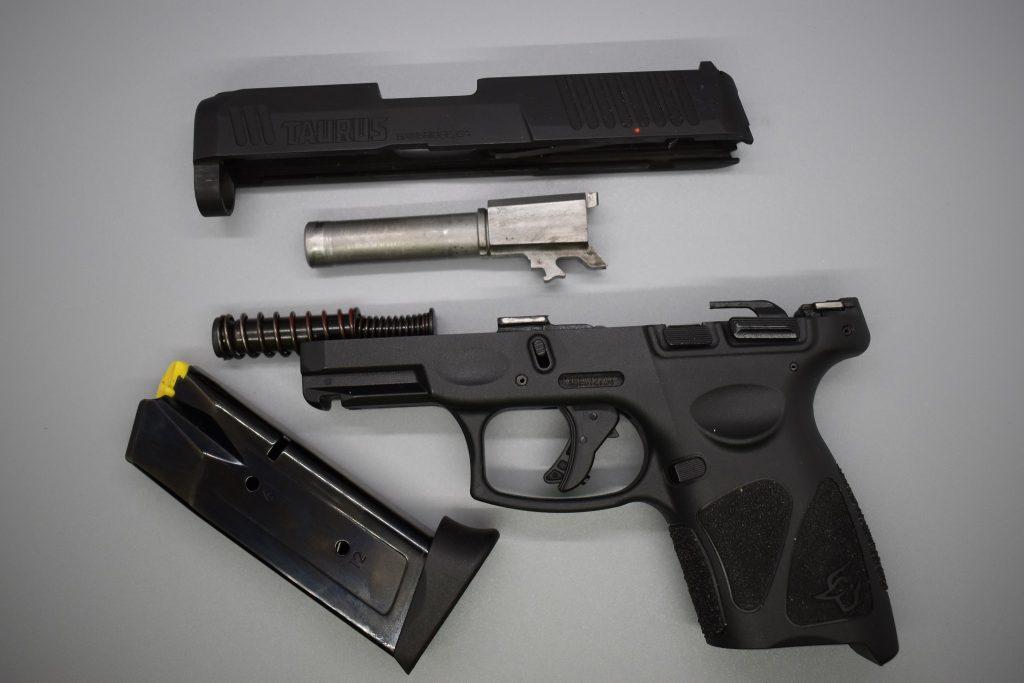 The Taurus G3C Stripped
The Taurus G3C has a tool-less disassembly and breaks down for field stripping in a way identical to the Glock series pistols. Just drop the mag, make sure the chamber is empty, lock the slide back, pull the disassembly latch down, release the slide and pull the trigger.
Then you can push the slide from the frame and remove the barrel and recoil assembly for cleaning. Reassembly is roughly in reverse.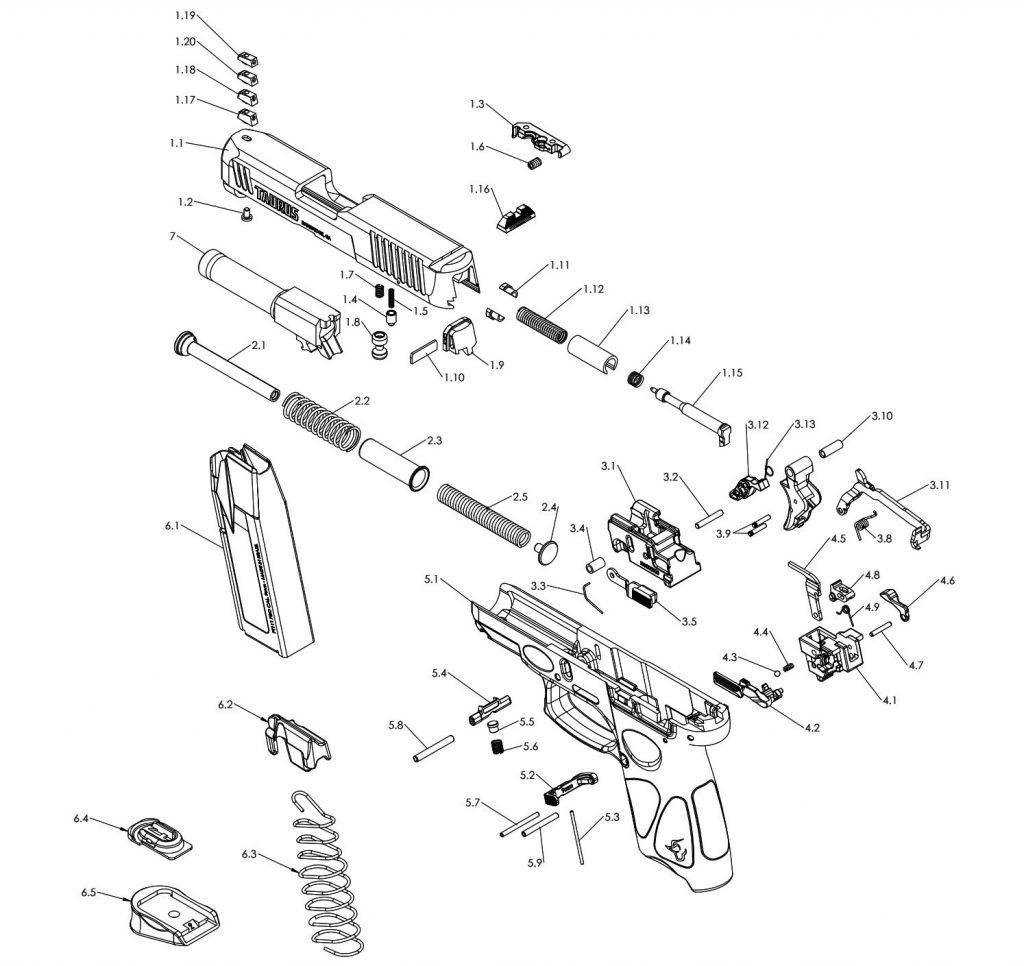 Diagram G3C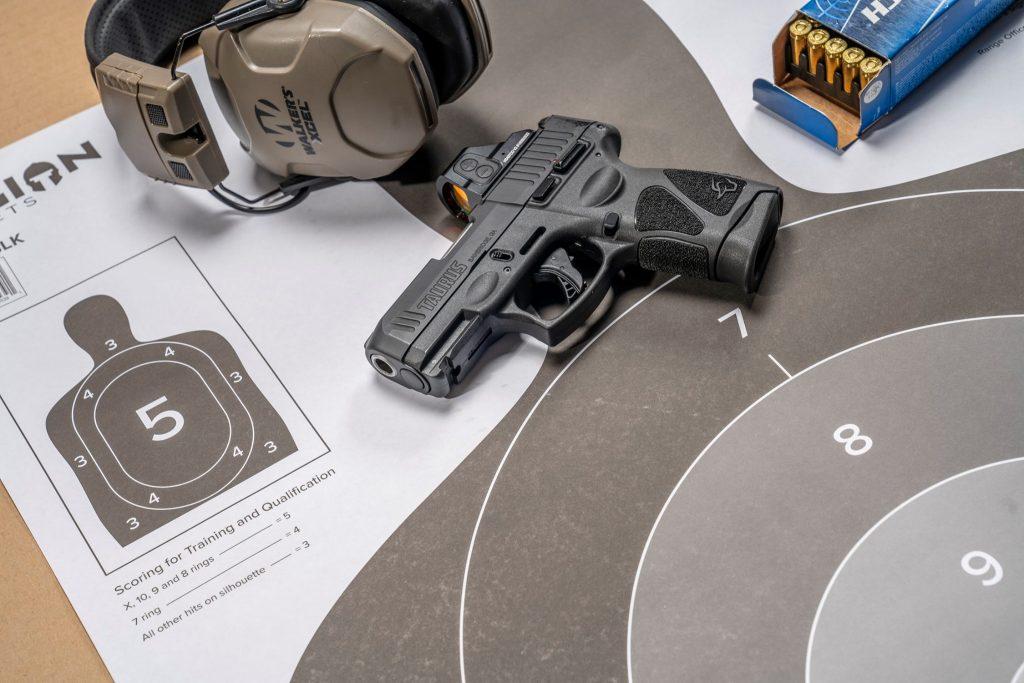 TORO hero
TORO break down
The Taurus G3C fits in a funny category when it comes to size and capacity. Recent advances by big-name gunmakers in the category of so-called "Micro 9" pistols such as the Sig Sauer P365, Springfield Armory Hellcat, Ruger MAX-9, and S&W Shield Plus have produced handguns of similar capacity to the Taurus while being slightly smaller in profile.
Nonetheless, the G3C is less expensive on average than any of the above-mentioned 9mm carry guns, and the price point offers exceptional value in terms of reliability, performance, and features — all of which give the G3C a leg up on other higher-priced options for the budget-conscious shopper.