KelTec SUB2000 Review
Written By
Travis Pike
Certified Firearms Instructor
Edited By
Michael Crites
Licensed Concealed Carry Holder
Share:
Products are selected by our editors. We may earn a commission on purchases from a link. How we select gear.
The Kel Tec SUB 2000 is undoubtedly one of the most interesting PCCs ever built. Pistol caliber carbines have come and gone in popularity, but the SUB-2000 has remained popular and produced for over two decades.
Why? It scores high in the basics of being a good gun. It's reliable, easy to use, and accurate. Beyond the basics, it's affordable, uses standard pistol magazines, and folds in half.
Yep, this gun has a lot going on. Today we are reviewing the second generation of KelTec SUB 2000 that uses Glock magazines and is in 9mm. The gun comes in various configurations, and specificity is deserved.
The gun industry existed in a weird state in 2001. One many wouldn't recognize. The '94 Clinton Assault Weapons ban was in full swing, and semi-auto rifles had to meet some odd standards to be legal to sell to the everyday Joe and Jane.
KelTec produced the first SUB-2000 in 2001, and the AWB influence clearly shows.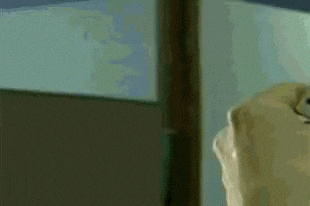 The internet, circa the SUB2000's introduction.
KelTec produced the first generation of the SUB-2000 in a somewhat neutered format to conform with federal law at the time. Shooters didn't get a threaded barrel, an adjustable stock, or rails to mount accessories.
It was a simple 9mm, blowback carbine that could have easily come and gone. George Kellgren, the founder of KelTec, smartly designed the gun to stand out despite the assault weapons ban.
Two significant features made this a major seller. Shooters loved that the gun could fold. This turned a traditional rifle into a very compact platform, cutting its total size in half. KelTec utilized standard pistol magazines to allow shooters to match their rifles to their favorite handguns and ensured the gun had a built inventory of magazines.
That inventory included pre-ban magazines that defied the 10-round limit. KelTec produced the first generation of the SUB-2000 for Glocks, S&W 59s, and Berettas, which were the hot guns at any gun store at the time.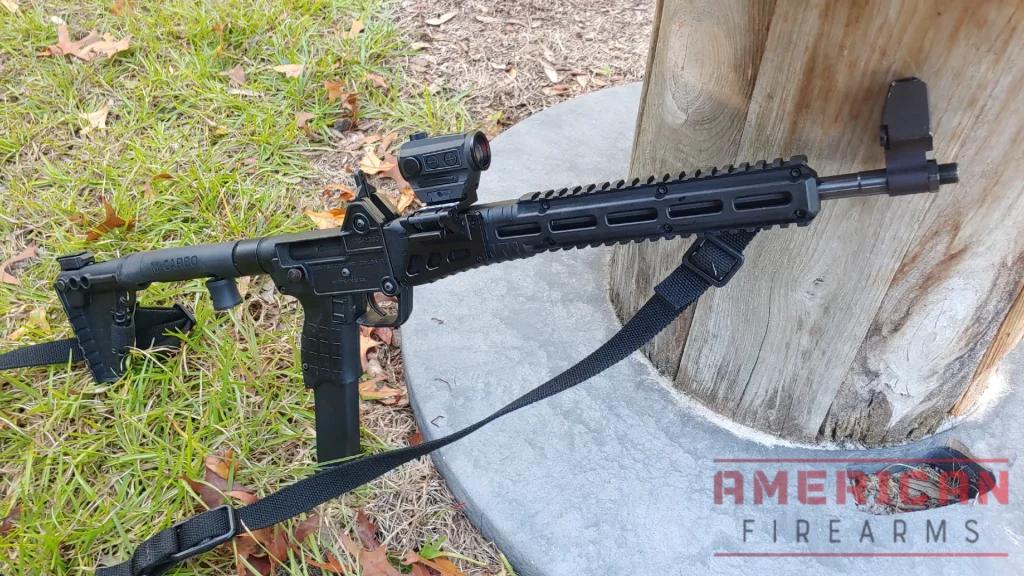 The Gen2 SUB2000 was, and is, a more approachable firearm than the previous iteration.
Once the AWB faded into the sunset, KelTec could redesign the SUB-2000, resulting in the Gen 2.
With the Gen 2, shooters got a much more modern pistol caliber carbine that retained and improved upon the various features of the original, which eventually took the PCC firearm world by storm.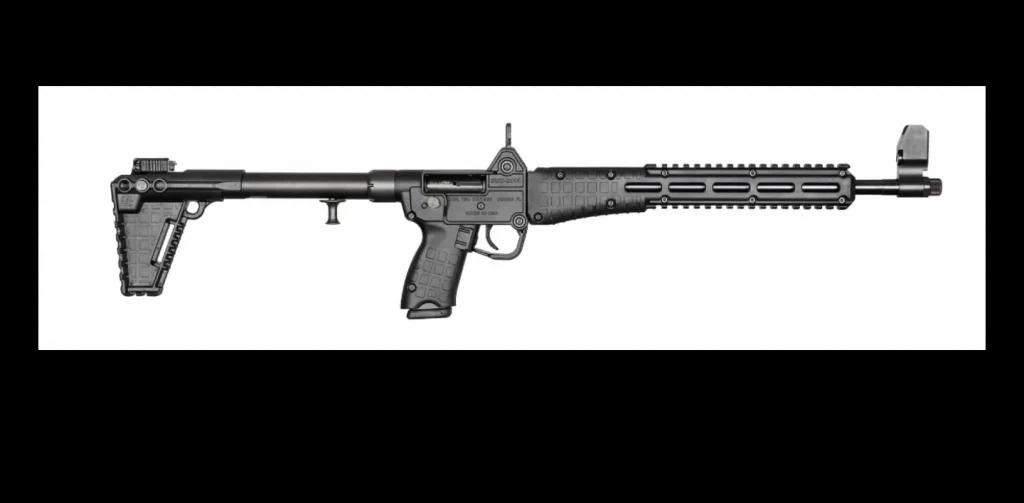 As I mentioned earlier, there are various models of the VP9 to serve different purposes, but that doesn't mean the original VP9 can't perform in several roles as well. HK was decidedly intentional about their design of the VP9 — building a pistol that could be all-encompassing.
The VP9 can withstand serious abuse, whether neglecting to clean it, shooting it in cold or wet conditions, or feeding it sub-optimal ammunition. It makes for a reliable home-defense firearm and serves as a duty weapon for the military and law enforcement without fail.
SUB-2000 Gen II Model Specs
| | |
| --- | --- |
| Caliber: | 9x19mm Parabellum |
| Capacity: | 10 / 15 / 17 rounds (3 Magazines Included) |
| Action: | Striker-fired |
| Trigger Pull Weight: | 5.4 lbs |
| Length: | 7.34 in |
| Height: | 5.41 in |
| Width: | 1.32 in |
| Barrel Length: | 4.09 in |
| Weight: | 25.56 oz. (with empty magazine) |
Those specs reveal a convenient, light, and compact rifle—the SUB-2000 benefits from intelligent design. As a pistol-caliber firearm, it isn't dealing with rifle-caliber pressures, which allows for a heavy degree of aluminum and polymer that keeps the weight down. KelTec has long invested in the use of polymer in its handgun, rifle, and shotgun designs.
The weapon works much like a pistol in terms of magazine placement. This design cuts the overall length down to a reasonably compact package. It fits into the pistol grip, which eliminates the traditional need for a magwell and cuts the size down significantly. The ability to fold in half also makes this one of the most compact rifles on the market.
It folds!
Let's go ahead and get this out of the way. The front portion of the gun folds rearward over the top of the receiver and stock. A part of the front sight locks into a latch at the rear of the stock. To unlock and fold the rifle, the user must ensure it is clear and push the trigger guard forward. This unlocks the front of the gun and allows it to fold.
When folded, the rifle cannot fire or even properly load. Once in its folded position, the SUB-2000 gives owners a rifle that can be packed in a small backpack, suitcase, sling bag, used as a truck gun, or whatever, and it's easily transportable and stored. As a feature, it seems like the folding stock could cause problems, but in reality, the weapon works reliably, and the folding nature causes no issues.
Going...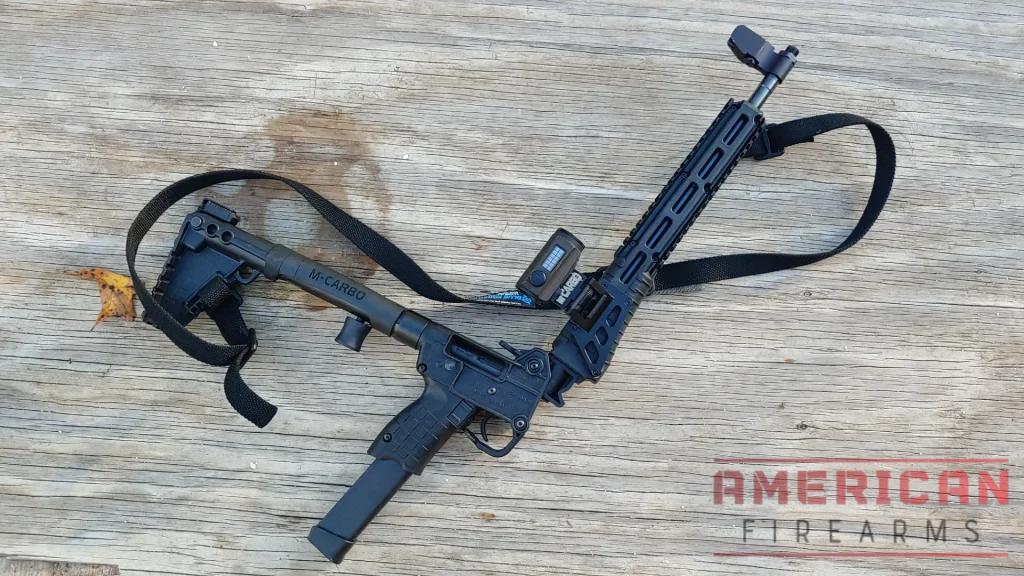 ...going...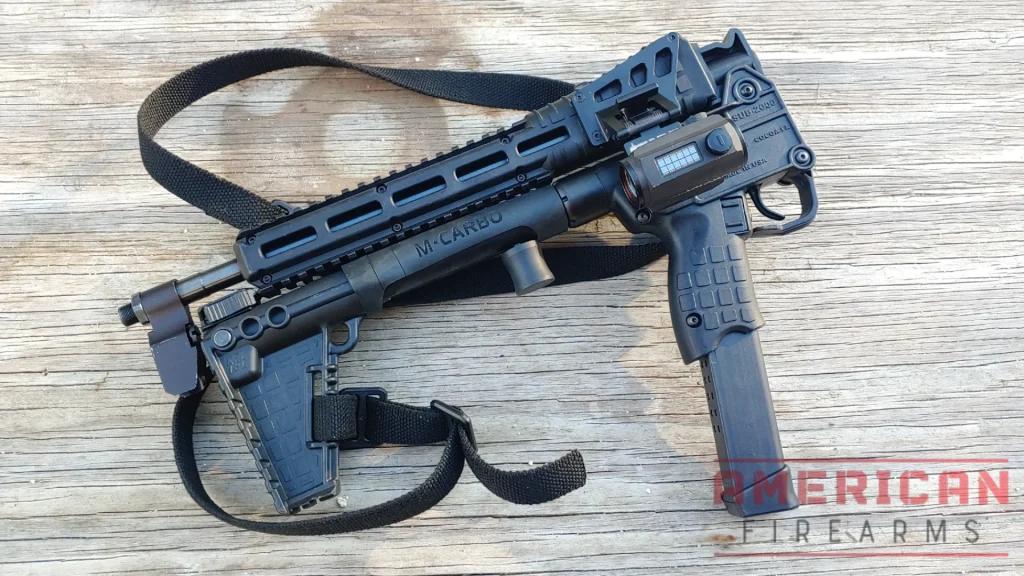 ...gone!
Magazines
This model uses Glock 17 magazines, but various models exist that enable you to use many other pistol magazine options. Like many PCCs you can use the same magazine as your pistol provided they share a stick. Who doesn't love to share magazines?
Kel Tec really went for it in the magazine department — you can pick from a universe of choices, including Glock 19 magazines, SIG P226 magazines, Beretta magazines, S&W M&P mags, S&W 59 mags, Canik TP9 mags, SIG P320 mags, and CZ 75 magazines. The magazine options cover most major handguns and even some more niche firearms, so running the same magazines as your favorite pistol should be easy enough.
Ine caveat — if you choose a non-Glock magazine model, you can utilize a multi-mag conversion system that allows you to convert your firearm to use various types of magazine configurations & pistol ammunition. The models that use Glock magazines, however, do not support conversion to other type of magazines.
The Handguard
KelTec smartly designed the Gen 2 handguard. It features a combination of Picatinny rails as well as M-LOK slots for attaching any number of accessories. It can be challenging to attach accessories to the top rail. Most accessories mounted to the top rail will not allow you to fold the rifle.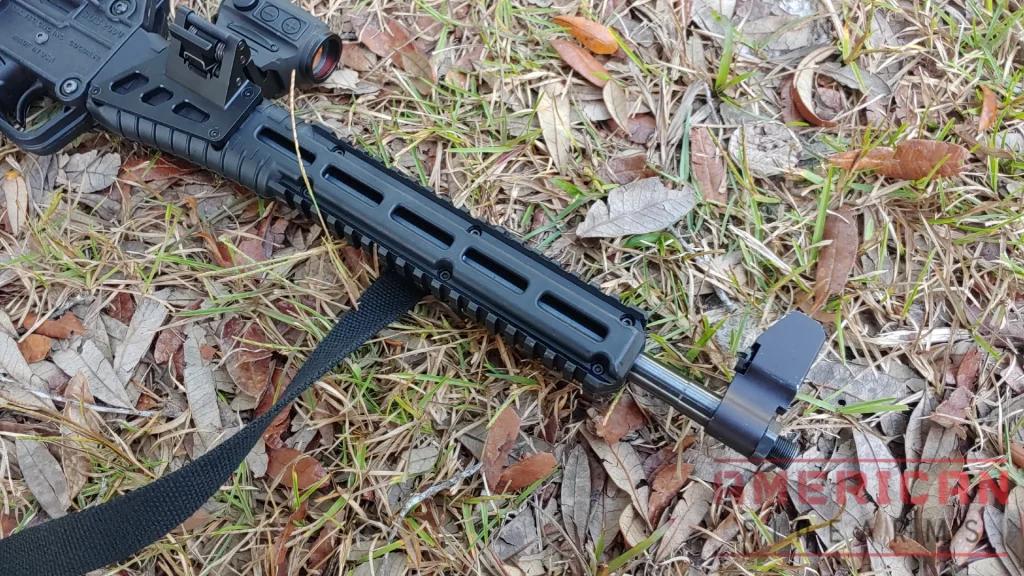 While smartly-designed, you have to be careful with top-rail accessories as most will prevent the folding action.
The handguard is very thin and doesn't occupy much space, but it is plenty comfortable. It's non-bulky and does help keep the weapon smaller and easier to stash when the user folds the weapon.
Adjust the Stock
The SUB-2000 stock is not fixed anymore. These days shooters can adjust the stock from one of three positions. This adjustment is not as easy as an AR-15 stock. It requires you to remove a pin, adjust the stock, then reinsert the pin.
Once the length of pull is set, the adjustment remains set. The stock might not offer much cheek support, but it does offer you two points to attach a sling.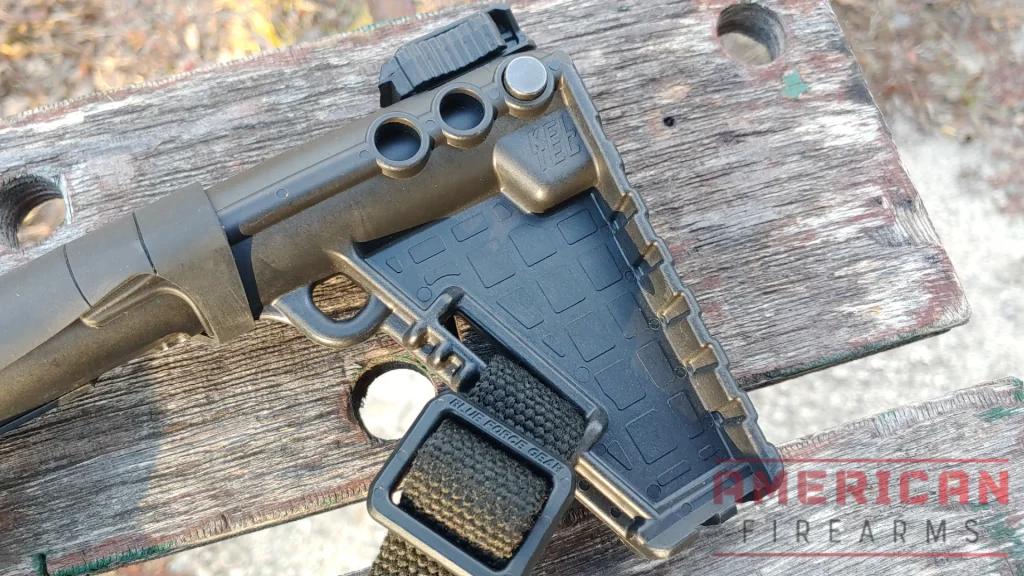 The stock is adjustable, if much less so than say, an AR stock. But sling mounts!
The Barrel
The AWB-made threaded barrels are a nonstarter with the 1st generation of the SUB-2000.
However, with the second generation, we get a 1/2×28 threaded barrel that allows you to attach whatever muzzle device you might need. The gun is ideally suited for a suppressor and works exceptionally well with one, in fact, KelTec opened the door to an integrally suppressed version of the SUB, the SUB CQB, which is the first integrally suppressed rifle that — you guessed it — folds in half.
Although, SUB CQB does come with the tax stamp requirement, so you have to pay to play.
Sights
PCCs aren't known for being precision-oriented weapons, but KelTec includes an impressive set of sights with the SUB-2000. The rear sight is a simple peep sight that folds with the gun. The front sight is very AR-like and adjustable for windage and elevation.
Adjustments are easy, but you need a tool to do so efficiently. The front sight is made from metal and reasonably small for precision shooting.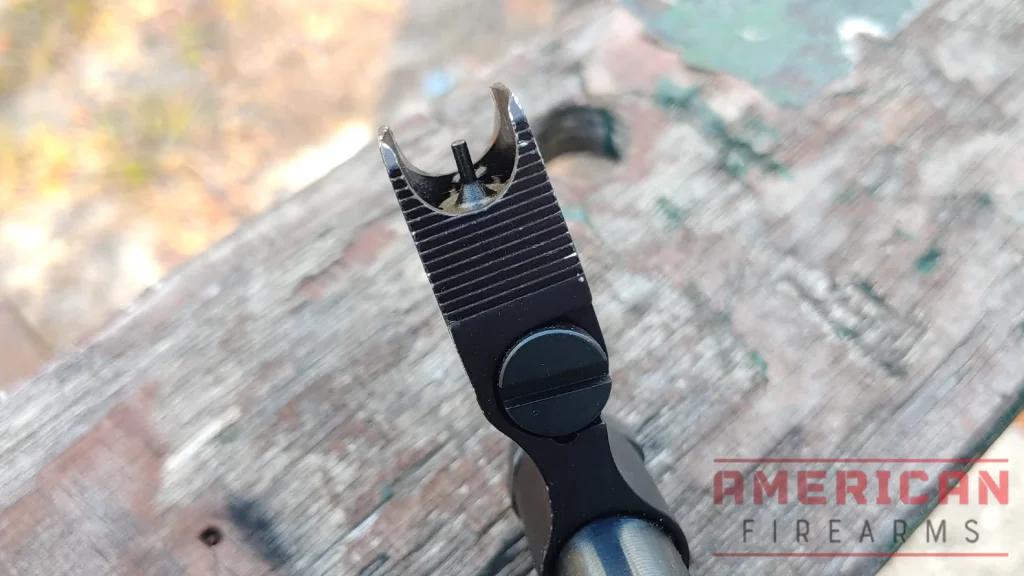 Blur your eyes and it almost passes for an FSB...
KelTec uses a rear peep sight combined with a front post. The peep sight folds downwards when the weapon folds, but the front sight stands tall. Shooters make all their adjustments at the front sight. Elevation adjustments are 1 MOA, meaning they will move your point of aim up or down 1 inch at 100 yards.
The elevation is a rear dial, but the manual doesn't list its value in adjustments. This can make it a bit like guesswork to adjust the rear sight for windage.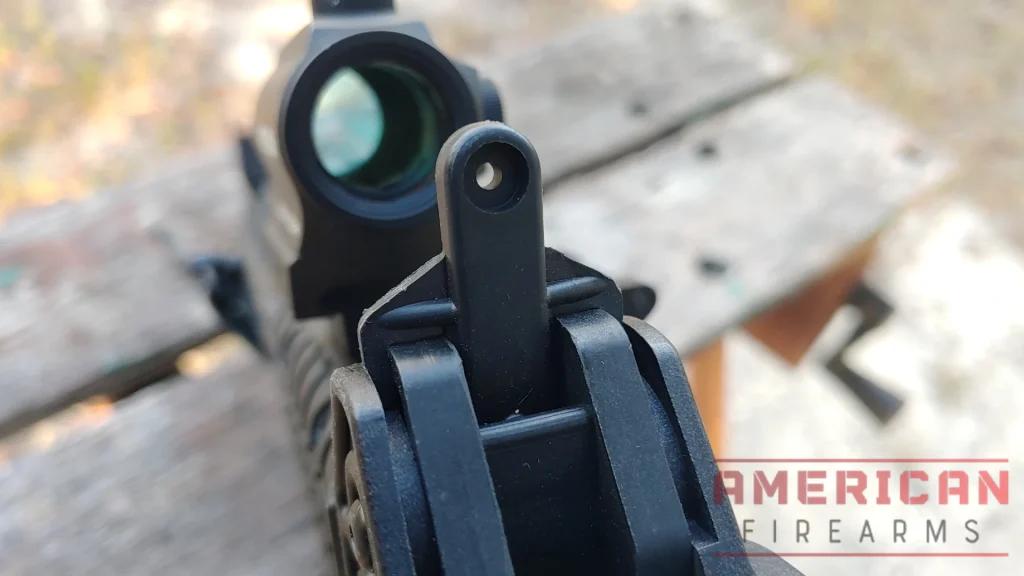 The rear peep sight is functional and good for decent work at yardage, but stuggles up close.
The peep sight is lovely and does help with accuracy, but it has problems. If the peep were a little bigger, it would be easier and faster to use at close range. The sight also sits very low and it feels uncomfortable to use — you essentially have to pin your face to the stock to get a good sight picture.
While the sights work, they could be a bit better and easier to use.
Finding Purpose With the SUB2000
The SUB-2000 isn't ballistically impressive as a pistol-caliber carbine, but it's still reasonably competent for defensive purposes. The SUB-2000 can serve well as a defensive carbine for inside the home. It's light and small, and effortless to manipulate. The small nature and balanced design lend themselves well to home defense.
You can handle the weapon easily with a single hand, which can be valuable when on the phone with police, closing or opening doors, or ushering loved ones to safety. Even shooting the SUB-2000 with a single hand is easy due to the low recoil a pistol caliber creates. The small nature of the gun makes it easy to use with a suppressor mounted.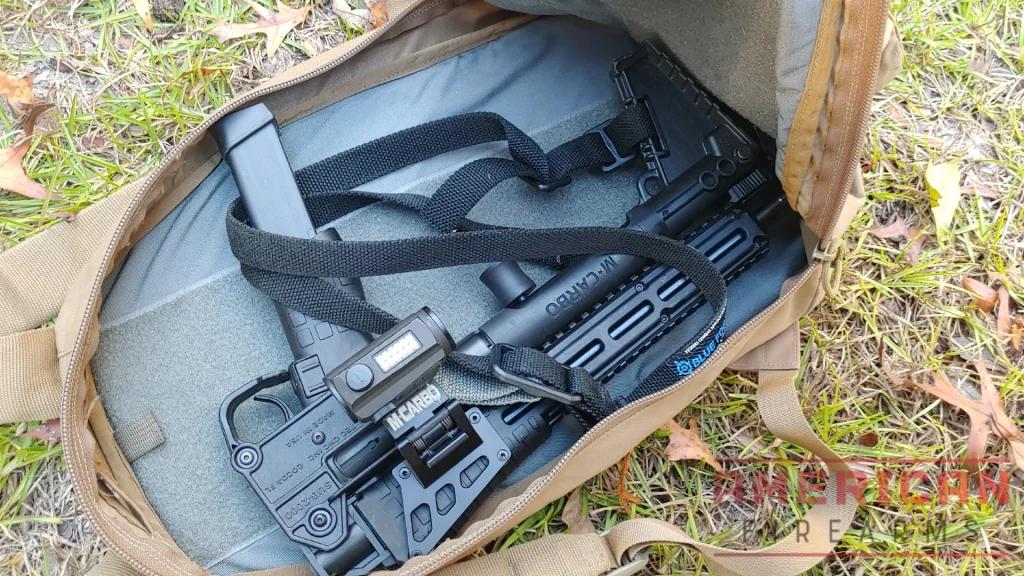 Try that with your run-of-the-mill AR.
The SUB-2000 serves well as a travel gun. A rifle can be handy if you are taking a long road trip, visiting family, or taking a vacation. It's perfect for camping if you need a defensive firearm with more capability than your standard handgun.
If you live on a large property, it's a handy rifle if you don't need to take a shot beyond 100 yards. Bugging out often requires you to travel light, and the SUB-2000 gives you a lightweight and handy rifle for bugging out. It fits right inside the pack and travels easily.
The lightweight rifle delivers a great experience to new shooters as well. The SUB-2000 is easy to handle and allows shooters to train and learn with a light gun that's not tough with recoil. Shooters find the SUB-2000 to be enjoyable to shoot and easy to handle, so it's a great option, even if you just intend to plink and have fun.
Getting Some Control
Simple is as simple does, and KelTec designed the rifle to be decidely straightforward. The controls are minimal and placed for relatively easy access. The gun favors right-handed shooters with a right-handed magazine release.
The mag release sits right behind the trigger and works much like a handgun magazine release to drop an empty magazine.
The Big Red Safety
A cross-bolt safety provides easy and tactile manipulations. It pops back and forth with a nice chunk that you hear and feel. The charging handle is ambidextrous and placed at the rear of the weapon, beneath the buffer tube. It's somewhat awkward to use, but you get used to it.
The trigger sits where you expect it, and the trigger guard easily pushes forward. This unlocks the barrel and allows the weapon to fold. The latch at the rear is ambidextrous and locks the gun positively in the folded configuration.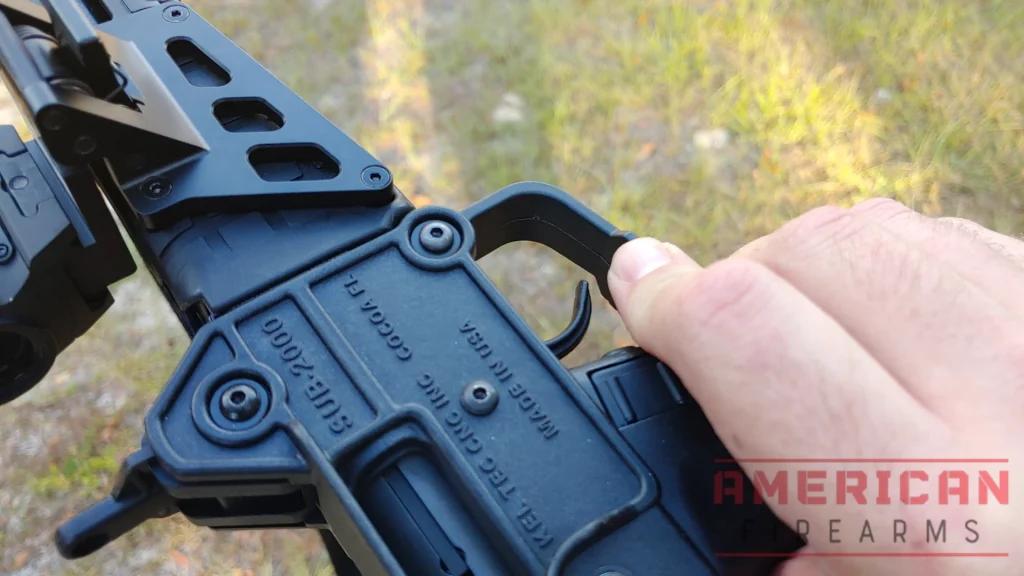 Pressing the trigger guard forward unlocks the barrel and allows the weapon to fold.
Grip and Ergonomics
KelTec's use of standard pistol magazines does force the gun to use a particular grip design. That design is somewhat bulky, especially if you are used to an AR-15 grip. It's not bad and uses the KelTec Gator grip texture. It squeezes into most hands without much issue. While the grip works, the magazine release feels very awkward.
It's a pistol mag release on a rifle, and it doubles as a magazine catch, which takes some time to get used to. It feels awkwardly placed and does take a slight hand shift to activate.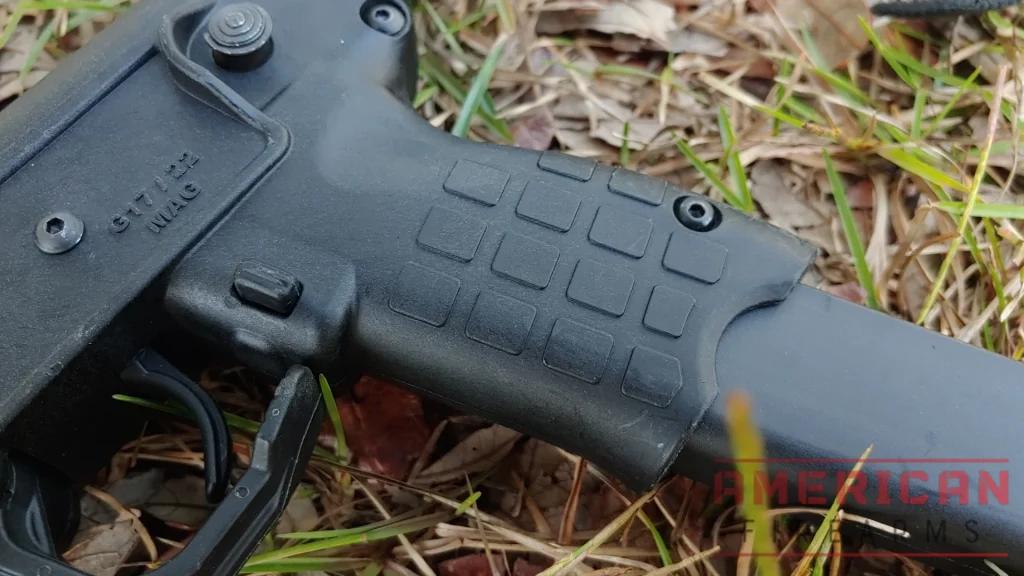 SUB2000 safety, mag release, grip, and magazine.
The polymer handguard has some Picatinny rail sections that interact with your hand, but they don't dig into your hand or cause discomfort. It's easy to hold onto and very thin.
Let's do an about-face and look at the stock. Yep, it works, but it won't stand out much.
The stock is functional but rigid, thin, and gets very cold in winter.
It's hard plastic, and your cheek rest is a metal tube. Fair warning, in the winter, that tube gets a little chilly. Everything works fine, but it isn't exceptional. Adjusting the pull length is a nice touch, even if it's a little more complex than your standard AR15 stock.
One of the downsides to the blowback design is the necessity for strong recoil springs and heavy bolts. The combination of those two keeps the breach closed until the pressure drops to safe levels. It's great until it comes time to charge the weapon.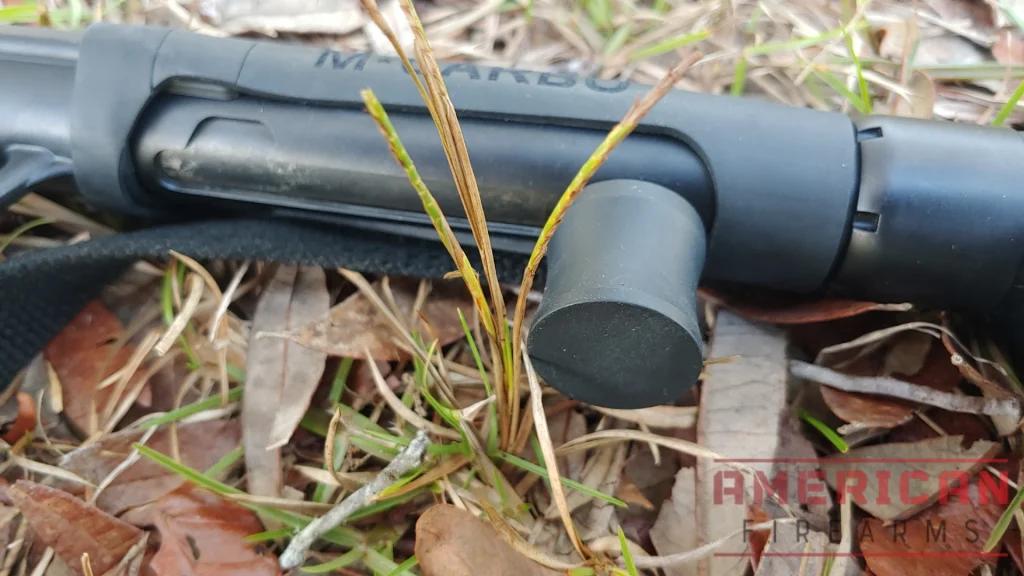 The SUB2000's charging handle is more of a nub than a handle, which requires, uh, aggressive charging of the rifle.
Tugging on the charging handle is a fight against the resistance offered by that tight recoil spring. A larger charging handle is a welcome upgrade for most.
At 4.25 pounds, the rifle won't get your arms tired, and that low weight is quite lovely. The short nature of the gun also helps keep it enjoyable and easy to handle by shooters of all sizes. Balance-wise, the weight is all in the rear. The heavy bolt and loaded magazine keep the weight rearward and against your shoulder. That's a good thing since your support arm won't tire quickly.
The Sub-2000 made some ergonomic compromises to be a folding rifle, but none of those compromises are terrible, but they aren't great either.
One area where KelTec deserves admonishment is the SUB2000 trigger. It could be so much better, and half a dozen companies produce trigger options for the rifle, and really any trigger kit is an improvement.
It breaks at 9.5 pounds, and that's ridiculous for a long gun, let alone a PCC.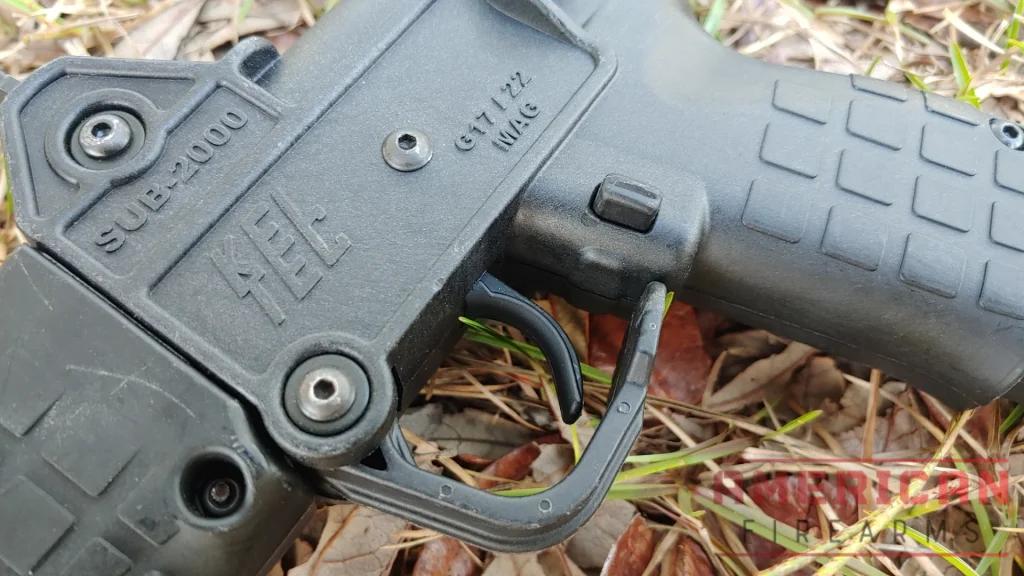 The SUB2000 trigger is less than impressive, but it really doesn't need to be.
The trigger pull gives you a lot of pretravel and then overtravel as well. The entirety of the trigger pull feels like plastic is grinding on plastic, and the pull is rather long and heavy.
The reset isn't much better. You get a spongy reset that is hardly tactile and barely audible. Just let the trigger fully out after each shot. It's not worth riding the trigger.
The trigger might be a bigger deal if the gun was made for a longer range, and it only squeaks by because it's on a PCC.
With a stock SUB-2000, the accuracy is acceptable for such an inexpensive gun. A two-inch group at 50 yards isn't bad and about what you can expect from this gun when shooting with iron sights.
Let's say you upgrade the trigger and maybe add an optic. You'll see those groups tighten up a fair bit. With the sights sitting so low, it can feel challenging to get repeatable accuracy with the gun.
Toss a red dot on, and those groups shrunk by about .4 to .5 of an inch. An optic on an MCARBO mount is an absolute game-changer. Within 100 yards, the weapon stays accurate enough for dependable shots on most targets.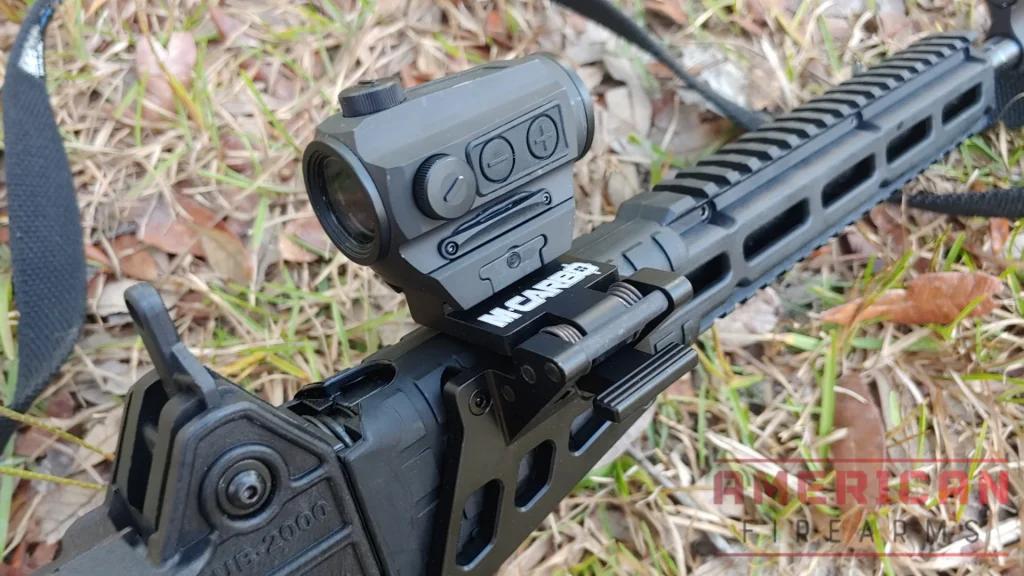 The MCARBO Scope Mount will take the SUB2000 distance game up a notch without compromising foldable functionality.
After 100 yards, the ballistics of a pistol caliber can be wonky, and we are dealing with nearly a foot of drop, but within 100 yards it's pretty accurate with a touch of accessorization.
When it comes time to shoot, you won't find yourself frustrated in the reliability department. The gun performs like a champ. It eats through good ammo, cheap ammo, and more.
I've put dirty, dry, steel-cased ammo through the gun without issues. I've used all manner of projectiles, including jacketed hollow points, without issue.
The gun shoots, ejects, and makes for quick reloads without complaint. Blowback actions aren't fancy, but they are reliable. A lot of people make Glock magazines, and that should also be addressed. In shooting, there were no issues with Glock OEM, KCI, ETS, or Magpul Glock magazines.
None of those mags presented any problems inside the SUB-2000. Even drums work without complaint.
This is a fun gun to shoot. The lightweight and small size make it easy to handle and get lead downrange, plus the longer barrel gets you more accuracy than a handgun without rifle-caliber recoil.
It swings naturally and transitions from target to target quickly enough. Its pint-sized design makes it easy to handle behind simulated cover and around walls and barriers. The SUB-2000 generates some recoil.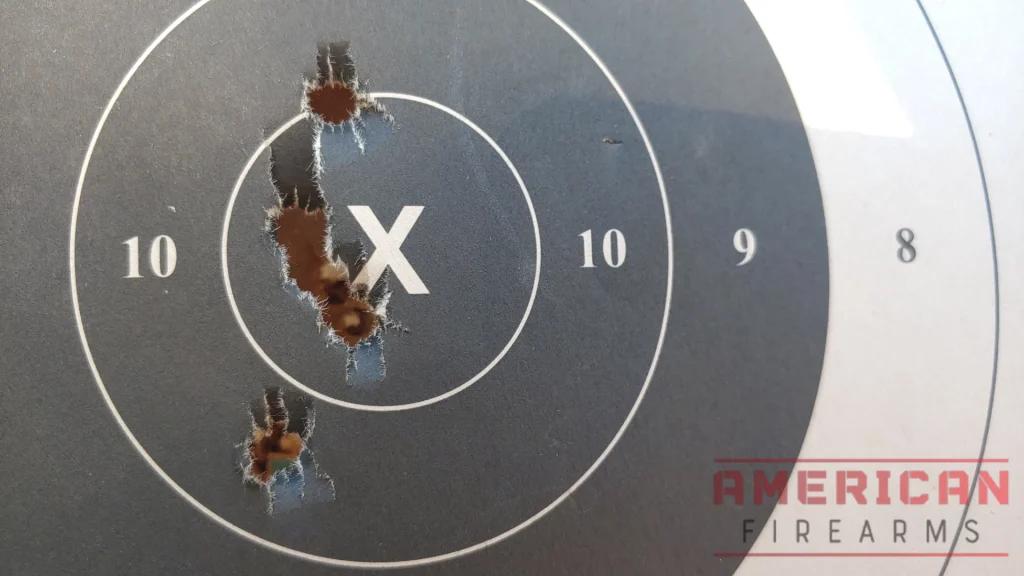 5 shot group at 50 yards. Good enough for government work.
It's primarily due to the blowback design and the heavy bolt flying rearwards. The addition of an MCARBO-enhanced bolt handle added weight and slowed down this impact. This resulted in less recoil overall. Recoil doesn't beat you up, but it lets you know the gun fired.
There is always some bad to take with the good. While the gun performs reliably and shoots accurately enough, there is some discomfort. After long strings of fire, your jaw starts to feel that bolt running back and forth in the tube, and it's jarring.
After dumping a fifty-round drum, you'll feel it.
The SUB-2000 lacks a last-round bolt hold open device, so you'll need to tug that heavy charging handle for every reload, and without the LRHO the only way to know it's empty is the silence of a trigger pull on an empty chamber.
While the gun has some very solvable downsides, it's still a great little weapon.
Taking the SUB-2000 part is very easy. Pop a plate off the stock and then remove the recoil spring and bolt, and that's it. It's easy to take apart and quick to clean.
A blowback action does get dirty quickly, but it's not a maintenance-heavy design. Get in there with some oil and a rag, and you'll have it cleaned before you know it.
As you may have guessed, the SUB2000 is not without some shortcomings. Some are just due to the weapon's design goals. Building a folding carbine means making some cuts, and the only real operating system possible is the blowback design, which creates a need for a heavy spring and buffer situation.
Using standard pistol mags also makes installing an intuitive mag release difficult. The folding design makes accessorizing difficult, but companies like MCARBO have found a way.
Other problems like the sights would be somewhat easy to fix, and KelTec should address these fixes. A reversible magazine latch would be helpful for lefties, and additional support on the stock would also be excellent. I have also heard of some longevity issues with things like the firing pin, but haven't had any issues on that front personally.
If the SUB2000 isn't your style, there are few other firearms available that offer the fun, shootability, and portability-minded designs.
Ruger PC Carbine
The Ruger PC Carbine is about as close to the SUB-2000 as you can get. It doesn't fold, but it's a pistol-caliber carbine with a take-down function.
It breaks in half, for lack of a better term.
It also feeds from either Ruger or Glock magazines and uses a blowback action. Ruger's Dead blow blowback design delivers a softer recoil experience. It's not as compact as the SUB-2000, but it does take optics easier and can be easily packed.
Just Rite Carbine
The Just Rite Carbines are another take-down design. The SUB-2000 is the only folding PCC out there, and this is as close as we get. The Just Rite carbines are very AR-like but operate on a straight blowback action.
They break into two for compact storage and use a variety of pistol calibers and Glock mags.
If you really like accessorizing, then the Just Rite is for you and can be easily upgraded, much like an AR-15.
KelTec's fanbase loves the SUB-2000, and while it's not the most accessible weapon to accessorize, its popularity has demanded a decent aftermarket from a number of players in the firearms industry. Here are the must-haves for your KelTec SUB-2000.
Mcarbo Optic Mount
This optic mount from MCARBO is ingenious and allows you to retain folding capability, but it still mounts a red dot. It flips to the side, and out of the way, the gun folds.
It springs instantly in place and offers a repeatable zero to keep you on target.
Holosun 403B
A gun like this benefits significantly from a red dot, and the Holosun 403B is the best red dot you can get for less than 200 dollars.
It has a low mount that makes it the perfect height for using the MCARBO mount. Drop it on, and you have a solid 2 MOA dot that makes hits fast and accurate.
Blue Force Gear Vickers Sling
A modern rifle needs a modern sling, and the Vickers Combat Application sling is perfect for the SUB-2000.
It is adjustable to fit the short gun and offers a quick-adjust pull tab for instant tight or no use. It's made tough and in use by the United States Marine Corps.
Its compatibility with tons of hardware makes it easy to mount on your SUB-2000 any way you want.
The Little Folding Carbine That Could
The SUB2000 has been put to use with Florida school resource officers, so it's utility continues to grow.
Making a rifle that folds presents an interesting challenge that KelTec took up, and after getting some of the compromises of the AWS out of the way, eventually crafted one of my favorite pistol caliber carbines. They dominate this market and will likely continue to do so.
The SUB 2000 is an innovative, reliable, easy-to-shoot, and affordable platform that avoids falling prey to shortcuts common with many a "cheap gun". It's not perfect, but its success is a testimony to its ingenuity.
Is the Sub 2000 a good gun?
Is the Sub 2000 a rifle or pistol?
What does the Sub 2000 cost?
For its price point, the SUB-2000 shines. It's innovative, reliable, accurate, and easy to handle.
The gun usually costs between $450 and $500 dollars, depending on the model.