Magpul DAKA Review
When Magpul approached us about taking a look at their DAKA pouches, cans, and bags, we couldn't pass up the chance to torture test some of their latest gear.
Written By
Michael Crites
Licensed Concealed Carry Holder
Reviewed by
Editorial Team
Learn About The Editorial Team
Share:
Products are selected by our editors. We may earn a commission on purchases from a link. How we select gear.
Magpul has made a serious name amongst firearms fans due to the quality of its products and the innovative ways they solve everyday challenges. Their series of buttstocks are standard on hundreds if not thousands of AR builds, and their M-Lok rail system is an industry-standard.
Magpul doesn't stand still, and their DAKA gear is an excellent example of their desire to blow apart the status quo. They've tried to simplify the world of tactical bags and pouches, but the question is, have they done that successfully with their DAKA line?
When Magpul approached us about taking a look at their DAKA pouches, cans, and bags, we couldn't pass up the chance to torture test some of their latest gear.
Magpul Industries was started in 1999 in Boulder, Colorado, and debuted its original product — the eponymous Magazine Pull (Mag-Pul) at NDIA that year. They quickly expanded the pull into 7.62 and 9mm variants and brought their M93 stock to market, which found a home with the Marine Corps in 2003. These early hits helped Magpul continue to innovate, and in 2007 they landed on the products that would change the direction of their company significantly — the PMAG 30 & MBUS backup sights.
The simple, reliable, durable PMAG (and its STANAG sibling, the EMAG) quickly became a staple with the UK Ministry of Defense when Magpul won a bid to provide them with 1,000,000 EMAGs, setting them up for a successful series of wins on both sides of the Atlantic, eventually culminating in an exclusive contract to manufacture magazines for the US Marine Corps in 2016.
Magpul tends to move fast and has always found ways to do new exciting things in the worlds of tactical and firearms gear. Their DAKA line of products is another innovation that radically simplifies the task of storing and hauling your gear.
| Product: | DAKA Medium Pouch | DAKA Takeout Bag |
| --- | --- | --- |
| Materials: | Polymer-infused textile / translucent window / YKK water resistant zipper / quick release buckles | Polymer-infused textile / YKK water resistant zipper / quick release buckles |
| Country of Manufacture: | USA | USA |
| Length: | 12.0 in. | 12.0 in. |
| Height: | 7 in. | 9.0 in. |
| Width: | 1/4 in. | 6.5 in. |
| Capacity: | 1.88 L | 8.88 L |
| MSRP: | $25.95 | $44.95 |
Pros & Cons
Pros:
Super durable
Great quality
Lots of sizes and uses
Looks great
Cons:
Not fully waterproof
While tough, not invincible
Zipper heat shrink is meh
No real internal organzation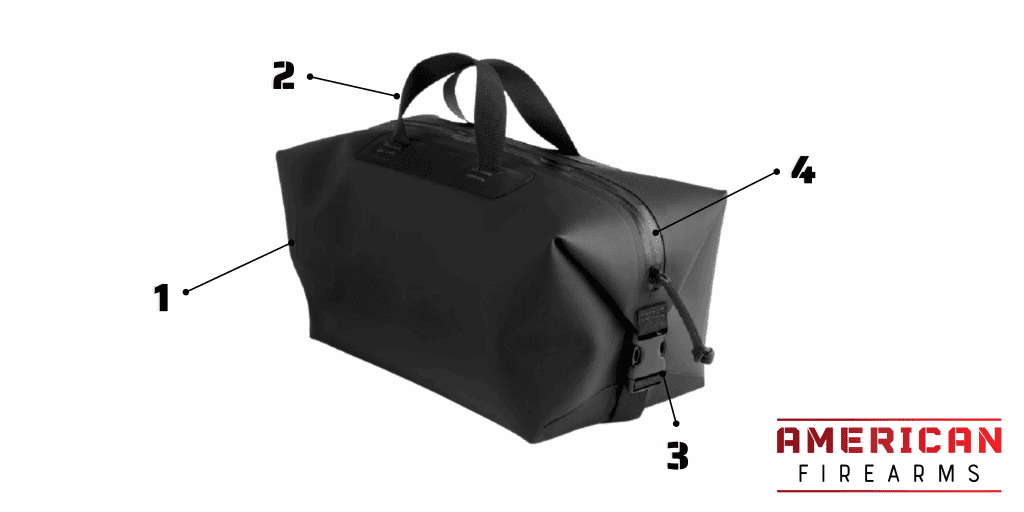 Magpul DAKA Review Feature Call-Outs
Polymer-Infused Material
Durable, water-resistant with a decidedly high-quality and unique feel.
Simple Carry Handle
While there's no shoulder strap, the carry handles simplify the entire package without sacrificing utility.
Expansion Buckles
The quick-release buckles allow you to create a rigid bag or expand capacity.
Water Resistant Zipper
Seals the main compartment helping with overall water resistance.
Before putting the DAKA products to the test, a few things jumped out to me:
The reinforced polymer fabric feels both tough and durable
The YKK AquaGuard® water-repellent zipper is a well-designed, unique feature
The carry straps on the bag add a lot of utility
Bags and pouches have super nice stitching throughout
The variety of sizes means there's a DAKA bag for most use-cases
While these are my initial impressions, I took out my range bag and started to pack the DAKA products full of stuff to assess their capacity, water resistance, and ease of use. Let's dive in.
The DAKA line is available in a few formats; pouches, bags, and cans. We put the windowed pouch and Takeout bag to the test and will go through each aspect of the line while calling out specific characteristics of the individual products where it makes sense.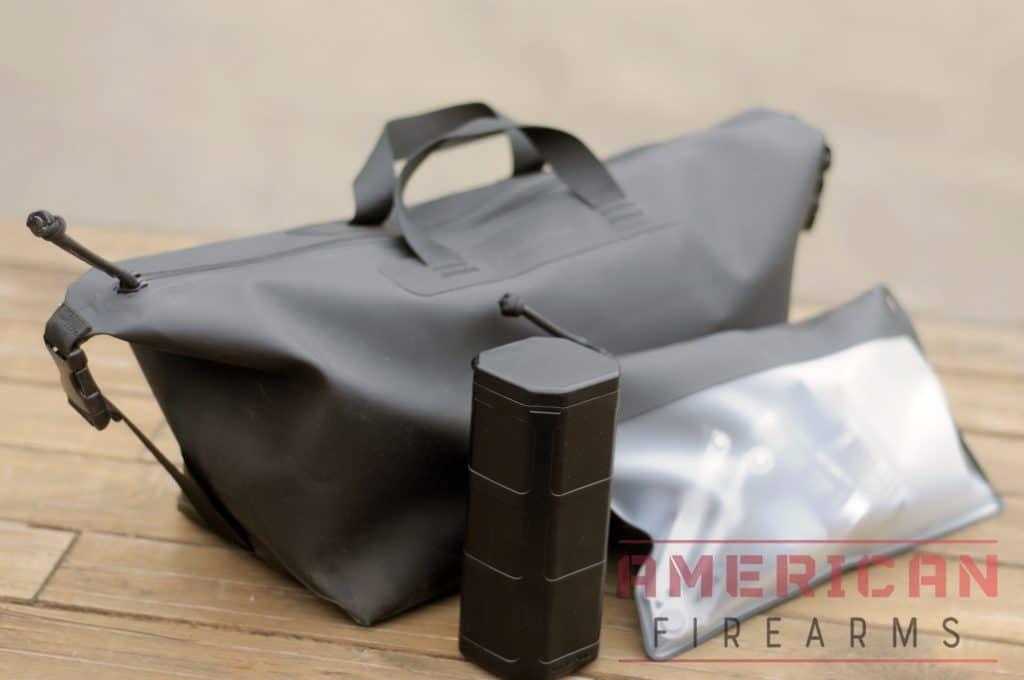 Magpul DAKA bags, pouches, and cases all have a weatherproof exterior which will keep your stuff dry even if caught in an unexpected downpour. Just don't take them scuba diving.
Bag & Pouch Material
The DAKA pouch we tested was their 7″ x 12″ medium windowed pouch, for which Magpul doesn't list the capacity — but in our testing, we filled the pouch with almost 2 liters of water, which shook out to around 1.88 liters. The pouch uses a translucent polymer window and, at the risk of sounding obvious, makes it easy to see what you've tucked away in them. They're not totally transparent, you can see the items that press up against the window, but it's opaque enough that anything not touching the window will be too obscured to pick out without opening the pouch.
Magpul's "polymer-infused textile" feels nice in hand and has an anti-slip texture that almost feels wetsuit-like; I suppose that's why they're easy to hold onto even when wet.
The fabric is much more durable than basic plastic mesh bags available for $0.50 a piece on Amazon. It's tough stuff, and regardless of how much I crammed into the pouch or bag, there was never any fear that the material would split.
The lack of seams or ornamentation means it's also straightforward to clean.
If you want to hang the pouch out at the camp or off a backpack or bag, there are carabiner attachment points at the corners of the pouch.
The bag we tested was their DAKA® Takeout, Large, which we liked well enough to include as our top pick on our range bag roundup.  It uses the same polymer material as the pouch, absent the window, but also includes carry handles and a pair of quick-release buckles that allow you to create more rigidity when cinched down.
Torture Test Performance
I wanted to see just how tough the carabiner attachments were, so I stuffed a 5-lb dumbbell into the pouch (yes, it even zipped closed with the dumbbell inside) — and hung it with a carabiner.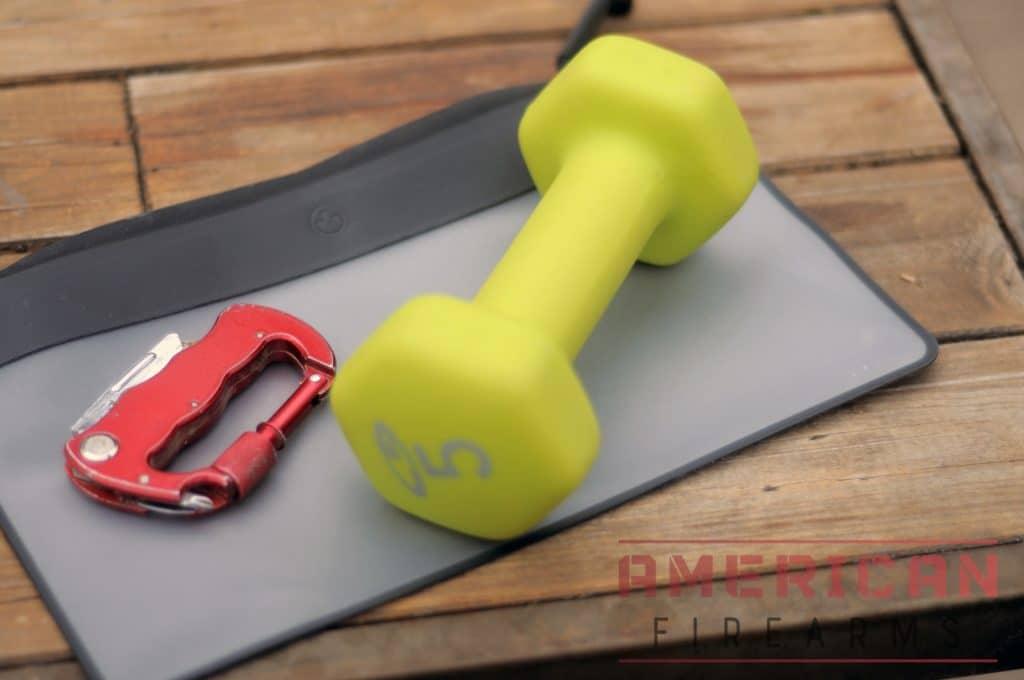 The tools of the testing trade.
The attachment point was certainly distended with the absurd test but not completely deformed. After hanging for a half hour, there was a 2-millimeter rip in the material near the zipper. There's some magic in the RF welded seams of polymer-infused material — it creates a ton of lateral strength — but it has its limits. As Nietzsche once wrote, Thus Spoke Durability.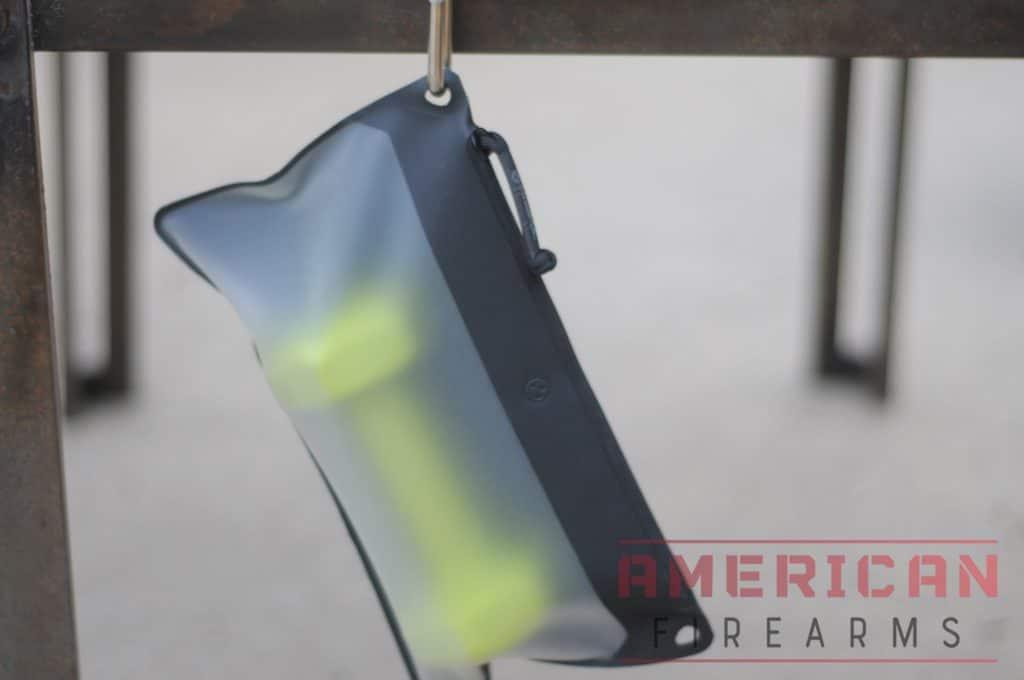 Hanging on the edge.
If using the carabiner attachments is a crucial feature for you, try to keep the weight under 2-3 pounds to prevent premature wear. Or just don't hang hand weights—your choice.
You can see the Magpul Daka Pouch has slightly ripped from the hanging test.
Dot Matrix Goodness
In addition, the DAKA pouches have a paint pen dot matrix labeling system, just like the Gen3 PMAGs — so if you have a true purpose in mind for each pouch or want your name on everything to deter thieves, pull out your paint pen and get to work.
Magpul has a How To diagram if you're curious about how to use the dot matrix correctly.
Beyond the dot matrix, the windowed pouches and bags come in 2 colors; the non-windowed DAKA pouches come in 6, so you can undoubtedly use specific colors for different storage needs — cleaning stuff in black, spare BUIS in orange, etc. You don't get the benefit of the window, but you do you.
The Takeout bag has no dot matrix, so you'll have to scribble your name on it freehand.
Zipper Quality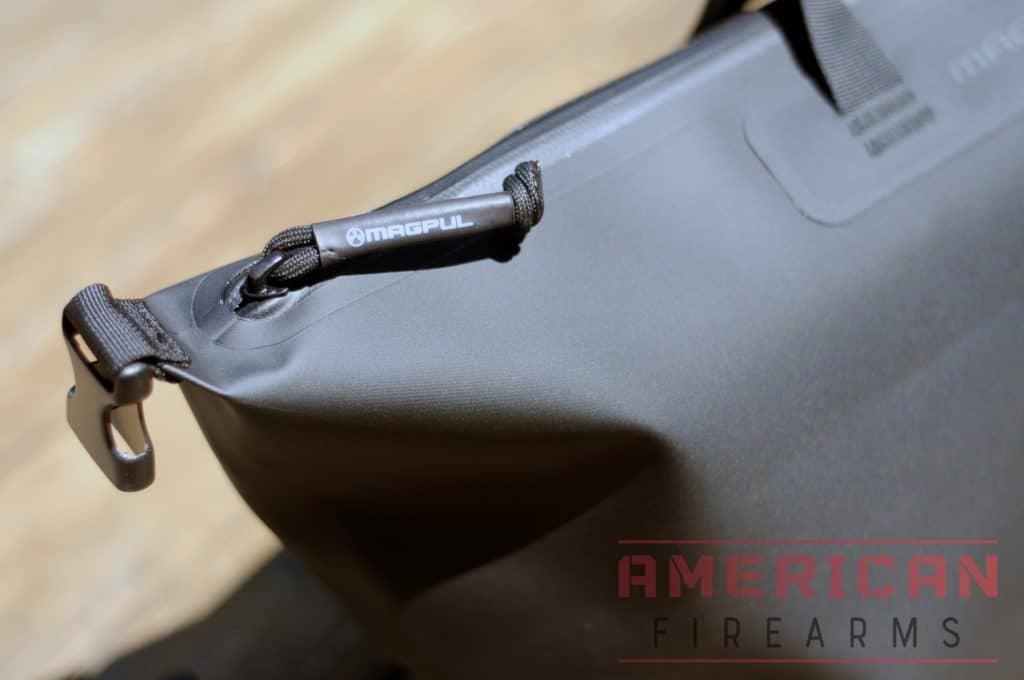 Magpul DAKA Takeout Bag zipper pulls are nice and easy to pull open or closed, even in gloves. You can also see how well the zipper seals the top of the bag to help with water resistance -- something I'll be putting to the test here in soggy Oregon.
The zippers on the Magpul DAKA pouch are the same design as the rest of the DAKA line. They use — as Magpul puts it — "a genuine YKK® water resistant zipper," which basically means it opens and closes reliably and has a pair of flaps on either side of the zipper opening that are pulled closed when Mr. YKK does his thing.
The zipper pull is 550 paracord and plenty strong. I found it a great way to transport the pouch — as the bag itself has no real handle. It's wrapped in a heat shrink tubing, which, while branded nicely and intended to provide enhanced grip, seems to be already wrinkling and sliding around on the cord.
It would be nice if this were the same poly fabric as the rest of the bag, but it's the only aspect of the zipper that I wasn't impressed with.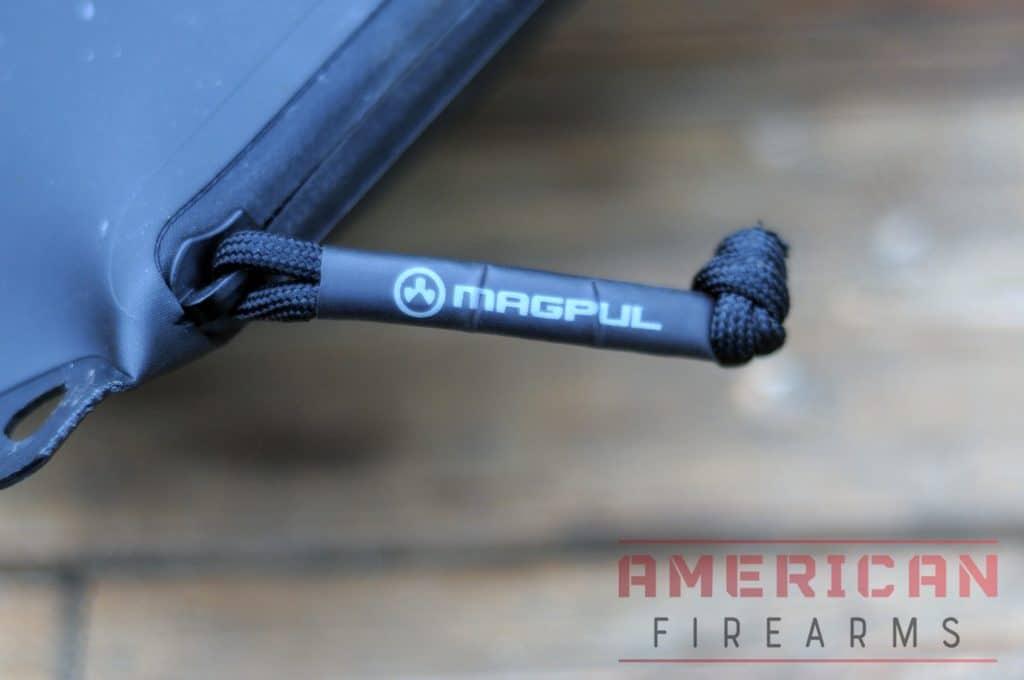 The heat shrink on the paracord is aging, uh, prematurely.
Just how water resistant are they?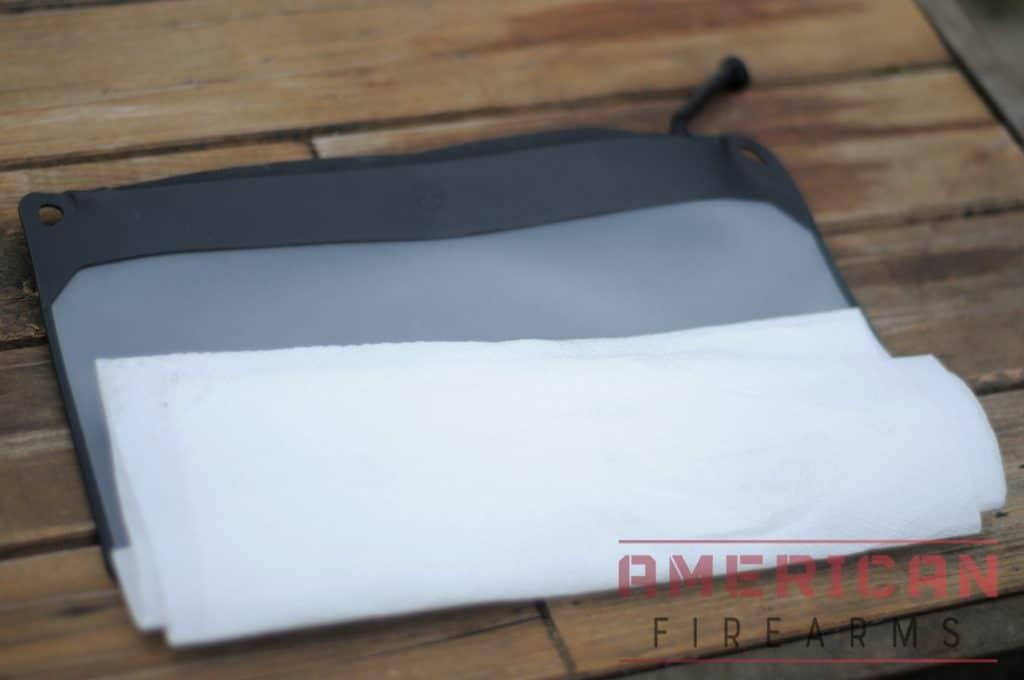 Testing the water resistance with a paper towel.
Neither the Magpul DAKA pouch nor the Takeout bag is fully waterproof, mind, but the quality of the zipper closure and the near seal of the flaps create a pretty dang good seal. We tossed in a bunch of paper towels and submerged the DAKA pouch in a tub of water, checking every 5 seconds to see when it would leak.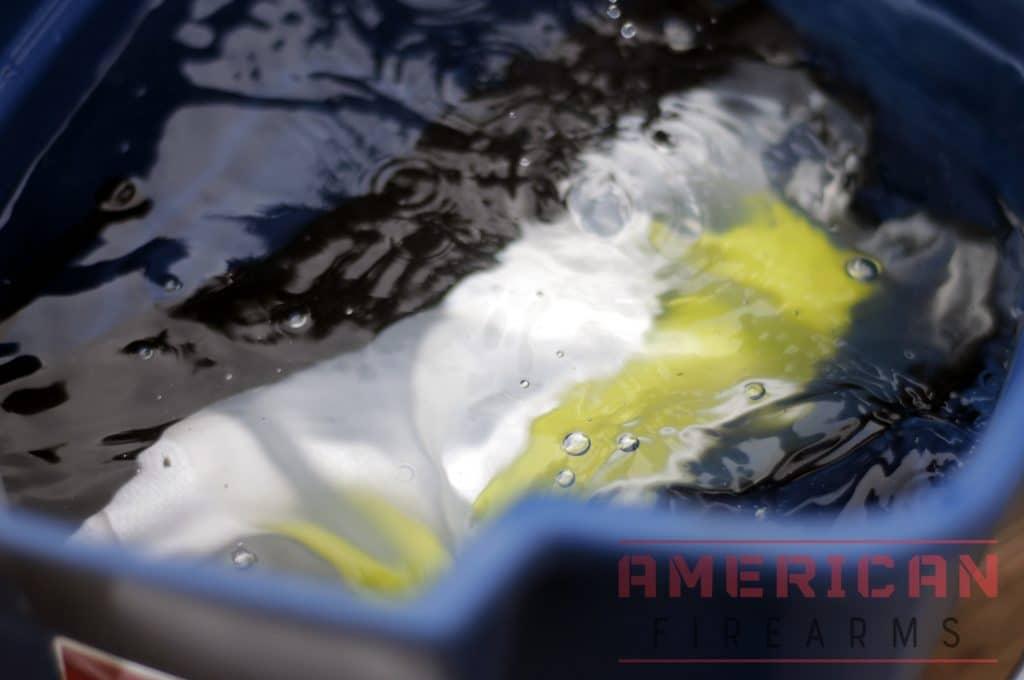 Let's get soggy with it! You can see the bubbles, which means air escaping...
The paper towels started to take on the water within about 15 seconds, so if you drop your 5-lb weight into the pool, you have just a few seconds before things get soggy. When filling the pouch with water to test its capacity the pouch certainly leaked when full, with the zipper being the point of failure.
Granted, Magpul says they're water resistant — and spraying the pouch or bag down with a hose to clean it showed no leakage, so they'll keep your items dry in a downpour or the wet environments of your outdoor adventures, just not at the bottom of a river.
What about capacity?
The stated measurements of the DAKA Medium Pouch are 7″ x 12″, but the way the material is welded together reduces the true capacity by a 1/8th of an inch for each seam, meaning you're losing about 1/4″ inch in width and an eighth in height. Not huge, but details matter. To test capacity, I started with the Window DAKA pouches and selected several things that were sitting around my office to see what would fit — a pair of cleaning products, a set of Magpul offsets, a multi-tool, three boxes of 5.56, 4 sets of earplugs, and a Caldwell bipod all fit with ease.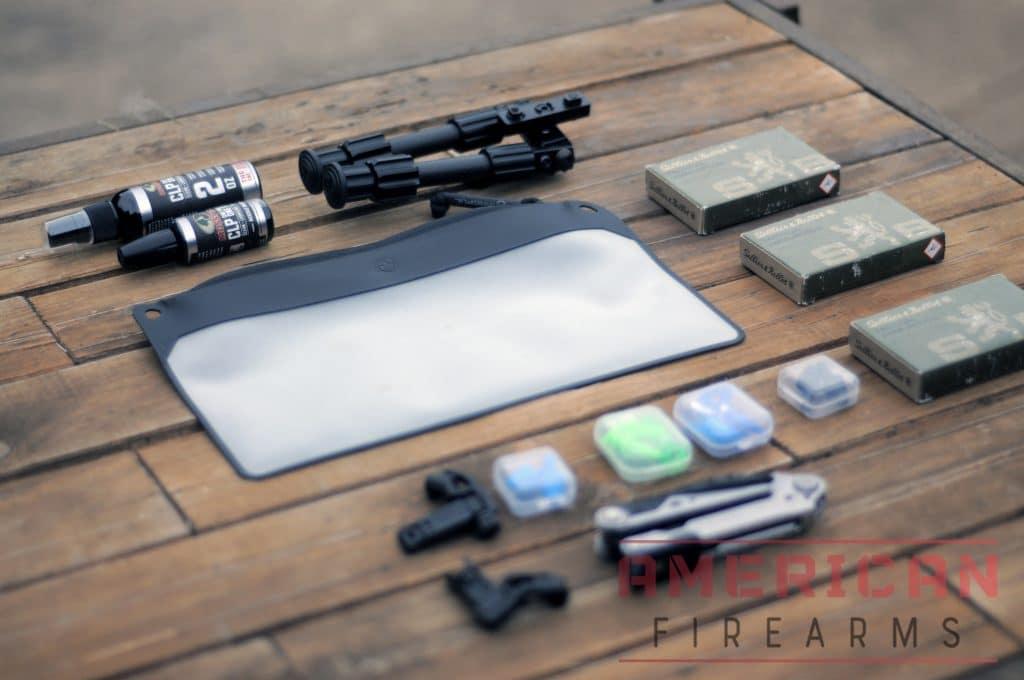 Magpul DAKA Pouch with the test products.
I could have kept going, but it was clear that the size of the pouch, coupled with the strength of the material, means you can get a lot of surprisingly odd things into the little bugger.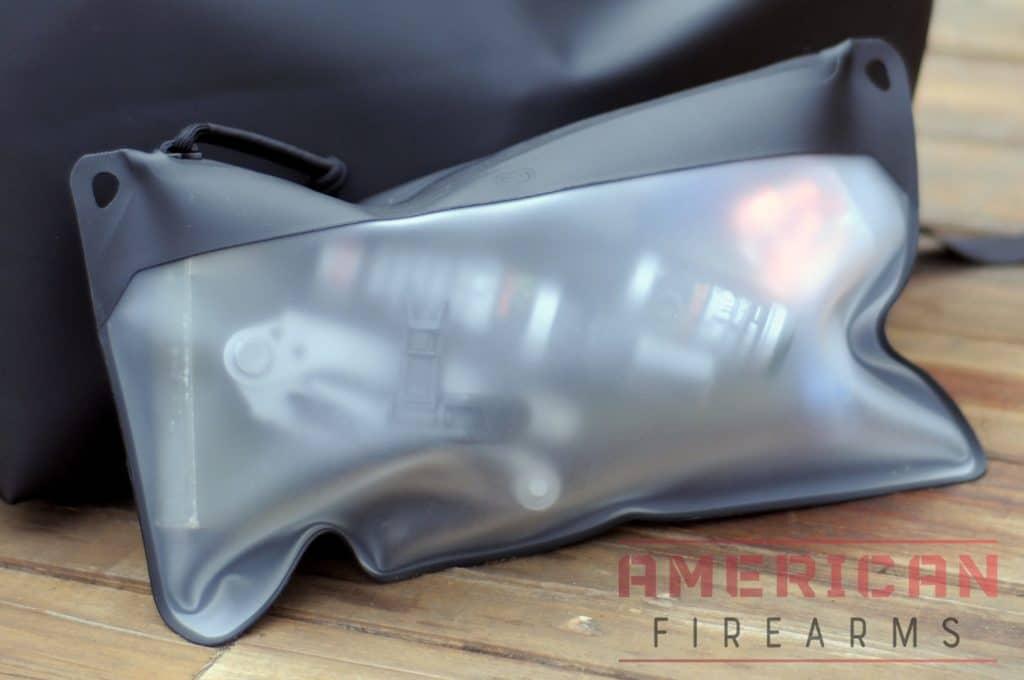 Everything fit!
The Takeout bag uses the same polymer-reinforced material without the transparent window.
The capacity is listed at 8.8 liters, but I generally don't fill my range bags with water, so I needed a more practical test. I decided to see if it could store all of the items I currently haul around in my current range bag, a Lynx Defense Pistol Range Bag.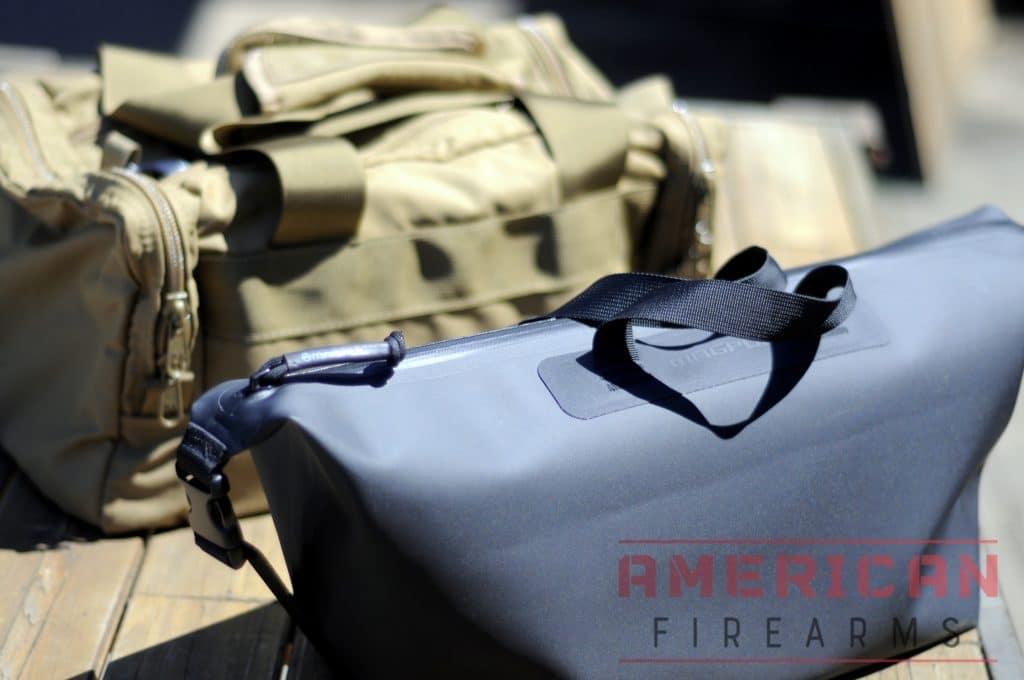 Magpul DAKA Takeout Bag stacked up next to my Lynx Defense bag.
The Lynx contained three pairs of gloves, Caldwell over-ear muffs, nine different mags, a suppressor cover, two red dots, a bore sighter, a Viridian light/laser combo, a stack of 6-inch adhesive targets, and a Magpul wrench — I put everything on the table and started packing the Takeout.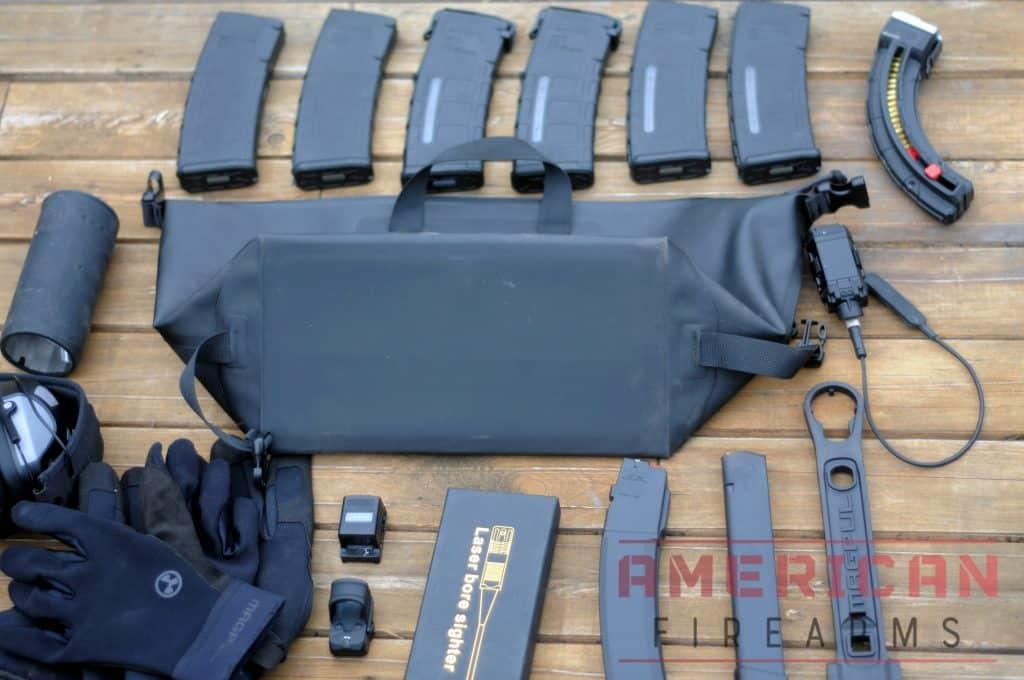 Magpul DAKA Takeout Bag with all the gear from my Lynx bag. Notice how the DAKA bag folds almost completely flat.
Surprisingly everything fit — albeit without any organization. The simple design means things are less organized than in a traditional range bag — but that simplicity means you can carry more stuff in a smaller bag. Plus, if you want to stow the Takeout, it folds as flat as a tote bag.
As I detailed in our range bag roundup — the Takeout bag is super simple. It's essentially a semi-structured pouch, which carry handles and a pair of buckles that enable you to reduce the internal size while adding stiffness. That gives you a basic range bag, camp toiletry tote, truck or RV first aid kit, or hell, why not a tactical diaper bag?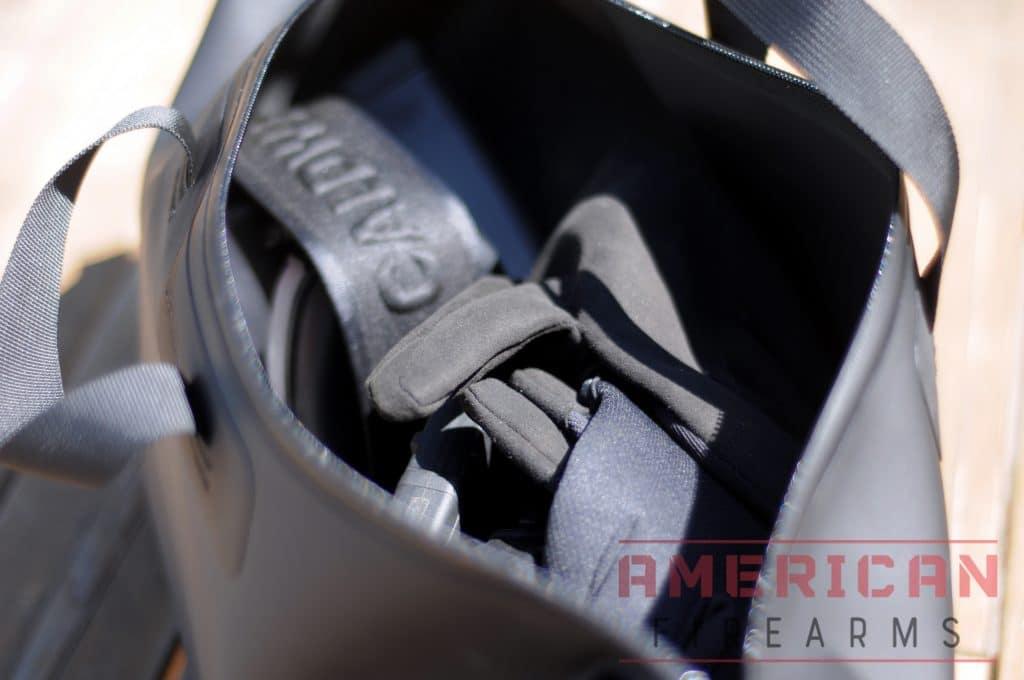 Magpul DAKA Takeout Bag full of stuff...
Is the Magpul DAKA line right for you?
The theme with the Magpul DAKA line is what I call "radical simplicity." There are no bells, whistles, MOLLE panels, or multi-zippered interior pockets. They're very well made, and the welded construction gives them an impressive amount of durability, but they're not waterproof.
So if you want a simple, water-resistant, multi-purpose bag or pouch significantly tougher than 99% of the lighter-duty stuff out there today, the DAKA line seems to hit the right mix of capacity and utility.
Plus, with all the varying sizes, you can find the right bag or pouch to bring organization anywhere.
If you hate the idea of digging into a disorganized bag and really need everything in the right place, the DAKA line will frustrate. Particularly for the range where many people prefer to have a compartment for mags, ear protection, gloves, etc. — you're just not going to get that with DAKA products.
That said, if you're cool with the simple layout and are anything like me, you will keep new ways to use them. I can't imagine someone not finding a use for these products — we all have those corners in our office or kitchen that would benefit from a tad more organization with a simple pouch, and the Takeout will work for almost any purpose — hauling tools, bulk storage, travel gear, range goodies, or even a collection of pacifiers, wipes, and diapers.
Beyond being made in the U.S.A, Magpul has notoriously good customer service — often simply replacing products and getting them out to customers in 3 days or less.
Also — the DAKA stuff is decidedly inexpensive. You can pick up a large Takeout bag and handful of pouches for less than $100 — or roughly the cost of a single decent range bag.
What's not to like?