Nexbelt Review
Nexbelt has re-imagined the ratchet belt, helping them take the belt industry by storm. We put their product to the test to see what all the buzz was about.
Written By
Kenzie Fitzpatrick
Certified Armorer & Instructor
Edited By
Michael Crites
Licensed Concealed Carry Holder
Share:
Products are selected by our editors. We may earn a commission on purchases from a link. How we select gear.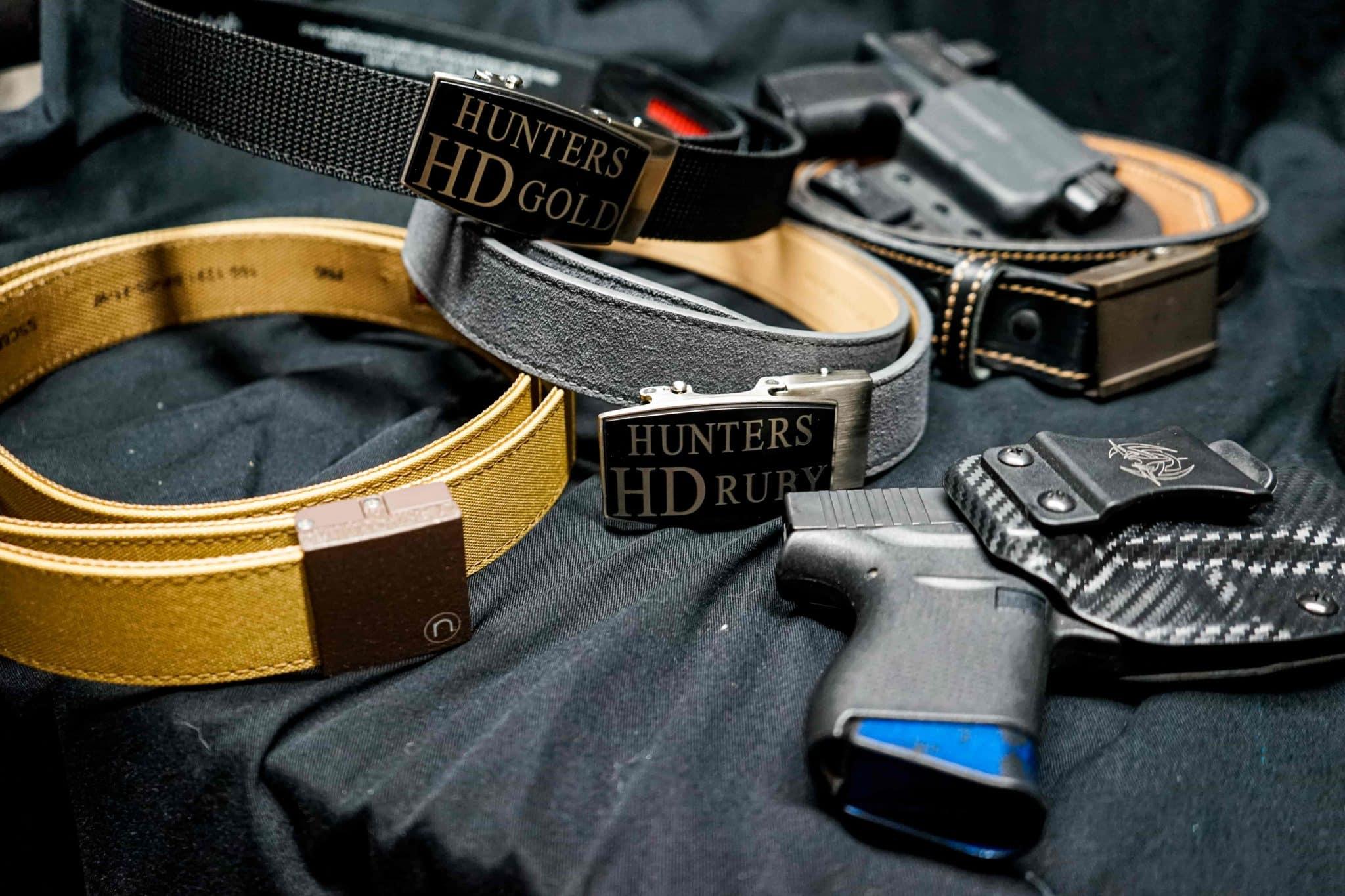 Nexbelt is a newer company, just seven years in at this point, but the Rancho Cucamonga upstart is taking the belt industry by storm. While Nexbelt didn't invent the ratchet system, they re-engineered it and improved upon existing tech.
They design and build all their tools and molds, so what you see in the final product is their hands-on engineering. The red strip of teeth on the back of a Nexbelt is exclusive to their products and, in my experience, offers a level of quality that far surpasses the black plastic strips you typically see on ratchet belts on the market today.
Beyond their manufacturing prowess, they also hold design patents for their belts, including a patent on their Sizing System, which you see on the back of their straps. This ingenious invention makes gifting belts easy because the size is cut and set by the end user and not determined by the manufacturer.
While Nexbelt specializes in belts that accommodate carrying a firearm, they also make belts for golf enthusiasts and the everyday belt-wearing human!
Is the ratchet belt revolution right for you? We put Nexbelt's products to the test and highlight a few of our faves.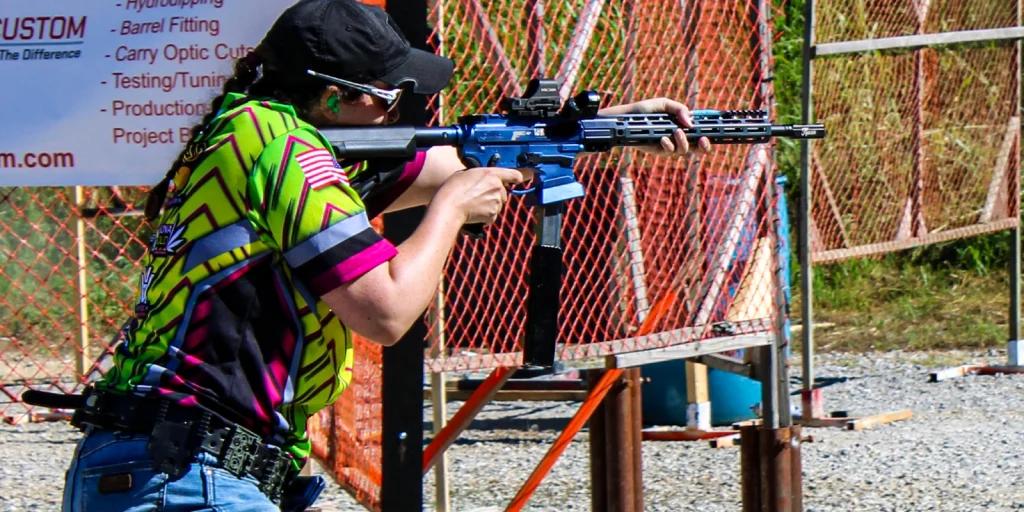 Beyond being a firearms instructor, competitive shooter and hosting firearm-related events, I carry every single day.
I'm 30 years old, and I've been carrying since I legally was able to at 21 years of age. My safety and the safety of others are something I take very seriously. I have been the victim of assault, I have held my firearm while calling 911, scared that I would be harmed, and I have felt very unsafe in both public settings and at home.
I vowed never to leave home without a firearm. I carry a gun, knife, multi-tool, flashlight, and spare magazine every day of my life. I fluctuate between carry guns, occasionally going from my Glock 43 with night sights to my Sig P365XL with a red dot on it to my Walther PDP with both night sights and a Holosun red dot. I use belts, belly bands, and the Enigma system to carry a gun on my body. I prefer to carry a gun with a belt because it's the most stable way to carry — so when possible I will use a belt regardless of the clothing I'm wearing or the activity I'm about to complete.
I'm also a firearms instructor and competitive shooter and host firearm-related events. My goal as an instructor is to teach people how to carry a gun safely and on their body, not in a purse or a bag. I have more than 50 holsters for concealed carry and competition that I have tested over the years, along with a variety of different belly bands. People have a lot of excuses for why they can't carry a gun on their body, but in my experience, there is always a way to carry a gun comfortably and concealed, regardless of body size or shape.
I have used several brands of EDC belts over the years and have used basic leather and other material belts as well. I have used traditional belts, a bar EDC belt, and before I even was asked to try a Nexbelt for this article, I already owned three of their belts! On a separate note, I installed a ratchet strap and buckle on each one of my competition shooting belts for USPSA, 2-Gun, and 3-Gun.
Ratcheting systems make everything more secure and allow you to tighten or loosen belts to exactly where you want them. I already knew the benefit of a ratchet system and understood how it worked, so I was excited to learn more about Nexbelts lineup, demonstrate my experience with their products, and highlight the diversity of their offerings.
Nexbelt Review Feature Call-Outs
Cut to Size By The User
Eliminates the worry of ordering the wrong size & having to return the product.
Unique Buckle Design
Multiple stainless steel screw retention system & sturdy teeth for super consistent lock-up.
Easy-to-Reach Release Button
Makes quick adjustments or belt removal a snap.
The Best Ratcheting System
The belt feeds through the buckle to ratchet tight — with a nearly infinite degree of adjustability.
What makes Nexbelt unique?
Everyday carry belts should be sturdy enough to hold your fully loaded pistol and a spare loaded magazine in a magazine pouch. If the belt cannot support the weight without sagging or twisting, it is insufficient to use while carrying concealed.
There are a few specific aspects other than this that I look for in an EDC belt. Nexbelt has a variety of belts, all with different benefits and styles, so you can find something that fits your needs no matter what you're looking for.
The Ratcheting System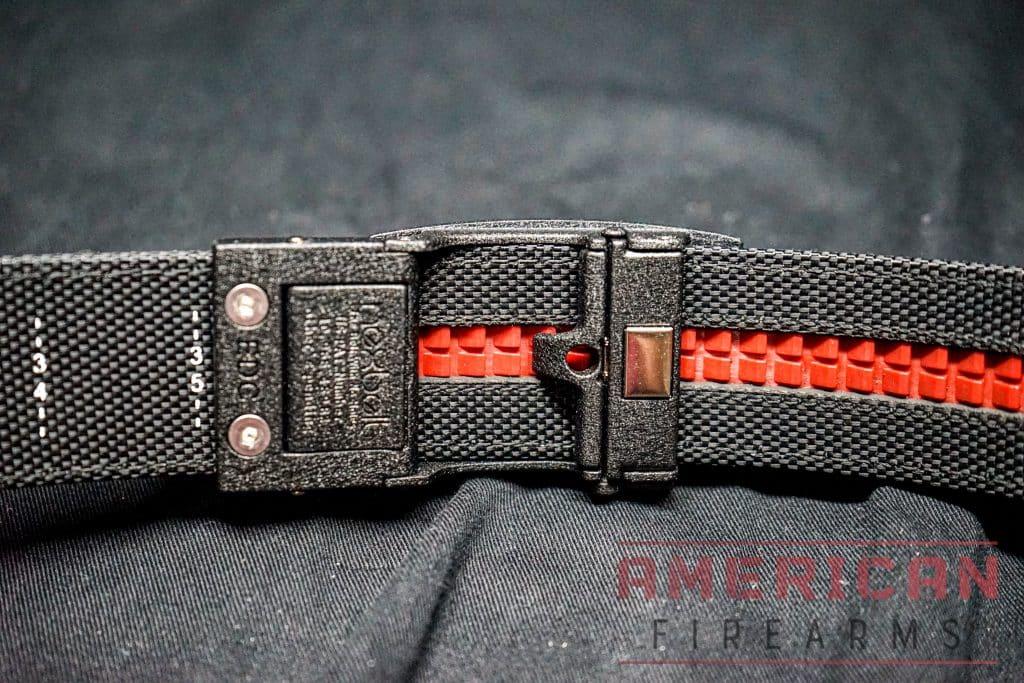 The Nexbelt ratcheting system is a game changer regarding retention. It's stiffer and more consistent than any ratcheting belt I have tested.
The Nexbelt belts ratcheting system is a game changer regarding retention. The material they use on the back of the belt (red colored) is stiffer than the black plastic you typically see on other ratching belt products.
The belt stays locked in place until you release the buckle to loosen the belt. Nexbelt also has a patent pending buckle design, which uses stainless steel screws rather than standard retention pins for a more reliable, stronger, more secure hold.
The belt feeds through the buckle and ratches as tight as you want to set your belt, and an under-buckle release button allows you to quickly adjust sizing to your precise fit — or quickly pull the belt off altogether. Just make sure you test out the release button before you strap on your belt as it can take a little practice to activate smoothly.
Why not just use a traditional belt?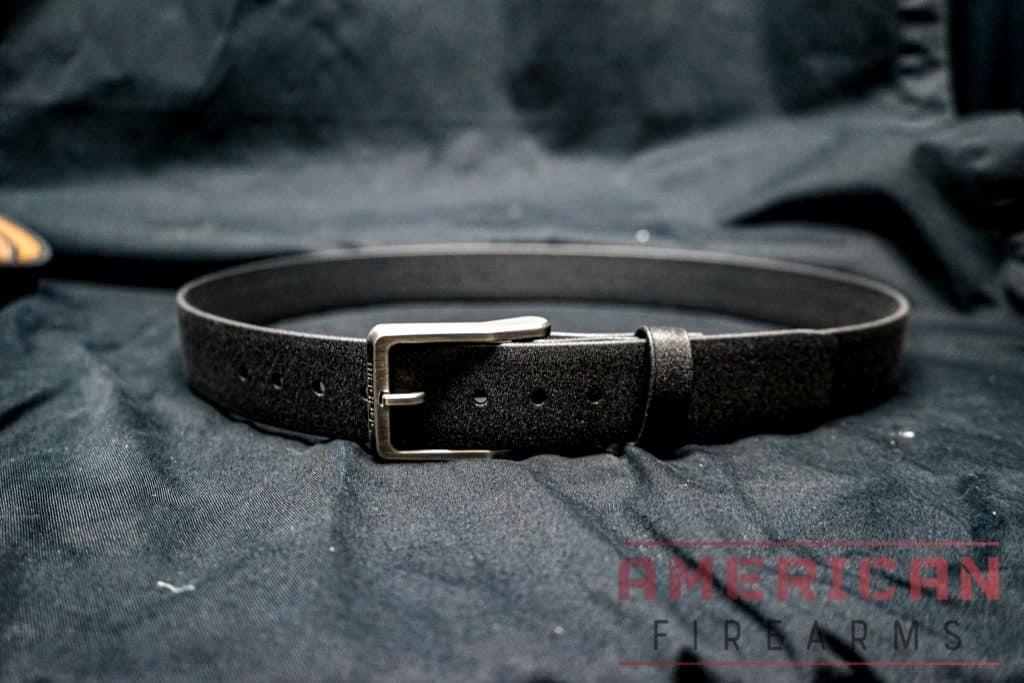 A traditional gun belt is stiffer than standard belts but still has a lot of the same shortcomings. Ratchet belts solve for a lot of these issues.
My philosophy in life is to always buy the right tool for the right job. When a company manufactures a product for a specific reason and really nails the design, that is the product I'm going to choose.
Why? Typically, these companies understand nuances in why a product is designed a certain way.
They have taken feedback from people using their product for its specific purpose and have iterated on the product to hone it into something far better over time. While traditional belts might work for the intended purpose when it comes to carrying a firearm, those belts simply don't compare to a Nexbelt EDC belt — designed for the sole purpose of stable, reliable concealed carry.
The ratcheting system gives you a nearly infinite range of adjustability — and the speed with which you can go from one size to the next has to be experienced to understand, it's just a night and day difference.
What about other ratcheting belts?
Prior to switching to Nexbelt, I was using a CrossBreed Holster's Crossover Gun Belt. CrossBreed designed a slide buckle using a similar ratcheting system, avoiding holes and retaining the belt by sliding a metal pin against the leather to hold the belt in place.
Like Nexbelt, this allows you to set the exact retention you want instead of choosing a hole like traditional belts. The downside to the pin system is that the products are sized at the factory and shipped based on the size you order. If you don't order the correct size, you have to pay an exchange fee to return it for the correct size.
Nexbelts are cut to size by the user, so you never have to worry about getting it wrong (unless you cut the belt too short, but that's on you.)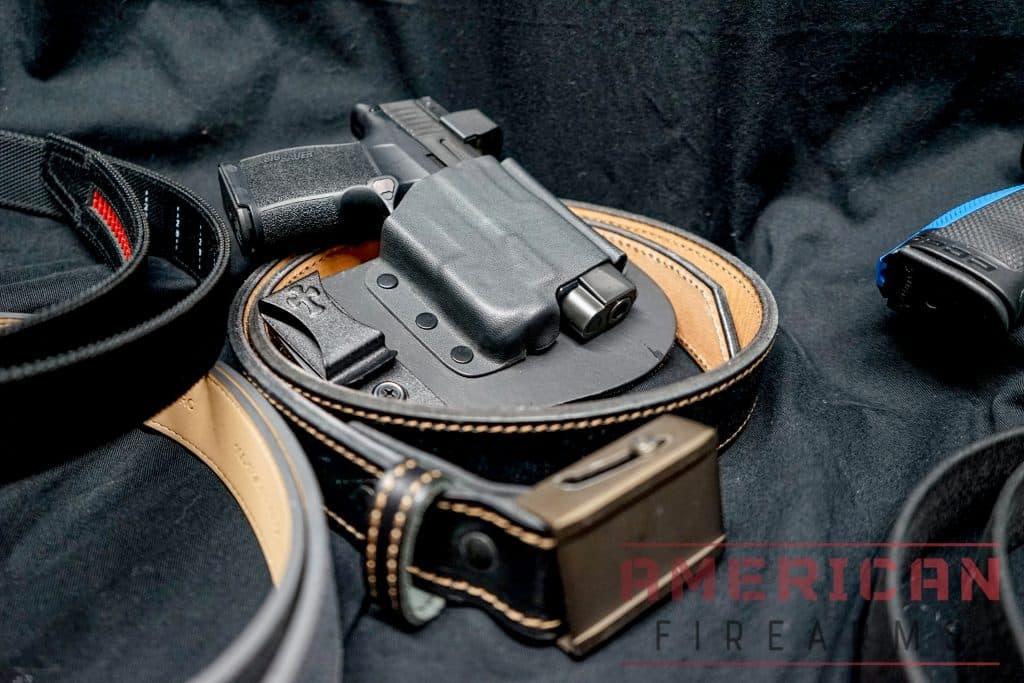 Nexbelts aren't just for EDC -- although that is their bread and butter.
Nexbelt belts are available in EDC-specific belts, golf belts, and casual & dress belts. The materials vary and include leather, carbon, nylon, basket weave, suede, crocodile, alligator, and more. For our purposes, it's more important to understand that different materials hold weight significantly differently.
While I love the comfort and adjustability of the suede Nexbelt I originally bought, it's not the best EDC belt because it isn't stiff enough — it simply wasn't made for carrying a gun.
Nylon belts are very sturdy (and my preferred EDC belt material), but the Titan model belts from Nexbelt are a little less firm than I'd prefer.
Leather will generally be a sturdy option for carrying a gun but can loosen and stretch slightly if they get wet. The crocodile and alligator materials are more for style but also are stiff and sturdy enough to carry with.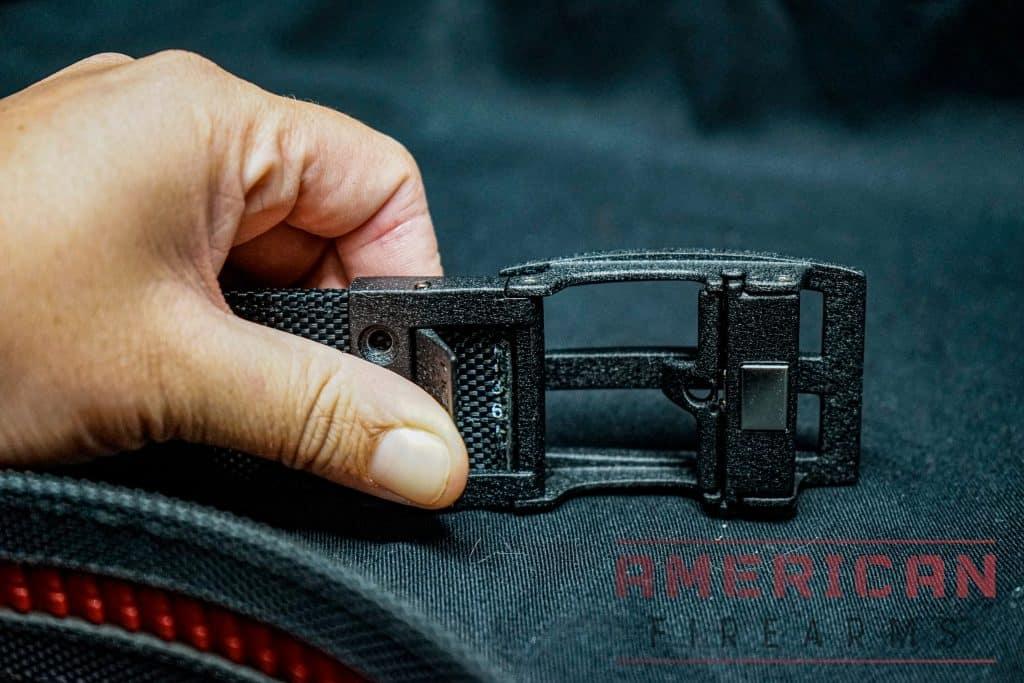 The original Nexbelt release button was on the rear of the buckle. Newer versions now use a bottom-mounted button that's easier to actuate.
As mentioned earlier, Nexbelt has designed an innovative patented buckle that is unlike any other buckle I have tested on the market today.
Nexbelt uses stainless steel screws that are more expensive than cheap pins but add quality to the final product. It may be odd to be praising something as simple as screws, but the way they pair with the buckle makes for really solid lock-up.
The buckle has teeth woven into the belt material for an impressively strong hold and set screws that screw in for reinforcement.
The release catch on the buckle for the ratchet system is easy to activate when you want to let out some slack but has never loosened on its own in my daily use. The Nexbelts are offered with a variety of buckle types, from engraved to rectangular textured buckles to ratchet buckles that look like regular pinhole buckles.
Nexbelt EDC belts are, hands down, the best belts I've ever worn and tested. For the past six months, I've been using their belts daily to carry a gun in rain and heat, and there is no sign of wear on them yet.
The retention of these belts is locked in — it does not slip, vary, or change unless you want it to. Once the belt is ratcheted into place, it's not moving at all. I have easily carried both full-sized and subcompact pistols without issue.
Is the ratchet system comfortable?
In my humble opinion, no other belt is as comfortable as a ratchet belt, and here's why. How many times have you added a hole to a belt to get that perfect fit? Or because you lost weight? Have you ever been frustrated because your belt is too tight or loose, but there's no hole between the two to give you that perfect fit?
A ratchet belt solves all of your comfort issues by getting the belt to that Goldilocks zone of specific tightness. If you accidentally pig out at dinner, instead of taking your belt completely off, you can simply loosen the belt a ratchet slot or two to give you some extra space. It's the best mix of comfort, adjustability, and stability anywhere from my perspective.
1. Titan BD Black PreciseFit™ EDC Belt
The Titan EDC belt is a simple nylon strap belt that facilitates daily wear. The buckle is powder-coated for better wear resistance and has a stylish design that doesn't scream "I'm carrying." It's the best mix of carry & casual from Nexbelt.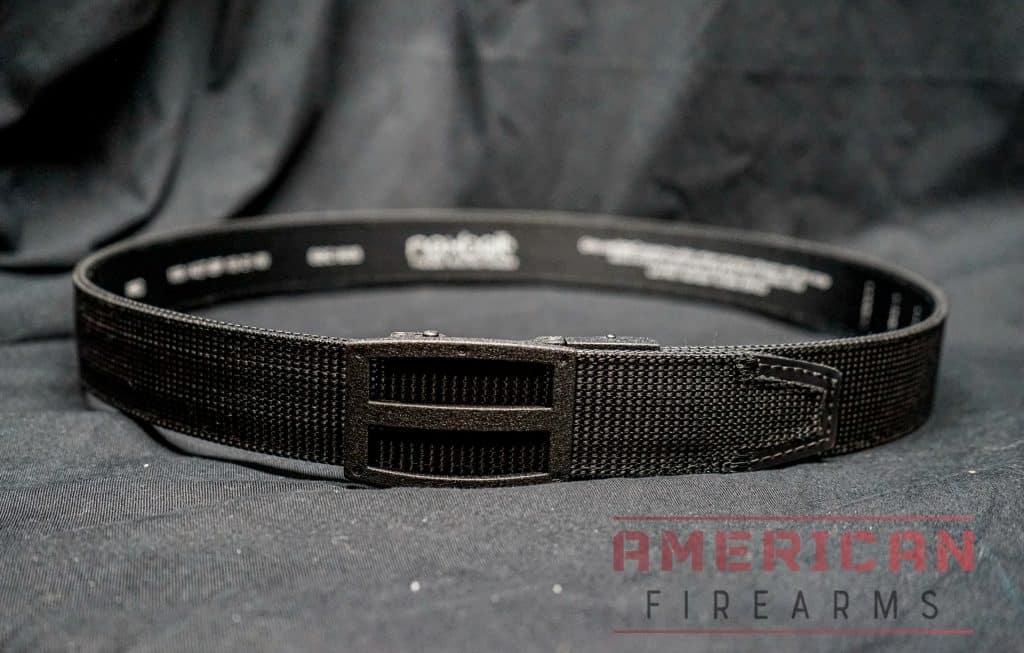 The Titan BD sits nicely between hardcore gun belts and casual style.
The clasp of the buckle uses the previous design of two set screws to hold it in place. The nylon material is made from a super-high-density microfiber material, an advanced composite of ultra-fine polyester fibers, and is remarkably light for the strength and stability it offers.
The backing of the belt is sweat resistant as well.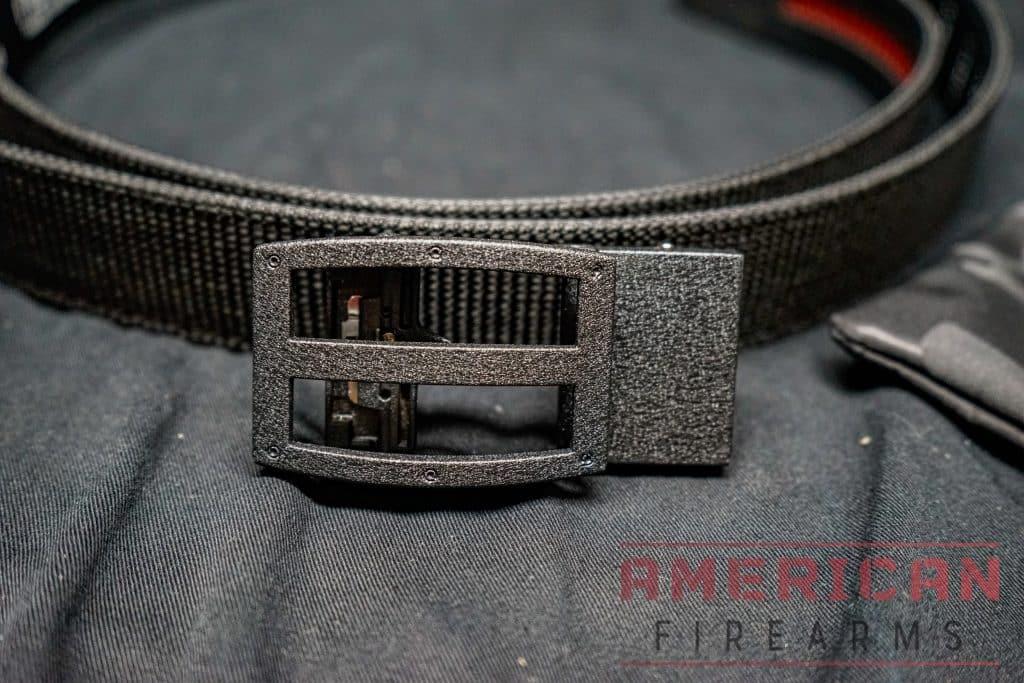 The powder-coated goodness is tough -- I have used this for years and the buckle looks brand new.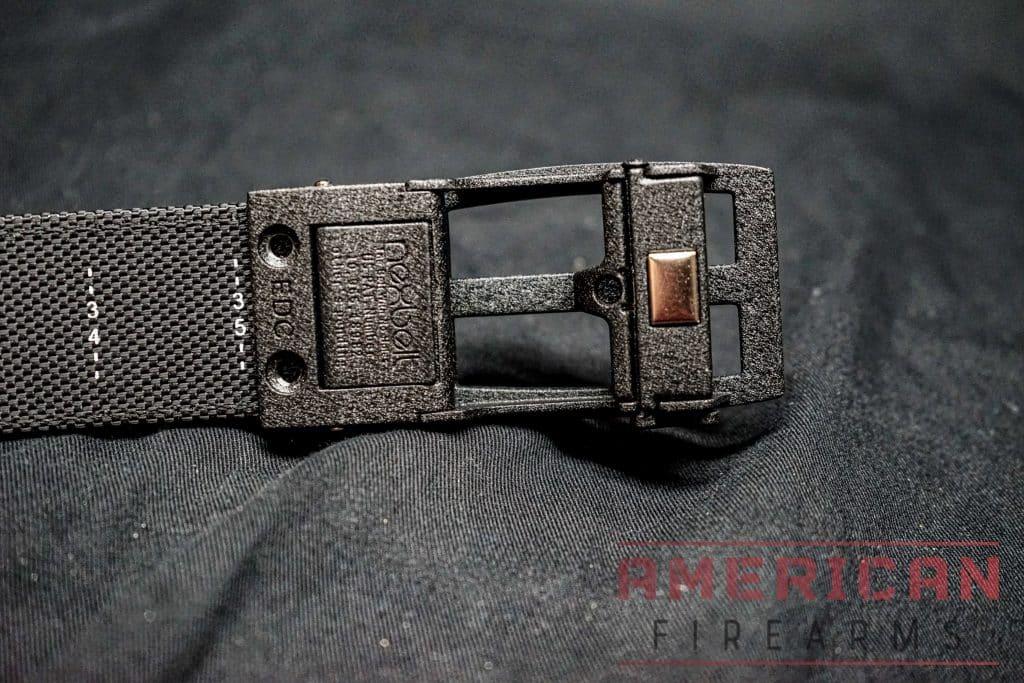 The Titan BD buckle uses dual screw retention and a rearward release button. Newer models use a three screw design and a bottom-mounted release that makes actuation mush more straightforward.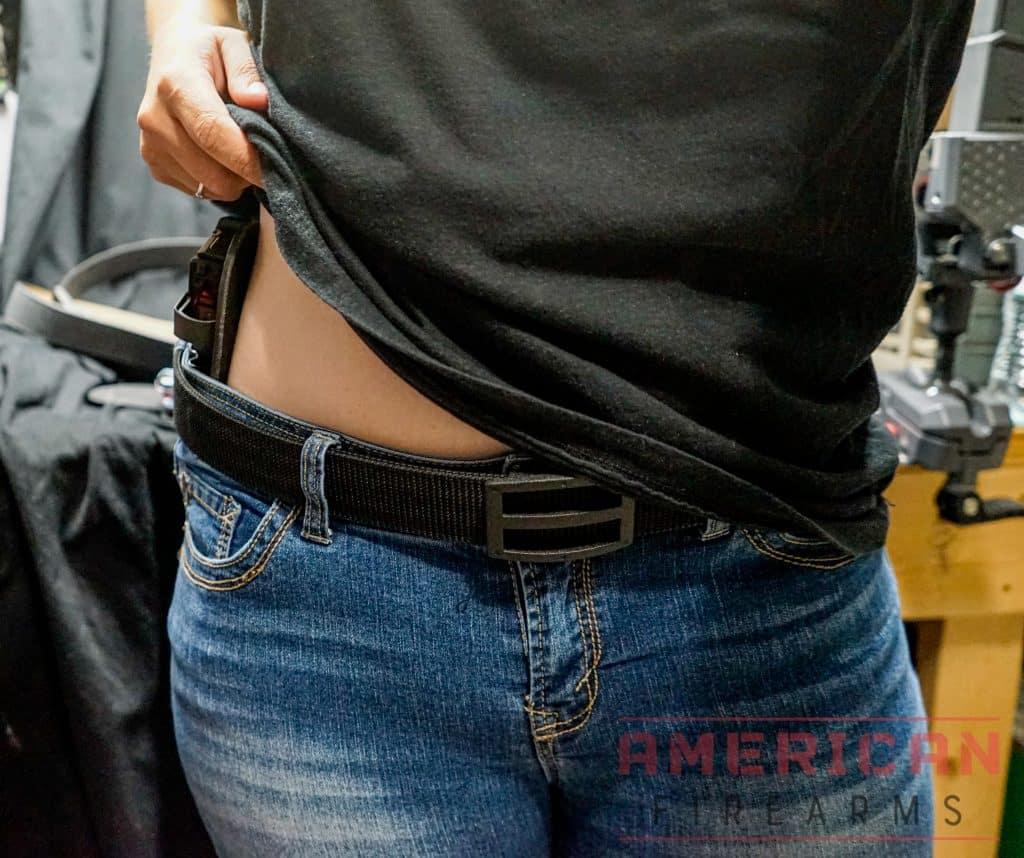 The ratcheting system allows you to dial in the fit for any type of carry style, pistol size, or overzealous meal.
Specs:
Belt Buckle size 1 7/8" x 2 1/5"
Nylon strap fits up 50″ waist
Strap thickness near 3/16″
 Strap width is 1 1/2"
2. Supreme Appendix 38mm
The Supreme Appendix belt is my go-to daily wear belt. The most exciting line, in my opinion, is the Appendix line to support my gun and how I carry it.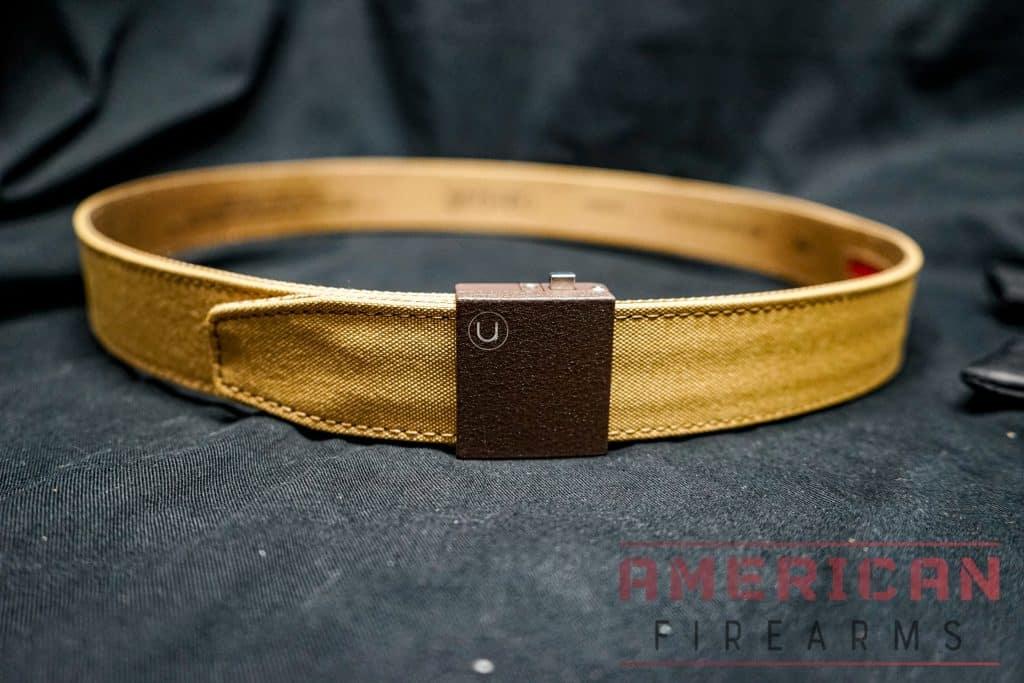 The Supreme in Coyote color has become my new fav -- it's my go-to EDC belt these days thanks to the tiny buckle, upgraded feel, and easy to reach release button (top -- yes the belt is upside down...)
The buckle compact enough that it gives you more space to carry your gun upfront. You can also use a sidecar style holster to carry a gun and spare magazine appendix.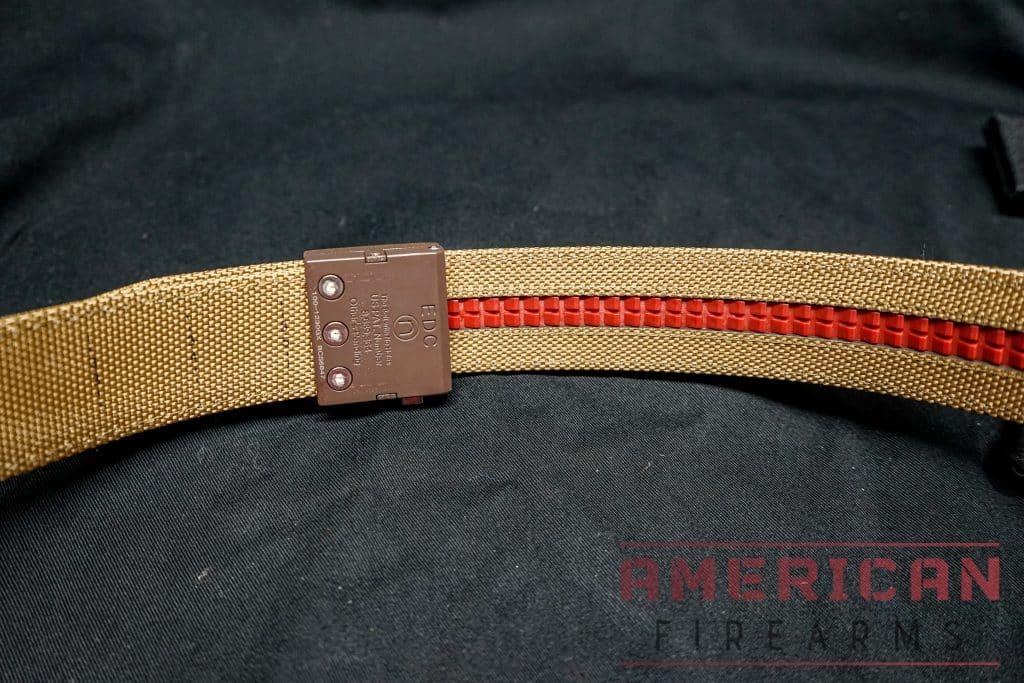 The Supreme pairs its really small buckle with a three screw mounting design which provides fantastic lock-up & flexibility
The buckle can be positioned anywhere from your front center, to your left or right hip, or in the curve of your back.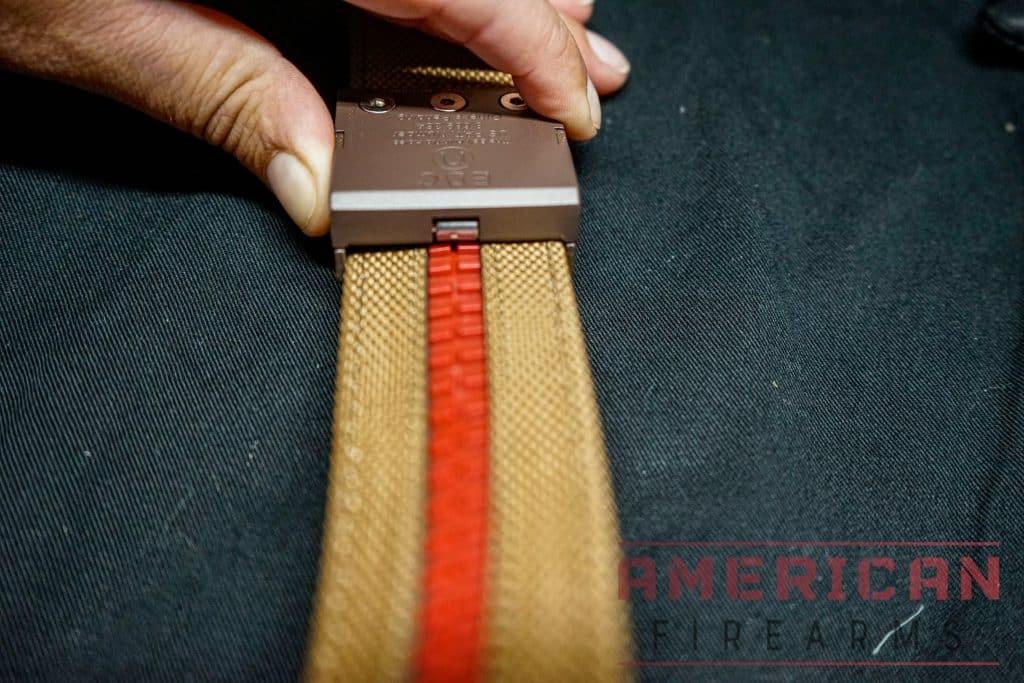 Pushing the bottom release button allows you to slide the buckle along the continuum of teeth, enabling you to find a perfect fit or adjust quickly on the fly.
This belt is the most sturdy of Nexbelt's options I have put to the test and can easily be used for OWB or IWB carry on your hip. The buckle features a newly designed bottom-mounted, push-button trigger that is much easier to activate than the previous rear-facing design.
The buckle is also powder coated but has three set screws for a more reliable hold.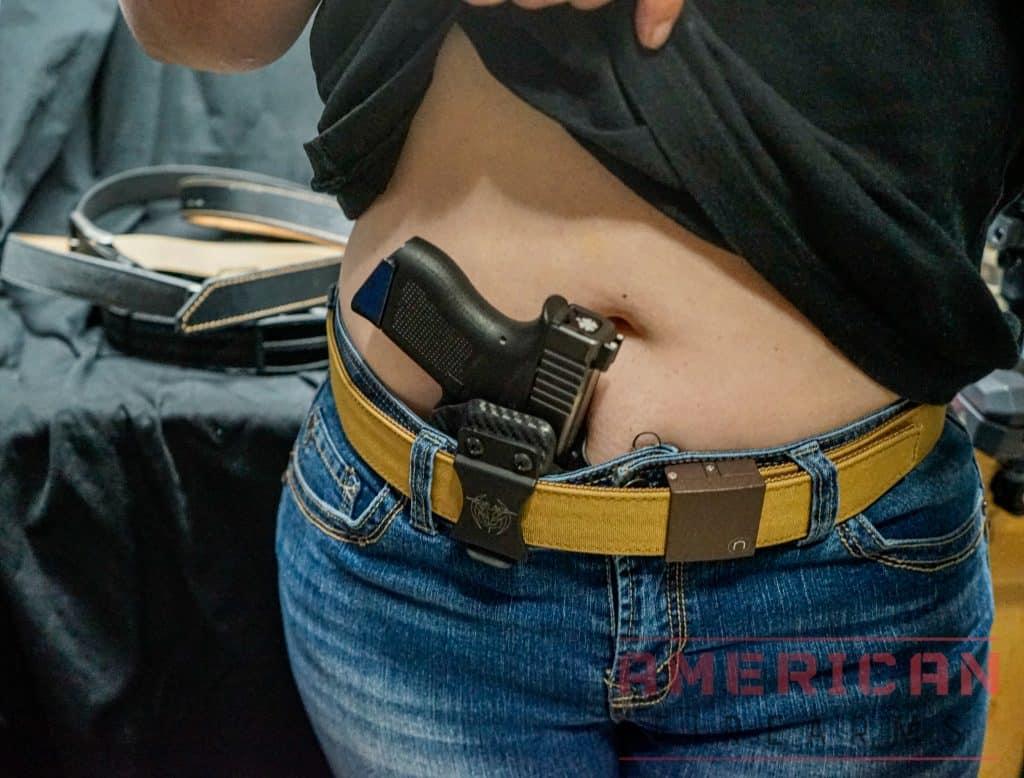 The Nexbelt Supreme in action. The 1.5" width fits most standard holster clips.
Specs:
Belt Buckle size: 1 ½ x 1 11/16″
Nylon strap fits up to 50" waist
Strap thickness near 3/16″
 Strap width is 1 1/2"
3. Gadsden Flag PreciseFit™
The Gadsden Flag EDC belt features a bullet tip and is made of high-quality black leather.
The buckle features the Gadsden Flag and is removable.
It has two set screws and a magnetic trigger for quick adjustments of 1/4″ and is interchangeable with the other styles of Nexbelts. The belt backing is made of water-resistant PU for enhanced wear and sweat protection.
4. Bond Black EDC Belt
Neither shaken, nor stirred, the Bond black EDC belt was inspired by James Bond and was made for those working professionals who wear suits and carry daily.
The stiff black leather strap won't roll over and can handle the weight of whatever pistol you carry. The strap backing is made of nylon to resist sweat from penetrating the outer belt surface. The buckle clasp has a magnet-based trigger for longer life and has set screws to hold it in place.
5. Suede Grey
I wanted a more classy look for dressing up and blending in with the crowd. While the Nylon belt is my go-to, the suede Nexbelts are much more discreet.
The "Austin" buckle has a push button release that makes it easy to adjust the retention, but it looks like a traditional .
6. Custom Buckles
One of my colleagues designed custom belt buckles with their business logo, and they loved the final product.
If you have a business or work for a corporation, these custom belt buckles are great for employees and brand ambassadors to wear.
You can choose the type of buckle, finish, custom style, strap, and box it comes in. You just build your order on the Nexbelt site and send in your own artwork to be printed on the buckles.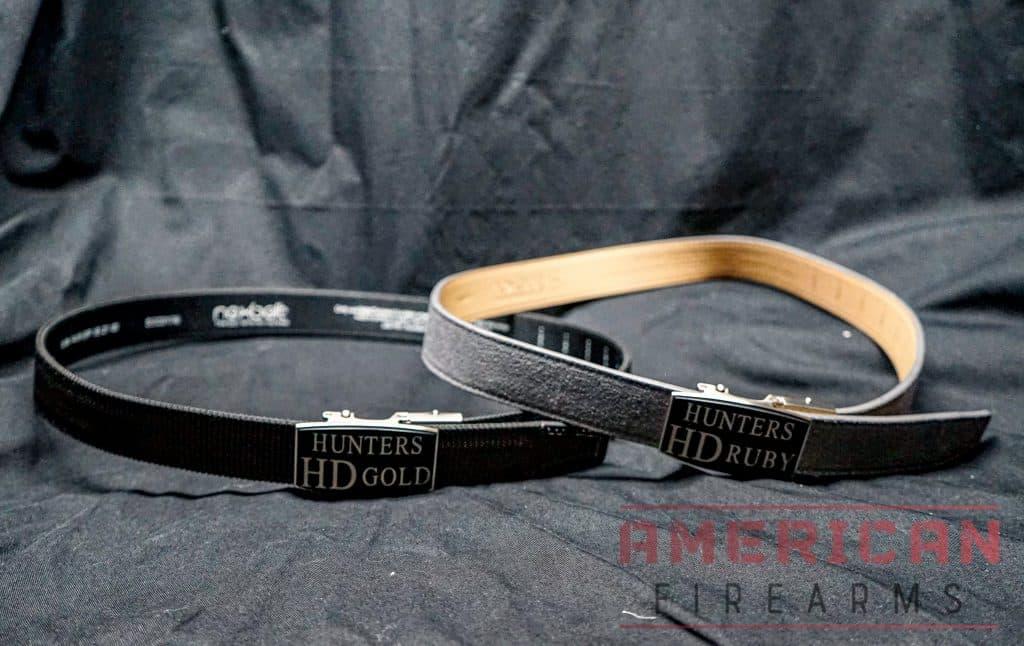 Nothing says "pro" like your own custom EDC belt and buckle.
The assembly takes less time than making a sandwich.
My pro tip: measure twice, cut once, — you can always remove length more but cannot add more.
The first step is to cut the belt your waist size. Nexbelt's patented Sizing System makes it easy to measure the exact place you want to cut the belt.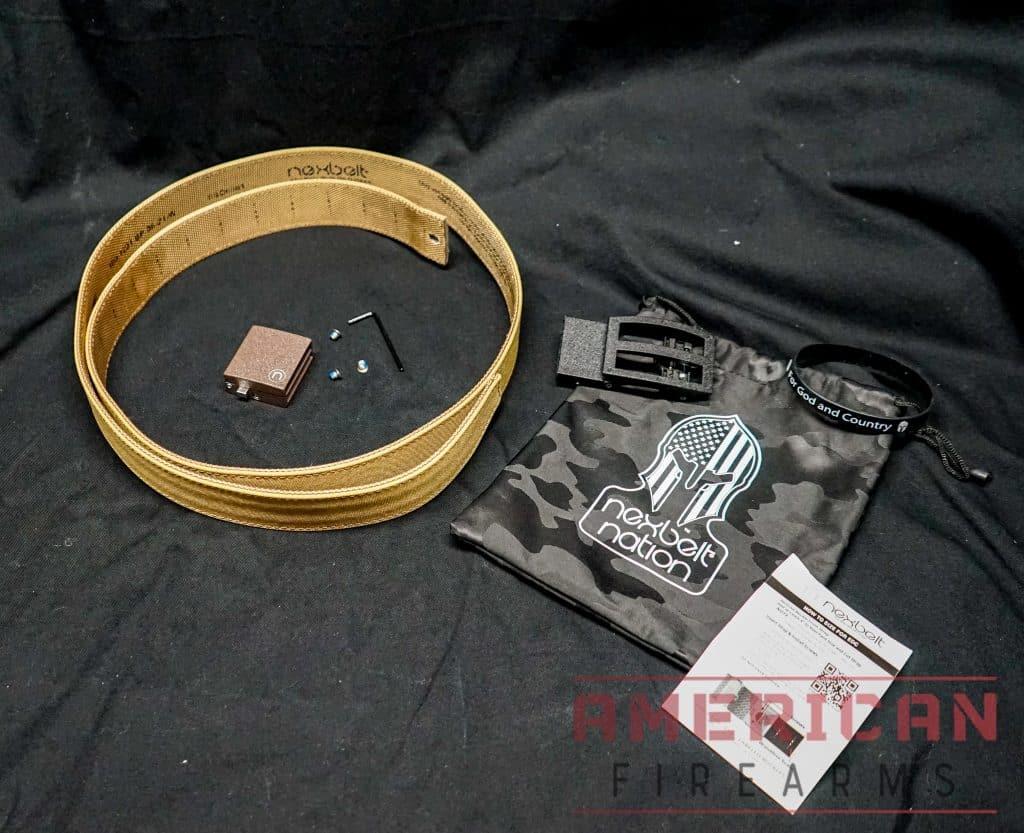 Nexbelts include a nice carry bag, instructions, and all the hardware you need to assemble the unit. All you need is a sturdy pair of scissors and your waist.
The interior face of the belt includes sizing marks from 20 to 50 inches (or 67 inches on their XL line), so provided you know your waist size you just find your mark and cut away. Just be sure to add 3 – 4" to your pant size so you have plenty of room to adjust down if needed.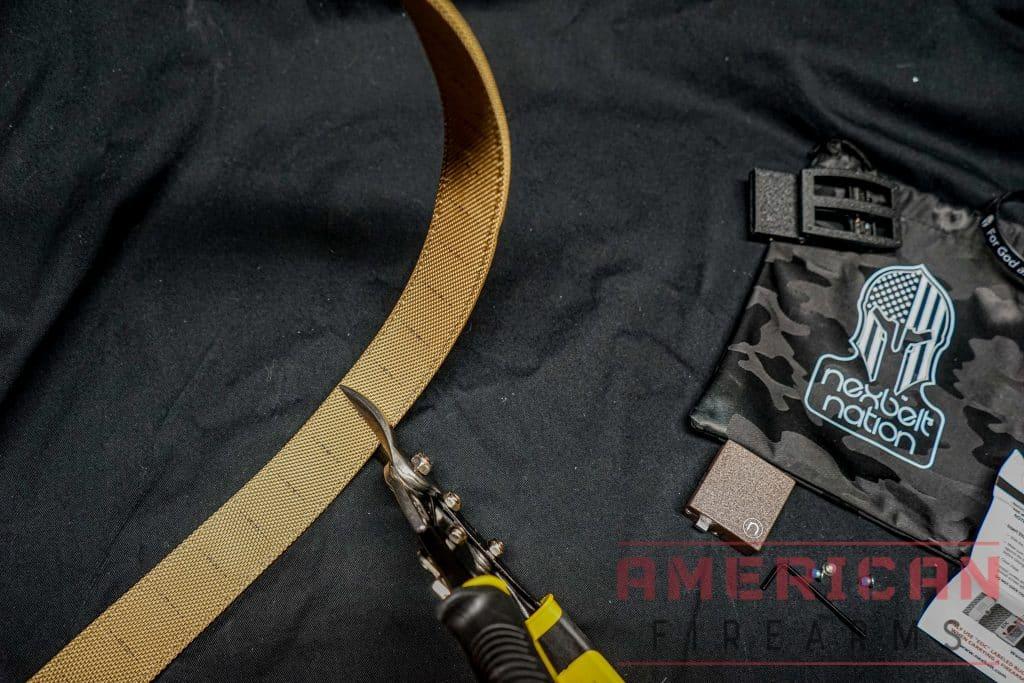 I found it easiest to cut through the belt with a pair of tin snips. The micro polymers that comprise the center of the belt are super tough.
The material is, as you might suspect, tough. You'll need a pair of tin snips or a brand-new razor to get through it. Craft scissors need not apply!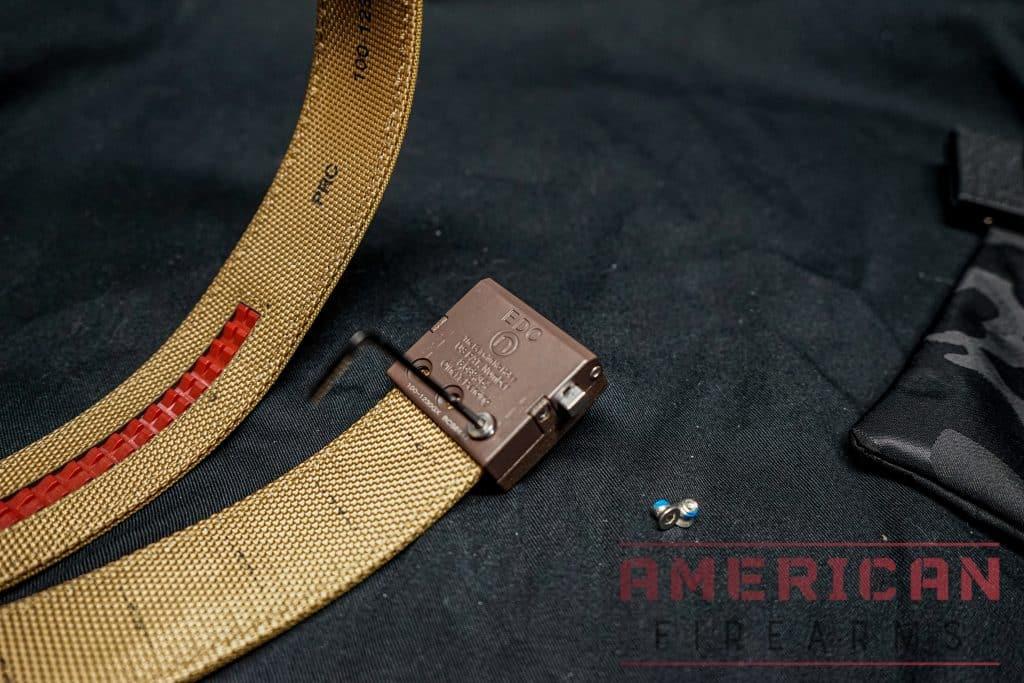 Once you have the legnth cut down to your size, screw the buckle into the cut end and you're off and running.
After cutting to length you'll insert the cut end of the belt through the buckle and close the teeth onto the belt material to lock it in place.
Pull the end of the belt through the buckle and you're done.
Depending on the buckle, you'll have two or three set screws you screw into place using the provided Allen key, locking it onto the end of the belt. Voila — a perfectly sized belt!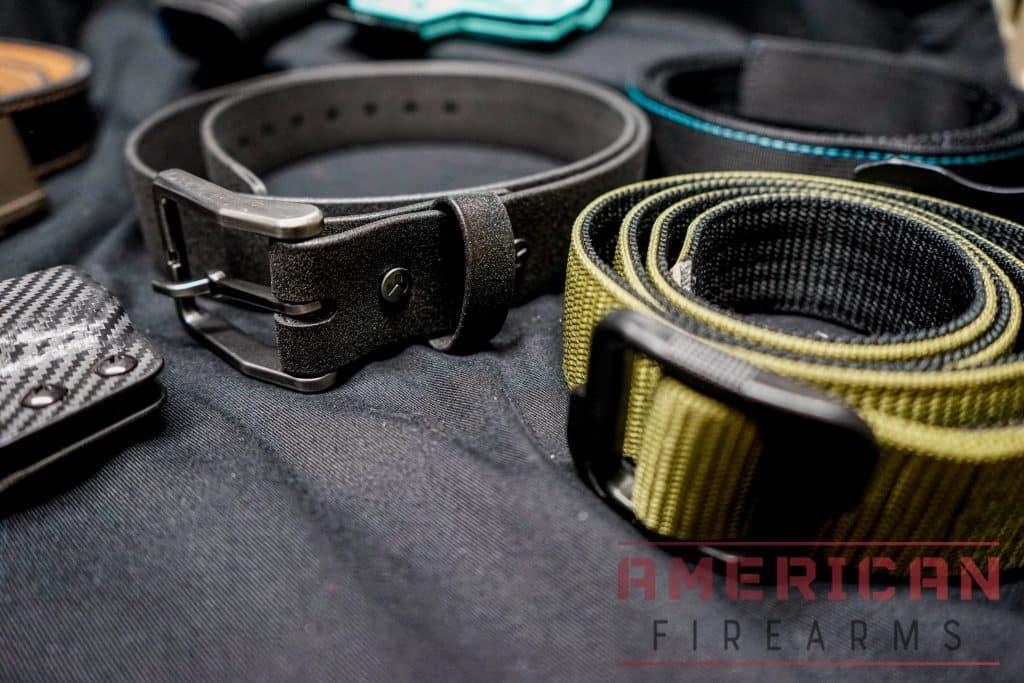 EDC belts come in loads of materials, so try a number of them until you find the one that you prefer.
Nylon
The Nylon belts are more casually styled and come in military-style colors like OD Green, Coyote, Black, and Camo. These are, in my testing, the sturdiest belts they make and can easily carry the weight of your pistol, magazines, flashlight, and other gear you need to mount to your belt.
Leather
The leather belts look like more traditional dress belts but use their ratcheting system. I consider the leather belts more "grey man" because most people won't give these a second look they really look like traditional leather belts. While not as stiff as the nylon options, the leather material easily supports the weight of a pistol and extra magazines fully loaded, and the ratcheting system gives you the same benefits of adjustability & comfort.
Nexbelt prices vary based on the material, but all start under $100.
The basket weave is a basic belt that costs $56.99. It's not sturdy enough for EDC, but uses its ratcheting system. The nylon belts start at $61.99 and go up slightly from that price point. As you dive into the leather belts, these are priced at a minimum of $71.99. The most expensive belts from Nexbelt are the alligator and crocodile belts which are $98.99 and up.
I was a Nexbelt fan before ever writing this review or being asked to write about the products. Carrying a gun isn't comfortable, but with the right belt, pants, gun, and holster, you can make it as comfortable as possible.
I have both custom and factory buckles from Nexbelt and own different-width Nexbelts. I have so much hands-on experience with these products that my selections were based on recommendations I currently use daily. A few of the more expensive, luxury material belts I don't own personally but would recommend because the ratcheting system is the exact same as the rest of the Nexbelt line.
Compared to all other belts, Nexbelt has won me over with its ratcheting gun belt system. The design is practically flawless, and I think they make the best belt for carrying a gun. In the last year, I have lost over 50 pounds and have had to buy a completely new wardrobe, but one thing I didn't have to replace is my Nexbelts because I ust recut them to fit my new size!
Nexbelt offers free shipping, a reward program for repeat customers, and a military discount for active duty and veterans. They have great customer service and genuinely care about the product they send out. You can't go wrong with a new EDC belt from Nexbelt.