Review of the Ruger SFAR: A 7 Pound .308 That Carries Like a 5.56
We put Ruger's SFAR through its paces and have a full review of why you should-- or should not-- add one to your gun safe
Written By
Michael Crites
Licensed Concealed Carry Holder
Reviewed by
Editorial Team
Learn About The Editorial Team
Share:
Products are selected by our editors. We may earn a commission on purchases from a link. How we select gear.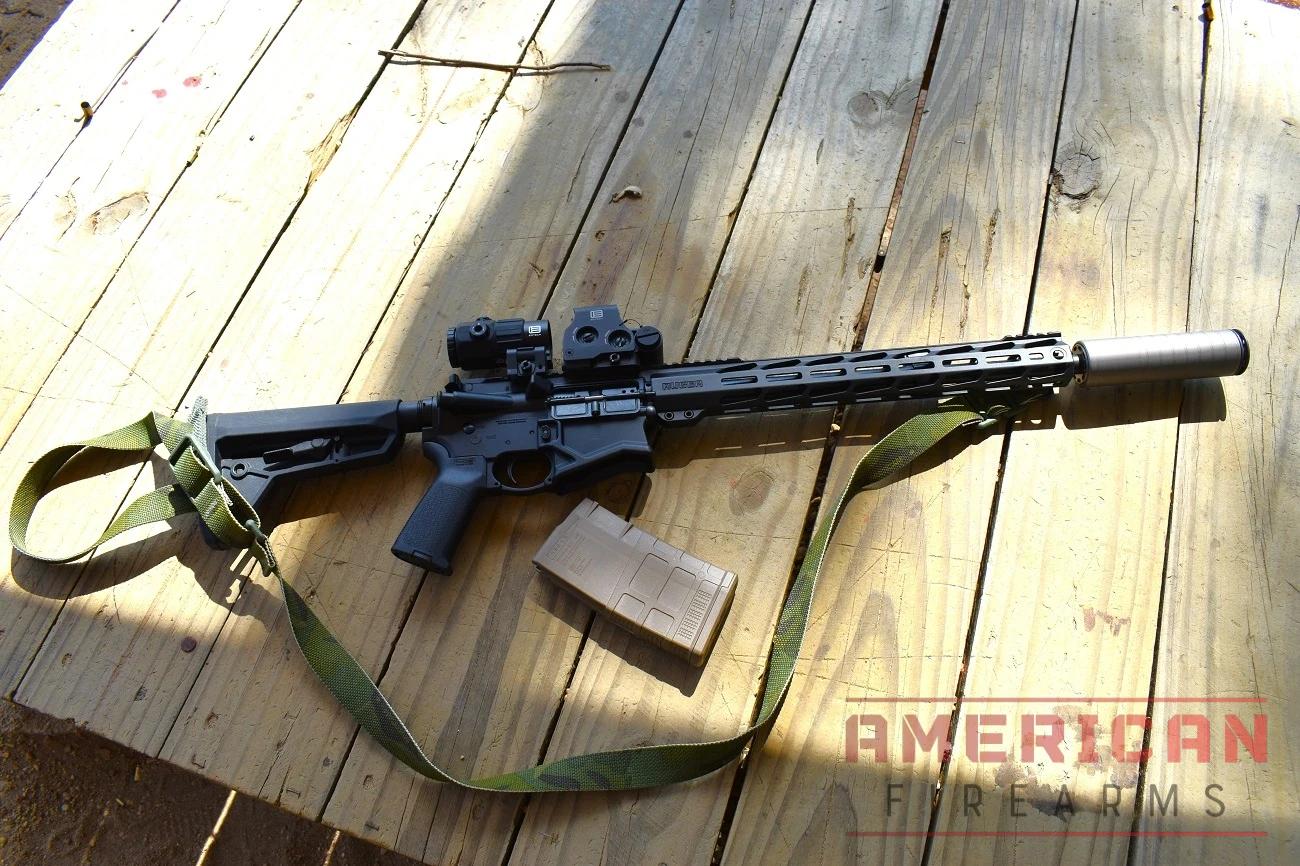 Ruger recently debuted what they term the Small Frame Autoloading Rifle, or SFAR, which is nearly identical to a common 5.56-caliber M4 but carries the satisfying wallop of a .308-caliber AR-10.
We've put one through its paces and have a full review of why you should– or should not– add one to your gun safe.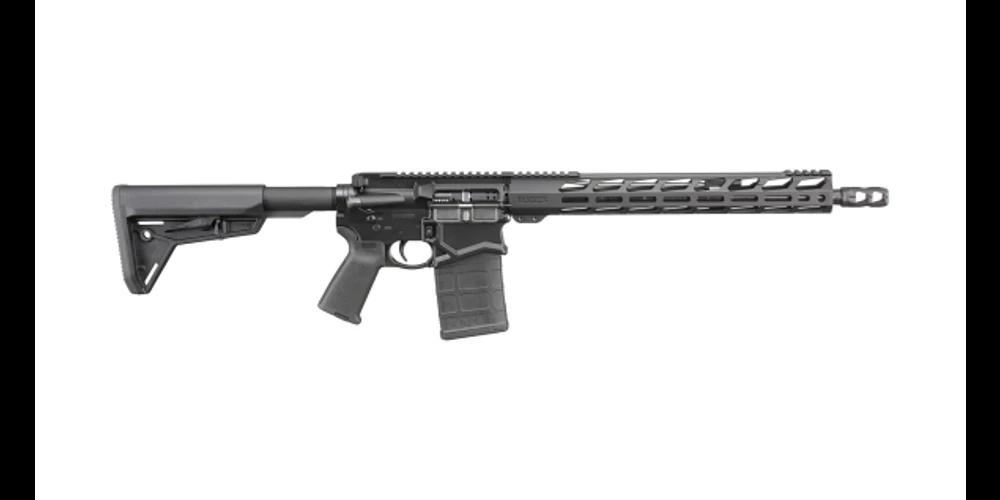 Best For
Lightweight
Reliable & Accurate
Uses many common AR-15 parts
Comparatively inexpensive in its type
Considerations
The brake is obnoxious, especially in closed-in areas
Can be undependable when suppressed
Carbine has limited accessory rails
Our Verdict
Ruger's SFAR has a lot of positives going for it for those looking to deliver a more capable round from an AR-15 without bringing along the weight penalty that usually comes with it. The 308 is unquestionably able to handle larger game and deliver a bigger punch downrange at distance.
At the same time, it is probably the most commonly available MSR caliber on the market after 5.56/.223. Shoehorning the ability to use it in a carbine/rifle platform that remains the same size and dimensions as an AR15– while still using the same furniture, trigger, and many accessories of this smaller and more common family– is a big win.
It will be exciting to see what Ruger does with this series in the future, especially if additional caliber options arrive.
How where does Ruger's SFAR stand on our 60-point scale? Here are the scores:
Accuracy: 8/10
The SFAR was solidly accurate up to 500 yards, averaging under 2 inches at 100 yards, and performing well with an LPVO and Eotech XPS holo.
Ergonomics: 9/10
The SFAR's M4-style feel, standard controls, and adjustable stock provide excellent ergonomics. Gas issues when suppressed are a bit of a drawback.
Features: 8/10
The SFAR has a litany of top-notch features, including an adjustable gas system and logical QD sling points. Downsides? It lacks an ambi charging handle and the brake is obnoxiously loud.
Fit & Finish: 9/10
Ruger maintains its reputation with the SFAR's high-quality fit and finish, ready to use out of the box.
Reliability: 7/10
Generally reliable, we saw two stoppages in 500 unsuppressed rounds and a few more FTEs when suppressed due to gas issues. Keep it clean.
Value: 8/10
Ruger SFAR offers excellent value compared to other AR-10s, providing a smaller, adaptable platform with quality features at a reasonable price.
Caliber:

7.62 NATO / 308 WIN

Action:

Semi Auto

Length:

34-37.25-inch (16.10-inch barrel) or 38-41.25-inches (20-inch barrel)

Barrel Length:

16.10 and 20-inch not counting muzzle device

Barrel Threads:

⅝-24TPI threads

Twist Rate:

1:10 RH 5 groove rifling

Stock:

Fully Adjustable

Weight:

6.8 pounds (16.10-inch model) to 7.3 pounds (20-inch model) unloaded

Capacity:

20+1 standard or 10+1 in restricted states
The SFAR is a gas-driven semiautomatic rifle laid out roughly as an AR-15 but chambered for 7.62 NATO/.308 Win.
Don't think of it as an AR-10, as it is much smaller and lighter, especially in the receiver, but more accurately think of it as an AR-15 that has been recast– not stretched out– to accept the 308.
Perhaps the only competition in the AR space is the much more expensive POF-USA Revolution series, which we'll touch on later.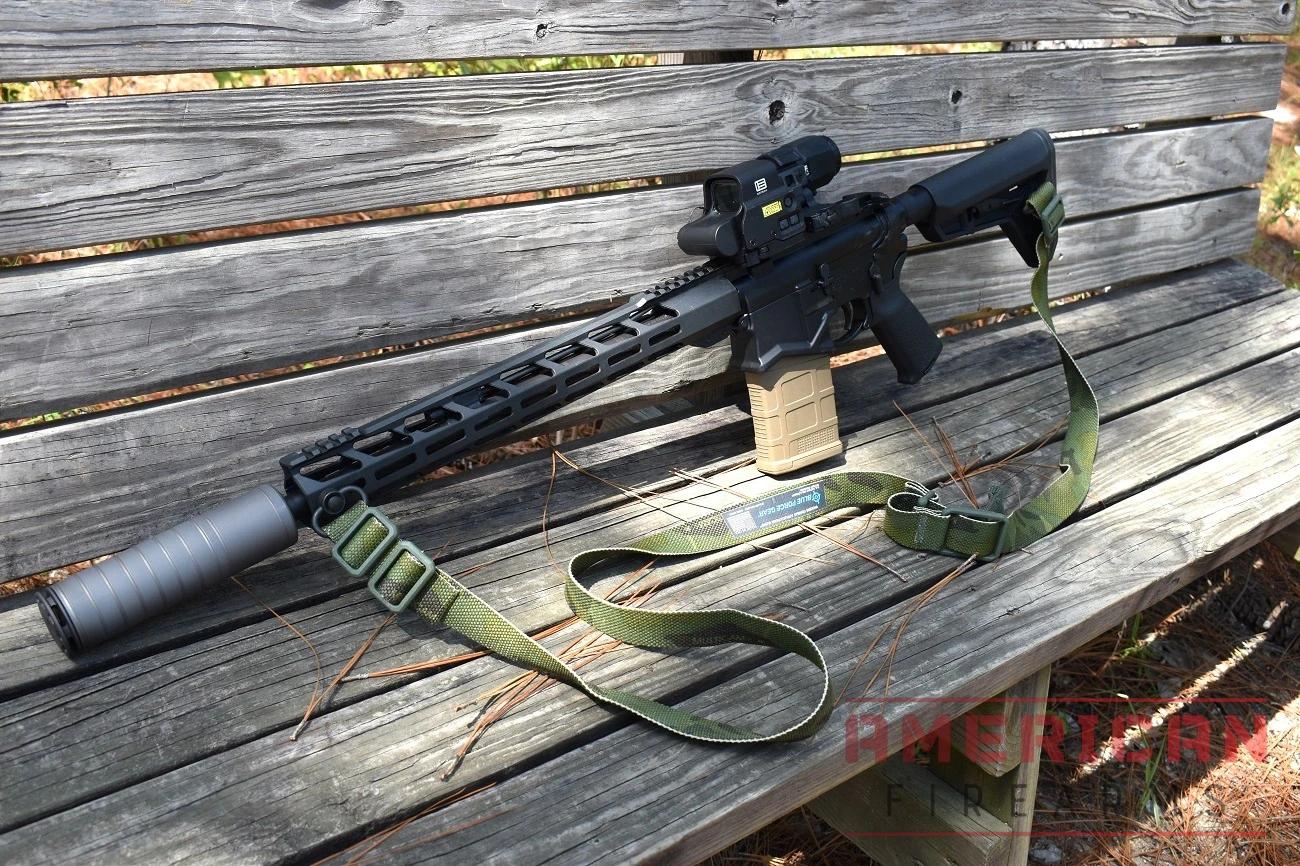 The SFAR wraps a .308 in a 6.8 pound package.
AR-10 and L-308-style rifles, built on the traditional split-receiver direct-gas-impingement design pioneered by Eugene Stoner, are nothing new.
They predate the smaller AR-15 by almost a decade. However, today's AR-10s are a beast when it comes to weight. Look at some of the more popular examples on the market such as the Knight's Armament SR-25 PR, which, with its optimized 20-inch barrel and M-LOK equipped handguard hits the scales at 10.5 pounds– and that's before adding any optics, sling, or ammo.
The chopped-down 16-inch KAC SR-25 CC carbine still hits the 8.4-pound mark right out of the box. Even the "lightweight" .308-caliber Springfield Armory Saint Victor carbine, with its thin profile 16-inch barrel and free-floated 15-inch aluminum handguard, has an unloaded weight of "a mere" 7.8 pounds.
The Ruger SFAR carbine, introduced in 2022, beats that last example by an easy pound, coming in at a weight more akin to a basic 5.56-caliber carbine with the same length barrel.
Let us go over some of the key features of the rifle, to better understand the platform as a whole by the sum of its parts. We'll start at the back of the rifle and work towards the muzzle.
Buttstock
All SFAR models currently in Ruger's catalog use Magpul's excellent MOE SL series stock and MOE grip. As you may have noticed, these are meant for the M4/AR series, and the SFAR, which uses a standard Mil-Spec-sized carbine receiver extension tube, accepts these without issue.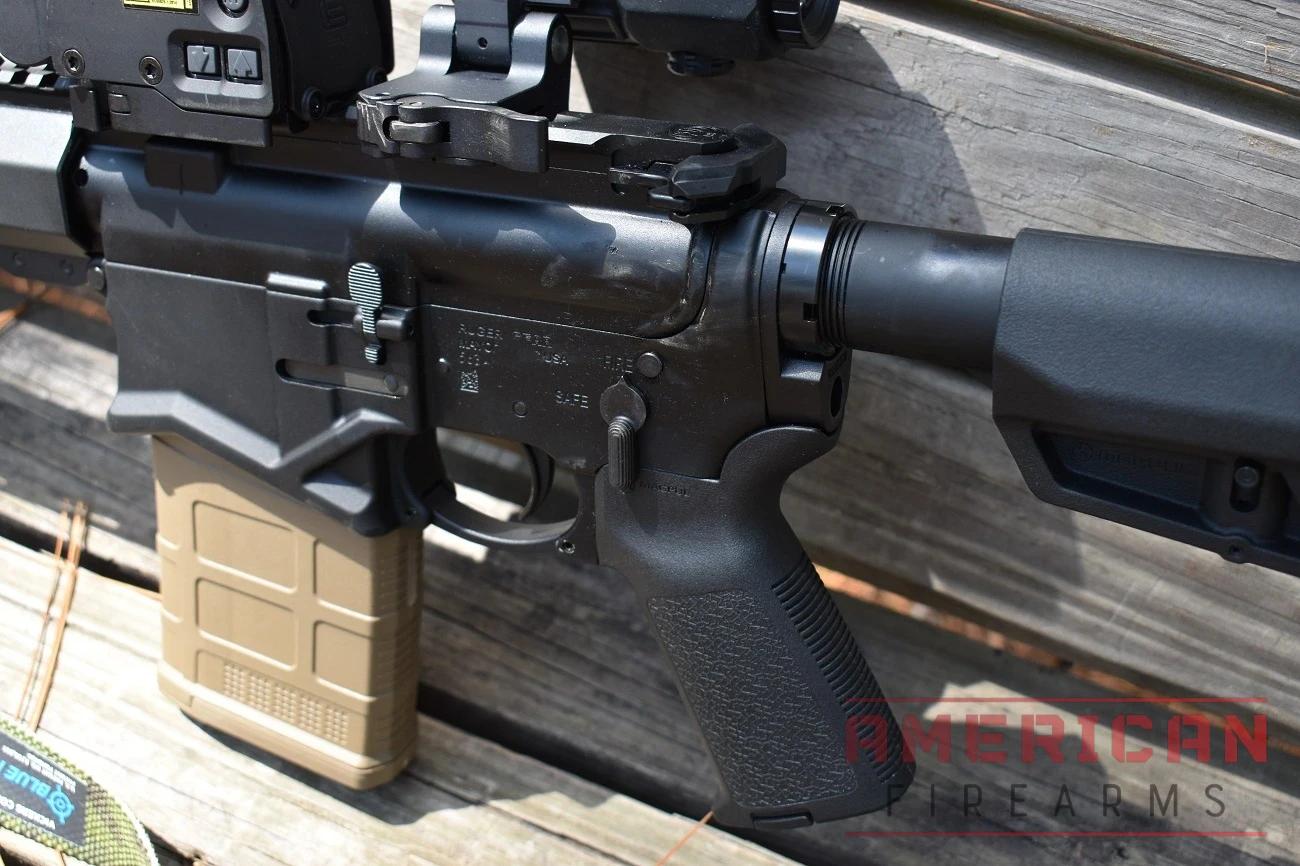 The SFAR uses Magpul's excellent MOE SL series stock and MOE grip.
They are collapsible, allowing a 3.25-inch range of motion that translates to a very modular 11-to-14.25-inch length of pull for the user. It has dual-side release latches for this adjustment, and an ambi (left and right) QD sling point in addition to two flat sling slots. 
Receiver
The SFAR makes a radical departure from AR-10/308s in the form of its receivers.
Made from 7075-T6 hard-coat anodized aluminum forgings, the receivers are almost the same size as those seen on an M4/AR15 with a few exceptions such as in the volume of the bolt carrier group in the upper– to accept a streamlined .308-caliber BCG– and in the magazine well in the lower, the latter to accommodate standard SR-25 style .308 detachable box magazines.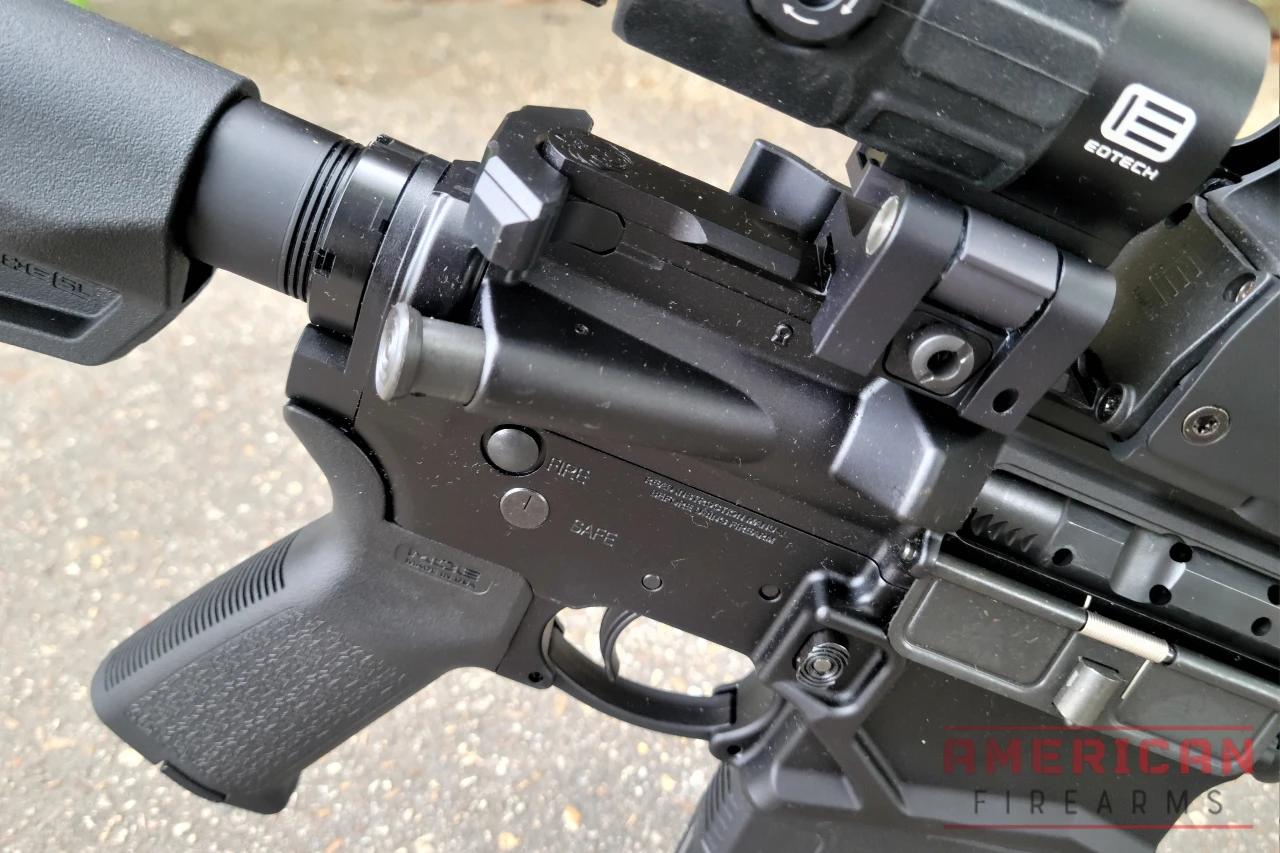 Rhe receivers are almost the same size as those seen on an M4/AR15
The upper is complete with a brass deflector, forward assist, and full-length Picatinny top rail and includes pressure vents for the gas system. It also accepts standard AR-15-style charging handles.
Key to the design in terms of being able to manage the pressure of a .308 round in an M4-sized receiver, the vented barrel extension used in the Ruger SFAR is CNC-machined from high-strength super alloy steel that the company says, "outperforms traditional Carpenter C158 chrome-nickel alloy steel bolts."
To be able to easily expel spent .308 brass, the receiver has an enlarged ejection port.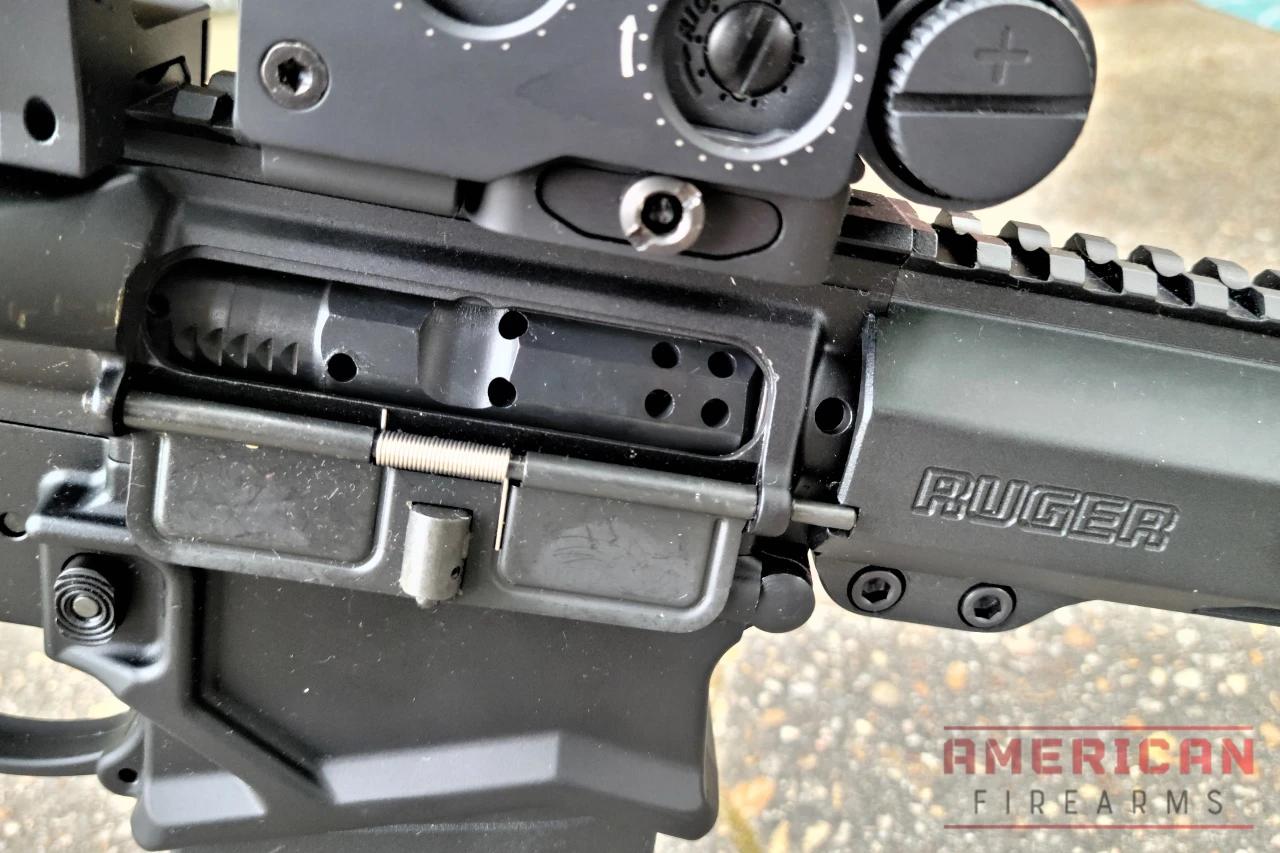 The receiver also has an enlarged ejection port.
The lower receiver accommodates standard AR-15 style, mil-spec trigger groups, receiver end plates, pistol grips, and adjustable stocks. The end plate includes an additional socket for a QD sling swivel pocket and fills the offset space at the rear of the receiver.
Trigger
While the SFAR lower will accept any standard AR15 style trigger pack that meets a mil-spec dimension, it comes equipped with Ruger's in-house Elite 452 series 4.5-pound 2-stage trigger.
It isn't bad in our testing and the company stresses that it blends a full-strength hammer spring with a lightweight hammer to ensure fast lock times and consistent primer ignition. We don't hate it.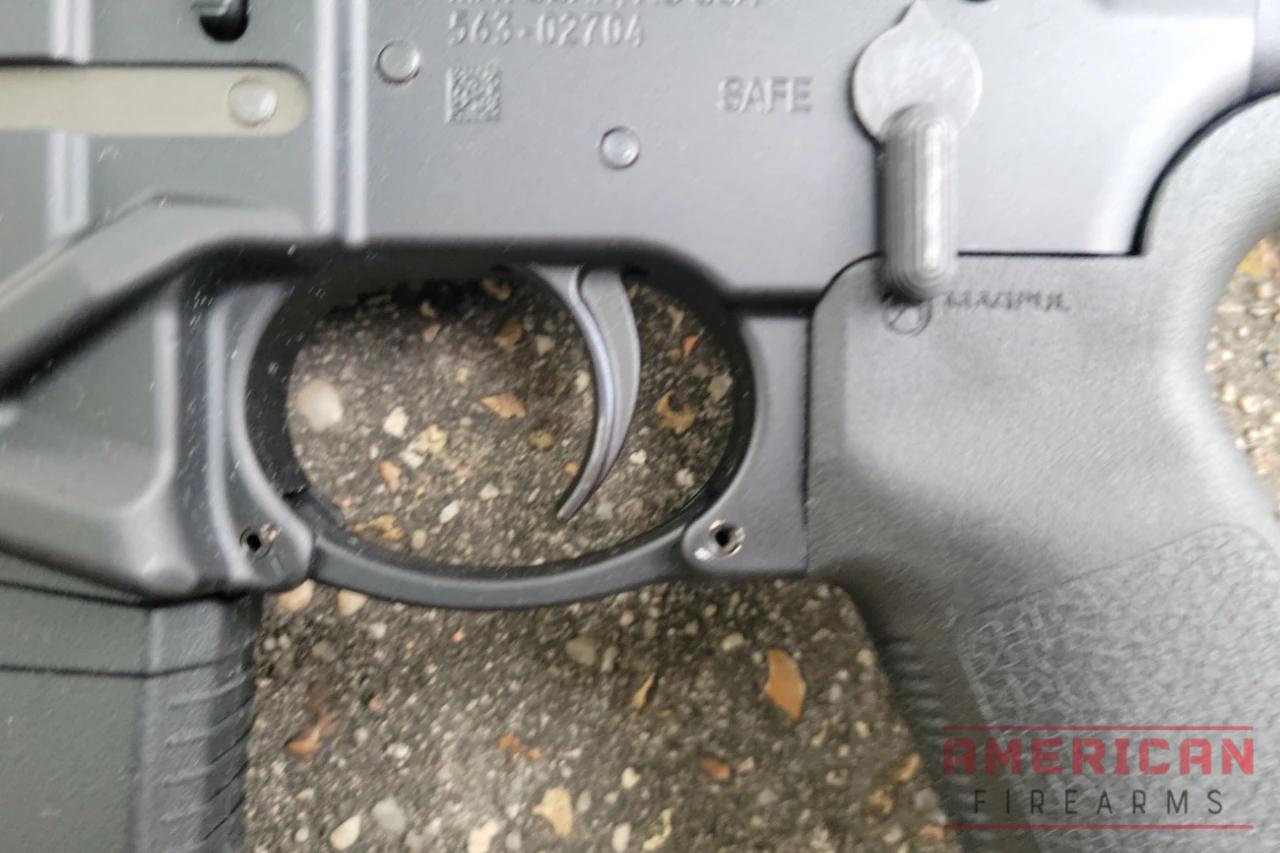 From the factory you get Ruger's in-house Elite 452 series 4.5-pound 2-stage trigger, but the SFAR lower will accept any standard AR15 style trigger pack.
Bolt Carrier Group
Closer in size to the BCG seen on an M4 than one the user would expect to encounter on an AR10 style .30-caliber rifle, the SFAR's bolt carrier assembly has a chrome-lined 8620 steel bolt carrier and nitride-processed gas key. It has a DLC-coated titanium firing pin.
The SFAR BCG compared to standard BCG
The bolt includes dual ejectors (instead of single) and an "optimized" extractor.
Like the upper receiver, the bolt has a series of gas vents built into it that allow excess pressure to bleed off during the cycling process. This brings us to the…
Gas system
While the SFAR has a direct gas impingement system, it isn't what you normally see in either an M4/AR-15 or an AR10/308.
It is user-adjustable with a 0.750-inch 4-position rotary-regulator gas block accessible via the slots in the handguard with an included 3/16-inch ball-end Allen wrench.
This allows the user to adjust the system to work with various loads and with a suppressor. Setting "1" is fully closed, essentially making the SFAR a bolt-action rifle using the charging handle to work the action (which can be tough if it is dirty) while setting "4" is fully open. 
The 20-inch rifle sports a longer rifle-length gas system while the 16.1-inch carbine model has a mid-length gas system. 
Handguard
Both the carbine and rifle variants of the SFAR use a 15-inch Lite free-floated aluminum handguard covered liberally with Magpul M-LOK accessory slots on the 3′, 6′ and 9′ o-clock positions, seven on each side for a total of 21 slots. It also has QD sling sockets toward the muzzle-end of the handguard. 
It should be pointed out, however, that the rifle and carbine variants of the SFAR use different handguards, with the variance being at the top of the guard.
On the 16-inch barreled carbine, the top rail has been docked in the center in a sort of hourglass arrangement to save weight, dropping the top Pic rail to two short sections at the front and rear.
On the 20-inch rifle variant, the full 15-inch top rail carries Picatinny, which, with the added weight of the longer barrel, adds a half pound to the gun's overall weight. 
Barrel
Ruger uses a heavy profile barrel in the SFAR constructed via a cold-hammer forging process from blanks of verified 4140 chrome-moly steel.
That's carbon steel, not stainless, or even CMV, and the tensile strength of such steels is something like 95,000 psi+ which is more than enough to handle the 60-62K psi pressure curve of a 7.62 NATO/.308 Winchester round. 
While coming short of being a match-quality barrel or heavy bull barrel, it is still better than thin pencil-style barrels often seen on low-cost .308 ARs, and the odds of the average user ever "shooting out" one are low. Ruger uses 5R rifling with a 1:10″ RH twist, a rate that allows for good bullet stabilization.
The barrel is coated in a black nitride process that tends towards easy cleaning and longevity as it is less susceptible to oxidation.
Carbine vs. Rifle variant
As covered above, the substantial difference between the carbine and rifle variants of the SFAR is in the upper, with the carbine running a mid-length gas system and having a 16.1-inch barrel inside a slimmed-down 15-inch handguard with limited Picatinny sections at the 12 o'clock position.
Compare this to the rifle variant which runs a rifle-length gas system and a 20-inch barrel inside a 15-inch handguard with a full top Pic rail. In terms of heft and length, the difference breaks down to about a half pound and four inches, with the rifle obviously being that much greater in terms of tape and curbside weight. 
The difference between the two in terms of user experience can be dramatic as the longer platform has a softer recoil impulse due to the rifle-length gas system.
Eight ounces more weight also helps to absorb recoil while the 25 percent longer barrel wrings better performance from the round via increased velocity.
However, that extra weight and length can add up in the field and in maneuvering in tight spaces where the carbine may be more welcome, even if its recoil is slightly choppier.
Performance and Precision
Accuracy
We ran our SFAR carbine on a wide range of loads, from light military surplus rounds to heavy 180-grain match loads from Gucci-level ammo makers.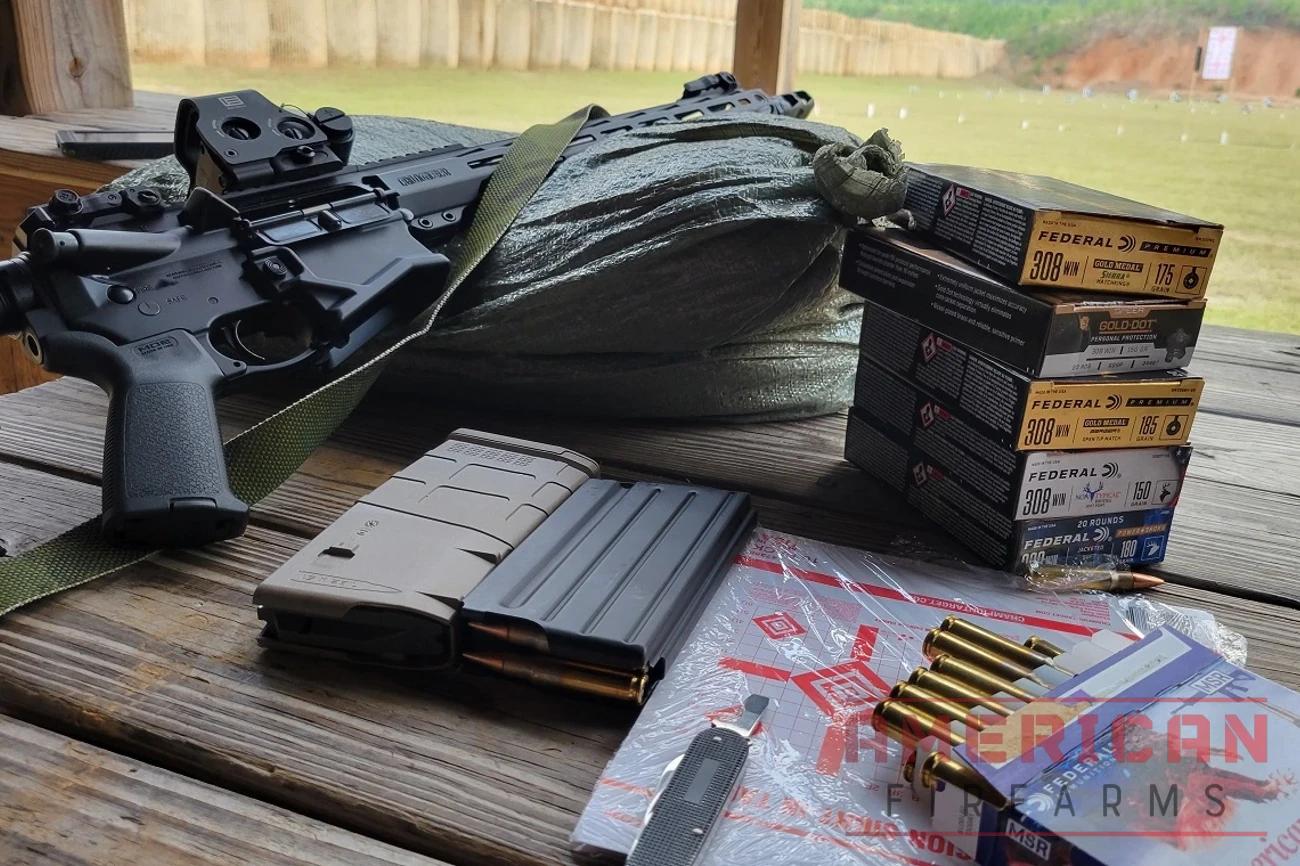 We ran everything from military surplus to Gucci loads in testing.
We found it to hold decent accuracy, zeroing in with a Tango series LPVO at 100 yards and verifying out to 500 on 12-inch plates. In short, it could zap it if you could see it.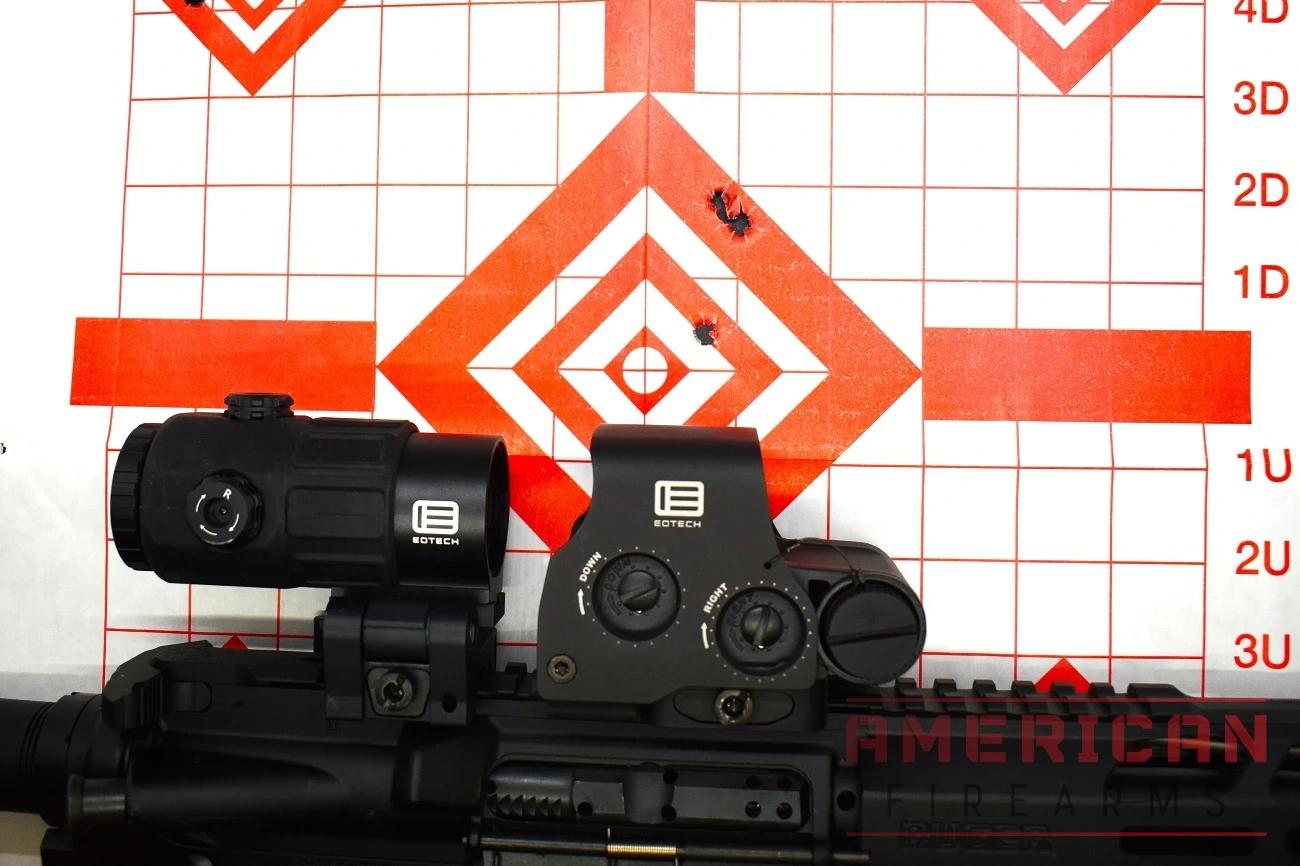 100 yard bench-fired 3-shot groups averaged under 2 inches, some very much under.
Typical 3-shot groups fired from the bench at 100 yards averaged under 2 inches, some very much under.
For more practical style shooting and shooting on-the-move drills, we switched up to an Eotech XPS backed up by the company's G33 3x flip-away Magnifier and found the setup good to go at moderate ranges.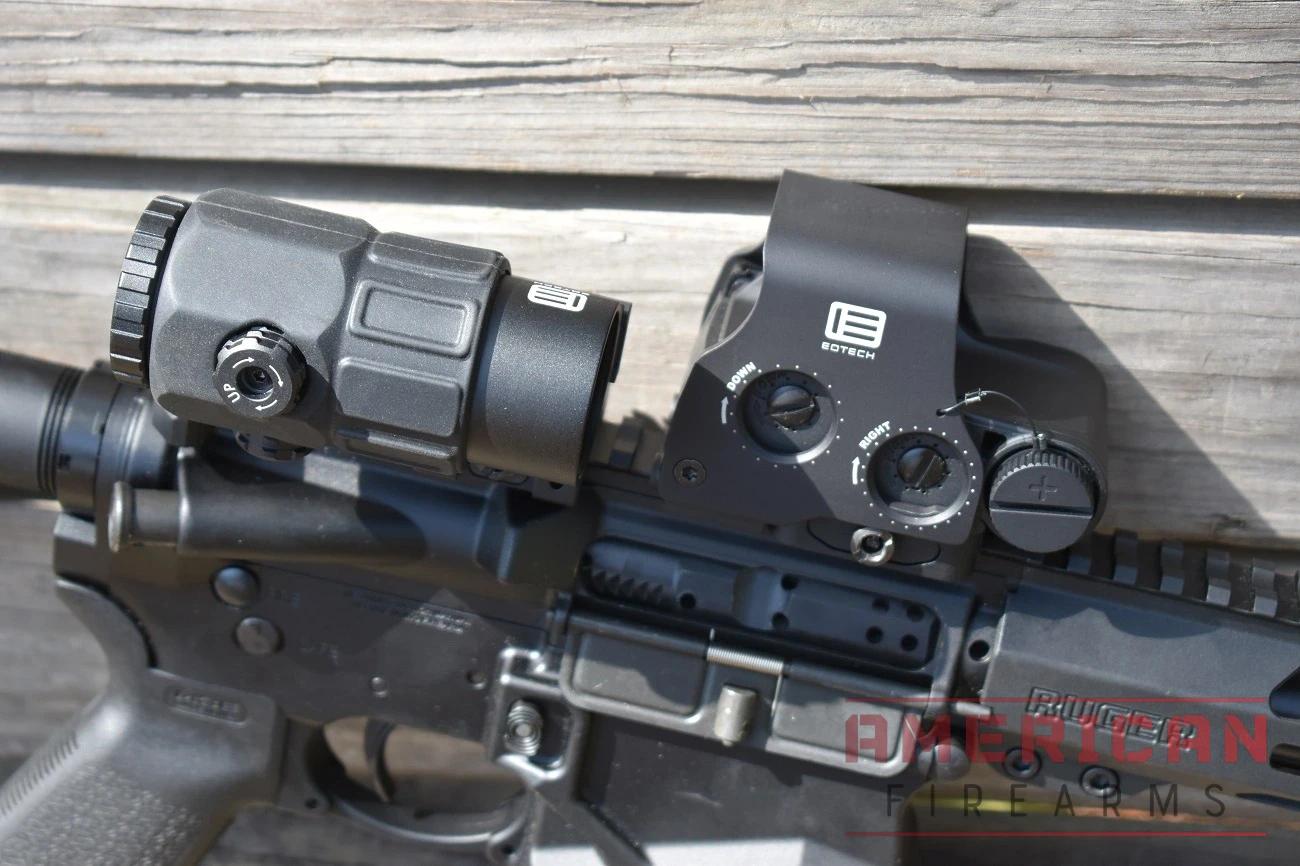 For more practical style shooting and shooting on-the-move drills, we switched up to an Eotech XPS backed up by the company's G33 3x flip-away Magnifier.
Ergonomics
The SFAR handles great in terms of size, feeling much more like an M4-style AR15 than anything chambered in .308.
The surface controls are standard, oriented on the left-hand side of the lower when it comes to the bolt release and safety selector, and the right with the charging handle, forward assist, and mag release.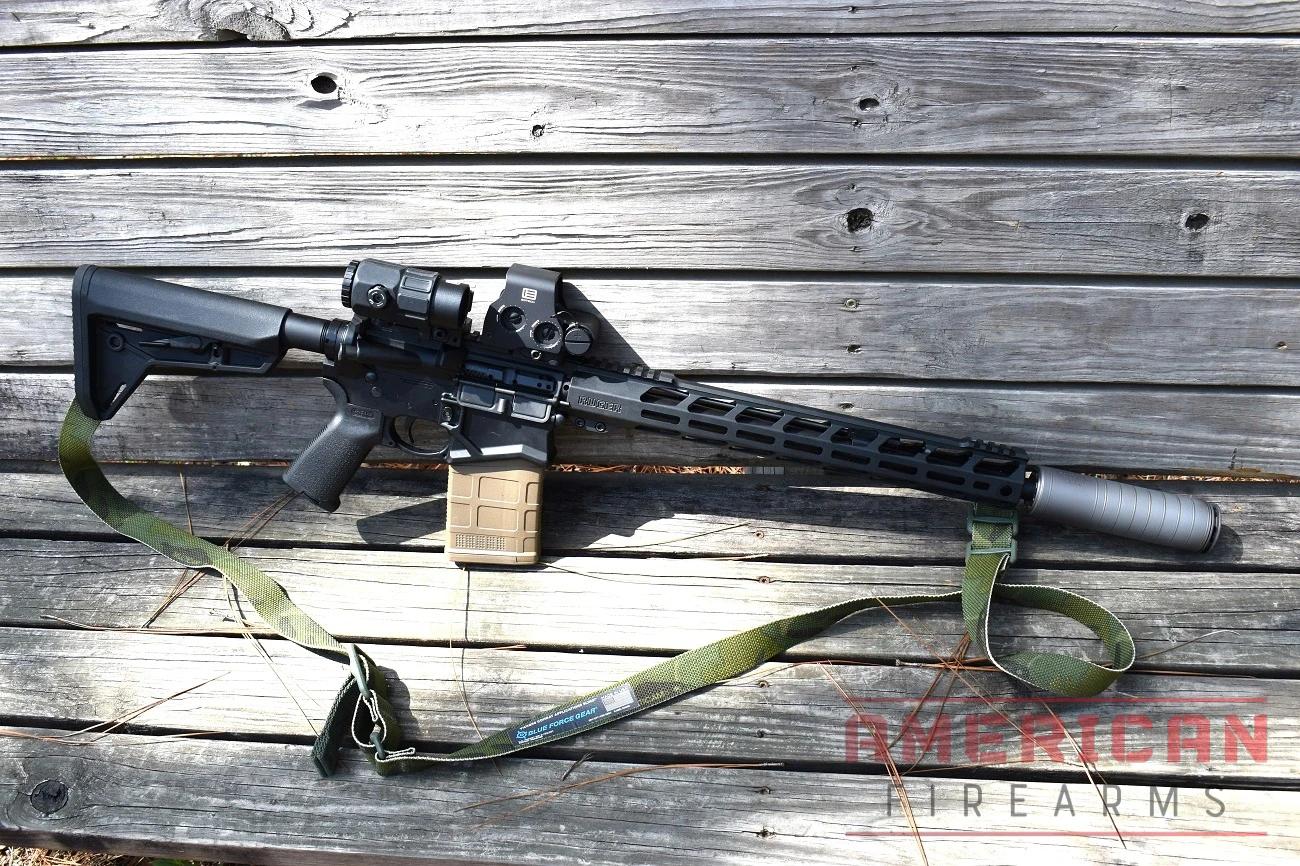 The SFAR handles great in terms of size, feeling much more like an M4-style AR15 than anything chambered in .308.
The MOE grip is common to the industry and feels good. If you don't agree, it is easily swapped out as is the Magpul SL stock, which is one of the better M4 collapsibles on the market.
Our biggest complaint in terms of ergos comes from the seven vent holes in the bolt, paired with similar gas bleeds in the receiver that tend to give the user a bit of gas to the face, especially noticeable when using a suppressor. 
Features
The features on the SFAR, primarily in terms of general layout and specs, are top-notch.
The Magpul stock is better than a lot of competitors' furniture and is easily adjustable. Plus, there are QD sling points in the most logical places, something that you don't appreciate until you break out a nice Blue Force Gear two-pointer.
Further, the adjustable gas regulator puts the user in the driver's seat in terms of performance across various loads and with/without a can.
While it doesn't have some nice-to-have extras like an ambi charging handle, you don't really miss them. Also, while the "boomer" brake on the muzzle helps with recoil, it is incredibly loud, especially when on an indoor range.
Fit & Finish
Ruger in general has never been a slouch when it comes to producing finished firearms that are ready to go right out of the box. The fitment and overall finish of the SFAR continue that lineage.
Reliability
Ruger has been in the semi-auto .308 rifle game for a minute. Long before the SFAR was a thing, they had the SR-762, a piston-driven AR-10 that debuted in 2013 and remained in production for several years. Something to consider: the SR-762 weighed almost 9 pounds unloaded and cost over $2K– and that's in 2013 dollars.
Before that, the company had developed the Ruger XGI project in the 1980s, a program that made a .308-caliber upsized Mini-14 but never delivered it to market.
This being said, the company has taken the past 35 years of experience in the autoloading .308 space as a class in how to make one work and work well.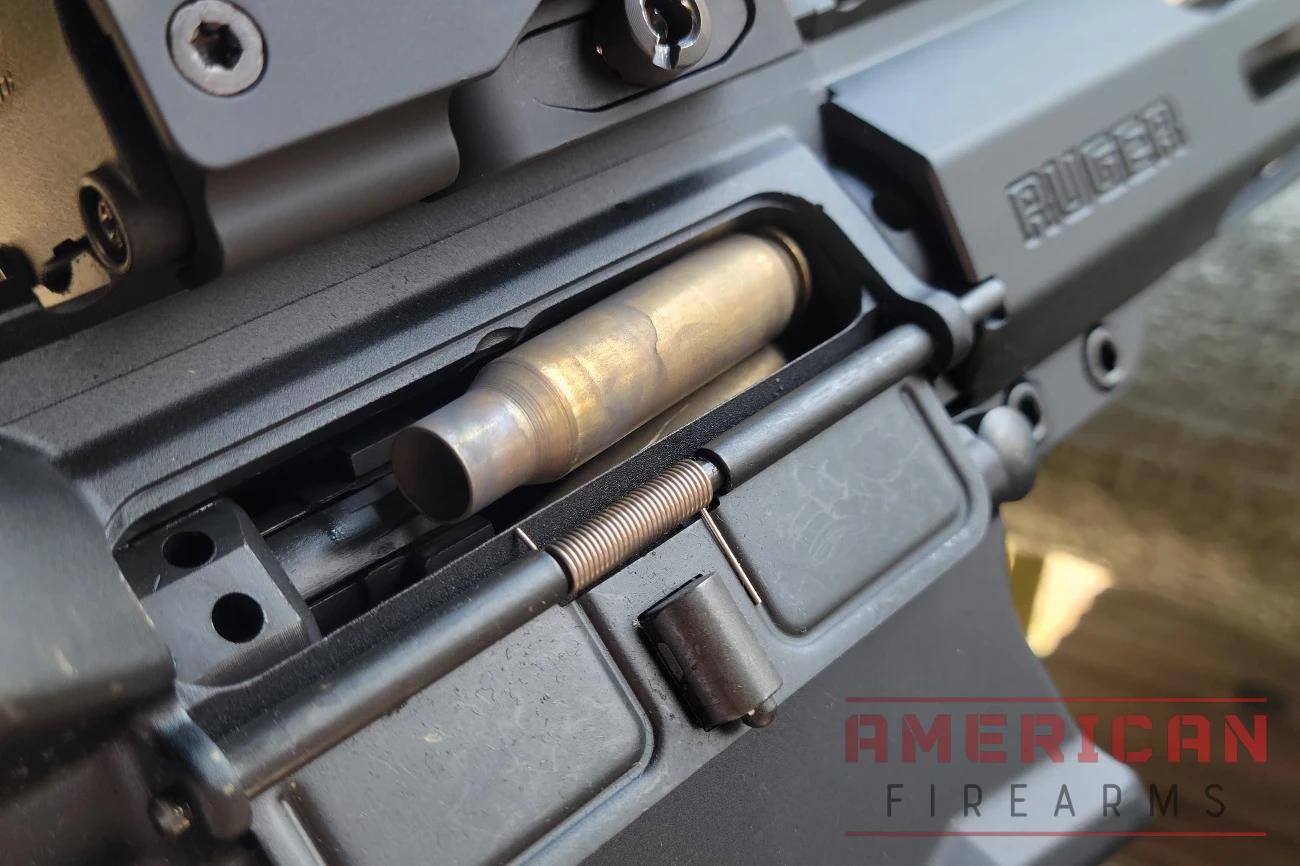 Testing with 500 rounds unsuppressed across a mix of at least eight different commercial and military surplus loads we observed two stoppages.
When it comes to the SFAR, we had fairly good reliability. Throughout more than 500 rounds fired unsuppressed through the platform– across a mix of at least eight different commercial and military surplus loads– we observed two stoppages.
Both of these were failures to eject on a very dirty gun that was easily cleared. A mean stoppage rate of 1:250 under basic conditions, which isn't bad.
When it came to firing the SFAR suppressed, the stoppage rate bumped up a bit as the gun seemed to want to choke up with FTEs every 20-30 rounds until we dialed in the adjustable gas regulator to smooth it out. Still, even with the regulator, we found it to deliver an FTE about every 75 rounds or so.
Our hypothesis for that is the gun doesn't know what to do with all the extra gas forced back into the chamber when suppressed and the overflow vents in the receiver and bolt start to get gummed up, thus resulting in not enough gas available to kick out the brass fully before the bolt starts to move forward again.
Overall, we put right at 1,000 rounds through the SFAR carbine, half unsuppressed (with two stoppages), and half-suppressed via three different direct-thread suppressors (with about a dozen assorted jams). In short, she doesn't like to run both suppressed and dirty at the same time, even with the regulator.
The solution: keep it clean, especially when enjoying some quiet time.
Value
The Ruger SFAR offers amazing value for what it is. Go shopping for AR-10s and even entry-level examples such as the S&W M&P10– which hits the 8-pound mark even with a 16-inch barrel and does not have an adjustable gas system– have a basic starting price of $1,100.
For a skosh more, Ruger gives you a smaller and nimbler platform with a better trigger and gas system that can still deliver and uses a ton of common AR-15 parts.
Preceding the Ruger SFAR into the light "308 in an AR-15-sized" rifle was POF-USA's 6.8-pound 16.5-inch barreled Revolution (which has an MSRP of $2,699) while the company's more "entry-level" 5.9-pound 16.5-inch barreled Rogue series costs $1,899.
Another newer player in that field is Dark Storm Industries who have been advertising the new DS-25 platform, billed at 6.7 pounds, with an MSRP of $1,495. 
In short, Ruger's 16-inch 6.8-pound SFAR carbine, at a current ask of $1,329, is the value option in terms of cost while being imminently more available than either the POF Rogue/Revolution or the Dark Storm DS-25.
With the Revolution, you get a lot nicer features (fluted chamber, ambi charging handle, 9-position gas system, ambi surface controls, smoother rifle-length gas system) but you pay twice the price for what some would argue is the same concept.
Still, for what it is, nobody can touch the SFAR in terms of cost for what Ruger is offering.