Ruger Wrangler Review
Written By
Megan Kriss
Expert Contributor
Edited By
Michael Crites
Licensed Concealed Carry Holder
Share:
Products are selected by our editors. We may earn a commission on purchases from a link. How we select gear.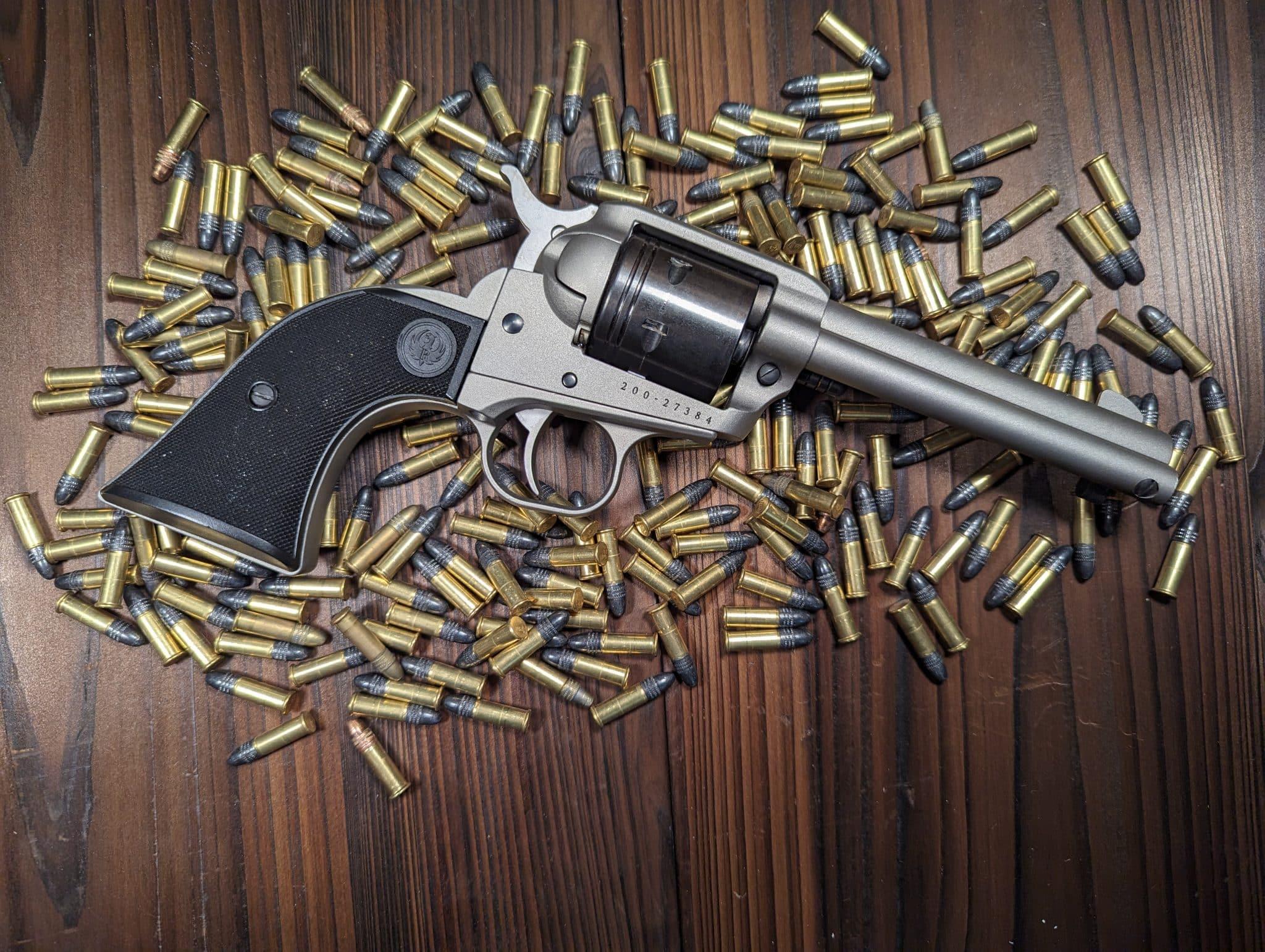 The Ruger Wrangler has quickly become one of Ruger's most popular offerings and is a fan favorite among rimfire shooters on a budget. These kinds of inexpensive plinkers are fun to shoot, but with many brands that focus on fun can mean sub-standard quality and, uh, generous tolerances.
That said, Ruger has a reputation for putting out quality, reliable products, so were curious —  is the Wrangler really such a great value or is it a case of being blinded by a cheap price tag?
We wanted to find out. Ruger has a long history of well-made .22 revolvers with the Single Six, so we had high hopes for the Wrangler, which is marketed as a stripped-down, budget-friendly version of the iconic Single Six.
Let's see how Ruger did on this one.
A Newly Classic Piece of Americana
Ruger only introduced the Wrangler a few years ago, back in 2019, but its nostalgic design harkens back to revolvers much older than that.
The design is very similar to that of Ruger's Single Six (and, in fact, the Single Six and Wrangler share a lot of internal components), which has been manufactured since the 1950s.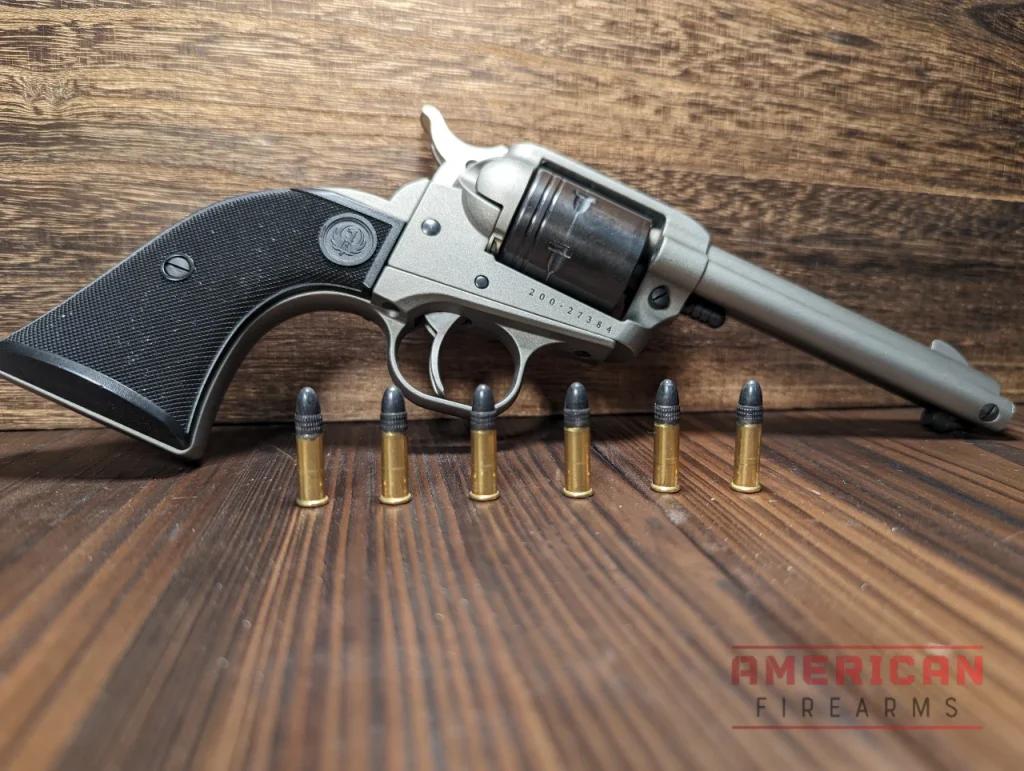 6-Rounds Ready. The Wrangler is a lot like Ruger's classic Single Six revolver, but with an alumunum frame and none of the cylinder interchangability. One advantage it does have? Price.
Both the Single Six and the Wrangler, however, owe their designs to an even older revolver, the Colt Single Action Army (or SAA). This venerable revolver was originally designed more than a century ago, way back in 1872, so the Ruger Wrangler's roots are actually much deeper than the 2019 release date would indicate.
Of course, you'll pay a lot less for the Wrangler than a Colt Single Action Army or even a Single Six. For one, it's a smaller gun. It's also got a simpler design that cuts out some of the extra bells and whistles that you get from the Single Six, like interchangeable cylinders and an adjustable rear sight.
But we'll go more in-depth about the Single Six and how it compares to the Wrangler shortly.
Finally, in addition to the more SAA-based design, there's another version of the Wrangler with Birdshead grips and a shorter barrel that's clearly based on the Ruger Vaquero. I have the SAA-style version, so that's the one I'm primarily focusing this review on. However, I will make a few notes about the Birdshead version here and there as well.
Anyway, now that we know the Wrangler's roots, let's go into some more detail about this rimfire revolver.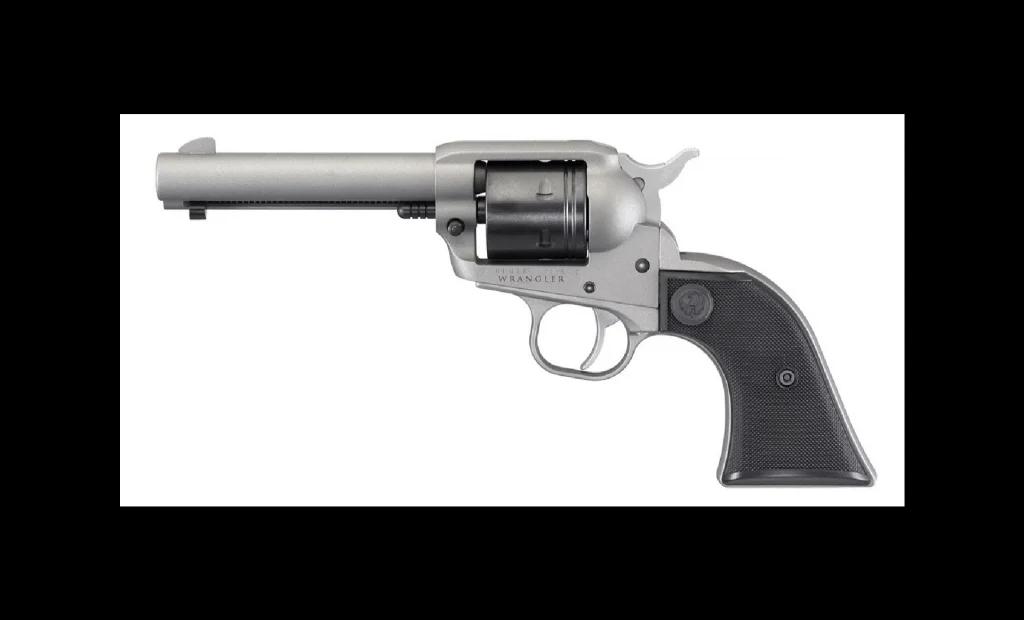 | | |
| --- | --- |
| Caliber: | .22LR |
| Capacity: | 6 |
| Action: | Single-Action |
| Trigger Pull Weight: | 6.7 lbs |
| Length: | 10.25" (or 8.62") |
| Barrel Length: | 4.62" (or 3.75") |
| Weight: | Weight: 30 oz. |
| Sights: | Steel / fixed blade / rear notch |
| Safeties: | Transfer bar & loading gate interlock |
| MSRP: | $269-$279 |
| Real-World Price: | $160-$180 |
Pros
Fun, fun, fun
Surprisingly well-built
Multiple safety systems
Recoil is AWOL
Aluminum frame keeps it light
Cons
Shockingly heavy trigger pull
6-rounds is not a lot of pew
Non-adjustable rear sight
Small, non-ergonomic grip
Non-interchangeable cylinder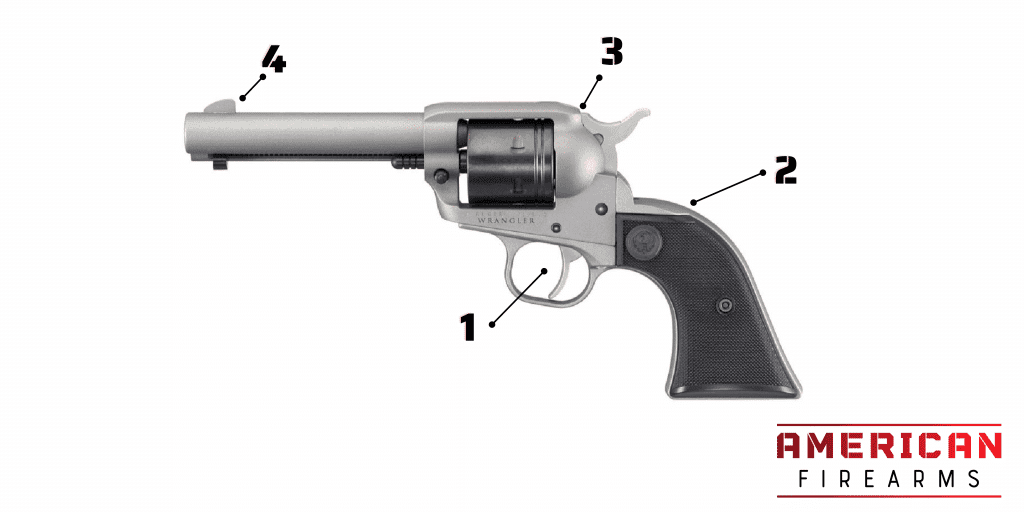 Ruger Wrangler Review Feature Call-Outs
Single Action Simplicity
Great for new shooters and anyone who loves the SAA feel
Classic Looks
Screams "Wyatt Earp" from the grip to the barrel
Multiple Safeties
Pairing a transfer bar safety with a loading gate interlock doubles up on the safeties
Nothing You Don't Need
Does what you'd expect over and over at an affordable price point
First, let's start with the basics, then we'll go into more detail later on.
Ultimately, the Wrangler operates very similarly to pretty much any other single-action revolver. The cylinder rotates on a removable base pin. It doesn't swing out and is instead loaded by opening the loading gate and placing rounds into the empty chambers one at a time.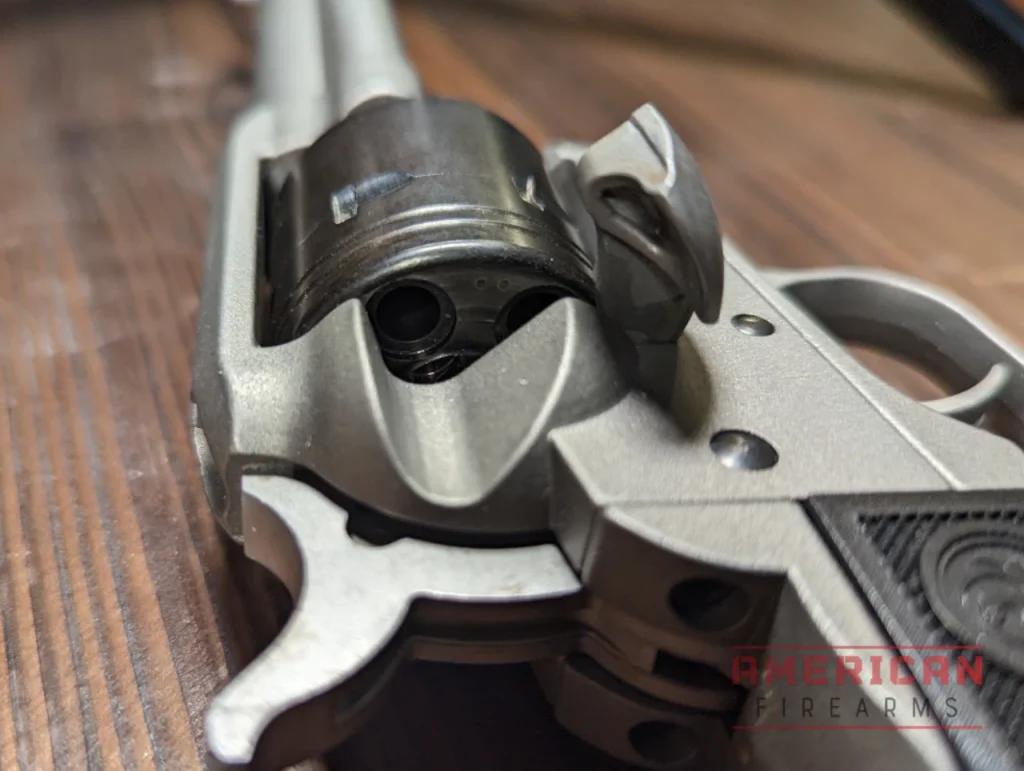 The Wrangler's loading gate is a throwback that adds to both its charm and loading time. Also, while the frame is aluminum, the barrel and cylinder are steel, so you have solid durability in the right places.
Once you've finished shooting, you can remove the empty cartridges one by one with the spring-loaded ejection rod.
As for other internal mechanisms, the Wrangler has great safety features like a transfer bar safety and a loading gate interlock.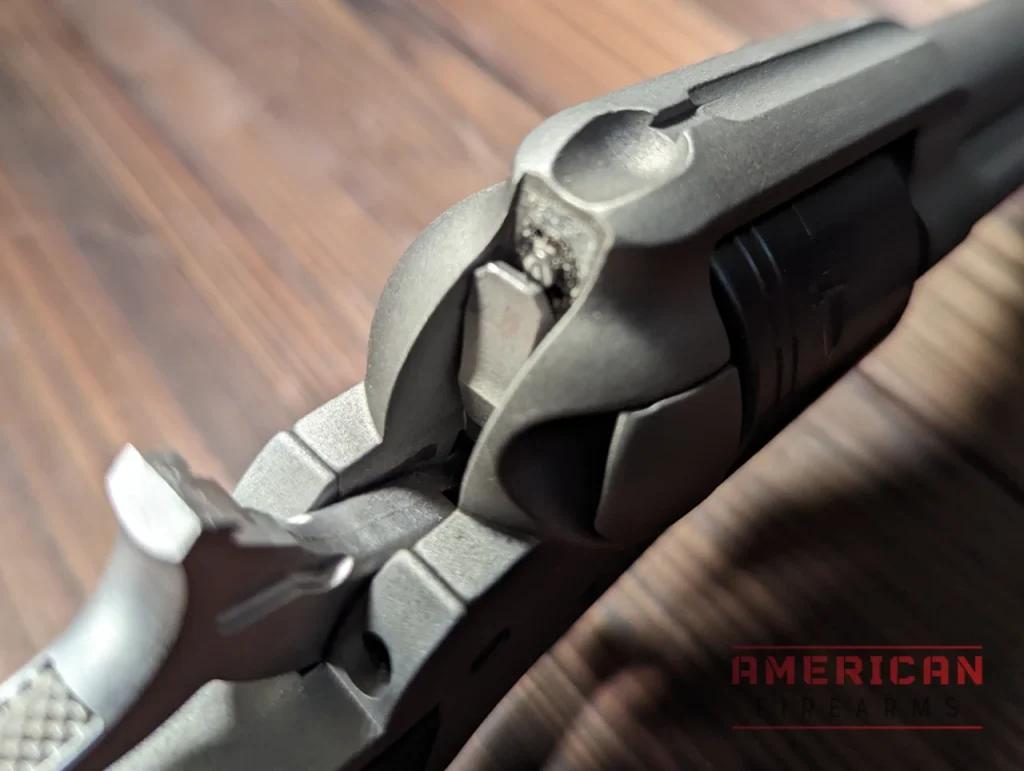 The Wrangler's transfer bar is one of two safeties on the little revolver.
The former means that unless the trigger is depressed, the hammer cannot strike the firing pin.
The latter means that opening the loading gate, which allows the cylinder to spin freely, is impossible unless the hammer is down. Note that this is an alternative to the half cock position you find on other revolvers, so the Wrangler's hammer has to be forward for loading.
For durability, this .22LR revolver has an aluminum alloy frame with a Cerakote finish for corrosion protection. The synthetic grips are always black, but the Cerakote finish comes in Black, Silver, and Burnt Bronze.
It also has a cold hammer-forged barrel (4.62" on the full-length version and 3.75" on the shorter version) and fixed sights.
Primarily, I think the Ruger Wrangler is an ideal fun gun. Its easy operation, reliability, and light recoil make it a delight to shoot, and mine is one of my favorite plinking guns.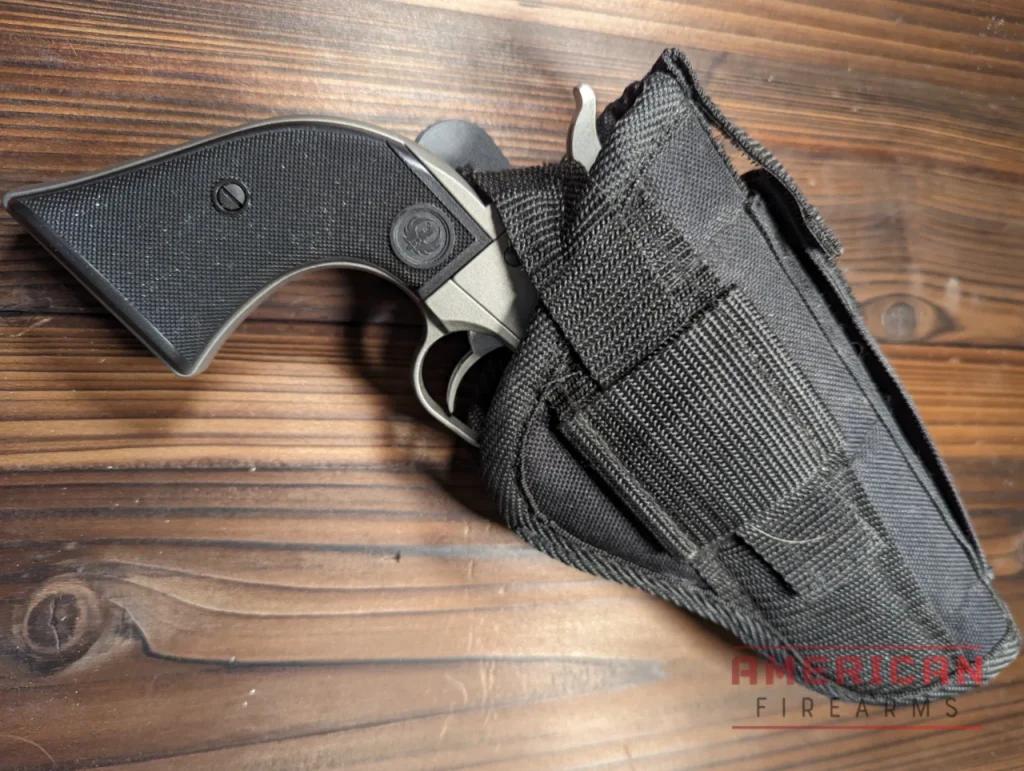 Holstered and ready to work.
Those same features also make it great for new shooters, since learning how to use and maintain the Wrangler is incredibly easy.
It could also be used for competitive shooting if you're just getting started and want an affordable, entry-level revolver. However, it's probably worth shelling out for a higher-end revolver if you can afford it, especially as you get more serious.
Straightforward Sights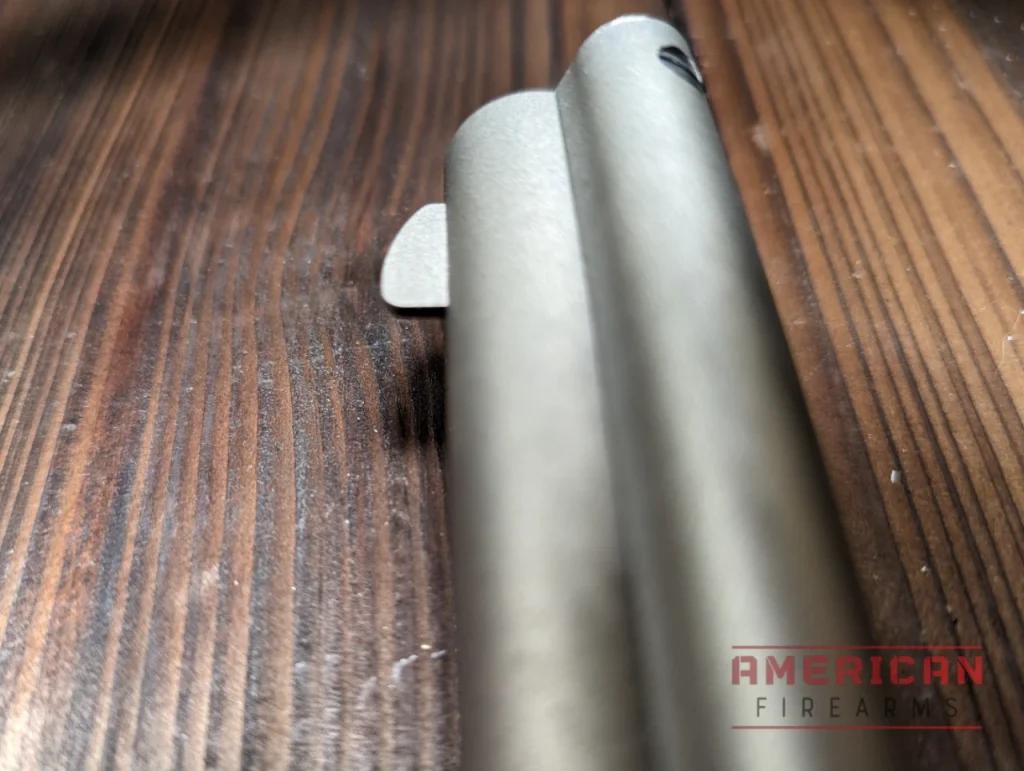 The front blade sight is about as rudimentary as it gets.
The sights are one of the biggest differences between the Ruger Wrangler and the Single Six, so let's knock them out early.
The Wrangler has a fixed blade front sight and a fixed rear notch sight. The fixed sights are one way that Ruger keeps the price down on the Wrangler compared to the Single Six, but they're still SAA style and provide a good sight picture.
While having the adjustable rear sight would be nice, the sights are very durable and still perform well, so I'll take it if it helps keep the revolver at a lower price point. The sights are what I'd call "serviceable" for most uses, but also perfectly executed at this price point.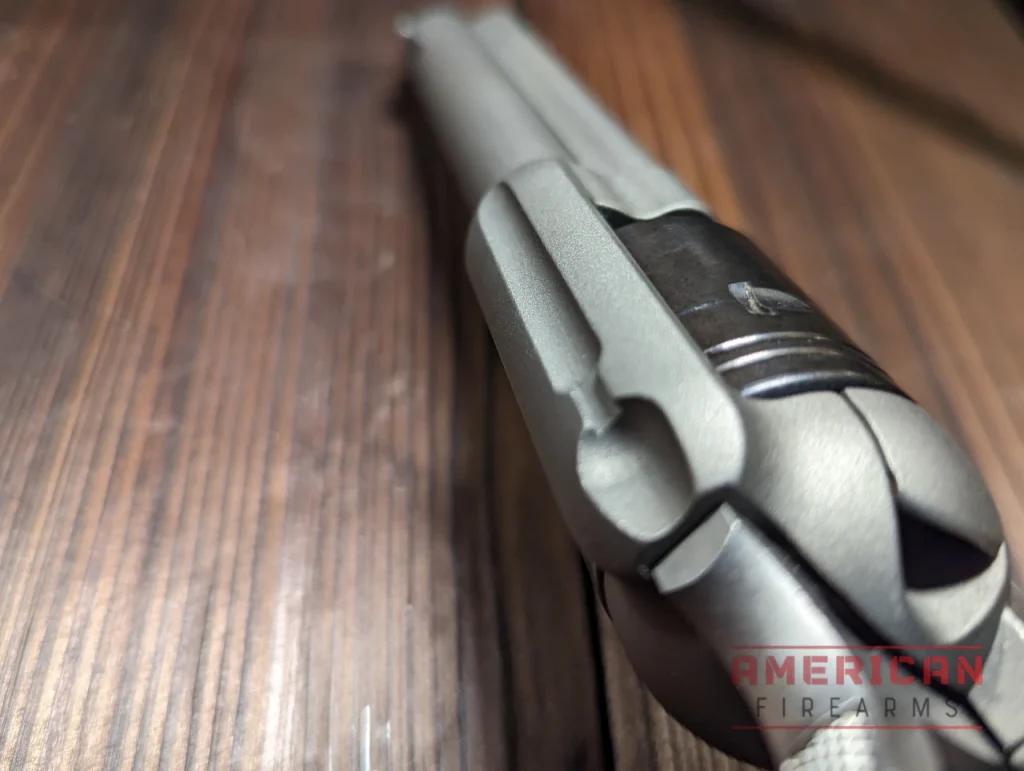 A rear notch sight means nothing to break (nor upgrade...)
Quality Control
I've always been impressed with Ruger's quality control and never had a problem myself, including with my Wrangler, so there's really not much to critique here.
I will say that from talking to other gun writers, when the occasional QC issue does happen, Ruger handles them well. If you do find a QC issue on your Wrangler (or any other Ruger for that matter), Ruger makes it easy to send the gun in and get it fixed. The turnaround time is usually just a couple of weeks and your gun should come back in perfect condition.
The Wrangler, in particular, really feels like a well-engineered product. There's an old saying that "Anyone can build a bridge that stands, but it takes an engineer to build one for as cheap as possible". That's what the Wrangler feels like. It feels distilled down into just what you need in a budget revolver, with all the fat stripped away.
The materials aren't super high-end, but the fit and finish are excellent, especially for the price.
Comfort and Control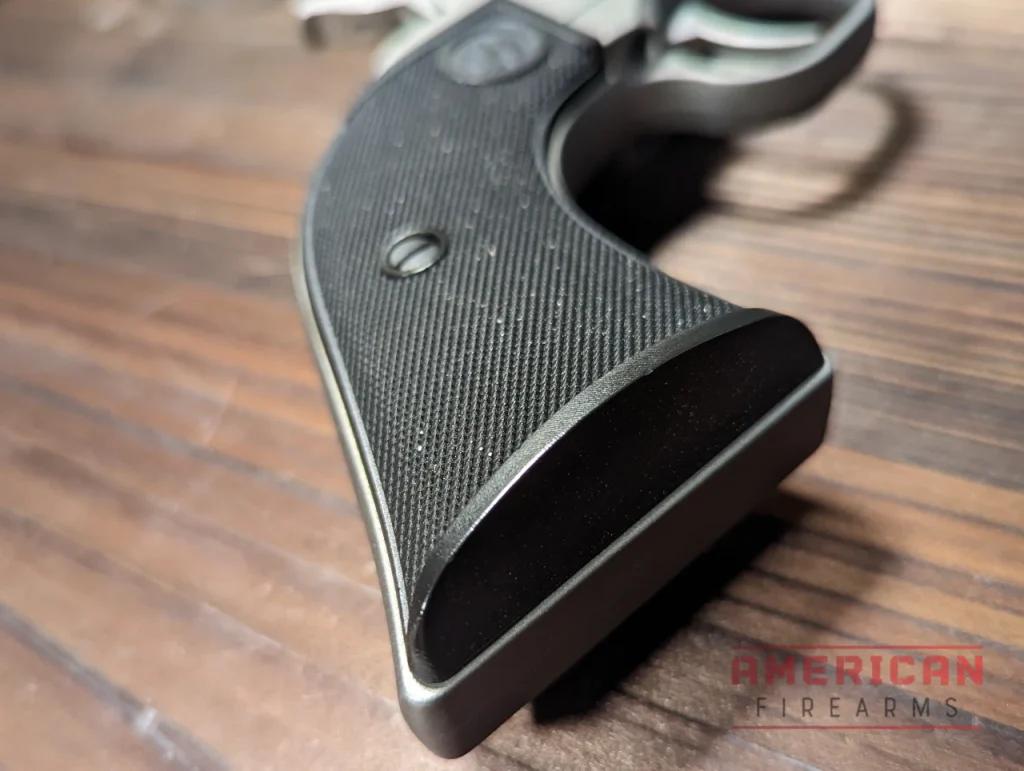 The Wrangler's grip isn't huge, but it's comfortable enough for most.
The shape of the Wrangler's grip is clearly inspired by the SAA grip and, in fact, is the same grip used on Ruger's New Model Single Six. I have small hands, so the Wrangler has plenty of space for me, but shooters with larger hands feel a bit cramped. It's also not as ergonomic as you might be used to if you've primarily handled semi-autos, but it's not bad, especially once you get used to it.
The checkered synthetic grips aren't as good-looking as the classic wooden or pearl grips that you often see on SAAs and some other single-action revolvers, but they do help enhance the revolver's ergonomics, especially with the diamond texturing on them.
Still, they're not exactly something to write home about. There are certainly better grips out there, but there are also far worse.
In addition, the alternate version uses a different grip style, Ruger's Birdshead pattern grip frame with synthetic grip panels.
In your hand, the Wrangler feels pretty balanced, though a bit barrel-heavy. It's overall very lightweight though.
A Smooth, If Heavy Pull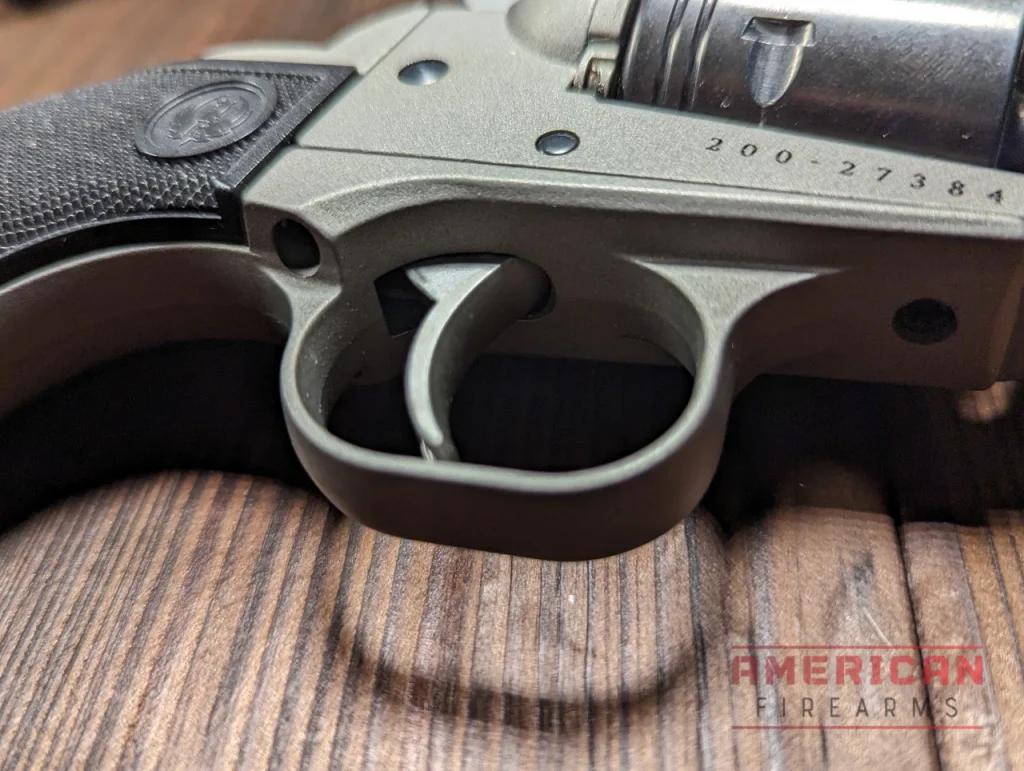 That right there? An almost 7 lb trigger -- far too much for a rimfire revolver IMO.
The trigger on the Wrangler is surprisingly good for the price, but it's a single-action revolver so it's a bit hard to mess up. It's more than sufficient for the kind of light pest control and target shooting this revolver is most likely going to be used for.
With a trigger weight of 6.8 pounds, it's a bit heavier than I'd prefer (and even heavier than my husband, who typically likes a heavier trigger would prefer as well). There's also more creep than I'd like, but it's not bad for a trigger on a gun at this price point.
Consistently Dependable Performance
Rugers are known for reliability, as are revolvers, and the Wrangler is no exception.
As for accuracy, the Wrangler does the job for plinking, but I'd probably skip over it for hunting though, in favor of the more accurate Single Six.
Within about 10 yards, my groups tend to stay within about two inches. Of course, that depends on ammo. With CCI Stinger and some other rounds, those groups get bigger. On the other hand, with SK Match, I can get groups as close as around 1.3 inches.
After about the 10-yard mark, those groups do loosen up, as one would expect.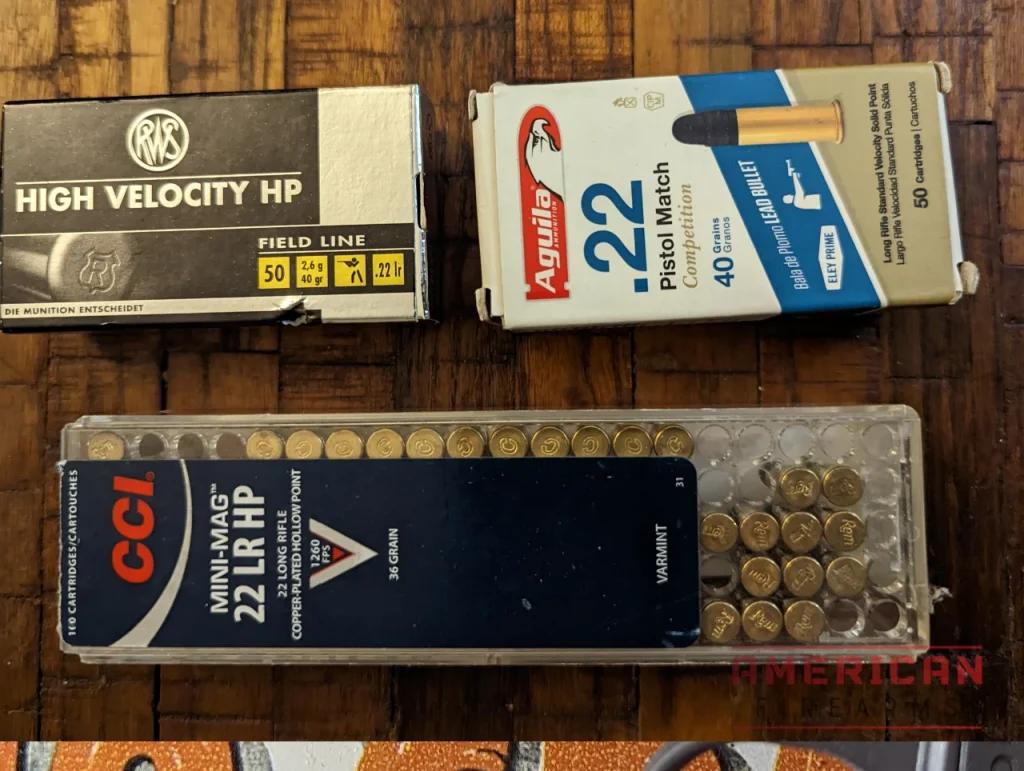 In testing, the Wrangler chewed through every kind of ammo I had on hand.
To start, the Wranger comes from the factory with a pretty stiff loading gate. Mine wore in pretty quickly, though, so it's not something to stress about. It's still pretty stiff, but it's certainly manageable.
But let's be real: what you really want to know about is how it shoots.
To find out, I took my Wrangler to the range and put it through its paces. I shot just under 300 rounds of various ammo through it and had some friends also give it a workout to the tune of another 250+ rounds.
Overall, we were all extremely impressed. Two of the folks I went with actually liked mine so much that they ordered their own (in black and bronze Cerakote) while we were at the range. These are experienced gun folk, including a fellow gun writer like myself, so that's high praise in and of itself.
As far as my own experience with it, I found it to be a very pleasant experience. I didn't experience any issues, other than one which I'll go over in a minute, and I found the trigger and basic sights to be accurate enough.
We shot a variety of nicer ammo as you can see below, but the bulk of what we shot was simple Remington Thunderbolt (green box) 40gr all-lead cheap stuff. That feels like what this revolver is going to be fed most of the time. It's not going to ever be a bullseye pistol with those sights and that trigger.
Ruger Wrangler at 7 yards
Here you can see how this ammo faired at 7 and 15 yards. Honestly, not bad at all for real-world use and something I'd be happy to rely on for dispatching small pests or even game animals. Is the revolver capable of better out of a rest? Sure.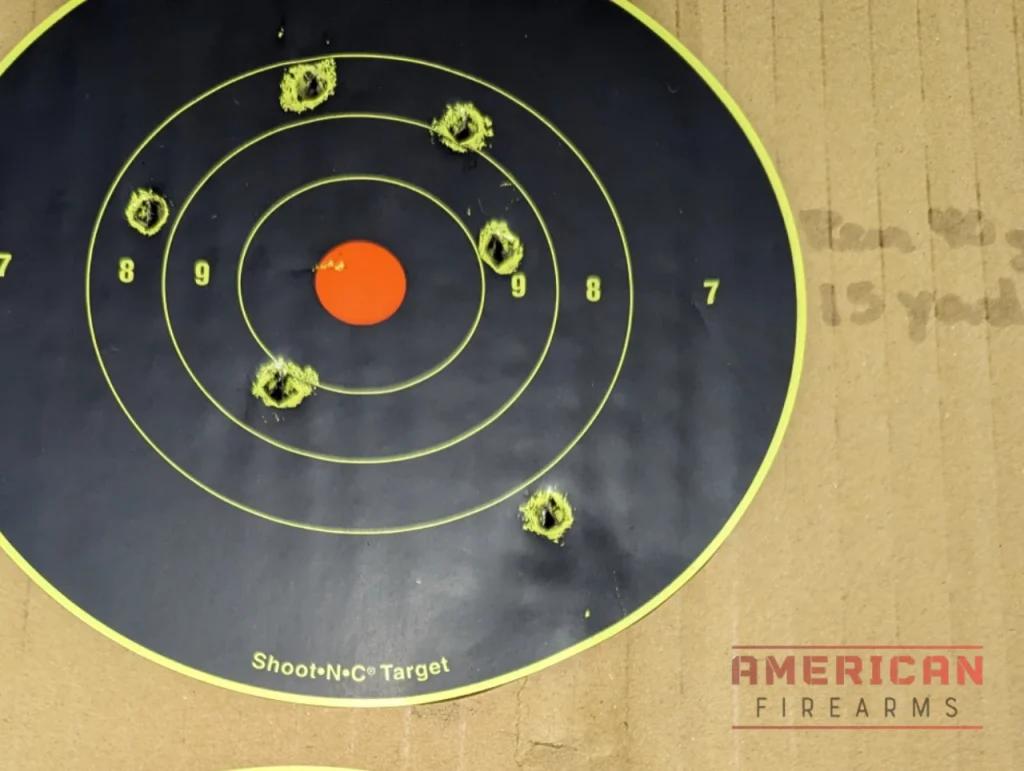 Ruger Wrangler at 15 yards
Is anyone ever going to shoot it off a rest? Absolutely not. This is a real-world result, and one I'm quite pleased with.
We did experience a few issues that you could probably classify as user error. The cylinder didn't quite index properly one time when we decided to be silly and fan the hammer, cowboy-action style, but that was more our own inexperience with doing that type of thing.
It did feel like a real test because this revolver, while a gun that should be treated with respect like all guns should…kinda feels like something to just have fun with. I think we, as gun owners, can sometimes get too caught up in stats on paper, or "tactical" considerations and forget that this is a hobby that many of us participate in because it's just plain fun.
This gun, the Ruger Wrangler, is fun. It's cheap, easy to shoot, and reasonably accurate. And that translates to a good time at the range, or on the back-40 blasting cans off a berm.
Though it doesn't swing freely, the cylinder itself can be removed. To do so, simply press down the base pin latch, then slide the base pin forward. Now swing the loading gate open and the cylinder will pop right out.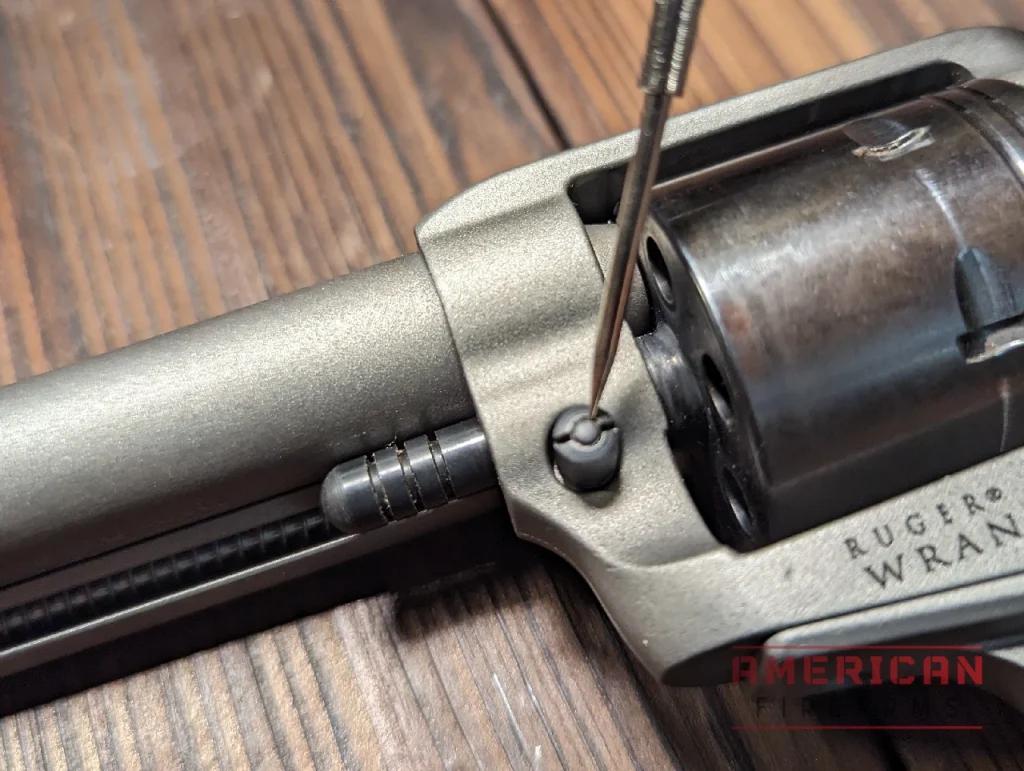 Pressing the cylinder base pin releases the pin.
You can see the button above, and the disassembled revolver below. Very straightforward, and familiar to most single-action revolver owners I would imagine.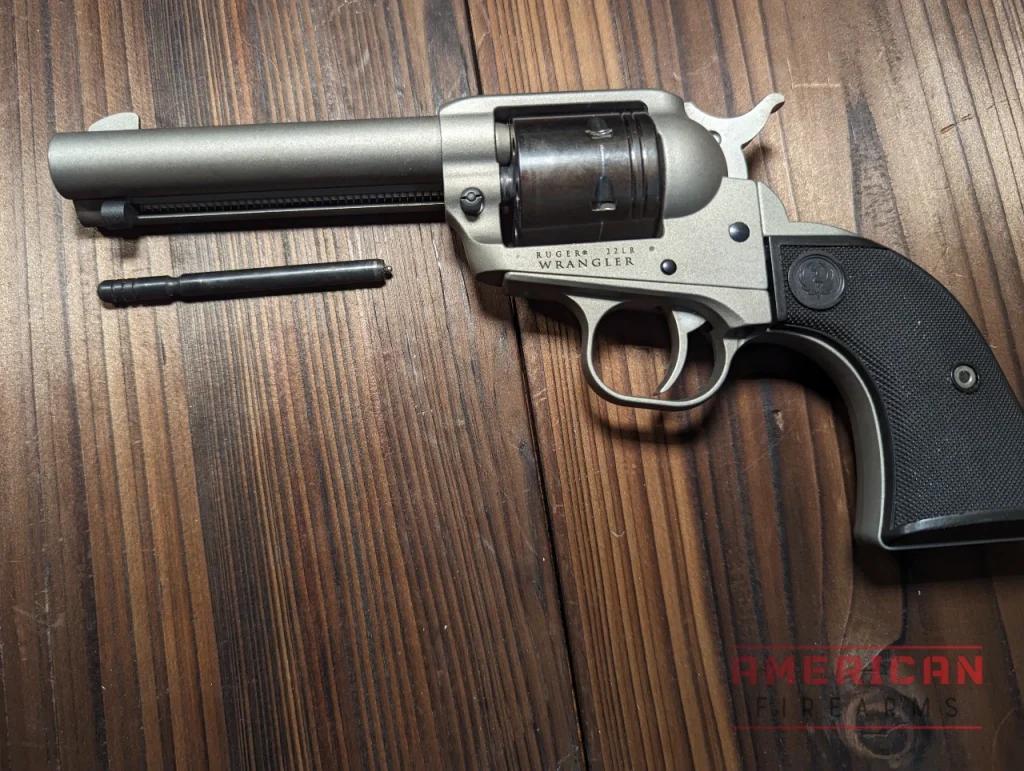 Once the pin is free you can remove the cylinder.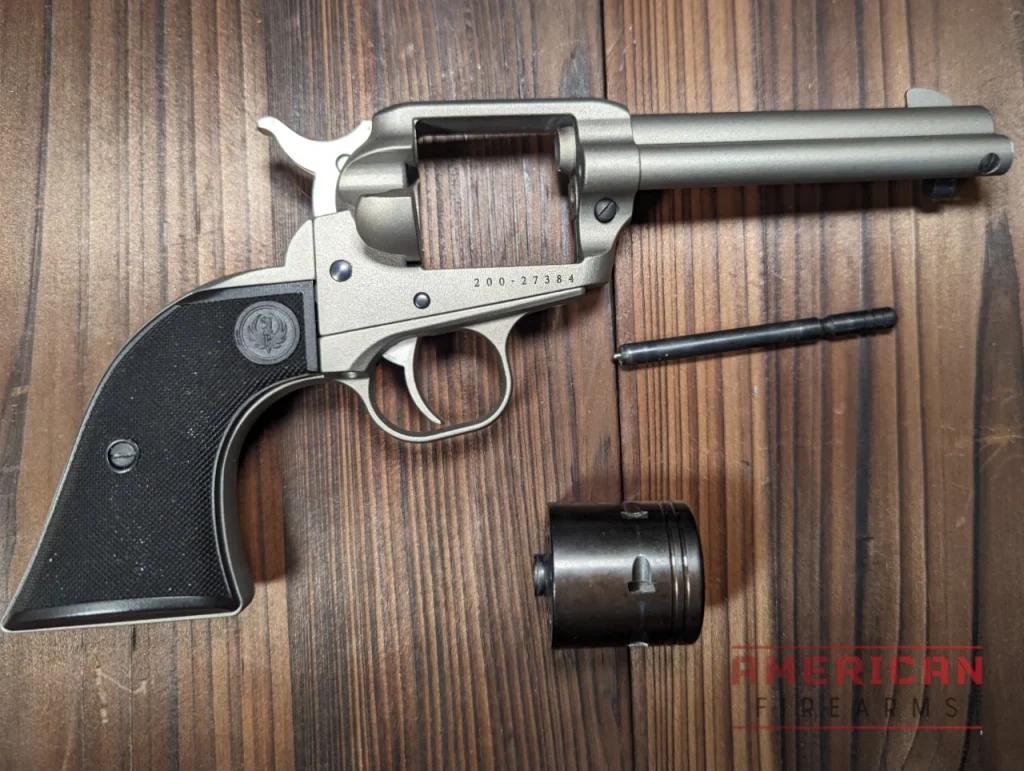 Viola! One downside -- the .22 LR is the only chambering you'll get with the Wrangler. No .22 Mags for you (or me...)
Though the revolver can be disassembled more, that's all you really need to do for standard cleaning and maintenance. If you're not sure how to do more, you're probably best off bringing it to a gunsmith for service.
One other thing you can do is easily remove the grips and get access to the mainspring and everything else inside the grip. The main reason you would probably want to do this would be to swap the grips, which are compatible with Single Six grips, so you have myriad options to choose from.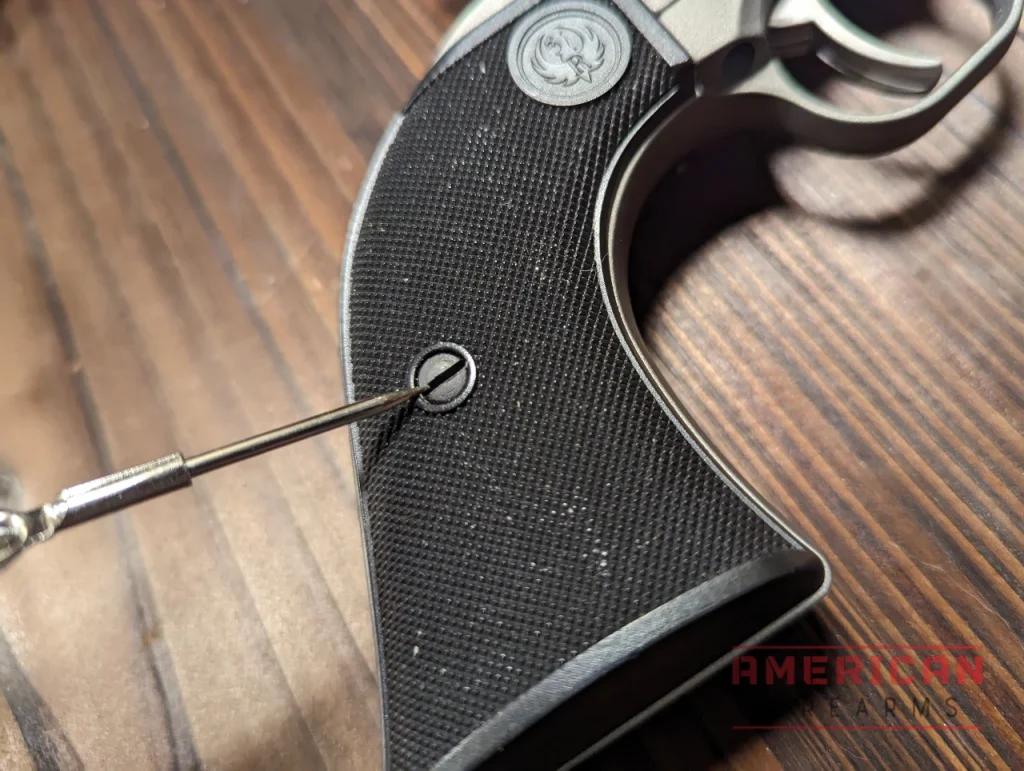 The decidedly simple grip panel screw
Incidentally, one of the things that truly bugs me about this revolver is the fact that in the black grip, where the black screw threads into the grip is an unpainted metal insert that remains bright silver.
Come on Ruger, it sticks out like a sore thumb and cheapens an otherwise solid build. You guys could have used a coated part for that. Other than that though, I love being able to swap the grips out quickly and easily, and being able to get to the mainspring if needed.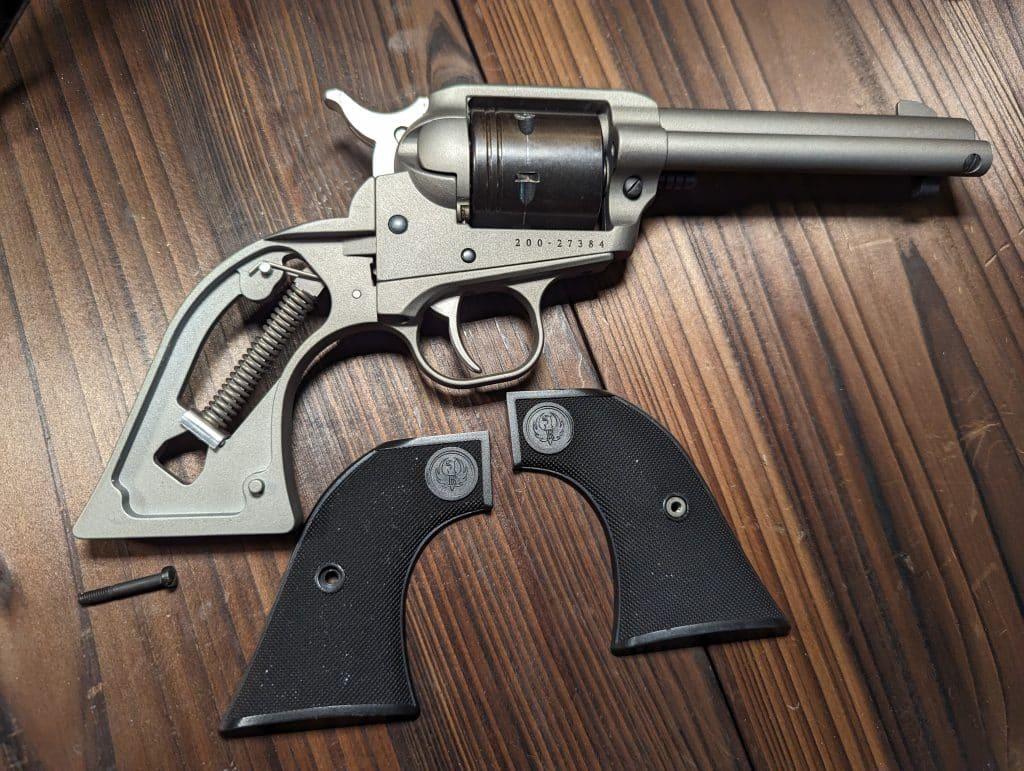 Is it nit-picking to hate on the unpainted metal insert? Yes. I'm still going to do it.
The overall quality of the Ruger Wrangler is excellent, but it's not perfect and there are definitely a few things I wish were better.
The so-so trigger is probably the most notable, with its heavy-ish pull and tendency towards creep.
Interchangeable cylinders to allow the option to shoot with .22 Magnum, like you see in some other revolvers in this class, would have been nice.
The Wrangler's sights are pretty good, but it would have been nice to have an adjustable rear sight. Similarly, the factory grips are alright, but fortunately, you can upgrade them relatively easily.
Finally, I also would have liked to have a higher capacity, especially since loading is a bit of a hassle. Six rounds is traditional though, I suppose.
However, none of these shortcomings are a huge deal, and they aren't unsurprising for a revolver at the Wrangler's price point. Realistically, if Ruger had designed the Wrangler without them, it would be a far costlier gun, and the low cost is a major selling point for the Wrangler.
If you're going to get a revolver for less than $300, you have to accept some flaws, and the flaws the Wrangler has are far from deal breakers.
Now that we know all about the Ruger Wrangler, let's compare it to some other guns in the single-action revolver family to help you figure out if it's the best gun for you.
Heritage Rough Rider
As another budget-friendly single-action revolver, the Rough Rider is the Wrangler's main competitor. Overall, the two revolvers are pretty similar. They're about the same size, both are based on the SAA design, both have a six-shot capacity, both have an aluminum alloy frame, and both feature bladed front sights that offer a decent sight picture.
However, I think Ruger does a better job with manufacturing. The Wrangler feels like an overall better-made revolver, but many people who've bought Rough Riders report visible machine marks, especially on the cylinders.
Maybe that's not surprising, since the Rough Rider retails for less, but the prices are close enough that I think it's worth it to shell out the extra $50 or so bucks for the Wrangler.
One thing that the Rough Rider does have over the Wrangler is options. The Rough Rider is available in a massive number of different grip styles and several different barrel lengths, while the Wrangler is more limited.
The Rough Rider also provides the ability to swap out the cylinder, allowing you to use the same revolver to also shoot .22WMR.
Ruger Single Six
As promised, let's talk about the Ruger single-action revolver from which the Wrangler gets its basic design.
If the Wrangler is a Toyota, the Single Six is a Lexus: manufactured by the same company and overall very similar, but with enough upgrades to make you consider shelling out the extra cash if you can. In fact, the Wrangler was announced as, essentially, a budget Single Six.
One major advantage of the Single Six is also one that the Rough Rider has: interchangeable cylinders. Like the Rough Rider, the Single Six allows you to swap out the cylinder to once chambered for .22 WMR, so you can shoot either caliber out of the same revolver.
It also has more options than the Wrangler, including both barrel length and grip material.
For other upgrades, the Single Six swaps out aluminum alloy in the Wrangler frame for alloy steel, making the gun weightier but also more durable. In addition, unlike the Wrangler's fixed sights, the Single Six has an adjustable rear sight.
Of course, all of that comes at about $500 more than the Wrangler. For me, it wasn't worth it, but if I wanted a competition revolver rather than a fun gun (or just had an unlimited budget for gun buying), it would be much easier to justify.
If you're looking for an upgradable gun, revolvers in general aren't your jam. The Wrangler is especially lacking in this department, unfortunately.
The main thing you can upgrade is the grip panels, which is fortunate since the factory grips are only mediocre. And since they're the same as the grip panels on the New Model Single Six, you do actually have a good number of options.
Premium Gun Grips is a great option, especially if you're looking to replace the synthetic grips with a more classic-looking wooden option. They have plenty of other options too, though. My favorites are the faux pearl. They even have a few options for the Birdshead version.
Otherwise, there's really not much out there. The Wrangler has only been out for a few years though, so hopefully, we'll see that change in the future.
One of the Best Value Revolvers Anywhere
All in all, the Ruger Wrangler surprised me…but maybe it shouldn't have. Ruger has been turning out reliable, high-quality, but still budget-friendly guns pretty regularly for years now.
I'm hard-pressed to think of a major miss they've had in that market segment, and the Wrangler certainly seems like a hit (especially when you look at sales numbers).
It's a solidly built little .22 LR handgun that does what you'd expect, at an affordable price that's going to be palatable to any shooter. It's not likely to be an heirloom piece, carry pistol, or a bullseye champion, but it's as dependable as you could ask for it to be.
Ruger has built their brand on sensible, value-minded products lately and the Wrangler is a worthy addition to that brand.
Is the Ruger Wrangler reliable?
Which is better Ruger Wrangler vs Heritage Rough Rider?
Can you rapid-fire Ruger Wrangler?
Ruger is known for their reliable, high-quality firearms and the Wrangler is no exception to that. The revolver's simple, but well-manufactured design makes malfunctions rare. All in all, the Wrangler is a great option for plinking fun.
When comparing two guns that are both very good and also very similar, it's hard to say which one's better. The Rough Rider is less expensive and has the benefit of interchangeable cylinders, allowing you to shoot .22LR or .22 Magnum. However, I personally prefer the Ruger Wrangler because it feels better made and is, at least in my experience, more reliable.