The Best Taurus Revolvers in 2022
Written By
Michael Crites
Licensed Concealed Carry Holder
Reviewed by
Editorial Team
Learn About The Editorial Team
Share:
Products are selected by our editors. We may earn a commission on purchases from a link. How we select gear.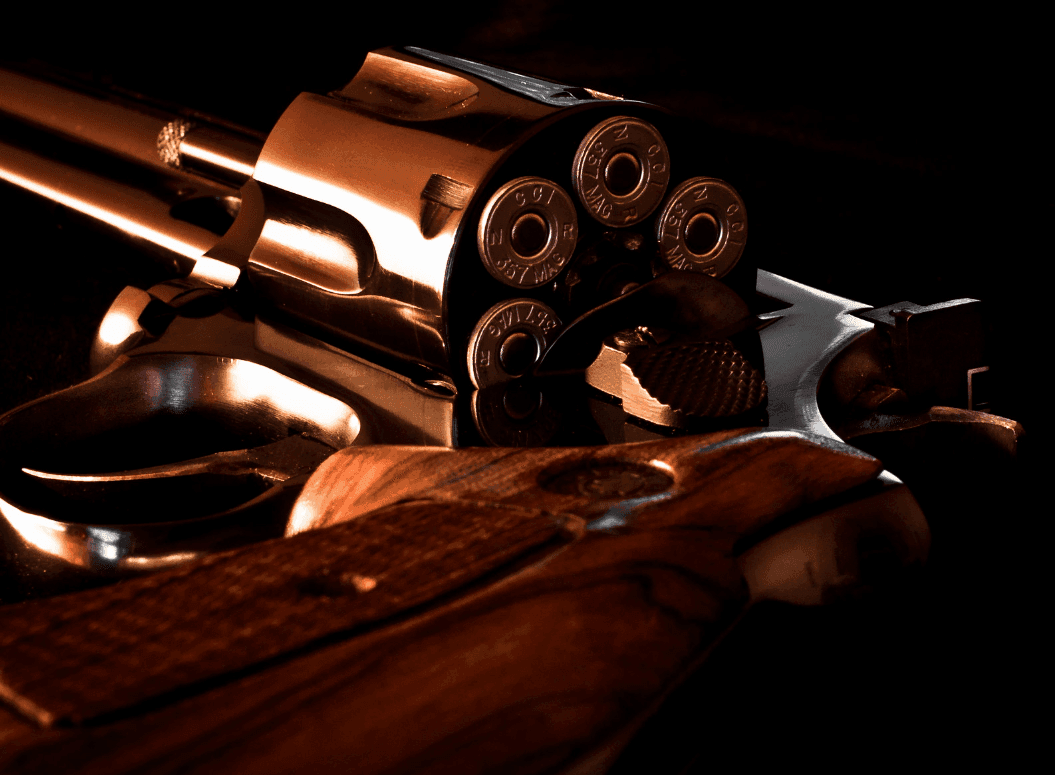 Based in São Leopoldo, Rio Grande do Sul Brazil – Forjas Taurus is a manufacturing conglomerate founded in 1939. Originally focused on tool and die forging, the company now consists of a variety of divisions that specialize in metals manufacturing, plastics, body armors, helmets, and civil construction – as well as Taurus Armas, its firearm division.
The Taurus Model 38101SO was the company's first entry into the revolver market in 1941 and in 1968, Taurus began importing revolvers to the U.S. market.
In 1971 a majority stake in Taurus was purchased by the parent company of Smith & Wesson, which lead to the two firearms manufacturers sharing design and manufacturing details up until they split in 1977 when Taurus was sold to its current owners. In addition to our collection of the best Taurus firearms, we also have recommendations for Taurus G2C holsters.
Comparison of the Best Taurus Revolvers
Below is my list of the best Taurus revolvers for 2022. I list the best choices in terms of value, performance, design, and cost.
Click on the name to head to the product page, read reviews and check prices or skip ahead to the list of revolvers.
For the past several decades, Taurus has made a major name of themselves in the revolver market, and I think this is for two primary reasons. Thanks to both, Taurus is and will likely remain a major presence in the revolver market.
Affordability. First and foremost, when compared to other manufacturers, Taurus presents an incredible value in their revolvers. As fewer law enforcement agencies and people more generally carry revolvers, they've generally gone up in price as collector's pieces. On the other hand, Taurus has made a considerable effort to keep revolvers alive and well in concealed carry, defense, and hunting by keeping them a lot more affordable than others in the market.
Reliability. Second, Taurus revolvers tend to be reliable. This is true of most revolvers, but some folks worry that inferior parts are being used at this price range. In our experience, however, Taurus revolvers are more than reliable enough to serve well on the range or in concealed carry settings. This is an excellent attribute in a revolver, as one of the main reasons people still choose revolvers generally is their reliability even in adverse situations, which makes Taurus revolvers an excellent choice for concealed carry or security work.
Types of Taurus Revolvers
Here, I break down the four types of Taurus revolvers by their purpose. Revolvers all work more or less the same, so the differences between the types are really down to caliber, barrel, and features for their best purposes.
Concealed Carry Revolvers
On the smaller end, many Taurus revolvers are excellent for concealed carry use. Here we're thinking of the 605 models in their various flavors that are slick and easy to carry, avoiding the longer barrels and exposed hammers of bulky or bulgy handguns. An ideal concealed carry revolver will typically have a barrel under three inches in length and be chambered in .38/.357 Magnum, the ever-popular self-defense rounds. The tiny size does make these wheel guns snappy to shoot but also makes them extra concealable, which I value very much when we're looking for an EDC handgun that I can carry without printing or otherwise signaling to others that I've compact got a size revolver under my hoodie.
Standard Revolvers
Some models are more old-school revolvers — medium frame guns intended for open carry for those that carry because of work or relatively relaxed state laws: here, the model 66B shines. These are favorites of folks who do security thanks to their subtle black finish and the fact that they just plain work for target shooting ,self defense, or any other application, even after years of riding in a gun belt all day, every day without much maintenance
Hunting Revolvers
Some seasoned revolver users very much like to hunt with a wheel gun. If that's you, the Tracker or Raging Bull models certainly fill the need. These, coming in calibers ranging from the tiny 17HMR right up to .44 Magnum, give you a range of options. These models tend to have bull barrels that make the gun less prone to muzzle flip when firing, which I very much appreciate when we're trying to make accurate follow-up shots on moving targets, especially at the extended ranges sometimes necessitated by hunting. Nice-to-haves include things like an adjustable target sight, barrel porting, and a top strap notch that gives these the leg-up in the field and at range. 
.410 Revolvers
Finally, Taurus has been famous for making revolvers that fire .410 shotgun shells or 45 Long Colt. These were popular for self-defense for a while, but we're a little skeptical about that today. Instead, these revolvers are reasonably good for moderate pest control for shooting small game and varmints like snakes and rodents.
The patterns on these tend not to be remarkably consistent thanks to the short barrel, but they certainly have their use in the pest control realm and as a varmint control revolver.
While they are impractical for self-defense, they are enough of an oddity to occupy their own distinct category.
Essential Taurus Revolver Features
Since revolvers look and function similarly, getting a closer look at the specific features you want can help you make an informed choice as to the models you'd like to consider.
Caliber. The first feature that I always consider when purchasing a firearm is caliber. For example, 17HMR is an excellent hunting and target cartridge, but I wouldn't necessarily use it for self-defense. Similarly, .44 Magnum might be a little bit much for squirrel hunting. The caliber, in our minds, determines the utility and use of the firearm.
Barrel Length. From there, I look at barrel length. When looking at concealed carry, I like to consider barrel lengths of under four inches to conceal the firearm easily. On the other hand, I prefer as much barrel as possible when it comes to open carrying or hunting. All things being equal, the longer the barrel, the more muzzle velocity and thus accuracy you will get.
However, with concealed carry, muzzle velocity has to be weighed against the fact that I want to conceal our firearm from others, so some compromises are generally necessary for that kind of application.
Trigger & Action. The type of trigger also makes a big difference in revolvers. Those with exposed hammers tend to be double-action/single-action triggers. In simple terms, if you want a longer trigger pull, all you have to do is remove the safety and fire.
If you cock the hammer, on the other hand, you'll get a much shorter trigger pull which is better for more accurate shots. Some models do not have an exposed hammer spur but, since they're a revolver, they do have a hammer that is simply smaller. On these models, the inability to cock the hammer manually makes them, in effect, double action only triggers.
Aesthetics. Finally, the appearance of a firearm does make some difference. There's very little that looks better than a revolver in a nickel finish with a black rubber grip to this guy. But, for folks who want something a little less prone to scratching or less reflective, one of the blued or black powder-coated finishes can offer excellent resistance to wear, which would likely be a better fit than a nickel finish for concealed carry firearms.
The finish is a matter of taste, though, so go for the model that you think looks the best.
Under $500. If you were to ask 10 folks at the range to describe Taurus revolvers in a work, the majority would probably say some variation of "affordable" (with one or two jaded shooters using a term like "cheap".) For about the $500 mark, you can get one of their concealed carry Taurus pistols that will work well and reliably for years. This is the sweet spot for many folks who want to concealed carry a reliable firearm without going through a ton of expense in the process. Additionally, since revolvers are so simple, often a front blade sight and non-adjustable rear sight — there isn't much maintenance involved to keep one of these affordable revolvers running reliably for years, if not decades, to come.
Over $500. Here you'll be looking at the upper end of Taurus handguns, including their hunting revolvers and larger-barreled revolvers. The hunting revolvers, in particular, can get a lot more expensive than the basic concealed carry models but offer features likely not found on the lower end of the spectrum — things like an adjustable rear sight, ported barrels, fiber optic sights, and a longer ejector rod shroud. However, when people are looking for specialized hunting revolvers, these are still considerably more affordable than some of the other options out there from other manufacturers.
Overall, Taurus' revolver pricing makes them a superb choice for people who want good value for money, and the quality of their revolvers is more than high enough for the vast majority of shooters out there.
How we selected these products
As much as I would love to range test every one of these Taurus revolvers there are times when certain products or categories are a real challenge — be it availability, cost, or simply a lack of resources — we can get stymied going hands-on with all the potential candidates. Rather than present a never-ending list of all the Taurus revolvers on the planet, we selected those which we felt best represent the price points laid out above — giving you a solid representational list to serve as a jumping-off point for your own research (you are going to do you own research, right?)
To avoid disappointment or steering you in the wrong direction, we bolster our own experience with conversations with experts, comb through reviews on retailer sites & sales data, review industry publications, other blogs, and otherwise surface the best information available.
We aim for all thriller, no filler, as they say.