Best AR-15 Foregrip Bipods
Written By
Michael Crites
Licensed Concealed Carry Holder
Reviewed by
Editorial Team
Learn About The Editorial Team
Share:
Products are selected by our editors. We may earn a commission on purchases from a link. How we select gear.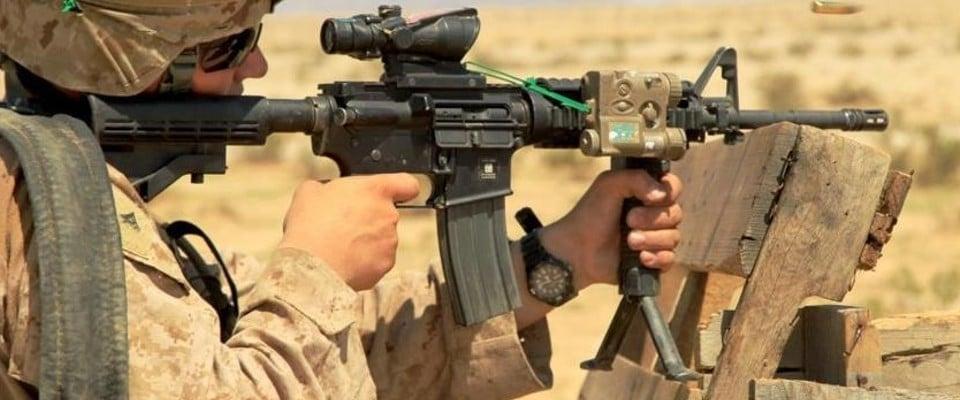 The grip area of your AR is critical for mobility, shot placement, and overall effectiveness with your weapon.
Given the customizability of the AR platform, we've seen some real innovation in the world of combination grip/bipods (sometimes called "grip pods' by the tacticool set) that give your rifle another layer of capability. Plus – for most shooters – having a single piece of gear that can fill 2 roles is an easy sell.
Bipod grips combine your standard vertical grip with a set of retractable legs to give you a more stable shooting platform (similar to shooting prone) for both close and long-range shooting.
The legs support your weapon and eliminate the weight/strain from your arms, essentially acting as a mobile rifle rest.
This little change can increase shooting efficiency by adding stability without sacrificing grip area – you can use the grip when on the move and have a stationary platform at the ready. Quite the trick!
This mix of mobility and stability obviously isn't possible with a grip or bipod alone, which makes a bipod foregrip one of the most versatile and useful additions to your AR.
The combined flexibility an AR 15 bipod foregrip offers is ideal—especially if you've got a number of additions to your AR (extended mags, scope, rifle sling, etc.)
Many rifles tend to pick up weight over time – more features offer more capabilities—but if you don't want your shooting performance to suffer due to all those upgrades & additions the logical next step is a lightweight foregrip bipod to lighten the load on your arms, back, and shoulders when at the range.
Foregrip Bipod Comparison
Below is my list of the best AR-15 bipod foregrips. I list the best choices in terms of value, performance, design, and cost.
Click on the name to head to the product page, read reviews and check prices or skip ahead to the list of bipods.
AR-15 Foregrip Bipod Reviews
1. GPS LE Grip Pod Foregrip Bipod
Key Features:
Material: Reinforced polymerCompatibility: Picatinny RailFolding: NoSwivel: NoWeight: 10oz
Height:6¼" (15.9cm) Retracted Legs8½" (21.6cm) Extended LegsGrip Width: 1.5" DiameterBipod Width: 6″
The LE Grip Pod has seen action with military operators around the word. Via GPS.
The amazingly-priced GPS Grip Pod is both small and tall—able to unfold from a collapsed height of 6.25 inches to a maximum height of just over 8.5 inches almost instantaneously.
The Grip Pod was one of the most stable models we tested, with solid leg sections that ended in horizontal feet and a vertical grip that (while slightly larger than a standard vertical grip) provide fantastic control in our tests.
The single release button is situated right along the barrel – perfect for quick thumb depression.
At 7 ounces pounds, it weighs about as much as a softball but is battle-proven on a number of fronts.
Some of the folks we talked to had their Grip Pod issued on deployment make it through multiple deployments – and keep on ticking. The legs make a satisfying POP when deployed, which feels solid and can be used to scare the hell out a napping hunting buddy when boredom sets in.
As mentioned it's got more girth than a standard vertical foregrip, but not more so than any of the competition. We found the larger circumference easy to control and useful for longer hikes as it prevented unnecessary forearm stress when carrying our AR.
The Grip Pod attaches to a standard picatinny rail via a super-simple wingnut. No tools necessary. Like any attachment with moving parts, the Grip Pod will require a little maintenance to operate optimally – nothing crazy, just basic disassembly and cleaning – or you can find that the legs won't fully deploy consistently.
Pros
Battle-tested (US Army issues these)
Fits standard 20mm picatinny rail
Legs deploy almost instantly
Cons
More circumference than standard vertical foregrips
Will require maintenance to perform optimally
Non-adjustable leg height
2. FAB Defense T-Pod G2 QR Bipod Forend
Material: Aluminum, steel, & reinforced polymerCompatibility: Picatinny RailFolding: NoSwivel: YesWeight: 10.4oz
Height:5.82″ Retracted Legs8.26″ Extended Legs
Grip Width: 1.73" DiameterBipod Width: 6.1"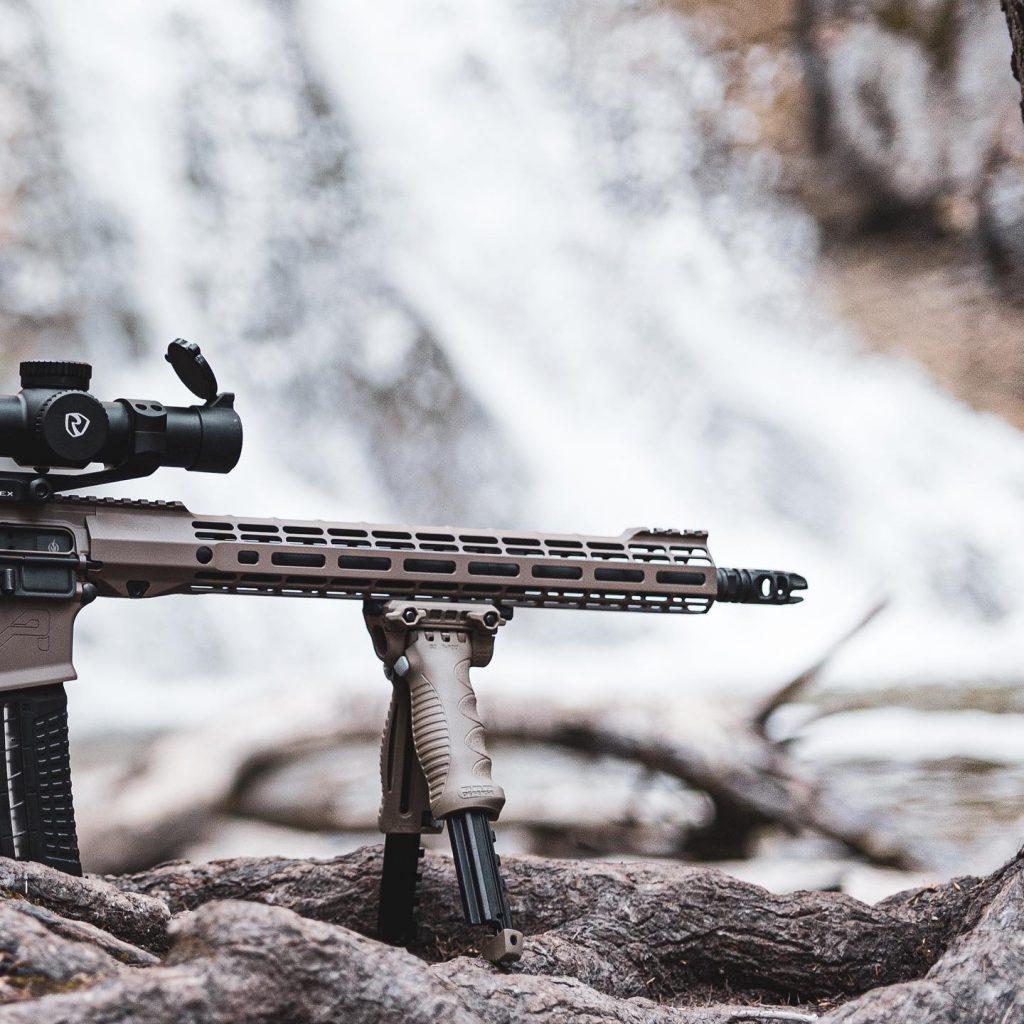 The T-Pod uses a hard polymer exterior, which gives you a number of color options. Source: FAB Defense Facebook.
The Fab Defense T-Pod is light, durable and high-quality – collapsing down to 5.8 inches tall and weighing 10.4 ounces. It extends to a maximum height of just over 8.2 inches and provides a shooting base 6 inches wide with the feet deployed.
It was one of the most stable models we tested, and it costs less than much of the competition. The Fab Defense vertical foregrip offers everything we sought in a foregrip bipod: comfortable pistol grip, easy one hand deployment, adjustable legs, a wide base at over 6 inches, quick to deploy—as well as nice touches like its ergonomic design, finger grooves, & aluminum paired with composite for a balance of strength and weight.
Pros
Construction quality
Ergonomic shape
Push-button operation
Pivots to provide cant adjustment
Independently adjustable legs for uneven terrain
Cons
Price
Not entirely aluminum
Takes longer to deploy than other options
3. Versa-Pod Thunder Bipod Foregrip
Material: Reinforced polymerCompatibility: Picatinny RailFolding: YesSwivel: NoWeight: 5.1oz
Height:7″ Retracted Legs9″ Extended Legs
Grip Width: 1.5" DiameterBipod Width: 5"
Versa-Pod Thunder Foreword Grip Bipod is a little smaller and lighter than our top pick, but it's also more expensive. We loved how easy it was to use, with small details like individual height adjustments on the bipod legs making uneven terrain a breeze.
But the leg width is less than our top pick, in part because these style of foregrip bipod legs deploy with a pivoting action rather than from within the grip itself.
This creates a smaller footing profile and less stability as a bipod (but a thinner, potentially more comfortable grip). Once deployed it's about 9 inches – which is taller than the Fab grip – but with the more shallow bipod width felt a bit less steady.
It's also the most expensive option of our top 3, more than twice as expensive as some other options.
Pros
Very light
Lifetime guarantee
Solid vertical foregrip
Multi-functional
Cons
Shallow bipod width
Less stable than our top pick
Most expensive option
Who should consider these recommendations?
Any AR-15 enthusiast in the market for a bipod or foregrip. When you're considering adding one of the products that these bipod foregrips replace – why not look into one of these products that do so much more (and take your AR to the next level)?
Sure, these are more expensive than buying a foregrip AND a bipod – but what you get in return is another level of functionality altogether.
You'll also save weight and by combining the grip and bipod you'll save on rail space, so you can add incorporate other tools down the line.
Important Foregrip Bipod Features
We've used a variety of foregrips and bipods over the years, and these are the features that make the biggest difference in shooting performance and ease of use.
Ease of Use. This is the most important element. The last thing anyone wants in a rifle bipod or any gadget is a headache. When looking for a foregrip bipod make sure it's easy to use. Things like single hand or push-button operation, quick detach, angled grips, smart engineering around things like button placement, sling swivel studs and means of attachment, and how well the legs either fold or extend will make all the difference.
Size & Height. You want the right mix of grip size (in terms of circumference) and height (how high the firearm is elevated once the bipod is deployed.) There's no standard for this product category and there are certainly differences between are different bipods/manufacturers in terms of final deployed height.With our testing, we found that a height of 8-9 inches was about right, gave us the best mix of stability & size, and provided enough height to accommodate a 30 round magazine. All of our recommendations met these requirements.Of course, if you have a specific set-up or different requirements (be it a red dot sight or co-witness set-up) measure the height of your rail from the shooting bench and look for a product that fits what you need or consider a bipod with adjustable leg length.
Heavy-Duty Durability. This is a tough one to measure without putting one of these AR-15 bipods through the wringer, but you want something that can take a licking and keep on ticking. Looks for products that are battle-tested and have been used by military, police, or shooting professionals.
With our testing, we found that a height of 8-9 inches was about right, gave us the best mix of stability & size, and provided enough height to accommodate a 30 round magazine. All of our recommendations met these requirements.
Of course, if you have a specific set-up or different requirements (be it a red dot sight or co-witness set-up) measure the height of your rail from the shooting bench and look for a product that fits what you need or consider a bipod with adjustable leg length.
There are two main types of foregrip bipods. Each type of foregrip bipod offers its own unique set of features and advantages. Depending on your individual preferences, how you will be using your foregrip bipod, the height you shoot from, and the type of situation in which you will be using your foregrip bipods, you may want a different kind to best fit your needs. Make sure to familiarize yourself with the various types of foregrip bipods before making a final decision.
Split Foregrip Bipods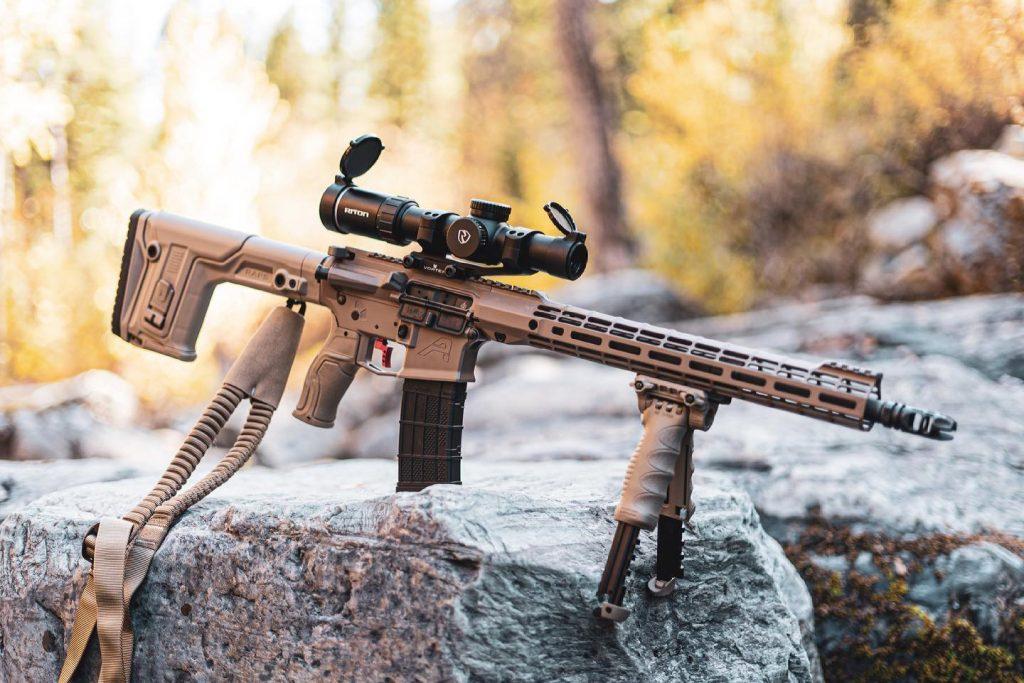 FAB's T-Pod is a split bipod -- the grip seperates into two legs.
Split foregrip bipods are a fairly new and modern type of bipod. This type of foregrip bipod is becoming more and more popular due to the ease of use and variety of configurations available.
Split foregrip bipods have a look similar to standard foregrips, and they use standard mounting mechanisms so they work easily with most types and sizes of rails and ARs.
This type of foregrip bipod features two independent sides which sandwich together, often with a push-button activation that then drives the sides apart and deploys the legs from within each side of the grip. The downside of split foregrip bipods is that once the two sides split to create the bipod you cannot continue to use it as a grip — it fully converts to a bipod.
Integrated Foregrip Bipods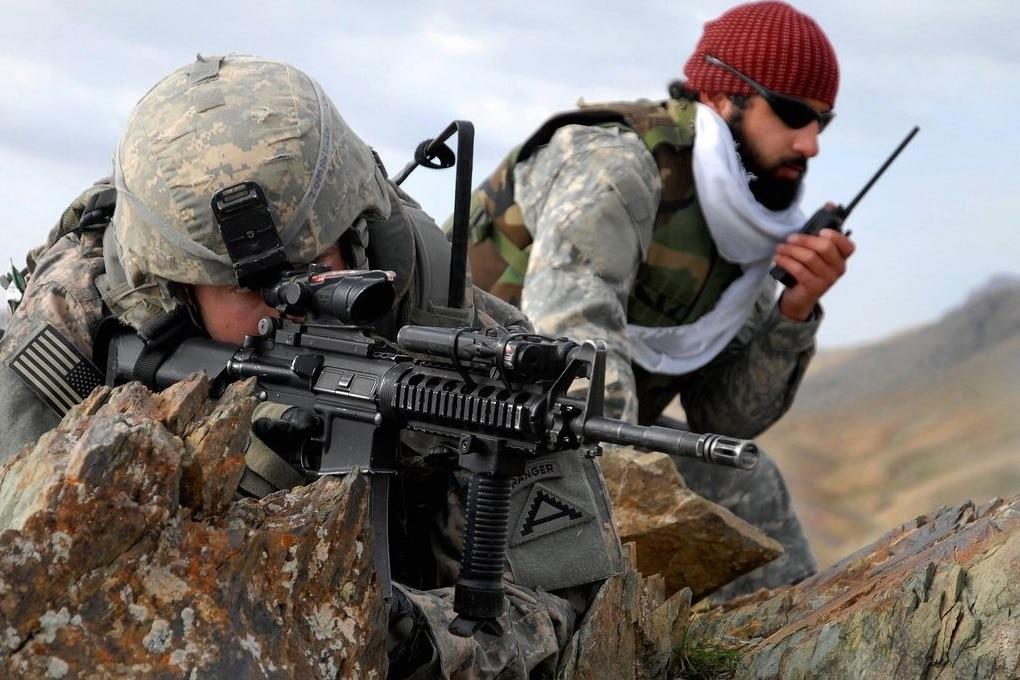 The GPS LE Grip houses the bipod legs in a single grip unit, which means if can still be used as a grip when when the legs are deployed.
Integrated bipod foregrips are another popular type of bipod that are easy to use and will work with most ARs and mounting systems. This type of foregrip bipod is a vertical grip that houses a set of sturdy legs within a single grip unit.
The activation of the legs causes them to pop out of the grip and into position beneath it, which has the advantage of adding stability without rendering the foregrip unusable.
They may not offer the kind of stability a split foregrip does, but they're functional enough to have been adopted by the US Army.
Why Use a Foregrip Bipod?
Foregrip bipods offer several key advantages to purchasing and using a high-quality foregrip bipod for your AR.
The most straightforward benefit is that it allows you to combine the mobility of a foregrip with the stability of a bipod, extending the capability of any rifle with a single accessory. Most foregrip bipods are fairly durable — often made from the same aluminum as handguards and upper receivers, activate quickly with push-buttons or switches and are designed for use in a variety of conditions all while supporting standard mounting systems. They also offer a slight cant or pivot at the mount, so you get the added stability of the bipod with some level of flexibility for getting shots on target.
Most foregrip bipods are light, user-friendly, and versatile, often making a great option for adding a mobile shooting rest to your hunting rifle with ease.
Price Ranges for Foregrip Bipods
Under $100: Foregrip bipods  in this price range often provide considerable value. They are typically as easy to use & install, as more feature-rich options but may be made of less durable materials (like polymers or plastics) and not include some nicer bells and whistles like integrated lights or high-quality aluminum components. Make sure to review user reviews thoroughly when considering foregrip bipods in this price range to ensure you're not taking a chance on a lemon.
$100-$200: This is the most common price range for foregrip bipods and is a bit of a sweet spot in terms of features and value. You'll find the most options in this range with the largest variety of different materials, styles, and sizes.
Over $200: Foregrip bipods in this price range are priced at a premium and will often include "nice to have" features — such as an included light — that not everyone will want or need. Even though they are the most expensive foregrip bipods, you will typically be sure they are made from the most durable materials more than capable of dealing with use and abuse in inclement weather or cold climates.
Bottom line: each of these foregrip bipods offer their own unique benefits, but our top pick is the GPS LE Model Grip Pod
It the all the important criteria for the best AR-15 foregrip bipod:
Easy installation & one-hand use
Quality build & lifetime warranty
Good shooting height with bipod deployed
While there aren't a top of options out there for foregrip bipods we hope this article helps make your eventual decision easy when you're ready to customize your AR or drop in a budget scope. If you have any questions or feedback for me, please drop us a line.

March 19, 2023 — Our foregrip bipod recommendations remain unchanged after a thorough review of this guide. We've updated images and links.
Sign up for our newsletter
Get discounts from top brands and our latest reviews!