The Best 9mm Suppressors
Written By
Michael Crites
Licensed Concealed Carry Holder
Reviewed by
Editorial Team
Learn About The Editorial Team
Share:
Products are selected by our editors. We may earn a commission on purchases from a link. How we select gear.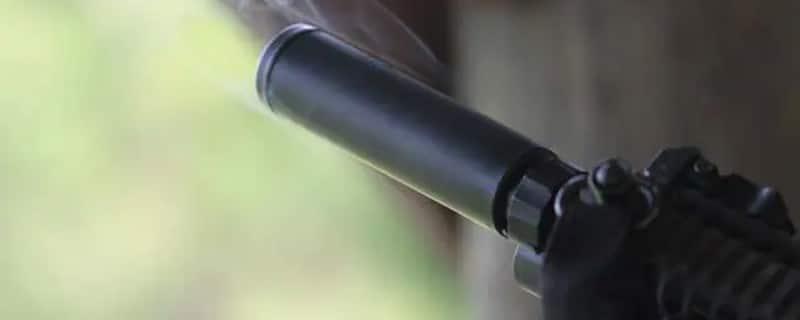 When you need to keep things quiet, be it for range etiquette or home defense needs, suppressors are a must-have.
Given that 9mm firearms are incredibly common these days, both as self-defense weapons and as EDC and tactical sidearms, let's take an in-depth look at the best 9mm suppressors on the market and see which ones are suitable for 9mm use cases.
9mm Suppressor Comparison
Below is my list of the best 9mm suppressors. I list the best choices in terms of value, performance, design, and cost.
Click on the name to head to the product page, read reviews and check prices or skip ahead to the list of suppressors.
| Name | Selection | Price |
| --- | --- | --- |
| | Best Overall | $949 |
| | Budget Option | $550 |
| | Best Recoil Reduction | $605 |
| | Full-Auto Option | $799 |
| | Most Innovative | $1,499 |
1. Best Overall: Silencer Central
First up is the Silencer Central Banish 45
It's definitely pricey, but overall well worth it thanks to its quality design features. For starters, the silencer uses a tubeless configuration that can deliver fantastic sound suppression without being too heavy or long.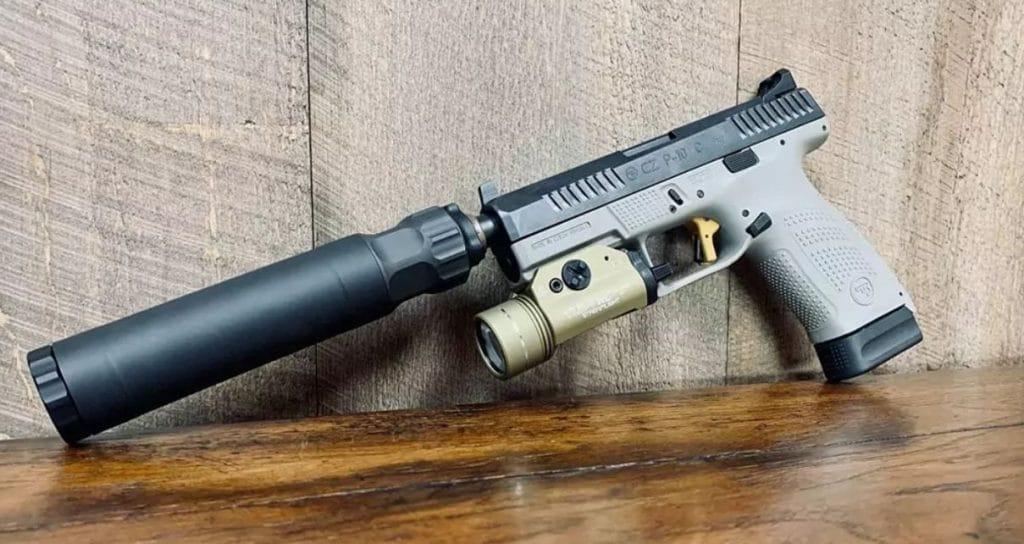 The Banish feels at home on full sized and compact pistols
It's available in 6.7″ or  8.6" inches configurations and can reduce the sound of a 9mm report a full 36 db — dropping a 160 dB report down to a hearing-safe 126 dB or so on average.
Depending on the configuration it tips the scales at just comes in 9.6 or 11 oz, so you'll be able to use your favorite pistol without things feeling too off.
It uses corrosion-resistant titanium and aluminum, which keeps weight down as well.
Even better, you can use this 9mm suppressor with supersonic and subsonic ammunition – yes, that means you can combine the suppressor with other weapons as well.
Thus, it's a great long-term purchase for future use, not just for a single 9mm weapon.
It's tough enough to work with submachine guns or rifles, and it's easy to install over just a couple of seconds.
The downside? It'll cost you about as much as 3 Taurus G3C pistols — such is the price of silence.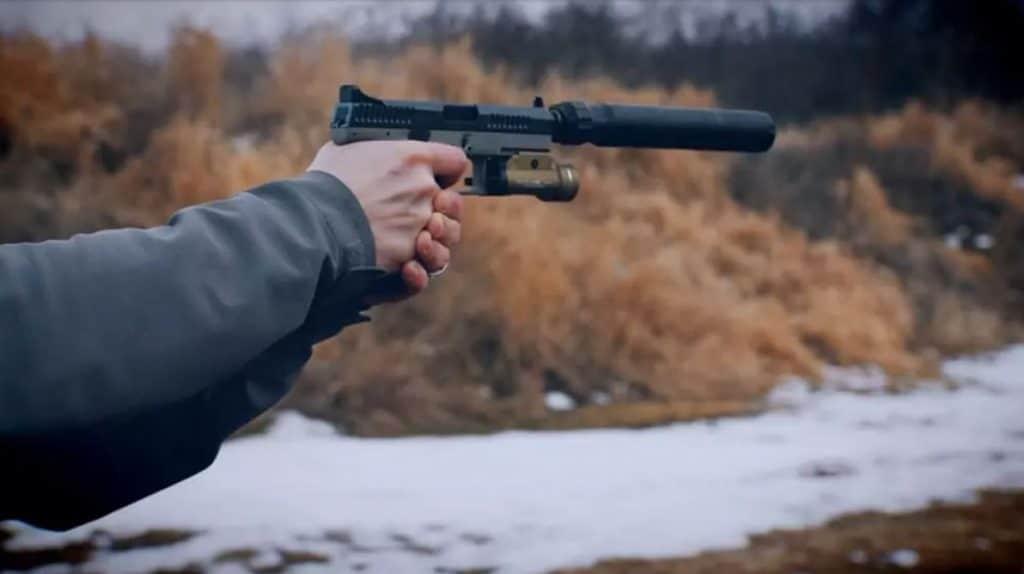 The full 36 dB reduction makes the Banish 45 easy to use without additional hearing protection.
Pros
Very easy to install and remove
Short and lightweight
Super durable
Can be used for multiple weapons
Cons
Not a big accuracy booster
Not as much recoil reduction as other options
2. Budget Option: Ultima 9mm
Here's a compact and slightly less expensive 9mm suppressor. The Ultima 9mm Suppressor is a good choice for budget-minded shooters who still want something that can deliver significant suppression for typical 9mm pistols.
It's a versatile model, using a patented "Recoil Attenuation Device mount (R.A.D.)," optimizing the Ultima for use with semi-auto pistols.
You'll be able to quickly and easily adjust how the suppressor rotates onto your pistol, and you can also rotate the silencer to better suit your sight picture depending on how high the weapon's sights sit on your gun.
This ensures that you won't have to work with an obstructed sight under any circumstances.
The 1.375″ diameter suppressor comes with a cone baffle stack that can easily be removed for maintenance without needing tons of tools. The baffle helps your ammunition move out smoothly, improving accuracy for every shot.
The suppressor body is stainless steel and has a nitride finish that ensures long-term durability and corrosion resistance, paired with a stainless steel blast baffle. It is a little long at 9.5″, so be sure that this longer 9mm suppressor will fit with your firearm before finalizing a purchase.
Pros
Can easily be rotated for a good sight picture
Comes with a cone baffle to improve accuracy
Baffle can easily be removed for maintenance
Made with great materials and nitride finish
Cons
Can be a bit long for some pistols
3. Best Recoil Reduction: Sig Sauer
This 9mm suppressor is specifically designed for 9mm Luger pistols, and it's made with a titanium tube that guarantees excellent durability without adding a ton of weight to your pistol. It also comes with stainless steel baffles for added performance.
The suppressor attaches with a barrel spacer set up that links securely to your weapon. Screwing in the suppressor only takes a couple of seconds, as does uninstallation if you want to swap it with a different barrel attachment.
This special setup process also means that it works well with any tilting barrel pistols – a special booster comes with the purchase.
Very little barrel movement with the SDR9 in place.
We also like that the suppressor can work to reduce the recoil you feel by a slight but noticeable amount. Again, this isn't as powerful as something like a dedicated muzzle brake, but it's a nice bonus.  All in all, it's a suppressor that works with a wide variety of pistols and that does a great job of suppressing noise while only weighing 12.6 ounces.
The downside is that you'll have to clean and calibrate this suppressor relatively frequently. But compared to all the benefits, that's not much of a flaw.
Pros
Excellent titanium body
Very easy to attach to a wide variety of guns
Works with tilted barrel pistols
Reduces recoil noticeably
Cons
Needs lots of maintenance and calibration
4. Full Auto Option: Dead Air
Sometimes you want a 9mm suppressor for a fully automatic weapon instead of a traditional, semi-auto application.
That's what the Dead Air Wolf is all about. It was built for short barreled submachine guns of all kinds. It's design offers a more modular suppressor that features a full-length orientation for longer weapons and a compact configuration for smaller pistols and handguns.
Solid performance from the DAA 9SD can
Regardless, it's a durable piece of equipment that's easy to clean and can withstand tons of fully automatic fire without decreasing in performance. It weighs either 7.5 or 14.7 ounces depending on its configuration; either way, that's fairly lightweight for most folks. The compact orientation is also only 4.1 inches long.
It's ultimately tough enough to be used with 300 blackout rounds. Just keep in mind that the barrel is a bit thick – even if it doesn't weigh a whole lot, this might throw your balance off a bit. But it does ensure that the suppressor works wonders when it comes to reducing noise output.
Pros
Can be used from pistols or submachine guns
Both configurations are lightweight
User serviceable
Works with .300 Blackout rounds
Cons
Might affect the balance of your weapon
May require suppressor-height sights on pistols due to the diameter
5. Most Innovative: Maxim 9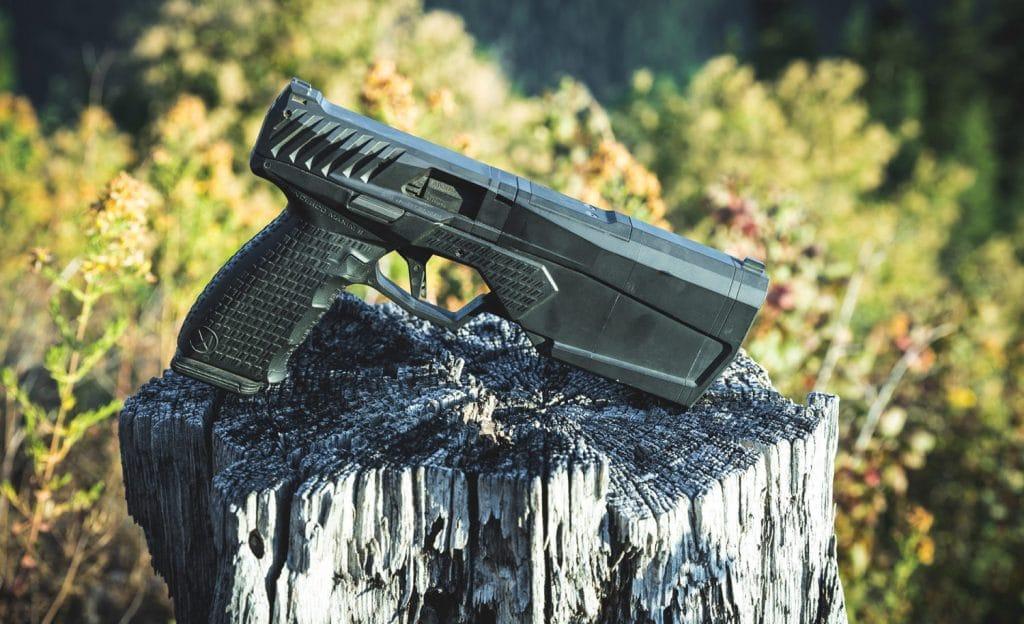 Looking like something Judge Dredd would be packing.
Alright, so this isn't a dedicated 9mm suppressor by itself. Instead, it's a 9mm pistol with "integral suppression", meaning this suppressed pistol is always suppressed since the suppressor module is essentially built into the handgun's frame.
Still, we think it's a great choice if you want premium performance and are willing to put down some extra money to acquire it.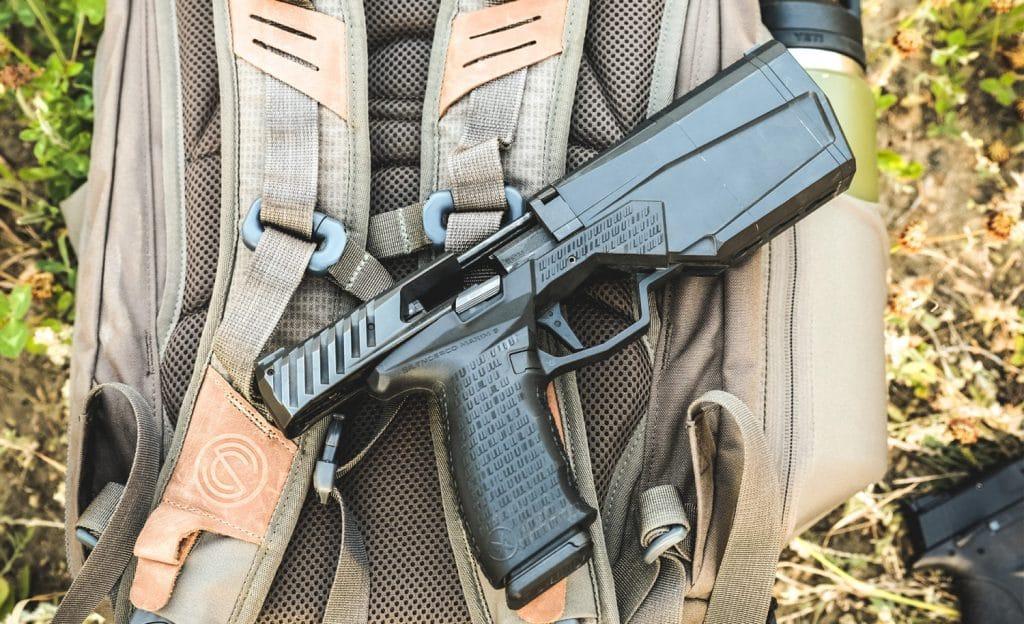 Business in the rear, party up front.
It's a semi-automatic pistol that is shorter than practically any other traditional 9mm handgun with an additional suppressor attached. It fires 147 gr, 9mm pistols at sounds of about 139 dB – talk about suppressing power!
It also uses Glock magazines, so you can combine the pistol with a variety of excellent accessories.
It's a phenomenal pistol with barely any recoil and an ergonomic handle. Super and subsonic ammunition both work with this pistol and its integrated suppressor.
You can also use a modular control to extend the barrel a little bit for added accuracy, though this does increase the sound of the weapon.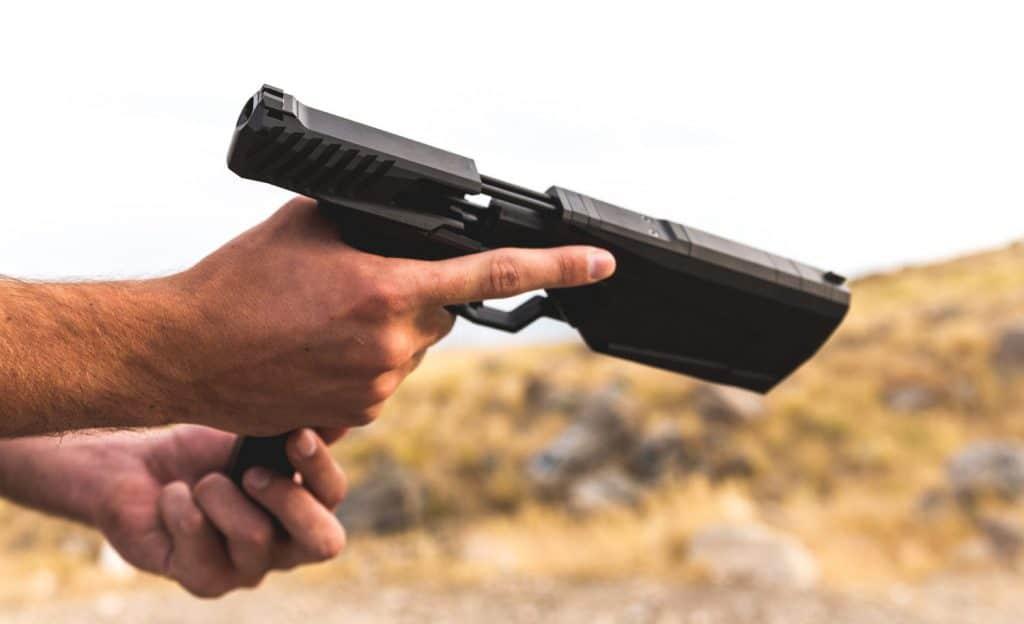 The Maxim 9 feels good in hand.
Pros
Suppressor is built into the handgun
Very little recoil
Excellent noise reduction
Comfortable grip
Easy to accessorize
Cons
Very expensive
Requires you to commit to a complete firearm
Aside from being generally awesome, I think there are two other good reasons to buy a suppressor for your 9mm firearm.
First and foremost, it reduces the noise signature of the firearm. While most of the time, the level of noise reduction won't make it safe to shoot frequently without ear protection (unless you're using subsonic ammo), but it can mask the location of your shots. Outside of the military, this also has applications for self-defense: if you need to shoot in the dark at an attacker, it's better they don't know where you are to respond with force.
In the same vein, suppressors often reduce the muzzle flash to zero. This makes it much easier to shoot in the dark without either giving away your location or blinding yourself, which is vital in self-defense situations.
Finally, suppressors also tend to reduce the recoil by shifting the center of balance forward with the added weight at the end of the barrel along with the slower velocity. While 9mm is relatively tame in full-size pistols, compact and subcompact handguns can be a little snappy. In cases like those, suppressing your 9mm can give you the advantage of having less felt recoil, which keeps your shots on target.
Lots of 9mm suppressors
While there's a lot to know and learn about suppressors, you can break them down into two main types, and we'll throw in a third one that's a little bit different in terms of application.
Internal Baffle Suppressors
Many suppressors contain baffles: metal cones or other shapes that fit into a metal tube. These cones stack on top of one another to form a series of chambers with channels going in between them. A suppressor with baffles offers significant flash and resound reduction by making the expanding gasses from the fired projectile circulate in the stainless steel baffle sections rather than going out of the front of the muzzle straight away.
While that gas is circulating, it cools down and lets the unburnt powder burn or cool down.
These suppressors work reasonably well, and they can be re-used as long as you're willing to clean them every so often as per manufacturer instructions.
Wipe Suppressors
Rather than aluminum baffles, the Gemtech Aurora II uses 8 neoprene wipes and 3 petroleum jelly-filled spacer baffles.
Other suppressors use wipes. These wipes are rubber discs fitted into the end of a suppressor that may or may not also have baffles. These replaceable discs are usually made from polypropylene or a similar material, and often look like an orange rubber disk at the business end of a suppressor, where gases have a lower pressure and temperature.
When a weapon is fired, the bullet punctures the wipe as it exits the suppressor. The exit hole in the wipe will match the bullet's diameter — sealing in spent propellant gases, which cool down inside the suppressor before exiting out through the hole made in the wipe by the exiting bullet.
This is an older suppressor technology that dates back to at least the Second World War, where they were used by the British OSS to great effect thanks to their impressive sound attenuation.
Wipes work to reduce "first round pop" — when the first shot from a silencer is louder than subsequent shots due to burning oxygen inside the suppressor.
Suppressors with wipes are often supremely quiet for a single shot. After that, they tend to degrade in performance rather quickly, and you'll need to replace the wipes after around 50 shots. Wiped cans also require the shooter to use FMJ rounds, as hollow point ammo can expand on impact with a wipe, making them less than ideal for home defense.
This makes them less prevalent among civilian shooters, but they have a place among three-letter government agencies whose budgets probably don't officially exist.
Both baffles and wipe suppressors usually screw onto the end of a barrel or attach by some manner of quick detach mount. Another type of suppressor does neither of those, though they will use baffles or wipes: integral suppressors.
Integral Suppressors
An integral suppressor is built into the gun — either from the factory or as a later modification, which prevents removal under normal circumstances. This is the case with some pistol caliber carbines, rifle calibers, and some handguns, such as the (now defunct) Hudson H9, which is a fully suppressed pistol using a large array of baffles attached to the end of the barrel to achieve the desired sound reduction.
In addition to being highly effective, integral suppressors also have the benefit of cutting down on the amount of government paperwork you're likely to encounter.
What to Look for in a Quality 9mm Suppressor
The different factors that distinguish 9mm suppressors from one another can impact how well they suit your firearm and its intended use. Let's break them down one by one.
1. Decible Reduction
When you're thinking about buying a 9mm suppressor, the main thing that I think about is the its degree of noise reduction. It's somewhat subjective, so bear with us on this one.
While it's possible to measure how much noise a suppressor reduces in decibels, equally important is how it changes the sound: a perceived quieter sound may not align with what a decibel meter actually measures. I recommend weighing dB reduction claims against some well-recorded video reviews before making any decision about buying a suppressor.
2. Baffles vs. Wipes
Second, I consider the type of suppressor that you want or need. Generally speaking, you'll be buying a suppressor that uses baffles, not wipes. Some suppressor models still use wipes, but many of those are recreations or are surviving examples of historical suppressors from several decades ago.
Wipes work exceptionally well, but the fact that they have to be replaced after just a few shots makes them less popular than baffle-based suppressors.
Next, consider attachment systems. For instance, if your barrel has a specific thread pitch, it only makes sense to buy a suppressor compatible with that threading. Otherwise, you'll end up with an adapter or worst case stuck trying to figure out how to make your gun work with your suppressor. That's clearly backward; it makes more sense to start with the gun or attachment system you already have and pick up a suppressor that will work without requiring additional adapters or a specific barrel threading.
3. Material
What kind of material? Metal, duh.
Obviously, the material construction of a 9mm suppressor matters a lot. Practically all of them will be made of some type of steel, usually stainless, titanium, or something similar.
You can also find many suppressors bolstered by durable polymers that can either reinforce the steel for added stability, increase noise reduction, or minimize heat transfer even further.
Hardier and lighter materials are almost always better – but they tend to increase costs. The lighter the suppressor, the less it affects your weapon's balance, and the more accurate you will be with it attached.

Lightweight materials will make for a suppressor easier to wield
4. Recoil Reduction
Some of the best suppressors can also help balance the recoil of your weapon. Keep in mind that this is a side effect, not the focus of the suppressor.
You shouldn't expect it a suppressor to reduce your recoil in the same way that a muzzle brake often can. Still, suppressors that can add a little bit of extra stability to your weapon are always great choices.
5. Compatibility
Ensure that a given 9mm suppressor fits with your weapon and is rated for the shooting you do.
Some suppressors are only designed to be used with certain 9mm pistols, while others are suitable for compact and full-size handguns or even full-auto firing.
Still, more suppressors can work with longer rifles chambered for 9mm ammunition, like certain AR-15 builds cobbled together by hobbyists.
6. Attachment Mechanism
Direct Thread
Certain suppressors are really easy to screw onto the end of your gun via direct threading — such as a rifle in 5.56 NATO caliber threaded for 1/2-28.
A suppressor threaded in 1/2-28 simply screws onto the end of the barrel or flash hider. It's the cheapest option, requiring nothing other than the barrel and suppressor, which means it's also the lightest and least expensive route to quieting down your rifle (or multiple common-caliber rifles).
Direct threaded suppressors can back off over time, so you'll need to make sure it's tightened to spec before shooting or risk it backing off to the point of causing a (rather expensive) failure.
Quick Disconnect
Quick Disconnect (QD) will often require a dedicated adaptor but it makes attaching and disconnecting a suppressor incredibly easy.  They're also convenient – in that you can mount an adapter to a muzzle device on multiple rifles and swap your suppressor all day long.
QD options tend to be more expensive, as you'll need an adapter for every gun you run, plus they add weight.
7. Weight
Last, weight is something that you should carefully consider when you're thinking about a suppressor. With a suppressor, any bit of weight that you add you're adding to the front of the gun.
A heavy suppressor can make a gun feel a little unwieldy and more challenging to use for long periods. The counter to this is that bigger suppressors, also heavier, have more internal volume and thus suppress sound more effectively. Ideally, you'll find a balance that's both light enough use and has enough internal volume to be effective.
See what happens when you overdo it?
Fair warning, suppressors are not cheap, and it's likely you'll spend more on the suppressor than you do on the firearm itself.
$500-$1,000. At about $500, you'll find basic suppressors that thread onto your firearm. This is effectively the entry point in the market, and these suppressors will have your standard designs, made primarily of steel with some titanium components if you can find a good deal.
Over $1,000. For over $1,000, you're in the sweet spot — covering all the basic features/materials but also including suppressors that experiment with new and exciting materials like reinforced polymers. There are also modular models in this price range that can be reassembled into different sizes to change the performance to your needs or better align with your firearm's dimensions. This price range is where you'll find a lot of the best suppressors.
Also, it's worth mentioning that no matter what suppressor you get, you'll also have to pay a $200 tax stamp to the ATF and wait for them to approve it before you can take your suppressor home from your firearms dealer. This adds substantial cost to the suppressor alone, which is one of the main reasons that suppressors are considerably more expensive than firearms alone.
At the end of the day, all of these 9mm suppressors are great choices. The Silencer Central Banish 45 Silencer is a good all-around choice for most users thanks to its asking price and excellent design choices.
But we feel any of these will work well for lowering the noise output of even the loudest 9mm pistols or submachine guns and help you complete your hunt or tactical operation successfully. Good hunting!

March 15, 2023 — We've updated the availability and pricing for picks in this guide and provided more-current information about each 9mm suppressor pick.
Sign up for our newsletter
Get discounts from top brands and our latest reviews!