The Best AR-15 Brass Catchers
Written By
Michael Crites
Licensed Concealed Carry Holder
Reviewed by
Editorial Team
Learn About The Editorial Team
Share:
Products are selected by our editors. We may earn a commission on purchases from a link. How we select gear.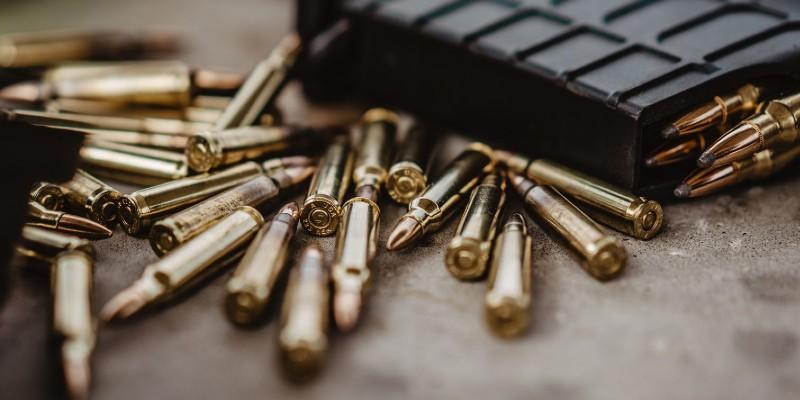 If you want to avoid spending the back half of your day at the range picking up the brass casings, a brass catcher will come in handy.
Given how much time & money folks invest in their AR-15 – with rails, accessories, and various upgrades – something as simple as a brass catcher – that snags your casings before they hit the ground – will keep your casings clean and ensure you spend more of your time putting lead down-range than picking up cold brass.
After considering 15 different brass catchers and testing 8 of them on a series of different rifles—including an AR-15, 22LR, and SKS —we recommend the Caldwell Pic Rail Brass Catcher as the best brass catcher for most recreational shooters who like to collect and reload their casings.
If you prefer a non-attached brass trap or are looking for a budget option, we have also provided recommendations for those.
AR-15 Brass Catcher Comparison
Below is my list of the best brass catchers. I list the best choices in terms of value, performance, design, and cost.
Click on the name to head to the product page, read reviews and check prices or skip ahead to the list of AR brass catchers.
The Best AR-15 Brass Catchers Reviewed
1. Best Attached Brass Catcher: Caldell Pic Rail
The rail-mounted Caldwell Pic Rail Brass Catcher is sturdy, secure, and light. Measuring ten tall x 7 wide x 4 inches deep and weighing just 4.8 ounces, it's a perfect fit for a non-obtrusive brass catcher that's easy to use, fits nicely over the ejecting port, and will hold up to 100 rounds of .223 casings.
Your mileage may vary if you're shooting a larger caliber, but in our tests, we found that considering you're changing your mag well before hitting 100 rounds, it's easy to clear it out as you go.
Effective Mounting System
We've tested thousands of dollars of gear for our product guides, and of all the products we've put to the test, this Caldwell brass catcher is one of the few things I both bought for myself and have given as a gift to my shooting buddies.
Catching brass with the Caldwell
It has a friendly mounting system that works with any Picatinny, so if for some reason you don't have a top-rail, this won't work for you – but for most AR owners, it's a simple and practical accessory.  The internal wire frame keeps it in the correct shape, plus the ability to mount the Caldwell anywhere on your rail enables it to cover the ejection port and helps spent casings enter bag without bothering your bolt function or impacting cycling
Mesh & Catch Bag Quality
One critical note – the heat-resistant mesh is very durable, but over time the bottom of the mesh bag can wear through from the way the hot brass lands nose down (the hottest part of the cartridge).
A slight mod makes it near perfect
While it's unreasonable to expect anything to last forever, we found that adding a small piece of leather in the bottom prevented any visible wear and will extend the life of the product considerably.
What we liked:
100 round capacity
Empty without removing from the rifle with convenient zipper
Standard picatinny rail mounting
Fully adjustable to work with a variety of rails
What we didn't:
Rounds land in the bag nose down & can melt the bottom over time
2. Best Trap Brass Catcher: Caldewell Brass Trap
While other brass catchers will mount directly to your rifle, if you'd prefer to avoid mounting anything to your hand guard (but still want to use a catch) the Caldwell Brass Trap makes catching, clearing, and removing all your ejected brass easier than every other trap catch we've seen.
Stand-alone trap
The fact it's a stand-alone catch means it'll work for any firearm – rifles, pistols – you name it. Plus the mouth is huge at 19″ x 20" so it'll catch anything you toss at it and it's far easier to clean out than other traps.
The nylon heat resistant mesh uses hook and loop webbing which helps keep it rigid — plus the internal wire frame holds fabric up and helps it maintain a consistent shape. The unit can be tripod-mounted so you move it to fit wherever you're shooting – standing, seated, or prone.
We mounted it to a standard tripod mount and shot from a variety of angles and positions with no issues — it's a true universal brass catcher.
Best when secured down
With its large size but relatively lightweight we found that without a tripod the catch worked best with a sandbag or bungee cord to tie it down. It's the right brass catcher for someone who wants to catch spent brass without attaching something to your firearm.
Once you get it secure though, this thing isn't going anywhere. You'll also want a little more shooting area given the catch will need to sit 5-6 feet from you to align with the brass ejection of empty cartridges.
For those reasons and more, we think a quality AR 15 brass catcher that makes a very tedious task much easier is worth the premium price.
What we liked:
Big & easy to use
Holds an absurd amount of brass
Tripod mount makes it super flexible
Won't interfere with your shooting style
Wire frame keeps it up and out of the way
What we didn't:
More expensive than other options
Will need to be weighed down to keep in place if there's any wind
Plastic rods are flimsy
3. Best Budget Brass Catcher: GloryFire
If your budget is tight, or the Caldwell Pic Rail Brass Catcher isn't available, the GLORYFIRE Pic Rail Brass Catcher is easy to attach to your rifle, holds the same amount of cartridges (100 round capacity), and costs less than our top pick.
The GLORYFIRE is not a product you'll find in stores – it's a "made for Amazon" kind of thing – but it's also a reasonably capable brass catcher.
Easy to attach, if somewhat inconsistent quality
It'll attach via the provided mount & Allen wrenches and offers a zippered bottom for easy emptying – plus, it keeps you from flipping brass at your neighbor on the range.
It's also light enough not to interfere with shooting position, bolt function, or optics, and the heat resistant mesh uses hook and loop webbing – it showed no signs of melting in our 100+ round fire tests, preventing hot brass from spewing across our range.
The Picatinny mount worked well in our test unit but there have been reports of the mount not being milled to spec, which can cause it to be canted when mounted. QA can also be an issue, but absent that the product works as intended.
What we liked:
Attaches easily
Heat resistant mesh is soldily durable
Price
Convenient zipper
What we didn't:
Picatinny mount can have inconsistent milling
QA can be an issue
4. Best Brass Retriever: Caldewel Retreiver
If you really don't like the idea of attaching a catcher to your rifle, or would prefer to simply clean up once your day at the range is done (but still don't want bend over and pick up your brass by hand) the Caldwell Brass Retriever is sturdy, light, nimble, easy to assemble, and a superb performer for picking up spent casings & saving your back.
It did a better job of picking up .223 & 5.56 casings than any other retriever in our test—and did so on cement, light gravel, and packed dirt reasonably well. Its long handle and metal opener tool mean you stand upright when cleaning up then quickly drop the casings into a bucket to haul home.
Easy on the back
This really reduces back strain, and its collapsible handle makes it small enough to fit into a range bag.
The design is dead simple – you extend the handle and basically mop up the casings by rolling over them with the wire head.
There's a learning curve
You can't overdo it though – after it has picked up about 20 casings they will start falling out of the head if you keep pushing it around. You learn when it's "full" (even if it doesn't actually fill the head) and can drop them into a bucket with the opener tool.
It's also not omnidirectional – you've got to orient the head the right way to consistently pick up the casings (or it'll just glide over top of them.) It will work really well at indoor ranges with smooth floors.
Outdoors your mileage may vary, and it will pick up rocks and other items in addition to the casings you actually want. That said, it's a solid tool and does a great job if you use it within its design constraints.
What we liked:
Saves your back
Light weight
Packs up small
Adjustable handle
What we didn't:
Learning curve
Will drop casings if not emptied consistently
5. Runner-up Attached Brass Catcher: TacStar
Another solid attachable brass catcher option is the TacStar Industries Brass Catcher, available on Amazon.
It's about the same size and price as our top pick and offers most of the features you want in a brass catcher. The actual catch is sturdy and well-built, and the material (while not see-through like mesh options) is very durable. It's impervious to hot brass casings and stiff enough that it doesn't need a wire frame.
Survived our speed run with flying colors
We did a speed run – firing off 30 rounds in rapid succession. The spent brass was too hot to touch, but the catcher showed zero wear even when it was half full of red hot casings. Really impressive.
It mounts with a standard Picatinny to any flat top AR, so this should mount without issue if you have the rail space.
Less mounting flexibility
One note on the mount, though – while the Caldwell mount slides across the opening – the Tacstar mount can only slide halfway across – from the front rearward to about the middle of the unit.
This means your Picatinny bracket needs to be placed forward of the catcher's center point to cover the ejection port – you can't put the mounting bracket further back on the rail.
While not a massive design flaw, this could create an issue for anyone short on forward rail slots or with a scope mount using that space.
No zipper, but still easy to empty
There's no zipper bottom like other units, so the bag needs to be removed to empty, but it slides off the mount smoothly.
You can also unsnap the bag from the top bracket with a kind of swing open design to give it a thorough cleaning when it seems prudent.
The Picatinny bracket isn't premium material – so don't over tighten the screws or the threads may strip. There's also no option to buy a standalone bracket, so if you overdo it on the bracket you'll need to replace the entire unit.
6. Best Pistol Brass Catcher: Graco
There are vanishingly few mounted pistol brass catchers, and this model from Graco (not the stroller company) uses a simple bottom Picatinny rail mount to place the catch in front of the ejector port.
Of course, this simple mount means a smaller catch – and you'll be able to get 2, maybe 3 magazines worth of brass in here before it starts swaying and impacting your ability to aim.
The catch is a heat-resistant black bag that's durable enough to withstand the hot casings without issue.
Each of these brass catchers offers different strengths and use cases, but our top pick is the Caldwell Pic Rail Brass Catcher as it's incredibly effective, easy-to-use, and met the criteria for any brass catcher we'd recommend:
Easy to mount
Durable
Lightweight & lots of capacity
There are quite a few options out in this category, but we hope this article steers you in the right direction. If you have any questions or feedback, please drop us a line.
Brass Catcher Frequently Asked Questions
How do you attach a brass catcher to your rifle?
Many brass catchers use a top rail to mount the slide-in base, to which you lock your brass catcher over the rifle's ejection port. This makes them an easy addition to more rifle platforms.
What is point of brass catcher?
Brass catchers are great for "catching" brass casings as they are ejected from your rifle – which eliminates the need to pick them up when you're done at the range. They also tend to keep brass clean, which helps for reloading applications.
What makes a good brass catcher?
A good brass catcher should be easy to use (be it mountable, trap-style, or push-style), durable, and light-weight so as to not impact your firing sequence. You should not have to compensate for the brass catcher once mounted to your rifle.