The Best Gun Trigger Locks in 2023
Written By
Michael Crites
Licensed Concealed Carry Holder
Reviewed by
Editorial Team
Learn About The Editorial Team
Share:
Products are selected by our editors. We may earn a commission on purchases from a link. How we select gear.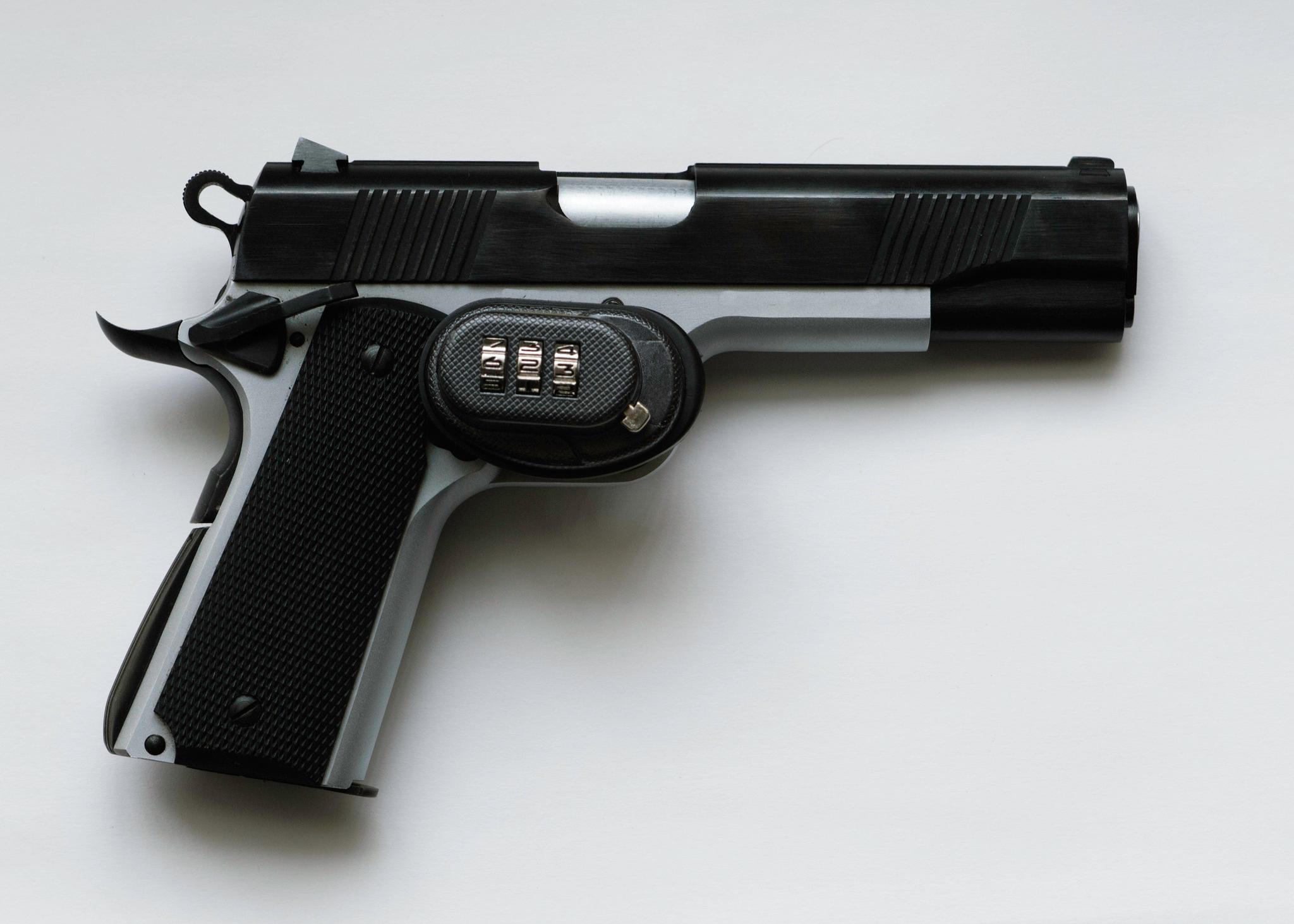 Proper gun safety is a cornerstone of responsible gun ownership. But sometimes, a gun safe or cabinet won't fit the bill. Some can take too long to open – preventing you from accessing your weapon in a hurry -and they tend to be both very large and expensive – meaning you need to be ready to send some cheddar and they can't easily be taken with you.
Enter trigger locks. These portable and easy-to-attach security solutions cover and protect the trigger of your firearm(s), preventing an unintentional discharge. While trigger locks are affordable and effective means of securing your firearms against misuse or accidents, some are certainly better than others.
Let's break down the best trigger locks on the market so you get a lock that lasts a long time and doesn't break the bank.
Below is my list of the best gun trigger locks. I list the best choices in terms of value, performance, design, and cost.
Click on the name to head to the product page, read reviews and check prices or skip ahead to the list of locks.
Trigger Lock Recommendations
1. Best Overall: Viking Biometric Trigger Lock
What We Liked
Known brand
Proven tech
Reliable & easy-to-use
Fits most sizes of firearms
What We Didn't Like
Pricey
Initial set-up is complicated
Our top selection is a biometric trigger lock from Viking – a well-established brand in the safe and gun cabinet space.  This lock is great for home defense/nightstand use, in part because it uses the same biometric tech found on other Vikibg safes – which is reliable and proven to release in less than 1/3rd of a second. It fits the majority of firearms (pistols, rifles, shotguns and bb/airsoft) and comes with a physical backup key just in case.
Even better, this biometric lock can store up to 10 fingerprint profiles – so the gun owner and 9 other people can use it (or you can ensure any of your fingers will unlock it). It also uses 360 degree technology – which means you don't have to hold your gun in a specific position to register the fingerprint – just swipe and go.
2. Runner-up Biometric Lock: Bison
What We Liked
Uses fast fingerprint reading for unlocking
 Contains a secondary unlocking mechanism if the battery runs out
Works in dirty conditions or inclement weather
Made of very durable materials
What We Didn't Like
The Bison Finger Trigger-Lock is another biometric fingerprint lock. This tech, much like the Viking, makes it almost impossible for a thief or attacker to use your weapon against you.
There's no delay in unlocking your weapon thanks to the biometric sensor and it matches the Viking with its claimed .3 second speed. An auxiliary control system also allows for manual key use in a pinch, such as if the lock's internal battery runs out of juice.
Furthermore, the lock is weather and dust-resistant and it can fit most types of firearms on the market. The downside is that – while it's less expensive than the Viking – it's still much more expensive than non-biometric gun locks.
3. Best Combination Lock: Master Lock
What We Liked
Can set your combination
Has rubberized pads
Features durable body
 Comes with adjustable tightness settings to fit most firearms
What We Didn't Like
 More expensive than other  basic locks
The Master Lock 94DSPT is an incredibly sensible and well-engineered piece of safety equipment. For less than $20 you get a slick, easy to use combination gun lock that fits virtually all handguns, rifles, and shotguns with few exceptions.
It's made with a steel and zinc body that's super durable and makes entering your pin into the four-pin tumbler quick and easy. That four-pin tumbler also offers reliable pick resistance – this making the lock more secure against would-be thieves. You can set your three-digit combination and never have to worry about losing a key or access to your firearm.
Even better, it has an adjustable ratchet mechanism paired with a positive locking system, ensuring a secure fit no matter what size of firearm you have. The rubber cushion pads protect your firearm's finish from scratches and bumps when installing – and sweeten the deal even further.
4. Keyed or Combination Option: Lockdown
What We Liked
Bright green for easy identification
Has rubberized pads
Features a heavy-duty securing bolt
Comes in combination variety as well
Has a one-year warranty
What We Didn't Like
The key is easy to lose
Not the most durable lock on the market
Although theLOCKDOWN Trigger Lock is an affordable option, it's still a reliable choice if you want to secure your firearm in your home or on the way to the gun range. In fact, it's been certified by the California Department of Justice, so it offers additional peace of mind.
This lock comes in both keyed and combination versions and features a heavy-duty bolt that secures through your trigger guard. This design significantly reduces the chance of an accidental discharge it storing while loaded.
In addition to rubberized pads at the point of contact that protects your firearm from any scuffing and scratches, the exterior is a non-marring coating that further reduces the chance of dinging your weapon.
We also really like that the lock comes with a one-year warranty: which is remarkable considering the low asking price. The only downside is that it's not the most durable lock on the market, and with any keyed lock there's always the chance you could misplace the key at some point.
5. Keyed Runner-up: RioRand
What We Liked
Very affordable
Comes with two keys
Has rubber pads for gun protection
Comes with positive locking mechanism
What We Didn't Like
Keys are sometimes hard to insert
The RioRand Keyed Alike trigger lock fits virtually all sizes of firearms, including even larger rifles and shotguns. It does all of this with a very affordable asking price, and it comes with two keys so that, even if you lose one, you can still access the firearm you protect with it.
The cushion rubber pads will prevent your firearm from receiving any scuffs or scratches, and it comes with positive locking mechanisms and an adjustable ratchet for versatile fitting.
In a nutshell, a trigger lock is a way to safely secure your gun when you can't place it into a case, safe or cabinet. Most trigger locks are simple two-piece locks that fit over a gun's trigger and trigger guard to prevent a finger from making contact with the trigger itself. They're not perfect but they offer a lot of security for very little effort.
Don't let this happen to you.
What to look for in a Quality Trigger Lock
The actual trigger locking systems are as diverse as true gun safes – and can use keyed locks, combination locks, cable locks, or biometric technology. Here's what to consider when looking for a trigger lock.
1. Portability
Lots of people appreciate trigger locks since they're super portable and they allow you to safely store a weapon without much hassle. Securing your weapon safely but keeping it mobile is a must while it's in transit – such as when you're transporting your guns for hunting.
When it comes to gun lock styles, manufacturers offer a lot of very similar forms and functions, and given they define the various levels of security differently from one to the other and can have proprietary rating systems, it can be hard to decide which locks are comparable – other than blindly going by price or brand name alone.
Like all firearm accessories, determining whether a trigger lock is worth your time and money means you need to focus on a few basic considerations.
2. Locking Mechanism
The most common types of trigger locks are keyed locks – those which can be secured and unlocked with physical keys – combination locks, which use a combination lock much like the kind you probably used on your gym locker oh so long ago, and biometric locks, which use your fingerprint for almost instant entry. These three variations comprise our set of recommendations.
Keyed locks are great since you don't have to waste time tapping in a combination or rotating dials, nor will you ever forget the combination in a tense situation. In this way, trigger locks that use keys are sometimes easier to access and unlock quickly. However, you always run the risk of misplacing the key. True quick access gun safes (with simple buttons or a biometric sensor) will generally be a faster option and easier to use in a hurry.
Combination locks face the opposite problem. You'll never lose the key and can always theoretically open the lock. But of course, you'll need to remember the combination – otherwise, you'll be sawing open your trigger lock to use your firearm.
Biometric locks offer the speediest entry – you hold your finger against the scanner, and the lock pops off. These mechanisms are seen on many nightstand safes that are intended to be used when things go bump in the night – and you don't want to be fiddling with keys. The downside is they can be a little kludgy to use, and they rely on batteries to open – so if you forget to charge it, you can forget about using the scanner. Of course, biometric locks generally offer physical backup keys, so you're not 100% S.O.L., but that certainly defeats the advantages of the bio mechanism.
All three variations can be good choices: but the one that's right for you largely depends on personal preference & use case.
3. Materials
Some trigger locks are made with plastics or polymers that won't last very long under any circumstances, and even the hardiest of them will fail with a few simple tools. In our opinion, cheap trigger locks aren't worth your time since any would-be thief could easily break through the lock – the same goes for curious kids.
So why bother to lock your gun in the first place? It, unfortunately, comes down to simple deterrence—after all, you don't need to outrun the bear; you need to outrun one person behind you. If you can lock your firearm up properly with a decently secure lock, you can remove the temptation for a thief to fiddle with it or a kid to play around with it.
Durable, high-quality trigger locks will last years and are well worth paying a little more upfront.
Look for stainless steel, high-quality polymer, and even steel and zinc bodies if possible.
4. Applicable Guns/Size
Lastly, consider which guns a given trigger lock will fit. Some are only suitable for small pistols or half-size rifles, while others are better for longer rifles and shotguns. Ensuring your new trigger was engineered to safely fit and protect your specific firearm is a must. Otherwise, you're just wasting money.
The above notwithstanding, trigger locks aren't the perfect solution for everyone. You shouldn't use them on loaded guns, as a trigger lock can still cause an accidental discharge. Furthermore, some cheaper trigger locks won't stop determined thieves.
In this case, a safe is the better option for gun storage.
The Viking Biometric Fingerprint Trigger Gun Lock is, all in all, the best choice for a trigger lock if you want something simultaneously affordable and durable thanks to its steel and zinc body and positive locking mechanism. Few locks balance budget and long-term security as well as this pick.
Let us know if you decide to go with the Viking Biometric Lock or if you made another choice – we're always interested in hearing what our readers use for their firearms!