Century Arms WASR-M Review [Hands On]
The Kalash's newfound popularity has led the platform into new, previously uncharted waters, such as embracing one of the other hot trends as of late — the 9mm PCC --making the WASR-M a fascinating rifle.
Written By
Michael Crites
Licensed Concealed Carry Holder
Reviewed by
Editorial Team
Learn About The Editorial Team
Share:
Products are selected by our editors. We may earn a commission on purchases from a link. How we select gear.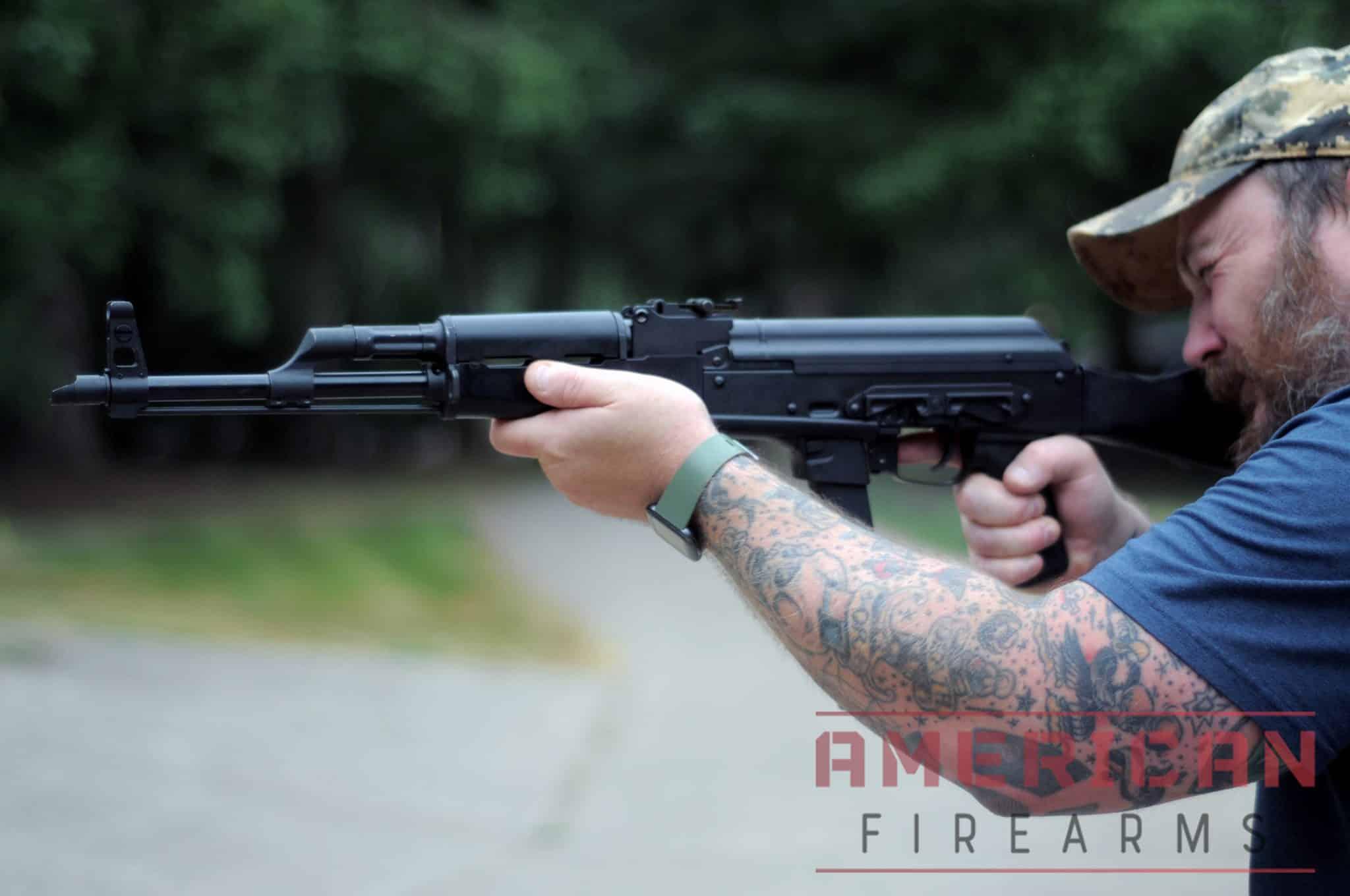 If you think you're seeing more and more AK 47 platform rifles around these days, your eyes do not deceive you. The AK has gone from a spooky Cold War-era relic fired into the air at random by guerillas in distant lands to an increasingly Americanized phenomenon. There are certainly more brands importing Turkish and Romanian AKs these days (ala Century Arms) or even building them here in the states, like the ever ambitious Palmetto State.
This proliferation of the Kalash has led the platform into new, previously uncharted waters, such as embracing one of the other hot trends as of late — the 9mm PCC.
That combination of AK enthusiasm paired with the 9mm cartridge made the WASR-M a fascinating rifle for me to put to the test.
When Guns.com offered to send me a WASR-M to sate my desire, I was all in.
One of the biggest firearms importers in the US
Century Arms has been in the business of importing firearms from across the Atlantic since JFK was in office, when William Sucher, a typewriter repairman, listed a Lee–Enfield rifle he had taken in trade in the newspaper and received more interest in the rifle than his typewriters.
Even the entrepreneur Sucher immediately got into the business of locating and importing surplus rifles, eventually becoming one of the biggest firearms importers in the US.
Century has made a name for themselves with their line of WASR-10 AKM clones, Canik pistols, their fantastic MP5 clone series, the AP5, and, as of 2020, the WASR line-up.
The WASR line is comprised of sporterized versions of the Romanian Military PM model 1963 rifle, originally designed with export in mind. The PM model 63 itself is a Romanian licensed derivative of the Soviet AKM assault rifle, available from Century Arms in 7.62 via the WASR-10 and 9mm in WASR-M, which is the model I have reviewed here.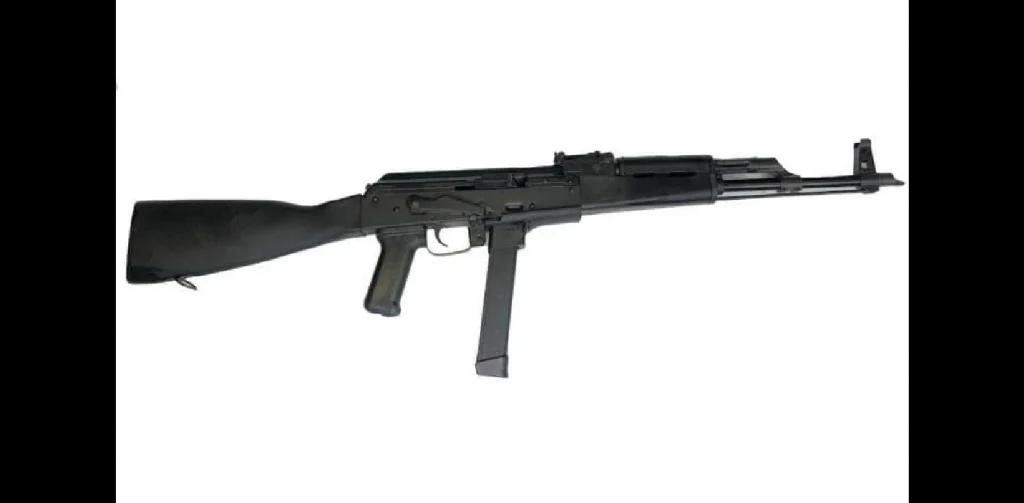 | | |
| --- | --- |
| Caliber: | 9mm Luger |
| Capacity: | 33 (1 Magazine Included) |
| Action: | Semi-Auto Blowback |
| Trigger Pull Weight: | 7-7.5 lbs (Measured with my Wheeler Trigger Scale) |
| Length: | 36.125 in. |
| Height: | 6.875 in. (without magazine) |
| Width: | 1.875 in. |
| Barrel Length: | 17.5 in |
| Weight: | 17 lbs 14 oz. (with empty magazine) |
| Sights: | Steel / adjustable front sight / graduated rear / 100-400 yard presets |
| Safety: | AK Paddle Safety |
| Operational Controls Finish: | Polymer & Steel |
| MSRP: | $499 |
| Real-World Price: | $499 |
WASR-M Review Feature Call-Outs
Surprisingly Decent Trigger
The 7 – 7.5 lb trigger pull is on par with other rifles, but the trigger is comfortable to use.
Glock Mag Compatibility
Run sticks from your G19 to your WASR-M.
Old School AK Irons
The irons present a rewarding challenge and use four 100-yard elevation presets.
Upon opening the Century Arms box, a few things jumped out to me:
the WASR-M is a full-sized rifle, and paired with the 9mm Glock stick, literally made me laugh out loud. It's a hilariously funny-looking rifle.
It feels heavy in hand
Factory sights are classic AK irons
The grip is small and comfortable in hand
The inclusion of the AKM optic side mount is great for getting beyond the limitations of the irons
While these are my initial impressions, I took the rifle to my range and started gathering first-hand data. Let's dive in.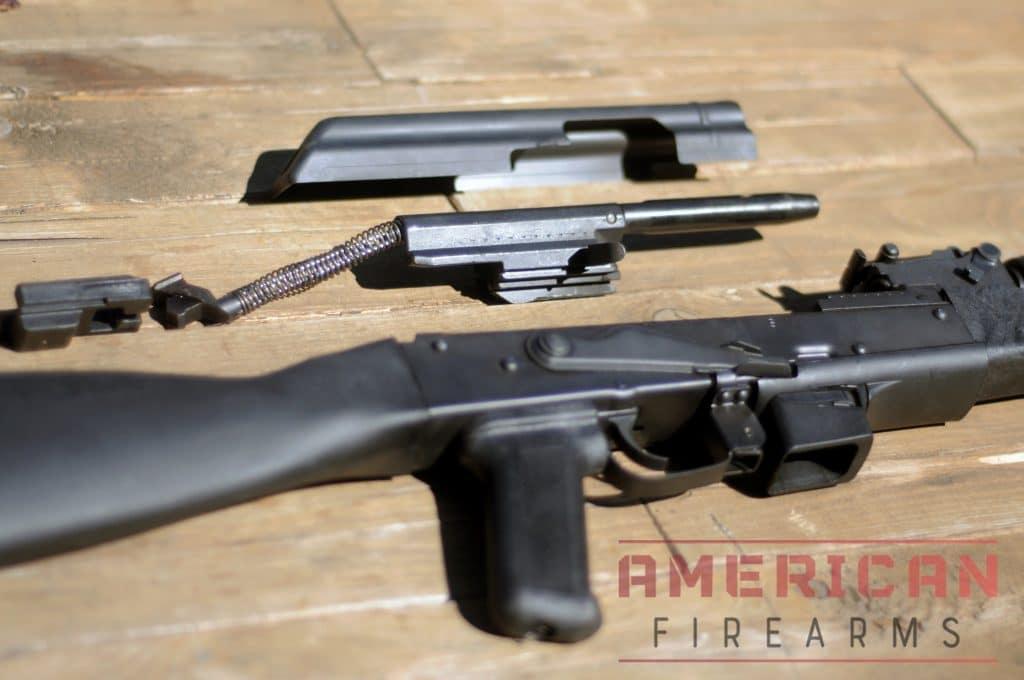 Before heading to the range I took the little AK apart to see what color its organs were.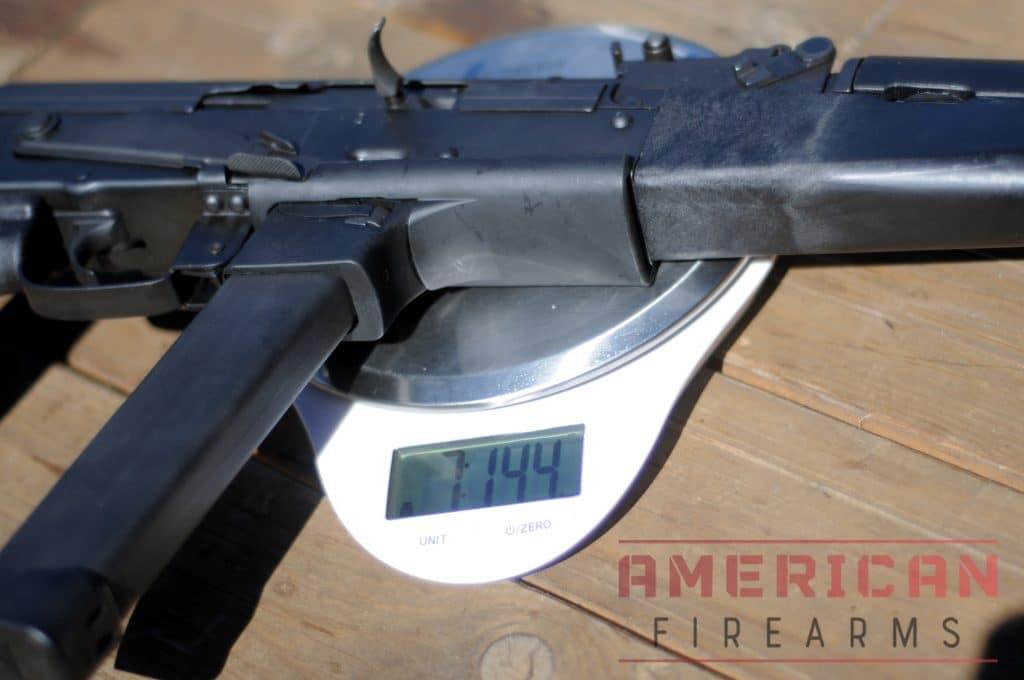 She tipped the scales at just over 7 lbs, 14 ounces. Not sure about the gender though.
Pros:
AK face with a PCC booty
Likely the funnest gun at any range
A rewarding challenge
Accepts Glock mags
Decent trigger
Cons:
Oddball looks
AK irons are difficult
Non-adjustable stock and trigger
Requires two hands to reload
Shooting any gun, including an AK, is only a good time if you can hit your targets. This — at the risk of sounding glib — requires one to know how to aim the firearm properly. The WASR-M uses the classic AK aiming system of an adjustable front sight and range-adjustable rear sight.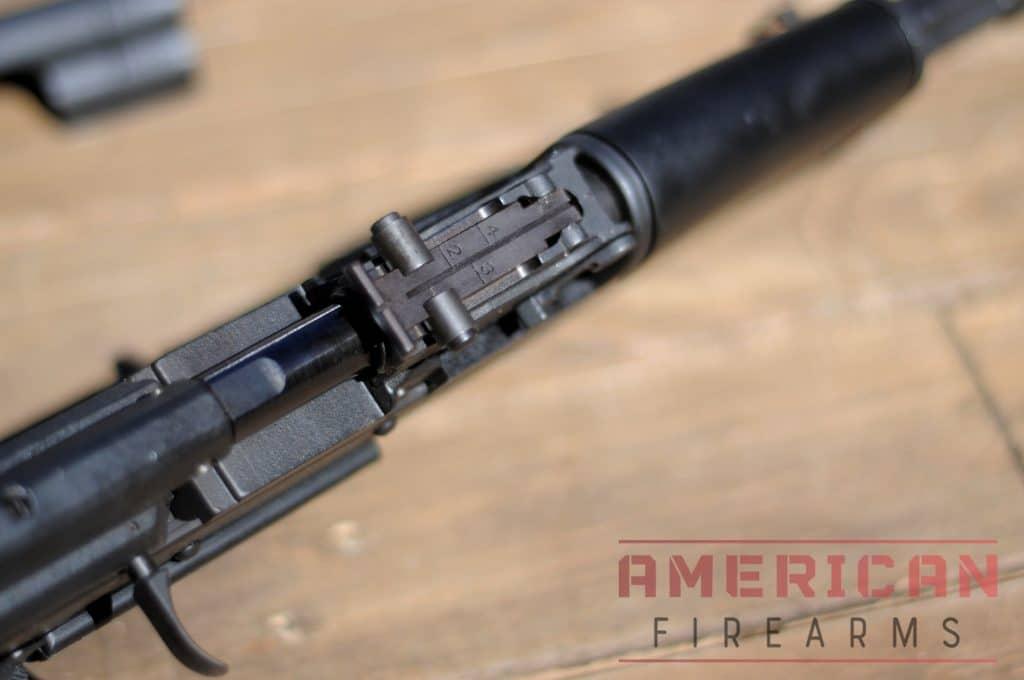 The WASR-M's graduated rear sight has 4 presets for 100 through 400 yard targets. Hitting somthing at that distance with irons, however, requires a more capable eye than mine!
The fixed rear sight is a conventional "U" slot type, which will be familiar to anyone who has ever fired an AK. This is stamped from a solid piece of steel and hinged on the rear sight block. Sliding the spring-loaded cylinder up gradations representing 100-meter range adjustments allows you to snap the sight to these pre-set spots, aligning the sights to your target range. The WASR-M has 4 presets — at 100 through 400 yards.
The front sight of an AK is where all the sighting-in happens. It's a fully adjustable front sight that's composed of a sight post screwed into a cylinder that as been pressed into the front sight block. Screwing the front post into (down) or out of (up) is how you adjust vertical POA.
The WASR-M included the sight adjustment tool required to get it on target, and I cranked away until I felt like I had a decent zero.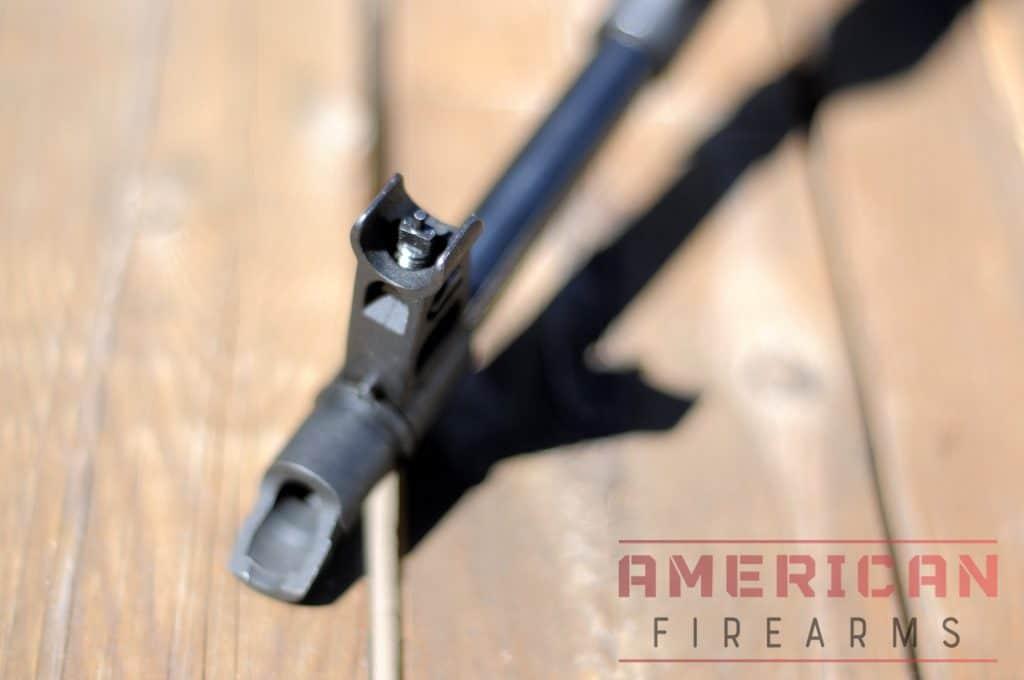 The front sight of an WASR-M, like all AKs, is where all the sighting-in happens. It's a fully adjustable front sight that's composed of a sight post screwed into a cylinder that as been pressed into the front sight block.
Despite having the tools required, the irons were challenging for me. I typically train with some kind of optic, and the AK platform isn't my bread and butter. I spent a good 30 rounds just figuring out how to pattern with any degree of consistency. This involved shooting a full 20 rounds at 100 yards without hitting steel and occasionally kicking up dirt a good 30 yards in front of the target. Good times.
Eventually, I had a sense of where the WASR-M was placing the rounds and could at least hit 8-inch steel a good 75% of the time from 100 yards. Good enough for government work, I suppose.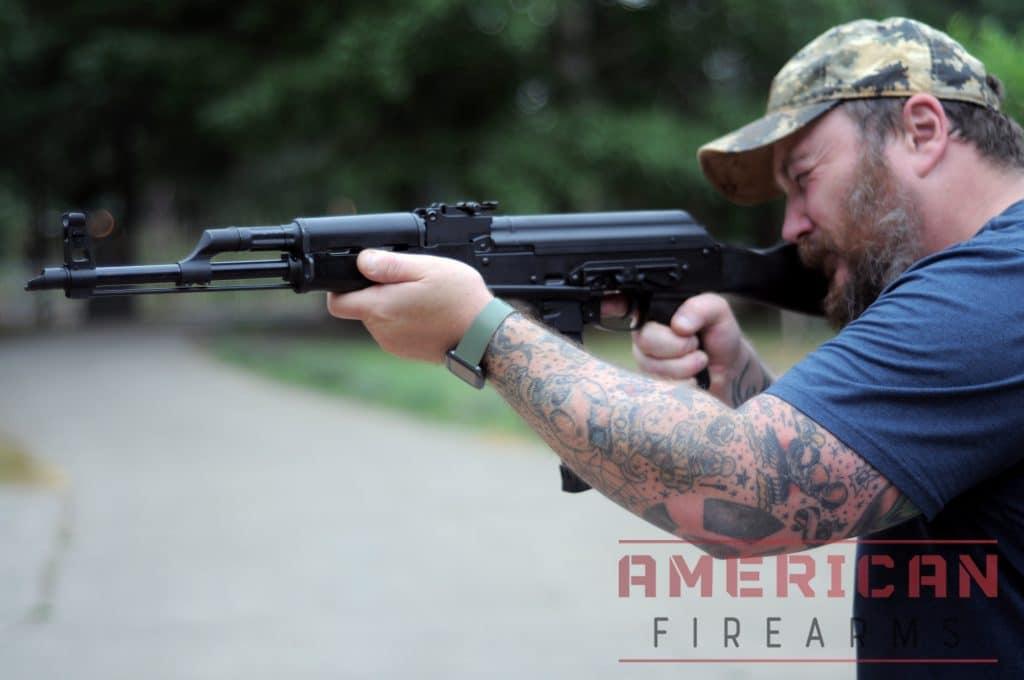 The WASR-M's irons pose a rewarding challenge.
The odd thing about this challenging setup was that hitting something with regularity once I overcame the odd aiming landscape made for a good deal of satisfaction. It felt good to celebrate the PING of steel after so many shots lost to the brush.
If anything, the WASR-M gave me a challenge that felt a lot like recapturing a childlike excitement for learning something new and eventually getting (moderately) proficient at it.
Reason enough to consider one IMO.
The WASR-M, despite being chambered in 9mm, has a big boy rifle trigger pull weight at just about 7 lbs.
This is considerably heavier than my other AR-platform PCCs, but on par with most AK-platform rifles I have shot, breaking at 7 to 7.5 lbs consistently when tested with my Wheeler Trigger Pull Scale.
In time I'd prefer a single-stage CMC trigger upgrade that's more in the 3 -3.5 lb range.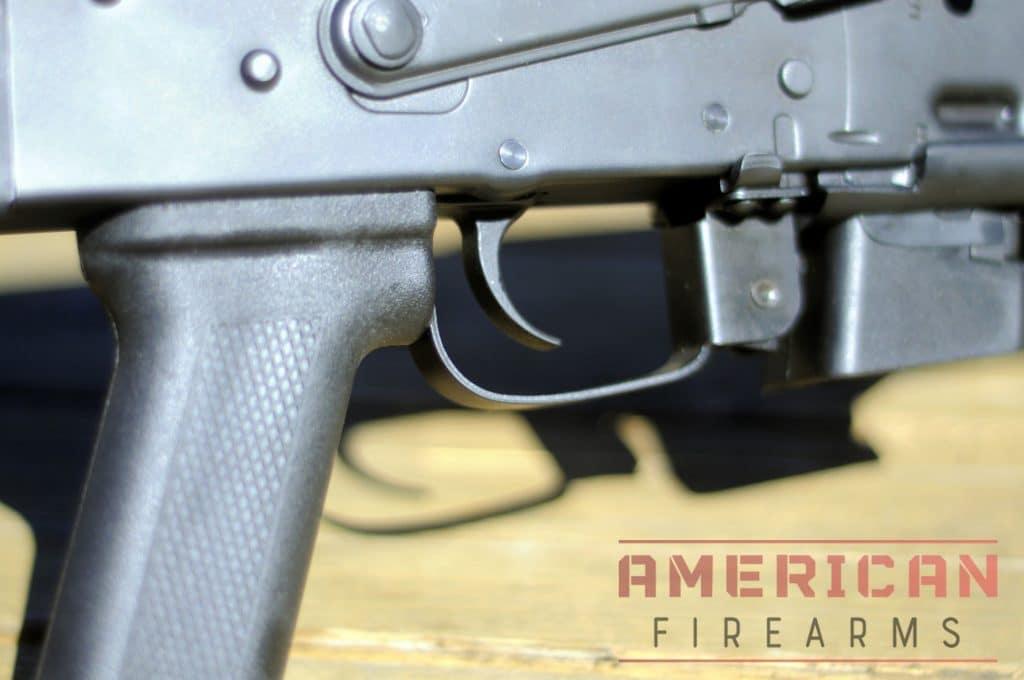 The non-adjustable curved trigger does feel natural when firing, and it cradled my trigger finger nicely with each shot.
The non-adjustable curved trigger does feel natural when firing, and it cradled my trigger finger nicely with each shot. There's a fair bit of take-up, leading to a fairly consistent break and almost zero over-travel. Once you fire a round there's nowhere to go but forward.
The trigger guard, in keeping with most AK rifles, is massive. You could probably fire this thing with mittens on.
Reset is very positive, with an audible click.
You could be forgiven for thinking the WASR-M looks inexpensive — with its simple black polymer furniture, stamped receiver, and budget anodizing. The fact of the matter is the AK was designed around simplicity and functionality.
It's no beauty queen, but it points well, even with a grip that feels like it was pulled from a Super Soaker.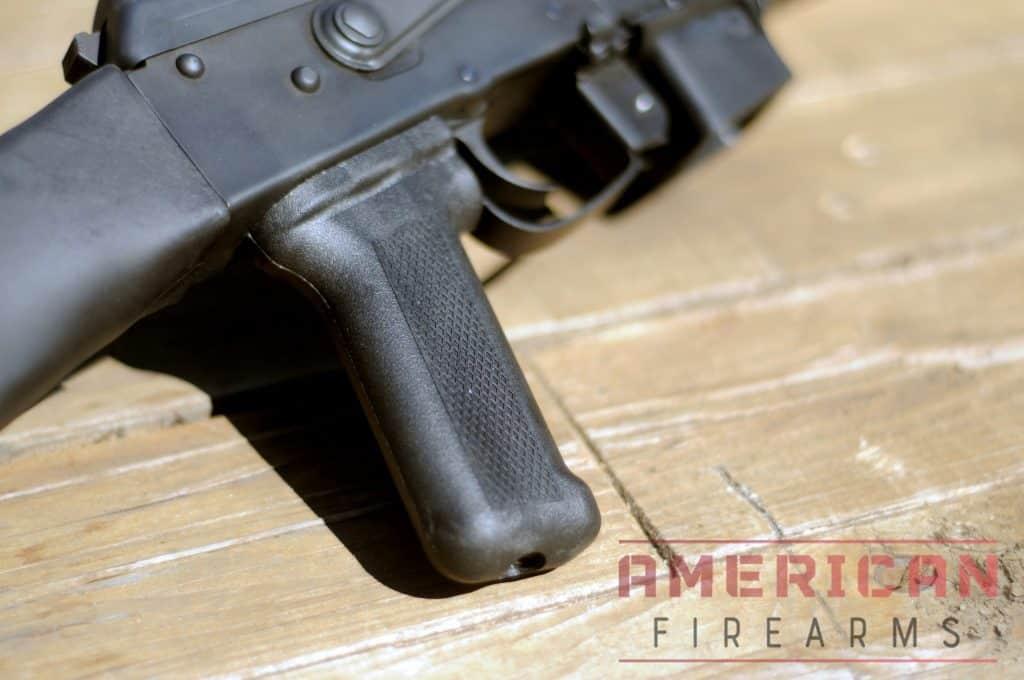 I like the size of the grip but the material feels like something produced by Daisy.
I like the size of the grip — I don't have bear mitts, so a smaller grip allows me to get a more affirmative hand position. The material is polymer, so there's no rubberized friction available — it's pretty budget. My shooting buddy first said when I handed it to him, "Is this made by Mattel?"
The forend is the same polymer material, so it's relatively light and easy to control when firing. It's also large compared to an AR forend, and forget about a c-clamp grip — your thumb will block the irons.
There's also no texturing to speak of, so it can get slick when moving or with rapid fire.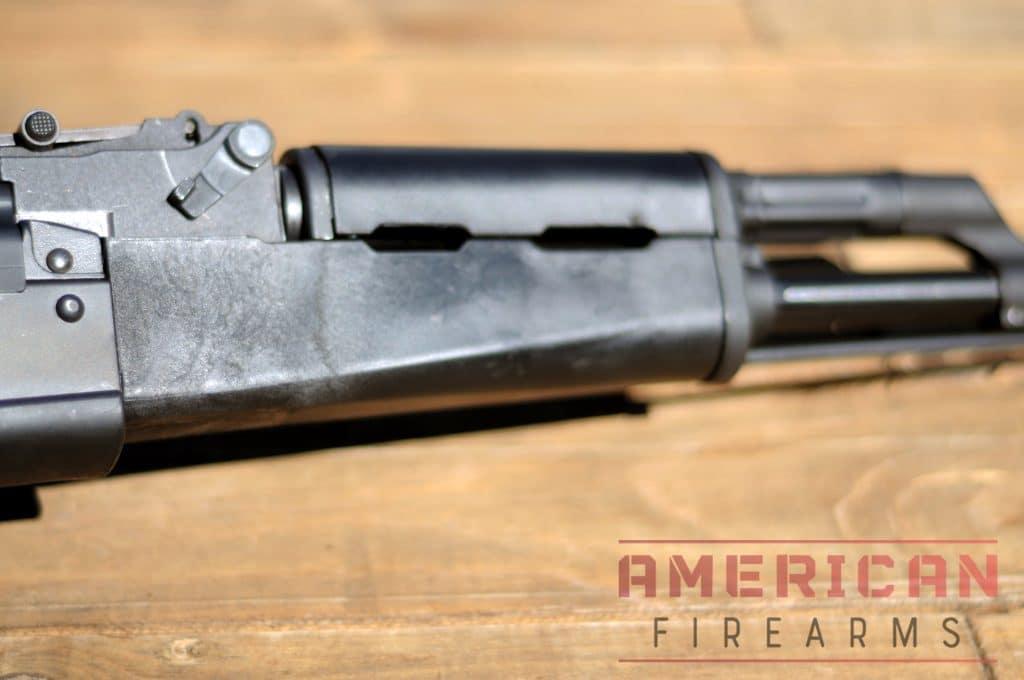 The AK foregrip is polymer, slick, and fat.
The non-adjustable polymer stock finishes off the low-brow build but gets full marks for durable utilitarianism. That said, the rifle is front-heavy, so while a tad more weight on the back end would have added to an already chunky rifle, it would have also probably improved the balance.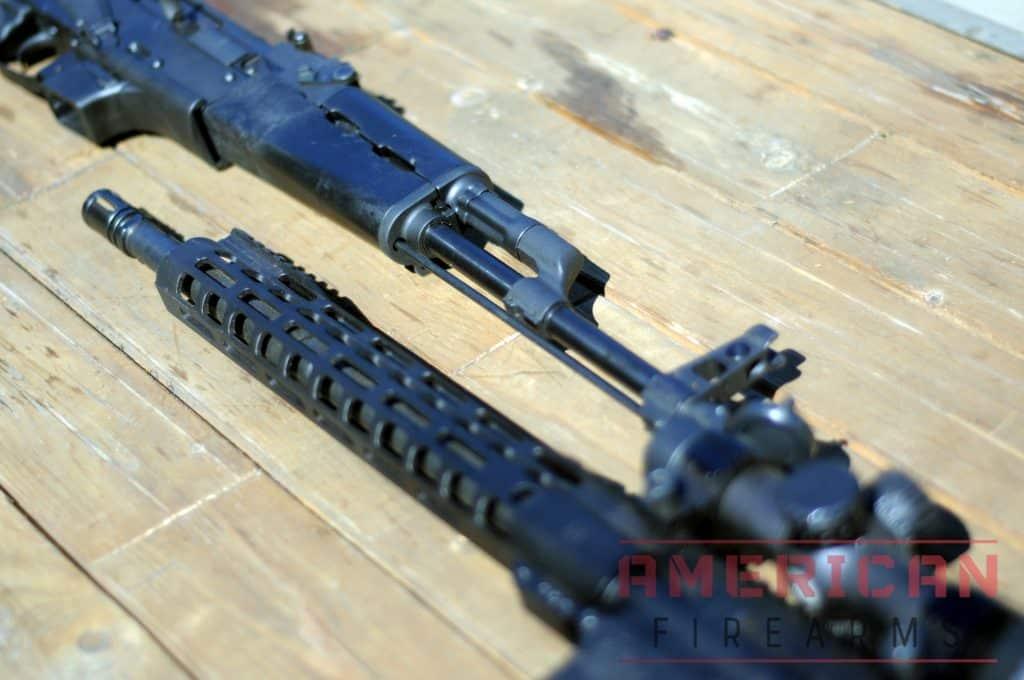 You can see just how much larger the WASR-M foregrip is compared to an AR.
The WASR-M controls follow a pseudo-traditional AK layout — inheriting most of the battle rifle conventions suited for a right-handed operator.
The charging handle & safety are positioned on the right side of the gun, which means a standard approach would be to remove your right hand from the fire controls and conduct all reloading manipulations with that hand.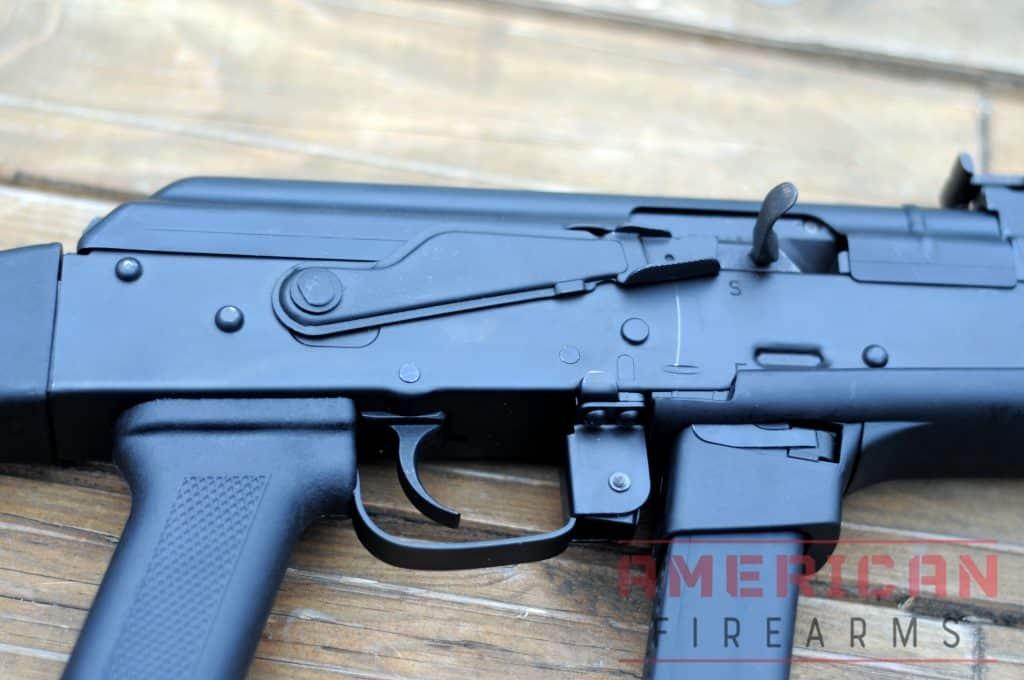 The WASR-M's traditional paddle safety & charging handle is on the right side of the rifle, like any God fearing AK.
Except the mag release is A) small, B) on the left side of the gun, and C) too far from the trigger to manipulate with your control hand.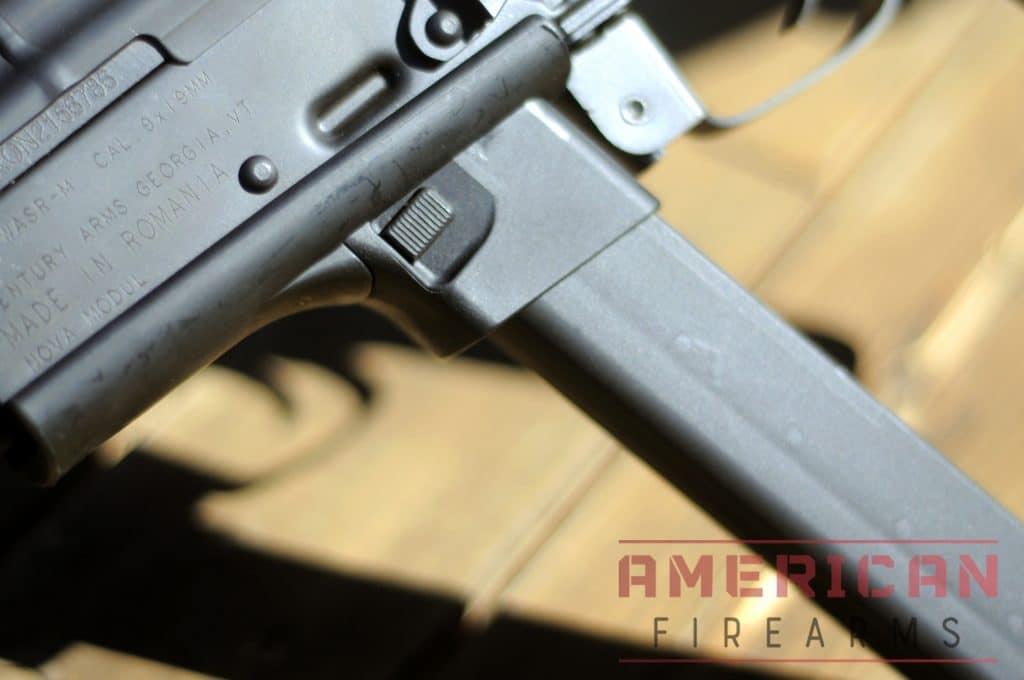 But the mag release is on the left side of the gun, meaning to reload and cock the rifle you'll need to use both hands.
This means you have to use two hands to reload and re-cock the firearm. Your left hand has to come off the forend to release and swap the mag, then your right comes off the grip to activate the cocking handle because the AK doesn't have a LRHO or bolt release.
This feels unnatural to me — and most folks who train on an AR — as we're taught never to remove your operating hand from the pistol grip, especially when it comes to CQB.
Ironically, the mixed orientation of the controls means the WASR-M isn't configured optimally for left or right-handed users. An equal opportunity offender!
Most AKs position the controls on the right side of the gun and pair them with a central magazine release mounted in front of the trigger guard so all reloading manipulations can be done with a single hand.
The use of Glock mags probably required some shortcuts here, but I think the WASR-M would be a better rifle if you can successfully reload with a single hand.
But let's be honest — it's not really made for combat or competition.
As noted above the first half hour or so with the rifle involved a lot of orientation. The controls were all over the place, the irons were unfamiliar to me, and it was ungainly to wield without a table or barrel to shoot from, but I eventually figured her out.
I packed my Glock 33-round mag as full as I could and started with a 25-yard zeroing exercise.
I pulled back the charging handle and took aim — the first shot landing way low and to the left, with little noticeable recoil.
After 12 more rounds, I was decently on paper but still not reliably within any groups that I am used to when shooting with an optic.
I settled for 4″ groups at 25 yards and moved to an 8″ steel target at 100 yards. The first ten rounds were nothing but brush, but after slowing down and acclimating to the irons, I was going four for five with the 8-incher.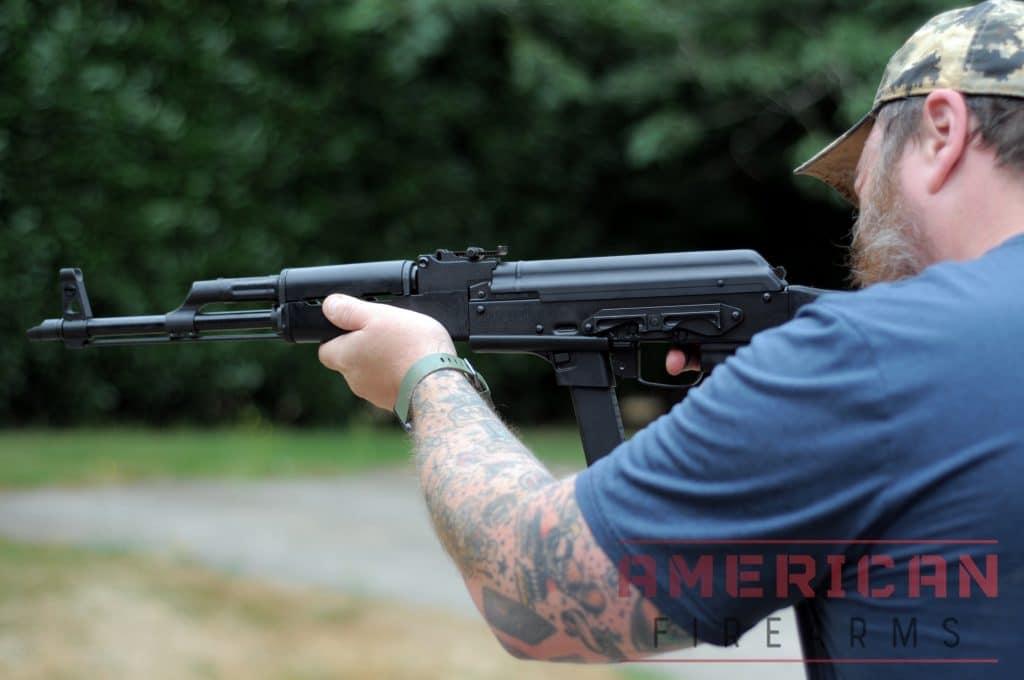 Here you can see the AMK-style optics mount on the left side of the rifle. If you're going to get anywhere beyond 100 yards with this rifle I recommend a mount.
Nothing won me accolades from my shooting buddies, but they didn't fair any better.
One note — we fired about 100 rounds with the WASR-M and encountered zero misfires, failures, or issues. It ran like a scared coyote.
If unfamiliar with the AK platform, you'll need time to feel the sights out before you can anticipate any real consistency. There's an intuitive quality about shooting and AK that is very different from a modern AR.
That said, I may hunt down an AKM optic mount and see how far I can take the little rifle with an LPVO.
Should you pick up a WASR-M?
The WASR-M is an interesting, fun, semi-automatic rifle that requires you to learn a few new skills to attain any kind of proficiency. That's probably the case with any AK, but what I like about the WASR-M is how approachable it makes the platform.
There's scant recoil, it's reliable and easy to use (if slow and slightly awkward to reload), and it's an inexpensive intro into the world of the Kalash and would be a great challenge for new shooters.
It also probably stands out in any PCC competition, should you have the stones to enter with it.
If you like PCCs or want to kill the AK and PCC birds with one stone, the WASR-M will reliably entertain you for hours.