Firearm Faceoff: Mossberg 500 vs. Remington 870
Written By
Michael Crites
Licensed Concealed Carry Holder
Reviewed by
Editorial Team
Learn About The Editorial Team
Share:
Products are selected by our editors. We may earn a commission on purchases from a link. How we select gear.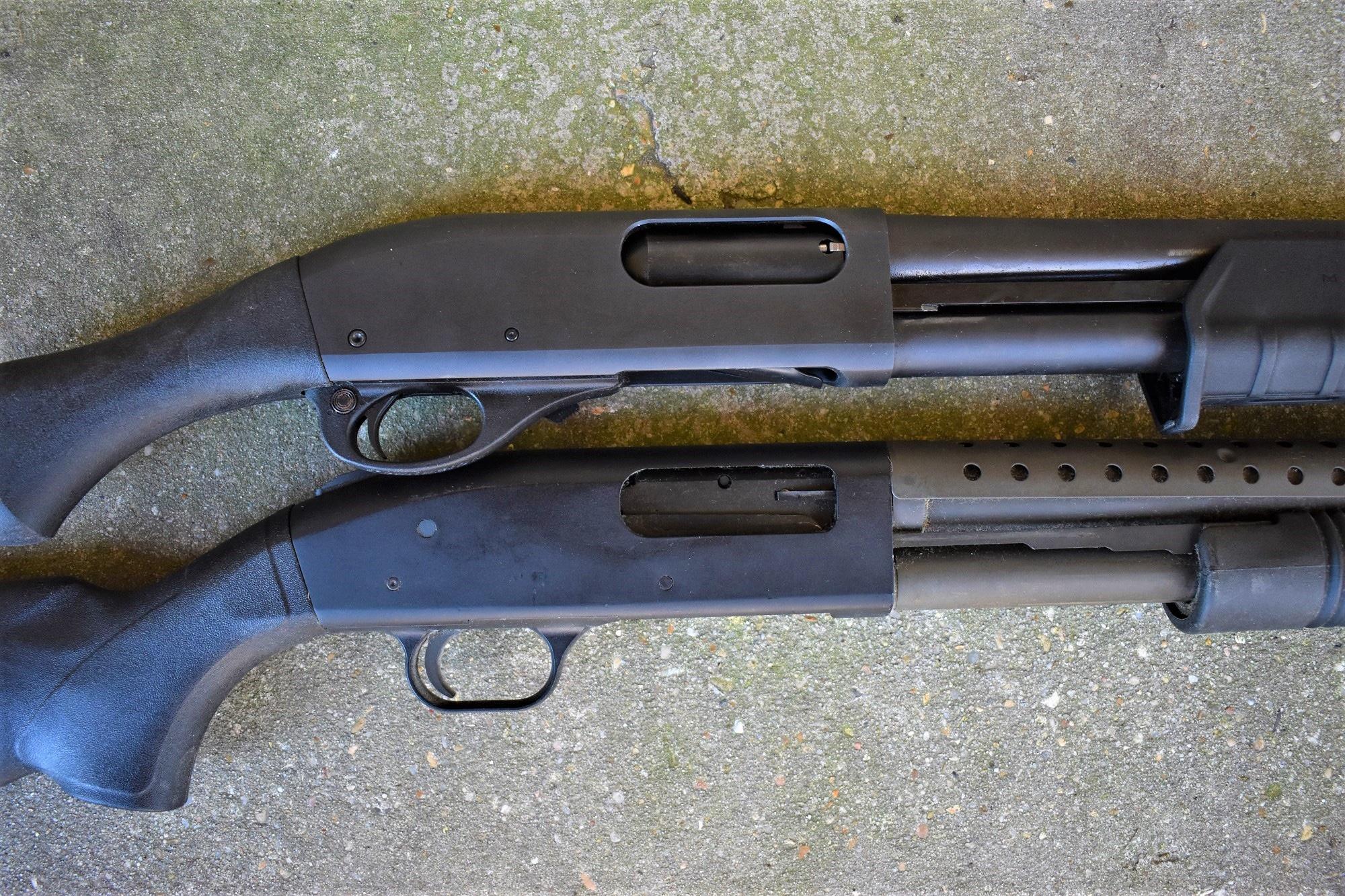 When it comes to modern pump-action shotguns, two models immediately stand atop the heap– the Mossberg 500 and Remington 870, each accounting for tens of millions produced. We wade into the murky waters of which is the better gun by stacking them side-by-side.
Remington, or "Big Green" has been an iconic American firearms brand dating back to 1816.
They have been involved in shotguns for most of that time, marketing various single and double-barreled models in the 19th Century before moving into the pump-action game in 1908 with the Remington Repeating Shotgun, a bottom-ejector based on two of John Browning's "magazine gun" patents. 
To replace the Model 31, a team that included L. Ray Crittendon, Phillip Haskell, Ellis Hailston, and G.E. Pinckney, worked across the late 1940s to craft Remington's new Model 870AP Wingmaster, which debuted in 1950.
An easy take-down, side-ejecting, bottom-loading pump-action shotgun with dual (rather than single) action arms on the slide, the 870 had a receiver that was machined from a solid block of steel and marketed at first in just a 2.75-inch chamber with choices of 12-, 16- and 20-gauge, retailing for $80.80 on a standard-grade and $92.35 for a more deluxe model. 
The gun was light, typically running just 7-pounds, reliable, and safe, with an easily actuated cross-bolt manual safety on the trigger guard.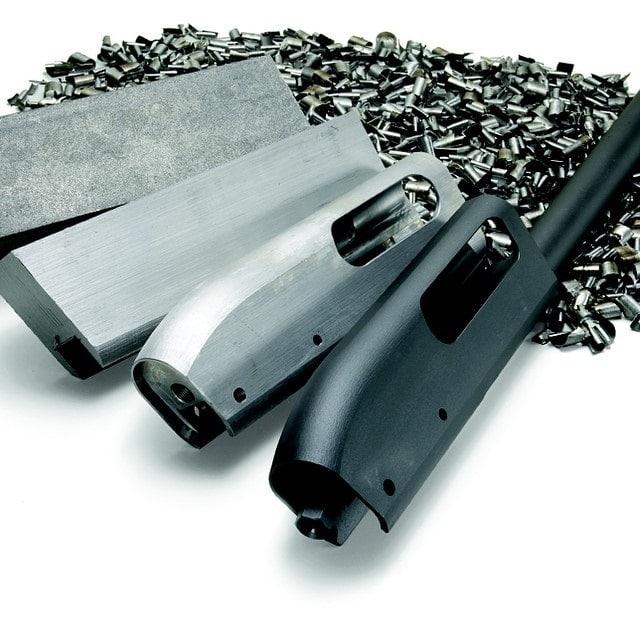 Remington has always machined the smoothed backed 870 receivers from a block of steel, which continues into 2020. Of note, just about every other shotgun maker today uses aluminum receivers or hybrid polymer-aluminum construction in their pump gun receivers.
Since its introduction, the 870 has been a solid contender in the shotgun market year after year, decade after decade, generation after generation. The bore offerings expanded into .410 and 28-gauge and the chambers grew to 3-inch Magnum and 3.5-inch Super Magnum length, with over 150 different variants in production at one time or another. 
In 2009, Remington boasted that it sold the 10 millionth Model 870 and openly described it as late as 2020 as, "The greatest selling pump-action shotgun in the history of firearms."
Background on the Mossberg 500
Mossberg, certainly reasonable to be considered a household name in their own right, is a much newer company when compared to Remington, "only" being founded in 1919.
Initially a pistol maker, the company soon moved into the shotgun market, selling a variety of economical $10 bolt-action shotguns during the early Great Depression-era 1930s.
After World War II, Mossberg expanded again and launched their first pump-action shotguns, the Model 200, in 1955 – just a few years after Remington debuted the 870. Trying to grab market share from the Remington scattergun as well as other popular pumps of the day (such as the Ithaca 37 and Winchester 12), Mossberg created the Model 500 in 1962. 
Much like the 870, the 6.75-pound Mossberg 500 was a fast take-down, side-ejecting, bottom-loading pump-action shotgun with dual action arms. 
Able to quickly swap out between optional interchangeable barrels for sporting, home defense, and slug use, the 12 gauge also retailed for a bit less than the 870 upon release at $74.95. This price difference from the Remington came in part because the receiver was made from a high-tensile aluminum forging (vs the 870's steel receiver).
Don't freak out – the nature of the 500's design means it doesn't need a monolithic steel receiver like the pumps that preceded it (see= Winchester Model 12). Instead, the 500 relies on the rock-solid lock-up between the bolt and barrel extension to accommodate the force of the shell's ignition and recoil– a proven design seen in Mr. Browning's Auto-5. 
In another change, Mossberg used a different safety location, with the switch mounted on the top of the receiver by the comb of the stock. 
Proving that Big Green didn't have the pump-gun market cornered by any means, Mossberg's new gun became the people's champ, offering a light, well-made shotgun at an affordable price. 
By 2013, Mossberg announced they too had broken the almost unrealistically high benchmark of 10 million Model 500s produced and hasn't looked back, expanding the line to the 505, 510, 535, Mossberg 590/590A1 and others such as the 835, which use the same action. This brings us to…
The U.S. military incorporated shotguns into operations as far back as the Revolutionary War fowling-pieces, and by World War I were controversially fielding Winchester 97 and 1912 12-gauge pumps in the Trenches of the Western Front, continuing the trend into WWII and Korea.
By the Vietnam-era, federal purchasing agents had picked up over 38,500 Remington 870s for use by the locals in South East Asia, as noted by Bruce Canfield. Meanwhile, a special version of the 870 with a parkerized finish, extended 7-shot magazine tube, bayonet lug attachment, and a 21-inch barrel was ordered by the U.S. Marines in 1969. 
Dubbed the 870 Mark 1, this shotgun remained in Marine Corps service well into the 1990s while the Army, Air Force, and Navy used less-tricked out 870 Riot gun models from the 1970s onwards. This should come as no shock as the same model, later supplemented by the 870P after 1994, was to be found in the trucks of police cruisers across America.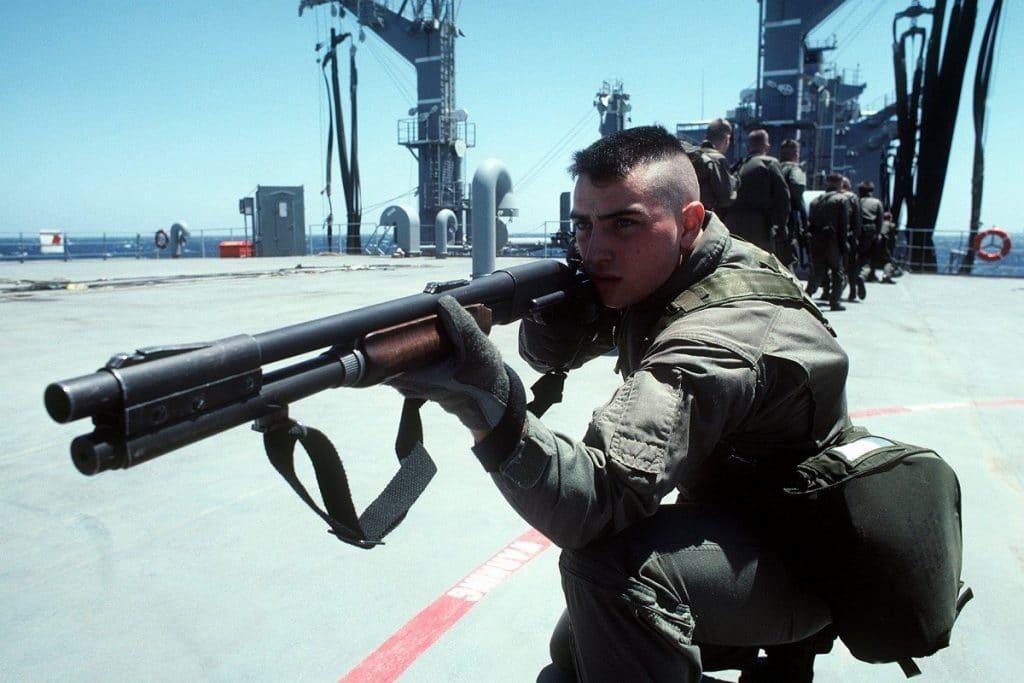 The Remington 870 Mark 1 was in use with the Marines from 1969 well into the First Gulf War and doubtless other 870 Riot models remain in arsenals and armories of the other branches as well.
Mossberg also found lots of success with military and police customers. In 1979, the Pentagon issued Mil-Std-3443D for military shotguns and Mossberg's 500ATP6 was able to pass this test which, according to the company, required shotguns to "fire 3,000 consecutive rounds with no more than two malfunctions and no unserviceable parts." 
The Model 500 MILS and 500A riot guns, in both wood and synthetic-stocked versions with 20-inch barrels and a 5-shot magazine, then passed into service in small numbers with every branch of the U.S. military during the 1980s. By 1987, the M590, based on the M500 but with a 9-shot "clean out" magazine tube and other improvements, was in use with the Marines. These guns are often still seen downrange.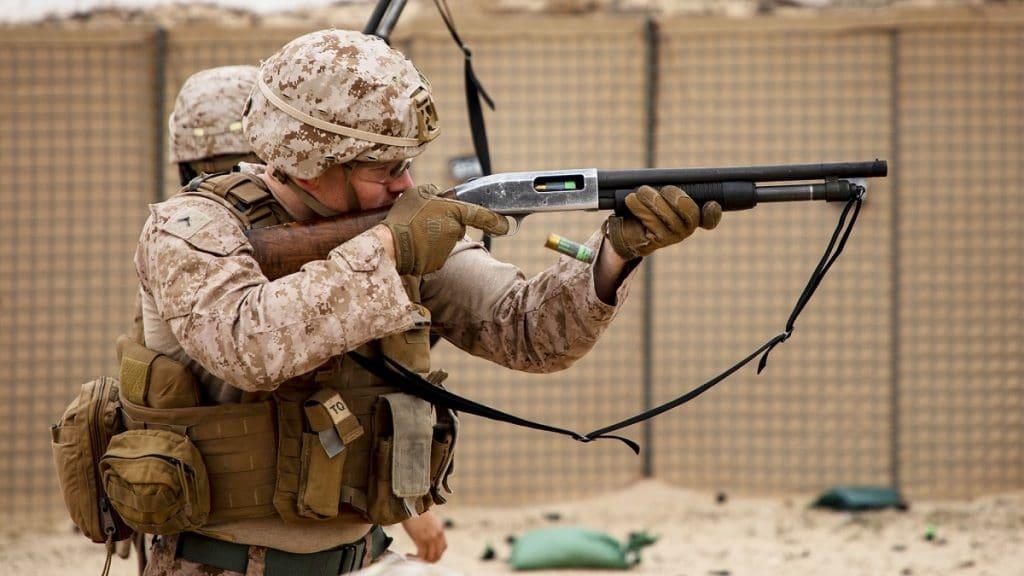 A well-used Mossberg 500 with mismatched furniture still in service with Marines in 2020.
Shorty boys and magazines
The practice of abbreviating standard-length shotguns to make them handier in a close-quarter fight dates back to almost the origin of the firearm itself. 
When it comes to pump guns, short sawn-off "whippets" were a common sight on both sides of the law in the Roaring 20s and by 1934 short-barreled shotguns were regulated under the National Firearms Act for better or worse. Nonetheless, the NFA regulation didn't change the fact that a compact shotgun could be remarkably effective in certain situations. 
Police stakeout teams became fans of such guns as they were quick out of an unmarked car, grocery bag, or a backpack when needed. Mark Serbu's Super-Shorty of Miami Vice fame popped up in the 1980s, converting either Mossberg 500s or Remington 870s into a pistol-grip-only shotgun with a barrel as short as 7-inches. 
Going comparatively longer, Remington 870 Riot guns with "witsec" cuts that brought the barrel length down to 12.5-inches became popular with witness protection and prisoner escort teams, so much so that the company's 870P became a standard offering with a 14-inch barrel, with all applicable NFA rules.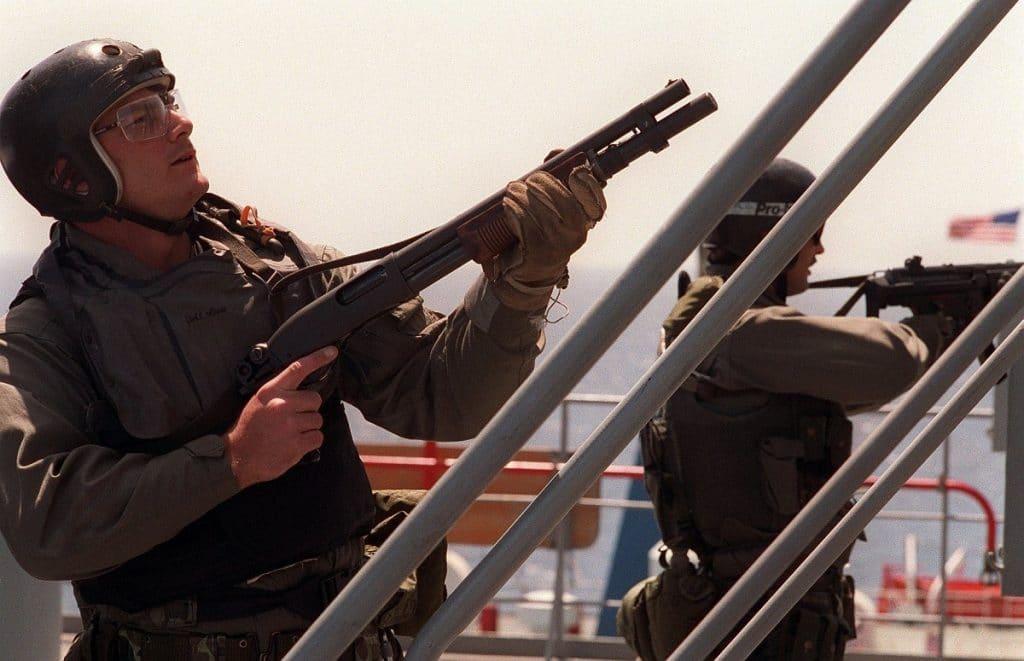 Speaking of 14-inchers, Navy-modified 870s, often fitted with top-folding stocks, became common in Marine embassy arms rooms and the small arms lockers of warships.
By the invasion of Iraq and Afghanistan in 2006, Mossberg was delivering specially ordered 14-inch Model 500s to the military for use as breaching shotguns, used to blast hinges and locks off doors– the ultimate master key! 
While shotgun barrel lengths less than 18-inches fall into NFA territory, both Mossberg and Remington have been able to accommodate customers wanting such shorties in their Shockwave and Tac-14 "firearm" lines like the Nightstick, based on the Model 500 and 870, respectively. 
Likewise, while both models originally hit the market with underbarrel tubular magazines, able to hold between three and nine shells depending on the variant, they are both now available on the market with factory-installed detachable box magazines as well, the 500M and 870DM series.
With well over 20 million 870s and 500s floating around on the secondary market, some hidden gems look a lot like these guns but have something altogether engraved on their receivers and barrels. For years, Mossberg built a relationship with big box stores to sell basic Model 500s under store brands. 
This meant that Sears sold Mossberg's shotguns as the New Haven 600, while Western Auto sold it as the Revelation R310 and Western Field as the 550. Likewise, Mossberg also did this on their own, selling the Model 500 in bargain format under their Maverick subsidiary as the Model 88 since 1988 (see where the model number came from?). 
Does that mean these guns are junk? Not at all. In fact, all Mossberg and Maverick shotguns are both made in the same factory in Eagle's Pass, Texas. The more you know, right? 
In the same vein of "pre-owned" shotguns, both Mossberg 500s and Remington 870s used by corrections, law enforcement, and the military often pop up as trade-ins, especially in line with the trend of many departments shifting away from the 12-gauge in favor of a 5.56 NATO-caliber carbine/patrol rifle. 
For instance, several Malaysian surplus Mossberg 500ATPs have been hitting the market recently. While these guns may look rough, having languished in armory racks and bumped around in trunks for years, they usually still have lots of life left in them, so be on the lookout for these old vets, now on free agent status.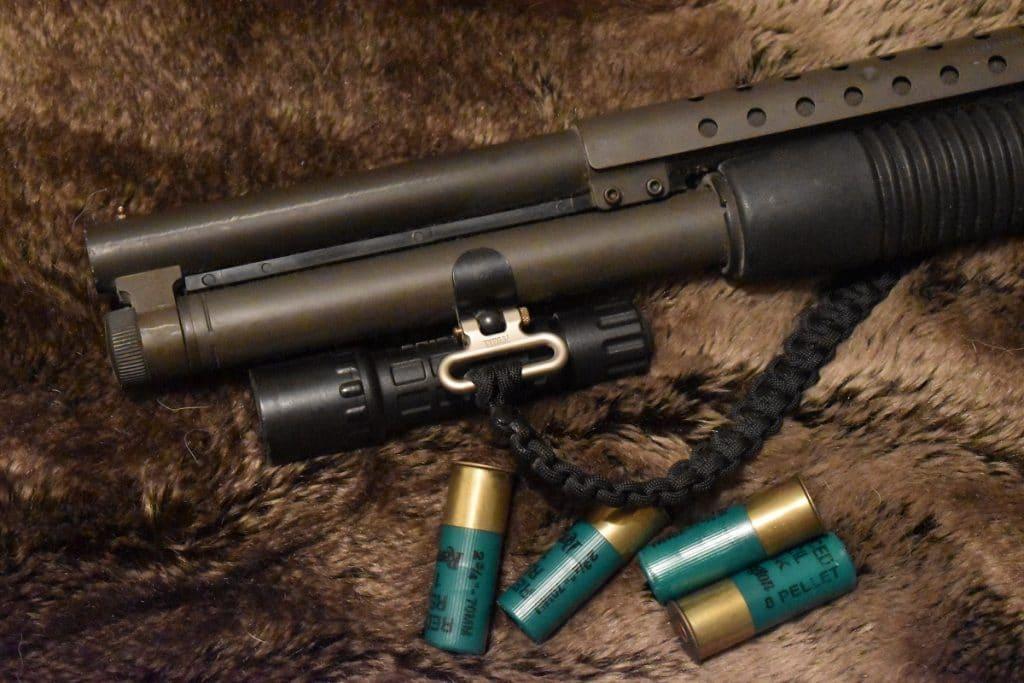 Former military and police guns will typically come with features such as extended magazine tubes, heat shields, and bayonet lugs. However, both the 870 and Model 500 are available on the consumer market in versions with many of the same tweaks while the buyer can always add-on such features aftermarket.
The Problems with Big Green
It would be remiss, when talking about a Remington flagship product, to not address the elephant in the room that is the historic company's recent break-up at a bankruptcy auction.
While elements of the monolithic gun empire have been carved off by Federal, Ruger, and others, the core traditional Remington factory in Ilion, New York remained with the smaller rump under a new owner and they have vowed to soon restart manufacturing on the same production lines.
You can bet that the 870 will likely be the first gun the rebooted company sends to distributors.
In this, keep in mind that Remington has been bought and sold numerous times in the past– in 1888 to Hartley & Graham, in 1932 to DuPont, in 1993 then again in 2007– and always came back up swinging.
By all means, it should be expected that the 70-year run of the 870 will continue to the next leg of the pump-action shotgun race. 
The Remington 870, top, and Mossberg 500, bottom, have a similar layout with each using a bottom-fed, right-side-ejection format with drop-push loading and dual-action arms on the slide, providing a strong and smooth feed with less inadvertent doubles. The 870 has a milled steel receiver while the 500 has a forged aluminum. Note that the 870 has a cross-bolt manual safety button on the trigger guard while the 500 has an ambidextrous push-forward safety on the top of the receiver.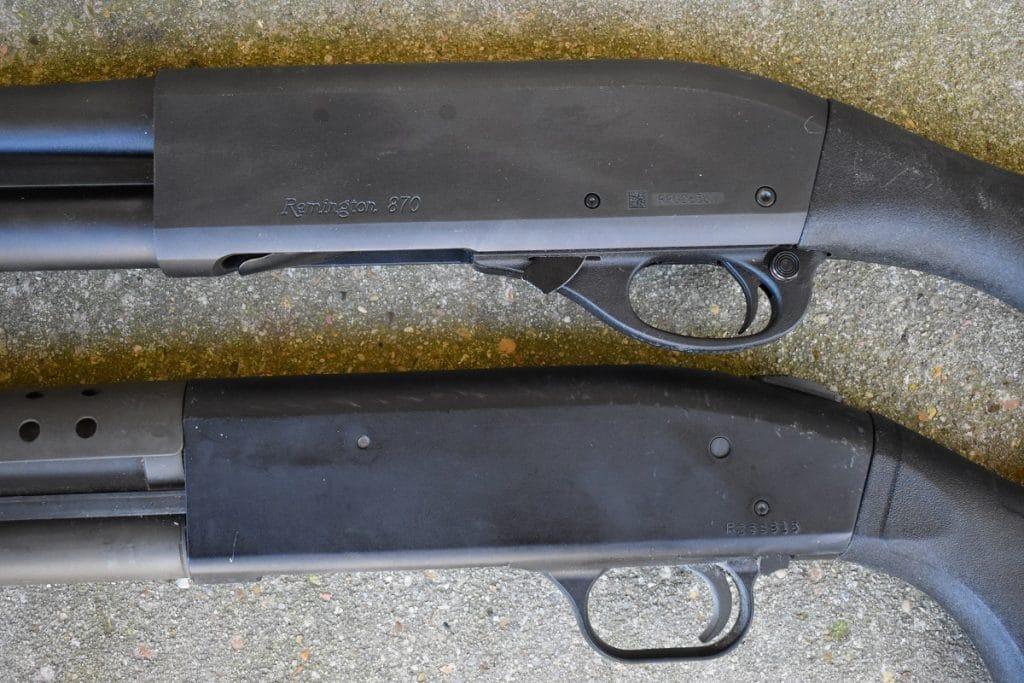 Both shotguns have a slide release oriented on the left-hand side of the trigger guard with the 870's being forward of the guard in a rock-in arrangement while the 500 is to the rear of the guard in a more push-up format. The trigger plate pins that penetrate both sides of the receiver are easily punched out for replacement in conjunction with aftermarket side-saddle shell carriers.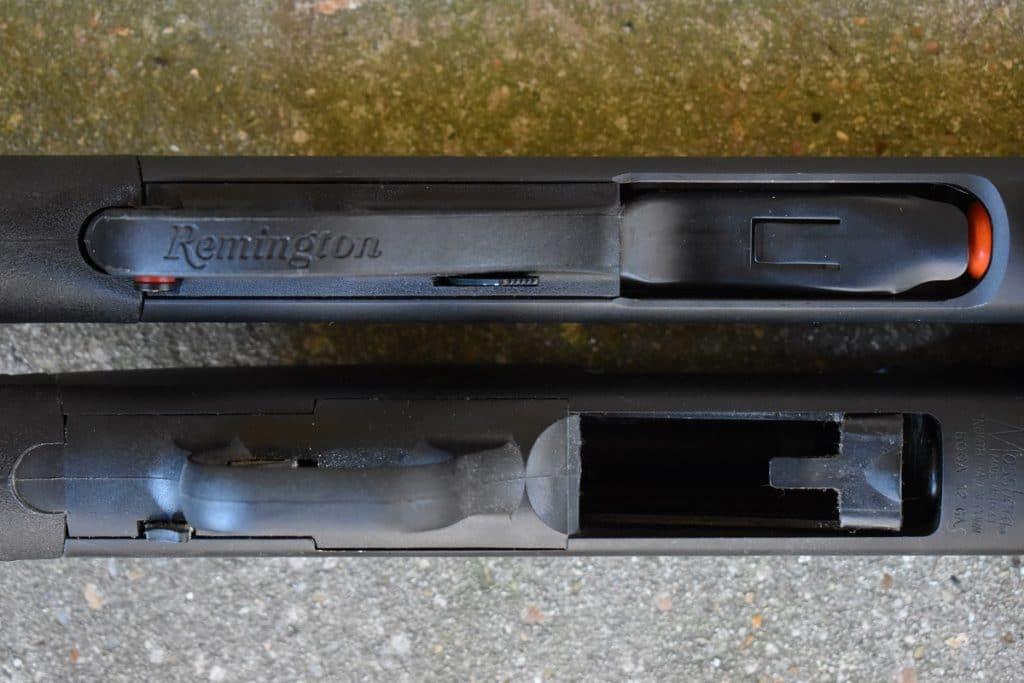 The pivoting shell carrier assemblies on each are noticeably different, with the Remington on top having more "meat" to it. As a bonus for Mossberg, their carriers have fewer problems cycling 1.75-inch "mini shells" such as those marketed by Aquila and now by Federal, while an 870 just will not go smaller than a 2.75-inch shell without jamming up. Also, note the synthetic trigger assemblies. Both companies have used polymer trigger assemblies in their standard models for decades, saving alloy or steel assemblies for more upscale military and law enforcement variants like the M590A1 and 870P.
In the end, both platforms have persisted in a crowded marketplace for one reason: they work. For general purpose use, either the Model 500 or the Remington 870 are good-to-go right out of the box and, by swapping out barrels which can typically be picked up for about $150, you can tailor the same shotgun for sporting use with clays, field use to put protein on the table, or home defense. 
Likewise, both have generous and widespread aftermarket accessories that are one click away to customize and outfit these guns any way the end-user desires. Further, they are timeless and, to borrow a phrase from a watchmaker, can "take a licking and keep on ticking," with used and ugly surplus and trade-in guns still able to clock in and get to work. 
The shotgun buyer would be well-served by either, leaving this toss-up to personal preference.