Remington 870 Review
Written By
Travis Pike
Certified Firearms Instructor
Edited By
Michael Crites
Licensed Concealed Carry Holder
Share:
Products are selected by our editors. We may earn a commission on purchases from a link. How we select gear.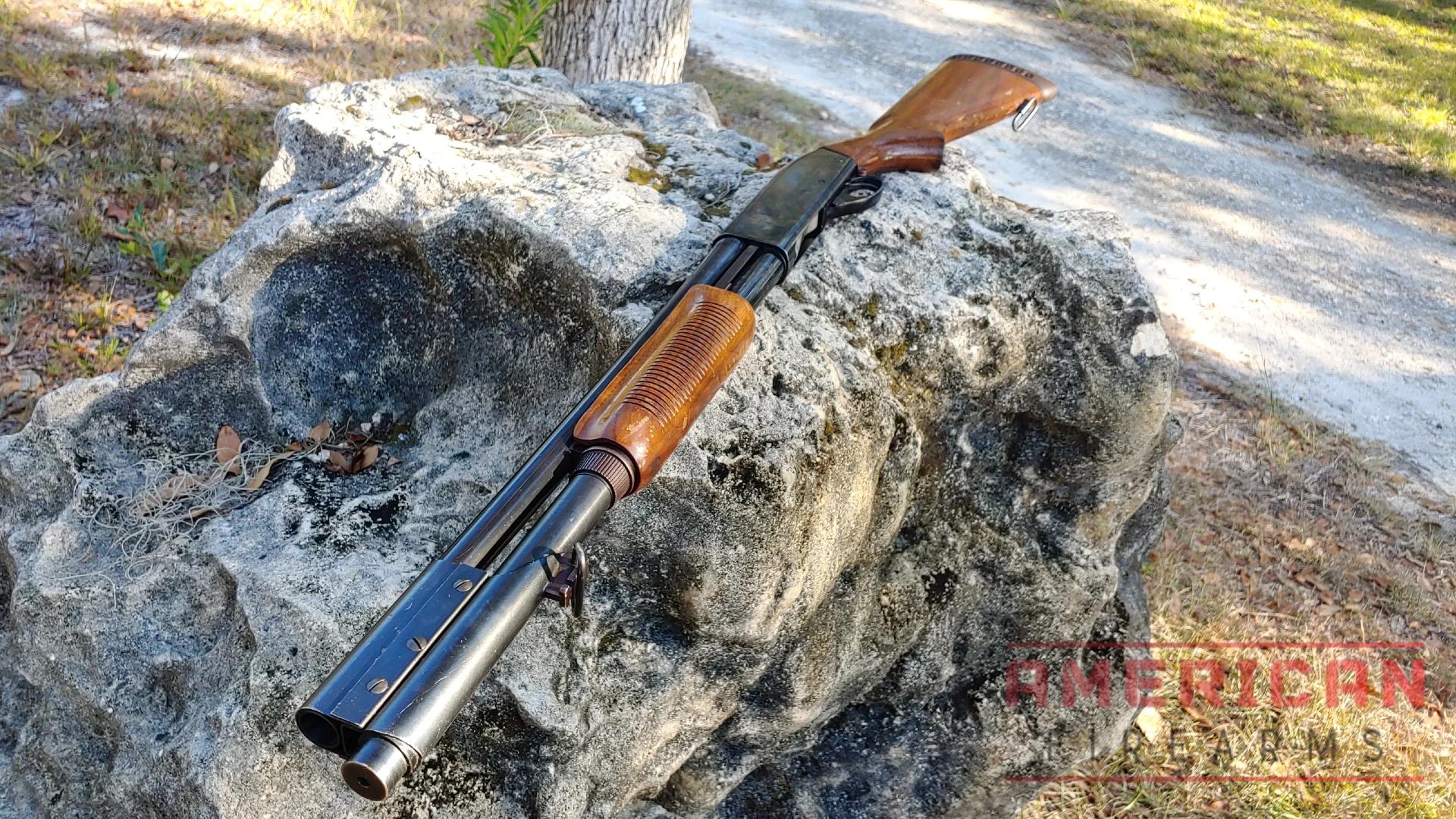 The story of Remington is the story of American industry. Eliphalet Remington believed he could build a gun better than any he could buy. That's precisely what he did, and at 23, he placed second in a shooting match and received enough orders to justify starting a company.
While Remington has been operating since 1816, the Remington 870 shotgun is the weapon they are likely most known for, so we put a classic 870 to the test to see if it's still top of the pops.
The History of the Remington 870
Most don't realize that the Remington 870 set the modern pump action shotgun standard. World War 2 left the world a much different place, and manufacturing had been revolutionized. A world at war shaped mass production as we know it today.
Remington had been an established arms company with success in several genres of firearms., but their shotguns had been mainly overshadowed by companies like Winchester and their Model 1912 pump gun. They had solid designs, but no one was buying.
The Model 31 predated the 870 and turned heads when introduced, earning it the nickname of "the ball bearing repeater" due to the smoothness of the action.
That quality was expensive, and the gun didn't sell. Remington returned to the drawing board and wanted to produce an affordable shotgun that could be mass-produced. In 1950 the Remington 870 hit the market.
There's a Rem 870 for everybody!
By 1973 the Remington 870 sold unit number two million — 10 times the number of Model 31s over sold. From that point on, the 870 changed the market. Shooters received a weapon that was not just incredibly reliable but also affordable, giving anyone looking for a home defense gun, trap shooting all-star, or duck gun something that would outperform their expectations. Anyone could strip the gun down to its basic components and put it back together.
On top of that, Remington changed reliability standards with their pioneering dual action bars that gave the user an action that doesn't bind. From then on, if you manufactured firearms and wanted to produce a pump action shotgun, you took a page out of the Book of Remington.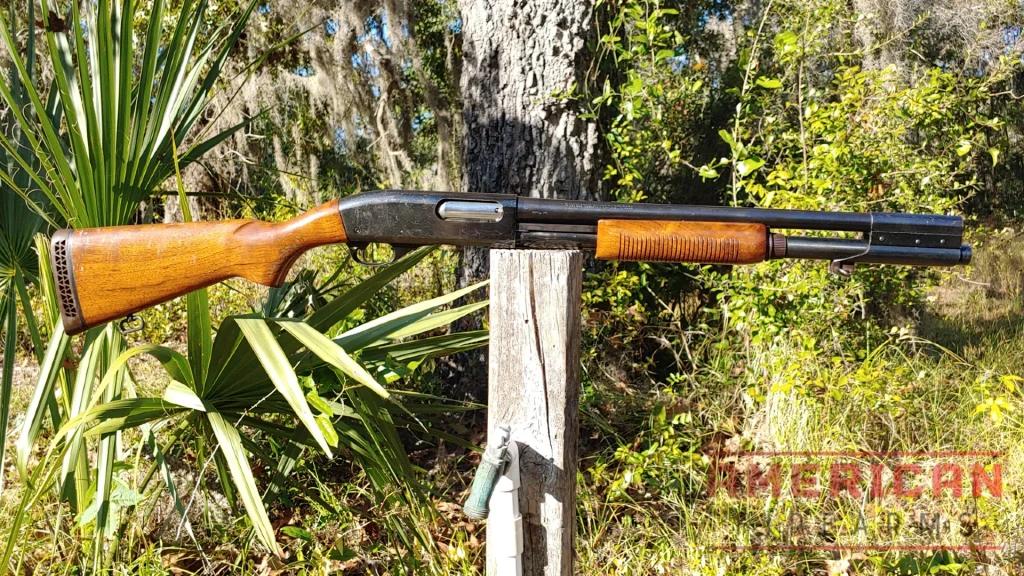 Remington 870 Cover Alt
Since then, the 870 has served generations of sportsmen, hunters, home defenders, police departments, and military members — helping it become the single most produced civilian firearm in history, with more than 11 million made (as of 2022) and still going strong.
| | |
| --- | --- |
| Gauge: | 12 & 20 Gauge / .410 Bore |
| Capacity: | 4 Standard (Extended capacities available) |
| Action: | Pump/Slide Action |
| Length: | 26.3 to 50.5 inches (Varies by Model) |
| Weight: | 5.6 to 7 lbs |
| Width: | 1.4 in |
| Barrel Length: | 14 to 30 inches (Varies by Model) |
| MSRP: | $429-$999 |
| Real-World Price: | $429 to $919 |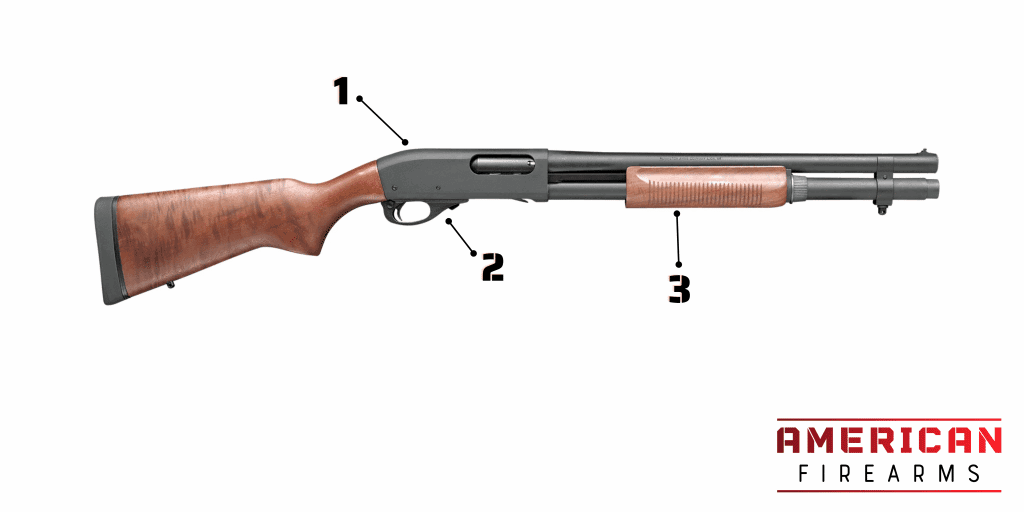 All Steel Receiver
One of the most durable builds on any firearm in history.
Straightforward Controls
Controls are all near the trigger guard, making for quick, simple controls.
Dual Roller Bar Slide
The fastest, smoothest slide action anywhere.
Since 1950 there have been millions of Remington 870 shotguns produced, with various configurations adding to an ever-expanding family tree, so to speak. While all of these guns are Remington 870 shotguns, they may vary in barrel lengths, capacity, caliber, and beyond.
Today's test gun is a retired US Army shotgun, or more specifically, a retired National Guard shotgun. It's an older, wood-stocked gun that looks well-used because it is.
It's a fighting gun that holds more shells, weighs more than synthetic stock variants, and will do almost everything you ask of it — but its hunting credentials aren't on-par with other 870s.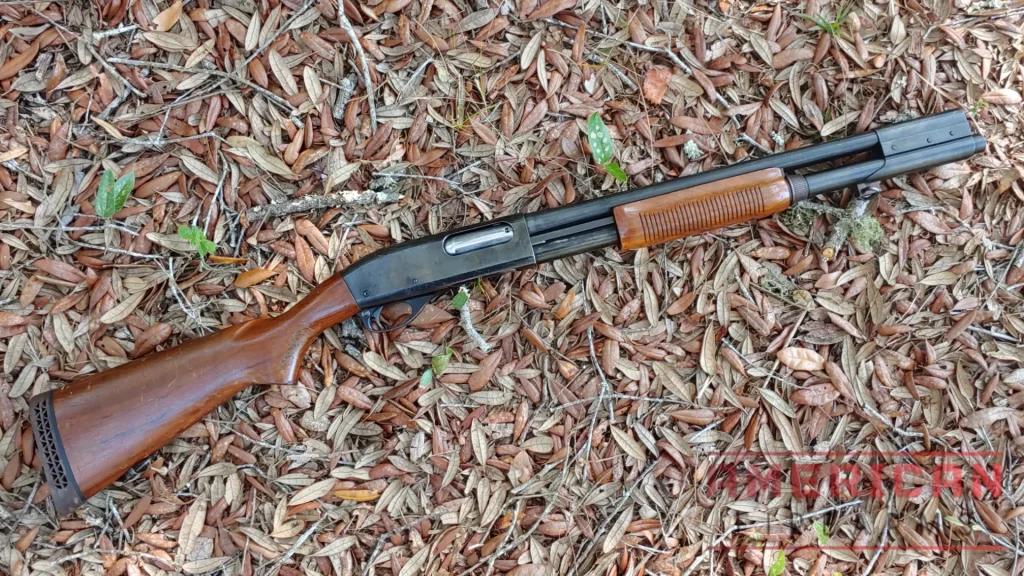 Remington 870 Cover Alt 2
For a solid-performing field shotgun, check out the 870 Express, which offers a 3-inch chamber and 26 to 28-inch ventilated-rib choke tube barrel. Perfect for wing work almost anywhere.
Remember that this is only one 870 in a sea of 870s, so features may vary and you'll likely encounter everything from stumpy riot guns, long-barreled trap guns, and everything in between.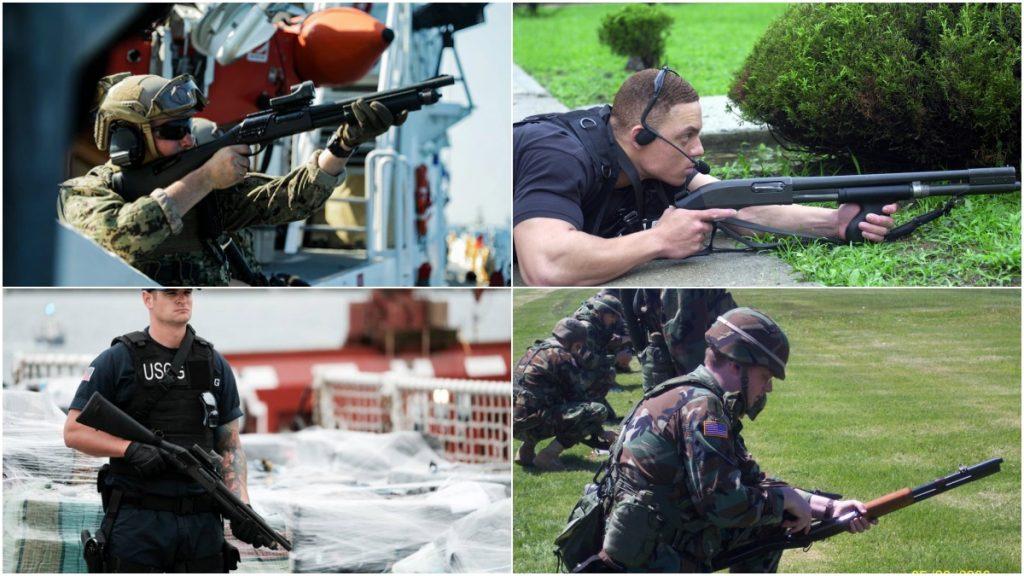 The Remington 870 Tactical is used by all branches of the Military
Police Magnum models will offer more capacity, and the Remington 870 Express Tactical is a tactical shotgun that shrouds the classic pump shotgun in a tactical matte black, for example. Some 870s run a full length vent rib with replaceable barrels or interchangeable choke tubes, allowing you to swap from a modified choke to an improved cylinder choke to cover just about all wing shooting needs in one utilitarian design.
Different strokes, so they say.
One of the more critical and overlooked features of the modern pump action shotgun is the dual action bars. The pump of a pump action shotgun is connected to the rest of the gun through a pair of action bars.
Remington pioneered the dual action bars, which are extremely reliable and produce one of the smoothest actions anywhere. Shooters who grow accustomed to the smooth action of a Remington 870 will likely turn up their noses at any other shotgun.
The pump-action designs include M-LOK, railed, and good old-fashioned American walnut wood furniture. This model uses an old-school Walnut stock with a checkered forend for a better grip.
The stocks also come in various wood and polymer models. Remington and the National Guard stuck to wood with a hard rubber butt pad in this gun. Crap for mitigating recoil but tirelessly utilitarian.
Although Remington uses many shotgun sighting systems, the standard bead serves as the most common. Remington uses a bead sight resting on a pedestal which positions it for a perfect aim of aim and impact.
Beads are well suited for most shotgun work and allow you to get on target rapidly, and make it easy to track anything from deer to clay pigeons as they sail through the sky.
Remington machines every receiver from a block of steel. No aluminum here. It's all steel, and it provides a great level of durability at the cost of a little more weight. As a Wingmaster, this gun wears a bright, blued, absolutely gorgeous finish.
Today's model is designed for military work, which means tactical applications. You won't find a variety of choke tubes, ribbed barrel, or an extended mag tube — just a military classic configuration.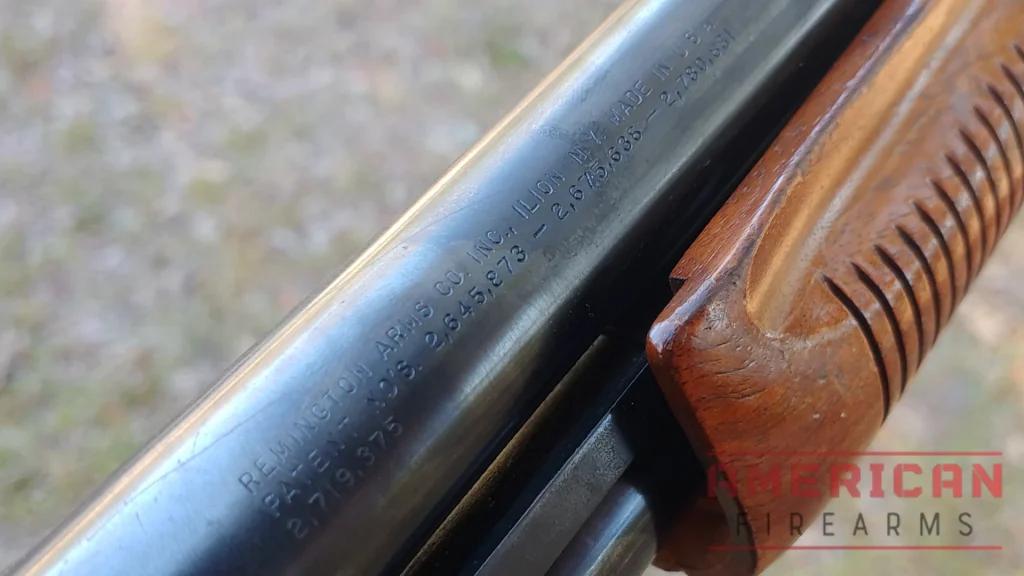 Remington Roll Mark
When it comes to versatility, you'll have a hard time beating a shotgun. A shotgun can be used to achieve almost any goal, and Remington has produced the 870 in various configurations to take advantage of the platform's inherent versatility.
The shorter barrel makes the weapon more maneuverable, and the longer magazine tube gives your more rounds to stay in the fight.
This Remington 870 wears a unique device that contains the sighting system, works as a magazine brace, and adds a bayonet lug to the bottom of the gun.
Bayonets and shotguns are like peanut butter and jelly.
This Remington 870's unique combo sighting system, mag brace, and bayonet mount looks properly boss.
At the bore, we find a cylinder bore choke typical of tactical shotguns. Remington produced this gun in 1971, and this configuration was peak tactical. Even to this day, it's still a very capable defensive shotgun, and all it's missing is a white light for home defense and maybe some ghost ring sights.
Pump action shotguns are the manual vehicles of the gun world. They are simple and often underappreciated in their design. The 870 seems complicated, but it's elementary once you learn to operate the weapon.
Remington made the gun a bit more friendly for right-handed shooters than left, but it's not offensive to our wrong-handed friends.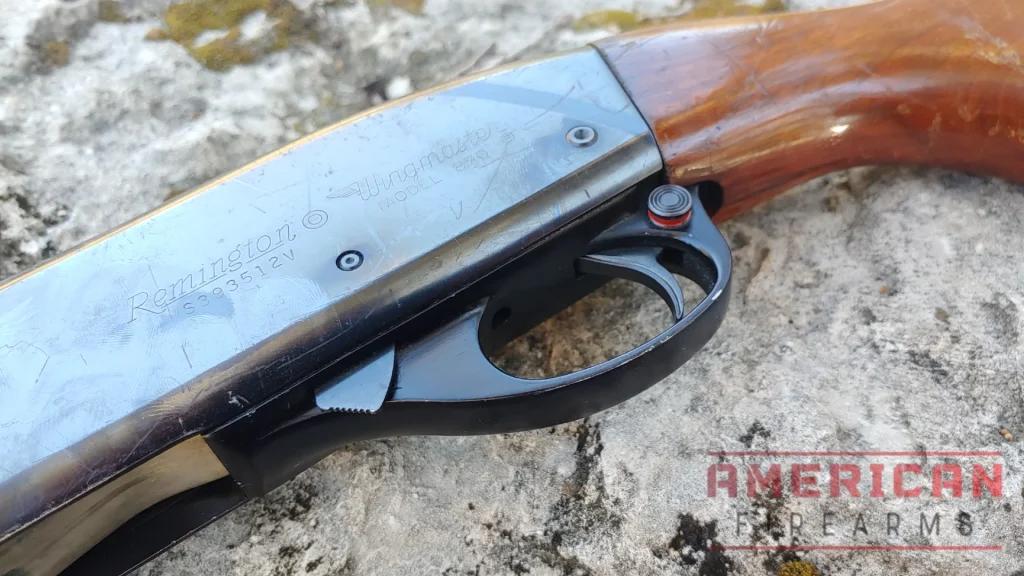 The Remington 870's controls favor righties ever so slightly.
Most of the controls revolve around the trigger. Behind the trigger sits the cross-bolt safety that offers tactile and audible feedback. While it could be bigger, it works fine enough for 99% of shooters. Forward of the trigger sits the action release. A press rearward unlocks the action and allows the manual operation of the action with the hammer back.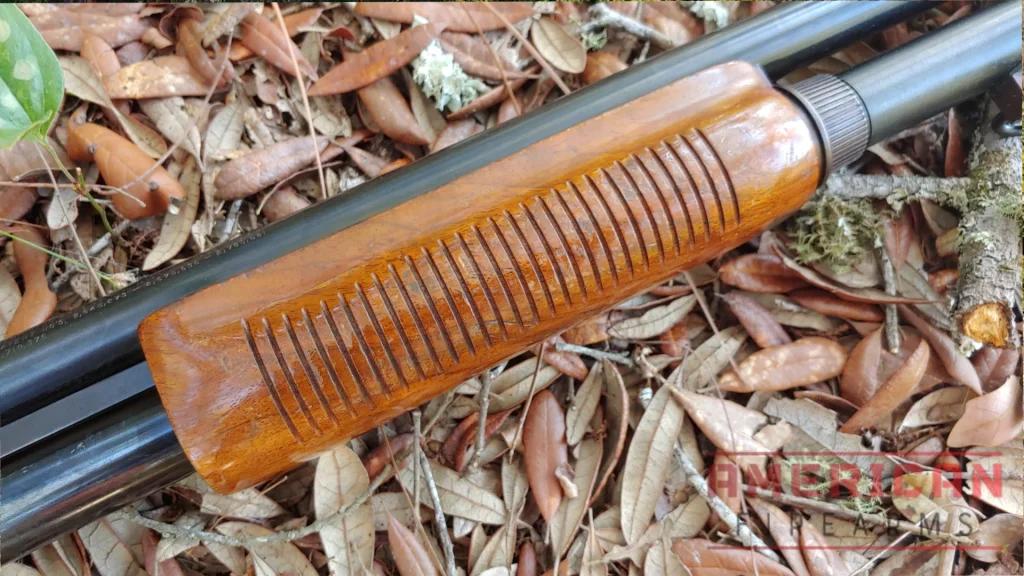 Remington 870 Fore-end
The most apparent control is the pump itself. It's massive and easy to grab, and you won't have an issue loading or ejecting rounds with it. Pulling it back and shoving it forward isn't rocket science. The smooth action does make the Remington 870 easy to operate reliably. Short stroking a Remington 870 is possible but unlikely.
All Remington 870's controls are well laid out, easy to operate, simple to utilize, and make for a great shooting gun by any measure.
Sighting systems vary between models. The most common is the simple gold bead we have on this model. Other systems include Remington's famed rifle sights, and specific models come ready for optics.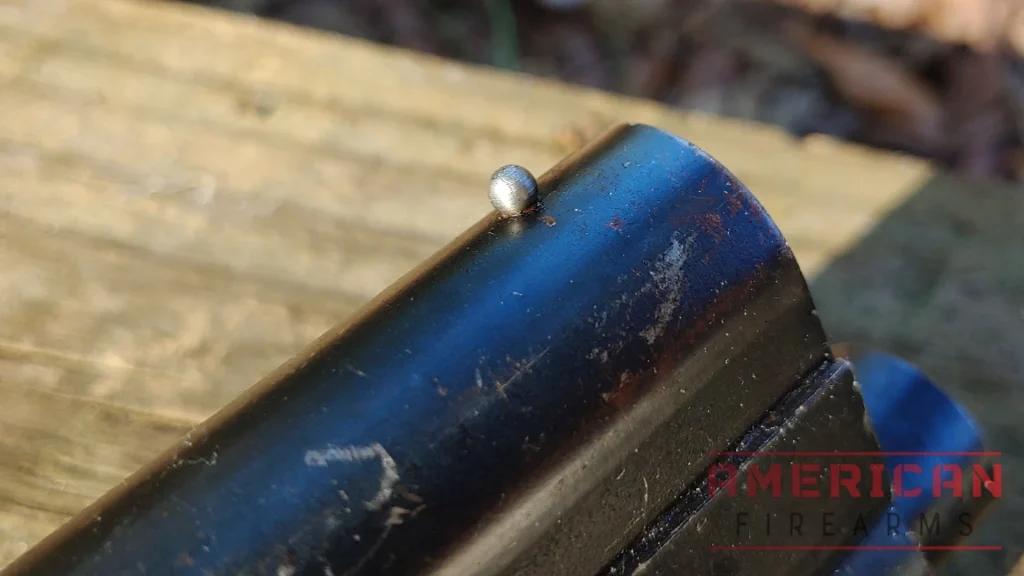 Remington 870 Bead Sight
Bead sights are exactly what they sound like. It's a little gold bead sitting at the tip of the barrel. This simple bead encourages a quick sight picture.
Shotguns are mainly known and employed for close-range shooting, which amounts to a spread of shot. The simple single bead front sight of the shotgun makes it accurate and easy to land lead where you need it, making for a straightforward and great shooting shotgun.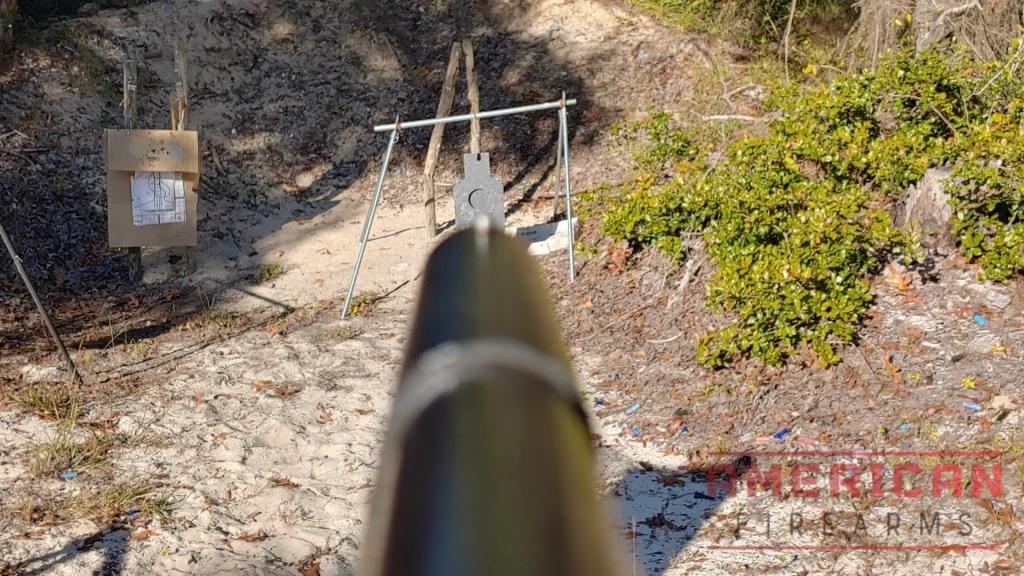 An appropriate sight picture uses the bead as a directional indicator, rather than the focal point.
It's also easy to use with a target focus. The gold bead will interrupt your sight picture and acts as a way to guide the gun more than a traditional sight.
If you focus on the bead, you're doing it wrong. Focus on the target and let the bead be a guide at most.
Too much focus on the bead = you're doing it wrong.
This can often challenge rifle and handgun shooters who've moved on to shotguns.
Bead sights have weaknesses, and if you intend to employ slugs often, you might consider a different sighting system. For buckshot and birdshot, the bead is perfect.
Sadly, Remington does not drill and tap their standard 870 models for any optic or sighting system. Adding a red dot or similar optic requires a trip to the gunsmith.
Remington has had a series of ups and downs that ultimately lead to a recent bankruptcy. They've been revived as RemArms and have been producing what appears to be quality shotguns once more. They pared down their offerings and focused on creating what seemed to be a quality shotgun.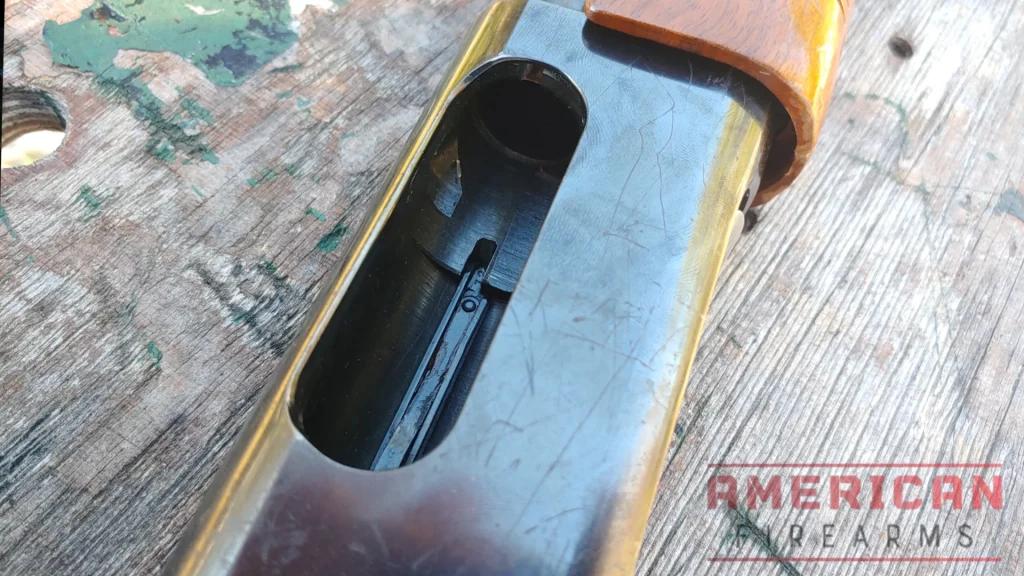 Steel, baby, steel.
Pre-bankruptcy and post-2007 Remington 870s seem to be models that have the most issues. The most common problem with 'Freedom' group 870s comes from the terrible finish. The finish would not adequately repel rust, and an orange shine across Remingtons became a common sight.
Additional issues often included small mistakes that created numerous issues. This could be improperly threaded magazine tubes, missing parts, and problems caused by a lack of reasonable quality control. While the guns weren't dangerous, they weren't up to the standard Remington had set in the past.
Pre-2007, Remington produced some genuinely great shotguns that didn't cut corners. You can likely purchase a Remington from any generation, and you're likely to still get a great shotgun.
The relaunched Remington (or Remington Arms) after the 2017 bankruptcy of the famed brand has seen a number of their classic firearms back into production, and the 870 is happily among the lot. Whether they maintain the same legendary reliability standards is yet to be seen.
Where Remington shines is in simplicity. The design and layout of the gun works, and that's why it remains unchanged for so long.
Positioning the controls near the trigger guard creates little space between each. Little space means only a little reach, and everything is arranged for easy and quick access with a single hand.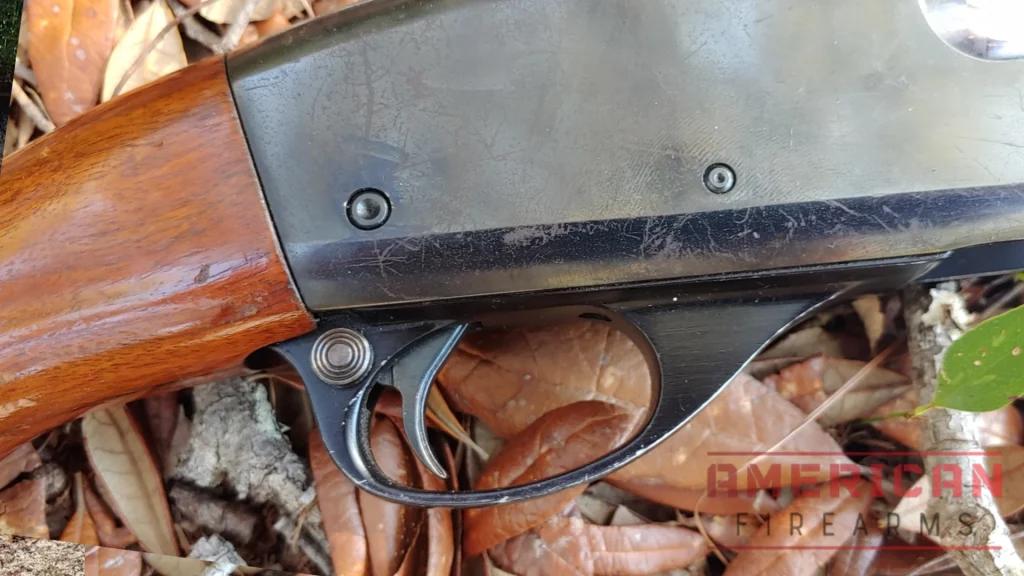 Remington 870 Receiver and Grip
Up front, the pump isn't positioned far from the receiver, and shooters of most sizes can reach the action and activate it without challenge.
Remington uses a variety of pump designs, and each one encourages a positive grip and decisive action. Recoil controls come down to pushing forward on the action and pulling rearward on the stock, which is available in both traditional and pistol grip orientations.
Remington's pump designs allow for a positive push/pull action.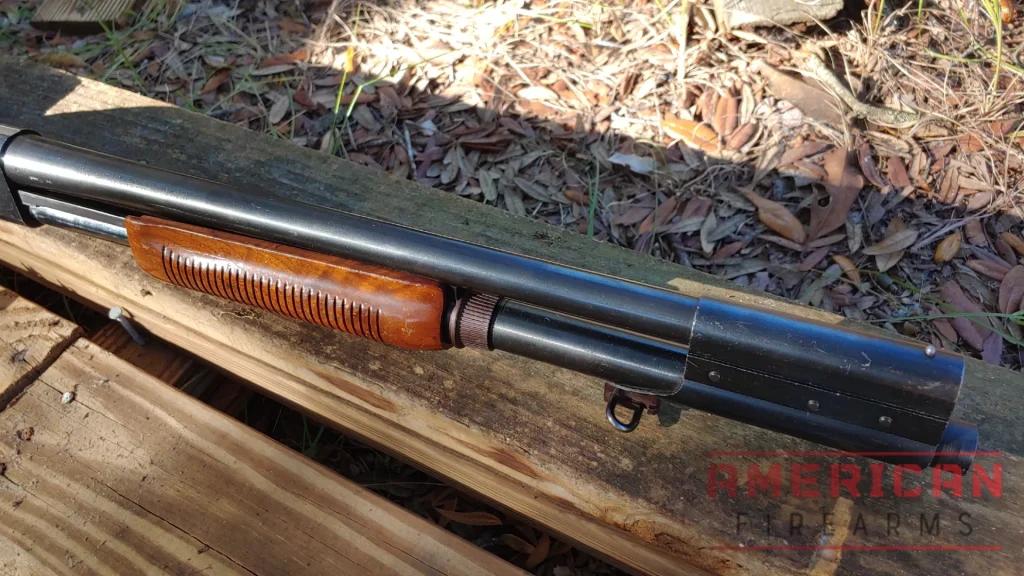 The 870's pump is situated near the reciever, making it easy for most to use.
Balance-wise, the Remington 870 feels just right. It's balanced with the weight in the receiver due to its all-steel design.
This helps keep it balanced with a full load and a long barrel. While trap and skeet are the home of high-end double guns, many competitors take to the 870 as an affordable alternative. It swings well, and Remington produces a trap model for this reason.
Where most modern shooters will find fault with the 870 is the stock. Not that it doesn't offer a nice comb for a solid cheek weld. The main issue is the length of pull.
It's long, often exceeding 14 inches. While this long length of pull works for grown men and bird hunting, it feels long for most other people and applications.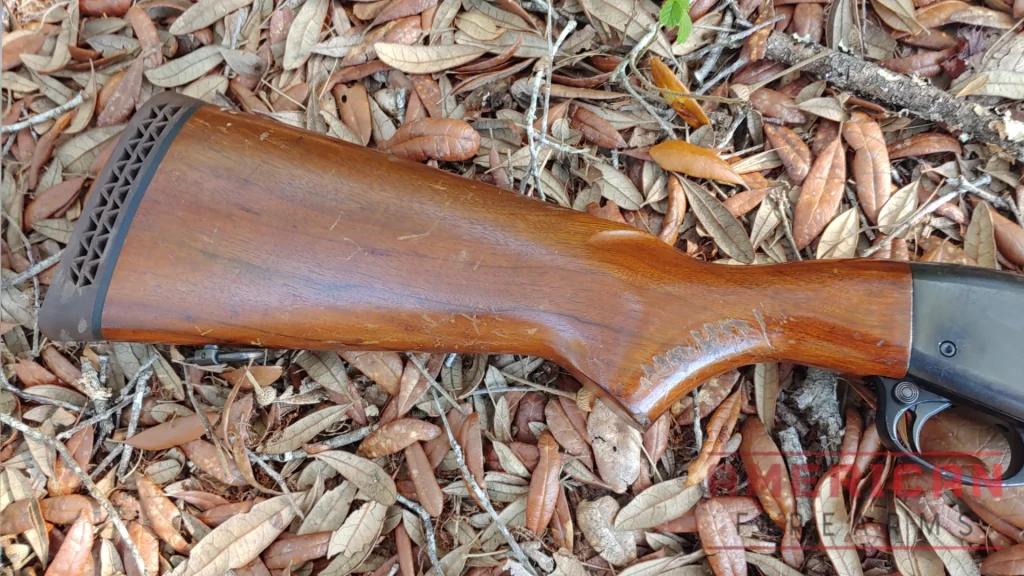 The Remington 870's stock has a 14-inch LOP, which is decidedly standard.
The longer length of pull can make the weapon uncomfortable to handle and difficult to use with a modern squared-up shooting stance.
Sometimes a long length of pull can exacerbate the effects of recoil and make the weapon tougher to control under fire. Luckily, the popularity of the 870 brings plenty of opportunities to swap the stock for an adjustable or shorter model.
Triggers are oft-ignored when it comes to shotguns. A poor trigger's deviations are rarely noticed when your target is 15 to 20 yards away, and you throw anywhere from a dozen pellets to a few hundred BBs on your hunt. Still, a good trigger should never go unappreciated.
With the Remington 870, we get a trigger that's more than acceptable. It's light, with a bit of mushy takeup.
The wall is short, light, and breaks nicely. A short trigger pull results in a short reset, but the reset is tactile if not very audible. It wouldn't be mistaken for a Timney trigger assembly, but it doesn't need to be.
We usually measure accuracy by the groups a series of rounds make in a paper target or pattern board at a set range. With a shotgun, things are done a bit differently and judged a bit differently as well. With a shotgun, we want the group of shot to hit where our sight sits.
Shot pattern Fiiochi buckshot at 10 yards. Paper man bad.
With the Remington 870 and its pedestal sight, we get exactly that. At the pull of a trigger, that load of buckshot lands exactly where my sight picture sits. No need to aim at the belt buckle to land a chest shot with the 870.
The manual repeating action of the 870 lends itself well to reliability. In fact, reliability or lack thereof only comes down to two things. Parts breakage and the shooter. Luckily, parts breakage takes thousands of rounds to accomplish. Short stroking is possible on the shooter's part, but it's less likely with a quality shotgun like the Remington 870.
The Remington 870 provides a tactile action that's hard to replicate. The feeling of that pump action sliding rearward and going forward is hard to beat.
In fact, the joy it creates is hard to describe, but it's completely irreplaceable. Pump action shotguns have that way about them, and Remington's slick action takes that feeling to the next level.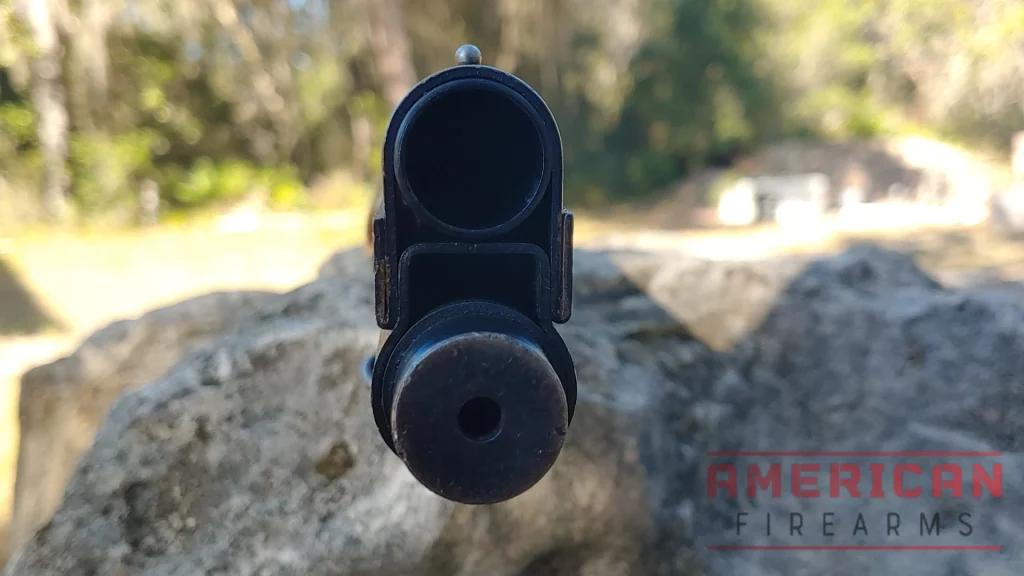 The business end of the 870.
Recoil impulse varies by caliber and load utilized. A round of buckshot hits your shoulder harder than a round of birdshot, and 12 gauge hits harder than 20 gauge. You'll find the 870 on par with most pump-action shotguns in the realm of recoil.
With practice, a skilled shooter can empty the four to six-round magazine tube in just a few seconds. The smooth action makes it possible. Putting those rounds where you want them is easy with beads or rifle sights.
Shotgun targets vary between the type that stands still (if you're lucky) and the type that flies across the horizon (you know, bird hunting…) You won't find much of a challenge hitting either with a Remington 870.
The gun shoulders easily and gets on target quickly. The excellent balance the gun offers makes it easy to handle and get on target, regardless of what the target happens to be.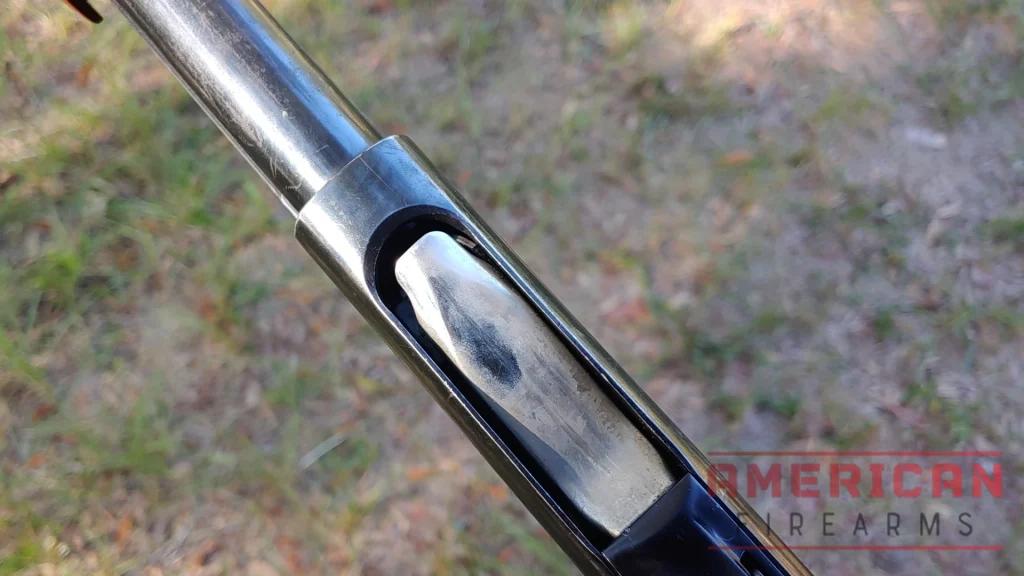 Loading Port -- or "party end"
The low capacity of the gun does mean you have to be fast on the reload. The loading gate of the 870 isn't vast and is relatively standard.
It fits the shell just right and doesn't leave much room for error, so get the reps in if you want to be fast with the gun.
Stripping the Remington 870 down to its parts and pieces takes minimal effort. As a pump action shotgun, it doesn't require much maintenance. Cleaning the gun involves nothing more than removing the barrel and bolt, which isn't much of a challenge — the barrel comes off after unscrewing the magazine cap.
If you have to swap the trigger, the entire trigger assembly drops out by removing two pins. With a good cleaning kit, a shooter can do all the routine maintenance necessary in about 15 minutes.
Regarding parts availability, the 870 has been around long enough, produced in sufficient numbers, and supported with so many aftermarket parts that it's safe to say if RemArms was wiped off the map tomorrow, 870 parts will still be available for a very, very long time.
A gun designed in 1950 doesn't always keep up with the times. Admittedly the Remington 870 does fine in the modern world, but it's not optimum. Remington's resistance to modern sighting systems, like red dots, keeps it shut in the past.
The use of long length of pull stocks continues and forces shooters to make a day-one upgrade.
Remington has also taken to dimpling the magazine tubes of certain guns. These dimples make it impossible to add a magazine extension if you choose. Why they do this is beyond reason, but it's worth noting.
Pop off the magazine tube cap and look for the dimples before purchasing one.
Seventy years of advancement have made guns like the Benelli Supernova serious competitors with their larger loading ports, polymer implementation, and modern sighting systems.
It's also worth mentioning — while not a knock against the 870 specifically — America's oldest gun company filed for bankruptcy in 2017, which shocked anyone who was paying attention. That put a dent in Remington's formerly bullet proof reputation, which will certainly take some time to work out.
Mossberg 500: The Mossberg 500 series is a slightly more affordable pump-action design that comes in just about every variety the Remington 870 comes in. These guns are somewhat cheaper and slightly sloppier. However, the Mossberg 500 shares the crown with the Remington when it comes to American pump-action shotguns. We compared the 870 and 500 to help suss out the relative strengths of these top pump action guns if you're on the fence.
Benelli SuperNova: The Italian stallion of pump action shotguns offers a lightweight shotgun packed with modern features. This includes modern sighting systems, a magazine disconnect, a more ergonomic design, and even a rotating bolt. The action is slick and light, and the trigger is competitive with most nice rifles.
Remington has faced challenges in the last couple of decades, but they persist. They persist because one of America's favorite shotguns sits at the core of their designs. The Remington 870 might be a bit older, but a more rock-solid design you simply will not find.
If you need a new shotgun for home defense, deer hunting, competition, or anything else, you could do a much worse than taking home one of the millions of Remington 870s in the wild.