Daniel Defense DDM4 V7 Review [Hands-On]
Written By
Michael Crites
Licensed Concealed Carry Holder
Reviewed by
Editorial Team
Learn About The Editorial Team
Share:
Products are selected by our editors. We may earn a commission on purchases from a link. How we select gear.
If you've spent much time hunting for an AR of any sort, you've almost certainly come across Black Creek Georgia's Daniel Defense. In the mix of ever-expanding AR brands, they're among the most recognized (and most coveted) AR builders around.
Daniel Defense was kind enough to send me their marquee DDM4 V7 to get my thoughts on their flagship AR, and we happily put it through its paces.
Daniel Defense's DDM4 V7 may be the kind of AR that does everything you want. Offering all the bells and whistles you'd expect from rifles near the $2k price point, it's bound to please  those interested in a top-shelf AR (with the possible exception of how it lightens your wallet).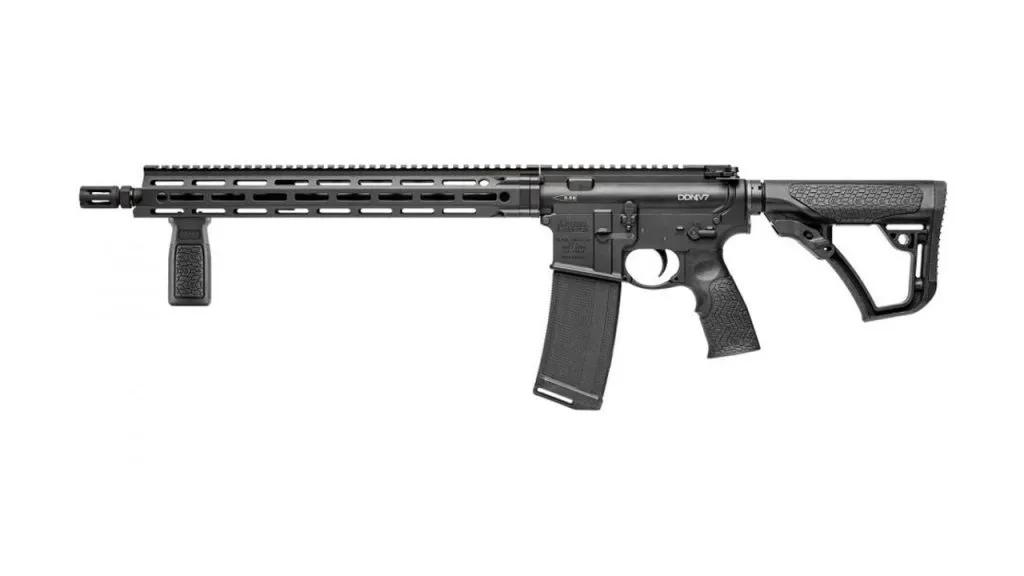 Define your purpose before taking the plunge
There are a LOT of black rifles available these days, from makers of all stripes. Before pulling the trigger on any AR, it's critical to think through essential considerations to make sure you're getting the right rifle for your needs.
Purpose
Why exactly do you want a premium AR in the first place? Competition shooting, home defense, distance shooting, or just adding to a collection? Daniel Defense rifles are available in a massive array of calibers and configurations, so your intended use for the gun should inform the eventual product you purchase.
Barrel Length
A home defense configuration would want to consider a shorter barrel chambered in a caliber like .300 BLK, which was engineered to perform optimally with shorter barrels and suppression (which also makes a lot of sense for home defense use if you value your hearing.)
Competition shooters will want a build that offers a solid mix of shootability and stability — 14-16-inch barrels with a top-mounted red dot or holo for speedy target acquisition. Long-range shooters will almost certainly want more barrel and possibly a collection of accessories geared toward stability.
Caliber
All of these considerations can lead someone to drastically different rifles. The DDM4 V7 rifle as configured is only available in 5.56 NATO (SBRs and pistols are available in .300 BLK, and there is a single 6.5 SPC version of the DDM4), but if you want to run more exotic cartridges like a 6.5mm Grendel or .224 Valkyrie, you'll need to look to another brand. Daniel Defense offers the larger 7.26×39 cartridge in their DD5, so those interested in a rifle of the 30-caliber persuasion have a viable option.
The DDM4 is the smaller-caliber 5.56 NATO brother to the 7.62/.308 AR-10 DD5. It's an excellent example of a premium AR-15-type rifle; with attention everywhere you look — from the rail system, upper receiver, barrel, muzzle brake — it fits together like a high-end watch.
It also offers several upgrades over typical AR builds, with an array of QD swivel attachment points, 7075-T6 aluminum machined lower, ambi safety, and a pistol grip that felt just right to these hands.
Everything that comes in the box.
Barrel & Handguard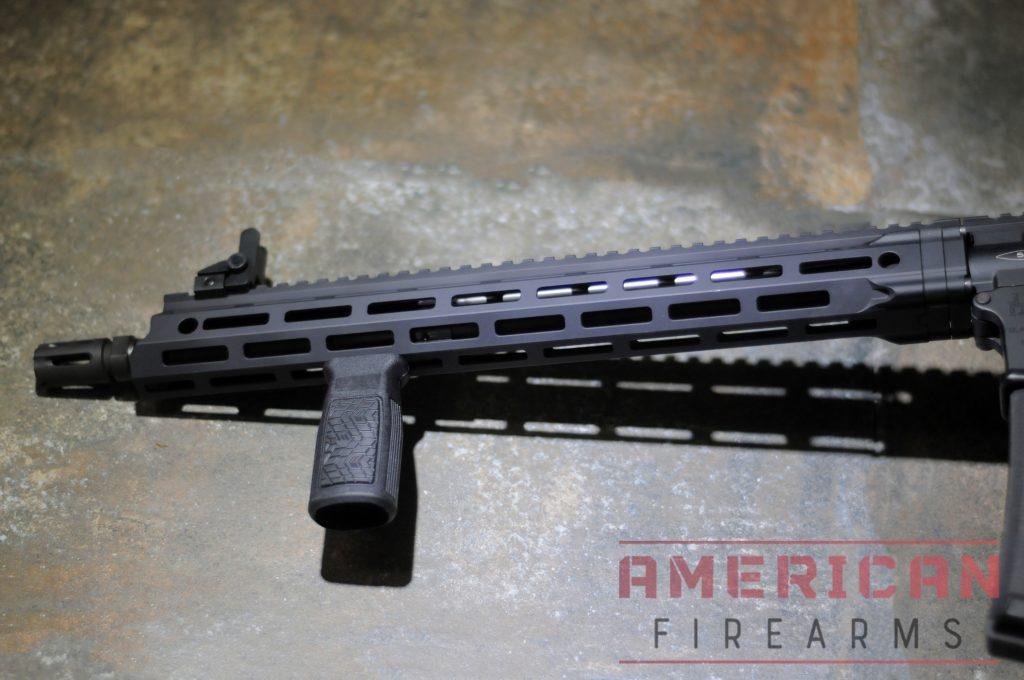 Wired: the lightweight handguard.
The 16-inch, government profile barrel — cold hammer-forged, of course — is covered in a heavy phosphate coating and comes with a lightweight 15" M-Lok handguard with a full-length Picatinny rail up top, so you have ample room for accessories.
The free-floating handguard is CNC machined from 6061-T6 aluminum, which is clever given the handguard's more intricate milling when compared to, say, a receiver.
There's no need for the more expensive 7075-T6 aluminum on the handguard.
The handguard also includes four quick detach sling mounts at 3 and 9-o'clock, as well as 2 and 11 o'clock to help keep your sling and support hand from getting too well acquainted (or entangled.)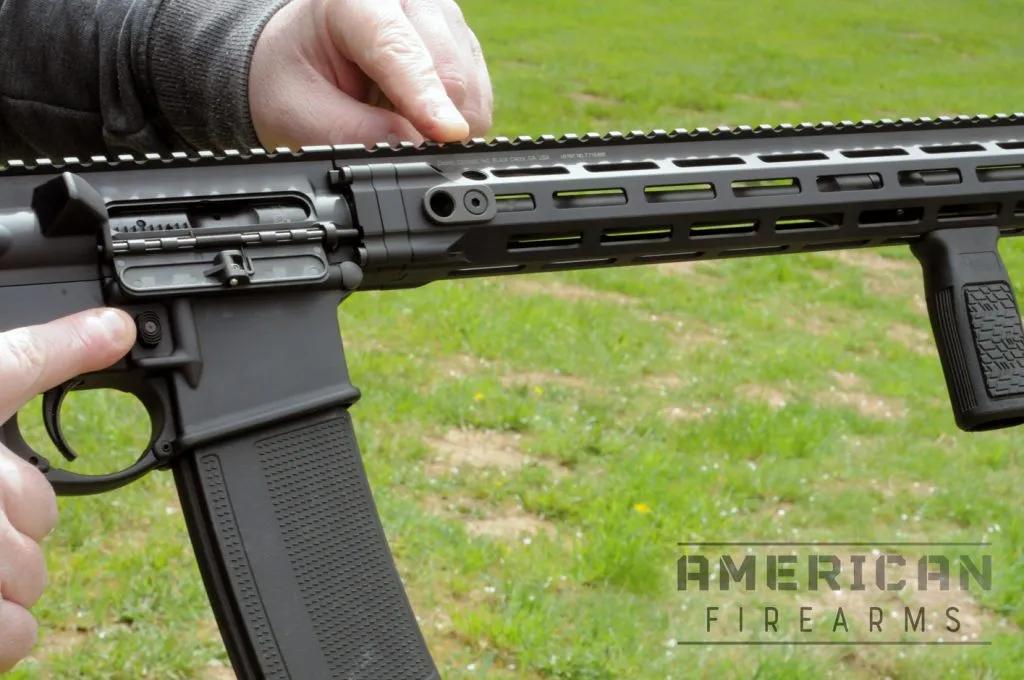 Four QD mounts on the handguard help keep things from getting tangled.
We tested the DDM4 and another of Daniel Defense's ARs — the M4A1 — which sports a more traditional quad-rail handguard. In shooting these two rifles side-by-side, I noted that the DDM4's M-Lok rail had much more effective heat dispersion than the heavier quad-rail.
So, in addition to saving weight, the DDM4's lighter M-Lok rail will keep your hands much more comfortable when firing for extended periods.
Rounding off the barrel, there's a Daniel Defense flash suppressor, which is slightly larger than the standard A2 but nowhere near as aggressive as some aftermarket options. We didn't test in a night shoot scenario, so while it seemed to do the trick, I can't speak to its overall efficacy relative to more standard muzzle gear.
The DDM4's handguard also includes a near-vertical pistol grip, which forces you to an almost vertical support hand orientation or hand placement in front of or behind the grip. None of these placements felt natural to me, so I ended up shooting with my support hand directly behind the grip most of the time. I get what Daniel Defense was going for, but not my cuppa, as they say.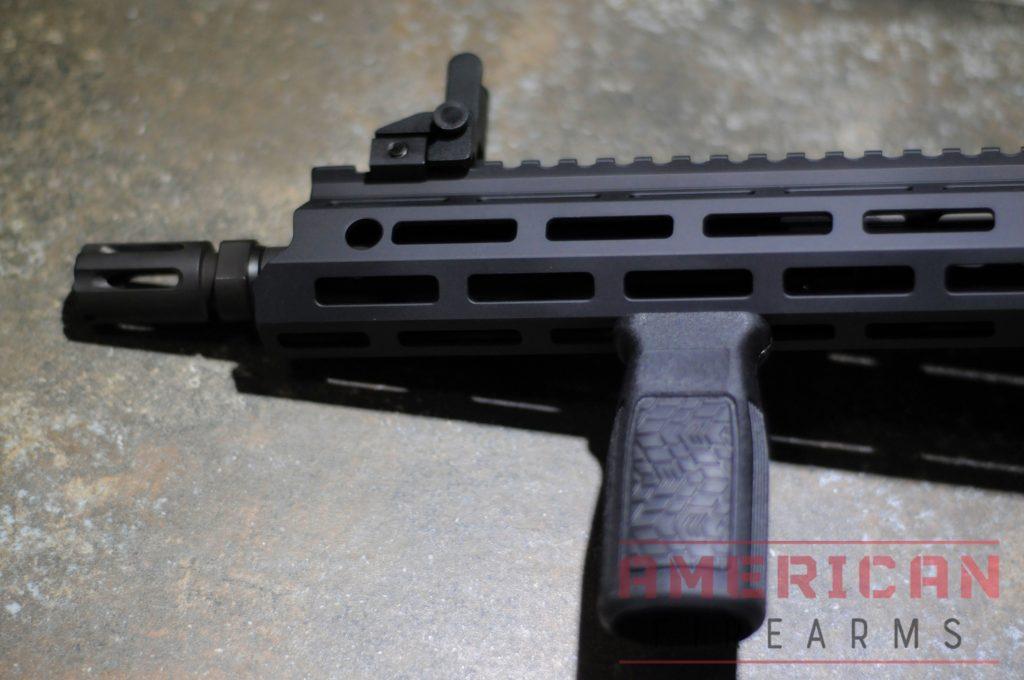 Totally on the fence with this foregrip.
Upper Receiver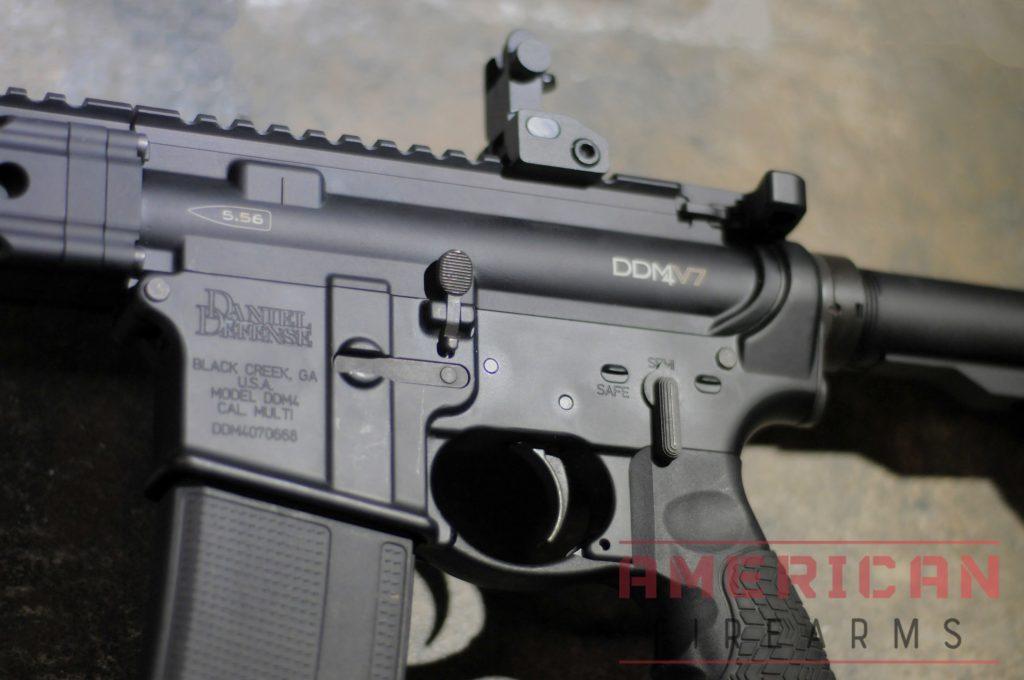 The upper shines in its quality and attention to detail.
The Mil-Spec receiver is CNC machined from 7075-T6 aluminum and Type III Hard Coat Anodized, making it one tough cookie (if not earth-shatteringly innovative). The central value add Daniel Defense tacks onto the upper is their "RIP N GRIP" ambi charging handle, which works a treat from either hand or angle (beyond being fun to say.)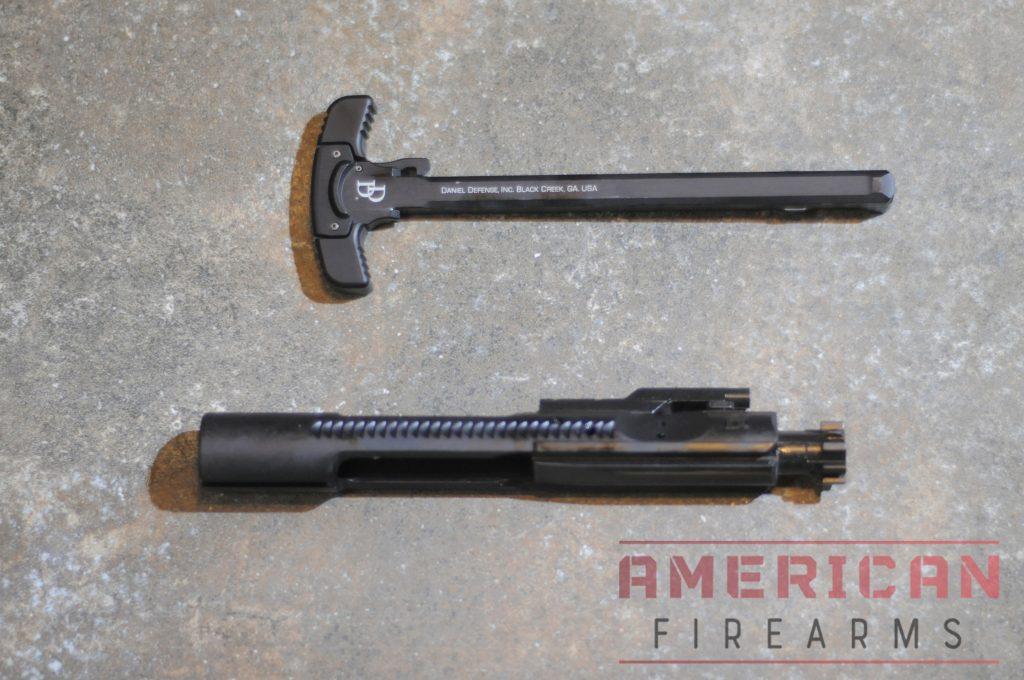 RIP N GRIP charging handle and BCG
The Bolt Carrier Group handled its job admirably and the flared magazine well made for quick and easy mag swaps, but not more so than other AR's with flared magwells.
Lower Receiver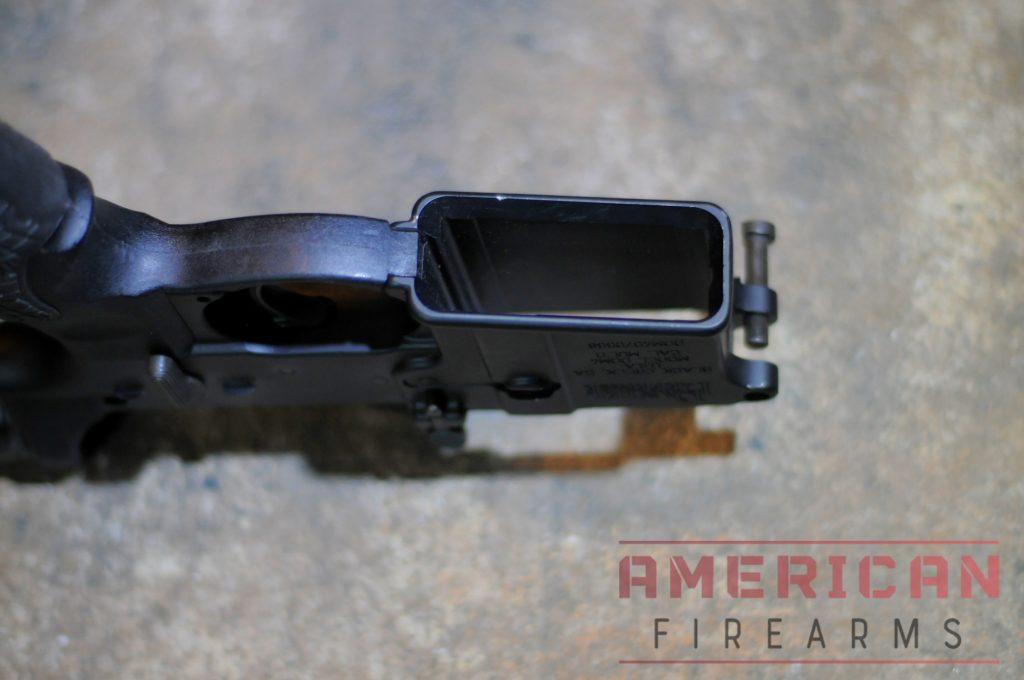 Flared magwell -- table stakes feature, really.
Again, the lower is fantastic quality and milled from 7075-T6 aluminum, which offers almost twice the tensile strength of 6061-T6.
This certainly makes sense given the forces exerted on the receivers. Significant value adds on the lower include the ambi safety selector, which is straightforward enough to operate.
One innovative feature is the inclusion of the 32-round Daniel Defense magazine, which allows you to either pack an additional two rounds into an industry-standard sized magazine or load 30 and keep the spring tension at bay. Either way, not something you'll find elsewhere.
Grip
The grip was one of my favorite features. Big, sticky, and ergonomically dialed.
One of the features I was most surprised by was how much I appreciated the DDM4's "glass-filled polymer" pistol grip.
It's, uh, chonky and considerably larger than a standard Magpul MOE grip in all the right ways. When firing, my hands felt at home, shooting was natural and easily controlled, and grippiness was more than sufficient.
However, my stubby fingers required commitment to hit the safety toggle consistently, possibly a byproduct of the stout little grip.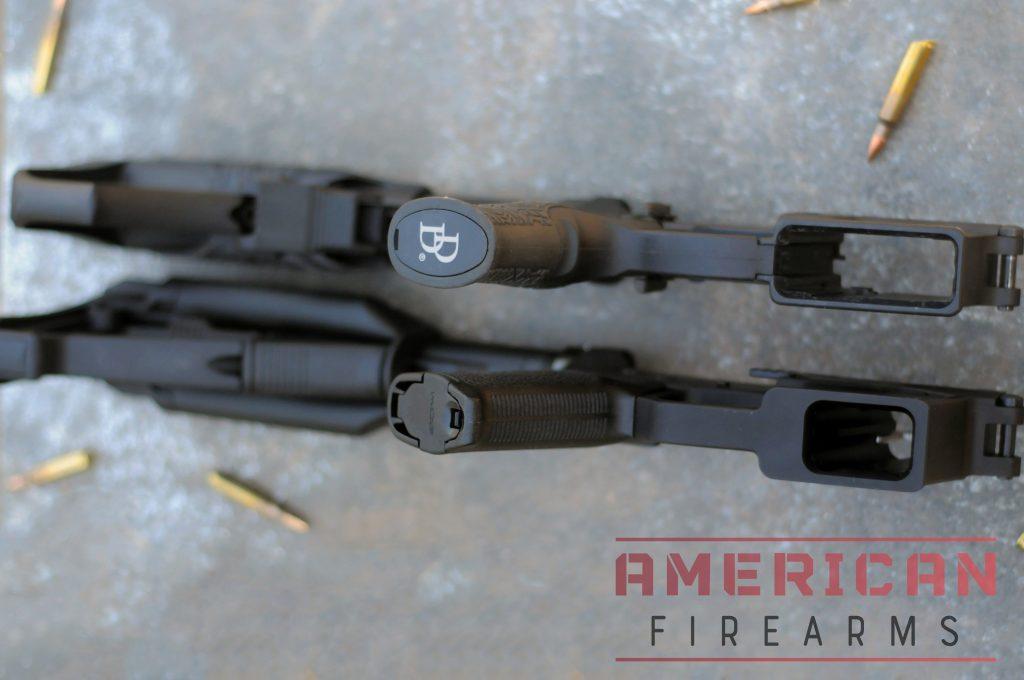 Here you can see the DDM4's grip compared to a Magpul MOE. Much more to hold onto with the DD grip.
Trigger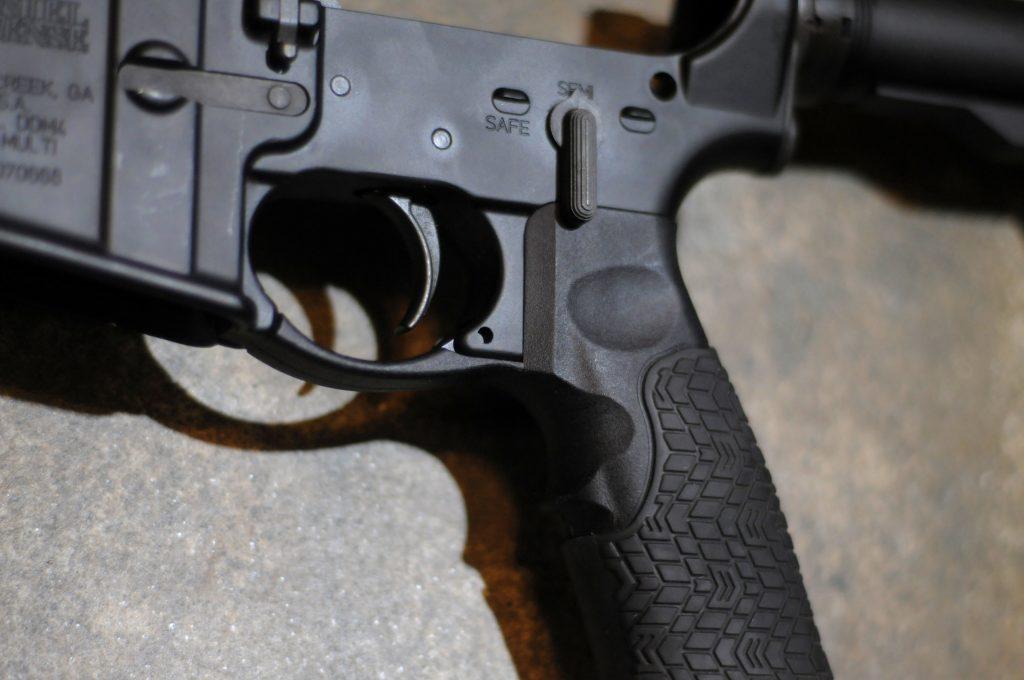 Not sold on the trigger.
Hmm. The trigger is, for my money, heavy and slightly unpredictable.
There's some take-up before the break, which lands with a bit of a thud. It's controllable, and my trigger finger found a consistent and natural placement on the trigger, but the break always gave me a surprise of sorts.
It didn't impact accuracy — the DDM4 shot well, as noted in the range report below, but the trigger never felt completely natural.
Stock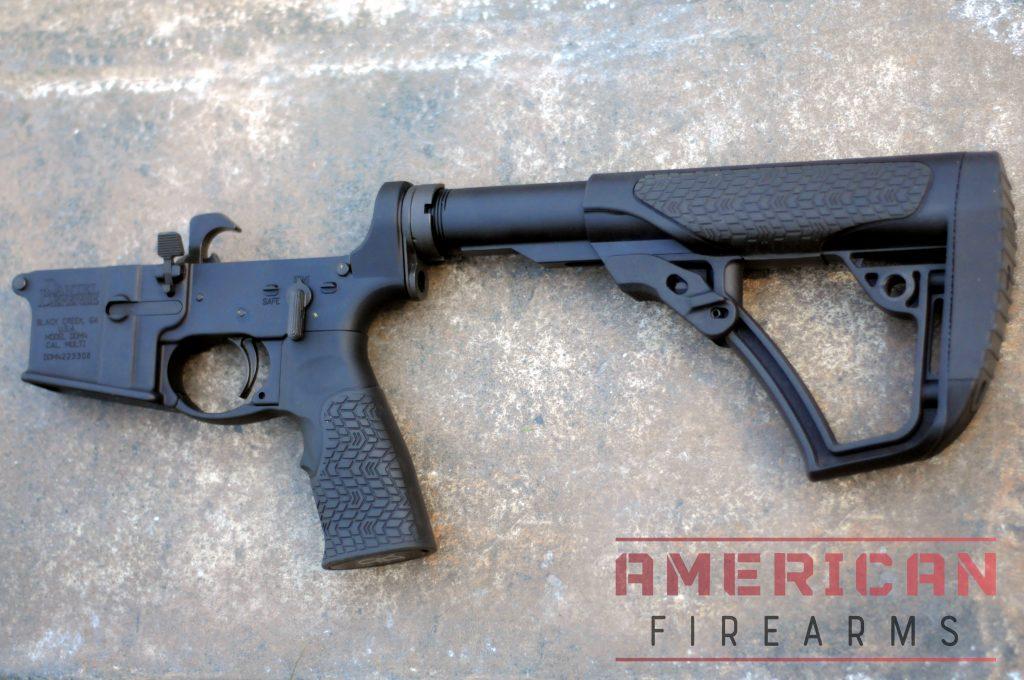 Loved the stock.
I also really appreciated the Daniel Defense stock, which has a simple, single adjustment release button.
My PCC has a Magpul STR Stock, which uses a two-latch release mechanism I find overly complicated (although I appreciate the battery storage, which the Daniel Defense stock doesn't offer.)
Daniel Defense was kind enough to include 400 rounds of Sellier & Bellot 55gr M195, which we judiciously put to good use without issue. Like, literally zero issues.
Shooting fast, slow, full mags, partial mags, and anything in between, the DDM4 just ate what we fed it over and over. The mid-length gas system paired with the 16-inch barrel kept recoil manageable.
Shooting from 50 yards with a Sig Romeo5 red dot, we could consistently ring four and 6-inch steel at will.
Groupings were generally 1-inch shooting off a barrel, 2-ish inches standing. A magnified optic would almost certainly have us sub-MOA at 100 yards.
50 yard red dot performance was on point. Would be sub-MOA at 100 with a magnified optic.
At the Chrono
Putting the DDM4 through my Caldwell G2 Chrono I was just as impressed.
For the 3 groups I measured the average FPS landed at 3,082 overall, with the Sellier & Belliot rated for 3,301 at the muzzle. The FPS spreads differed slightly with the slower and faster firing, with the slow firing actually showing a broader spread at 107 across the group vs. 101 with the faster collection of shots, but the difference was negligible .
Overall I was very impressed with the DDM4's consistency, as many sub-groups came in with less than 10 fps differentials between shots.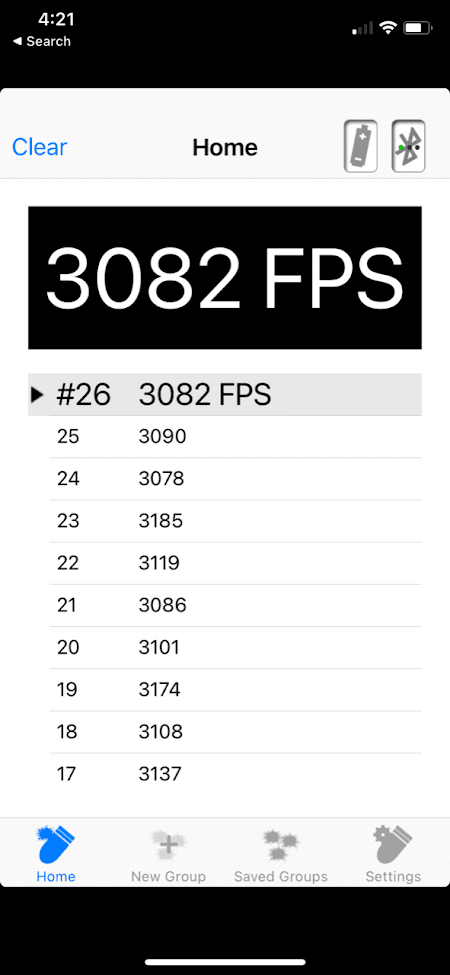 Overall FPS
Slow group - 107 spread
Fast group - 101 spread
If you're not sold on the DDM4, Daniel Defense by no means has a monopoly on quality black rifles. Here are a few alternatives that offer something different.
Budget Alternative: Palmetto State PA-15
If dropping two grand on an AR is a little too stiff a pill to swallow, take a look at the PA-15 Palmetto State State.
They're priced between $750 for a 16-inch barrel PA-15 clad in drop-in handguards to just over $1,000 for a 14.7-inch PA-15 with an upgraded 13.5-inch M-Lok free float rail for more consistent shots and room for the accessories (which you'll be able to afford by saving a grand on the rifle.)
You don't get a set of milled receivers or the goodies Daniel Defense packs into their DDM4 (love that grip), but for a value-focused buyer, the PA-15 is a heck of a deal.
Premium Alternative: Barrett Rec7
If the DDM4 isn't quite your cup of tea, but you're squarely in the market for a "premium" AR, the Barrett REC7 checks a lot of the same boxes as the DDM4 but offers a few unique features.
The upper and lower receiver are both milled, so no compromise there, but in addition to the premium components, the REC7 is available in a wider variety of calibers (.300 BLK, 6.5 SPC, and 5.56 NATO) & color choices thanks to the Cerakote finish (the burnt bronze is a personal fav).
Barrett also has more diverse trigger options — with either Geissele or ALG defense triggers available from the factory — so if you've run the DDM4 and can't stand the trigger, the Barrett is a logical option for that reason alone.
They also pack in a Radian Raptor charging handle — one of the most popular and lightweight charging handles around. Lots to love from Barrett.
AR Pistol Alternative: Diamondback DB15
Diamondback's DB15 pistol is an excellent option if you're on the fence between a pistol or rifle.
It's solidly in the middle-range in terms of price and quality but has a few features that help curb the typically rowdy 5.56 NATO round's performance when fired from a pistol-length barrel.
The included KAK flash directs gasses and noise forward, away from the shooter, helping to make firing the DB15 more comfortable and enhance its appearance.
Also, the Tailhook MOD 2 Brace helps improve accuracy by using a fold-out arm to provide more stability than the more traditional velcro/nylon strap approach.
The DDM4 V7 offers everything you'd want from a top-tier AR, and while it's not perfect, it's going to give you a level of performance, reliability, and precision that only premium builders can provide. With a few tweaks — such as lightening the trigger pull and possibly a more aggressive muzzle brake — you may very well be able to create a perfect AR all-rounder.