The KelTec CP33: A Review
KelTec's CP33 gives you 33 rounds of rimfire fun, but is the futuristic pistol anything more than a range toy?
Written By
Grandslam Ronbo
NRA Competitor & National Record Holder
Edited By
Michael Crites
Licensed Concealed Carry Holder
Share:
Products are selected by our editors. We may earn a commission on purchases from a link. How we select gear.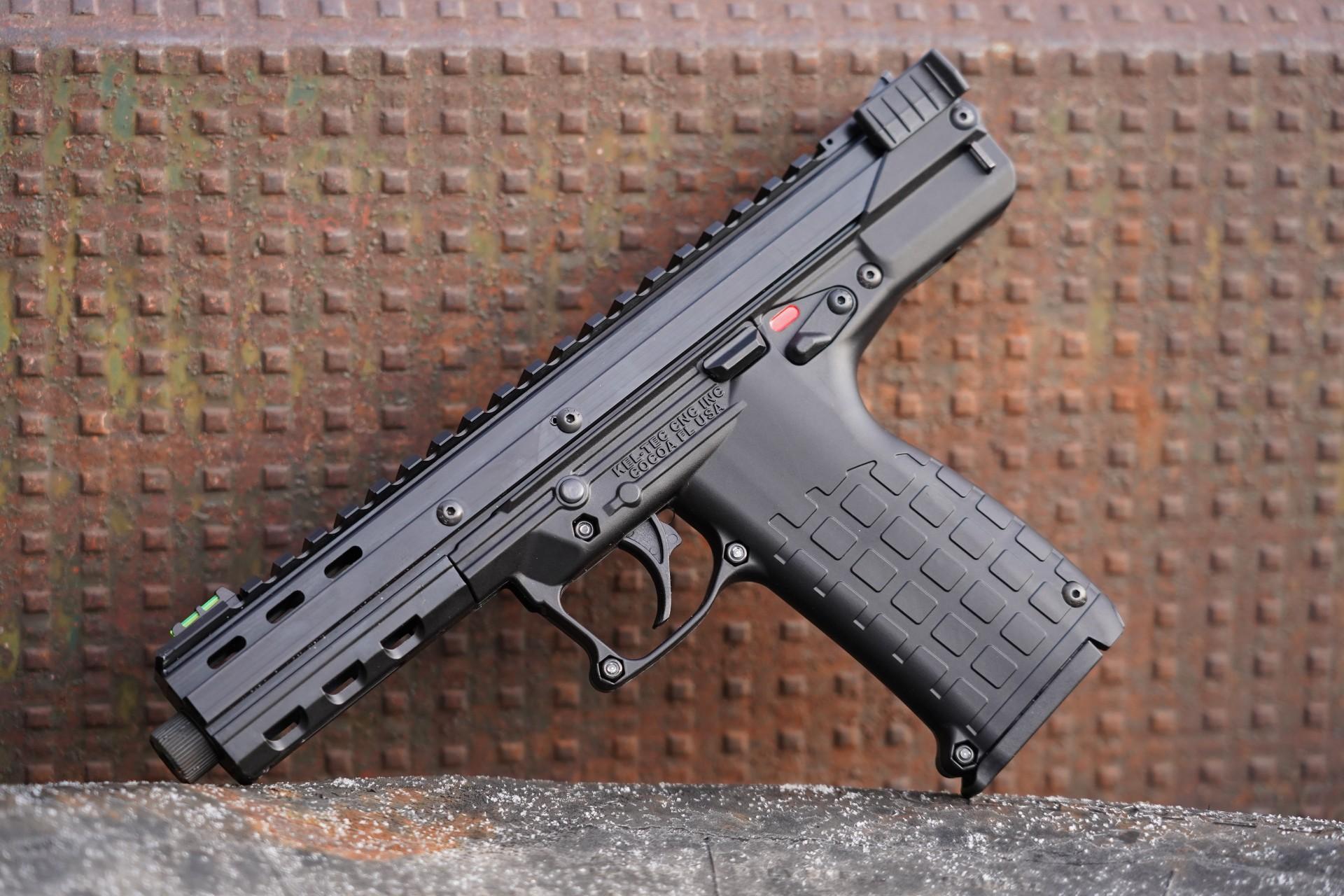 The CP33 has many features that make it versatile. Hunters and competitors like its high-capacity magazine. Its long Picatinny rail is great because it will allow a wide variety of sights. The generous grip will fit nearly anyone's hand.
However, its large size makes it an unlikely choice for concealed carry. Follow me to determine if this will be your next .22 rimfire pistol.
The founder of Keltec, George Kellgren, has a goal. Make guns that are innovative and exciting to shoot. The company started in 1991 with a compact .32 caliber pocket pistol called the P32. Its polymer frame made it light. Extremely reliable, it was a success that gave the company a good start. Other guns followed.
The Sub-2000 9mm carbine folds into a compact package that has become very popular. It will accept popular high-capacity magazines to increase firepower. In 2019 KelTec announced the CP33. It is radical in design.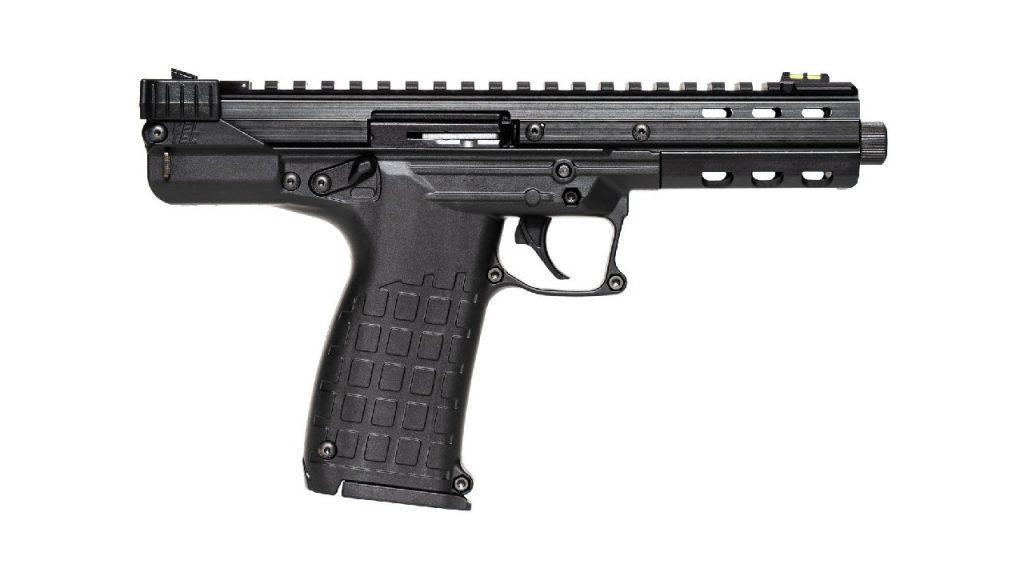 $499.99
Given that it's a specialized segment of the market, it is no surprise that KelTec — one of the more risk-taking companies in the firearms world — has taken it on. If you're not familiar with them, that's okay: we'll detail them and some of their more exciting designs later in this article.
Strangely enough, the .22LR can be an overlooked cartridge for gun collectors. Typically (if you can find ammo), it's pretty cheap and can be great fun to shoot. How many of us learned how to shoot — and developed good marksmanship — on an old .22 rifle?
Taking that kind of thinking, Keltec has decided to help fill a hole in your collection with a fantastic pistol that will make short work of bullseyes and paper bad guys. This piece will give you an overview of the KelTec CP33 and provide a rich history of the trendsetting company.
| | |
| --- | --- |
| Caliber: | 22 Long Rifle |
| Weight: | 1.5 pounds |
| Overall Length: | 10.6 inches |
| Height: | 6 inches |
| Barrel: | 5.5 inches |
| Sight Radius: | 9 inches w/ a full Picatinny rail |
| Magazine: | 33 round / Polymer / 2 included |
| Material: | Aluminum Alloy |
| Height: | 4.5" |
| Ambidextrous: | Safety and Bolt Charging Handle |
| MSRP: | $495 |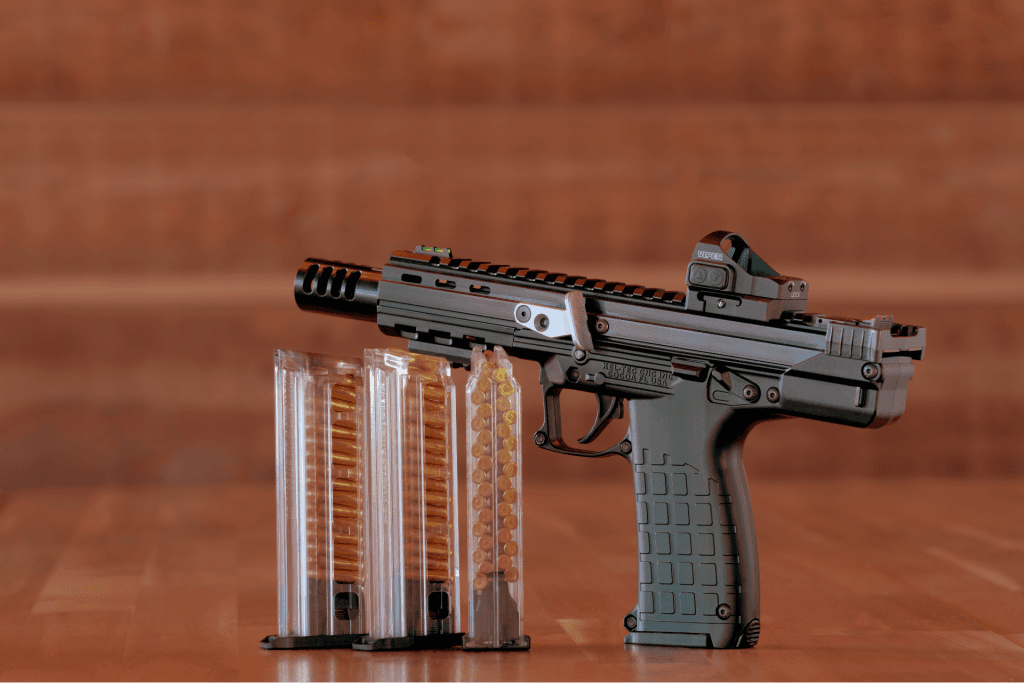 The CP33 and its unique -- dare we say "quad-stack? -- 33-round magazines.
My testing with the CP33 was done from a sand bagged bench rest at 25 yards. Five different types of 22 long rifle ammo were fired. The targets were a 5.5-inch round bull meant to simulate a steel plate at this distance.
Keeping in mind that the CP33 is a Competition-Action pistol not a bulls-eye pistol, it should keep hits within this group size to be competitive. All groups were fired with the pistol's factory fiber-optic open sights.
Ammo Tested
Grain & Type
FPS
Performance

Federal Value Pack Bulk box

36 grain Hollow-Point plated

1260 fps

2.5-inch group

Remington Golden Bullet Bulk box: 36 grain Hollow-Point-plated

1280 fps

3.0-inch group

CCI Mini-Mags

40 grain Copper plated solid

1235 fps

3.0-inch group

Remington Thunderbolt

40 grain Lead solid

1255 fps

2.5-inch group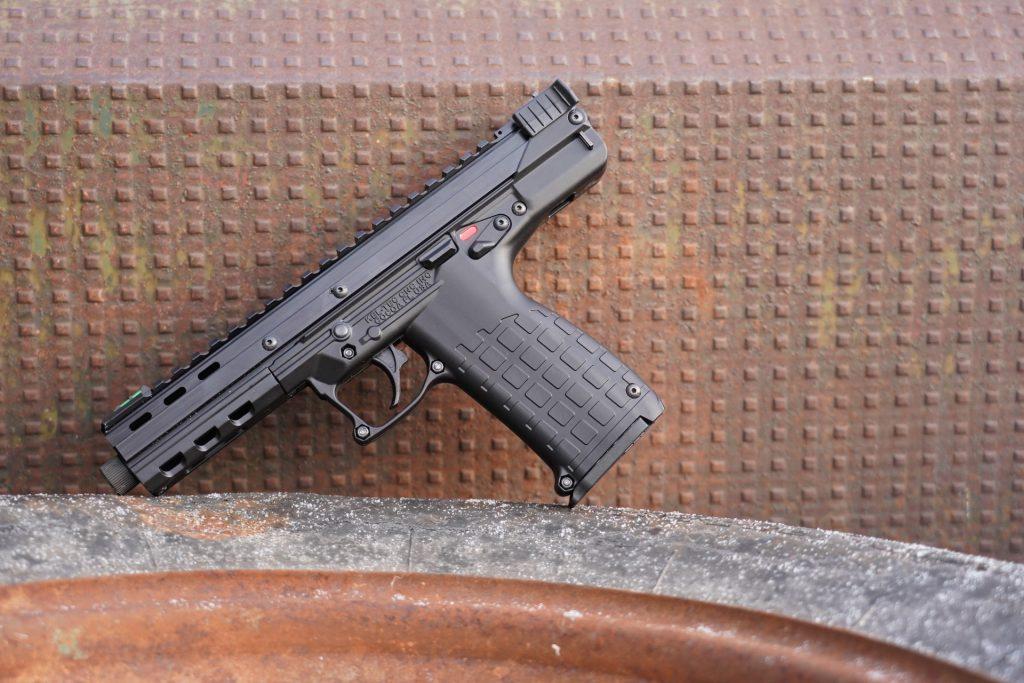 A bone-stock CP33
There were two "fliers" in each 10-shot group which I attribute to my aging eyes. Therefore, the strings listed are the best 8-shots grouped.
Surprisingly, the only target-grade ammo tested, Norma Tac, was no more accurate than the other standard ammo despite its high accuracy in my target rifles.
My accuracy rating is based on the pistol's ability to fire varied types of ammo and still group. Sights were the limiting factor but set a baseline for improvement with various optical sights of the shooter's choice.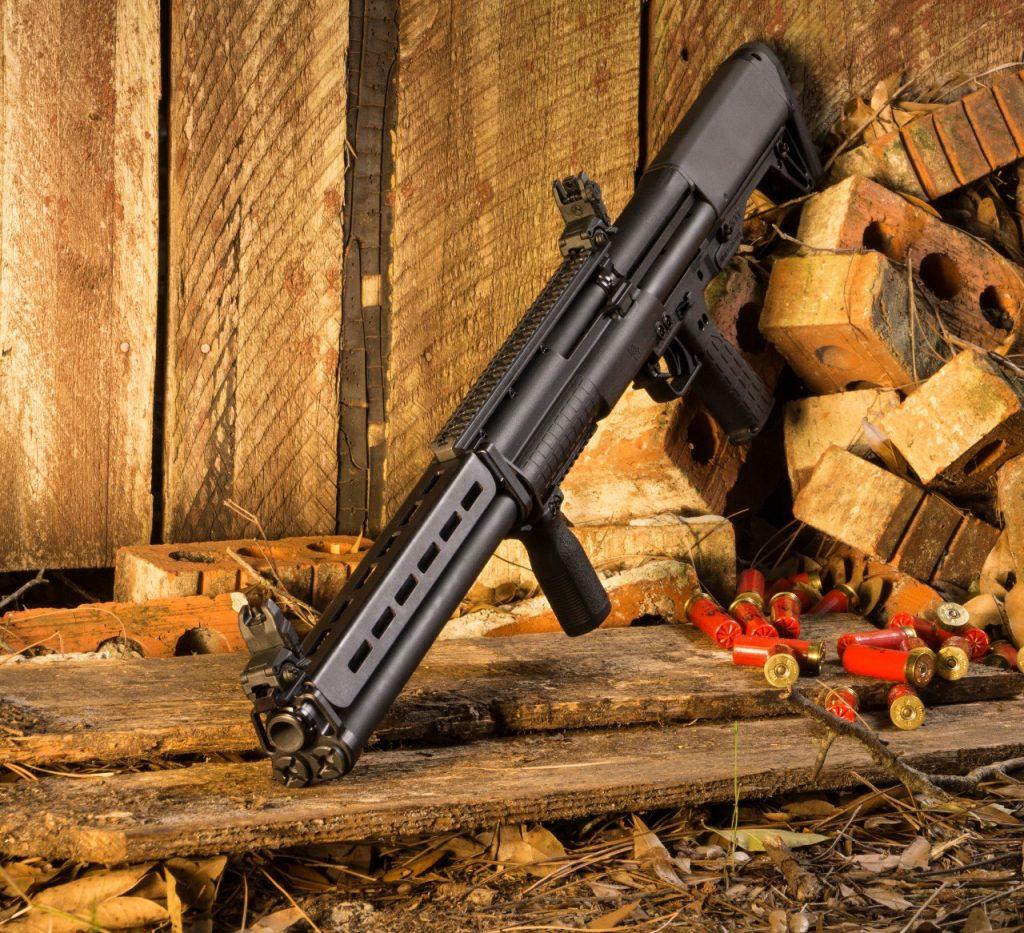 The KSG shotgun is one of the more innovative shotguns on the market today.
Ergonomics
At 10 inches long and 6 inches tall, this is a big pistol. It is not designed for concealed carry. It's size does not detract from its purpose as a stable platform for competition, and the grip length accommodates my average size hands well.
Those with larger hands will find no issues with control. The ambidextrous safety and charging handle makes operation easy for lefties. Although the slide release is on the left side of the frame, left-handed shooters may simply release the bolt with the charging handle instead.
Holding the pistol, I feel in control.
Its center of gravity is at the grip as it should be. The factory open sights are fiber optic red in the rear and green front. They are especially visible in daylight shooting, but somewhat indistinct when fired under low light conditions.
The 9-inch sight radius contributes to accuracy greatly. Most other pistol sight radius range from 5 to 6 inches making them less accurate. The forward trigger guard is nicely indented to allow the weak hand index finger to grasp for better control.
The magazine release is located at the bottom of the grip rear. It is not intuitive compared to Colt 1911-style thumb-operated magazine releases. When released, the magazine does not drop from the pistol and must be pulled out by the shooter's weak hand. This is a speed detriment.
Firing the pistol generates little kick due to the reciprocating bolt and well-designed grip.
The Factory trigger breaks at less than 5 pounds and is crisp. Rapid-fire shooting is quick with no muzzle flip. I can control this pistol and the last shot fired from the magazine is noticeably different. This is a nice feature that tells me it is time to reload.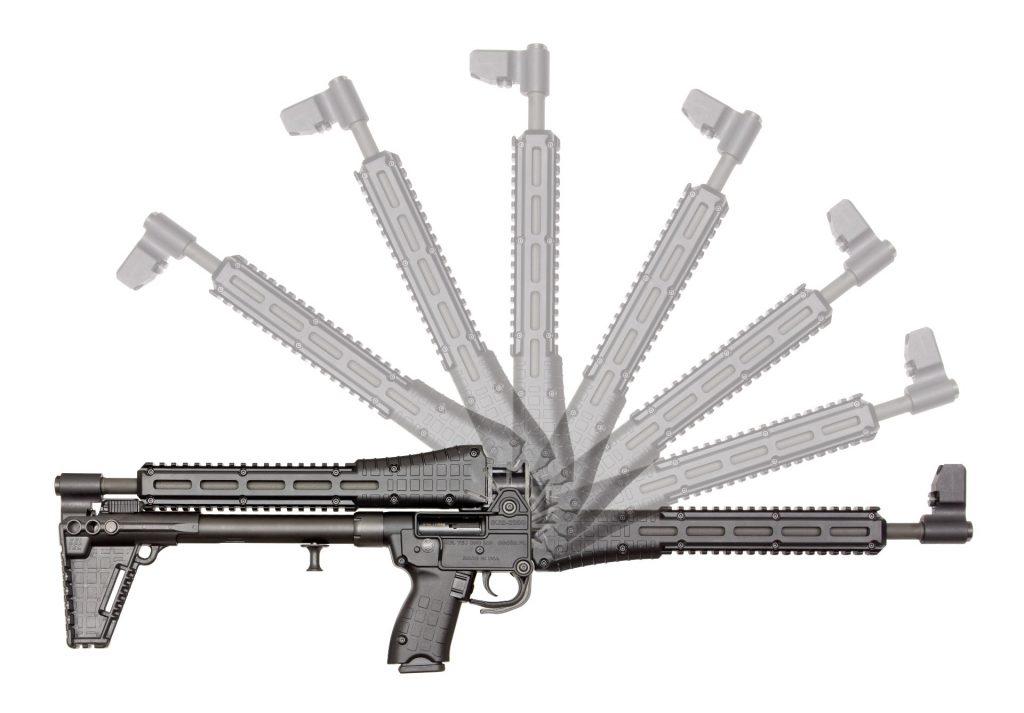 The Sub2000 is a fantastic folding PCC that makes for a remarkable backpacking rifle.
Features
The patented 33-round integral magazine is the salient feature of the CP33! In steel-speed competition, magazine changes can cost time. The high-round count magazine of the CP33 solves that issue. KelTec supplies two of these magazines with each gun, making a day of plinking or hunting less dependent on carrying loose ammo.
The magazine is clear polymer thus allowing the shooter to quickly check the remaining ammo. KelTec uses a 'quad-stack' design that merges two double stacks of 22 long rifle ammo to merge into a single feed column. Despite the varied ammo tested, it feeds well.
Loading the 33-round magazine is its only drawback. It is time-consuming. Care must be taken to ensure that each cartridge rim overlaps the prior one to avoid jams. KelTec is aware of this issue and sells the CP33 Magazine Loader on its website.
With it, loading is easy. Invert the magazine onto the loader placed on a firm surface. Drop a round into the rear of the loader and press down firmly on the magazine. The round clicks into place quickly and accurately. Loading 33 rounds can be done in a minute with this tool.
The nine-inch Picatinny rail allows various optical sights to be attached. This feature lends to the pistol's versatility. Competition, hunting, plinking, or personal defense can be customized by choice. M-Lok slots on the fore-end allow for more attachments such as lasers or high-intensity lights.
Aftermarket supplier, M-Carbo, manufactures two improved parts for the CP33. Their aluminum flat trigger enhances the feel and break of the pistol upon firing. The 'Enhanced Magazine Release' allows the magazine to fit and lock more securely. Both upgrades replace the factory polymer parts thus improving reliability.
My pistol has both upgrades installed. No other changes or upgrades were made. Shooters may install these or send the pistol to M-Carbo for installation for a fee.
With over 2.6 million registered suppressors in circulation, KelTec has wisely threaded the muzzle of the CP33. The 1/2X28 threads will accept most suppressors or other muzzle devices. My Tactical Solutions Cascade suppressor is 5 inches long and 1 inch in diameter.
When fitted to the muzzle it cannot be seen and its lightweight makes it barely noticeable when shooting. Accuracy is comparatively good with the suppressor on as not, and my hearing is protected.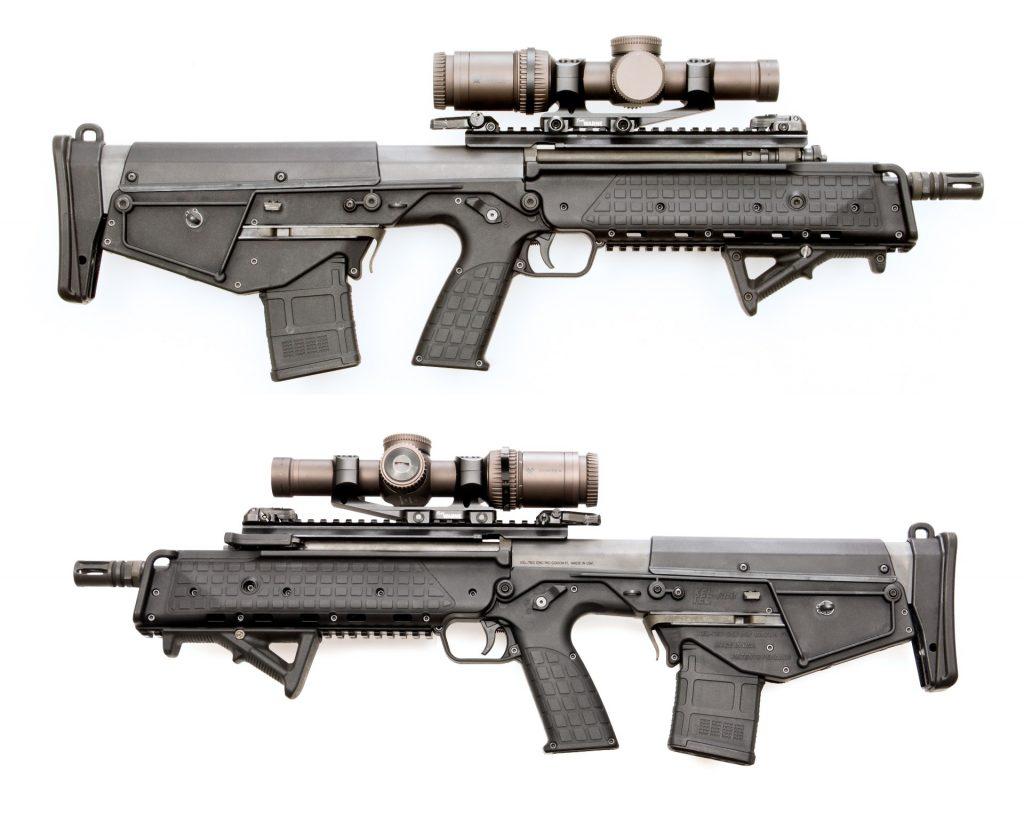 The RDB (Rifle Downward-ejecting Bullpup) looks like it could be found on maps in a first-person shooter game.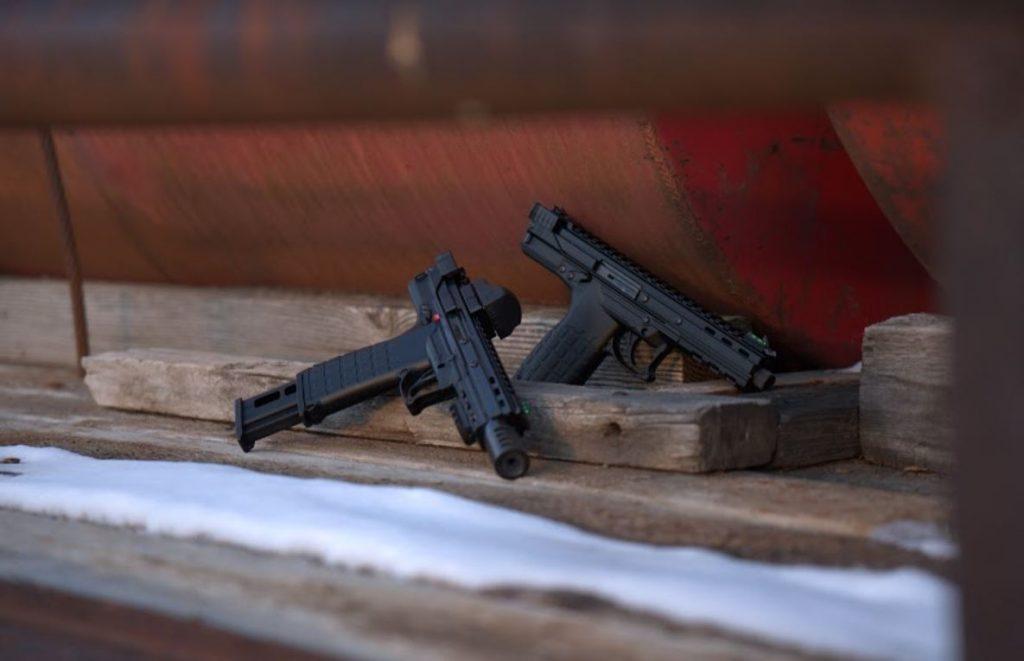 The CP is a competition pistol, which means it's designed to be customized for optimal performance.
Fit & Finish
This is a lightweight aluminum alloy pistol. The fit and finish are quite good with a KelTec typical 'clamshell' assembly. The receiver halves fit well together with a minor seam detectable. The pistol is bolted together. The upper and lower receivers are held together with a central drift pin which allows field stripping and cleaning.
This requires few tools and allows for cleaning the barrel from the breach and thorough cleaning of the bolt assembly. The anodized aluminum finish is smooth and resists damage by cleaning solvents.
The final product feels good in my hand and looks good. Balance and pointablity are instinctive. At only 1.5 pounds empty, it can be a bit difficult to control in rapid-fire sequences. I feel it compares well to the Ruger Mark 3 22/45 series of pistols.
However, the KelTec CP33 comes ready for customization lacking in the Ruger. With a magazine count more than three times higher than Ruger's 10-round magazine, it is my choice for competition and plinking.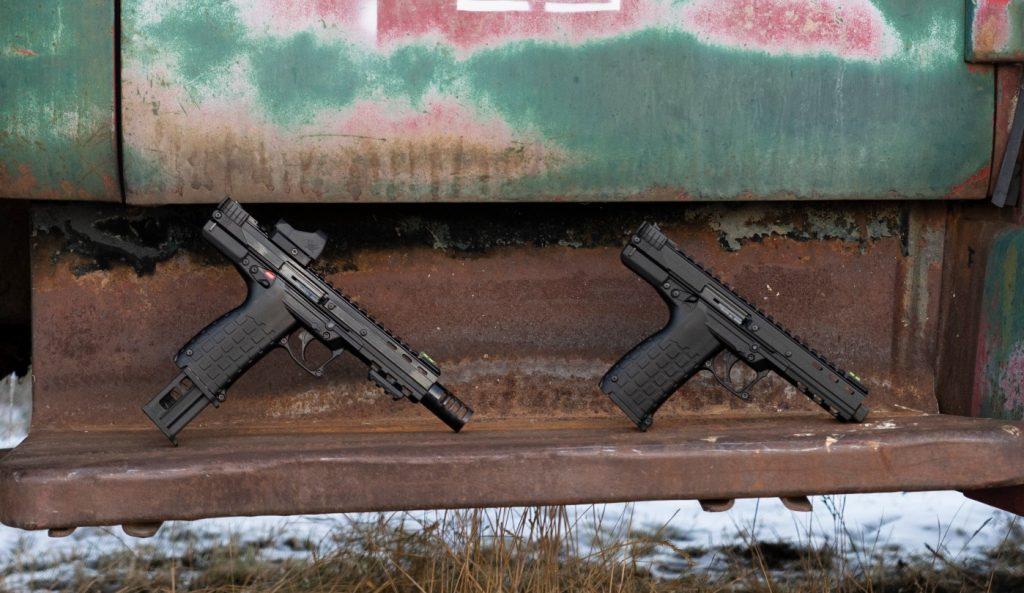 KelTec CP33 Review - Customized
Reliability
The function of the CP33 is first-rate* (*=provided that the magazine is properly loaded with good-quality ammunition.) Each round's rim must overlap the prior one. Care must be used to observe that the rounds stagger properly in the clear polymer magazine.
I feel the KelTec magazine loader makes this process easy. It is well worth the investment to ensure foolproof magazine loading. Keeping the gun clean is also important for proper function. I like the easy take-down disassembly of the CP33 which makes cleaning easy. The magazine is also easy to disassemble for cleaning.
Owning my CP33 for a few years, I have found one weakness in the magazine. During the first year, I purposely stored the magazines fully loaded with 33 rounds. This was done to test the reliability of the pistol and magazine. After months of storage, I found that the gun functioned flawlessly.
However, a crack appeared on the rear feed lips of both magazines. The strong magazine springs found a weakness in the polymer seam forcing a crack to appear. Despite this flaw, the pistol still fired.
KelTec stands behind its products and replaced both magazines with new units at no charge. This is a known weakness that they are working to correct. I am always impressed by good customer service. Now I store my magazines empty until the day before I need them for hunting or match competition.  
In testing, I found that the pistol will empty its magazine in a few seconds of rapid-fire fun. The magazine must be released and pulled from the grip with the shooter's weak hand. The newly loaded magazine inserts easily and locks in place with a click. 
I have found that releasing the bolt with the bolt catch will sometimes fail to send the first round into battery in the chamber. The fully loaded magazine exerts high pressure on the bolt preventing it from closing.  This problem can be overcome by using the charging handle to release the bolt into battery.
In the event of a round not sent into the chamber fully, the pistol will not fire, and the round must be extracted with the charging handle. There is no bolt-forward assist mechanism.  
Value
With an MSRP of $495, I find the KelTec CP33 hard to beat. Shooters like me will want this pistol for competition, hunting, and plinking.  Substantially higher magazine capacity and greater customization make it a good choice, I feel. 
Its overall size makes it a poor choice for concealed carry. Its factory open sights are adequate but sometimes difficult to acquire in low light conditions. However, I cannot hide my smile when I take it to the range for a shooting session.
Everyone that has never seen one wants to examine and shoot it. That proves a good bang for the buck to me.  
Browning Buck Mark
Browning's Buck Mark and Ruger's Mark 3 pistols come close in price, but I believe the CP33 has them beat. Substantially higher magazine capacity and greater customization make it the better choice, I feel. We have a hands-on review of the Buck Mark if you want more detail on the Luger-style pistol.
Heckler & Koch MP5 22
The Heckler & Koch MP5 22 pistol may have a high magazine count but is based on a submachinegun and poorly proportioned as a handgun.
Ruger 22/45 Mark 3
I tested my Ruger 22/45 Mark 3 for accuracy, reliability, and comfort. It also excels at these features. Suppressed and not, it shot well, However, there is no way to attach a laser or light system to the barrel. Every ten rounds fired required a reload. 
I believe there to be few direct competitors to the CP33. Its intended purpose is a high-capacity pistol that balances well with an integral magazine and is lightweight. It excels at this.
The Good:
Incredible magazine capacity
Versatile design & full Picatinny rail
Generous, comfortable grip
Ambidextrous safety and charging handle
Threaded barrel
Solid construction
The Bad:
Magazine loading is time-consuming
Limited factory sight visibility in low light conditions
Magazine feed lips don't age well
Chambering a round via the bolt release may be inconsistent
So… how does the C-33 stack up on our 10-point scale?
Accuracy: 8/10
I tested with various types of ammunition at 25 yards and found that the CP33 consistently produced groups within a satisfactory size for competition purposes.
Ergonomics:7/10
The CP33's large size and grip length make it unsuitable for concealed carry, but it provides sufficient stability for competition. The ambidextrous safety and charging handle accommodate left-handed shooters as well.
Features: 9/10
From the incredibly high-capacity 33-round magazine, clear polymer magazine for quick ammo checks, Picatinny rail giving you any choice for opticals you could want, and M-Lok slots on the forend and a threaded barrel, the only thing its missing is the kitchen sink.
Finish: 8/10
The CP33's lightweight aluminum alloy frame really does have good fit and finish, and the clamshell assembly is well-designed, allowing easy field stripping and cleaning. The anodized aluminum finish is smooth and durable, which helps the pistol feel good in hand and balance well.
Reliability: 7/10
While the CP33 functions well when properly loaded with good-quality ammunition, care must be taken to ensure proper alignment of rounds in the magazine. Cleaning the gun regularly and using the magazine loader available from KelTec can take the reliability up a notch.
Value: 8/10
The CP33 offers a good value for its price point, considering its high-capacity magazine, customization options, and overall performance. While it may not be suitable for concealed carry and the factory sights have limitations, the CP33's reliability, versatility, and enjoyment factor contribute to its value and really put it in a league of its own.
KelTec's CP33 is not intended to be for everyone. It is not easily concealable. It is strange-looking and has a radically different design. 
Its strengths are its reliable 33-round magazine, comfortable fit and feel, and its highly customizable platform. Factory sights are minimal, but it is meant to sport your choice of optical sight that will bring out its accuracy.
The CP33 is a futuristic pistol here today. In my estimation, it is no range toy. Competition Pistol is its purpose and name. I believe it to be a well-designed reliable pistol for fun and accurate match use and hunting. Good value for the buck? You bet!