A Long Term Review of the PSA PA-15
Your ultimate guide to the Palmetto State PA-15: Learn why this budget AR-15 is a game-changer with our comprehensive review.
Written By
Michael Crites
Licensed Concealed Carry Holder
Reviewed by
Editorial Team
Learn About The Editorial Team
Share:
Products are selected by our editors. We may earn a commission on purchases from a link. How we select gear.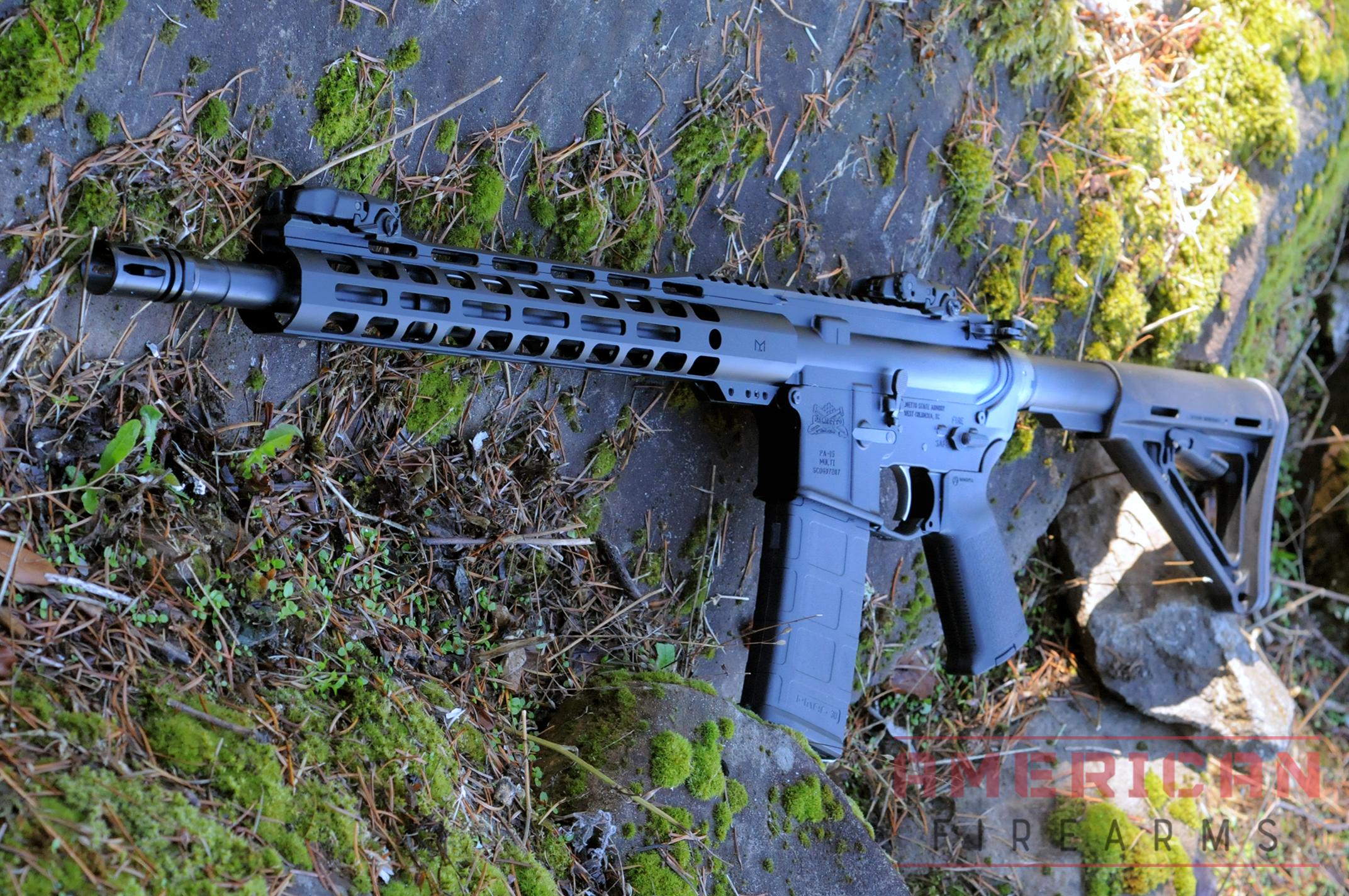 In today's review, we'll be diving deep into the world of affordable, American-made firearms as we explore the Palmetto State PA-15 rifle. Known for its balance of value and performance, the PA-15 has become a popular choice for those looking to enter the AR-15 market without breaking the bank — but does it really stand up to long-term use or is it all just hype?
We'll be covering all the key features, differences between variants, and evaluating the performance of these entry-level rifles with my personal PA-15. I've owned this rifle for a few years and have thousands of rounds through it, so my review is based on longer-term use.
Whether you're looking for your first AR or your tenth, this comprehensive assessment unearths real-world insights and practical guidance to help you make an informed decision about whether the PA-15 is right for you.
So, let's gear up and get started discovering the ins and outs of the Palmetto State PA-15!
Started in 2008 by US Army National Guard vet Jamin McCallum, Columbia South Carolina's Palmetto State Armory (PSA) was born out of Jamin's passion for firearms and his desire to create a one-stop-shop for enthusiasts and new shooters alike.
Over the years, PSA has grown from a small, local store into a national brand, offering a huge range of firearms, parts, and accessories. While their product line is extensive, they are perhaps best known for their affordably-priced AR-15 and AR-10 rifles, which — along with great customer service — have helped PSA become a real force in the gun industry and led to their operation or acquisition of a number of firearms brands, including DC Machine, Ferrous Engineering, Lead Star Arms, PSA Defense, Palmetto Outdoors, Special Tool Solutions, and Spartan Forge.
In September 2020, PSA's parent company, JJE Capital, picked up DPMS, H&R, Stormlake, AAC and Parker brands from the Freedom Group bankruptcy auction, helping further expand their product mix.
Reputation and Reliability
In the AR world, many people obsess over Big Name Brands or the who's who of military contractors. Despite its lack of DOD ink, Palmetto State Armory has established a strong reputation for producing budget-friendly firearms without sacrificing quality or reliability.
While their products may not be at the same level as some high-end brands, they also don't demand anywhere near the price, meaning for most people they offer a fantastic value for the price. PSA has also committed to manufacturing their products in the United States, which helps maintain material quality and ensures they're manufacturing to meet or exceed military specs. They also offer a lifetime warranty on all their firearms, which goes a long way with me.
While PSA's ability to deliver both quality and affordability has earned them a large and loyal customer base, like any manufacturer, PSA isn't immune to occasional product issues or defects. Most of the issues I've experienced (or seen griped about online) are cosmetic or aesthetic in nature, which are issues most can look beyond given Palmetto State's focus on value.
While they may not be a considered top-tier AR brand, that's not really their goal. What has become clear to me is that PSA has succeeded in building a brand around reliable products made from quality materials and focused workmanship, and those values have solidified their place in the market for entry-level and budget-conscious shooters.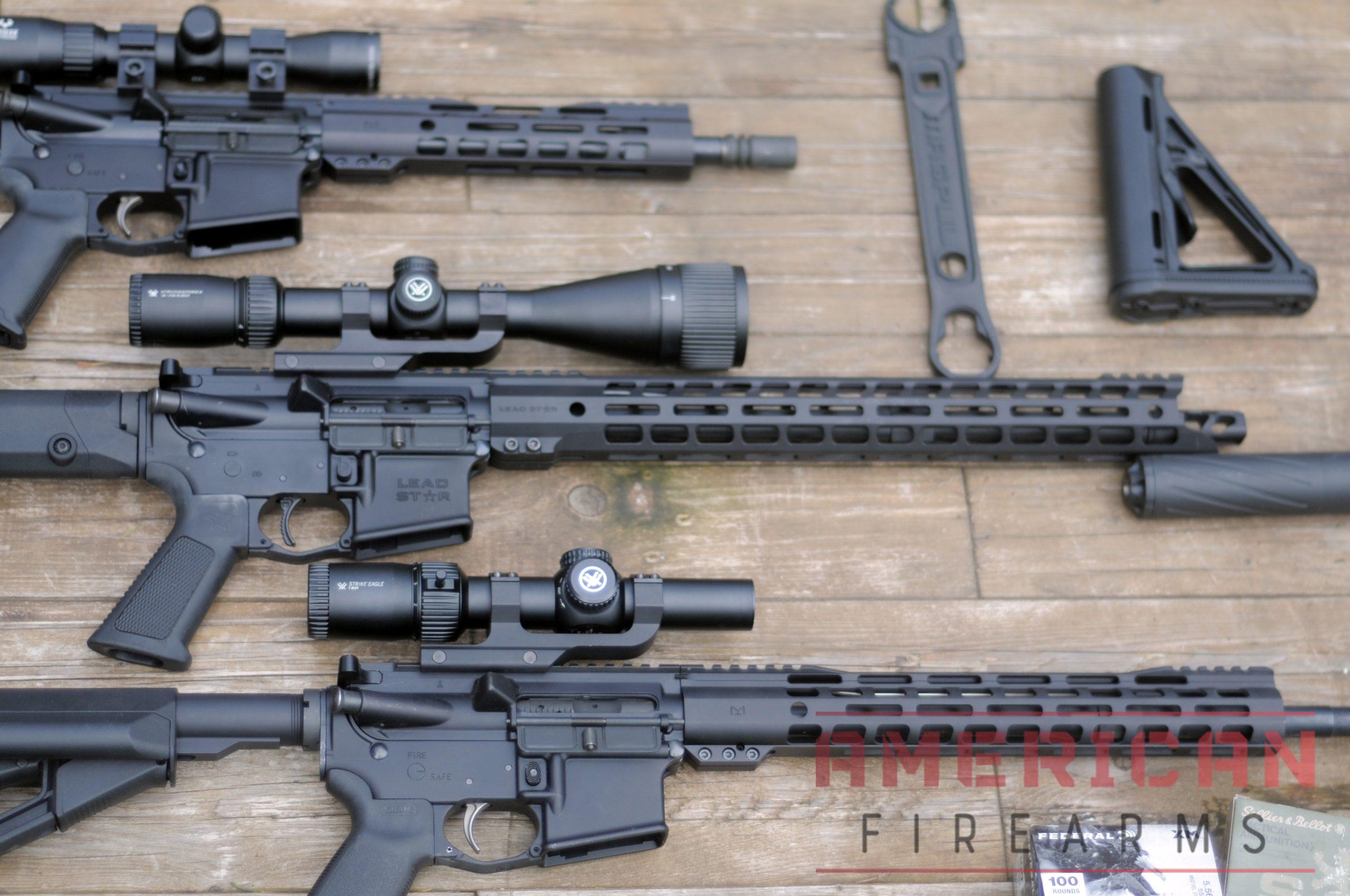 Some of my PSA guns -- a 10.5" AR pistol (top), Lead Star Grunt (center), and the PA-15 (bottom) I'm covering in this review.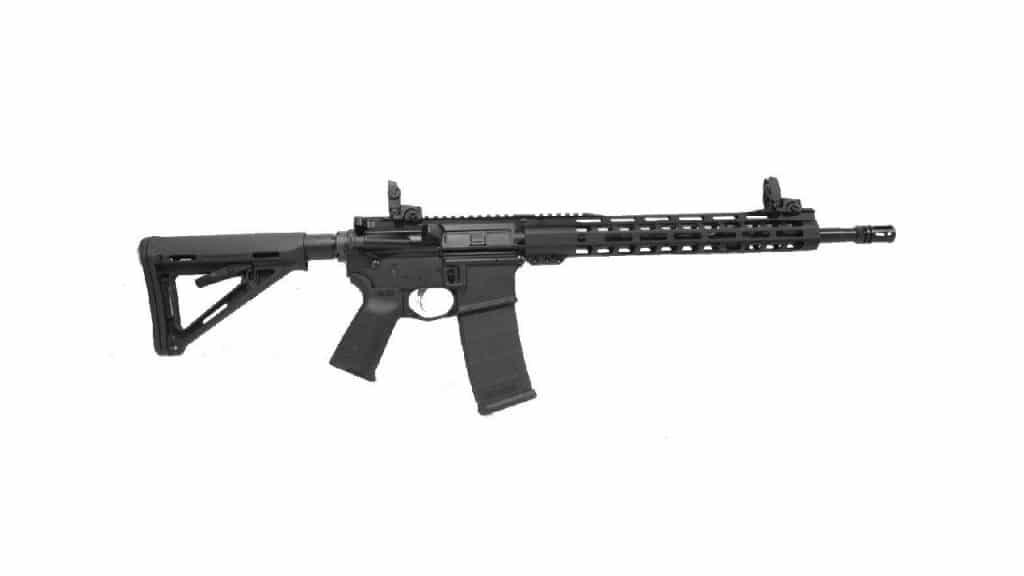 How does the PSA-15 stack up? Here's the scores:
Accuracy: 8/10
The PA-15 performs well in the accuracy department with a 2-3 MOA range in tests with AE and S&B rounds, making it competitive but not a top-tier tack driver.
Ergonomics: 7/10
Using a very standard control layout with a comfortable M-LOK handguard and adjustable stock there's nothing to complain about in terms of layout, although some controls like the safety selector are less tactile than I prefer.
Fit and Finish: 6/10
The PA-15 offers an acceptable level of fit and finish given its price point. Some minor issues with magazine seating and softer safety engagement ding its performance here.
Features: 9/10
A wide variety of customization options from handguards to stocks and the availability of an Enhanced Polished Trigger help the PA-15 shine. The range of configurations is truly impressive.
Reliability: 9/10
I have seen nothing but consistent performance from my PA-15 — regardless of ammunition variety.
Value: 10/10
Given its affordability, reliability, and customization options, combined with a lifetime warranty, the PA-15 is an excellent value for both new and budget-conscious shooters.
Pros:
Incredible value

Lots of configuration options

Solid customer service

Component upgrades available
Cons:
Fit and finish is improving but still lacks refinement
Quality control can lead to inconsistencies from rifle to rifle
Not the most accurate
Fit & Finish
The Palmetto State Armory PA-15 is known for its solid fit and finish, offering a quality product at an affordable price point. My PA-15 features their 16″ Gen 2 Mid-Length PSA upper, chambered in 5.56 NATO with a 1:7 twist and 13.5″ lightweight M-LOK handguard. The upper has nicely tight tolerances and was clearly well-machined, with no burrs or unfinished edges that people were encountering with the first Gen series.
I get almost no play or wiggle when seating it with the PSA MOE lower, which gives it a sturdy feel, if not as tight as my Daniel Defense DDM4 or other high-end builds I've spent time with, but the lower receiver feels well put together. The assembly was clearly done with care, and it's obvious that PSA takes pride in delivering a well-fitted product and has learned from some of its previous mistakes on the machining front.
The phosphate coating is durable and consistent, with black anodizing running from the handguard to the buffer tube without any oddities, inconsistencies, or small machining marks other shooters have encountered. The finish doesn't have the smooth, buttery hard coat of some high-end competitors, but given the price, it's more than enough for my money. The forward assist, dust cover, and charging handle all work as expected.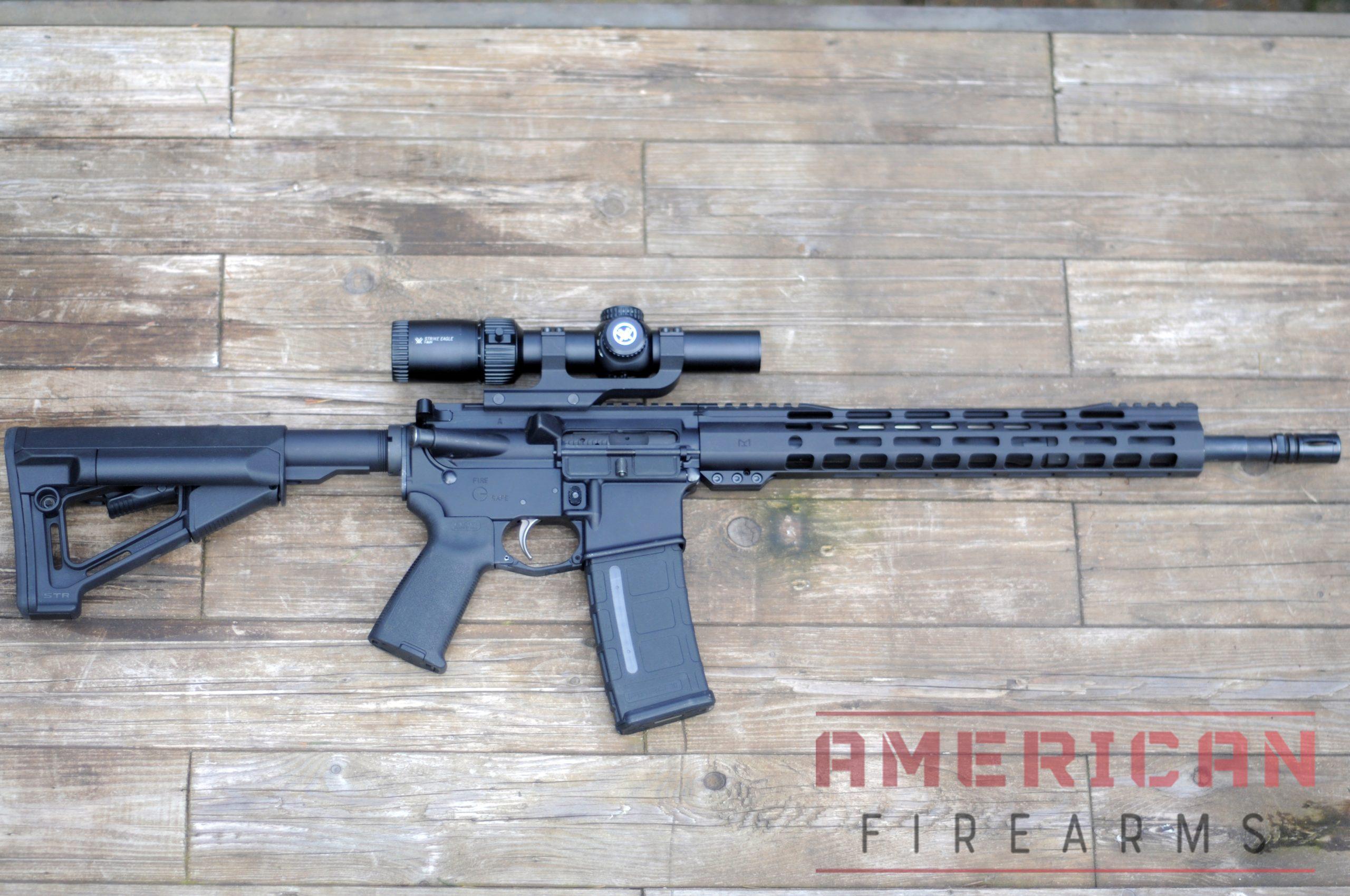 My PA-15 features their 16" Gen 2 Mid-Length PSA upper, chambered in 5.56 NATO with a 1:7 twist and 13.5" lightweight M-LOK handguard.
Barrel & Gas system
My PSA rifle uses my preferred gas system length — an adjustable, low-profile mid-length gas system. This orientation is an improvement over the more traditional carbine-length system in my opinion because it softens the recoil impulse by moving the gas block further down the barrel and adds another inch of gas tube for more weight up front.
You also get a touch more rail space — all of which helps my follow-up shots get back on target with ease.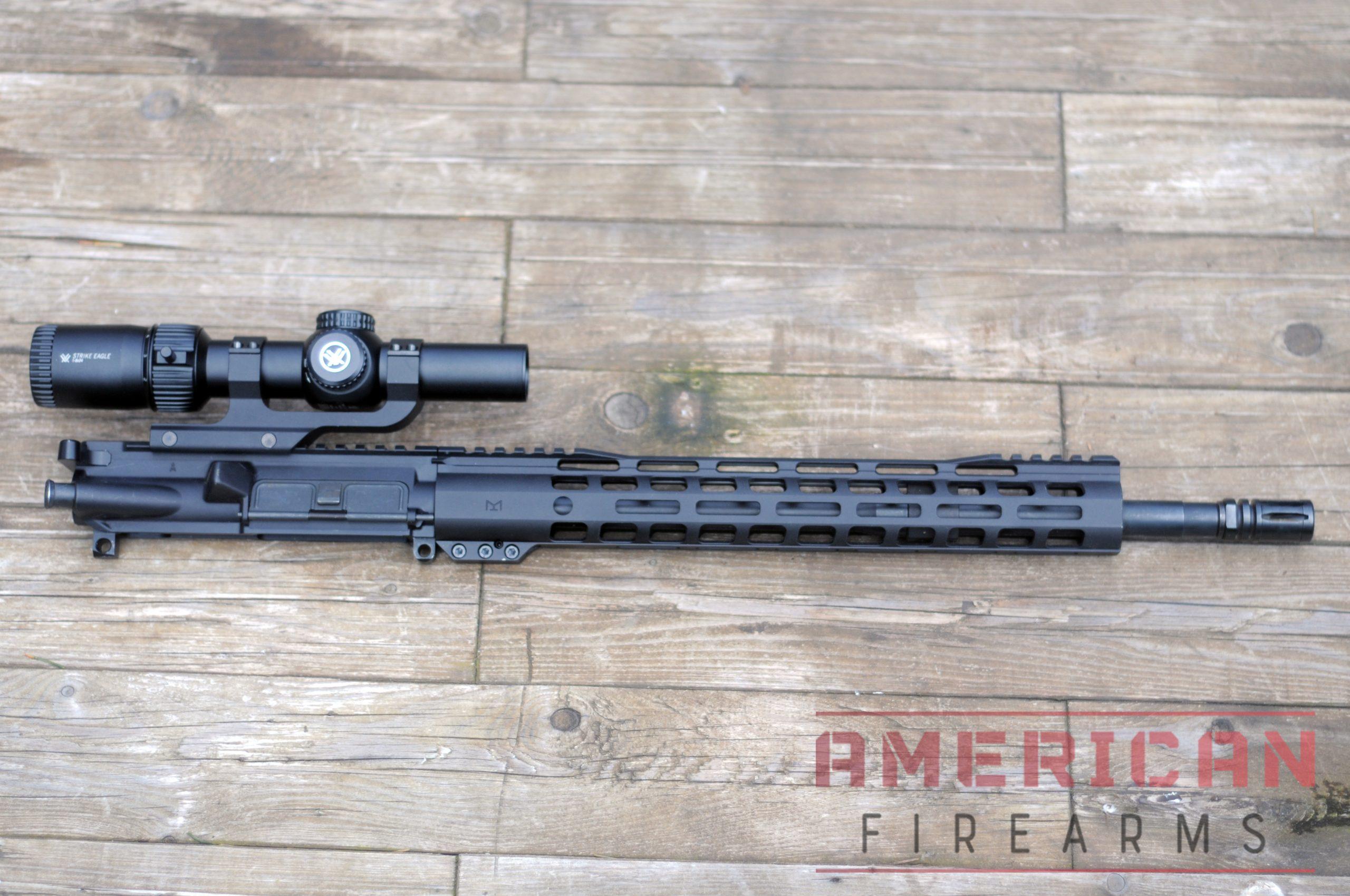 My PSA rifle uses my favorite gas system length -- an adjustable, low-profile mid-length gas system and I love the lightweight handguard.
That additional distance between the gas port and muzzle also reduces pressure and dwell time, softening the cycle and reducing wear and tear on internal components, which can extend the life of the rifle, all things being equal.
Plus the adjustable, low-profile gas block helps to tune out any rough suppressor performance. My PA-15 ran fine when testing with my Banish 223 can, but I know of a few guys who have had to work out gremlins with suppressors, which is often just a few screw turns away.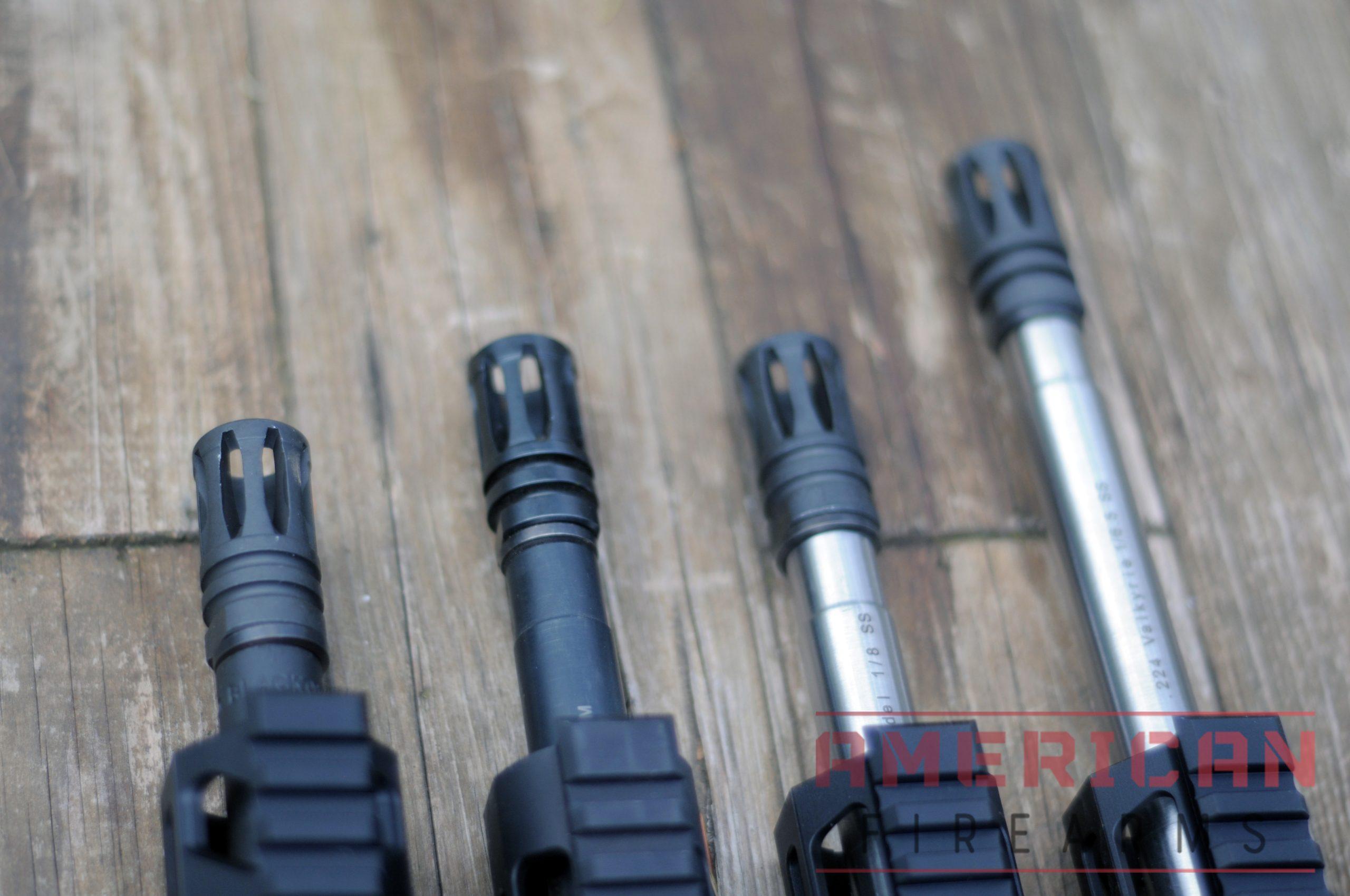 My PSA barrels range from the basic phosphate coated on my 300 BLK and 5.56 NATO builds to stainless barrels on my Grendel and Valk uppers.
The bolt uses Carpenter 158 steel paired with a nickel boron bolt carrier group — both on the better end of the material spectrum and machined to mil-spec. I found the gas key to be properly staked, as it should be, and the BCG is MP marked (magnetic particle inspected) and denoted as "C158" or Carpenter Steel 158, which is also mil-spec.
The charging handles are also — you guessed it — mil-spec.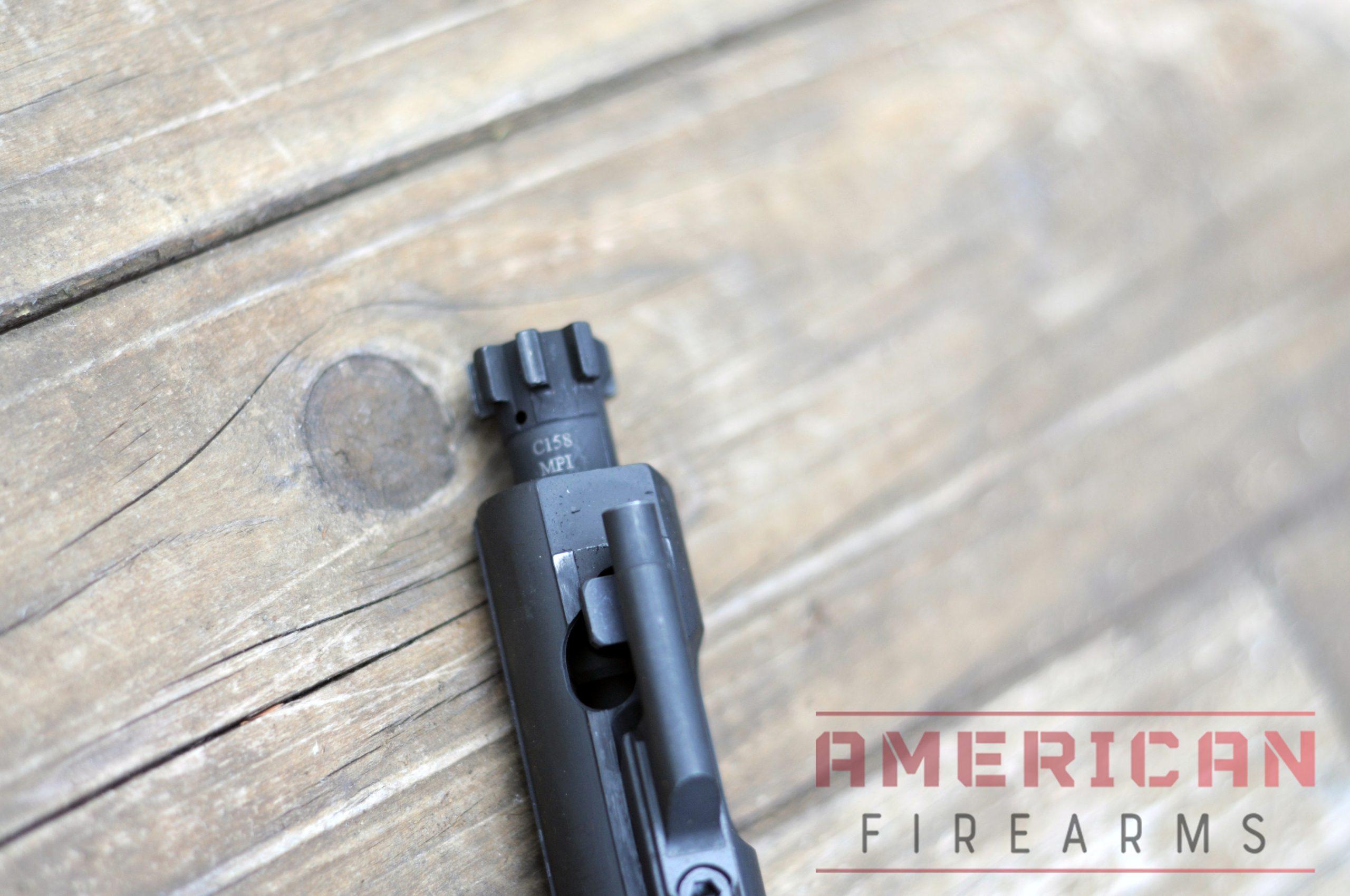 The BCG is MP marked (magnetic particle inspected) and denoted as "C158" or Carpenter Steel 158, which is also mil-spec.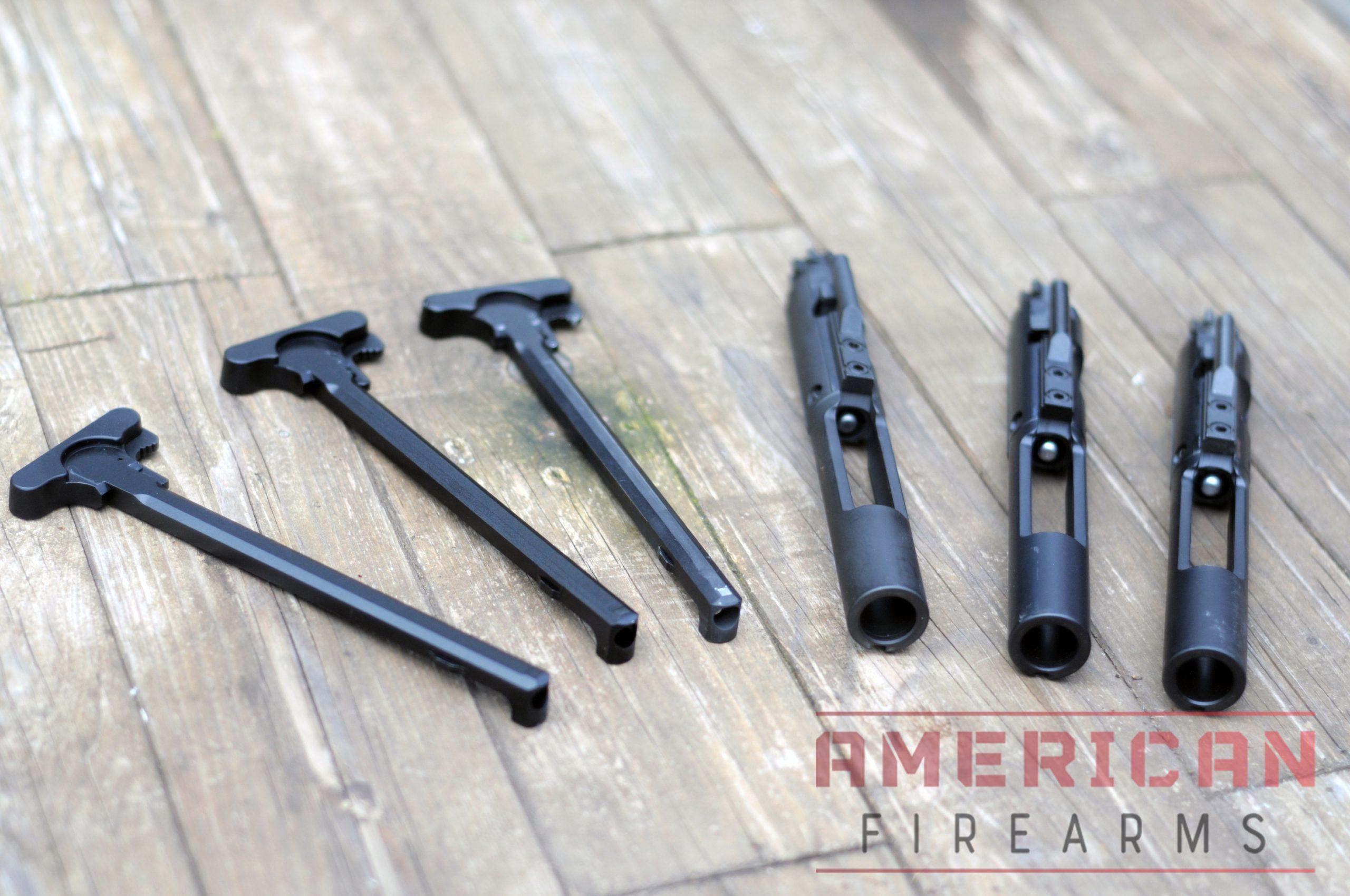 A mil-spec parade of PSA charging handles and BCGs
Handguard, grip, and stock options
One thing the PA-15 has in spades is variety, and my PA-15 included their free float 13.5″ lightweight M-LOK upper, which I love. It's so comfortable to grip anywhere along the midline without the Pic rail and it shaves off a lot of unnecessary weight along the top (I generally don't mount anything in the middle of the handguard anyway.)
You do get a 2-inch section of rail at the end of the handguard, so you can mount iron sights easily enough, as well as six M-LOK attachment points at the three, six, and nine o'clock positions along the rail. I run mine lean and mean but you've got lots of attach points if you want all the home defense accouterments.
If you prefer a full flat top upper receiver and top rail (or an FSB), don't let my adulation of the lightweight rail stop you. PSA offers a huge array of handguard, grip, and stock options, helping anyone find the right mix for any preference or application. M4 purists rejoice!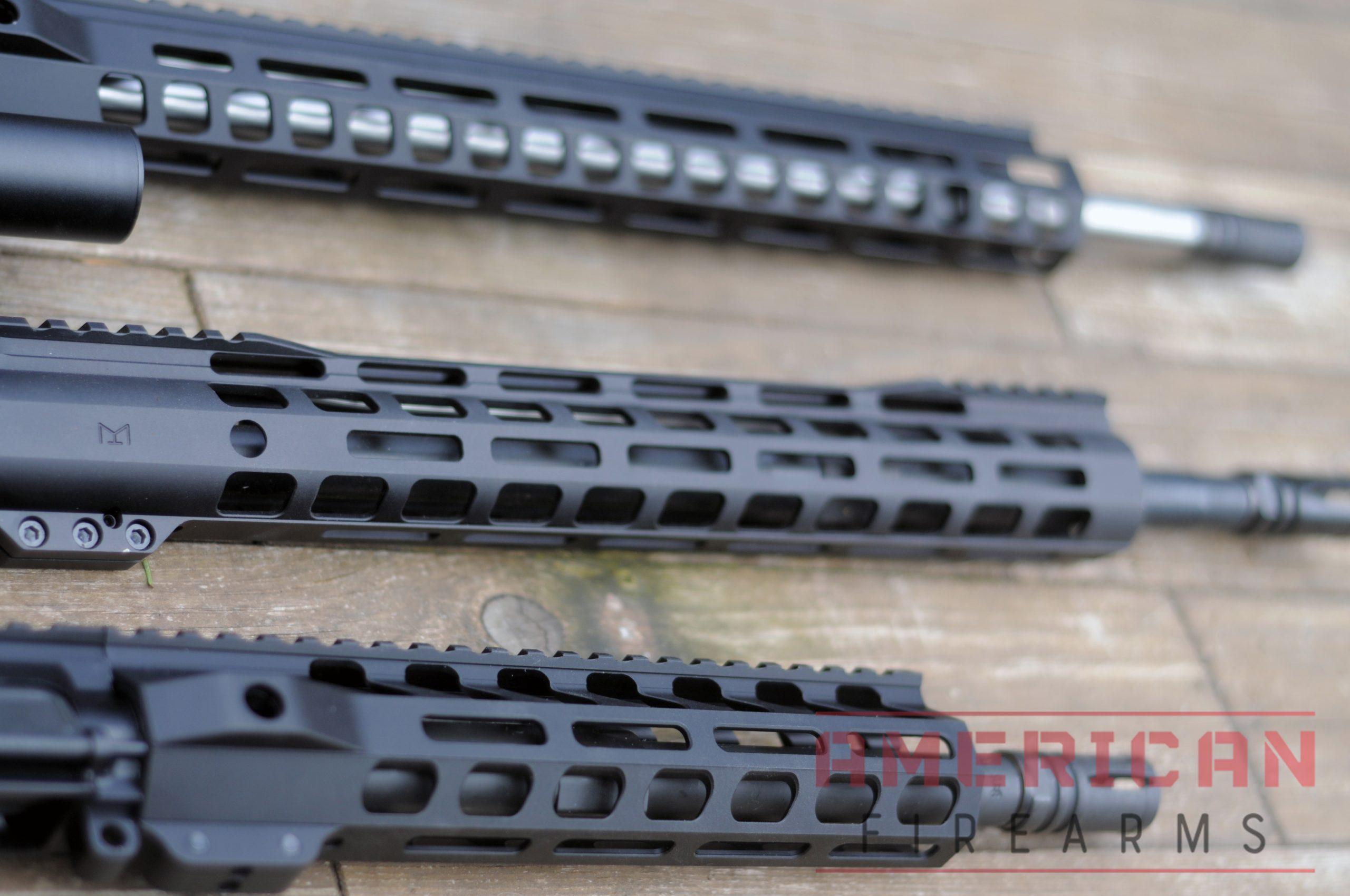 My PA-15 (center) included their free float 13.5" lightweight M-LOK upper, which I love, but they offer full top rail handguards as well, like on my pistol and Grendel uppers (top and bottom).
MOE Furniture
Most PSA rifles come with an A2-style pistol grip, which is a fine middle ground and common enough that it allows for easy replacement with any aftermarket grip you prefer. The Magpuls worked just fine initially but I've swapped the MOEs out for Hogue grips on other PSA builds and never had an issue with fitment.
The stock that came on my build was again, Magpul MOE goodness, so you get the standard six-position adjustable stock in most builds. I swapped the MOE stock out for a Magpul STR ETP, as I get a better cheek weld on the STR and prefer the locking adjustment lever. The battery storage is also a nice upgrade, but it does add cost.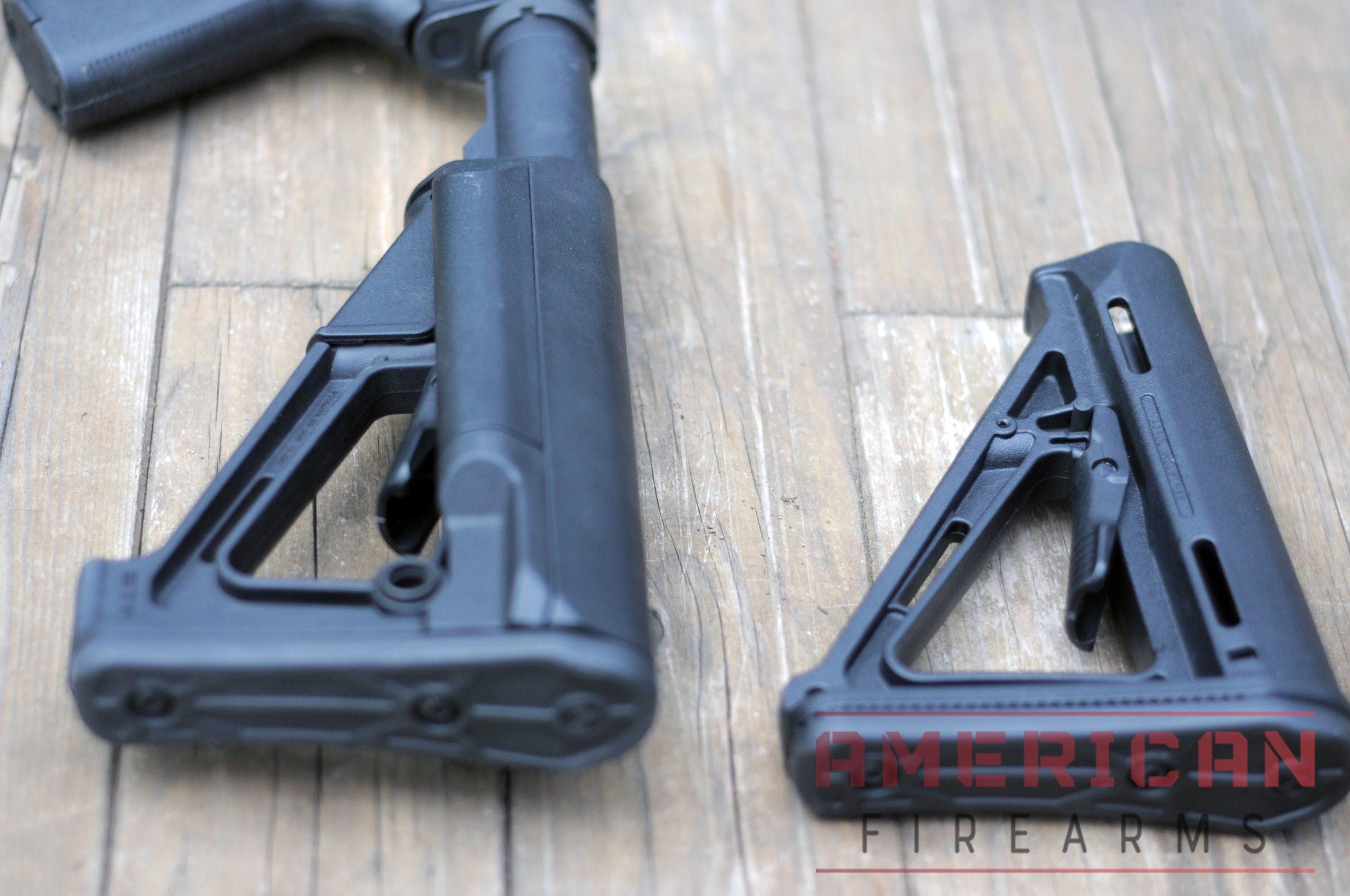 I swapped the MOE stock out for a Magpul STR ETP, as I get a better cheek weld on the STR and prefer the locking adjustment lever.
Sights and optics compatibility
Again, the word here is variety. The PA-15's constellation of configurations offers an immense amount of flexibility in terms of sights and optics support. You really can configure your rifle to suit a very specific end goal.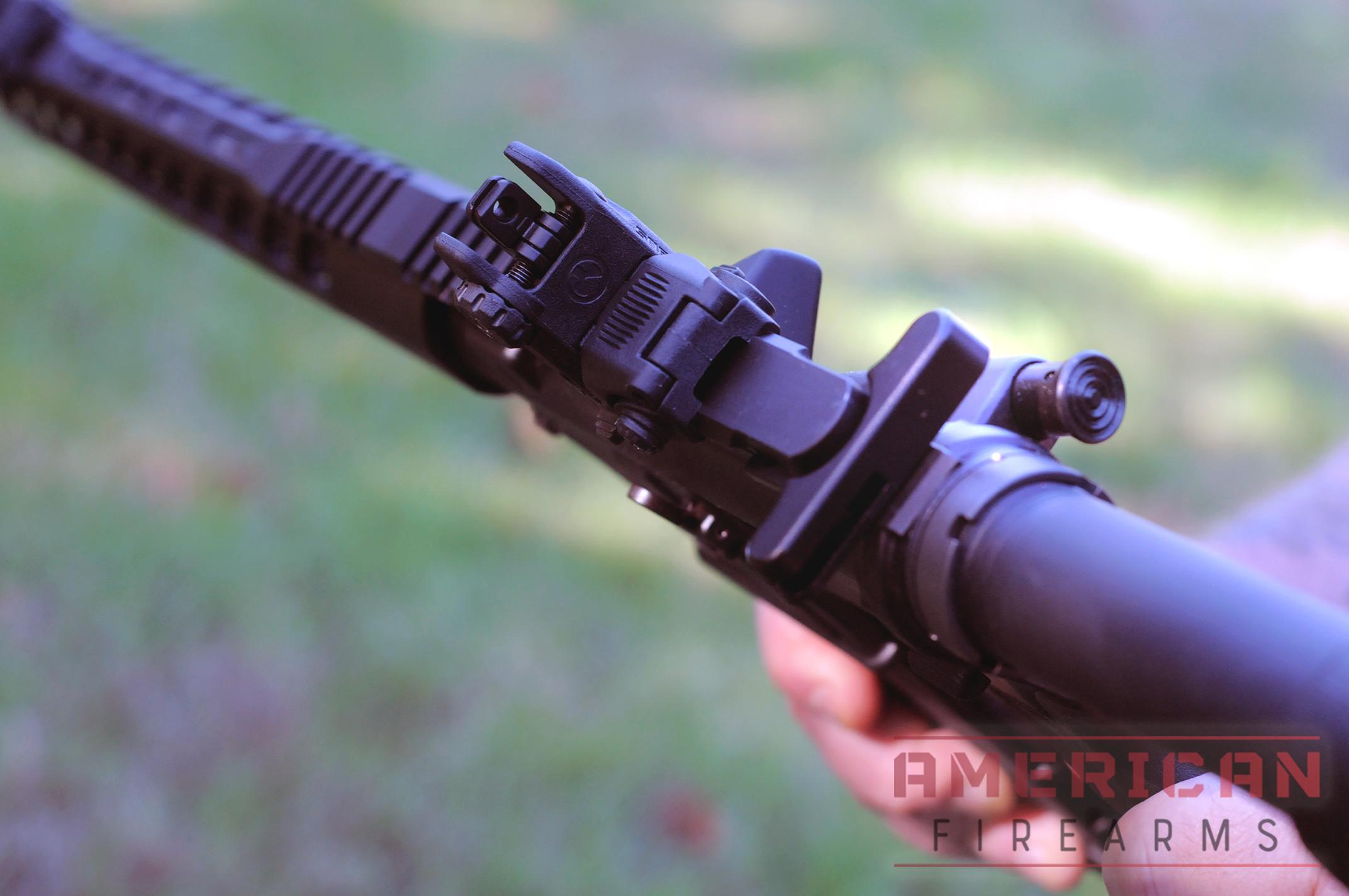 My PA-15 came with Magpul MBUS front and rears, which are great, but I added a magnified optic for more range.
---
My PA-15 came with Magpul MBUS front and rears, which are great — but after playing around with a red dot configuration I really wanted to configure my build with a magnified optic for a touch more range, so opted for a Vortex's Strike Eagle 1-6X24 LPVO, which was my go-to set-up a few times last year when I had some pesky yotes trying to run off with my favorite turkey, Gus.
Installation and zeroing was a cinch, and you bet those yotes made their last trip to my barnyard thanks to my PA-15.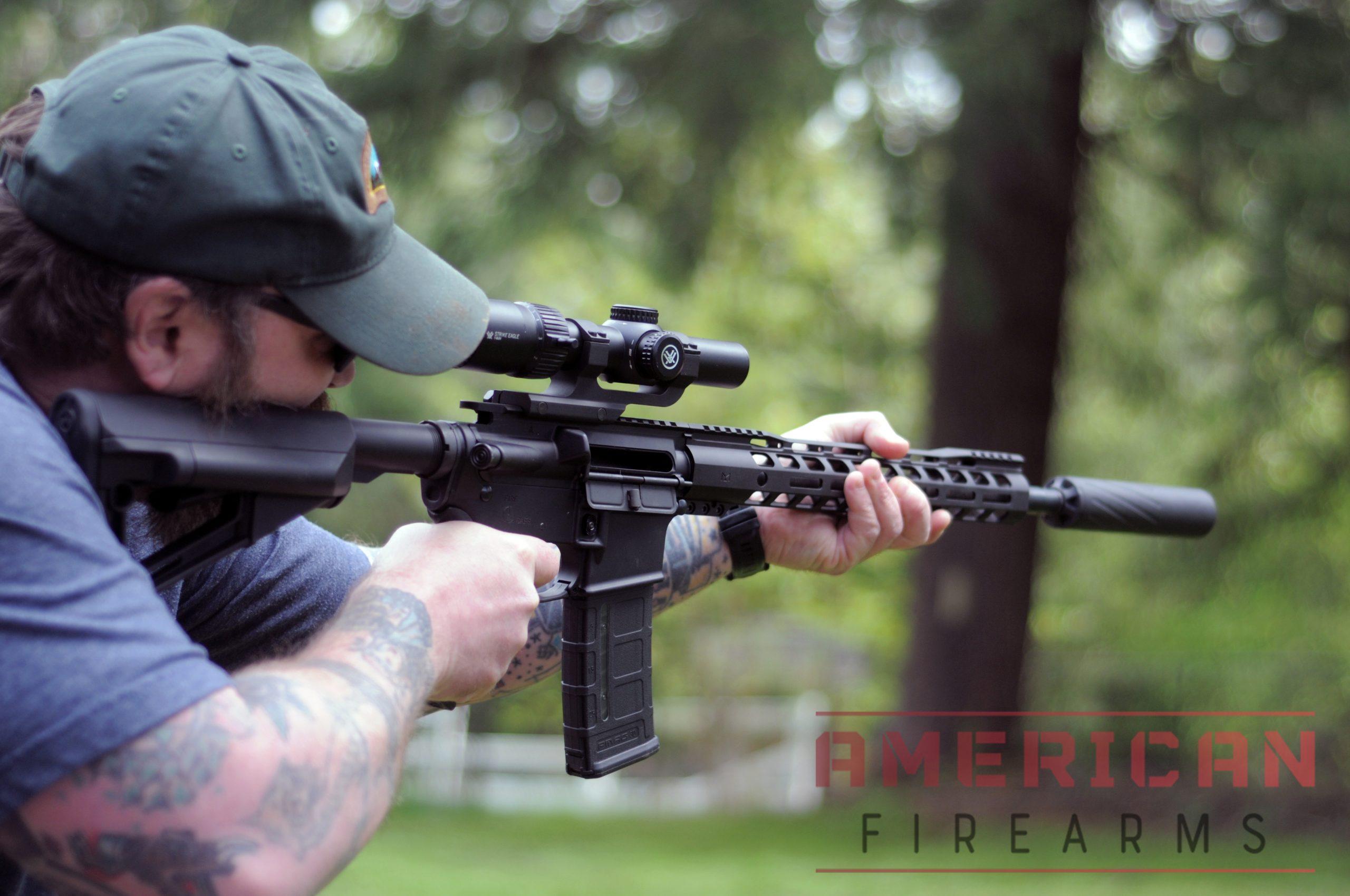 I really wanted to configure my build with a magnified optic for a touch more range, so opted for a Vortex's Strike Eagle 1-6X24 LPVO.
The platform really offers a full range of optics compatibility, so it will be useful to get a sense of how you want to set your rifle up on the optics front before taking the plunge.
Trigger
You can certainly get a mil-spec trigger with any PA-15, but I opted for their upgraded Enhanced Polished Trigger (EPT), which both smooths out the pull and gives you a remarkably consistent break. Over and over again I get 6 lbs on my trigger scale. Really consistent for an AR trigger.
My only issue is there's a touch of take-up, but it's considerably smoother than most mil-spec triggers and a joy to shoot. The break is pretty clean with a clear wall and there's no over-travel to speak of.
If you can spring for it I'd recommend adding the EPT to your PA-15 build.
Accuracy and consistency
In keeping with our standard rifle testing protocol, for my range day my accuracy testing involved bench-firing four five-round groups with the rifle using Federal American Eagle 55gr and more upmarket Sellier & Bellot M192 55gr at 100 yards to evaluate accuracy and precision.
While not match-grade ammo these two gave me a sense of how the PA-15 would handle a diverse diet. We also fired loads of rounds from a standing position to assess recoil and rapid-fire performance.
In addition, our range session included firing rounds through my Banish .223 can to assess how well it performed with a suppressor, and whether the gas block would need any adjustments.
I used the newly zeroed Vortex scope shot off Caldwell bags at 100-yard targets paced around 1 shot per 10-15 seconds. No use rushing this stuff!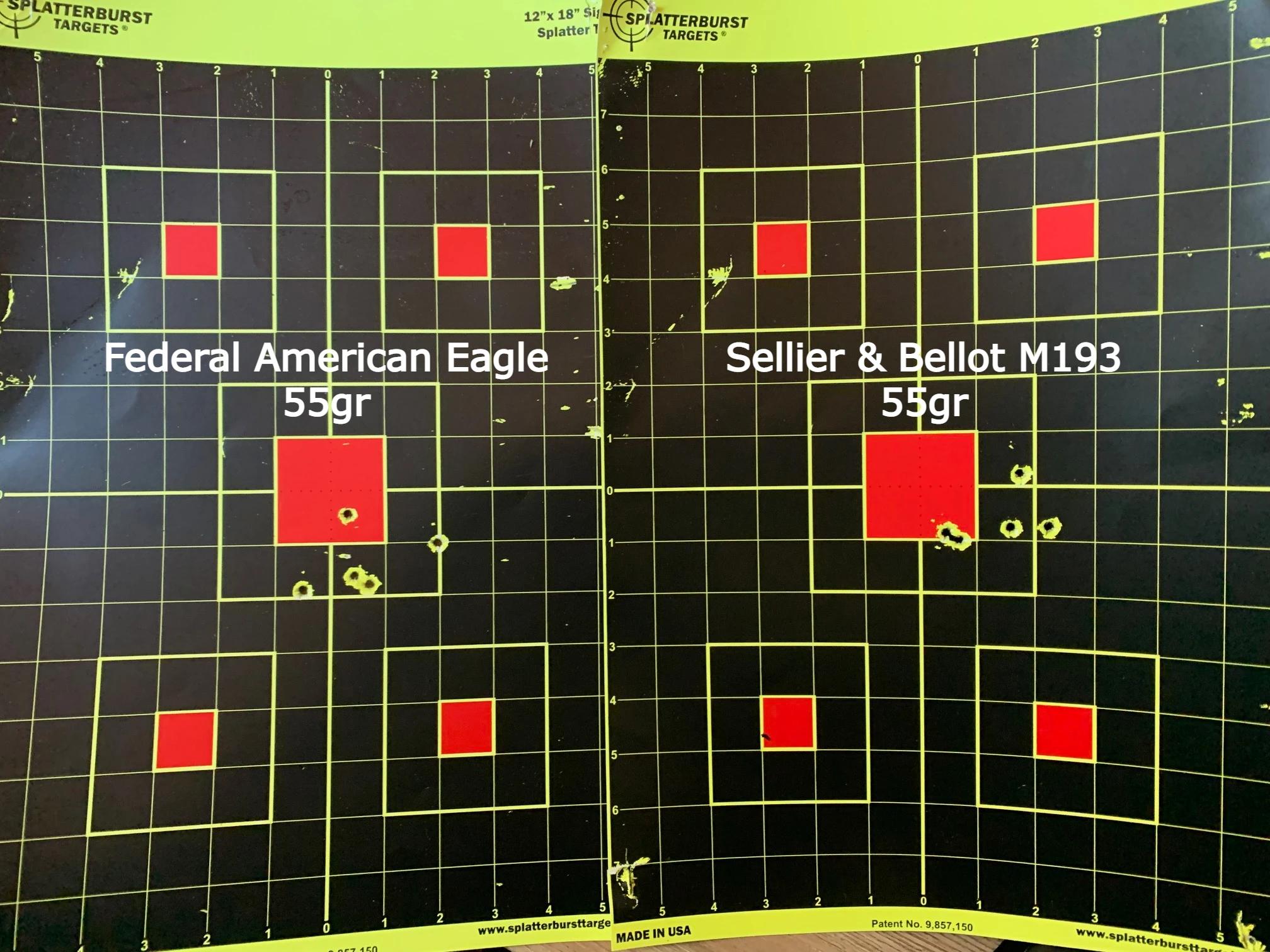 Both being M193 rounds I didn't expect much difference, but the Sellier & Bellot was touch tighter.
The gun ran perfectly with both the AE & S&B loads, although for some reason I was getting some mag seating issues here and there.
I've run though probably 1,000 rounds with this 5.56 PA-15 and hadn't encountered any mag-related issues. For this review I was testing with a Gen2 Magpul PMAG, so I shrugged it off and kept with the testing. After the initial mag weirdness, I was able to run through 40 rounds on both the Gen2 and Gen3 PMAGs without the seating issue.
Recoil was well within the expected range, and once I was dialed with my BOG FieldPod, knocking 8-inch plates was a breeze, so I settled into the task of establishing groups.
As you can see, the groups were in the 2-3 MOA range with both AE and S&B, which for me is well within expectation, especially when we're talking about a budget AR with loads of rounds through it.
Compatibility
After testing on the full PSA build I pulled the upper receiver off and paired it with a Lead Star lower receiver to test compatibility, and it ran perfectly. Conversely, I ran the PSA lower with both the Lead Star and FN 15 upper without incident.
Controls
The mil-spec nature of the PA-15 means you're working with very standard controls. If you've spent any time with the platform you'll feel right at home on PSA rifles. It's familiar and easy to use.
The traditional 90-degree throw mil-spec safety selector is located on the left side of the lower making it easy to reach and manipulate for righties.
If I'm nitpicking, the safety selectors on all my PSA guns have softer engagement than I like.
With my Grunt, DDM4, and other builds, the lever will snap into position — either from Safe to Fire or vice versa — making transitions quick with a solidly audible "click". The PSA selectors don't snap with the same affirmative motion, which means you have to ride the lever all the way to ensure it's in place. Maybe they're using budget springs?
The right-side mil-spec mag release drops sticks reliably and is easily accessible for right-handed shooters. The button itself has a textured finish with positive engagement, but it's set a little shallow for my preferences — I find a mag release that stands out a little further from the lower easier to actuate with gloves, but the release works as is.
You also get a mil-spec (non-ambi) charging handle, which does its job without incident.
If I'm nitpiking, the safety selectors on all my PSA guns have softer engagement than I like. They feel kinda lazy. The Enhanced Polished Trigger (EPT), though, is really nice.
PSA has long been an AR component manufacturer, and when I chatted with the folks at PSA to get ahold of the rifle for this review, I touched on the price point. Given their background in manufacturing and AR components, my rep told me their product's affordability comes from what they call "full vertical integration".
Basically, rather than sourcing individual parts from different suppliers (and then having to mark up those individual products for retail), PSA manufactures their AR components from raw materials — delivering a finished product they build from the ground up. This "direct to consumer" model has grown in popularity over the years, and brands can sell online vs. relying on distribution through traditional retailers — PSA was one of the first to really make that model work in the firearms space.
Who is the PSA PA-15 for?
The PA-15 is a versatile and affordable option that's going to appeal to a variety of shooters, but I think it's a great rifle for the budget conscience — let's be honest, not everyone wants to drop a grand on a black rifle — and you can pick up a PA-15 for a little over half that most days.
It's also a great platform if you want options. At any given time there are 40+ configurations of PA-15s available on PSA — with practically every barrel length and handguard configuration you could want. They also bundle the PA-15 with their Dagger pistol for less than $700 — it's a screaming deal, especially if you're in the market for a Glock clone.
In addition — I'd recommend the PA-15 for new AR buyers. It's a great way to get into the world of black rifles without too much commitment. Once you know what you like and don't like, maybe swapped out a trigger or stock, you can make a more informed decision about that upper-tier AR purchase.
The PSA PA-15 is affordable, reliable, and ready for action.
Despite the naysayers and brand snobs in the gun-o-sphere, the PSA PA-15 offers remarkable value for those seeking an affordable entry-level AR-15. It's reliable & easy-to-use, with the only real knocks in the "nice-to-have" categories like fit and finish and aesthetics its affordability paired with a lifetime warranty makes it a solid bet for anyone interested in an AR-style rifle.
I love my build with the mid-length free-floating handguard, but if you want a more classic M4-style FSB build that's on the table as well. The PSA PA-15 is undeniably one of the best-value AR-15s available anywhere.