Glock 17 Review
The Glock 17 was Glock's first pistol, and the brainchold that set Glock's striker pistol dominance in motion, but is the G17 right for you?
Written By
Kenzie Fitzpatrick
Certified Armorer & Instructor
Edited By
Michael Crites
Licensed Concealed Carry Holder
Share:
Products are selected by our editors. We may earn a commission on purchases from a link. How we select gear.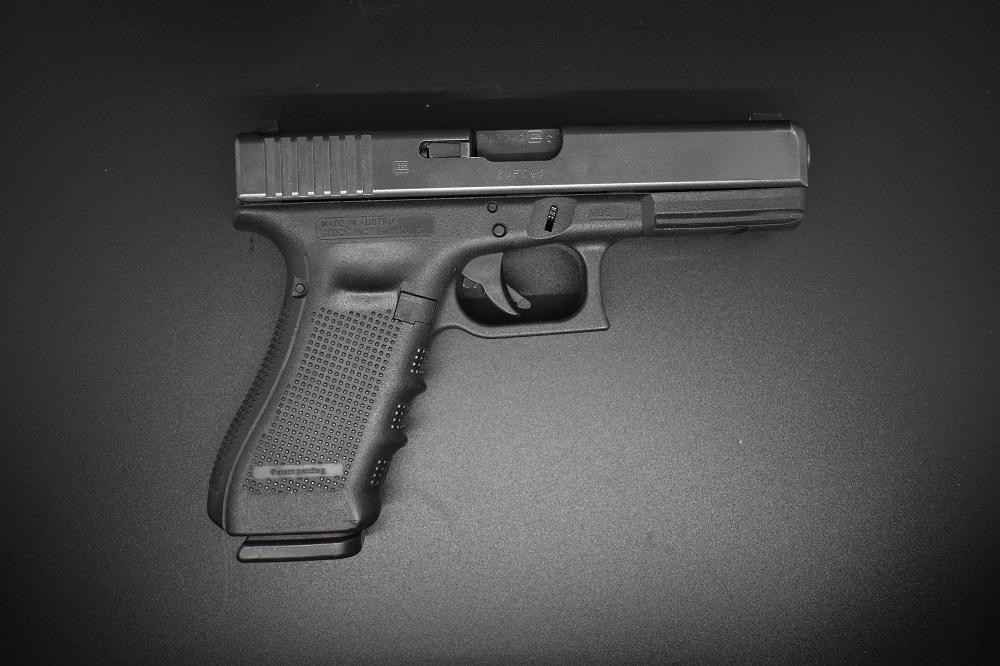 Glock is a household name that most Americans know, whether they're pro or anti-gun, thanks to Hollywood and television featuring Glocks in thousands of productions. Glock's catalog has expanded significantly over the years, but regardless of the Glock in hand, the platform has created some of the most reliable and popular handguns on the market today.
We figured we'd go all the way back to the first gun Glock ever made and take a deep dive into The Original — Glock model 17.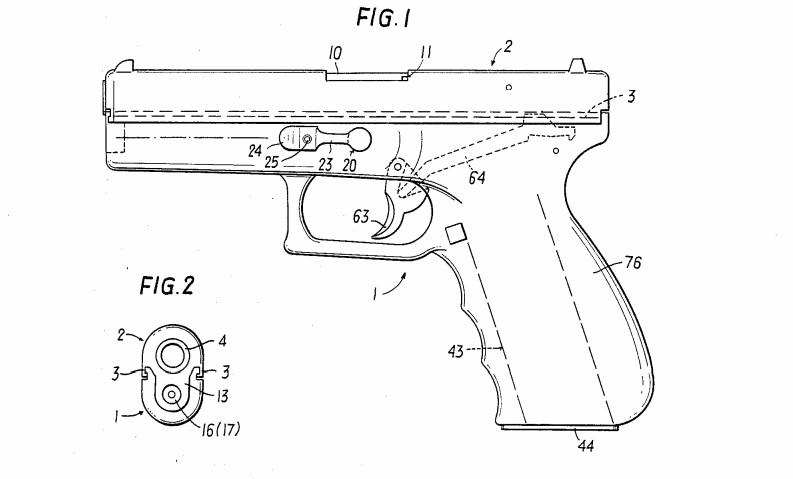 The original Glock 17 patent from 1981
Before Austrian engineer Gaston Glock founded Glock in 1963, the firearm at the side of most law enforcement professionals was the humble .38 Special revolver, having become the de facto standard thanks to its reliability and ease of control. The US Military, on the other hand, had been wielding the semi-automatic 1911A1 since the Taft administration, and pistol capabilities had long outpaced the cylindrical chamber.
By the early '80s, semi-automatic pistols like Beretta's 92A and S&W's Model 39 were often in the hands of scofflaws, which meant local law enforcement agencies found themselves outgunned with slow-reloading 6-round revolvers, and in turn, came under pressure to adopt a semi-automatic pistol to level the playing field.
In 1973 the Austrian Army began a search for the eventual replacement for the Walther P38, with Gaston's Glock KG invited to participate in the field trials despite having no firearms experience (Glock had been tackling military contracts for hard goods for years). He hired a collection of expert firearms engineers and set them loose on the requirements: build a pistol for the Austrian military that would perform under pressure, had high capacity, and was simply designed.
The Glock 17 pistol was designed with three internal safeties; the trigger, firing pin, and drop safety, to prevent accidental discharges without the external safety seen on Uncle Sam's 1911A1 pistols.
His pistol was accepted by the Austrian army in 1983 as the P80 and became their official service pistol. After passing a battery of NATO durability tests in 1984 (including famously being frozen in ice and run over by a truck), the G17 became the sidearm pistol for the Norwegian and Swedish armies and, with the Glock's reputation as a remarkably durable and reliable pistol well established, eventually expanded to various military units around the globe.
In 1986, the First Generation G17 was allowed for US import, with Glock selecting Smyrna, Georgia, for its US headquarters, where it is still located today. The Glock 17 revolutionized the firearm manufacturing world and became the standard firearm issued to federal, state, and local agencies in the United States, including the United States Special Operations Command.
Today, the Glock pistol is manufactured with only 34 component parts and is produced in multiple sizes and calibers using this same simple, revolutionary design. The Glock has gone through multiple generations, improvements, and models to improve its design further — helping to quench the public's desire for things like rails, red dot sight mounting options, and changes in the recoil spring design.
Who knows what we will see next from Glock? One way to get a sense of the future is to look to the past, so let's dive into the G17.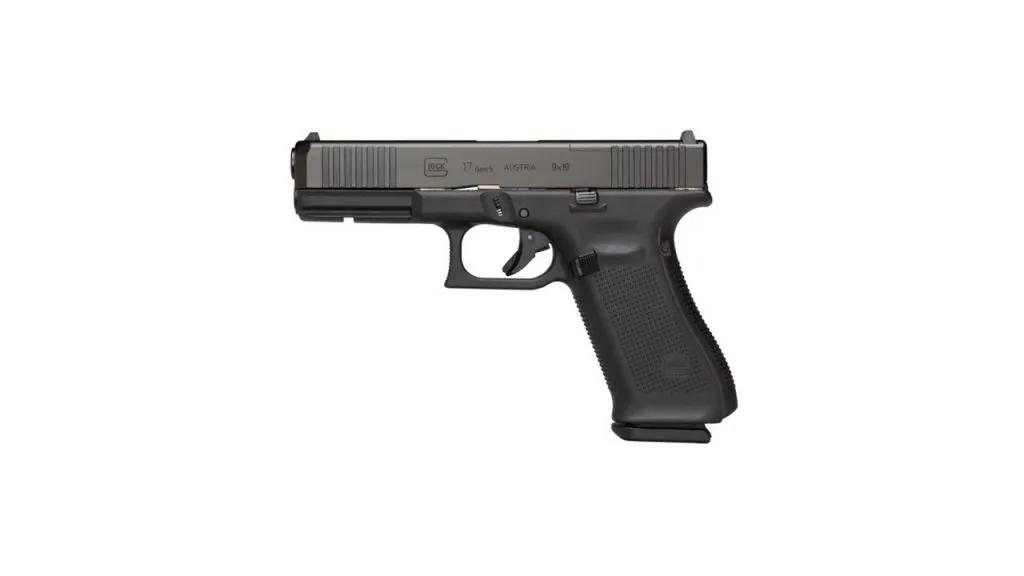 | Caliber: | 9mm Parabellum (9x19) |
| --- | --- |
| Capacity: | 17 (2 Magazines Included) |
| Action: | Striker-Fired |
| Trigger Pull Weight: | 6.29 lbs |
| Length: | 8.03 in |
| Height: | 5.47 in |
| Width: | 1.26 in |
| Barrel Length: | 4.49 in |
| Weight: | 22.05 oz. (with empty magazine) |
| Slide: | Alloy steel / rear serrations |
| Sights: | Steel / fixed front white dot |
| Safeties: | Glock Safe Action System (Trigger / Firing Pin / Drop Safeties) |
| Operational Controls Finish: | Polymer |
| MSRP: | $649 |
| Real-World Price: | $550-$600 |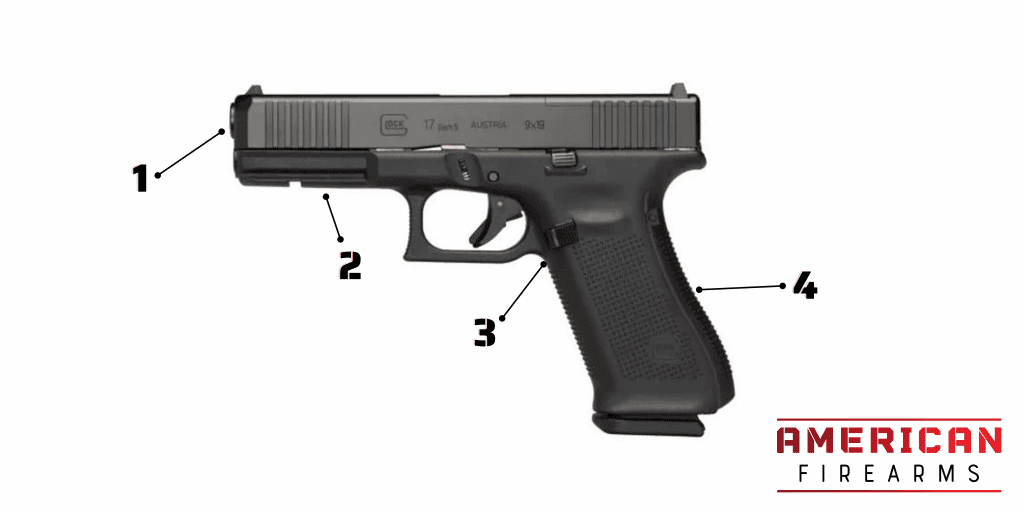 G17 Product Review Feature Call-Outs
9mm Chambering
Easy to control & inexpensive
Under Barrel Rail
No limit on light or laser sizes.
4. 17+1 Capacity
The Goldilocks zone of capacity without adding too much weight
The Glock 17 is considered a full-size double stack handgun with a standard capacity of 17 rounds. Using Glock's SAFE ACTION® System from Glock's original design, three automatic independently-operating mechanical safeties are built into the fire control system of the pistol.
As the trigger is pressed, the three internal safeties disengage sequentially and automatically re-engage when the trigger is released. This gives Glock pistols a consistent trigger pull for every round fired and eliminates the need for a separate, external safety.
This system also prevents accidental discharges from things like drops and allows the guns to operate in temperatures from -40° to 122° Fahrenheit.
The Glock 17 is chambered in 9x19mm and has a barrel length of 4.49 inches. The overall length of the slide is 7.32 inches once the gun is assembled, with an empty weight of 22.05 ounces. Adding an empty magazine ups the weight to 24.87 ounces, and fully loaded it comes in at 32.28 ounces.
The trigger pull weight is 28 Newtons, which equates to a little over 6 pounds of force, a common range for modern striker-fired pistols.
Another important detail, the sight radius (the distance between the front and rear sight) is 6.50 inches, so you have more sight radius on offer than smaller pistols, which helps with accuracy. Worth noting for those thinking about carry options compact handguns tend to be used for close-quarters defensive purposes, and a fast-moving engagement with an assailant can eliminate the time one would usually have to line up your sights, which can make a longer sight radius impractical for these purposes.
However, the longer sight radius on the Glock 17 makes it easier to self-diagnose any inefficiencies in your shooting. You can see the front sight dip or move to the left, for example, vs. with a shorter sight radius, where the feedback from your front sight is harder to track.
Even though the Glock 17 is a full-sized handgun, its slim grip (at 1.26 inches) makes it easier to grip than many other full-sized handguns. Later models, like the Gen4 and Gen5 G17s include variable backstrap sizes for fine-tuning hand placement, but even without any modifications, the G17 provides an approachable grip size for people with smaller hands.
The distance from the backstrap to the trigger is 2.83 inches, so if you are considering a Glock 17, be sure you can reach the trigger without shifting your grip to do so (look for the pistol to align with the centerline of your forearm when fully gripped to ensure proper fit).
The total height of the gun from the top of the rear sight to the bottom of a flush magazine is 5.47 inches. If considering the Glock 17 for concealed carry, that length is what tends to print, so unless you have bigger hands or simply must carry a G17, there are other Glocks out there that will be easier to conceal, such as the G43.
The Glock 17 is a very versatile gun. It can serve many purposes, has huge aftermarket support, and can even be made into a sub-gun-like platform or rifle. Here are a few options for your prospective G17:
Concealed Carry
Glocks of all sizes are used for concealed carry. There is not a one-size-fits-all gun that everyone should use for concealed carry. A carry gun is a personal preference and includes decisions that are important to an individual, like comfort, the weight of the gun, good holster options, concealability, and reliability.
Even though the Glock 17 is a full-sized gun, it is used as a concealed carry gun and can make for a great high-capacity winter carry firearm.
I prefer light bearing holsters for all of my full-size concealed carry guns. Currently, I use a UM Tactical holster for the Glock 17 pistol as pictured.
Currently, I use an UM Tactical holster for the Glock 17 pistol as pictured.
Home Defense
My Glock Gen 2 Model 17 pistol has been my bedside gun since I was 22 years old. Home defense can be achieved with handguns, shotguns, rifles, or any combination, so the right answer is truely subjective.
In general, you should always consider a high-capacity firearm for home defense and outfit the gun with a light, laser, and/or night sights, all of which a G17 can accommodate.
No matter what gun you use for home or self-defense, you need to be familiar with how it functions, shoot it often, and always use high-quality hollow point ammo through it.
Competition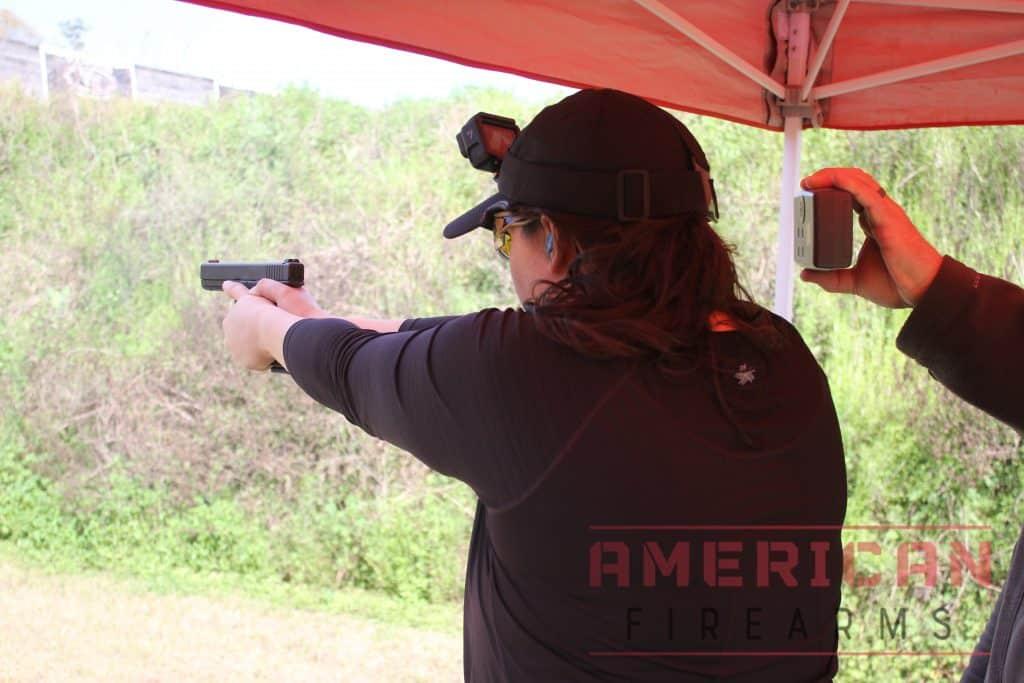 Competing with the G17
The most popular Glocks I see used by competitive shooters are models 17, 19, and 34. For competitions like USPSA or 3 Gun, these handguns are ideal since they hold 17+1 rounds, and aftermarket base pads are available to extend the magazines to hold even more ammunition.
Competitions like Steel Challenge and GSSF matches have lower round counts for stages, but full-size handguns have less felt recoil than compact, carry guns. Finally, the Glock 17 Gen5 model specifically is a good option for either a left or right-handed shooter because of the ambidextrous controls.
Military Personnel and Police Forces
Glocks are issued and carried daily by military personnel and police forces in both the US and internationally. Glock started by supplying the Austrian army with the Glock 17 as their choice of sidearm weapon and has won many military and police department contracts over the years.
You will see many LEOs with a Glock 17 for their duty use weapon.
Pure Enjoyment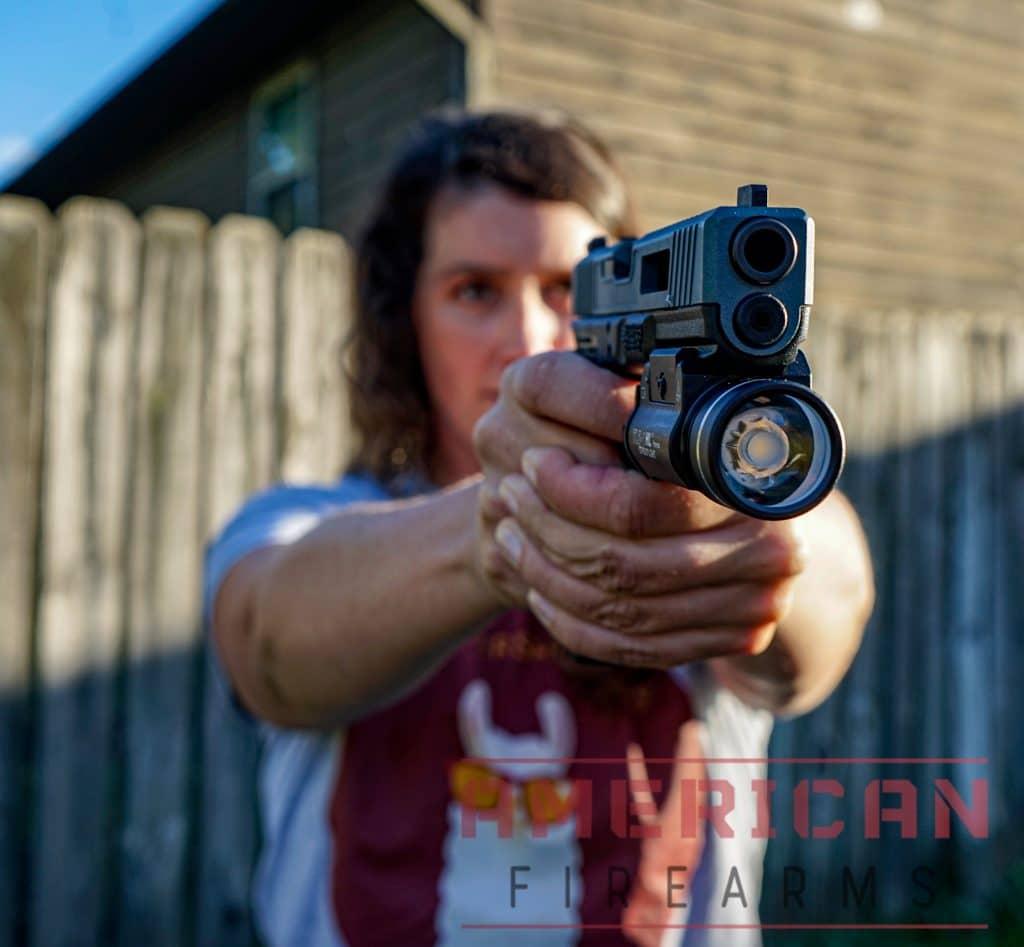 Owning and shooting a G17 can also be simple fun.
We gun owners sometimes forget that guns can also be used for simple enjoyment. Whether you are relieving stress at the range shooting or sharing your hobby with friends and family, shooting firearms just because you want to is often the origin of the hobby.
Some companies make micro conversion kits that use the Glock 17 to build a sub-gun, which is a wildly fun experience if you've never shot a Glock in one of these configurations!
The Glock 17 also has aftermarket options to use your gun with a carbine conversion kit that turns your pistol into a completely legal, non-NFA bullpup-style rifle configuration. All you have to do is find a conversion kit compatible with your Glock model pistol.
Controls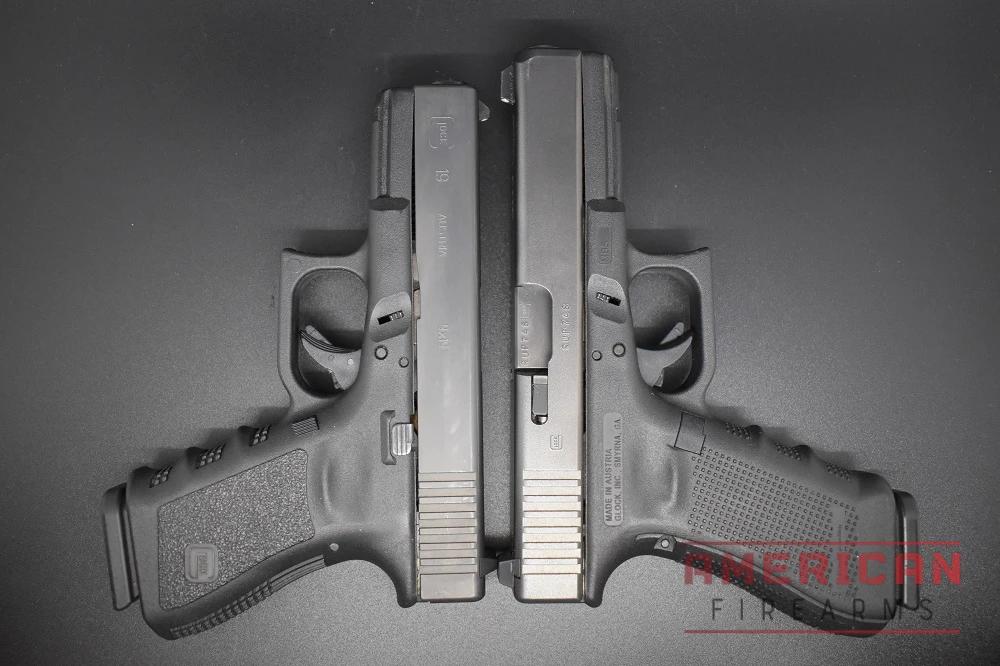 Comparing the Glock 19 (left) and Glock 17 (right) side-by-side you can really see how consistent the pistols are -- and in turn the broader Glock platform is.
In my experience, most people who own firearms train just once or twice a year, which is insufficient, especially when it comes to handling more complicated firearms with multiple external safeties or those which are difficult to take down to clean.
Glocks, however, all have the same controls, same SAFE ACTION® System, same trigger, etc., albeit in different calibers and sizes. This consistency across control systems means it's fairly easy for gun owners with multiple Glock models to establish familiarity with all of them while training on any of them.
They know exactly how each gun shoots, how they feel, what the factory sights look like, and how to disassemble them because they are functionally identical.
Magazines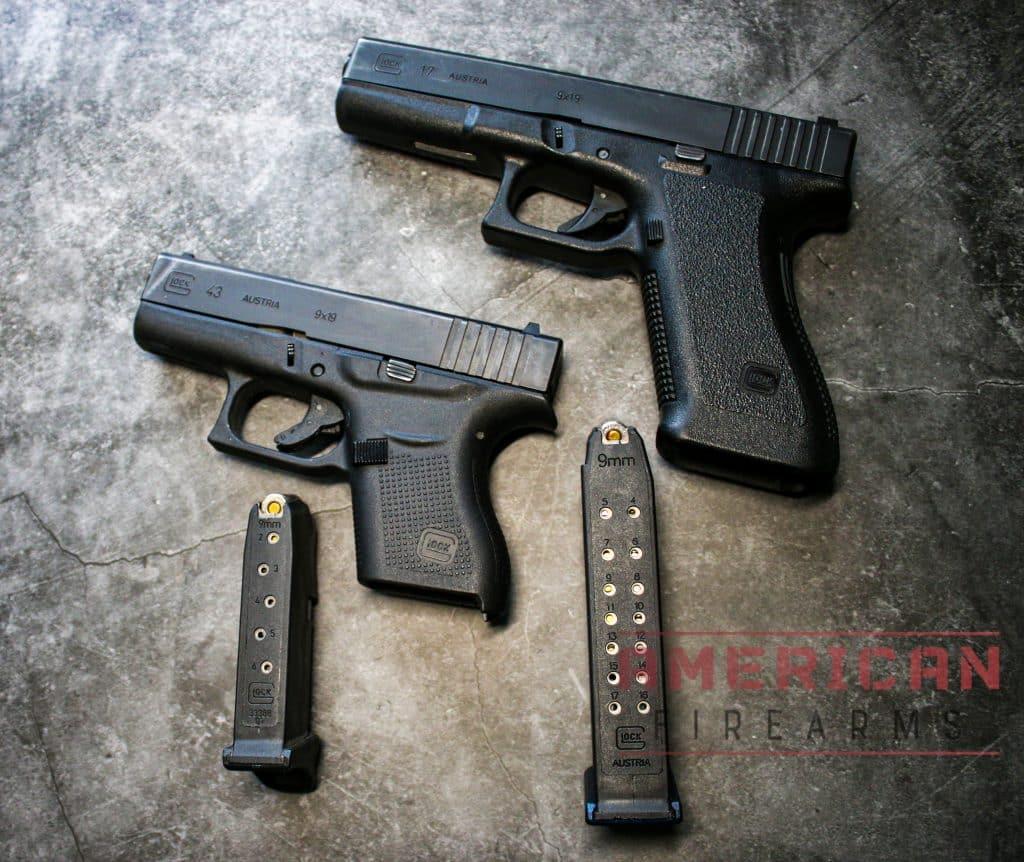 Standard double-stack Glock magazine compared to G43. The standard Glock sticks won't work with single-stack Glocks, like the G43.
While not all Glock magazines are interchangeable, those in a shared caliber can be used for other Glock models in that caliber, across most generations, provided they are not the Slimline variants.
For example, Glocks 17, 19, 26, and 34 can all swap magazines, so if you're a Glock fanatic, you don't have to buy three types of magazines.
Some details are warranted:
Gen1 and Gen2 magazines have a single notch on the right side for the magazine release.
Gen3 magazines have a notch on the right side, with ambidextrous models including a notch in front of the magazine. Gen1, 2, and 3 magazines all interchange, provided the magazine catch is on the right side of the frame
Gen4 magazines are notched on the right, left, and front to accommodate reversible magazine releases and the ambidextrous mag release. These are backward compatible with all previous generation magazines.
Gen5 magazines are compatible with all previous generation pistols.
There are many aftermarket options for Glock magazines as well, from knockoff magazines to magazine base pads and base pad extensions that allow for more ammo capacity, so if you want an array of magazine options without the need to purchase standalone sticks, the Glock platform is an appealing option.
Sights
G17 Rear Sight
Glock makes some of the most popular handguns in the world. Because of their popularity, the number of aftermarket parts available for them is virtually incalculable — it seems like a new aftermarket Glock product is hitting the market every day, with a huge number of options available for enhancing sights. For this reason, stock sights are the first thing I modify on any firearm I purchase.
The sights you choose, from iron sights to a red dot, are a personal preference depending on the purpose of the gun and the style that allows you to acquire and aim with most effectively.
There are tritium night sights, fiber optic red or green sights, holographic sights, and so much more. While the stock Glock sights will allow you to aim and shoot accurately, they're utilitarian and leave much to be desired.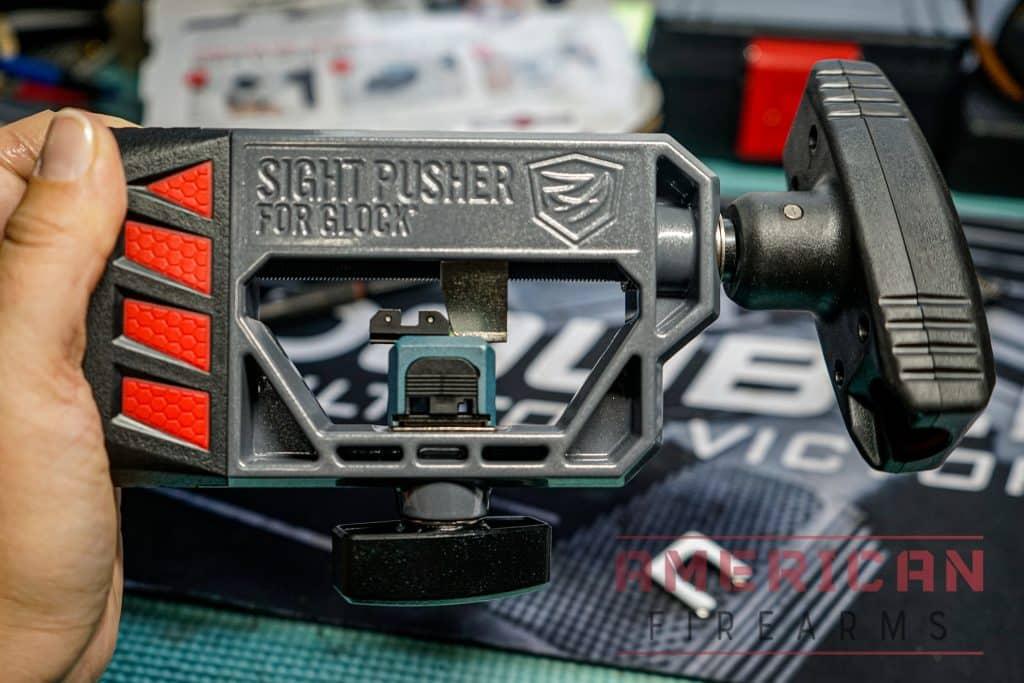 G17 and sight pusher
Pro Tip: One of the best tools I purchased so I could install my preferred sights is the Glock Sight Pusher™ from Real Avid. It allows you to change any size Glock pistol sights with just one tool and includes shims to fit different model sizes.
Ammunition Performance
While other pistols can be picky regarding ammunition, Glocks run just about anything you put through them. Now, I'm not saying Glocks don't fail at some point. Every gun in the world will eventually fail if you shoot them enough and put them through their paces. That said, I have run my G17 for years without issue. I have fed it Blazer Ammunition, Winchester white box 9mm, Super Vel hollow point and full metal jacket ammunition, Fiocchi 9mm, Atlanta Arms reloaded ammo, and more brands I can't even remember. It chews through everything and begs for more.
Beyond my experience, I've read dozens of gun reviews about Glocks, and each time I read one, I see a different kind of ammunition pass the range test.
One of the most common complaints from gun owners is having a gun that won't run certain kinds of ammunition or having a gun that requires a break-in period before it will run right. With a Glock this is almost never the case.
Grip & Ergonomics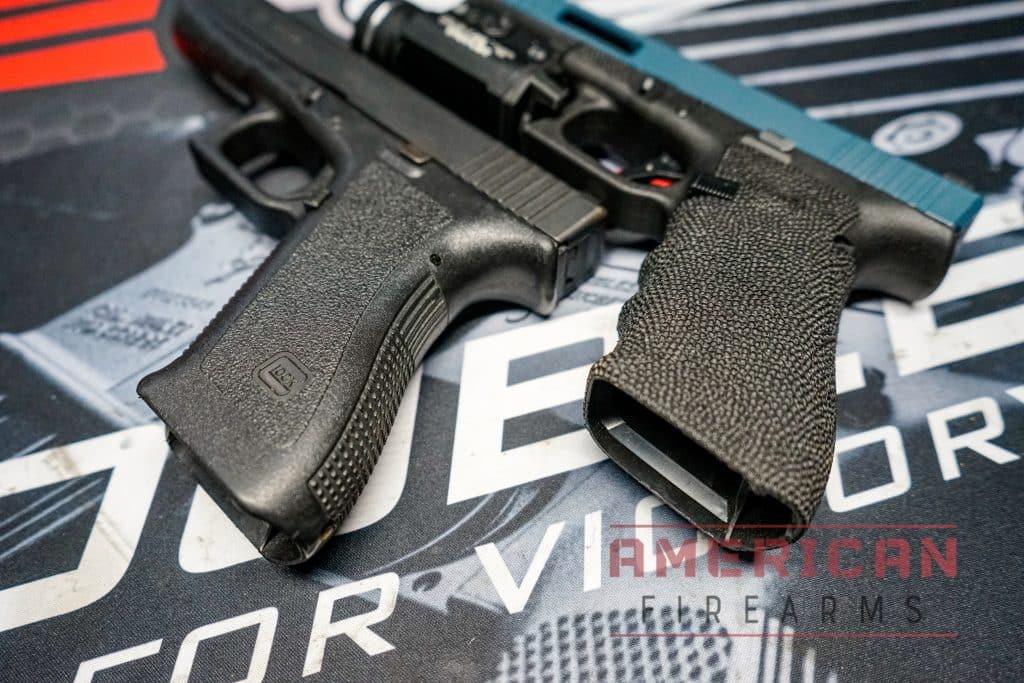 The G17 grip hasn't change a lot over the years, with the only major changes being the Gen5 moving away from finger grooves and adding a flared magwell.
Among the most common complaints for any firearm is the challenge of finding a comfortable grip that allows you to effectively manage recoil while maintaining a positive grip. There is no way to know if a specific grip will feel comfortable to you without picking up the gun for yourself and, if you can, test firing it.
As mentioned earlier, the early Glock 17 models came with finger grooves (still available on the Gen4 model), while the Gen5 does away with the grooves. Some people with smaller hands find the finger grooves challenging to get an adequate grip because the grooves force their fingers into a predetermined position and prevent them from getting as high up on the grip as possible to combat recoil impulse and the associated muzzle rise.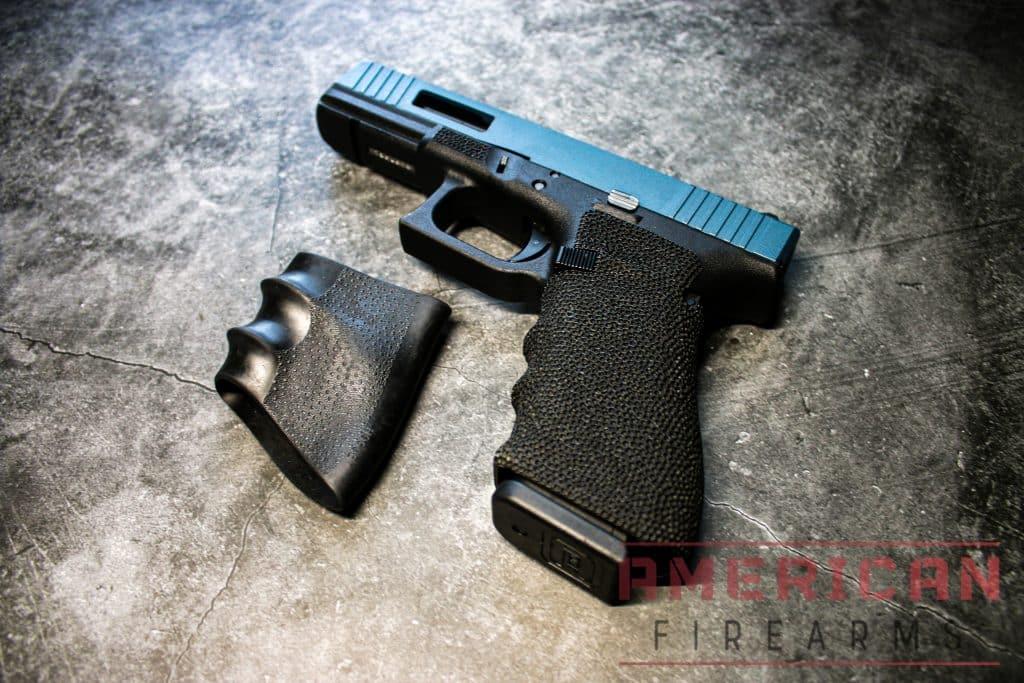 If you don't like the G17's grip texture, a simple accessory like a rubber sleeve may help add texture and control.
Even if you don't like the stock grip on the G17, you can install an aftermarket rubber sleeve to help with control or have the grip stippled for added texture. If the gun is a good fit for you, but the grip isn't exactly how you want it, there are more than a few grip options to help you customize the gun to your hand.
One final difference between the Gen4 and Gen5 is the inclusion of flared magazine with the Gen5, making for speedier reloads, which can matter in self-defense situations.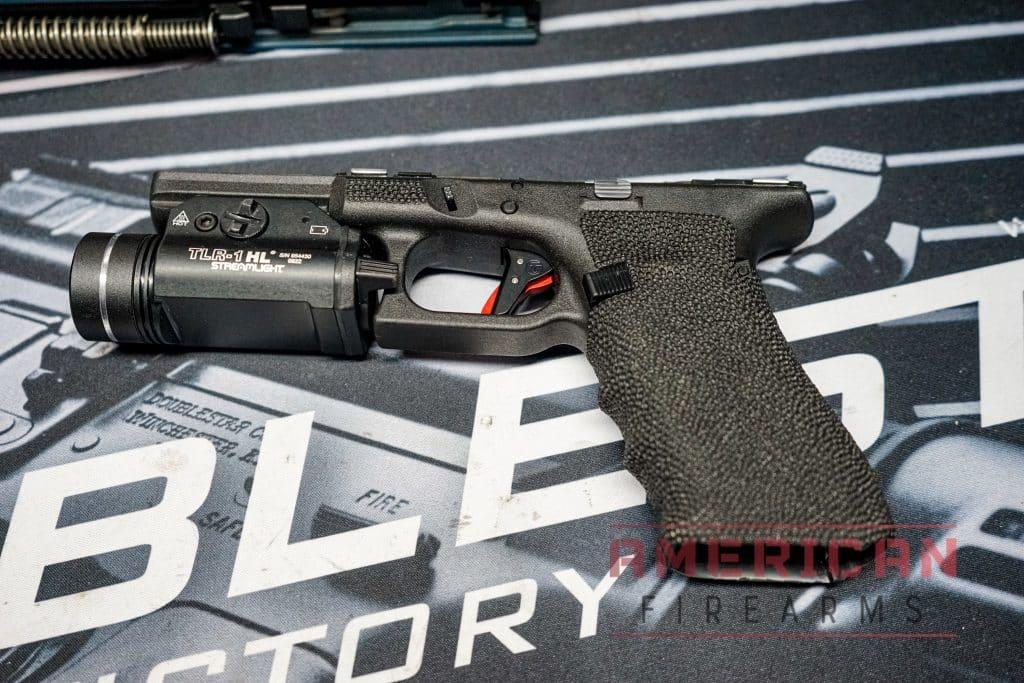 G17 with a heavily stippled grip
Trigger & Reset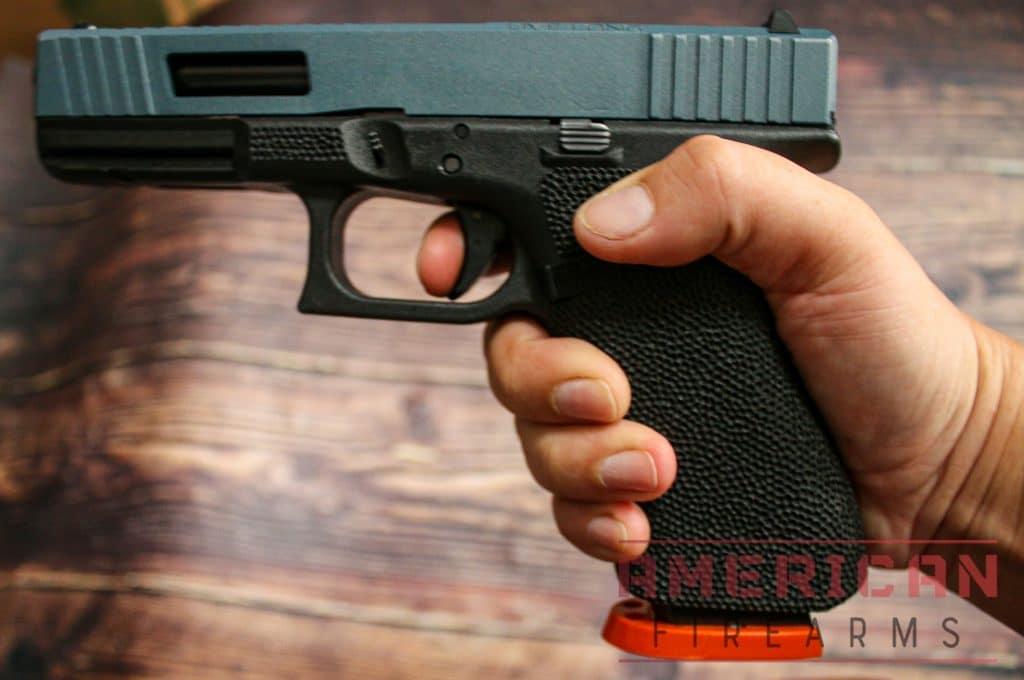 G17 Trigger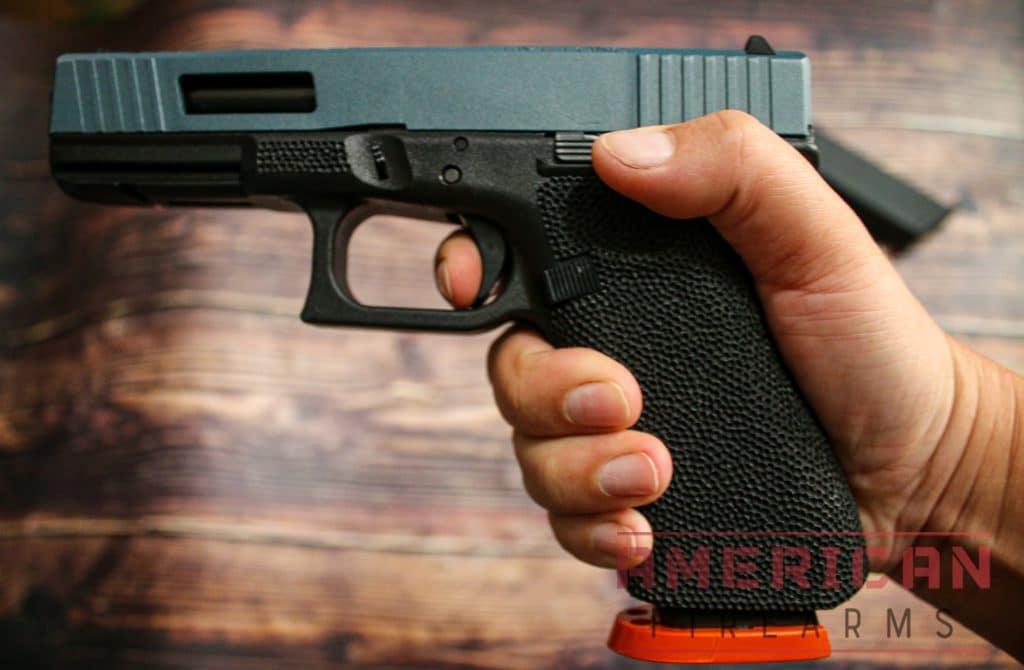 G17 Trigger Pulled
Every Glock comes standard with the factory Glock trigger which includes their SAFE ACTION® System, with a trigger safety positioned in the center of the shoe. If you try to pull the trigger without depressing that central safety, the gun will not fire. In comparison to most polymer frame pistols, the stock Glock trigger is one of the best stock triggers.
It has a break that is easy to feel, especially for new shooters trying to understand a trigger wall and how to find the trigger reset, with a trigger pull weight in the 6 lb range.
Glocks are famous for their reliability and accuracy. These handguns perform daily in duty use by LEOs and military personnel.
The accuracy of any firearm comes from the barrel's rifling, and the longer the barrel, the better the bullet can stabilize, providing more precision. While the original Glock 17 is accurate, the Gen5 pistols include Glock's Marksman Barrel, which includes a slightly modified rifling and barrel crown for increased precision.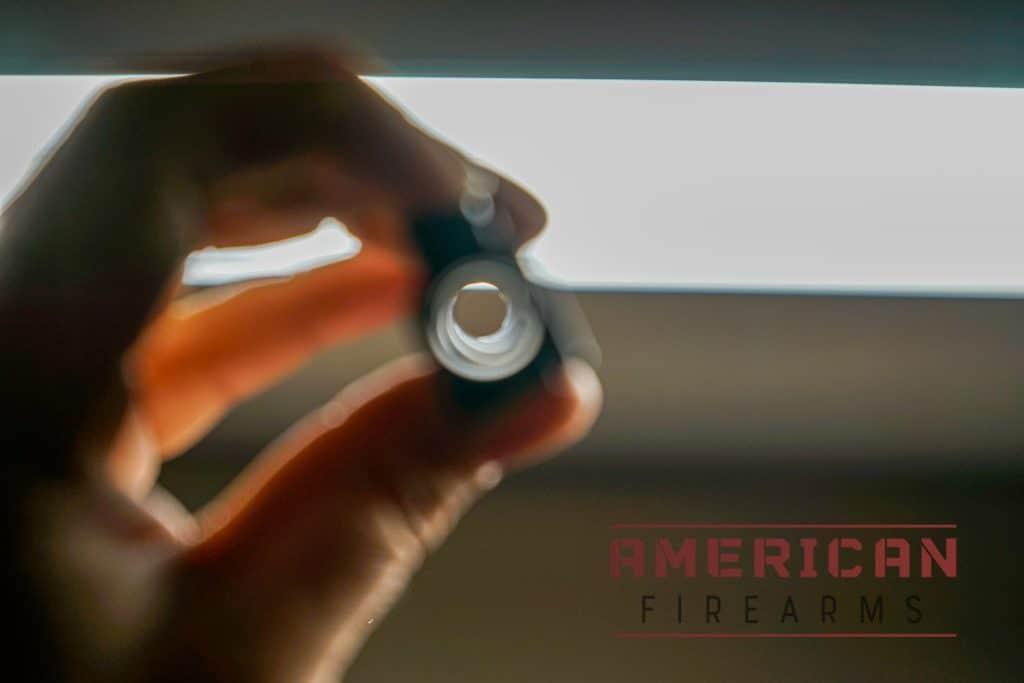 The G17 uses Glock's polygonal barrel design & rifling.
Of course, accuracy also depends on shooting fundamentals like your sight alignment, ability to aim, proper trigger pull, breathing, and more. The gun is only as good as its user, but the G17 gives you a lot to work with in the accuracy department.
If you simply search "Glock 17 review" on YouTube, you will find many torture tests on the Glock 17 to prove its reliability. Glock's have performed in freezing temperatures, record-breaking heat indexes, under suppressed fire, in full auto, after being caked with mud, shot in the rain, and rusted over.
You would be hard-pressed to find a more reliable polymer pistol on the market today.
I have run a Glock 17 in USPSA, GSSF, and 3 Gun competitions for years with no issues. I have fed it high-end and budget brands, and the gun shoots accurately and feeds reliably with anything — including coated bullets, various bullet profiles and hollow points that can pose feed challenges in other pistols.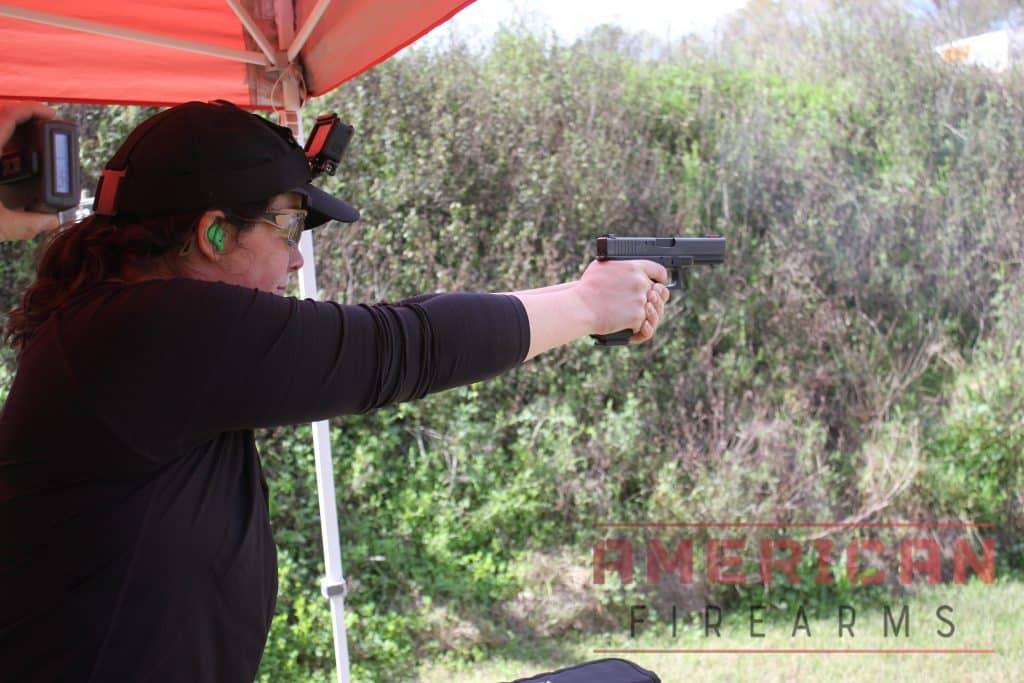 G17 at the range
I have used Glock 17's to teach students how to shoot because they are simple, easy to aim, and most gun owners have at least one Glock in their firearms collection. The popularity of Glocks makes it easy to train students who can then go home and disassemble a different model Glock, for example, because they all take down the same way.
Teaching proper trigger discipline.
I trust my life to my Glock 17. I use it as a bedside home defense pistol, a truck gun to travel with, and I know it performs in super cold weather and extreme heat conditions, including being shot in the rain and after neglecting to clean it. Even though I didn't clean it or oil it, the Glock 17 is a champ and still fired (although I don't recommend treating any gun this way).
Some of the best competition shooters are also a testament to how Glock guns perform. Shane Coley, Ashley Rheuark, and Michelle Viscusi have all won National, Area, Sectional and more titles in USPSA, IDPA, Steel Challenge, and more with Glock pistols.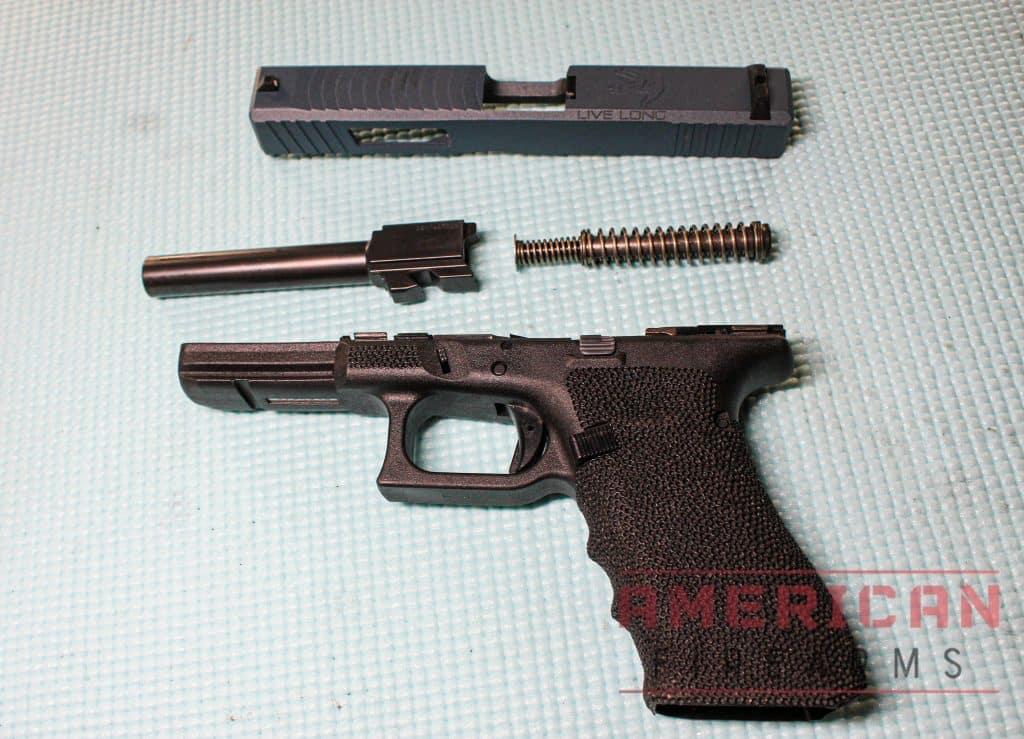 G17 Disassembled
What is universal about Glocks is they all come apart the same way. (Always visibly verify that your gun is completely empty before disassembling.)
All Glocks have a slide lock with grooves on either side of the slide. You have to pull the slide lock downward to disengage them, pull the trigger, and the slide moves forward off of the frame. The frame, barrel, spring, and slide are the four main components you always want to keep clean and oiled.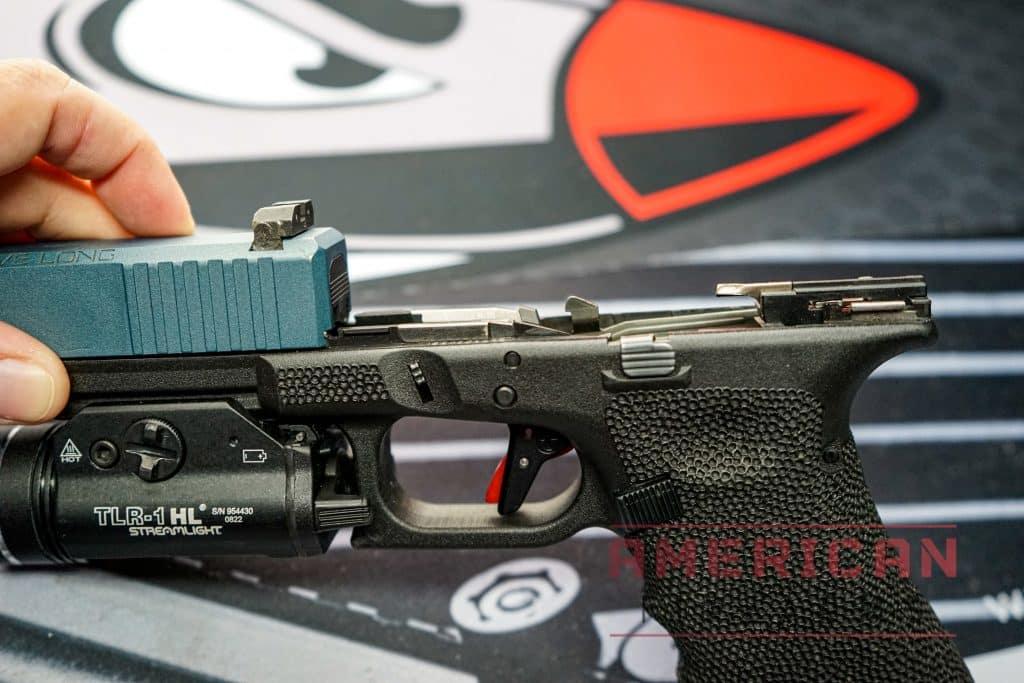 Field stripping the G17 is the same as any Glock -- simply pull down the vertical slide lock levers to unlock the slide for cleaning and inspection.
The lifespan of your gun depends on how well you maintain it, and the G17 is about as simple as can be when it comes to maintenance, so there's no reason to neglect this critical piece of the puzzle.
Glock makes a great product at a great price, to be sure. To be able to pick up a Glock 17 from a gun store, buy any kind of 9mm ammunition, and immediately take it to a competition, knowing it's reliable, is one of the best reasons to buy a Glock.
However, the Glock 17 may not be the right handgun for most shooters with small hands or who can't reach the trigger. Fully loaded, the Glock 17 is not a lightweight carry gun, so the shortcomings will all depend on the person using it and for what purpose.
For those who don't want to go all the way down to the sub-compact G43 the Glock 19 is a viable alternative, and we have covered the differences between the G17 to the G19 previously.
Alternatively, the Glock 19X offers the shorter slide of the G19 with the full-size G17 grip, for a mullet setup that's a blend of both guns.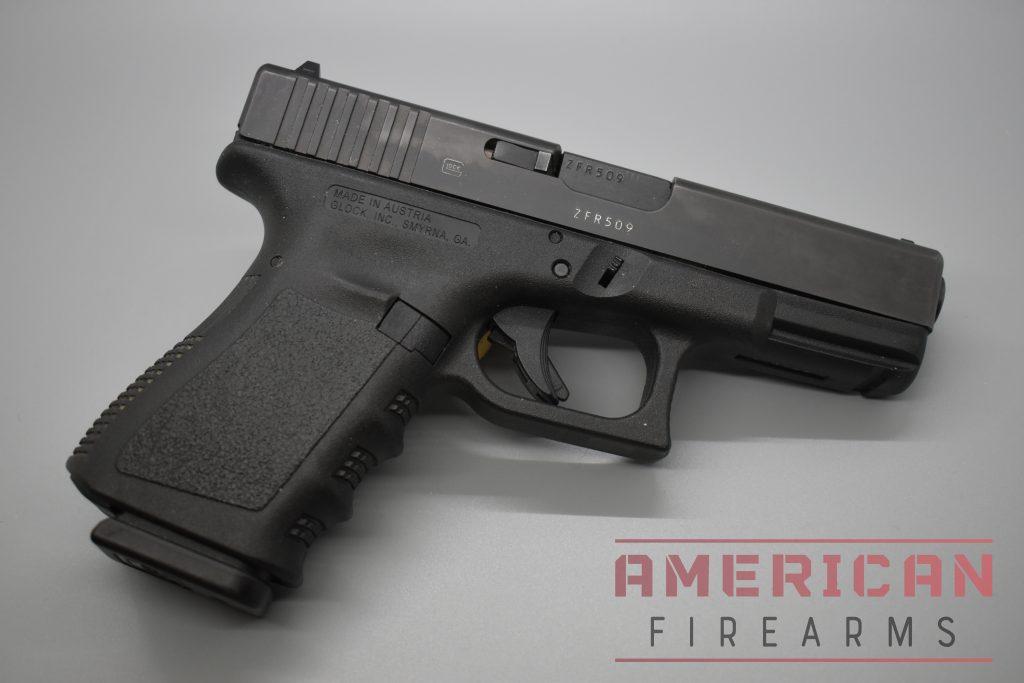 The Glock 19 is a compact 9mm that is ideal for concealed carry or those with smaller hands who aren't interested in a sub-compact pistol.
The other shortcomings I see in the Glock 17 are not necessarily the gun but user error. For example, semi-automatic guns have a slide that moves backward in recoil and forward to chamber the next round. I have seen many a shooter wrap their support thumb behind the backstrap to the other side of the gun and experience slide bite when the slide moved rearward in recoil.
The Glock slide is made of metal; when fired, that slide is moving so quickly the slide bite will cause the inside webbing of your hand between your thumb and pointer finger to bleed.
Pros
Renowned Glock reliability
The full-sized frame helps with control
Standard Glock controls & ease-of-use
Cons
Not a small pistol
Factory Glock sights are so-so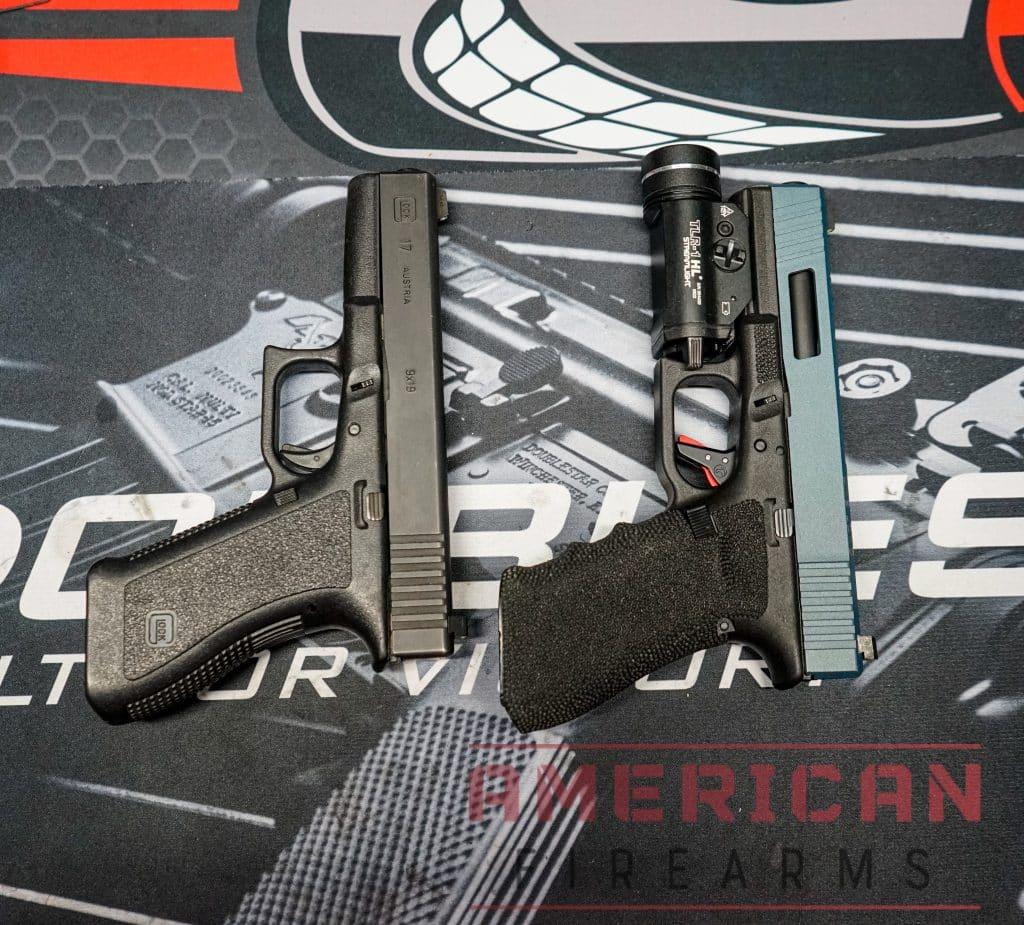 A Gen2 G17 (left) with more than 100,000 rounds through it compared to a (heavily modified) Gen4 (right). Both pistols will run any ammo and shoot all day.
Considering the Glock 17 was the first Glock pistol, you'll likely encounter a variety of different generational models in the market, especially in the world of used guns, so it's important to know what generation Glock 17 you're looking at to determine if it has the features that are most important to you.
For example, the original G17 pistol grip has finger grooves, while the Glock 17 Gen5 removed the finger grooves to create a grip that allows for more versatility in hand and finger placement.
The Gen5 model also allows you to change back straps for different grip lengths to fit larger-sized hands. While the difference is minimal, the Gen5 has a flared mag-well and cutout at the front of the frame to allow for speedier reloads.
The standard Glock 17 has a minimal profile magazine release. The Glock 17 Gen5 has an enlarged magazine release that is also reversible, and a flared magwell for speedier reloads. The slide stop lever on Gen4 and Gen5 models is ambidextrous to accommodate right and left-handed shooters, unlike the original G17.
Finally, the front of the Gen5 slide has added serrations for easier slide manipulations, while the original and Gen4 G17 have a front slide up front.
The Gen4 and Gen5 MOS (Modular Optic System) G17 includes a precision machined slide mounting system for popular red dot sights. Glock includes multiple adapter plates with these guns, so you can use your red dot optic of choice (just make sure they're included with any used pistol you may be considering).
The MOS system is extremely popular in shooting sports and home defense users but has also become more popular on concealed carry handguns as micro red dot tech has continued to advance. Red dots make learning how to aim easier, especially for people with vision impairment and are a great learning tool for people to self-diagnose any flinches or unwanted movement when firing the gun.
Is the G17 right for you?
The Glock 17 was my very first handgun and one I still cherish today. It was my first 3 Gun competition handgun, the first handgun I shot in a GSSF match, and my first home defense gun and travel gun.
I have shot probably over 100,000 rounds through my Glock 17 and loved it so much that I bought a second one that I tricked out for competitions. If you want a reliable handgun for concealed carry, competition, home defense, or just to learn how to shoot, you can't go wrong with a Glock 17.