Glock 19 Review
Written By
Megan Kriss
Expert Contributor
Edited By
Michael Crites
Licensed Concealed Carry Holder
Share:
Products are selected by our editors. We may earn a commission on purchases from a link. How we select gear.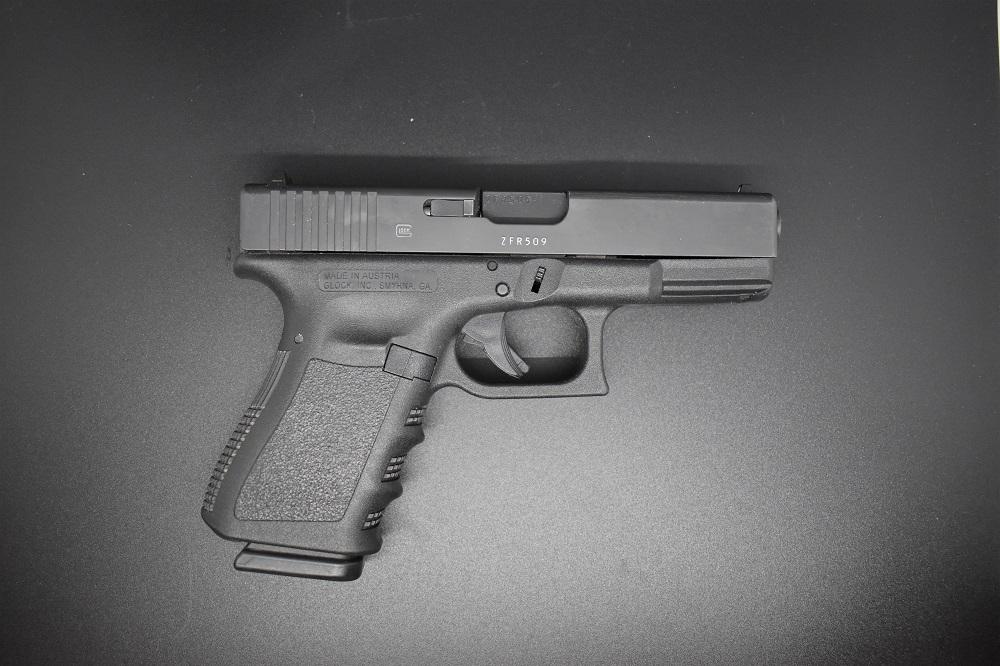 The Glock 19 is the most popular carry handgun in America, but is it really all that it's cracked up to be, or has it just become the "default" choice? The vanilla ice cream of the handgun world?
Well, I've owned and carried the G19 for years, and honestly, I'm not sure. I'm a fan, but how much of that is my nostalgia and experience early on with Glocks? To find out, I wanted to take a deep dive into the G19 and compare it to some of its closest competitors to see if it still holds up.
Let's take a careful look at this iconic (and incredibly popular) handgun and see if it does.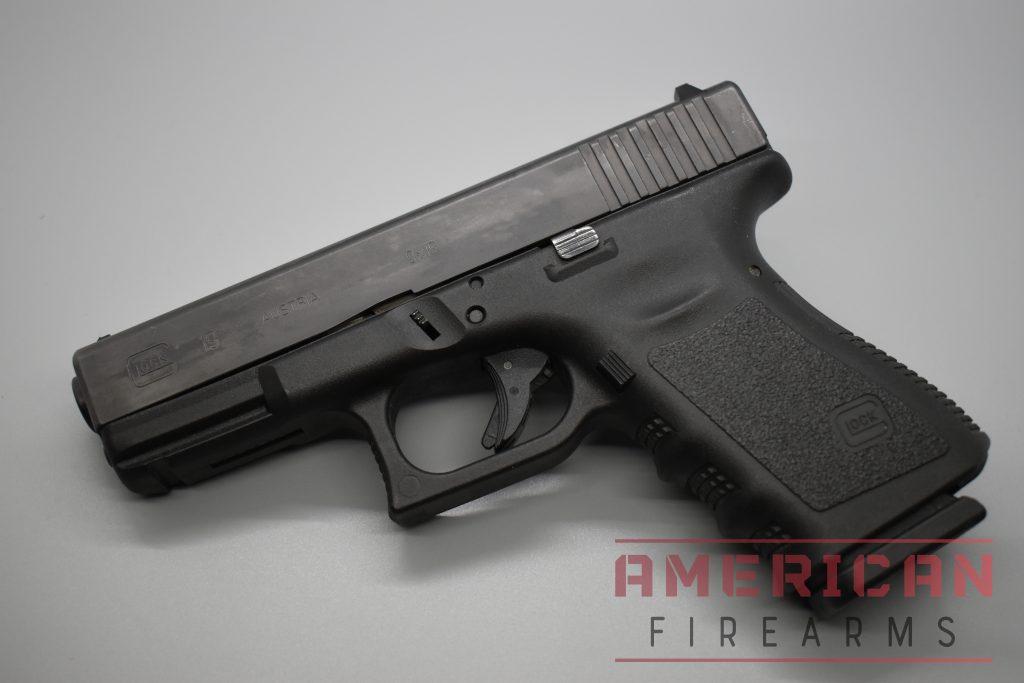 My Glock 19 Gen 3 has never let me down.
Glock is perhaps the world's best-known firearm manufacturer, but what far fewer people know is that Glock has a very colorful history. We can't go into it too much here, but let's take a brief moment to talk about Glock and the Glock 19's history.
The manufacturing company, Glock Ges.m.b.H. was started in 1963 by Gaston Glock. However, at the start, the company actually manufactured curtain rods, not firearms. In the 1970s, the company started manufacturing knives for the Austrian military.
But it wasn't until 1982 that Glock would begin prototyping its first pistol in response to the Austrian Armed Forces' search for a new duty pistol to replace the Walther P38. The Austrian military had 17 different criteria, but some highlights will sound familiar if you already know Glocks:
Use NATO-standard 9x19mm Parabellum,
Be self-loading,
Be secure against accidental discharge, and
Require no assistance for loading the magazine.
That pistol became the Glock 17, which was accepted for service by the Austrian military. But this review is about the Glock 19, so why do we care about the Glock 17?
Well, because the Glock 19 is a direct descendent.
Glock 19 and Glock 17 Side-By-Side Comparison
With the G19, Glock basically just shrunk the Glock 17 down into a compact frame (we dove deep into the G17 vs G19 if you need more detail.)
Let's take a look at the 19, and see how it has become such a force in the handgun market today.
When you first pick up a Glock 19, most people find it's a love-it-or-hate-it affair. Glocks have a very distinct and recognizable style, it's a simple one: blocky. It doesn't quite look like it was made in Minecraft, but it's close.
That's not a mark against Glock or Minecraft (I love both) but it is a polarizing aesthetic choice.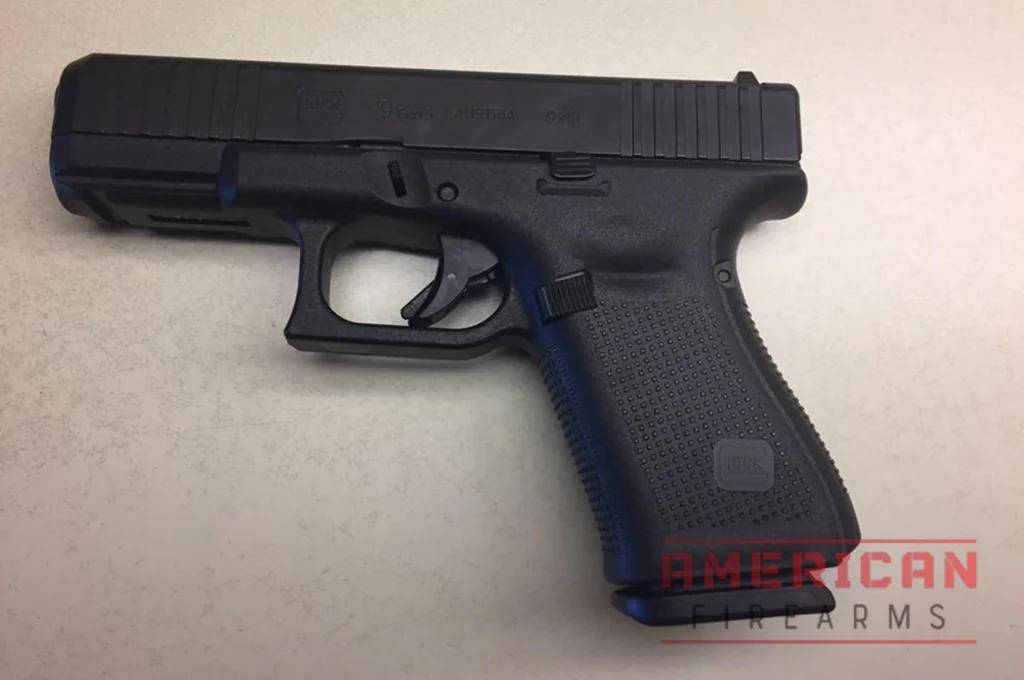 The Glock 19's blocky build wouldn't look out of place in Minecraft.
If you like, or at least can tolerate the Glock's blocky look, then you'll find a solid, well-made pistol with good machining quality, compact size, a decent finish, usually a black nDLC coating on the newer Gen 5s unless you spring for something different.
The Glock you're looking at probably has a black frame and a black slide, but Glock has been experimenting with stainless slides and FDE coatings as well particularly in the 19x version so it might not necessarily be a black block in your hand.
It probably is though. About 85% of Glocks are still black on black. Like I said, love it or hate it.
Now, let's look at some stats.
| | |
| --- | --- |
| Caliber: | 9mm |
| Capacity: | 15 (3 Magazines Included) |
| Action: | Striker-Fired |
| Trigger Pull Weight: | 6.29 lbs |
| Length: | 7.36 in |
| Height: | 5.04 in |
| Width: | 1.26 in |
| Barrel Length: | 4.02 in |
| Weight: | 23.63 oz. (with empty magazine) |
| Slide: | Alloy steel front and rear serrations (Gen5) |
| Sights: | Steel fixed |
| Safeties: | Glock Safe Action System (Trigger / Firing Pin / Drop Safeties) |
| Operational Controls Finish: | Polymer |
| MSRP: | $599 |
| Real-World Price: | $500-$600 |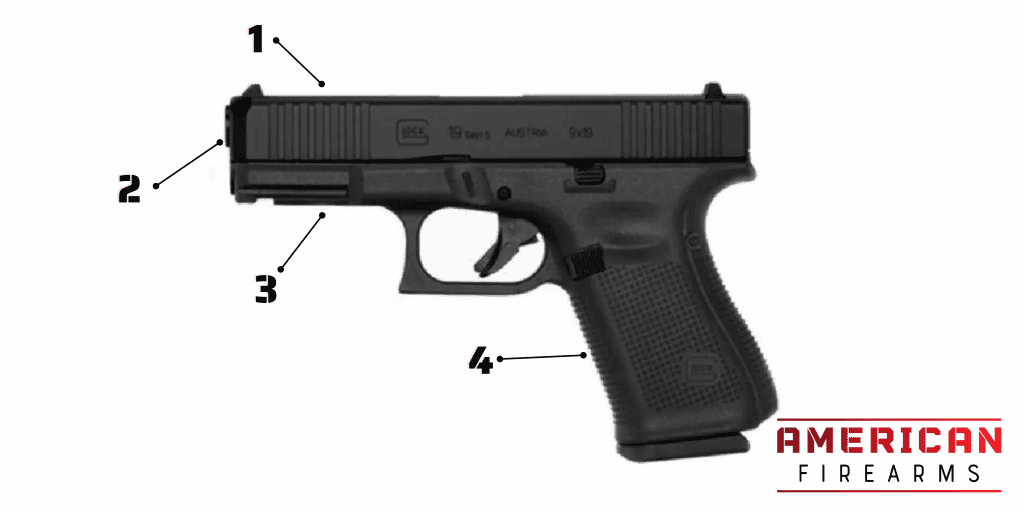 Glock 19 Product Review Feature Call-Outs
SHORTER BARREL & SLIDE
The 4-inch barrel helps with concealed carry use.
FRONT SERRATIONS
The front serrations ease racking.
FRONT RAIL
The rail enables the use of lights & accessories.
GLOCK ERGOS
The G19 uses the same grip angle & controls as every other Glock.
Action
The G19 is a recoil-operated, locked breach striker-fired pistol with a tilting barrel. Basically, it's your standard polymer-framed striker-fired handgun, and while not the first to use that design, it is certainly the most iconic and prolific.
"The Standard"
Sights
Here we get into my single biggest issue with Glocks, the crappy "ball in bucket" U-dot iron sights. I freaking hate these things, and so do a lot of people. While Glock has metal factory night sight options that are awesome, most Glock pistols still ship with frankly appalling plastic sights.
The ones on most G19s are standard U-dot sights, made of plastic, hard to use, and quickly replaced. That said, they are usable, especially for defensive/combat shooting, I just don't like trying to hit anything at 50+ yards with them.
It's definitely doable, you'll just have to work harder than you would with other sights.
Fortunately, there are roughly 17,987,234 different aftermarket options out there, so you can find some that you really like and will put youj on the right road toward pinpoint accuracy. Replacing your front and rear sight is also something you can do at home with like a $40 tool, or have a gunsmith do it for about the same price, so no worries there.
Still, if you have the option, order one with night sights or get new sights immediately and you'll be much happier for it. Or just suck it up and run the stock ones, some people like them (y'all weirdos).
Trigger & Reset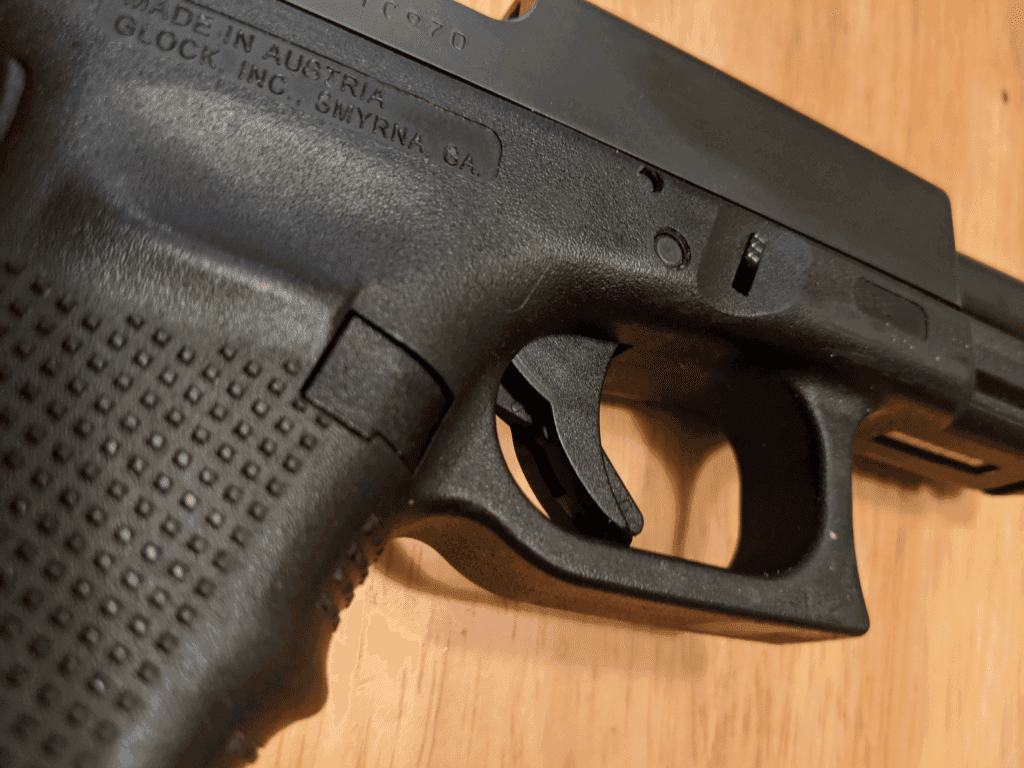 Glock 19 factory trigger
The trigger is another area that I can nitpick. It just… doesn't feel great. Don't get me wrong, I love my Glock 19 and I have had nothing bad to really say about it (mine came with night sights) but the trigger is definitely a little worse than on some competing guns.
Takeup is light, the break is about 5lbs, and the reset is incredibly tactile and audible so running the gun quickly at combat distances is very comfortable, intuitive, and accurate, provided you do everything else right.
But the break feels a little mushy, but it's noticeably lighter and crisper than the previous generation was. That said, it's a Glock trigger and some people just aren't going to love them. I personally shoot Glocks really well, even with factory triggers, but I know not everyone feels that way.
If this is a first gun for you, or you're relatively new to handguns, you aren't going to notice anything wrong, I promise. The trigger feels and functions great, and it will not hold you back.
But if you're coming from a CZ or a SIG and have put in a lot of trigger time, you're going to notice that the Glock trigger feels like a little bit of a downgrade. The G19 Gen 5 still has a very combat-focused trigger, and while it works well, it could definitely be better.
Still, it's an improvement for Glock, and if you're really not happy with it, you can swap it out for a sweet drop-in model that will blow any stock CZ or SIG in the same price bracket out of the water and still have spent less money. And boy do you have options when it comes to Glock triggers.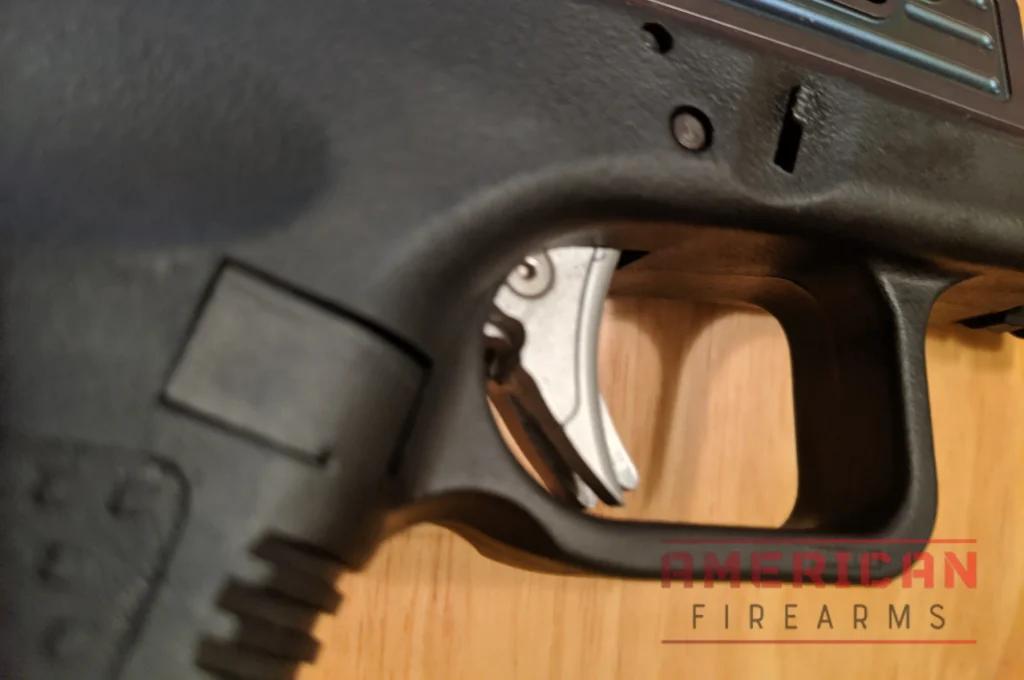 Ahhh, much better.
Safeties
Like all Glocks, there's no external safeties on the G19. Instead, the safeties are all internal and utilize a trigger blade safety to disengage. Glock calls this setup their Safe Action system and it consists of a trigger safety, a firing pin safety, and a drop safety.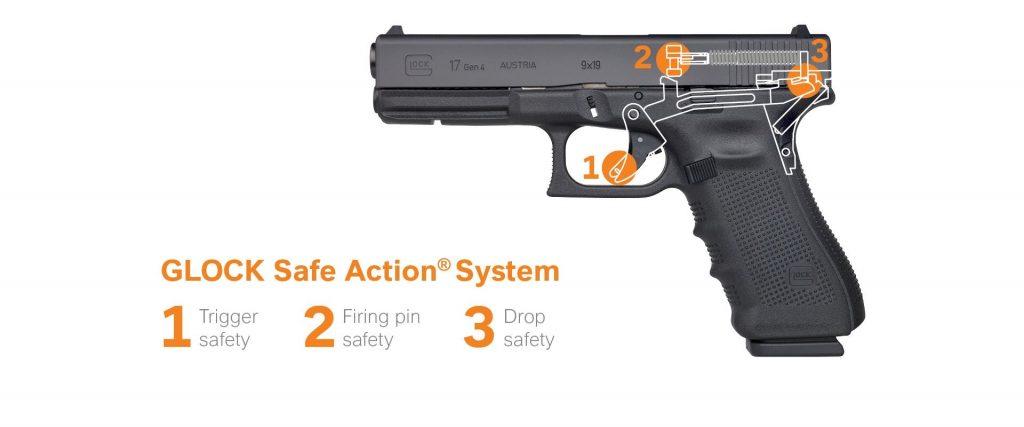 Glock safety
When you squeeze the trigger, the trigger blade is pressed flush with the rest of the trigger which allows the trigger to move. As the trigger travels to the rear, the firing pin safety releases when the trigger bar pushes the firing pin safety up and out of the firing pin channel.
Then, the trigger bar slides up the safety ramp, the drop safety is disengaged and the firing pin is released.
If you ever take your finger off the trigger at any point before the gun fires, the safeties all re-engage. They also instantly and automatically re-engage after the gun is fired.
Basically, this means that while there's no switch to flip, which you generally don't want on a self-defense or concealed carry gun, a properly-maintained Glock pistol will never go off unless the trigger gets pressed to the rear.
Magazines
Glock magazines are some of the most prolific magazines on the planet, and the fact that all of the double-stack 9mm mags work in the G19 (other than the short G26 mags or single stack mags found on their compact pistols) is a godsend for both those deep into the Glock ecosystem and new owners alike.
Be it standard 15-round sticks, 17, 19, or 24-round extended magazines, or 33-round big boys, they all work with every double stack Glock, giving you an absurd number of options when it comes to magazine capacity.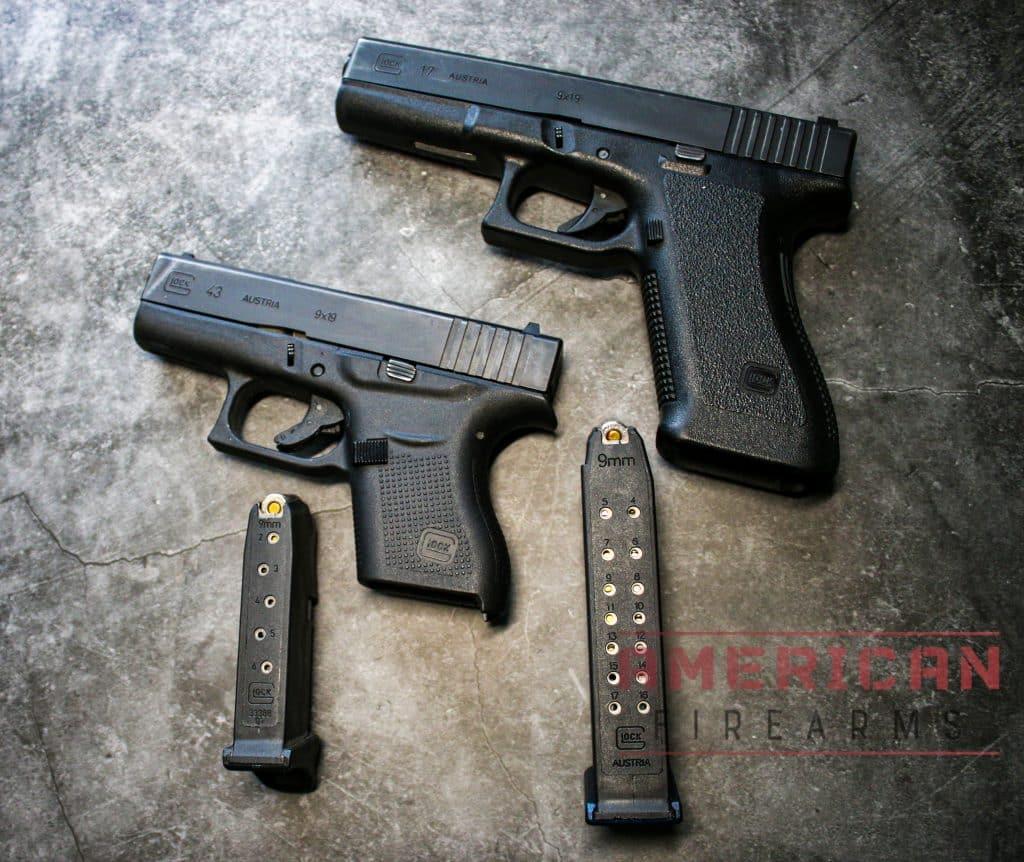 Standard double-stack Glock magazine compared to G43. The standard Glock sticks won't work with single-stack Glocks, like the G43.
Seriously, you can get mags for this gun in just about any gun store on the planet, and there are a huge number of aftermarket magazine manufacturers. My favorite mags are the Magpul PMAGs, but there are a bunch of good ones out there.
From the factory, you get three mags with most G19 packages, and they work beautifully in my experience. They seem to be the same mags the community knows and loves, and we actually get three now instead of two like we have with other generations.
Barrel
The new fifth generation Glock Gen 5 barrel is a solid upgrade over previous generations and features more aggressive polygonal rifling, a recessed almost target-style crown, and superior accuracy over previous generations.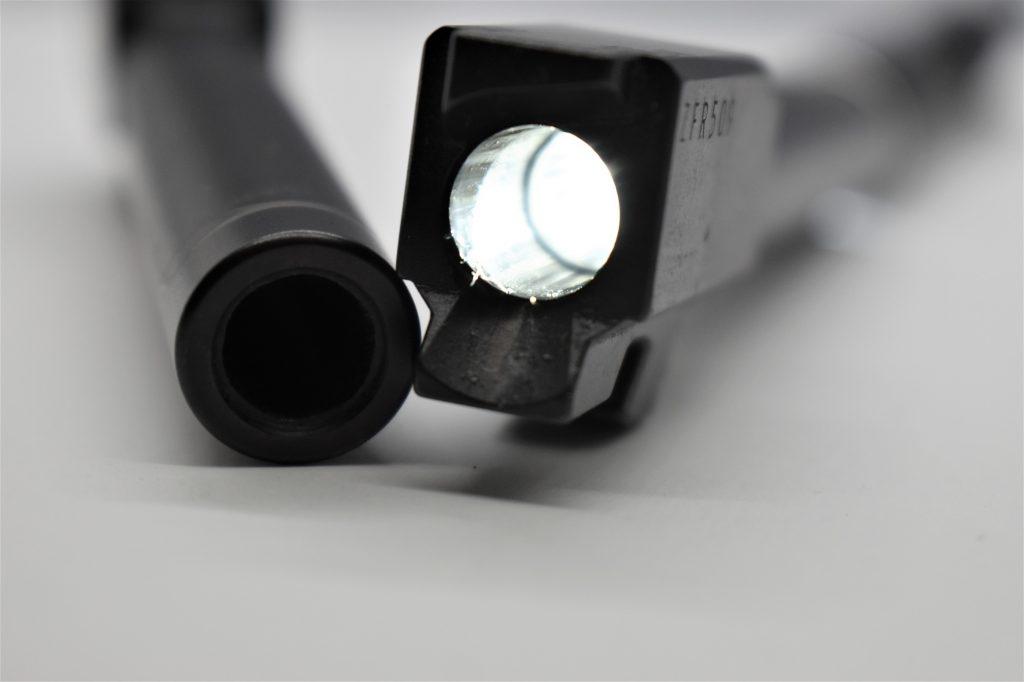 Glock barrels have only continued to improve with the years.
Overall, it's nice to see that Glock can still improve on their motto of "Perfection", especially with a key component like this. We have a few recommended Glock barrels if you're in the market.
Grip & Ergonomics
Glock ergonomics can be a touch contentious, which means the Glock grip angle is something that most folks either love or hate.
While for some the G19 is not the most ergonomically designed pistol, grip angle is a subjective thing and it's going to depend on your physiology and preferences. I happen to love the grip angle you get with a Glock, but you may feel differently.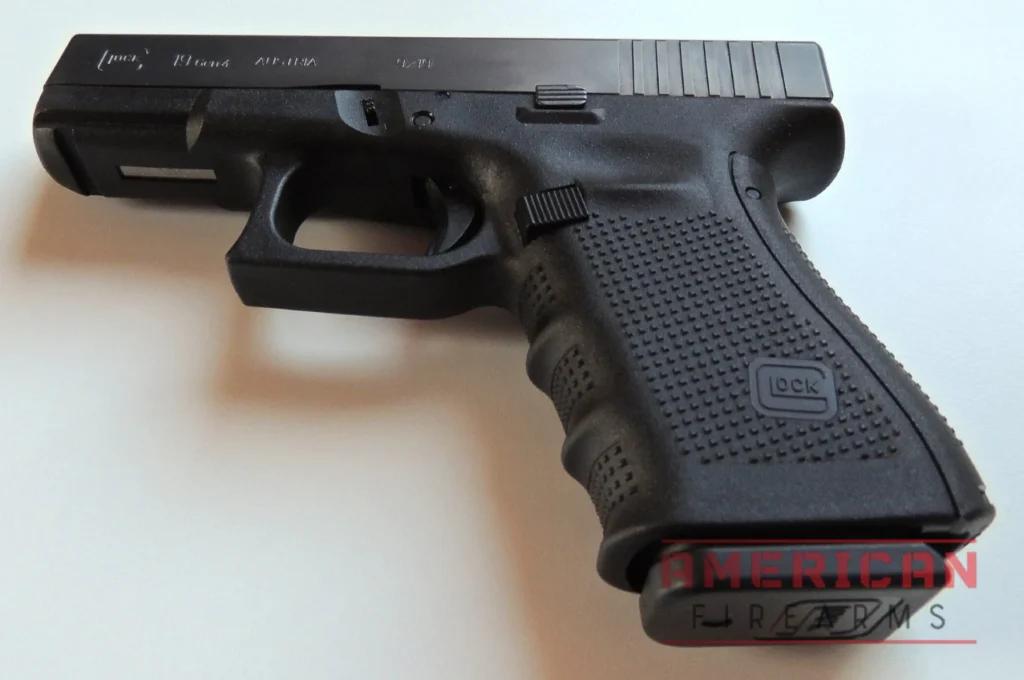 The Gen2-4 Glock 19 grip includes finger grooves, which were done away with on the Gen5 iteration.
On the G19, in particular, you have a pretty large amount of real estate to hold on to, making it an eminently shootable pistol and controlling recoil very easy, even for newer shooters. This is a big part of why we're seeing handguns that offer a full-hand grip become so popular in the carry community they give you a better purchase on the pistol but present little or no obstacle to concealed carry use.
The G19 is actually a bit larger than most carry guns and sits firmly in the "compact" category. Indeed, it's basically the poster child for this genre of pistol and is what you'll hear just about every other carry gun compared to.
The new Glock 19 Gen 5 has, in almost everyone's opinion, a better grip than the Gen 4 model. They did away with the finger grooves and gave us a straight grip that is much better for controlling recoil and keeps basically the same length of pull. Overall, a phenomenal change.
The Glock 19 is probably the most popular carry gun on the planet, and again that comes down to it being a one-size-fits-all, default choice that works for many people. There are better stock triggers out there, and there a definitely better factory sights out there, but — like all Glock guns — the G19 just works.
Actually, carrying the thing is a bit more of a hassle than a more compact pistol or something with a thinner profile like a Glock 43x or 48, or SIG P365, but with some practice, it really isn't that much of an issue as long as you're willing to dress around the gun and find a carry holster that works for your preferred carry style.
If you're a bit on the smaller size like me, you might have issues with printing a little bit if you're carrying inside the waistband, but with a blousy shirt or jacket, it really isn't an issue. This is a great one for a shoulder holster too.
For anyone whose shirt tag says "Medium" or above, you're not gonna really have a problem unless you're wearing a very tightly fitted top of some kind. That's a problem for any handgun, though.
Open carry and OWB holsters are, of course, a piece of cake, but at that point, why not carry a true full-size gun? The Glock 19 really shines if you're looking for a relatively concealable handgun that still offers the shootability of a full-size gun, or at least as close to it as you can get without a full-size Glock model in your waistband.
Speaking of shootability…
The Gen 5 Glocks shoot better out of the box than any Glock before them, and performance has always been top notch after Glock worked all the first-generation kinks 30 years ago, so that's saying something.
I've shot over 4,000 rounds through the Glock 19 platform over the years, and I think I fall a little more in love with it every time I take one out — be it as a range gun or for a class.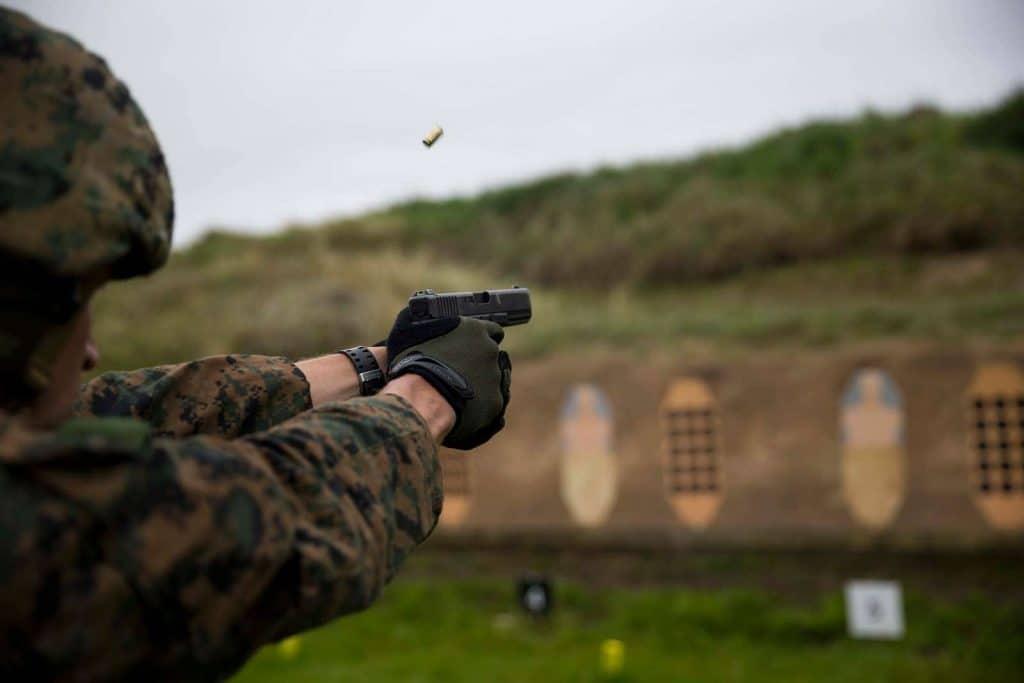 US Marine fires at targets with a Glock 19 pistol
Off a rest, mechanical accuracy leaves you with one ragged hole at combat distances, and actually aiming it, ya know, like a human aiming a pistol would, you get respectable accuracy even with the standard Glock trigger.
Most people that I take to the range with my Glock 19 can easily do a "Bill Drill" (6 shots in a 6"x11" rectangle at 7 yards) in under 4 seconds without a problem. This, in my mind, is the kind of combat/defensive shooting a stock Glock 19 really is designed for.
All of the competition stuff we do with Glocks might be a fun side thing and happens to be something I love to do, but these are guns designed to do unto others before they can do unto us. They're for defense, and in the case of military models, offense too when necessary.
In that capacity, the Glock 19 excels out of the box. Something like the Bill Drill, rapid fire at a close range target about the size of the vitals area on a human torso, is a great measure of a defensive pistol's function.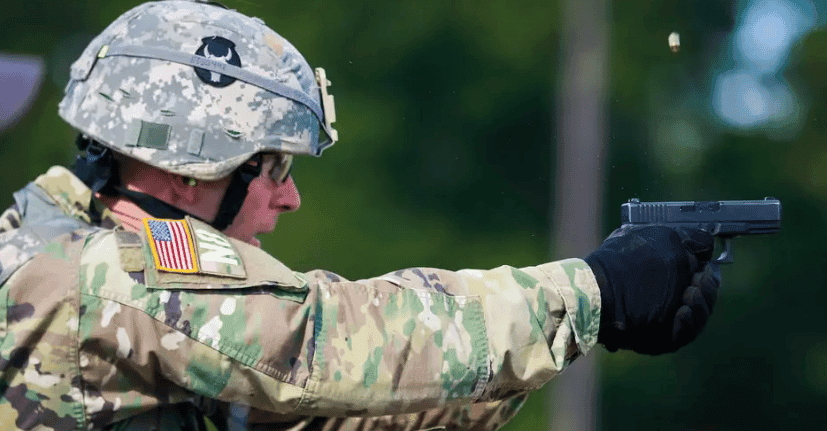 Using the G19 in training.
The gun is as accurate as the shooter, mechanically speaking, and while it's definitely held back a little by some subpar sights (more on that in a minute) and a combat-style trigger, it definitely puts rounds where they need to go.
For shooting dinner plates at 50 yards, it wouldn't be my first choice but I definitely find it doable even with stock sights, and fist-sized groups at 25 yards are doable too. All in all, the gun is made to put rounds quickly into an area the size of an adult human's major cardiovascular organs, and it absolutely does that with aplomb, especially at defensive ranges.
Maintenance of the Glock 19, or any Glock really, is quite simple. With just around 35 parts, there's really not much to it.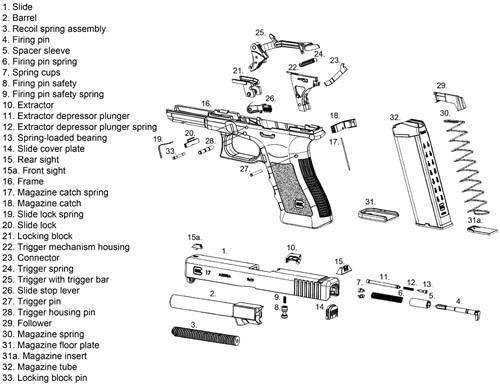 This looks scary but compare it to a 1911 and you'll see how much simpler it actually is.
If you're going to take things down for general cleaning, unload and clear the gun, double-check that the gun is clear, triple-check that the gun is clear, and then point the pistol in a safe direction and squeeze the trigger to the rear.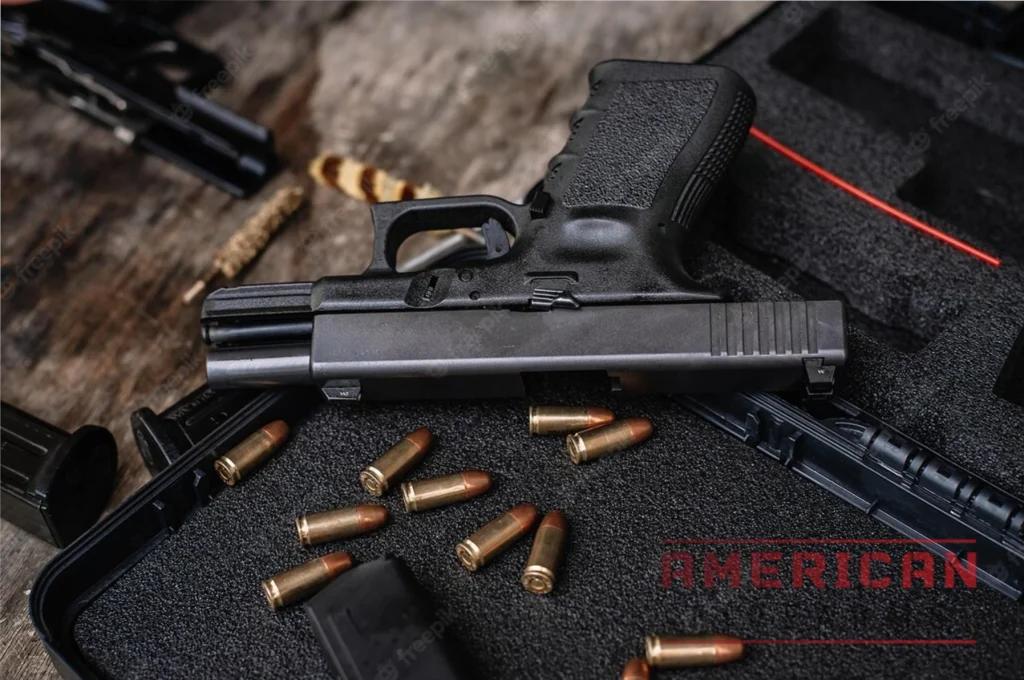 Getting ready to clean the Glock 19
Then, simply pull the slide back about a quarter of an inch and use your other hand to pull down on the takedown levers in-front of the ambidextrous slide stop with your thumb and index finger. These levers are on both sides, just above the trigger guard on the frame of the pistol.
The official "Glock Takedown Grip"
Then you can simply move the slide forward and remove it from the frame. The recoil spring assembly and barrel can then be removed from the slide, and you have the pistol field stripped into its four core components: slide, frame, barrel, and recoil spring assembly.
From there, clean the barrel according to your method of choice, and wipe everything down. Then, apply a drop of oil to each slide rail, as well as one to the connector where it meets the trigger bar.
After that, you can add a drop to the barrel hood and barrel and wipe it all in. I literally just mean one drop here, you don't need a lot. Just enough to protect any worn surfaces and you're good to go.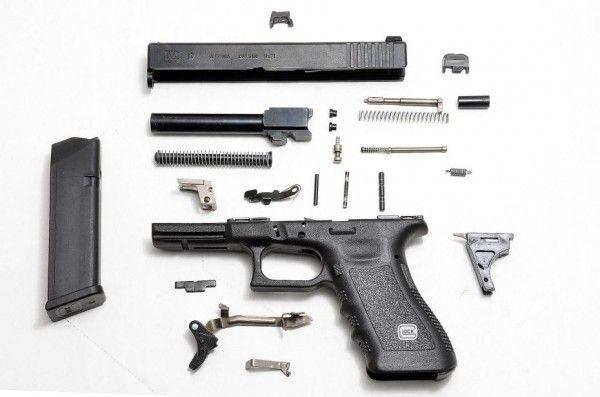 Glock 19 exploded
Beyond that, the general maintenance schedule for part replacement is simple. Replace any small springs (mag catch spring, slide lock spring, striker spring) every 12,000-15,000 rounds, and replace the recoil spring assembly at around 7,500 rounds.
I realize that's probably more than 90% of Glock owners will ever fire, but still nice to know. I personally have shot well beyond that with competition guns and very rarely had an issue, but this is a good thing to keep track of if you're shooting that much in serious competition.
And of course, maintenance is even more important if you're shooting that much with a defensive firearm. Fortunately, detail stripping really only requires a simple punch to push out some pins and you can fully disassemble everything for deep cleaning and advanced maintenance.
The G19's main competition
Glock has a few direct competitors, and the most similar ones are the CZ P10-C, Walther PDP, and the Sig Sauer P320C. These guns share the same general compact form factor as the Glock 19, have a similar capacity, use a polymer frame, and have the same incredible reliability.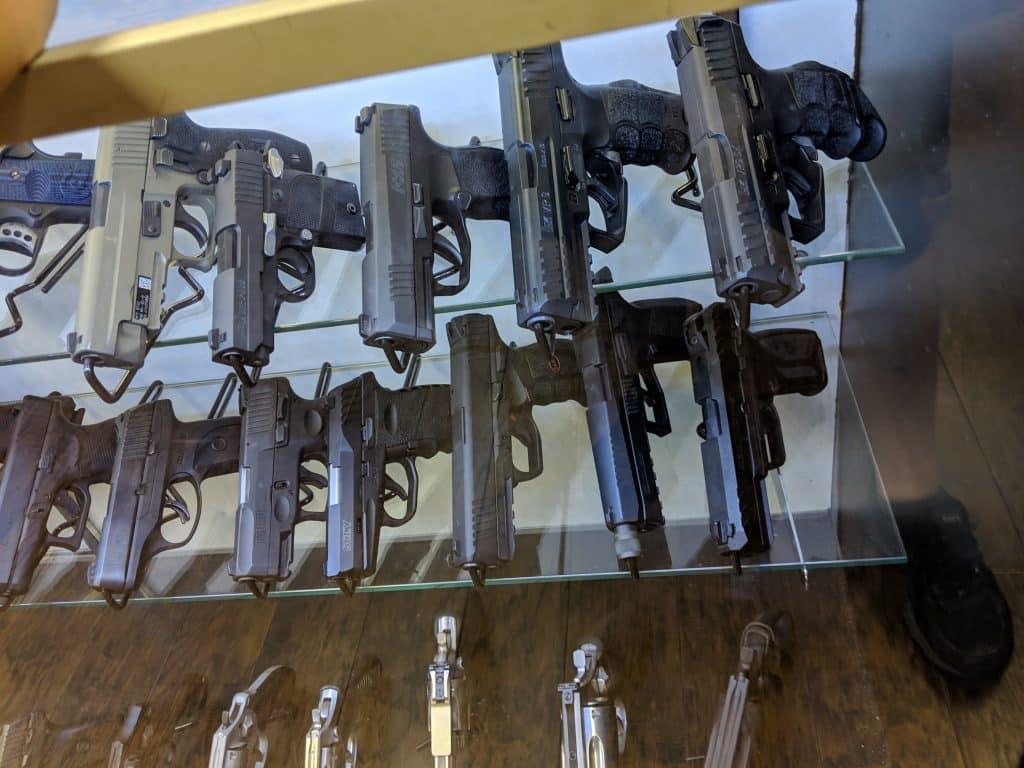 Glock 19 Competitors
Notably, the PDP and the P10-C both have much better factory triggers, and all have better stock iron sights. The P320 is also modular and can have the grip and slide swapped out to create a subcompact, compact, or full-size firearm with just one serialized internal part.
Honorable mention competitors include the Glock 43x, Glock 45, and the Glock 19x, the last of which we're going to talk about next. The 43x, 45, and even Glock 48 are all close enough to the G19 in a form factor that they're worth checking out, especially if you like Glocks for carry.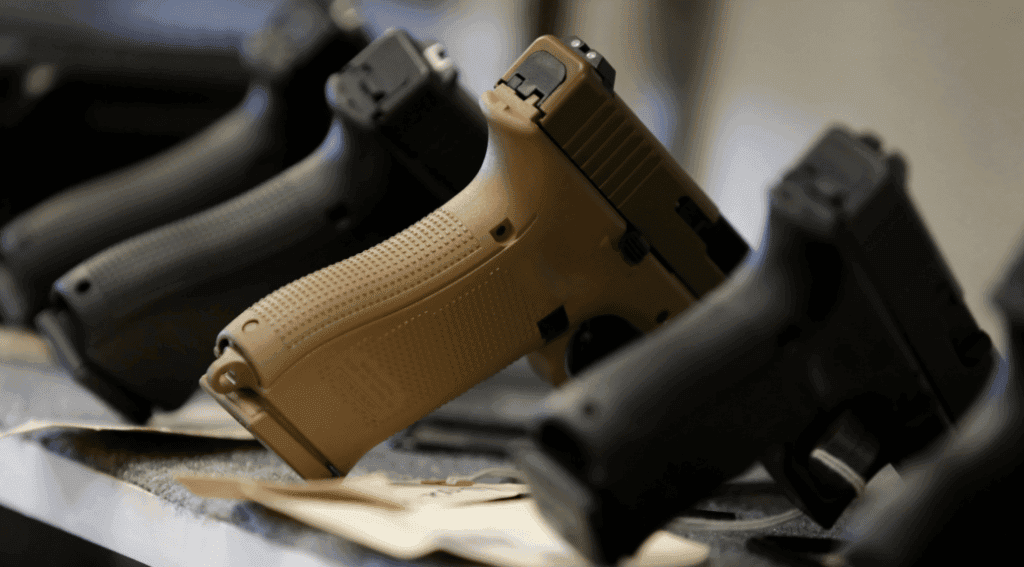 Glocks on display
The G19x is basically a souped-up G19 that has a few things tweaked to meet the US military's request for a new sidearm. Let's look at the key differences from the base model.
Glock 19 vs Glock 19x
The Glock 19x differs slightly from the regular G19. It has an improved nPVD slide coating and uses the new Glock Marksman barrel which ditches polygonal rifling (I suspect to meet military contract standards) and features a factory Coyote (FDE) coloring.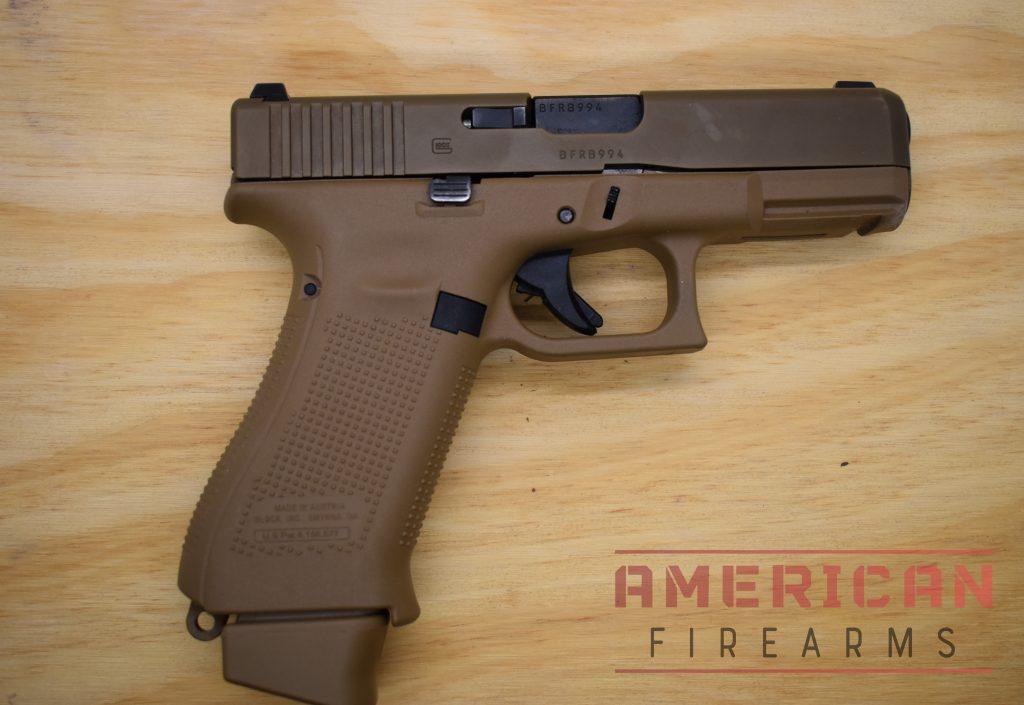 The Glock 19X pairs the G19's shorter barrel with the Glock 17's larger grip.
The other big thing is the 19x has a longer, full-size grip like the Glock 17 while maintaining the G19's shorter slide.
For some people, this is a great option, especially if you really want the +2 capacity or have larger hands and wanted the extra room on the grip. I, personally, am fine with 15 rounds and have tiny baby hands, so the regular 19 is fine with me.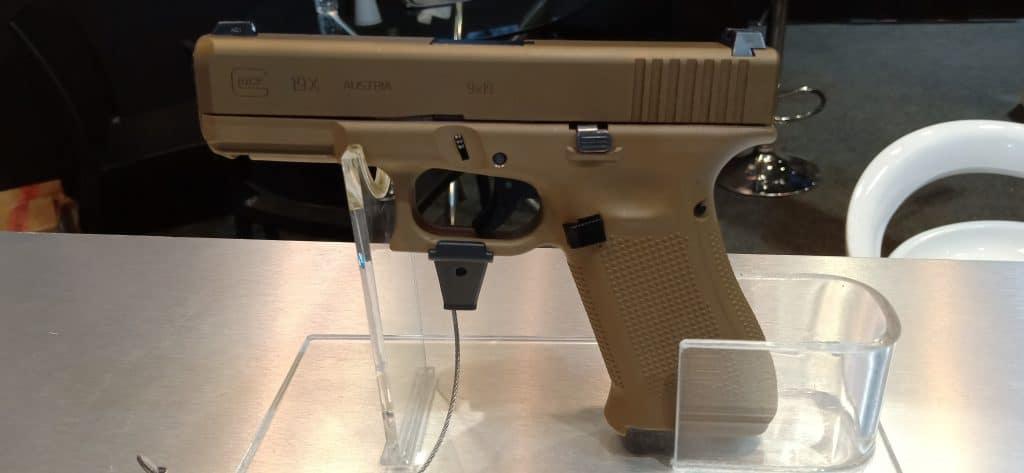 The Glock 19X Pistol on display at ADAS 2018 made by the Austrian company Glock. Photo taken during the 2018 Asian Defence and Security (ADAS) Trade Show at the World Trade Center in Pasay, Metro Manila.
The 19x is about the same price (maybe $50 more) though, so it's nice to have that option especially if you just really like the Coyote coloring.
Oh, and the 19x has a lanyard loop, which they ditched on the regular Gen 5s because who the hell uses a lanyard with a handgun?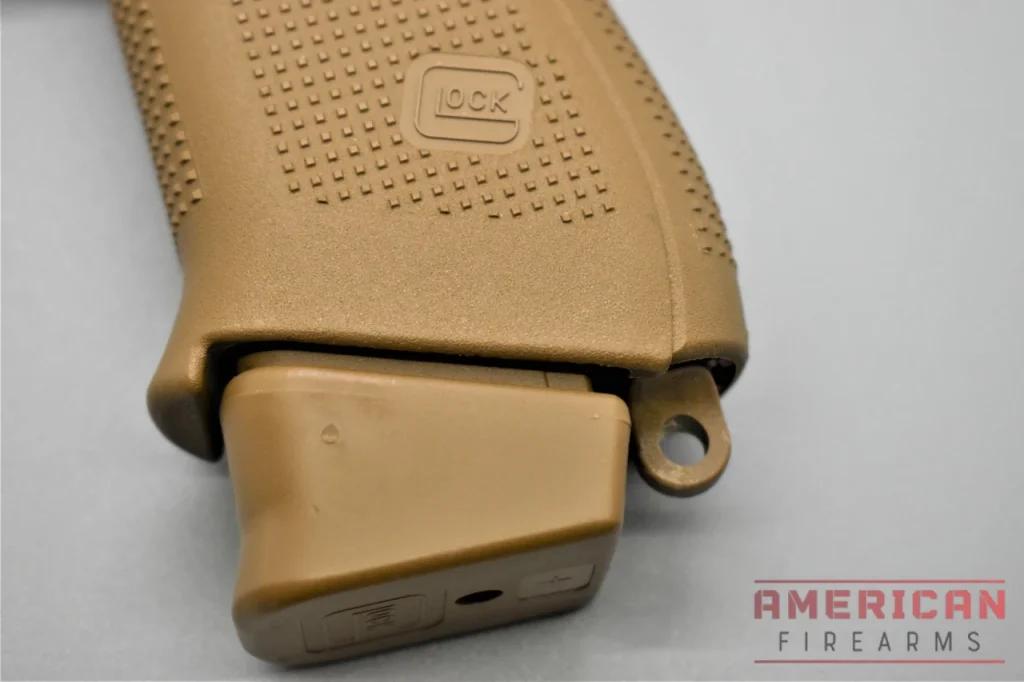 Glock 19X extended baseplate and lanyard look. That toe on the magwell and the loop prevent standard Glock 17 mags from working with the G19X.
At the end of the day, if you want something larger than the current raft of micro compacts on the market, and you don't want to carry a full-size gun but want 95% of the functionality, then a Glock 19 is a great choice. That goes double for the latest Gen 5 version, especially the MOS model.
The 19 is fairly concealable for most folks, but it still gives you most of the shootability of a full-size pistol. The only thing you really lose is a little bit of sight radius and a little bit of grip length you probably didn't really need.
This makes the Glock 19 a really great one-size-fits-all pistol and drives a large part of its appeal. There's almost certainly going to be a pistol that fits your hand better, fits your visual aesthetic better, or that you just shoot better.
But a Glock 19 will work, every time, for damn near every adult human on the planet. If I could only have one handgun, this would definitely be it because it really can do it all.
The other thing the Glock 19 has going for it, even more so than most other Glocks, is the level of customization available. Like I've said before, you can build a Glock 19 that uses not one single Glock-brand part thanks to a virtual mountain of aftermarket accessories.
Other than the 1911, there's simply not another handgun on the market you can say that about. And the 1911, as much as I love it, has 58 parts to it, minimum. A Glock has just 35, and you can swap each one of them out in under 10 minutes if you know what you're doing.
Let's take a look at some of those customization options.
Accessories & Customization
Glock handguns are the most customizable handguns on the face of the planet. They're also the most popular handguns on the planet, so you have about a million holsters and other accessory options as well.
Triggers, barrels, slides, internal parts like the connector and trigger bar and even the frame can all be replaced, upgraded, and tweaked to your heart's content. You can build an entire "Glock" handgun without using one single factory Glock part if you want.
And I have. Behold, my "not a Glock," made from entirely Lone Wolf parts. Lone Wolf is one of the premier manufacturers of aftermarket Glock parts, and that's where I recommend people start.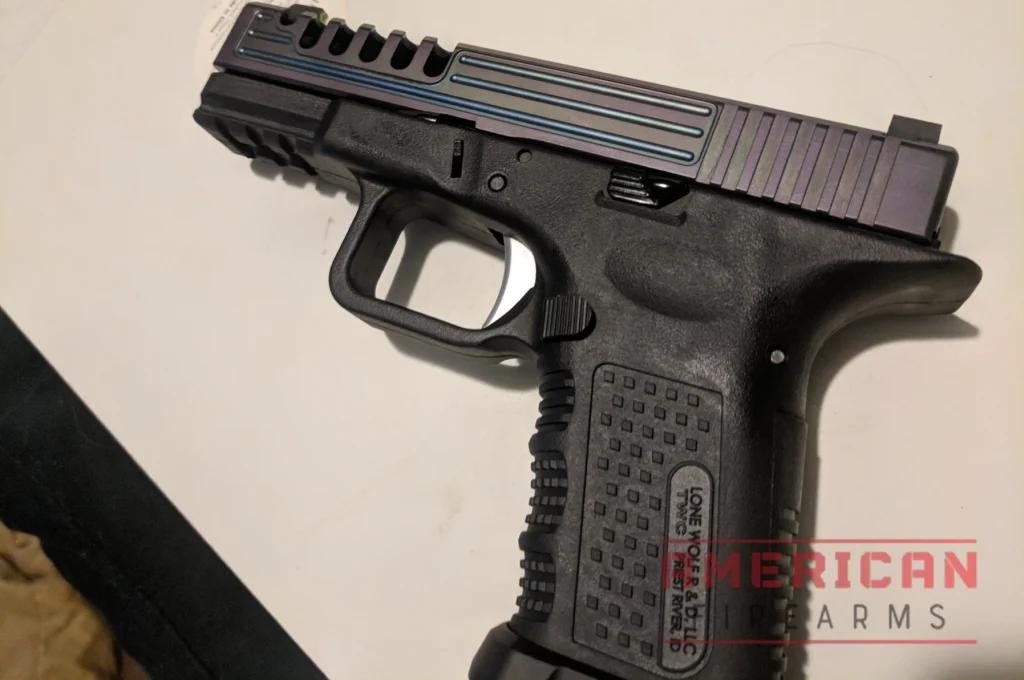 Behold, my "not a Glock," made from entirely Lone Wolf parts.
You can also get carbine conversion kits for the Glock 19, which turn your beloved pistol into a PDW-style carbine. I personally like the Roni conversion kit and have run it in some Pistol Caliber Carbine classes and events.
You can see what the Roni looks like below, you might recognize it from video games like the Tom Clancy franchise and many, many sci-fi films and shows with a tight budget.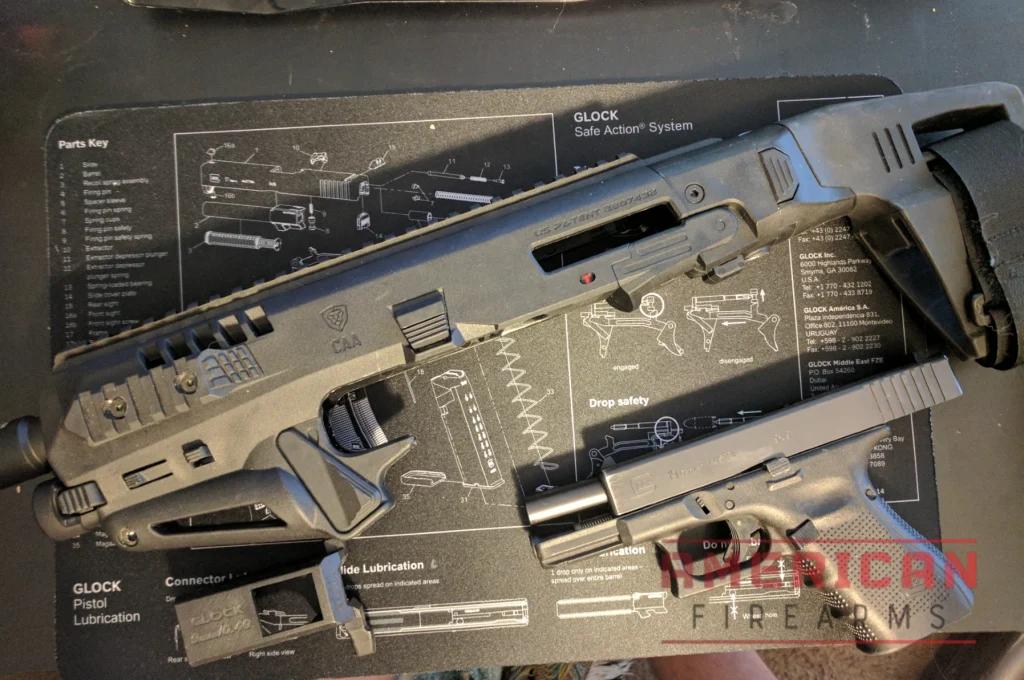 9mm pistols, like the Glock 19, have such tremendous aftermarket support you can even find conversion kits that enable you to transform them into PDWs.
A conversion kit like this makes the Glock even more versatile, and lets you get even more out of this awesome little gun. All in all, it's the customization that really sells the Glock for me, and for most Glock owners.
The base model is great, don't get me wrong. It goes bang when you want it to, doesn't go bang when you don't want it to, and puts holes in the things you want holes put in, more or less where you want them provided you do your part. As a pistol, it functions perfectly, even if the form isn't to your taste.
But where Glock really excels and likely will continue to beat out the rest of the market, is its utility as a platform to build a custom pistol of your very own.
Seriously, I can't say enough about how much you can customize a Glock 19. Anyone can work on them, and there are parts available from a variety of great manufacturers. Glocks might be the Honda Civics of the gun world, but I say that's a good thing.
There's a reason Honda has sold thirty million of the damn things after all. Like the Civic, Glocks are cheap, easy to work on, phenomenally upgradeable, and will do exactly what you expect them to do with boring reliability.
I honestly love that about them, and I bet you will too.
There's a reason the Glock 19 is the most commonly recommend handgun for new gun owners out there. It just…works. It can do just about anything, from carry to home defense to competition, and it's as legendarily reliable as ever.
The Glock 19 is also still a Glock, so you may not love the blocky look or the typical Glock grip angle. Still, the Gen 5 Glock 19 is maybe the best Glock ever, and that's why it's been adopted by several elite military units like Delta Force and the Navy Seals.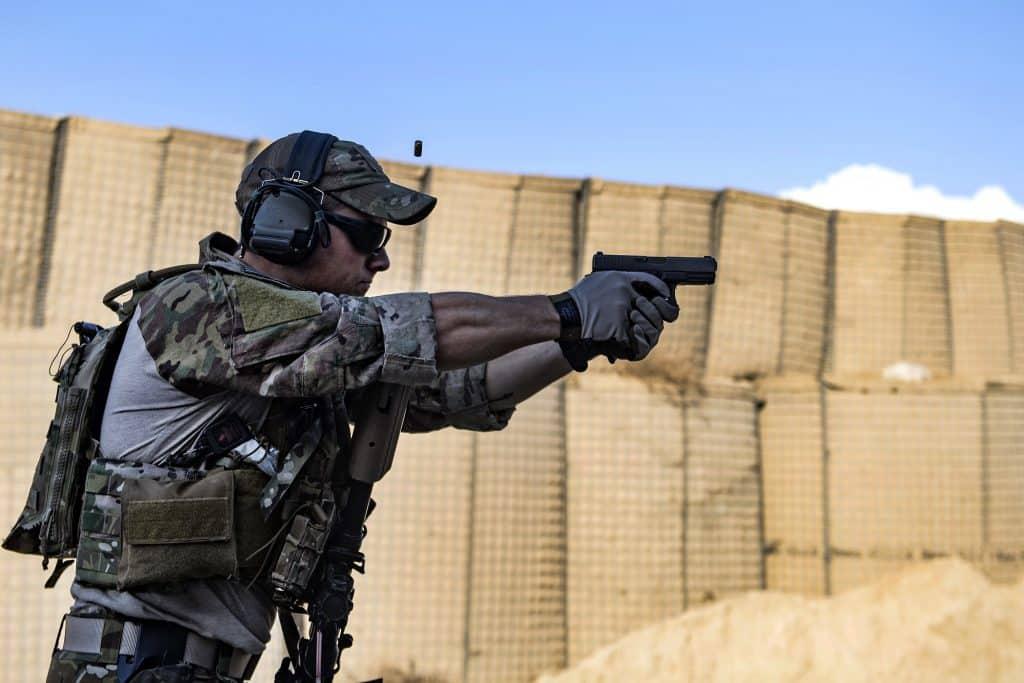 A U.S. Air Force pararescueman, assigned to the 83rd Expeditionary Rescue Squadron, Bagram Airfield, Afghanistan, fires his Glock 9mm handgun during weapons training Feb. 21, 2018. The pararescuemen train with their secondary weapon to ensure they remain capable of firing in the event their primary weapon becomes ineffective or runs out of ammo. (U.S. Air Force Photo by Tech. Sgt. Gregory Brook)
The modern Glock 19 is still a Glock, and there are definitely competitors out there that do certain things better (triggers and sights, mainly) but you can still always count on a Glock to run, and you can customize it to your heart's content.
In terms of simple, affordable, and reliable handguns, I'm still not sure there's a better option out there.
Whether you want something to run right out of the box, and run forever, or you want something to tinker on and improve here and there as you grow as a shooter, the Glock 19 is a great option that will serve you well for years and years.