PSA Dagger Review: The Top Budget Glock Clone?
When most folks dip into the $300 range for a pistol, they don't expect much. Does PSA's Dagger Glock clone change that reality? Come find out.
Written By
Coldboremiracle
Precision Rifle Expert
Edited By
Michael Crites
Licensed Concealed Carry Holder
Share:
Products are selected by our editors. We may earn a commission on purchases from a link. How we select gear.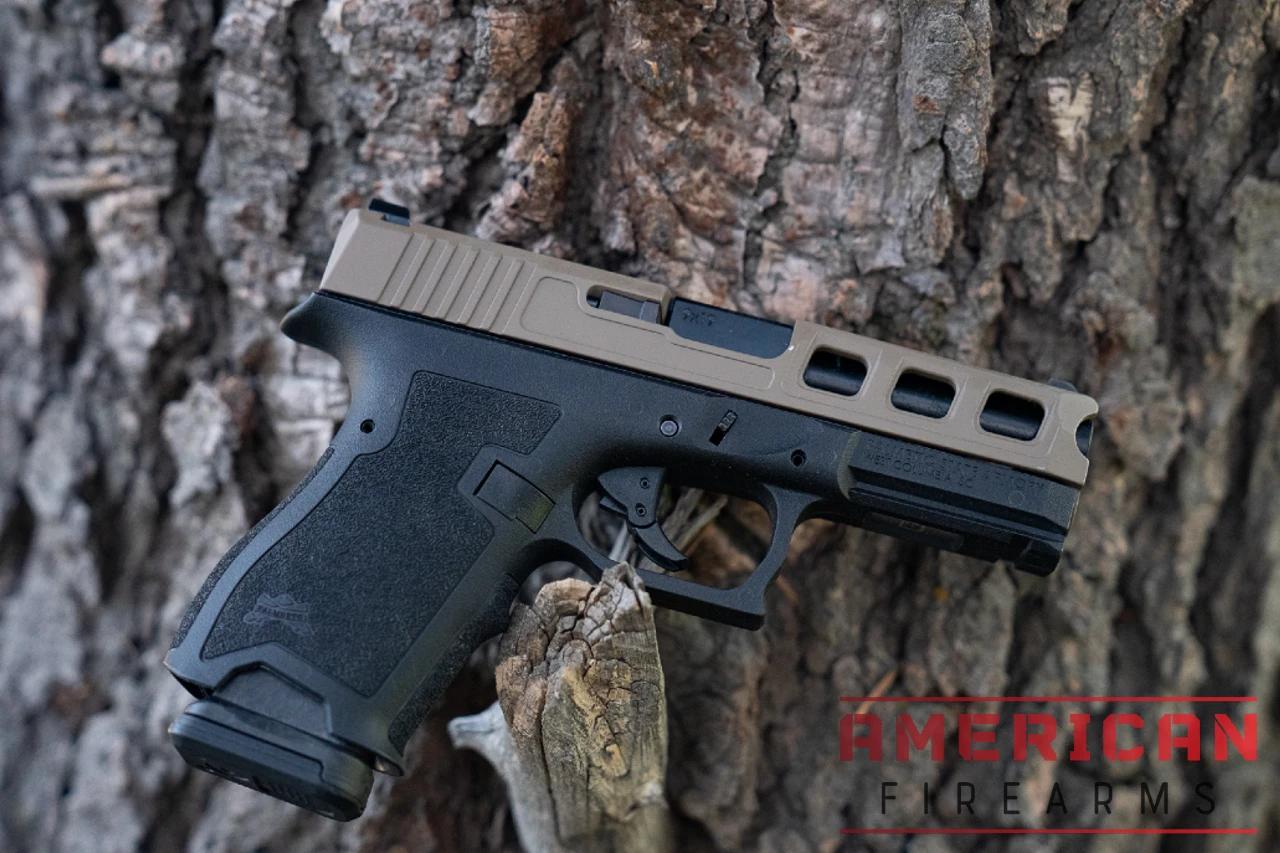 Manufacturing innovation has greatly advanced firearms technology and opened the door to an incredible array of new products for the shooting public. Palmetto State Armory (PSA) has long been known for offering economic firearms, and its freedom-over-profit business model has helped perhaps millions of Americans reach their second amendment goals.
Today we will be visiting one of PSA's newer products that promises to deliver quality and feature-rich performance at the kinds of affordable prices PSA is well known for; the Dagger 9mm pistol.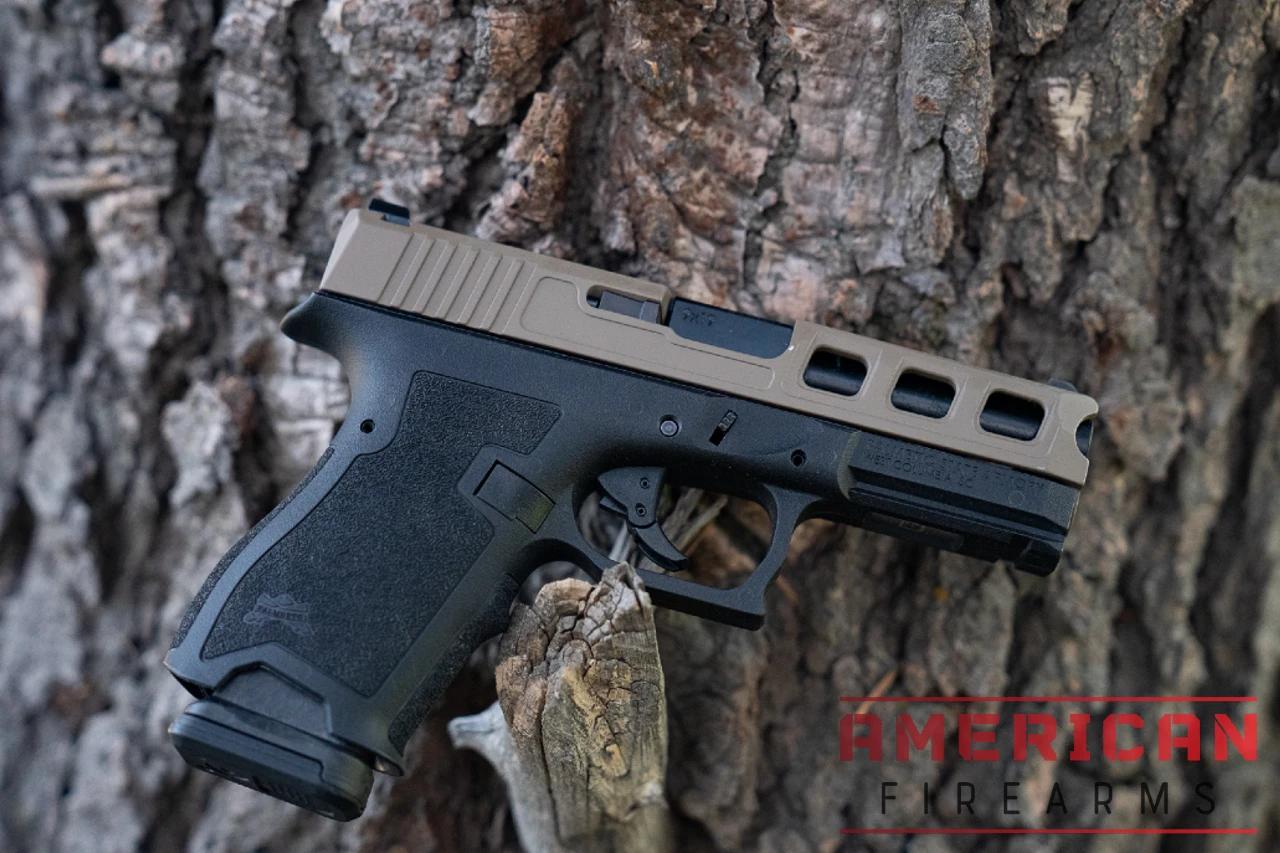 The Dagger looks like a G19's cousin.
The incredibly popular designs of Gaston Glock have been sold all over the world, and in more recent years (thanks to the time-limited nature of the patent system) Glock's designs have been emulated by perhaps too many companies to mention here.
Palmetto State Armory has joined the list of manufacturers who want to capitalize on our passion for polymer pistols, and the PSA Dagger pistol is the tip of the spear when it comes to their jab into the Glock clone market.
The PSA Dagger is a polymer-framed 9mm striker-fired pistol that shares many features and functions with the Glock Gen 3 model 19. The most obvious benefit of this shared pattern is the ability to tap into Glock-level reliability while unlocking the huge aftermarket support built around the platform. Perhaps just as important, is to capitalize on the successful design and admirable performance.
In addition, PSA's direct-to-consumer model means they can offer one massive advantage over Glock — price — but as you'll see that doesn't mean less value or reliability.
Today we intend to get deep into the Dagger's design to see how well the PSA pistol reflects the reputation of the incredibly popular pistol it's based on. I will do my best to get a good perspective and give readers the information they need to make a more informed decision on the Dagger.
While I claim no significant credentials as a pistol shooter, I have been a concealed carry enthusiast for several decades and a gun nut for even longer. Feel free to save your questions, and share them with us below.
| | |
| --- | --- |
| Caliber: | 9mm |
| Capacity: | 15 rounds |
| Front Sight: | Ameriglow serrated |
| Rear Sight: | Adjustable |
| Frame Material: | Polymer |
| Overall Length: | 7.15 inches |
| Barrel Length: | 3.9 inches |
| Height: | 4.78 inches |
| Width: | 1.28 inches |
| Weight: | 22.4 ounces |
| MSRP: | $299 |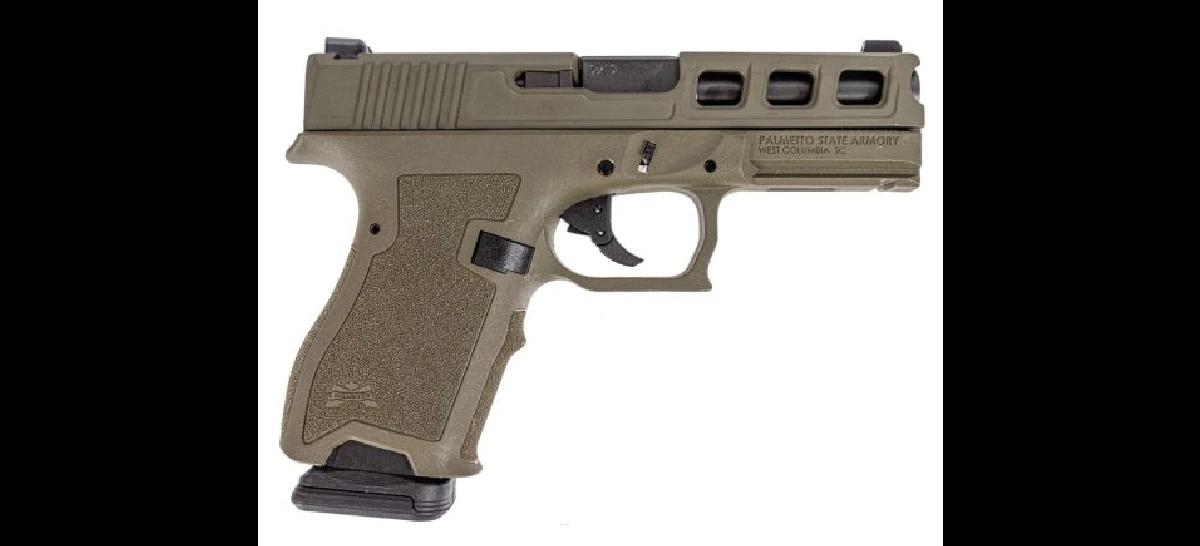 I'll be honest with you, I was never a big Glock fan. While their service record is without equal, I guess you could just say I had different tastes. That is rapidly changing now, leaving no doubt that the Dagger has had some effect.
Glocks are simple pistols, and decidedly utilitarian, which is part of their secret, but PSA has done a great job of extending the simplicity with some solid improvements to the ergonomics and base features of the Glock platform.
Frame & Grip
The Dagger is feature-packed, something that is a little easier to do when you're building on a proven design. The 22.5-ounce pistol uses a laser-engraved textured polymer frame, and I like that it's not overly aggressive. Interestingly, the texture covers a lot more of the grip than a Glock, extending up the frame almost to the slide, giving your palm and thumb more traction.
Of course, adding a more aggressive grip texture is something you can do on your own if you desire. 
The polymer frame houses a Magpul 15-round magazine as standard equipment. The simple design incorporates an accessory pic-rail to the front of the trigger guard, which will come in handy for installing a weapon-light, or your favorite light-casting accessory. 
Trigger
The trigger also is a bit different from a stock Glock trigger. Rather than using the Glock-style blade safety, the PSA Dagger uses a curling shoe similar to the hinged trigger you find on Smith & Wesson's M&P pistols, with a safety that uses a center pivot.
Glock triggers aren't known to be particularly noteworthy, and the Dagger's feels very in line with that approach. It's basic and functional but has about a city block of travel in it.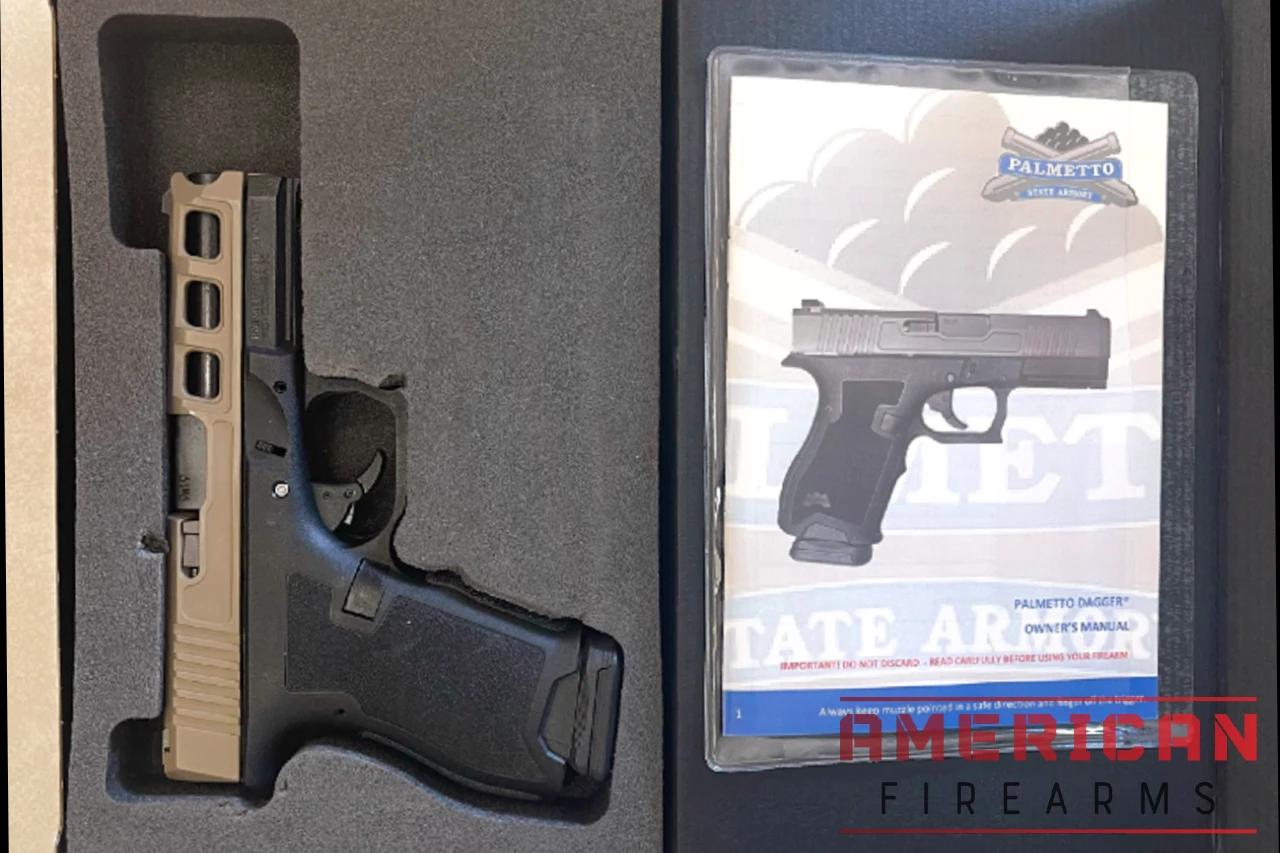 The Dagger's packaging is decidedly Spartan.
Barrel, Slide & Sights
Rather than the front slide serrations on other Dagger models, this Dagger's slide features PSA's Extreme Carry Cuts, or ECC, for a lighter package and better gripping of the slide when you need it.
The holes cut into the side of the slide allow better purchase without being so sharp or abrasive as to shave your furniture. The ECC cuts also really make the Dagger stand out from the standard "Block" look, which I appreciated.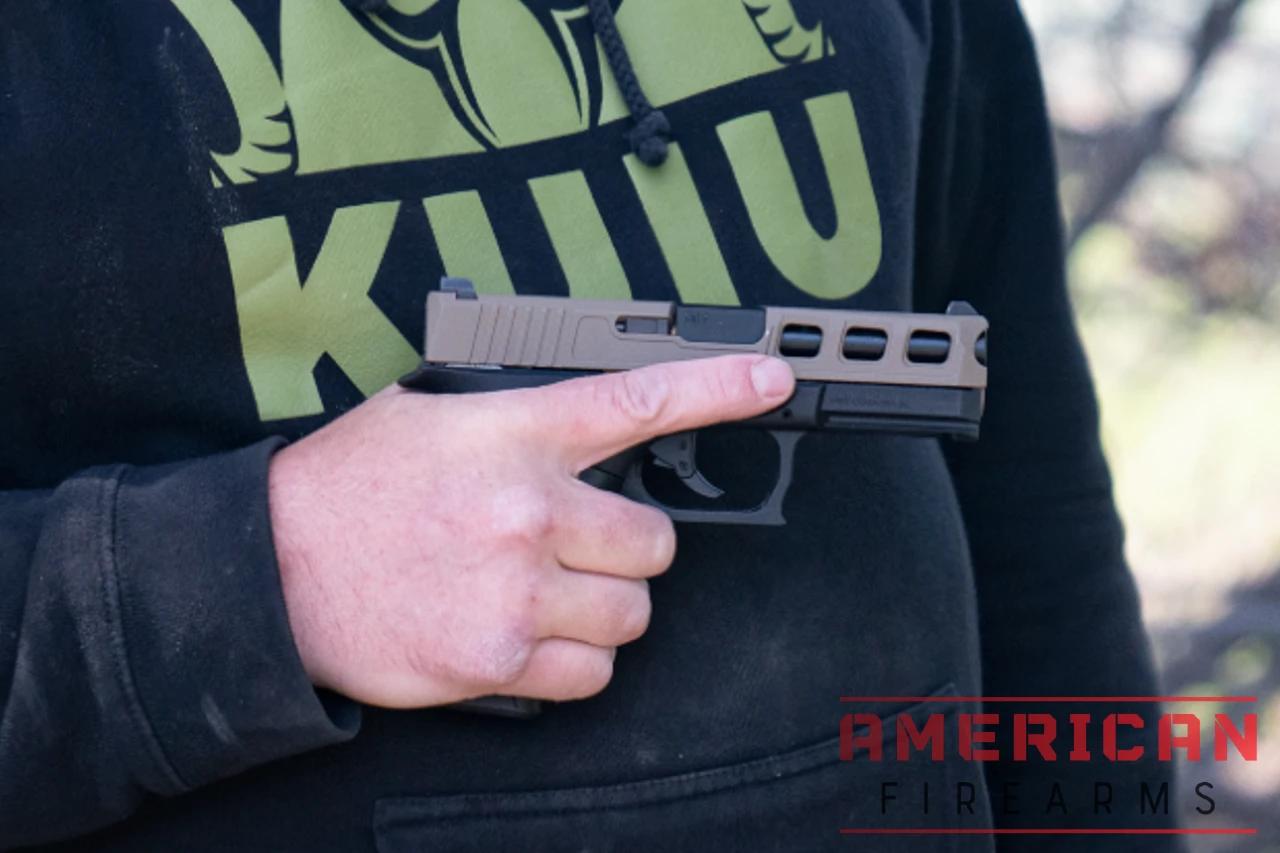 The Extreme Carry Cut, or ECC, version of the Dagger helps it feel less blocky than a traditional Glock clone.
Many of the Dagger slides are cut for optics as well, the model featured here uses conventional steel sights (specifically Ameriglow serrated sights), a nice upgrade over Glock factory polymer sights. I found them to be perfectly useful for most of my shooting, allowing for a quick and useful sight picture.
The rear sight sits in a dovetail and is windage adjustable. The Dagger is compatible with any of your preferred aftermarket Glock sights, so if you'd prefer night sights you're in luck.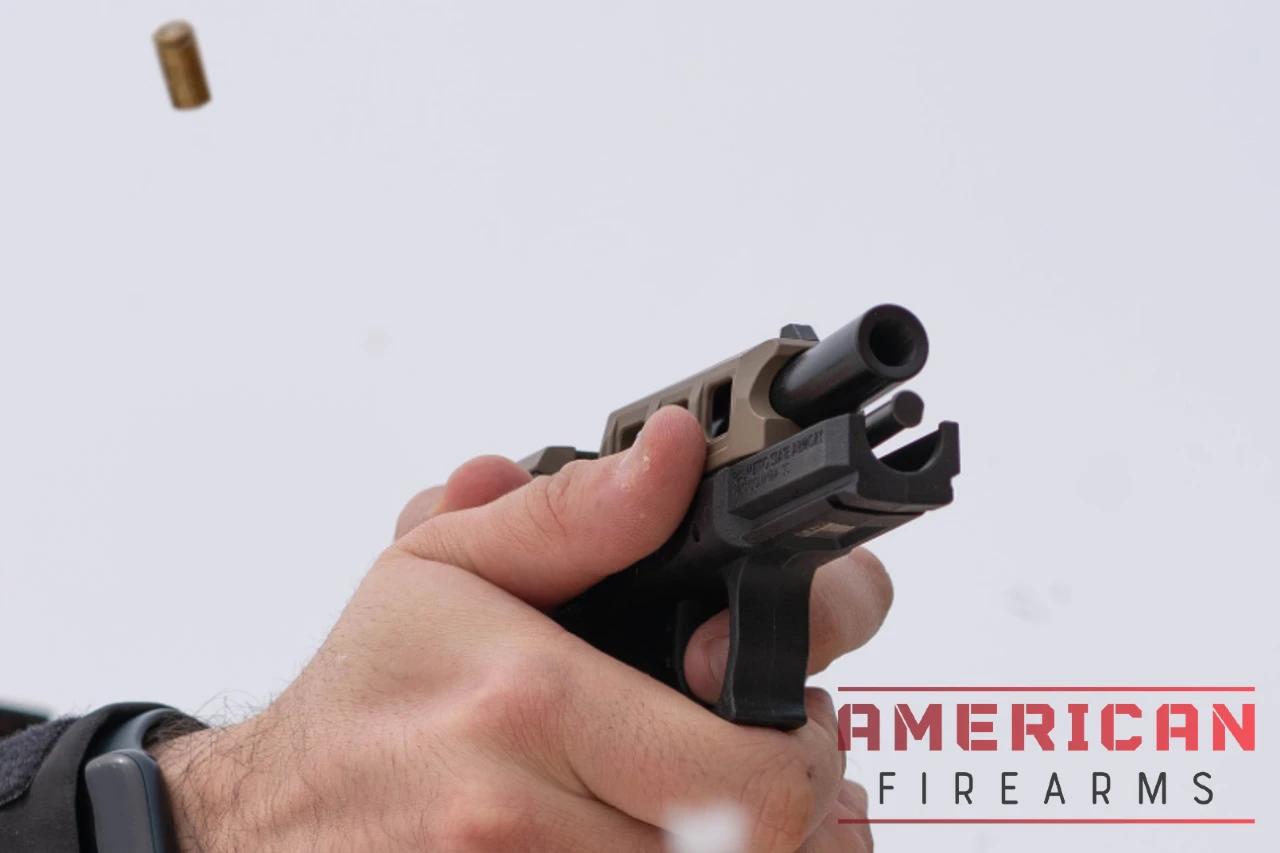 The 1/10 twist, the 3.9-inch barrel is crowned.
Barrel
The barrel and slide of the Dagger are both stainless steel, DLC coated. The 1/10 twist, the 3.9-inch barrel is crowned to help retain accuracy with extended use and 100% interchangeable with a factory Glock barrel or aftermarket Glock barrel options.
The barrel is visible through the front slide cuts, both from the side and Gator-cut front, which helps narrow the front of the slide.
The extractor sits in a groove on the right side of the breech, with a spring and plunger to keep it pushing forward. Inside the pistol, the operating rod and spring are captured under the barrel, but rather than Glock's factory polymer recoil spring guide rod, PSA opted for a stainless steel guide rod that adds a touch of weight up front and may help soften recoil impulse.
A flat-coiled spring is captured to the guide rod by a keeper snap-ring & groove. The Dagger pistol also uses a striker block safety in addition to the hinged trigger safety.
The spring tension was a bit surprising, it was a bit harder than expected to draw back the slide. When I say harder, I don't mean it was a challenge, just that it required more effort than I had anticipated. The Dagger slide lock release button is slightly larger than the Glock's and a touch more pronounced, making it easier to articulate.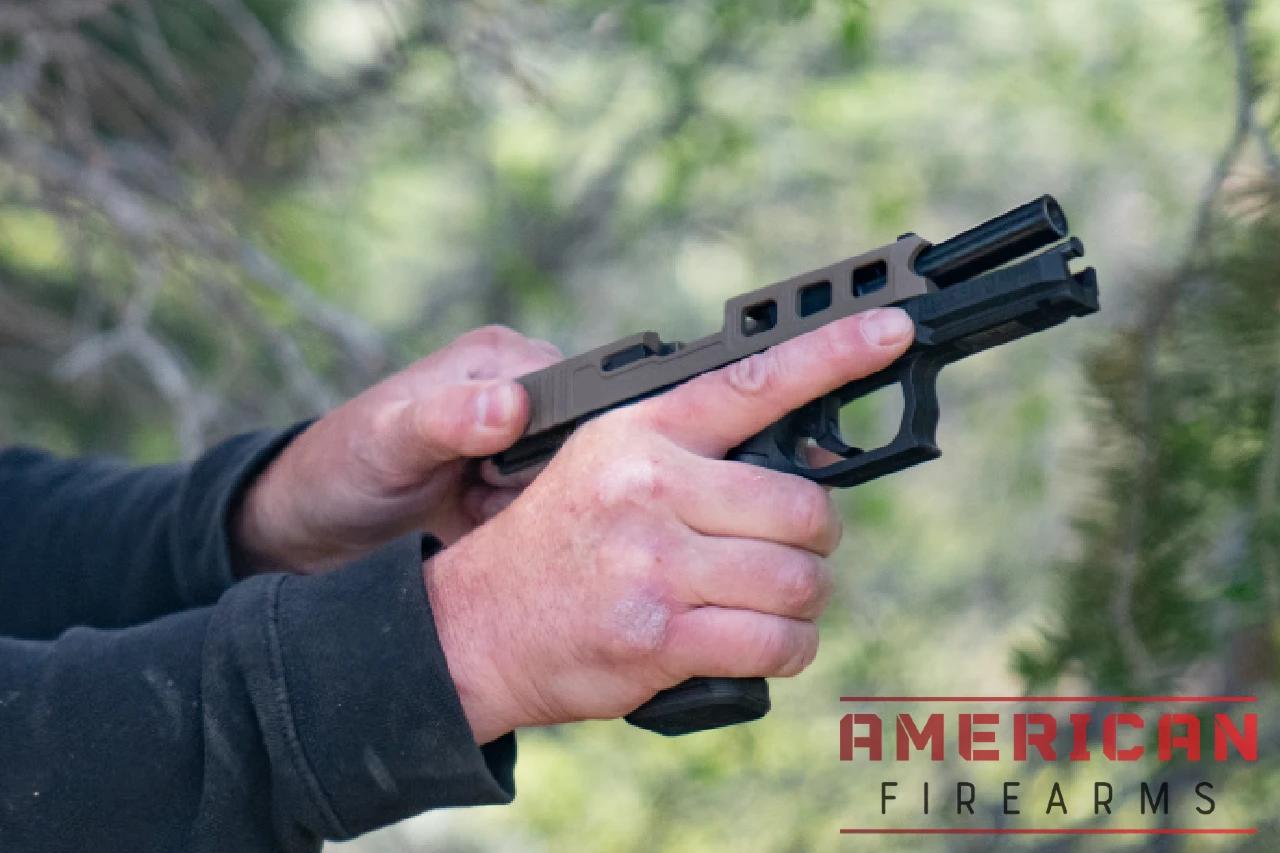 Racking the slide had more spring tension than I was expecting.
How compatible is the Dagger with G19 parts?
Believe it or not the Dagger shares about 95% interchangeability with the Gen 3 Glock 19. PSA added two roll pins to the frame that hold in the locking block and a metal slide rail sleeve inside the rear of the grip. The roll pins are unique to the Dagger design and not found on its Glock counterpart.
PSA also designed the slide rails differently — the front rails are integrated into the locking block, as compared to the Glock which embeds the slide rails into the frame itself. The rear rails are part of an insert that sits beneath the fire control group assembly rather than embedded into the rear of the polymer frame.
These changes make no functional difference — it's just a matter of how the slide rails are engineered into the gun. Basically, everything else is cross-compatible.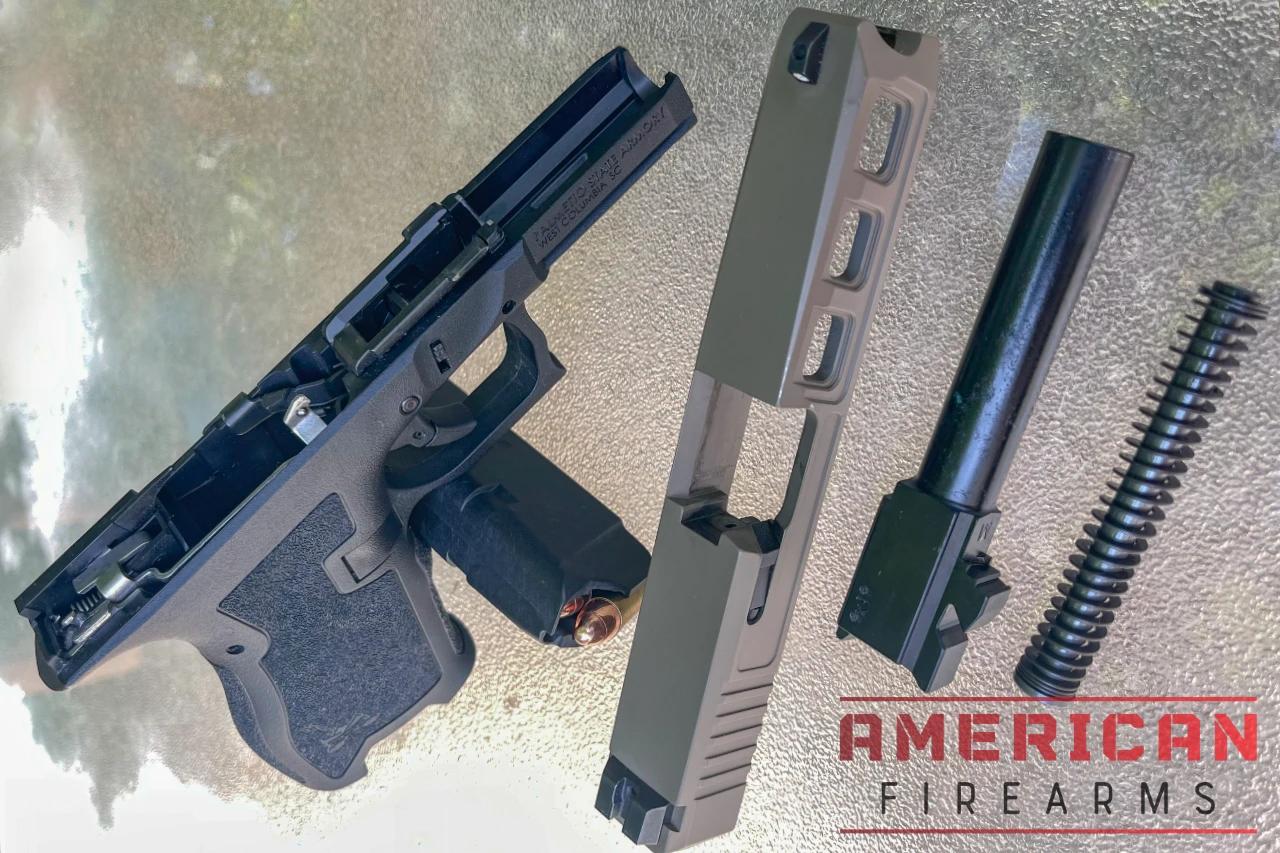 Aside from a few small internal components, the Dagger will run all the Glock aftermarket parts you could want.
Accuracy
From the very first time I lifted this pistol from the box, I noticed one of my favorite attributes: that every time I present the pistol, it's always lined up on the target. This is subjective, as it depends on an individual's draw, but for me, it seems perfect every time.
No doubt this would affect the way I could shoot the pistol, and the speed at which I could acquire targets. Other features of the pistol also helped it well, like the nicely balanced grip texture, that allowed good recoil control. PSA thinned the grip down from the standard G19 grip by tapering the backside, which translates into a more secure feel in hand.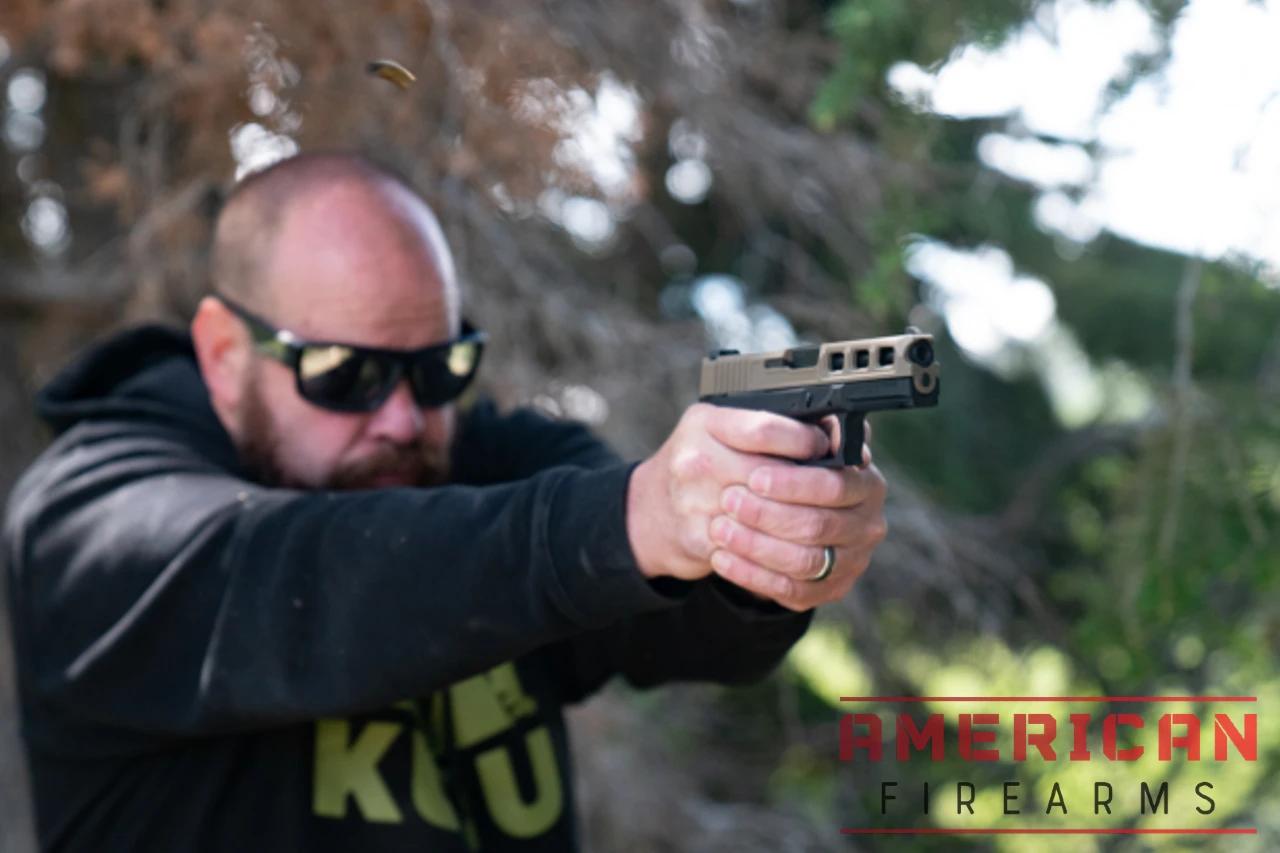 My favorite aspect of the Dagger is that very time I present the pistol, it's always lined up on the target.
The undercut trigger guard also helped seat the pistol deep into the hand to keep the bore axis in line with my arm.
The only thing I would have liked to change was the slide — specifically the lack of an optics cut. I've recently become a bit of a red dot on my pistol kinda-guy, and despite how much I like the Dagger as is, I feel I'd like it even more if it was cut for my favorite red dot.
That and perhaps the trigger, I prefer good triggers even though I may not shoot any better with them. The Dagger trigger is a bit long, but I still found it very suitable for the type of shooting I was doing. It's nothing to write home about — neither markedly smooth nor gritty — with a 5-5.5 lb break. It largely feels like a factory trigger on a $300 pistol, with a considerable amount of take-up and a wall that feels like it's sliding toward you until it breaks.
At the end of the day if it's to be used as a CCW it is probably better not to have a featherweight trigger. That said, PSA's Dagger is compatible with Glock 19 Gen 3 compatible triggers, so chances are you can find a lighter trigger that'll work for you.
Taking everything into account, the Dagger was great to handle and shoot. I had no issues hitting my targets, grouping shots at five to fifteen yards were more than adequate, even if the trigger was a bit like using dull scissors. The absence of a crisp break doesn't give you the clean action you're expecting.
Being that the Dagger compact is likely to be used as a concealed carry, I did quite a bit of shooting at those ranges. Shooting soda can-sized targets at fifteen yards was easily done with time and care, whereas under rapid or stressful timeframes it would take a shot or two to knock them over.
Ergonomics
As I mentioned already the Dagger points very well for me, I suspect this is not by chance. The gun's grip angle, single finger groove, and contours of the frame are very conducive to aiming the pistol well and controlling the recoil. It feels more natural in hand than a typical Gen 3 G19.
I appreciate the interchangeable backstraps offered by many other polymer-framed pistol manufacturers, and the Dagger could benefit from such a feature. But when considering the price point of the Dagger, it's not a big deal for me. The light palm swell feature on the back fits my hand well but obviously, some would benefit from additional fit options when it comes to the grip shape.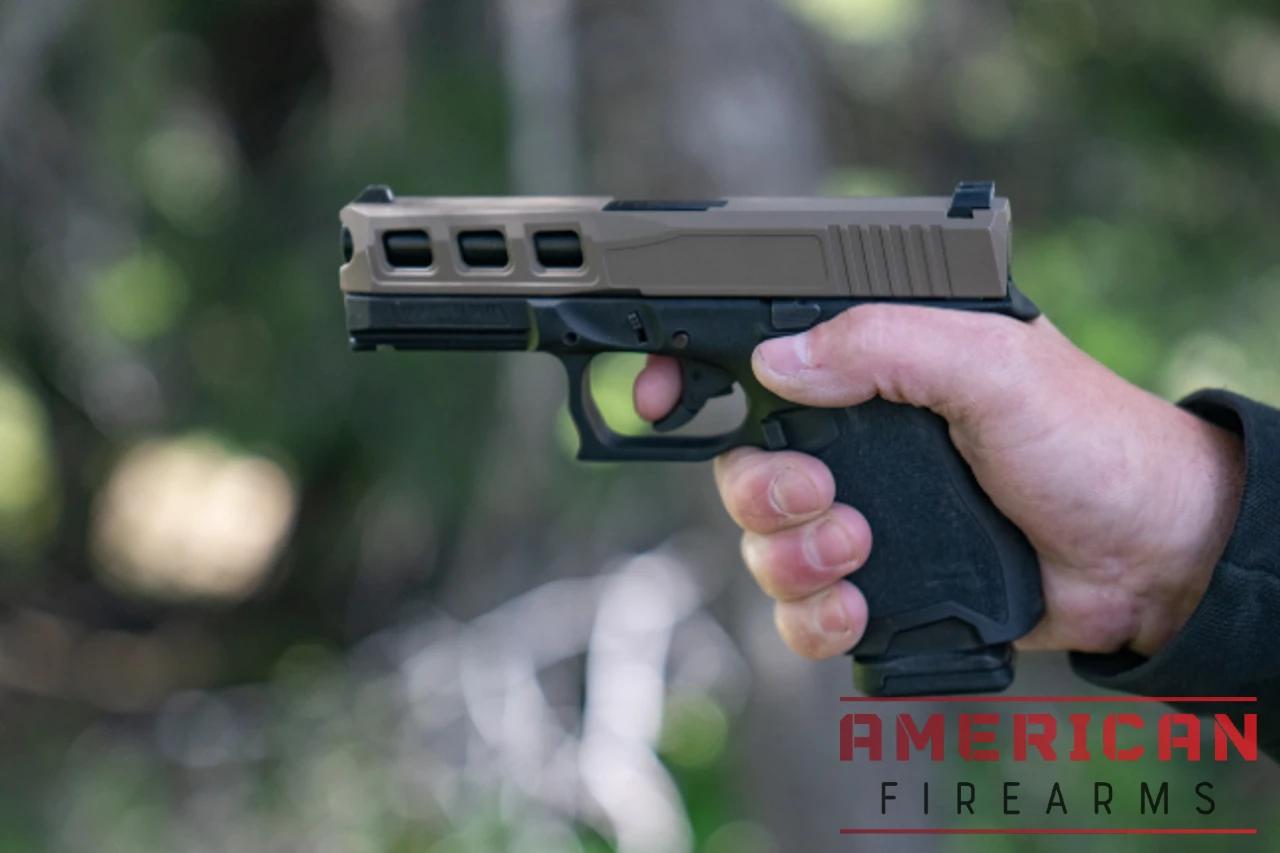 While the Dagger fit my hand well, if PSA added interchangeable backstraps that would help ensure a solid fit for more people.
The undercut trigger guard is helpful, as are the other trigger guard cuts, allowing for various grip techniques. The grip also has cutouts on either side to help gain purchase on the mag in the event of a malfunction or stuck mag, which I liked, but it also wouldn't have hurt my feelings at all had there been a smidge more flaring of the magwell. I know this is more of a competition gun feature than a CCW, but there seemed to be a little room for some added flaring without adding to the grip area.
There is also a nice horn on the back of the grip, which sticks out much further than a Glock beavertail and allows you to ride your hand as high as possible without ever worrying about slide bite.
Controls are non-ambidextrous — like a Glock, there's no manual safety and the mag release is non-reversible so far as I can tell, which is only a problem for a certain portion of the population.
The nondescript magazine release almost looks like it came out of a box of Legos. It juts out from the grip with a very pronounced, square block, and when initially handling the pistol I was afraid it would catch on my palm or grip hand. It has a slight cutout that helps with actuation but feels a bit like a stiff keyboard key — you really have to jam the little bugger to get consistent actuation. I would have liked a little more texture to the magazine button itself. The positioning is great, but added texture and a shorter press would have made it easier to find and actuate.
Factory Glock slides are where the pistol gets the nickname "Block" — they're very straightforward, and a lot of guys will apply slide cuts or ports to the slide after getting it home. The PSA Dagger brings the party from the factory with aggressive slide cuts, leaving several large openings into the slide interior.
The interior of the slide, however, is exactly the same as a Gen3 G19 slide, so they interchange with either frame. Both the frame and slide are available separately from PSA.
This may or may not be a big deal to you, depending on the holster you choose to pair with it. The large holes provide excellent purchase for the charging hand, and they do it by engaging large portions of the finger pads. I like this versus the sharp texturing of some slides which can be abrasive against skin and gear. The slide is also beveled, which helped with holstering, and the takedown lever cutout has been expanded, so it's a touch easier to get ahold of the takedown levers when maintenance comes a calling.
Holster fit was acceptable, although I tried it with the new Alien Gear Photon holster, which is designed to accommodate heavily accessorized pistols — think lights, MRDs, threaded barrels — and the fit was a touch too tight for me. Glock clones may or may not fit Glock holsters, so make sure you try a few.
Features
Using the Magpul 15-round magazines as original equipment is handy, in my limited experience they have proven to be perfectly serviceable. The Dagger includes just a single stick, which given the price point is understandable — plus they're likely banking on the idea that we all have a Glock magazine (or ten) on hand anyway.
PSA also allows the Dagger to be purchased as part of a kit with ten magazines and a soft carry case if you desire. Of course, any Glock mags you have on hand will run just fine wth the Dagger.
The incredible diversity of Dagger models seems to give every consumer an option. Whether its colors, optic cut slides, iron sight configurations, standard or threaded barrels, there is certainly a Dagger model that will fit your purpose. I would have enjoyed shooting suppressed with a threaded barrel version, just as I would have liked to try one of the optics-ready slides to install my favorite red dot.
Like many other modern firearms, the Dagger offers an incredible selection of interchangeable options. The market standard has been raised, as even these very economically priced pistols offer some fantastic features. We did knock a few points off due to the fact the Dagger is only available in 9mm — but for some that's a non-issue.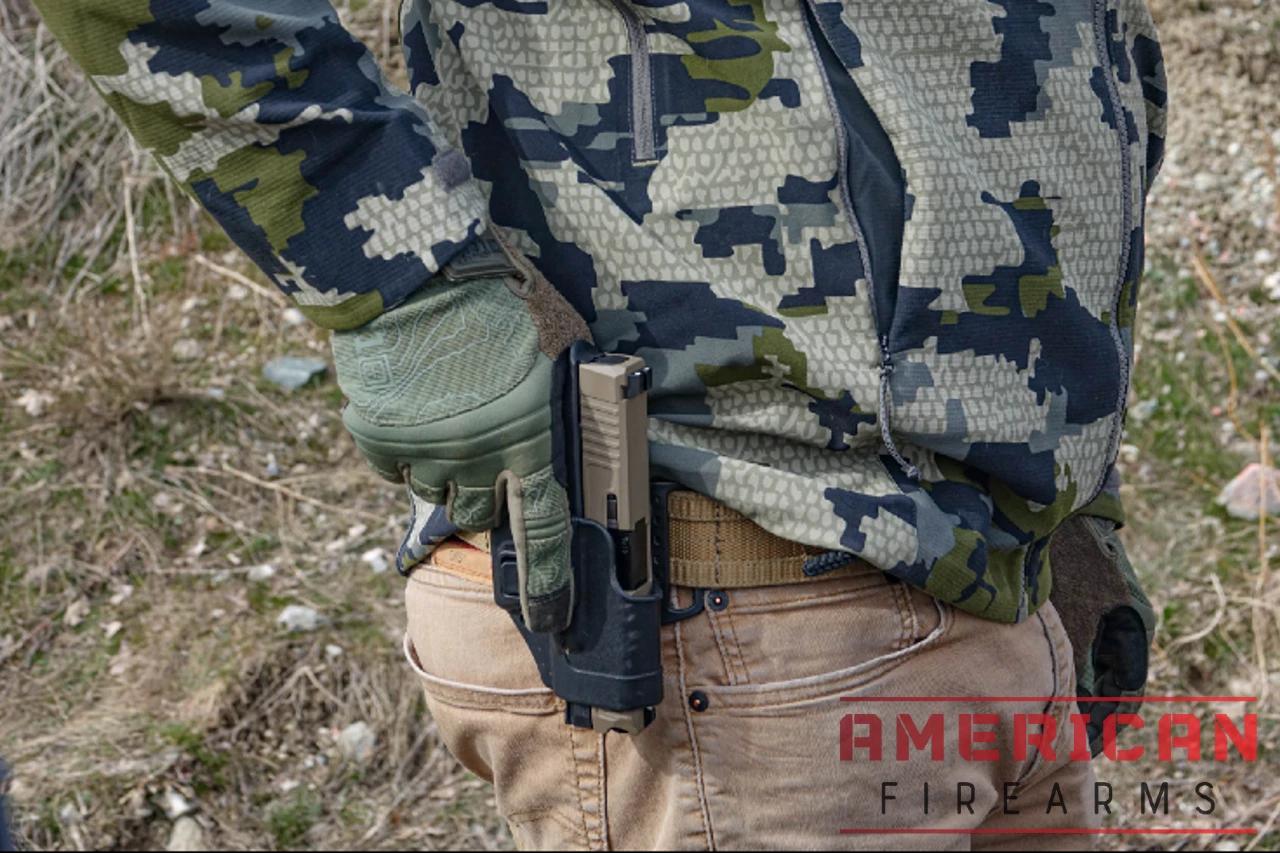 The Dagger was right at home in my OWB G19 holster.
Fit and Finish
With economic pricing as one of PSA's major selling points, quality craftsmanship can easily become a concern. I was honestly surprised at the price of the Dagger pistols, and I'll admit I was a bit skeptical as to what kind of quality one could expect at that price point. 
Having spent a few months shooting the Dagger, however, I feel pretty confident that the pistol design and production have been well executed. The molded polymer frame seems to be as good as most other polymer-framed pistols, as it's based on the Gen 3 Glock frame. I did find something very interesting when disassembling the Dagger, the steel rails that support the slide are part of a sub-assembly that is pinned into the frame. 
This means that almost the entirety of the pistol's guts can be removed from the frame. It also means they can be changed, and there seems to be some potential for a homemade option similar to what Polymer 80 made.
The DLC coatings and Cerakote all looked great and had the kind of soft luster you'd expect, giving the fit and finish of the Dagger a great feel.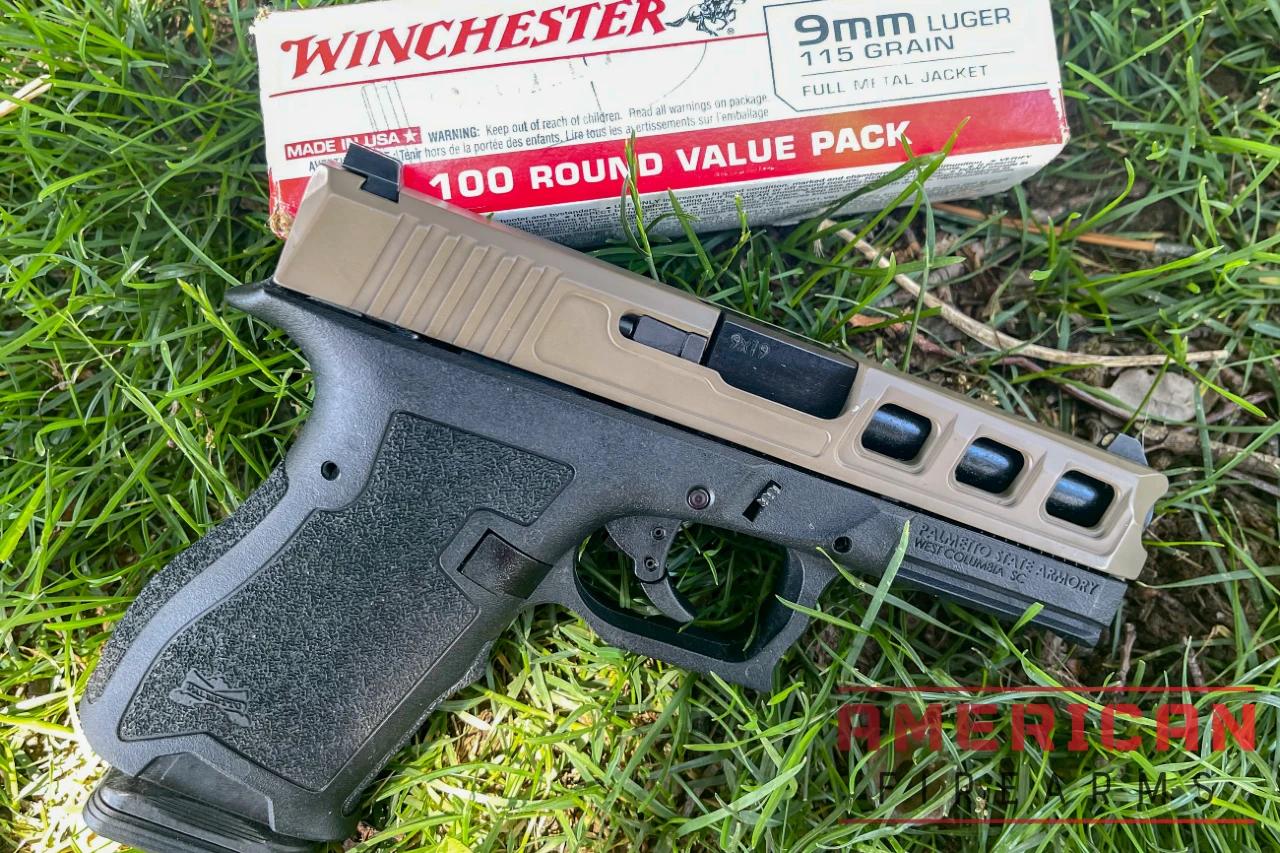 I tested with white box 115 gr Win that clocks in at 1190 FPS
Reliability
I experienced no failures during the testing of the Dagger, using white box 115 gr Win that clocks in at 1190 FPS at 7 and 10 yards. Again I think that the price point of the pistol does present some concern to the tier-one types. Some demand better than perfection for their weekend trips to the indoor shooting range to punch paper.
I would like to give this pistol a hard workout, shooting something like a defensive pistol course or a bunch of mixed ammo to see if anything gave it fits. I'd also like to run a couple of thousand rounds of ammo through the gun to see how it holds up. But unfortunately, I have yet to win the lottery, and ammo is expensive.
That said, for average gun owner use, I think the Dagger will work fine. I would reserve the right to recommend it for duty purposes until after such a test.
Value
The price of the Dagger makes it extremely accessible to those who might have a lower budget. I applaud PSA's freedom over profit motto, I think it is a great value in itself. Couple this low entry price with the fact parts compatibility between the Dagger and Gen 3 Glock 19 is about 95%, and you can take the $200 saved and upgrade away.
The Dagger brings great features and quality at an excellent price, I think if you are looking at inexpensive pistols, you'd be foolish to not at least look at the Dagger series of pistols.
A comparably priced pistol that comes in a little higher in price but offers many of the same benefits. We have a deep-dive review on both the Canik TP9SFx and the newer SFx Rival if you want more on the Canik line.
The Glock 19
The Glock 19 is also a good alternative, though it will cost you more. Read through our hands-on review for more on the G19.
Accuracy: 8/10
PSA's Dagger points naturally for me and shoots well, especially for a budget pistol. The only real drawbacks are the so-so trigger and lack of optics cut on the model I tested.
Ergonomics: 8/10
The Dagger has a natural grip that aids aiming and recoil control, and while it could be improved with interchangeable backstraps it compensates with features like an undercut trigger guard and magwell cutouts.
Fit and Finish: 7/10
Despite its shocker of a price point, the Dagger is a surprisingly well-executed product. That said, it has its iffy moments (like the trigger and mag release.)
Features: 8/10
There's a huge amount of versatility in the Dagger platform, with diverse models, optic cut slides, and barrel options.
Reliability: 9/10
The Dagger performed flawlessly in my tests, though its low price may raise eyebrows with high-demand users. We'll need to do more extensive testing with different ammo types to fully recommend it for duty purposes.
Value: 9/10
The Dagger definitely checks the "affordability" box, but it never feels budget. The mix of quality and upgradability is pretty hard to beat.
The Good:
Very affordable
Compatible with a host of aftermarket Glock parts and accessories
Available in various configurations
Comfortable grip
Nice presentation
The Bad:
Relatively new, unproven take on the Glock platform
Lackluster, mushy trigger
Single mag and no case included
Stripped down features
Having shot with the PSA Dagger for a couple of months now, I think I've been able to get a good perspective on what most people would consider a classically budget pistol. I carried the Dagger for a good portion of that time, to better get a feel for its features and functions. I spent a great deal of time drawing the pistol, and seeing how well it presented with my draw. And how things like the sights lining up and how the trigger felt breaking from the draw.
That plus the time spent at the range greatly helped me understand what the Dagger is all about. While I feel like a great deal more testing is required before I'd put a stamp of approval for a life-and-death situation, I do feel it's off to a very good start.
Cloning an already popular design gets you ahead in many ways. The Dagger certainly enjoys some of those things, such as aftermarket support and compatibility. But by breaking off on your own you will also have to prove your durability, and that is something we look forward to seeing with the Dagger.
Yes, some aspects of the Dagger are paired back — there's no case (it literally ships in a cardboard box) and a single mag, but as it stands I think the Dagger is an excellent value for those who are in the market for a good 9mm pistol. It will fit right into your collection without much fuss, and accept most of your accessories too. I look forward to seeing how this line improves, and increased diversity in offerings.
Is the PSA dagger any good?
Is the PSA dagger as good as Glock?
What is the twist rate of a PSA dagger?
What is a PSA Dagger compatible with?