Canik TP9SFX Review [Hands-On]
Written By
Michael Crites
Licensed Concealed Carry Holder
Reviewed by
Editorial Team
Learn About The Editorial Team
Share:
Products are selected by our editors. We may earn a commission on purchases from a link. How we select gear.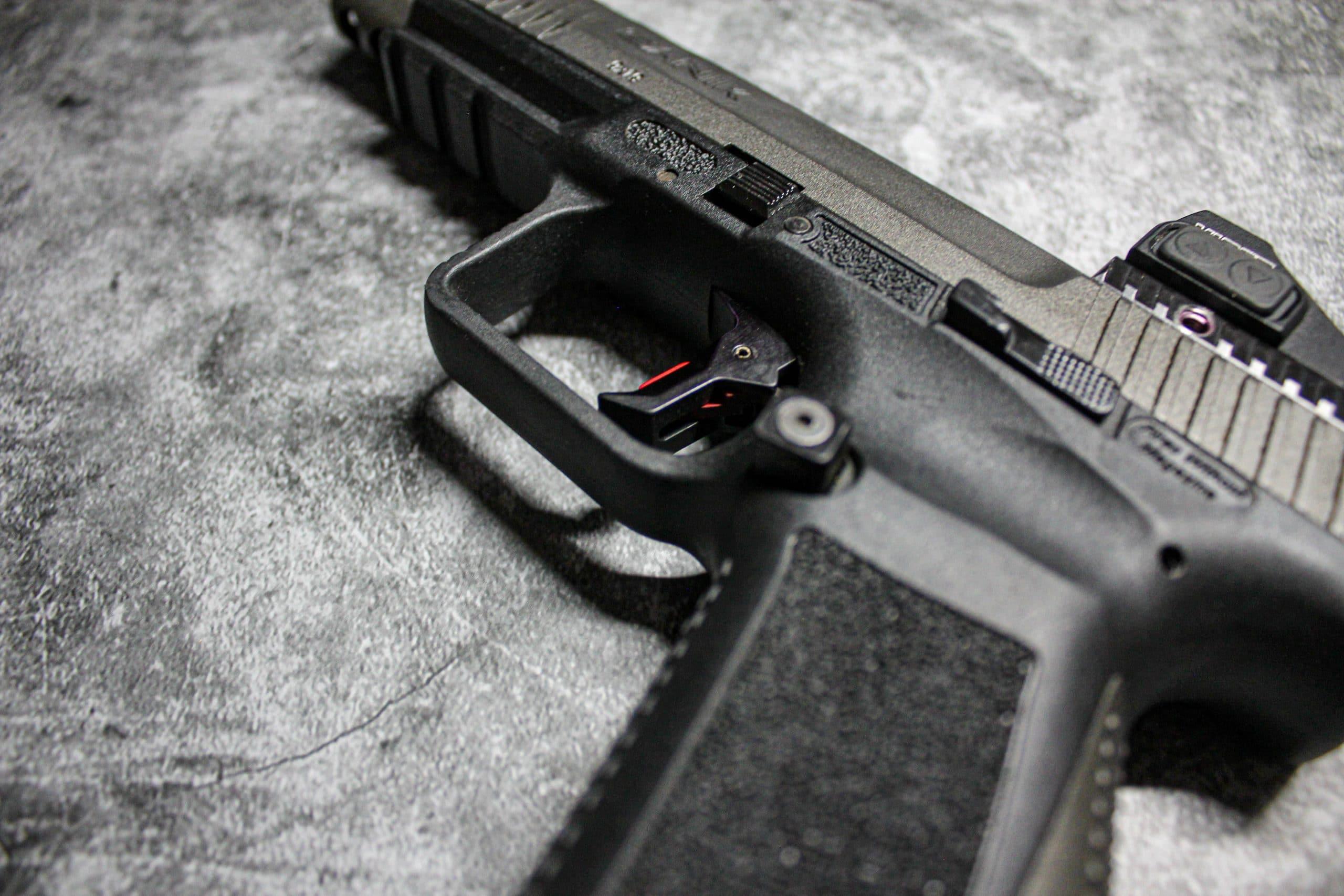 Canik calls the TP9SFX "The Choice of Champions." And with all the features packed into its price point, it's hard to argue with that sentiment. If you're entering the competitive shooting world, this gun is ready to take home the gold right out of the box.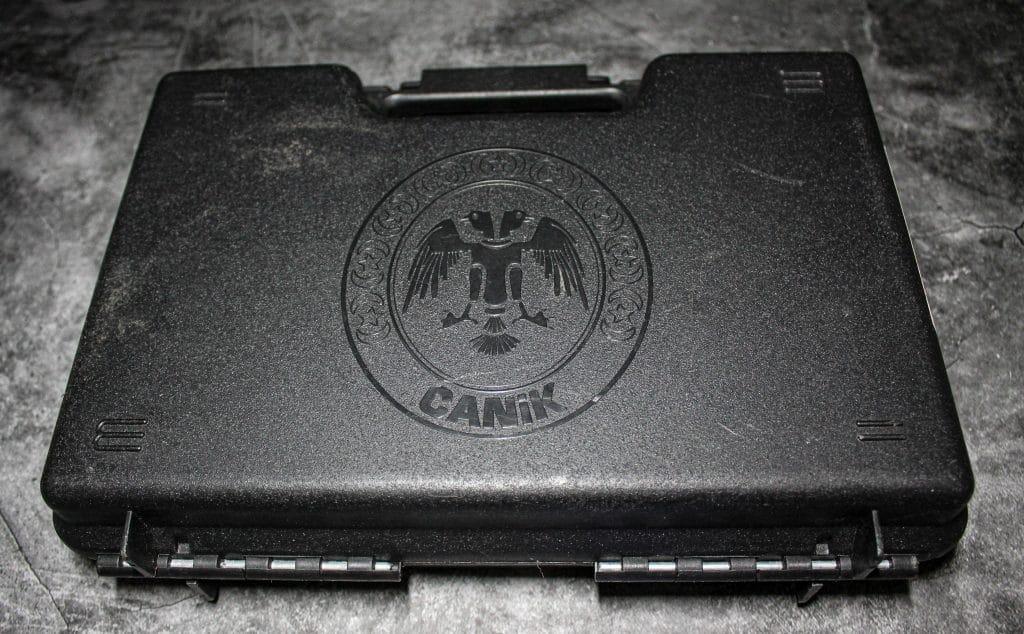 The box has seen better days, but it keeps the important bits safe.
Canik's history originates in the aerospace defense industry before ever entering the firearms market. Its first firearm, the Canik TP9, was born out of a necessity for a reliable handgun for Turkish Law Enforcement, and in 2012 Canik partnered with Century Arms, who introduced their pistols to the American market.
From that point on, Canik rose to the top of the competition with other major polymer pistol manufacturers.
At a Glance: Canik TP9SFX 9mm Pistol
The TP9SFX pistol comes with Warren Tactical sights but is also optics ready with multiple adapter plates for whichever red dot you choose. This gun is completely ambidextrous, featuring an ambidextrous charging handle and customizable magazine catch button.
When you purchase a Canik TP9SFX pistol, it comes with a cleaning kit, a retention holster, two magazines, a speed loader, interchangeable backstrap options, four mounting plates, and additional sizes of magazine release buttons.
The interior of the Canik's case has a place for everything and keeps the myriad attachments organized.
What is the Canik TP9SFX & why is it popular?
The Canik TP9SFX is a relative newcomer to the polymer pistol market, and in that time, it has started to make a serious splash. These guns, first and foremost, are high quality and offer great balance.
Over my experience with them, most people report them as well-made, quality finished, and reliably functioning firearms that do their intended jobs well.
Similarly, the Canik TP9SFX is growing into a flexible platform over time, with potential buyers able to get a model that works well for them, whether they carry on duty, concealed, or need a new competition gun. Depending on what you want and need in terms of features and your purpose, Canik almost certainly has a model that will work for you.
One of the best parts about the TP9 in the era of insane gun and ammo prices is that Canik has continued to offer this series of handguns at an affordable price. This is typical of Turkish gun manufacturers, with a long track record of making excellent quality firearms at lower prices than American manufacturers. We especially like that most of the models come with some extra magazines, often a holster, a Warren Tactical rear sight, and sometimes some impressive optics right out of the box.
The Canik TP9SFX is popular among competition shooters because it's a versatile, full-size 9mm Luger pistol loaded with features that come stock on the gun — most importantly for a price other companies cannot compete.
Whether you've shot a competition or not, you'll quickly learn that stock guns are rarely used (except maybe by a beginner). A true competition pistol or race gun requires upgrades like a competition trigger, a fiber optic front sight or red dot sights, extended magazine release and slide release, slide serrations, match grade barrel, and even different grips to be truly competitive.
Capacity for days
A competition pistol's capacity is usually higher than a concealed carry gun or many stock polymer guns due to the gun's goal — ensure you can get through the course with the fewest reloads possible.
The first feature that makes the Canik TP9SFX so competitive is the single-action trigger pull with a short reset. When shooting any kind of competition, this specific trigger can shave valuable time off the clock when shooting doubles or an array of steel.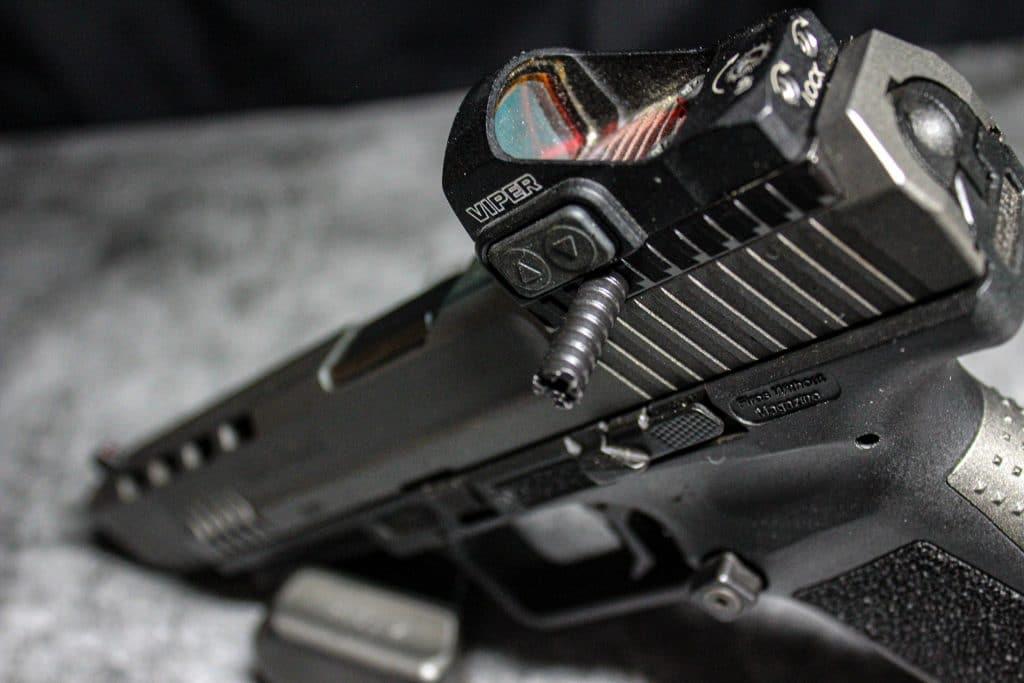 The included mounting plate means you can strap on your favorite optics without tapping, drilling, or altering the weapon in any way.
Sights for Everyone
A few different optics options are available on the various TP9 models at different price points. The Mod 2 comes with a simple, but very usable, notch rear sight installed and front dot iron sights made for close-range shooting, with the SC model offering something very similar.
As you might imagine, the Elite models get more precision sights with a serrated rear to aid in manipulation. At the highest end of the range, some of the Elite Combat models come with a Vortex Viper Red Dot from the factory, which makes them ready to go for the range or competitions right out of the box.
The front sight is the most essential visual on any pistol, as that is what you'll focus on when shooting. The Canik TP9 models include standard dovetail sight cuts for adjustability and both a red and green fiber optic front sight to ensure you can choose the best color for your visual preference. I run a red fiber optic when not using red dot sights, but I see plenty of greens and other aftermarket sights at the range. With the TP9, you'll have that option right out of the box.
Most pistol manufacturers design slides to accommodate a mounting plate for optics, and Canik followed suit, allowing the Canik TP9SFX to be converted from one division to another by adding a slide insert to mount red dots or other optic.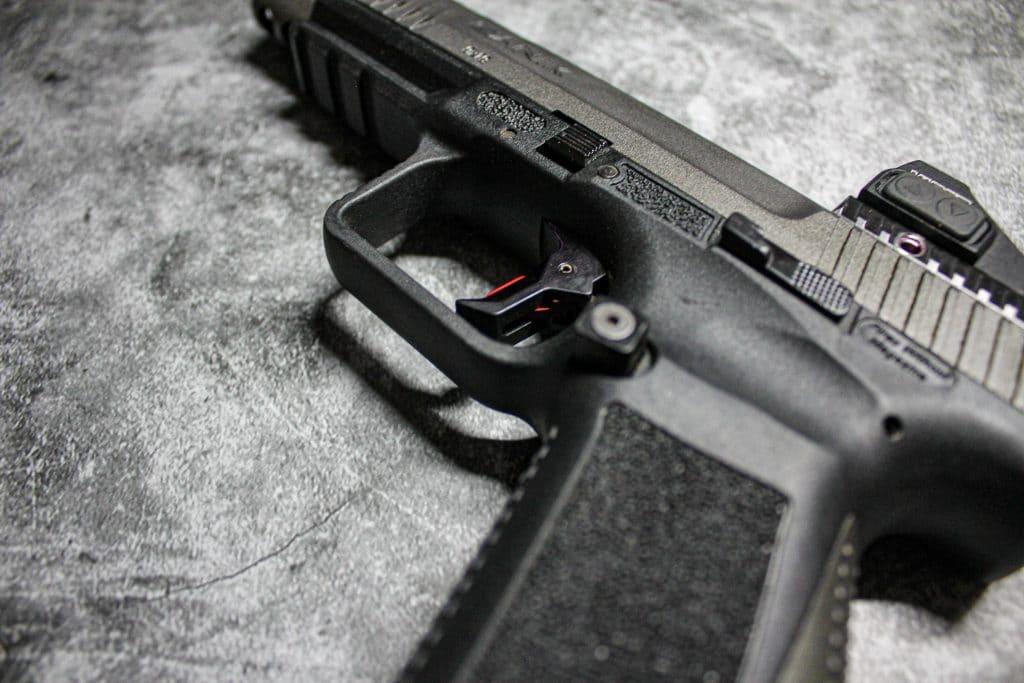 The flat-faced trigger is another value add.
Traction & Control
The attention to detail Canik puts into their pistols is also what makes them unique. The slide serrations not only reduce slide weight but also give the shooter traction when manipulating the slide. The accessory under-barrel rail allows a weapon-mounted light or laser to be attached as well.
Competition shooters need to reload quickly and find their controls easily. To that end, Canik incorporated magazine release button options allowing shooters to dial in the pistol's controls to suit their grip and thumb strength.
When an empty pistol goes into slide lock, instead of racking the slide, competitive shooters will use their support thumb to engage the slide release as they regrip the pistol after a reload. Canik intentionally built an extended slide release just for this purpose, and every competitive shooter I know praises this kind of thinking.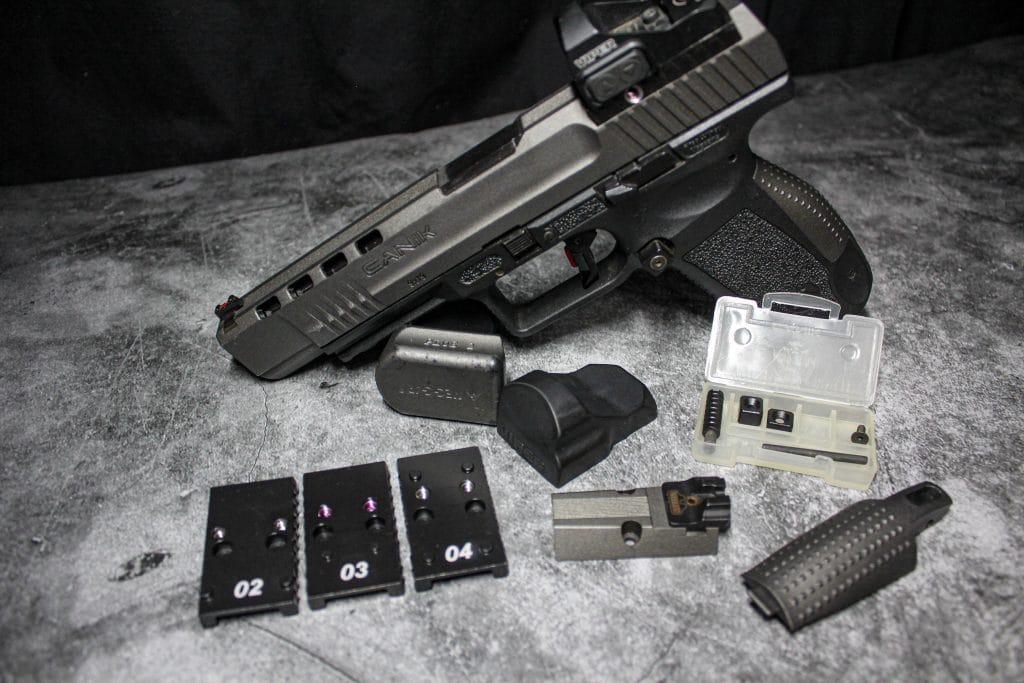 You don't just get one mounting plate -- you get 3. Along with mag extensions and alternate backstraps.
Capacity & Proven Performance
The Canik TP9SFX also wins the capacity race — with 20 rounds in the magazine plus one in the chamber, it dwarfs many polymer pistols like Glock's, HK's, and M & M&P's of the world.
Nils Jonasson, a competitive shooter sponsored by Canik Arms, has won over 20 world and national championship events, and many of those using a polymer Canik pistol. Nils has gone head-to-head against competitors with guns costing triple and sometimes up to six times more than his Canik, and he still trounces them.
His dominance isn't limited to a single discipline either. He's taken home wins in USPSA (United States Practical Shooting Association) and USSL (United Shooting Sports Leagues) Multigun Championships. This capability to perform speaks volumes to the Canik pistol's reliability in all types of conditions and the versatility across multiple competition styles.
Trigger Quality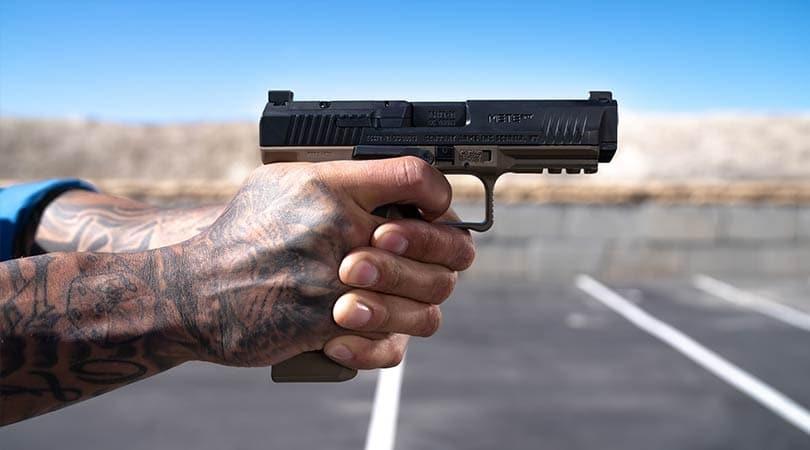 Canik
One of the main draws of the TP9 model is the striker-fired trigger. Compared to other polymer, striker-fired pistols, the TP9s tend to have reasonably standard triggers for this market segment. Their standard guns include a curved trigger that works adequately for self-defense and duty firearms.
The Elite line of pistols sees some major trigger upgrades, included lighter, flat triggers that compare favorably to more expensive firearms. This is what makes the Elite series something well worth considering if you're in the market for a competition-style pistol in the sub-$500 market.
The TP9s also vary by type of trigger action. Most of them are single-action only, meaning that once there's a round in the chamber, every trigger pull is consistent, and you are relying on the trigger safety to prevent negligent discharges. As we mentioned before, the DA model has a double-action/ single-action trigger. This means that once you load the pistol, you can de-cock it, which makes the first trigger pull longer and heavier before the trigger re-sets after the first round is fired. The second and subsequent trigger pulls will be shorter and lighter than the initial double-action trigger pull as the slide cocks the hammer for you.
A Variety of Barrel Lengths
TP9 Elite Combat
TP9s also have a variety of barrel lengths, which will influence the use and purpose of the gun. Most models have a barrel length of just north of 4", making them just about right for open carry, concealed carry on larger people, or for use as a competition gun.
The SC model has a shorter barrel, making it easier to conceal and use for personal protection, though slightly less accurate. It's worth mentioning that some of the Elite models come with threaded barrels, making them viable suppressor hosts.
TP9SFX, TP9 Elite SC, or TP9SF Elite?
The 17+1 capacity may require a magazine loader to save your thumb from wear and tear.
Canik offers a variety of pistol models to fit the specific needs of their customers. The TP9 Elite SC is a similar platform to the SFX but smaller and built for compact or subcompact concealed carry.
The TP9SF Elite goes back to the Canik design's roots for law enforcement with a barrel length of 4.19 inches. It features a shorter and smaller grip and a lower capacity of 15+1 and works just as well in concealed carry or as a service sidearm for LEO's.
There's a rear indicator to alert you to the fact the striker is cocked.
If you're a left-handed shooter, the TP9SFX is one of the few competition pistols on the market with ambidextrous controls already included.
Most often, left-handed shooters would have to go to a gunsmith for custom work or learn unique ways of manipulating controls quickly on a stock pistol.
Canik ultimately engineered their product to be functional for all shooters without changing the gun.
A novel solution for racking the slide quickly
One of the most challenging maneuvers to perform quickly is pulling the slide back on a pistol. For many women and people with lower grip strength, this is an issue that can make or break a gun decision. We've seen Smith and Wesson design carry pistols with an EZ slide, but with added safety mechanisms in place.
The Canik TP9SFX came up with an out-of-the-box idea to solve this problem. In addition to the lightening cuts on the slide, the slide itself includes two holes on both the left and right to attach the cocking lever included with the pistol.
By adding the lever, a person can get more torque to pull the slide back with ease. Similarly, the interchangeable backstraps were designed to provide hands of all sizes with a comfortable grip.
And then there's the price point…
We can't conclude this piece without talking about the price point of the TP9SFX. The cost of entry to competition shooting can be outrageous; from the firearm to all the accessory upgrades to the gear needed to participate in the competition.
As mentioned earlier, aftermarket accessories are a necessity for a pistol to be competitive against others.
These upgrades can cost anywhere from $300 to $800 after getting a slide milled for red dots, adding serrations, adding a new front sight, installing a better trigger, and especially if ambidextrous controls are needed.
A new shooter just learning the ropes, going out to try different competition styles to gauge what they prefer may not want to (or be able to) invest over a thousand dollars just to walk through the door.
The Canik TP9SFX has an MSRP price of just $549.99 (without an optic) which is comparable to Glock's, HK's, M&P's, but with features not included with those pistols.
The retention holster that Canik includes in the box is also a cost-saving feature allowing you to try it at a competition before investing in a (more more expensive) custom holster.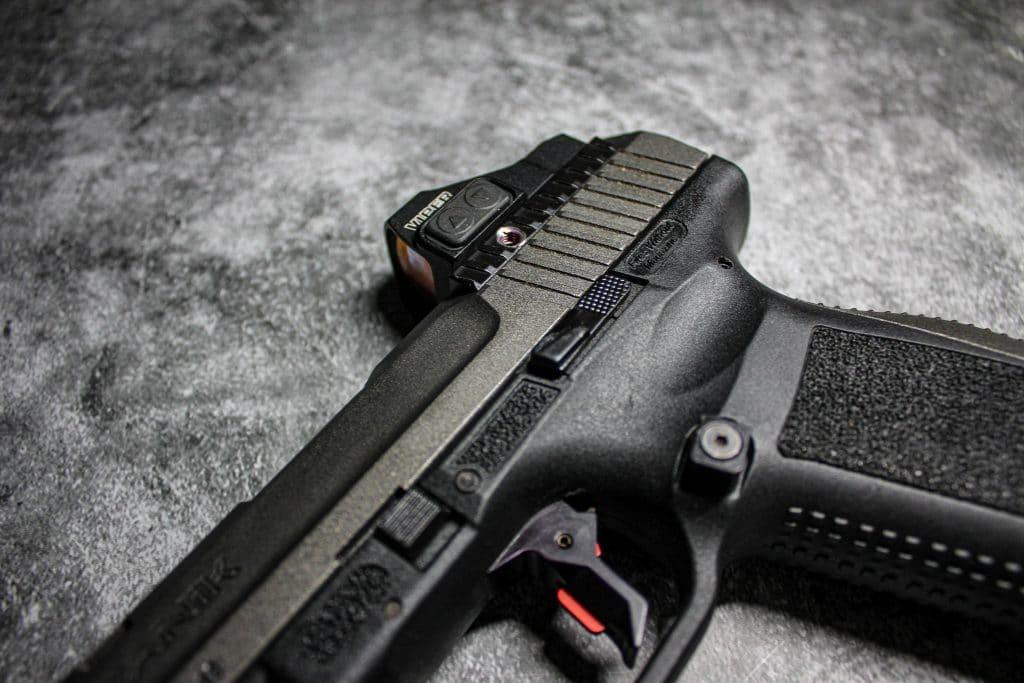 The serrated slide gives you additional traction for speedy reloads.
TP9SA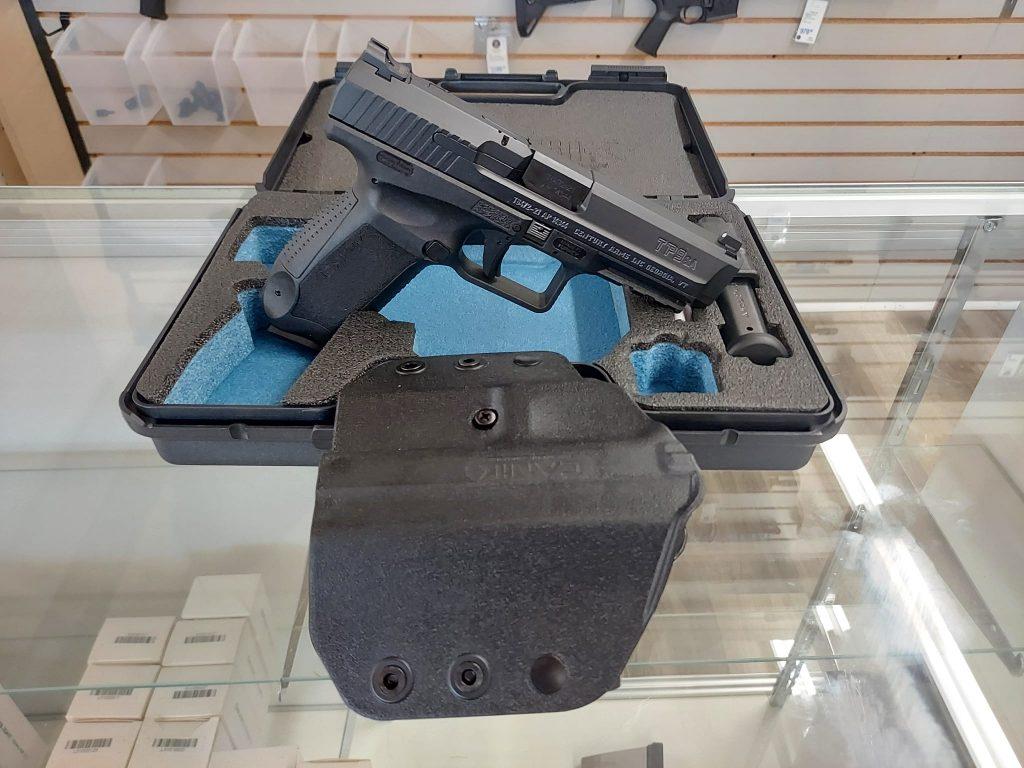 The SA is the backbone of the series, and it comes with everything you need -- even a holster!
The TP9SA Mod 2 is the current backbone of this line of 9mm, striker-fired pistols. It comes standard with a 4.46" barrel, either black or FDE, and has standard 18 round magazines, two of which come with the gun.
The Mod 2 is the base model of the TP9 series, but it is an excellent full-size pistol. The triggers on these tend to be crisp, and it comes with the ability to attach lights to the lower rail, quality front and rear sights installed and optics-compatible dovetails on the top of the slide. Overall, this is a solid start.
TP9DA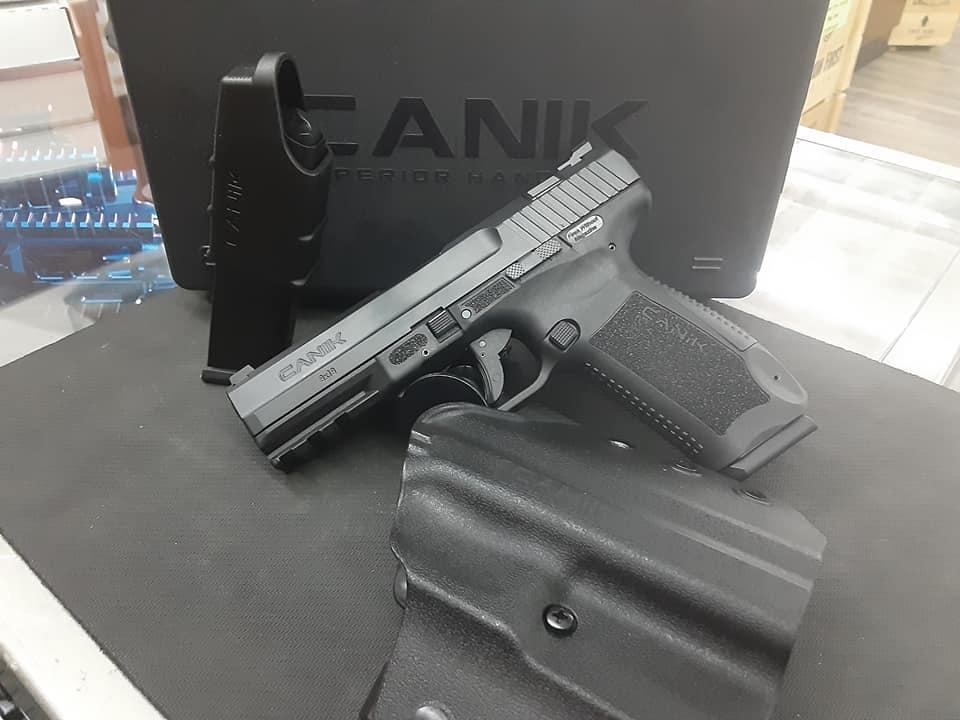 Canik TP9DA​
There's an interesting variant of the TP9, the YP9DA, which looks virtually identical to the Mod 2, but comes with a double-action/single-action trigger and de-cocker. While this may seem an odd choice, we can see this being popular with people who carried either a Beretta m9 or a Sig P226 in the past.
The ability to load a round in the chamber then de-cock the firearm means, in effect, that the longer trigger pull of a double-action acts as one of the safeties of the firearm, making it a good choice for concealed carry.
TP9SC
Canik TP9SC​
Speaking of concealed carry, the TP9SC is their model meant explicitly as a carry gun. Starting with the same operating system and trigger as the others in the series, the SC model has a 3.6" barrel for a shorter overall length but has lower capacity magazines — either 12 or 15 rounds. These influence both capacity and hand fit/feel, so it's great to have options.
We very much like this model because it comes with a poly holster right from the factory, meaning that with a single purchase, you can be ready to carry concealed. Additionally, you can adjust the fit with two included back-straps.
TP9SFX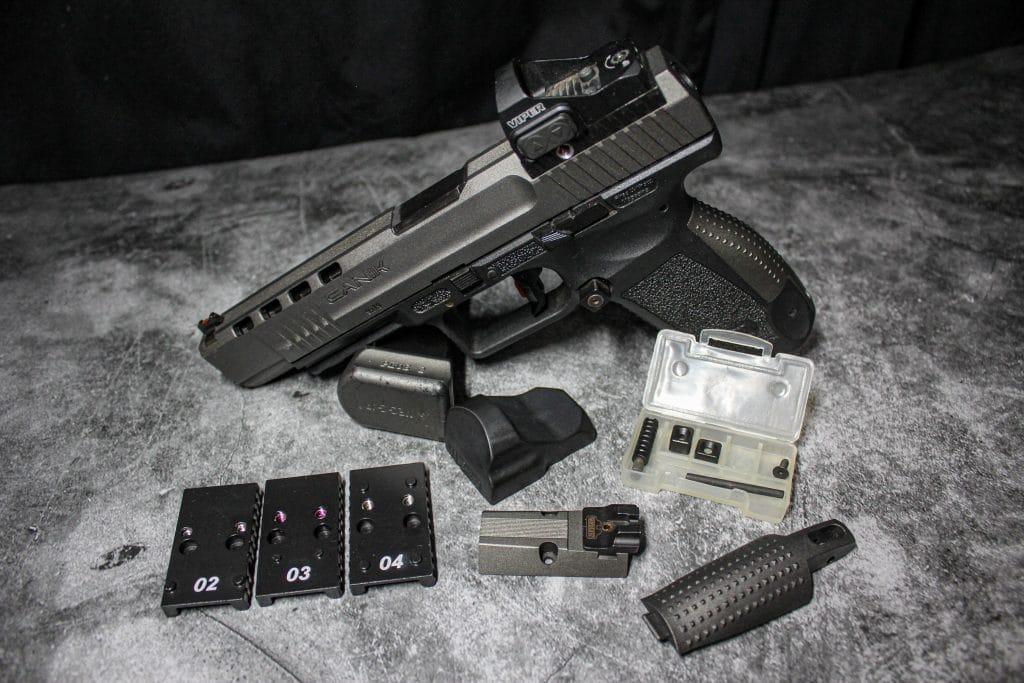 Canik Pistols TP9SFX
For all of these models and their SFX model, which is a longer-barreled competition gun, Canik offers an Elite version as well. These Elite versions generally come with additional features like a threaded barrel, extended magazines, and a slightly upgraded trigger.
Though these extra features come with additional costs, the ability to purchase an excellent combat, competition, or carry gun that is ready to go from the factory presents a remarkable value proposition. Those don't want to turn at-home gunsmithing into a hobby.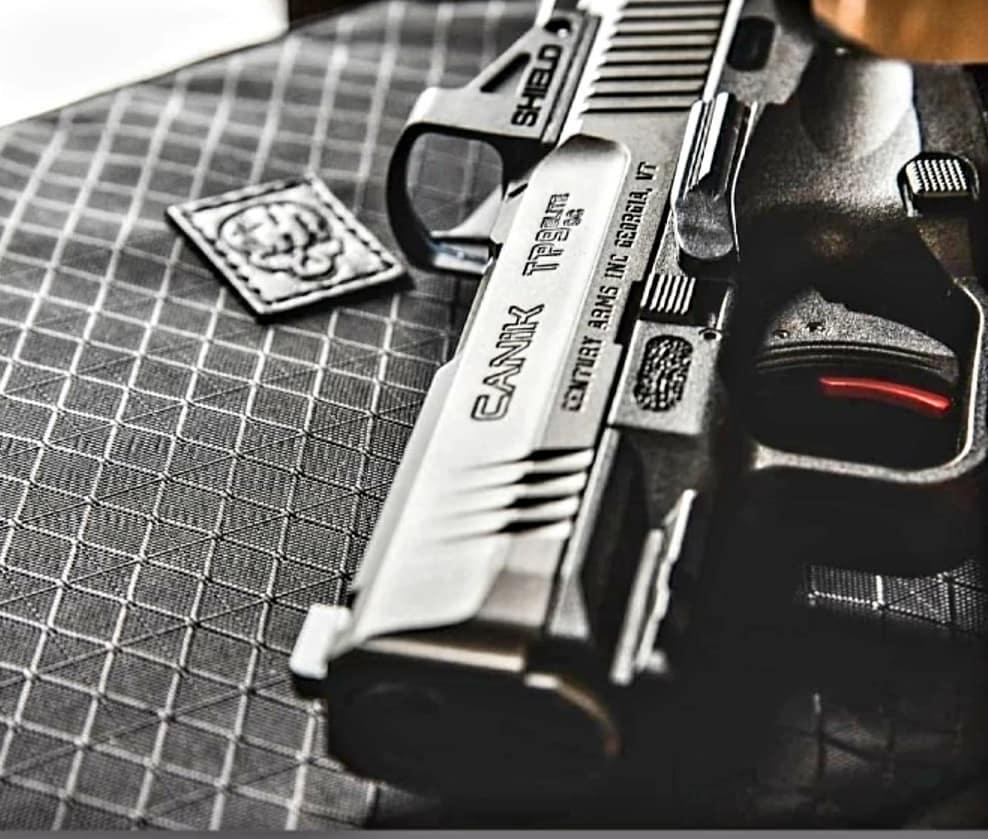 TP9 Elite SC
Under $500. For under $500, you can get the TP9 Mod2 or possibly a well-cared for version of a higher-end model at your local gun store. It is an admittedly bare-bones model, but it is a reliable, well-made, and highly functional 9mm, full-size handgun that comes with two magazines. This makes it a good value for money and an option more than worth considering for people getting into the pistol market for the first time or more experienced folks who simply want a good gun for a great price.
$500-$750. For just over $500, you can get your hands on some of the more upgraded models, such as the SC. The SC is an interesting choice, and we would more than consider it if we were in the market for a reliable, 9mm concealed carry handgun, well worth the money and ready to go right from the factory.
$750-$1,000. At just under $1000, the most upgraded models of the TP9, the Elite and Combat Elite models present an excellent value in competition guns. This is especially true of the models that come with Vortex optics right out of the box: these are worth considering if you want to get into competition shooting without breaking the bank. Overall, the TP9 series is relatively affordable and gives you a quality firearm for the money.
Canik designed the TP9SFX as an easy choice for the ultimate competition-ready pistol. Without making any changes or upgrades, you'll have a customizable pistol that you can be sure won't hold you back.