SIG Sauer P320 M17 Review: Hands-On with The Civvy M17
Uncle Sam picked Sig's M17, and you can get your own civilian version with the P320-M17, but is it worth the squeeze?
Written By
Annette Doerr
NRA-certified pistol instructor
Edited By
Michael Crites
Licensed Concealed Carry Holder
Share:
Products are selected by our editors. We may earn a commission on purchases from a link. How we select gear.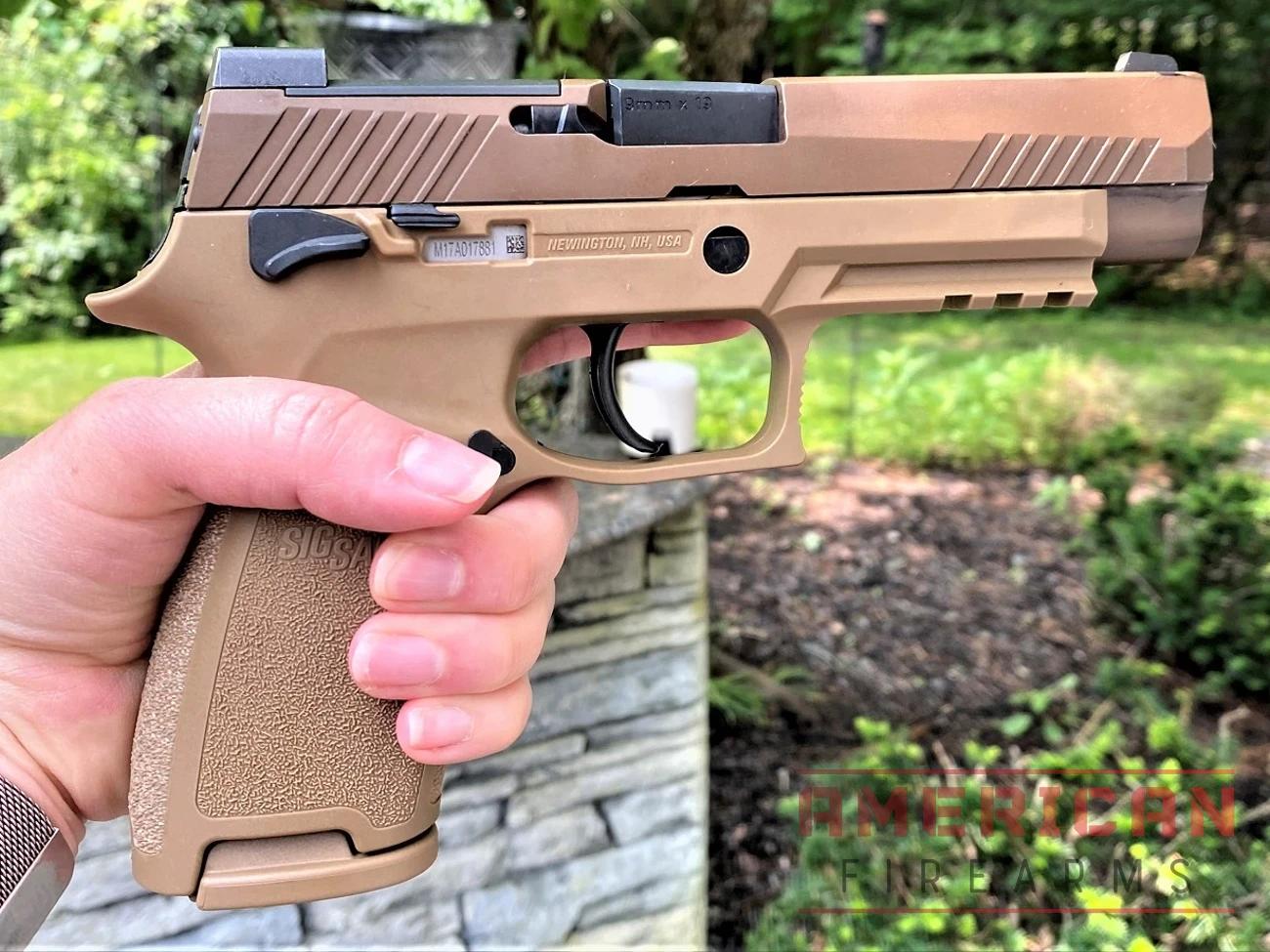 If it's good enough for the US Military and multiple law enforcement agencies across the country and worldwide, it should be good enough for you, right? That's what I figured when I got the opportunity to pick up a surplus SIG Sauer P320 M17 from the West Point Military Academy's competition pistol team. The SIG P320 M17 is the civilian version of the military and law enforcement P320.
Although the P320 M17 is not exactly new to the market as it's been available for a few years now, it's worth a look if you're in the market for a modern pistol in full-size.
The Sig Sauer P320 M17 is the civilian version of the current issued service weapon adopted by the U.S. military in 2019. The M17 / M18 replaced the Beretta M9, which was the military-issued service pistol for the U.S. Army since 1985, and the M1911A1 before that.
Modular and dependable, the P320 M17 has been in production since 2018.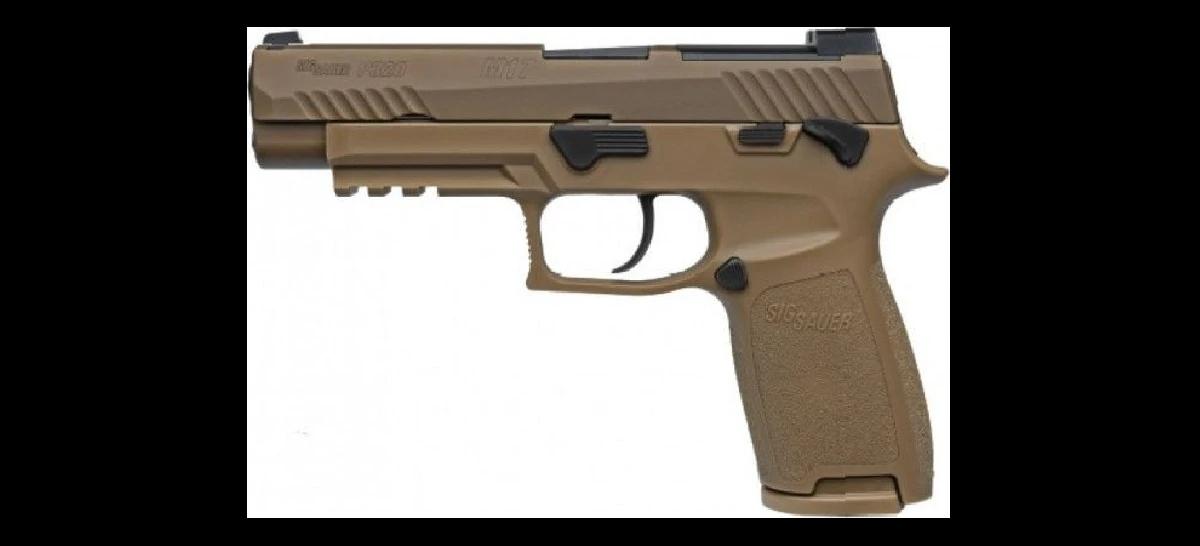 $849.99
| | |
| --- | --- |
| Caliber: | 9mm |
| Weight: | 29.6 ounces |
| Overall Length: | 8 inches |
| Height: | 5.5 inches |
| Barrel: | 4.7 inches |
| Magazine: | (2) 17 round |
| Frame Material: | Polymer |
| Action:. Dual Action Only (DAO) | Semi-Auto |
| MSRP: | $749 |
The M17 took first place at the 2017 Army Modular Handgun System (MHS) competition sealing the deal as the new service weapon for the Army, and giving SIG Sauer the military contract.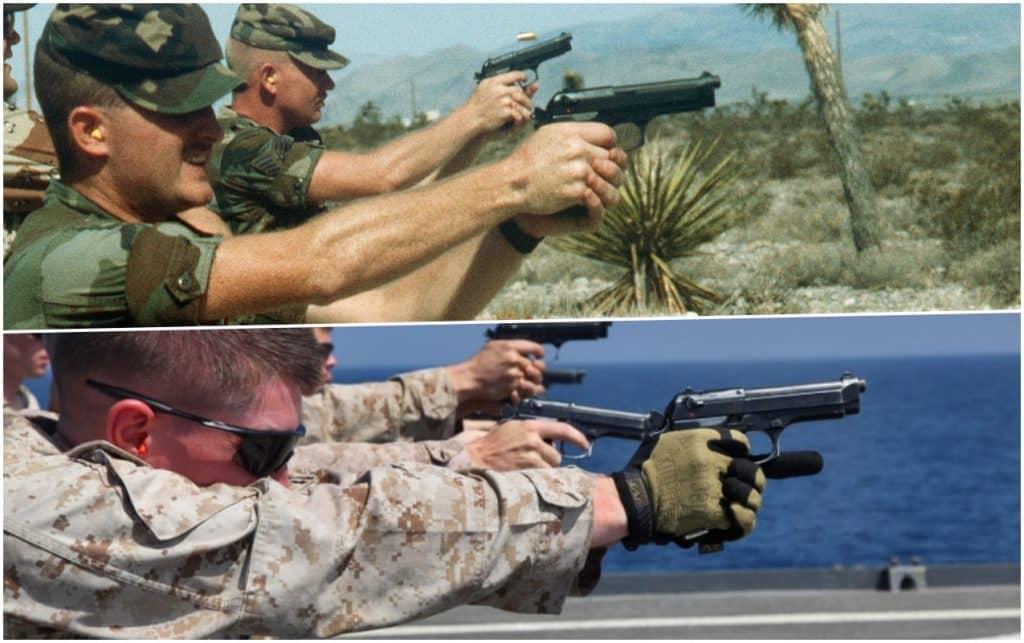 The M17 is the replacement for the Beretta 92FS M9
While it was the Army that wanted to replace their aging M9 service pistol with something more modern and fully modular, many other armed forces have also adopted the SIG Sauer P320 as their duty gun.
The press and speculation about the first change in decades created a demand for a civilian version. There is very little difference between what the armed forces are currently carrying, and the striker-fired pistols available for purchase by the civilian market.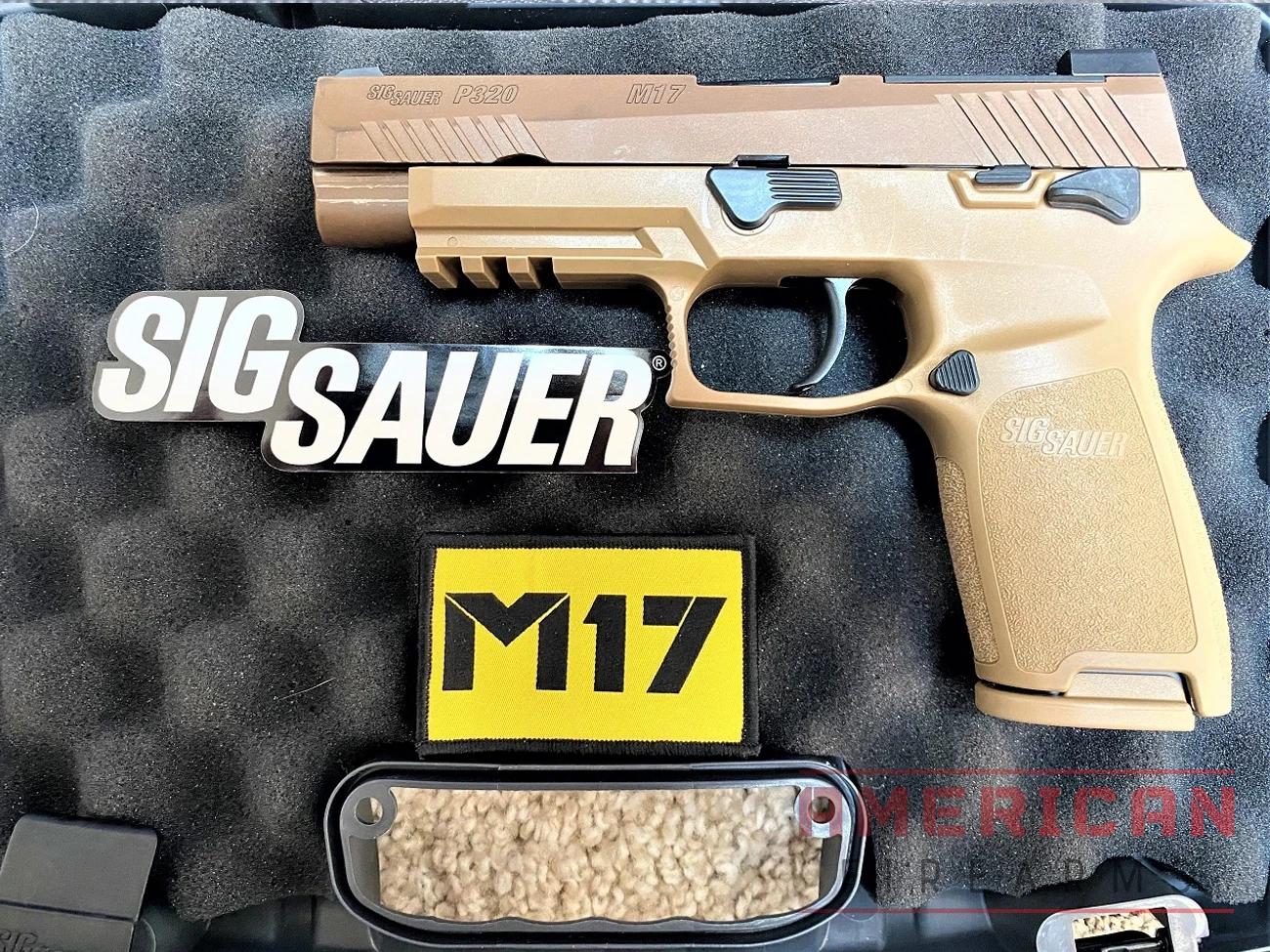 The M17 and its case
First and foremost, the P320 M17 is a full-sized, striker-fired, fully modular handgun chambered in 9mm. The gun boasts a frame and slide made from stainless steel keeping it strong yet relatively light. With a total length of 8 inches and its 4.7-inch nonthreaded carbon steel barrel, it shoots smoothly with very manageable recoil, thanks in part to its weight, coming in at 29 ounces or on par with most full-size striker fired pistols. It comes in a cool two-tone Coyote brown and is PVD-coated.
One of its more special features is the modular design, which allows you to swap in a lower grip without an FFL because the serialized portion of the firearm is an internal FCM chassis rather than the grip unit itself. This design allows you to purchase and replace complete grip units rather than just backstraps.
Do you need to swap out the M17 frame to make it? Not necessarily. The grip is nicely stippled and the grip texture itself is what I'd call "lightly aggressive" which affords a good, solid grip in most conditions including hot, humid, or wet.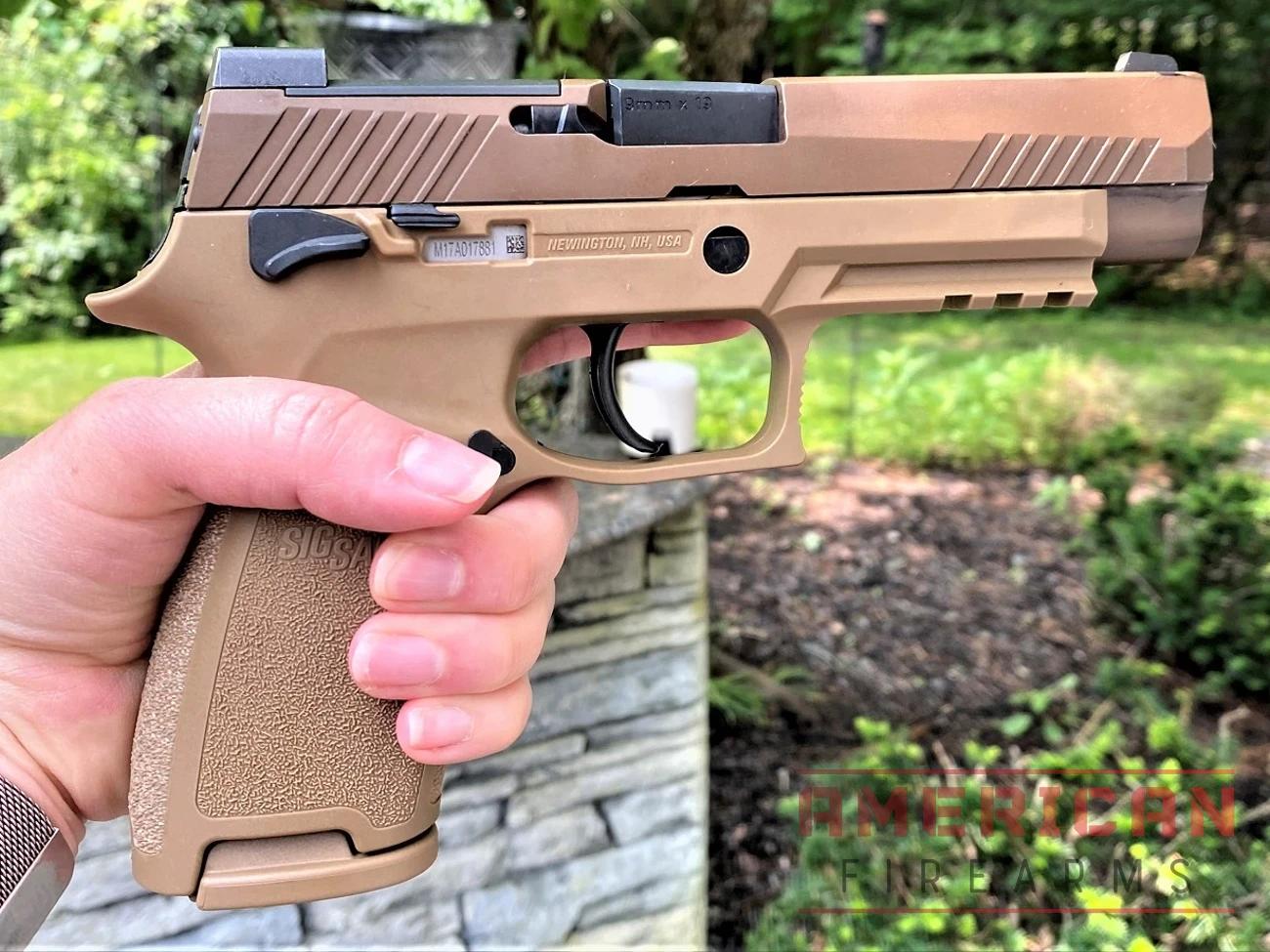 The grip texture is what I'd call "lightly aggressive" which affords a good, solid grip in most conditions.
I use the term "lightly aggressive" because while it is aggressive, I don't feel like my hands are going to start bleeding after a day sending lead downrange with the M17. The slide serrations make for an easy grip to rack, even in less-than-ideal conditions.
The standard, curved metal trigger does not have a trigger safety but makes for easy manipulation and stays comfortable shot after shot. My trigger finger can get sore with some striker-fired pistol triggers, but I find the P320s trigger delightful even after a long day.
The trigger pull itself is clean and very crisp, with a quick reset and almost no over-travel allowing you to be plenty quick with follow-up shots. The pull weight is listed by SIG as 5.62 pounds, but I've read others have assessed it as closer to seven pounds.
The M17 uses a curved metal trigger that does not have a trigger safety.
I've not evaluated the pull weight myself because I like the way the trigger functions as is. The robust, integrated safety system includes a striker safety as well as a disconnect safety. I also love the 3-point takedown which makes field stripping the handgun fast and easy, and (a huge perk in my book) it doesn't require a trigger pull to do so.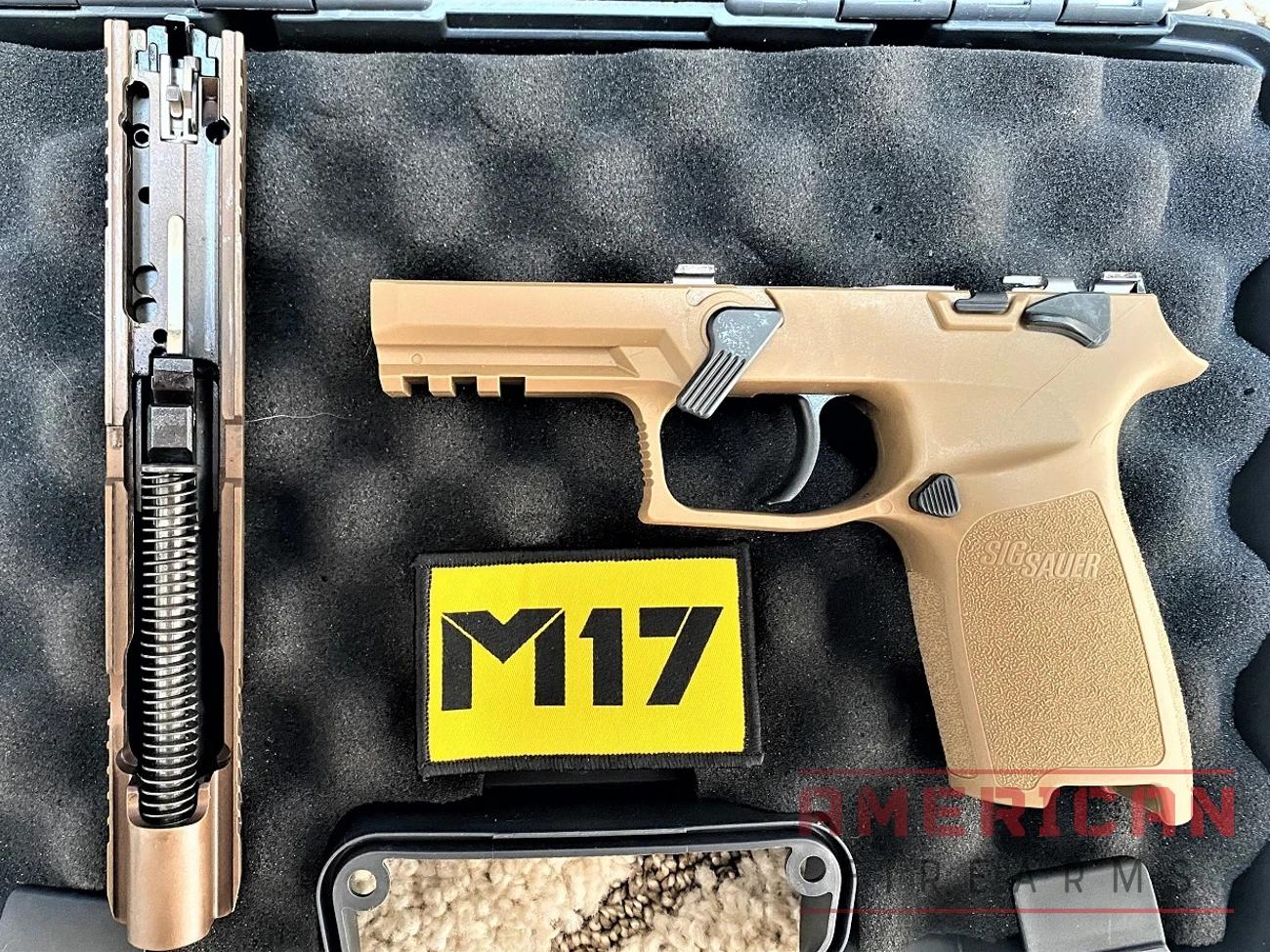 A simple field strip separates the upper slide and barrel assembly from the lower grip assembly and FCU.
The standard iron sights include a SIGLITE front sight and removable night sight rear plate, I like them enough that I'll probably never swap them out.
Because I live in New York, my P320 came with three 10-round magazines, but for most other (free) states they ship with one 17-round magazine and two 21-round magazines as standard.
Performance and Precision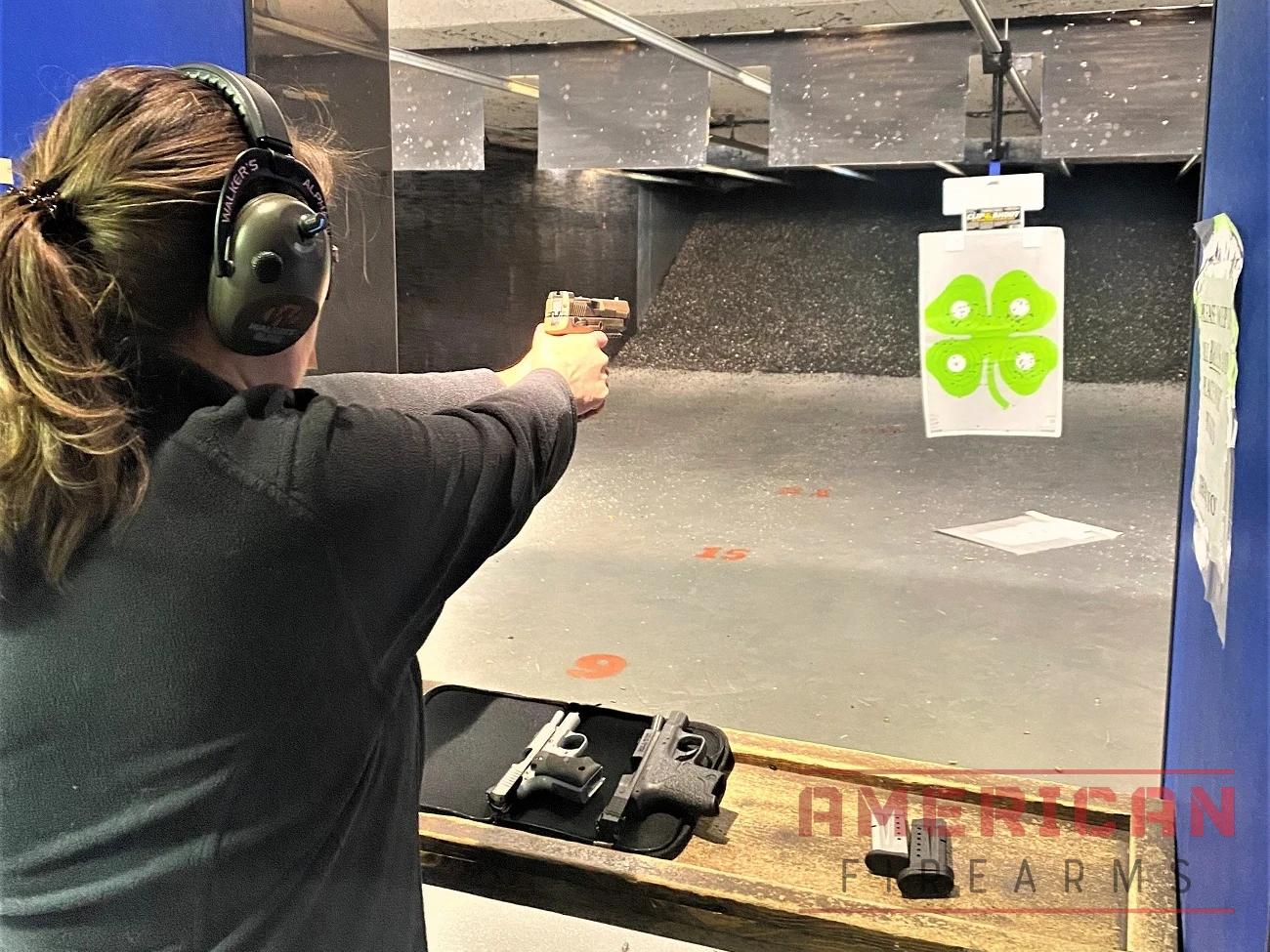 Range testing with my M17
Accuracy
I took my P320 to the range and shot it straight out of the box. I didn't clean it first to remove the gunk that handguns bring with them straight from the factory. At 7 yards, I put my first shot as well as my next several shots dead on target — all within an 8-inch circle. While I still haven't put enough rounds through it to call it properly broken in, I've yet to have a failure – even with factory gunk inside it.
That says something about its reliability. I'll be testing out different brands of ammunition, and will happily update this when I do, but these guns are built to work under extreme circumstances, and so far, mine has lived up to their reputation and is more than adequate for home or personal defense.
The polymer frame helps keep it from being overly heavy, but it's a touch big for carry. As a full-size, it may or may not end up going into my carry gun rotation, but with proper holstering, it certainly can be concealed and should be considered because it is an accurate pistol.
Some people gripe about the (relatively) high bore axis on the P320 — the grip on the P320 is similar to a CZ or 1911, which many people will note aren't considered particularly high recoil pistols. Those guns, however, have steel frames (which means more weight to tamper down the recoil impulse ) and hammers, which drag on the slide to slow the mass and soften recoil.
Ergonomics
I scored this a 7 for one simple reason. The grip is 1.4 inches thick, and I have lady hands. A man (with man's hands) would love the blocky grip. Don't get me wrong, it's comfortable enough and the curvature of the grip is great, but it's thick (for me). It's beautifully balanced and I've shot it well both supported and off-hand.
Because it's fully modular, I do have the option of picking up a frame more suitably-sized for my hand – and maybe sometime in the future I will, but I'm all for learning to use the gun you have, and even with my lady's hands, I shoot my P320 just fine. If you were interested in swapping the grip out, SIG offers 3 sizes of grips. I'll certainly be looking at the Wilson Combat grip panel if I decide to purchase a different grip module.
A nice feature is the ambidextrous safety and slide lock/slide release. I'm currently training my left thumb to click off the thumb safety when I shoot off-hand – it's not as easy to do as you'd think it would be, but in an emergency, if I was unable to use my dominant right hand, I'd like to be better prepared if needed, hence the shooting drills.
My right hand is very used to clicking off the manual safety as part of my draw.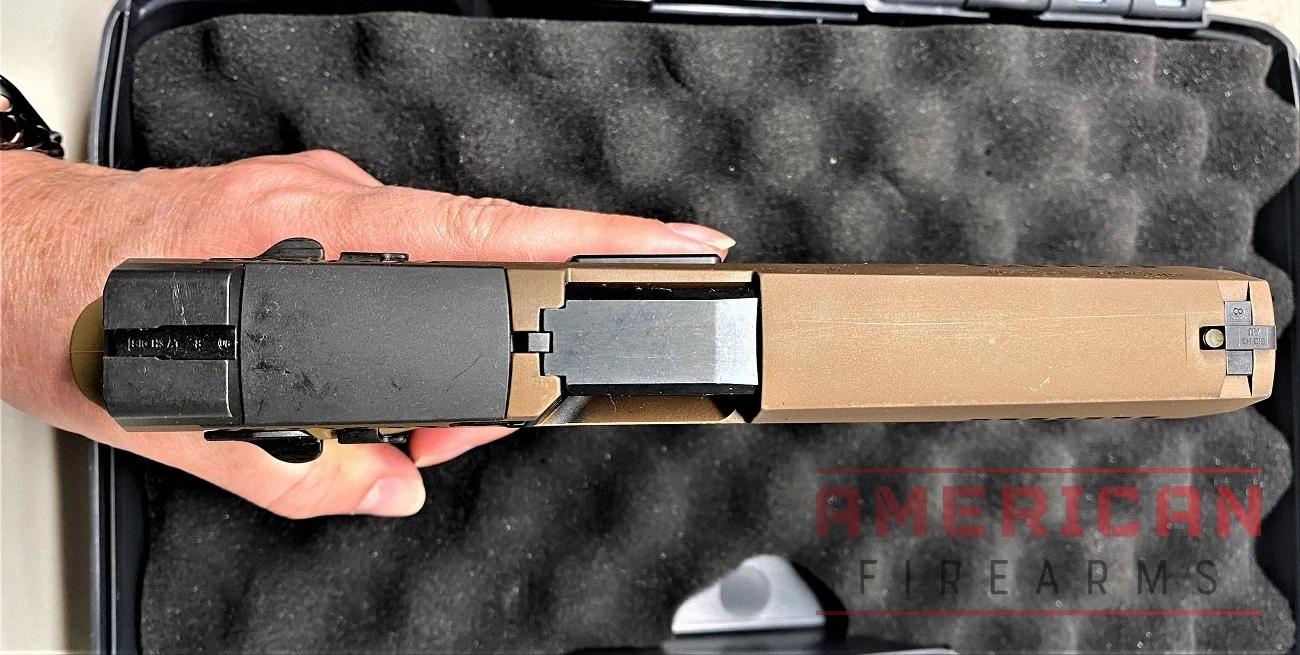 The grip is 1.4 inches thick, which makes for a very thick pistol.
Features
Feature-wise it's about perfect. Because it has military and law enforcement contracts, aftermarket products as well as those available directly through SIG are plentiful. Integrated into the design of the frame, a Picatinny-style accessory rail is ready for whatever laser or light you're looking to add.
The factory-installed rear sight is a night sight which is an upgrade from the armed forces version. As mentioned above, grips can be obtained to suit most hand sizes. The heavier recoil spring makes for soft shooting with easy recoil, a bonus when you're range testing.
Although I don't have an optic on mine (personal preference), the slide is optics cut to the same specs as the MHS (modular handgun system) contract. Modularity has its benefits, and the aftermarket suppliers certainly offer other accessories for the M17 handgun including triggers, grip frames, red dots, lights/ lasers, and other accessories.
If you're looking for a SIG M17 for a specific purpose like competition or a smaller framed concealed carry, other models are available including a limited-run M17 Commemorative edition.
While I don't run an MRD, the M17 is cut for optics.
Fit & Finish
This is a solid-feeling handgun. The ambidextrous external safety and slide lock controls are ergonomic and designed to be reached intuitively.
The magazine release is reversible for southpaws but is large and textured for easy manipulation, although I'd have an easier time dropping my mags with a smaller grip module. I can drop the sticks — it just takes more effort and I have to adjust my grip slightly — something my husband doesn't have to concern himself with.
Magazines seat tightly with no wiggle. The stainless-steel slide is a slightly different color than the polymer grip module but that's to be expected given their different materials, in fact, they tout them as two different colors.
My P320 M17 has some finish worn off on the slide exposing the stainless, which is normal but for a gun I haven't put thousands of rounds downrange with, I feel like this is a little early for showing this type of wear. Sigs metal magazines seem durable (and will fit both the civilian as well as the military version of the gun).
The current MSRP is $768 which makes this an average value when compared to other popular full-size 9mm pistols but given the testing and reliability, it's one you can't go wrong buying.
Holsters are also readily available and fit specifically to this gun. My favorite is my Galco Combat Master belt holster which carries the weight of this gun on your belt, effortlessly.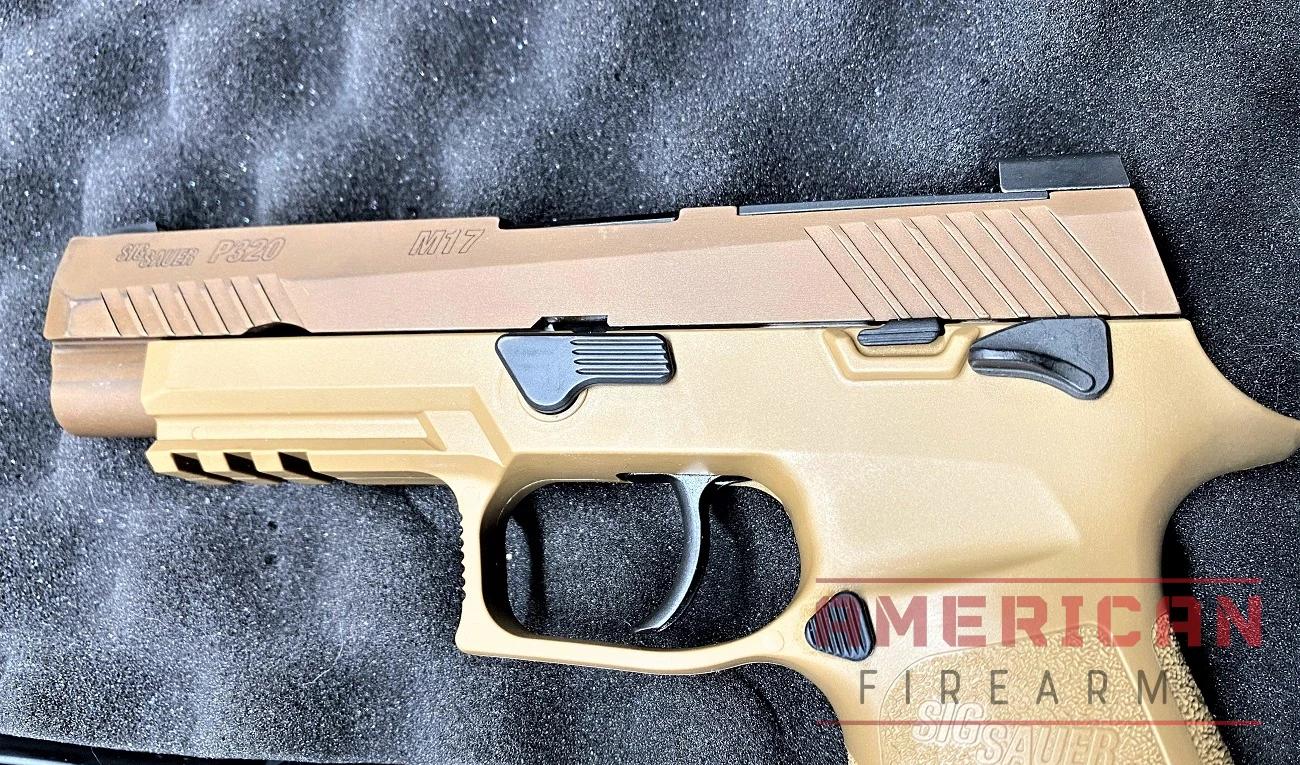 My M17 has some slide wear is exposing the stainless (at the very front). This feels a little early given I don't have thousands of rounds through it.
Reliability
While there had been reports of drop-safe issues years back, if the P320 is dependable enough for the US Military, it should be reliable enough for me, right? As I stated earlier, I've not had a single failure with this gun yet — even without cleaning and the factory gunk still in it (although admittedly I haven't put thousands of rounds through it yet).
Issues experienced with the P320 long ago were likely due to the fact the platform was entirely new, and when you start mass-producing firearms for a hungry general public, gremlins can crop up. Sig has ironed these issues out.
I've purposely tried to "limp-wrist" it and while my shot didn't hit the center of my target, the gun did still fire which works for me. Tight grip, loose grip, dominant hand, off-hand, it's fired.
From what I've experienced, the gun can go 1,000 rounds without a failure, so if it's going to fail it will be because of me or a bad round, not because of the P320 M17. So far, there are zero malfunctions for this amazing modular sidearm.
Value
Giving a value rating is subjective and based on my own experience. This is a better-than-average value, but it stacks up category-wise to some great competition like the Glock 17, HK VP 9, Springfield XD, etc., all with similar features.
The fact that it's fully modular gives it a leg-up in my book because I can choose to customize it any way I'd like. I can keep the large grip module on for when my husband wants to shoot it, then swap out smaller grip modules (once I purchase one) for me.
Another bonus that adds to the value is the included pistol case. It's a rugged, SIG-branded, egg-crate foam interior that locks solidly. Oftentimes, great guns come from the manufacturer in those awful cardboard boxes.
One bonus is the case included with the M17 -- it's large enough to stow the pistol, magazines, and accessories -- plus, it has locking loops.
With this SIG, there's no need for an additional case. It's large enough for the handgun itself, as well as several magazines and any accessories (like a magazine loader or holster) you might want to have with you. The case also can lock it by inserting your padlock into the integrated locking loops.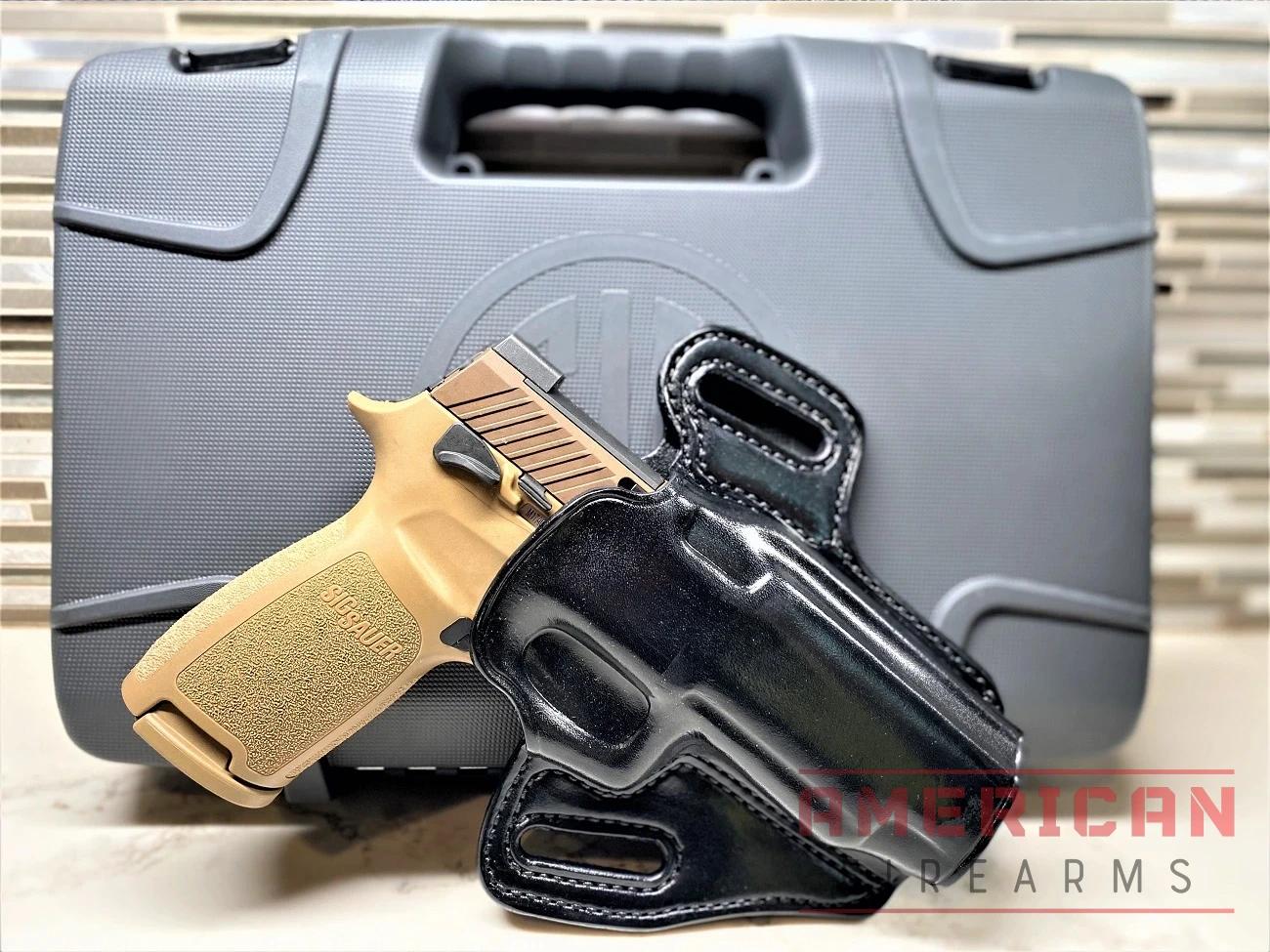 The case plenty large enough for the pistol in an OWB holster.
There is no lack of quality competition in the full-size 9mm handgun category. I can't compare magazine capacity because I live in New York and all my guns can only have 10-round magazines (and then there's that whole debatable Safe Act thing that says I can only load 7 rounds at a time).
That said, the P320 M17 can manage 21-round magazines, where legal. Most of its similar-sized competitions accept to 15 rounds so to me that would put the SIG ahead of the competition in mag capacity alone.
Feature-wise, it's akin to other striker-fired, similar-sized competitors, with guns like the Beretta APX and CZ P10 C offering similar performance but a lower bore axis — and they're cheaper.
The Good:
Incredibly accurate
Solid reliability
Feature-rich
Modular, versatile and customizable
Solid feel in hand
The Bad:
May be too large for some
A bit on the expensive side, with an MSRP of $768
No trigger safety
So… how does the Sig P320 M17 stack up on our 10-point scale?
Accuracy: 10/10
I love the M17 — it's very accurate, even at longer ranges, and has good sights and light recoil.
Ergonomics: 7/10
The gun is comfortable to hold and shoot, but it's a bit too thick for me and the ambidextrous safety is a challenge to reach without adjusting my grip.
Fit and Finish: 9/10
It's a SIG, which means it's well-made from quality materials. It's also easy to disassemble and clean with nice, tight tolerances.
Features: 9/10
The M17 packs in a load of great features, like the modular grip system, ambidextrous safety, and Picatinny rail. Other than a threaded barrel there's not much else to ask for.
Reliability: 10/10
In my experience, the M17 is very reliable and has never malfunctioned, even with cheap range or bulk ammunition.
Value: 7/10
It's not a cheap pistol but that's not really the goal with the M17. You're paying for the pedigree.
I like my Sig P320 M17. It's an incredibly reliable handgun that's comfortable, dependable, and trusted by so many that rely on it for their lives around the globe including military and law enforcement agencies. I need a gun that will run, and so far, this one will run marathons.
Maintenance is easy due to the 3-point takedown and, because it is modular, swapping parts out is a breeze. It's fired dirty, it's fired clean, and most of all it fires when I asked it to and for me, that's a win. It's a great gun, not only trusted by me, but tens of thousands of other owners as well. It's accurate, rugged, and reliable with a robust magazine capacity if you don't live in New York or California.
I own several other full-size handguns, some that I love more than others, but my SIG P320 M17 was a solid purchase that I will enjoy for years to come.
What is the range of a Sig Sauer M17?
How is M17 different from P320?